1. What is a PESTEL Analysis?
The word Pestel is an acronym for political, economic, social, technological, environmental, and legal. It represents six factors that impact a business. A Pestel analysis is a framework that illustrates an organization's working state and the external factors affecting it. Marketers can plan out strategies to make their business more successful with it, and it also helps them understand the problems in the business structure.
With Pestel analysis, it is easy to locate the core of any problem and solve it before it creates trouble for the organization. You can use it to analyze any business's current and future operating state. The external factors impacting an organization depend on the type of business. For a law firm, the environmental factor doesn't have much impact, but each of the Pestel Factors creates a considerable effect for the industry.
P- Political;
E- Economic;
S- Social;
T- Technological;
E- Environmental;
L- Legal;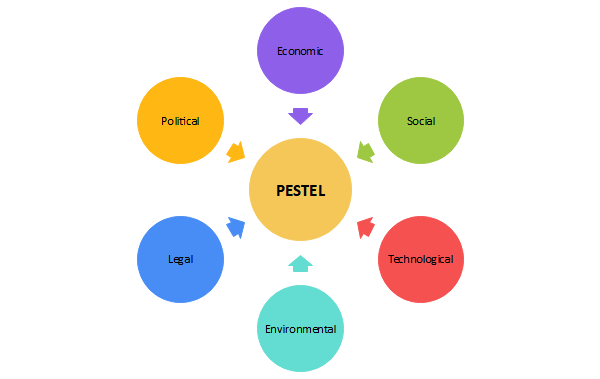 Image Source:EdrawMax Online
4. Basic concepts of a PESTEL Analysis
The basic concept of the PESTEL Analysis revolves around the seven factors that make up the mnemonic itself. So let's see what these are:
"P" for Political factors:
As you can fathom, political factors involve how and to what extent a government intercedes on an organization or a specific industry. It refers to the influences of governmental policies may have on your business. Political factors include political stability or instability, foreign trade policies, tax policies, trade restrictions, and so on.
"E" for Economic factors:
Economic factors determine the financial condition of an organization or a specific industry just like above. As these factors play a pivotal role in deciding the supply-demand models in the economy, it has a long-term influence on a business, be it direct or indirect. Economic factors include economic growth, inflation rate, exchange rates, interest rates, and many others.
"S" for Social factors:
The social or, more specifically, the socio-cultural factors focus on the demographic characters, norms, and customs of the population within which an organization is functioning. These factors help the marketer to understand their customers' needs more clearly. It also highlights the local workforce and the sustainable conditions under which they will be willing to work. Social factors include population growth rate, income distribution, lifestyle attitudes, and more.
"T" for Technological factors:
Since the dawn of the industrial revolution, technology has played an essential role in the health of any business organization. Innovations in technology can impact the operations of the industry and markets, both favorably and unfavorably. It has made it very important to analyze and monitor these factors. They vastly contribute to specific decision-making scenarios, for example, is it wiser to enter a particular industry or not. Technological factors involve research & development (R&D) activities, automation, technical awareness, etc.
"E" for Environmental factors:
With growing environmental awareness, businesses cannot undermine related factors fully. Moreover, the scarcity of raw materials, carbon footprint targets, and pollution targets have made them even more pivotal to an organization's functioning. Environmental factors consist of ecological aspects like weather and climate, environmental offsets, etc.
"L" for Legal factors:
Businesses nowadays are required to understand the legal premises under which they can operate adequately. Although some of these factors overlap with the Political factors, they generally include more specific laws and policies such as discrimination laws, copyright laws, consumer protection laws, and more.
3. When to Use PESTEL Analysis?
As you've seen earlier, PESTEL is an acronym for the seven major external factors that can affect a business. It means the tool is best useful when all these seven factors are critical. Following are the best scenarios for using the PESTEL Analysis tool:
When launching your very own business
Well, I guess you can understand why this is the first on the list. Whenever you are starting a business, you have to consider the seven forces that make PESTEL. It is impossible to start a legal business without following the preordained political laws of your jurisdiction. In the case of e-commerce business, you need to follow the technical rules, three factors, political, legal, and technological. You surely cannot ignore the rest. Starting a business without any idea about these forces can cost you gravely. On the other hand, if you have a clear understanding of these factors beforehand, you will have an upper-hand.
When you are facing troubles with your business
Sooner or later, you will face problems in your business; some will be easier to solve, while others can make you stay up all night. Many of us try to settle things as quickly as possible, sometimes even without finding a long-term solution. That is normal, but that is not good for your business. When you are facing problems, it is the right time for a PESTEL Analysis. Sometimes you will find that solving one problem uncovers another one lying underneath it. But with a PESTEL analysis beforehand, you can foresee possible problems that may come your way before they do and come up with contingencies or even avoid it altogether.
When your analyst is working out the angles for your business
Many businesses hire business analysts or specialists in problem-solving to improve employee communications and working environments. These guys are the best at what they do, and they will always have an inventory full of such tools. The best thing about them is that they might be analyzing a specific problem, but the results of that analysis will come in handy in other situations as well.
4. Why is PESTEL Analysis an Outstanding Methodology?
Many consider PESTEL analysis or simply PESTEL as one of the most outstanding methodologies for business analytics.
Focusing on the abovementioned factors gives us clarity regarding the bigger picture at stake and how these factors can shape the future of the business;
A well-conducted PESTEL Analysis helps us to draw up detailed planning regarding the role of the market in its niche;
PESTEL Analysis can even work for individual projects although it is a business analysis tool;
The most beneficial thing about the PESTEL Analysis is that it costs only time instead of money. All you need to carry this out is a pen and a paper.
Another significant benefit that we can gain from PESTEL is threat awareness or alertness, which is one of the very reasons why businesses carry out the analysis process.
With so many benefits from one single analysis tool, your business can exploit opportunities that others are more likely to miss.
5. PESTEL Analysis Examples
Eg. I:  Coca-Cola PESTEL Analysis
It is the most popular soft-drink manufacturer worldwide. It has a very desirable PESTEL analysis result. There is ab article about Coca Cola PESTEL Analysis. Refer the infographic below: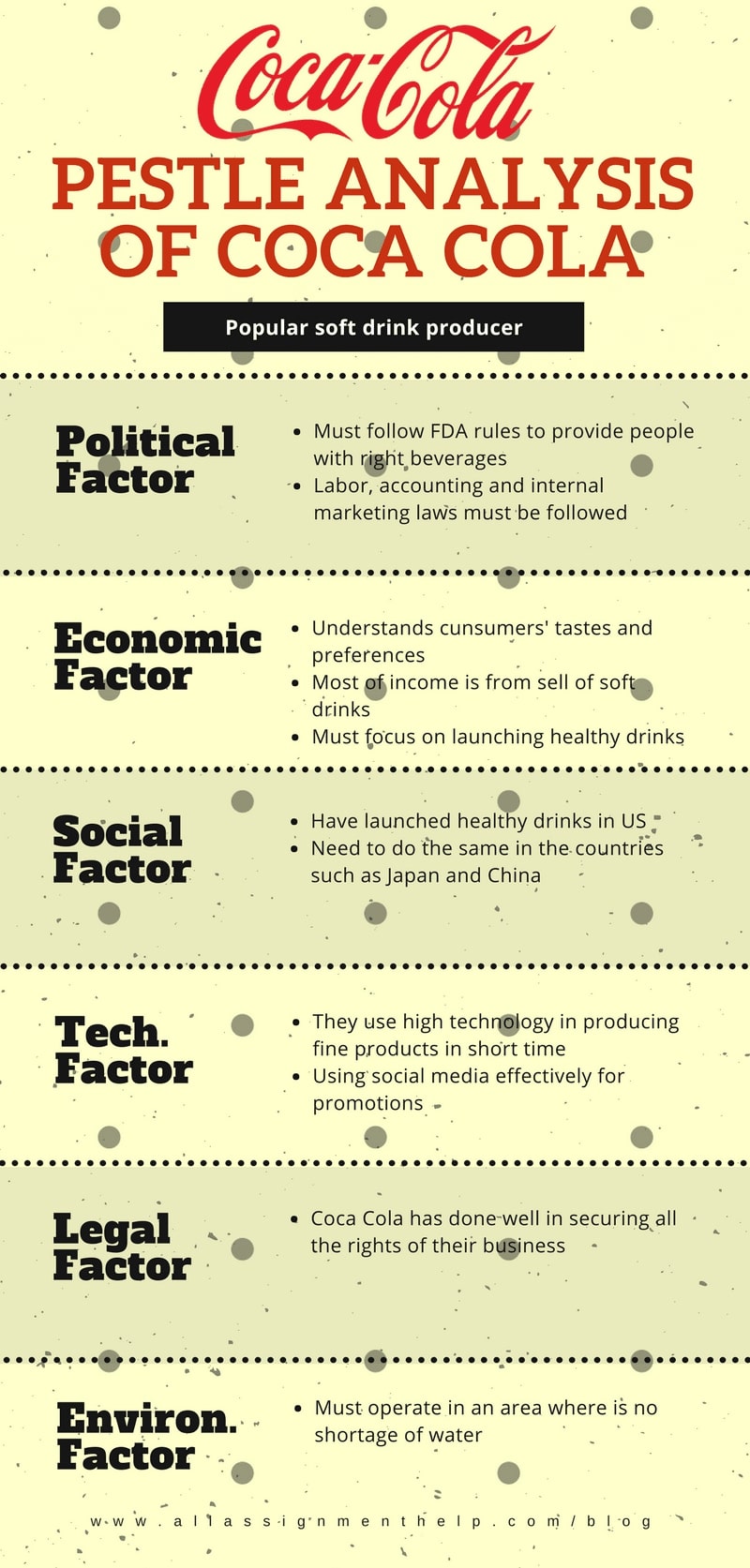 Image Source: allassignmenthelp.com
Eg. II:  Uber PESTEL Analysis
Uber is a rapidly growing cab service provider available almost all over the world, especially so in India. It, likewise, have carried out a PESTEL analysis. Let us look at the results in the infographic below: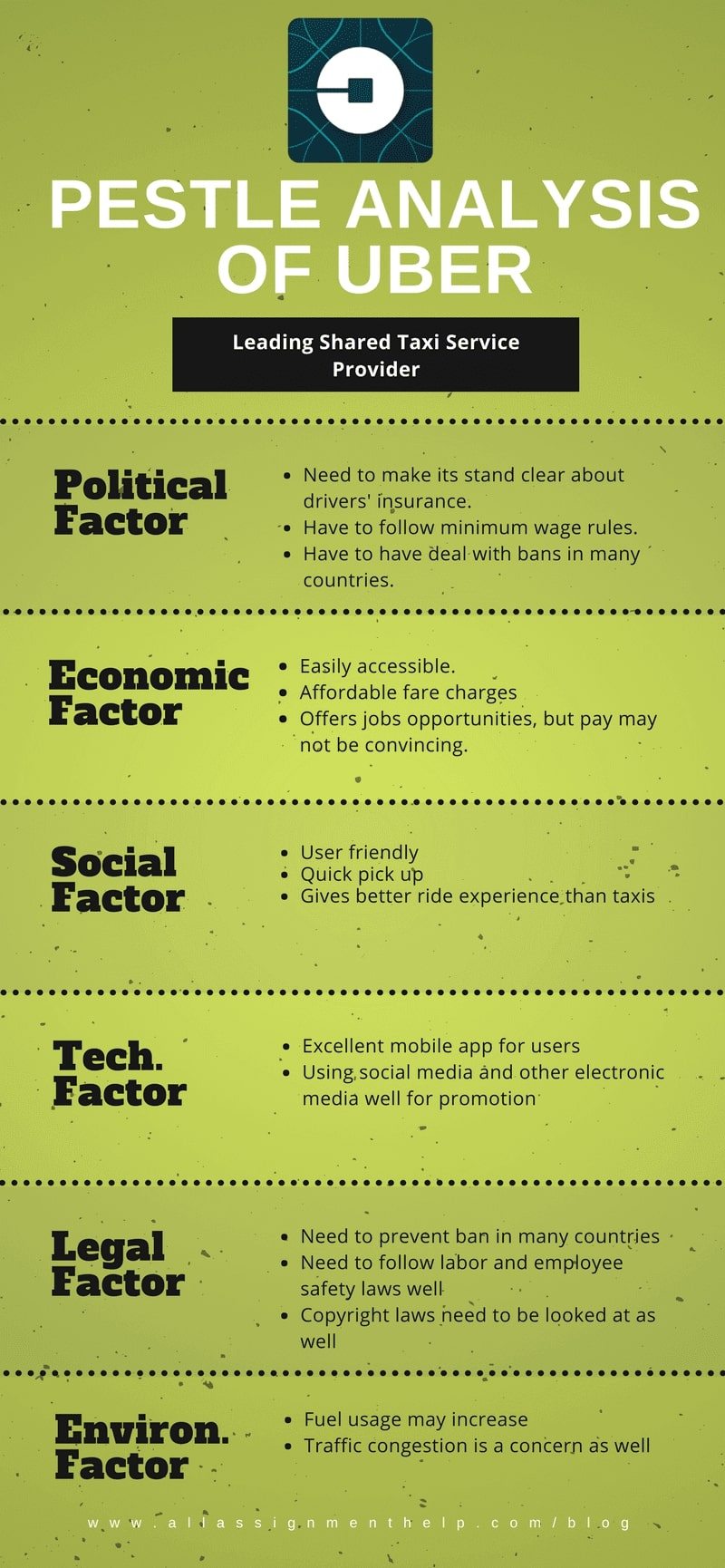 Image Source: allassignmenthelp.com
Eg. III:  Adidas PESTEL Analysis
Who hasn't heard about this world-famous sports apparel manufacturer? From sports shoes and tees to accessories, they make them all. Let's see what the PESTEL analysis infographic below has to say about their endeavors: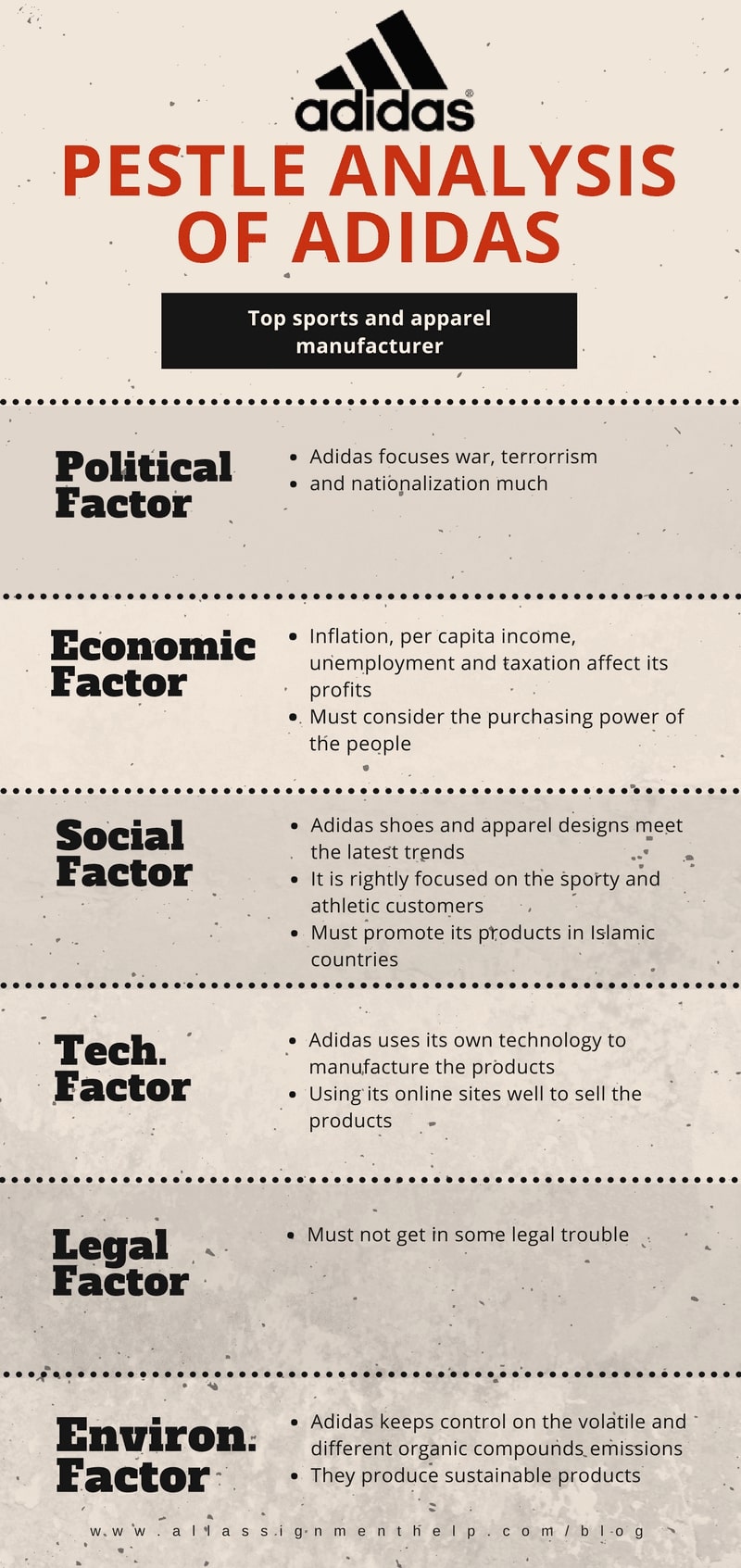 Image Source: allassignmenthelp.com
There are more PESTEL analysis examples for reference, and using the PESTEL analysis methodology, you will be easier to compare and contrast each factors for the analyzing objects.
6. How to Conduct a PESTEL Analysis with EdrawMax Online?
Although a PESTEL analysis uses a pen and paper but living in the 21st century, we cannot ignore the benefits of a diagramming tool such as the EdrawMax Online. T
Here you can find detailed steps of how to do a PESTLE Analysis.
Watch this video to learn more. If the video doesn't play, please visit it at YouTube.
Let us now head on to our step-by-step guide that you have been so eagerly waiting for:
Step 1:  Open your web browser and open EdrawMax Online and login with your credentials: email id and password
Step 2:  Now, go to the 'Strategy & Planning' menu, and select the 'PEST Chart' option
Step 3:  In the drawing window, you will find a template library to the left of the canvas. Drag & drop the template you want to use onto the canvas. Then double click at the middlebox and label it with the name of your project.
Step 4:  Now label the various factors consecutively on the surrounding boxes connected to the middle one.
Step 5:  You may also add the underlying sub-factors for each of the main factors as per your project scope by writing them underneath.
6.1 Tips for Doing a PESTEL Analysis
Keep a clear understanding of how the seven factors are affecting your business;
As each underlying factor have several sub-factors attached to them so be aware of which of them apply to your business;
Do not over-congest your analysis diagram it only makes it hard to interpret;
Choose the most appropriate template that suits your project.