Coca Cola PESTEL Analysis
Detailed PESTEL Analysis of Coca Cola
Want to Create PESTEL Analysis?
EdrawMax is able to create free forces analysis for software development teams with ease. Give it a try!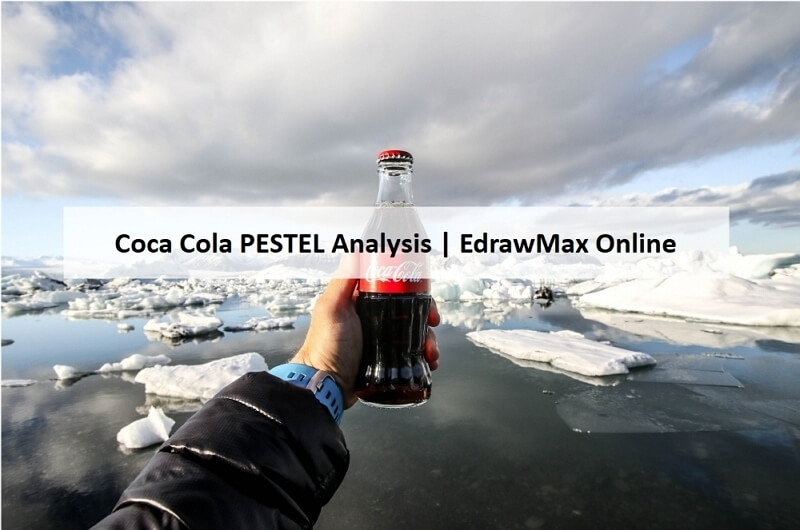 1. Introduction
The PESTEL analysis is a significant part of company management. For any company, it is very crucial to validate the conditions of a country before expanding their business. They need to find if there is any external condition that can affect their business. They have to keep these conditions in check for the operating countries as well. These can help them to point out their opportunities and threats. They can make strategies to cover up their potential threats. It can help them to ensure their development.
Although Coca-Cola is a strong brand with a massive customer base, external factors can affect its business. The PESTEL analysis of Coca-Cola can help them get a clear view of their business conditions, which they can manage with wise strategies.
2. Background of Coca Cola
Before conducting the PESTEL analysis, one should know its background. Coca-Cola is a leading US-based beverage company that primarily produces non-alcoholic, flavored beverages. The company sells its products in more than 200 countries. Here is an overview of their details and background:
2.1 Basic Information of Coca Cola
| | |
| --- | --- |
| Company Name | Coca-Cola |
| CEO | James Quincey |
| Industry | Beverage |
| Established | 1892, United States |
| Headquarter | Atlanta, Georgia, United States |
| Annual Revenue | The U.S. $ 37.27 billion (2019) |
| Founder | Asa Griggs Candler, John Stith Pemberton |
| Net Income | The U.S. $8.92 billion (2019) |
3. Coca Cola PESTEL Analysis
PESTEL analysis of a company shows how the factors like politics, economy, sociology, technology, environment, and law can accelerate or decelerate the development of a company. Though Coca-cola is one of the biggest beverage companies operating their business in more than 200 countries, it gets influenced by these external factors.
Political Factors:
Political factors can directly affect the business conditions of a company. If a country's political status is not stable, the company may suffer loss despite investing a good amount of money and time. Hence, political scenarios can be influential to the growth of a company. Here a few political conditions which can affect the business of Coca Cola:
If there are changes in taxation, labor laws, employment conditions, these situations can affect the sales of Coca-Cola.
There are also conditions where the government favors the business of a company and subsidizes them. It can be common for the local brands or the partially owned government brands. In this case, Coca-Cola may have to face tough competition.
The Trade relations of other countries with the US can impact the business of Coca-Cola in that country. For example, due to the trade relation between Burma and the US, Coca-Cola cannot sell its product in Burma.
Economic Factors:
Most companies are dependent on the nation's economic conditions to determine how much they should invest in the country. Even when a country has a good trade relationship, its economic stability can be another factor to consider. Otherwise, the company may fail to earn profit and fail to develop. The PESTEL analysis of Coca Cola shows how economic conditions can impact the sales of the company:
As a beverage company, Coca-Cola has already earned a customer base. Other competitors can start their business with similar carbonated drinks. However, the loyal customer base may help the company to survive in the competitive market.
The revenue of Coca-Cola is majorly (70%) dependent on the countries outside the US. The market condition of these countries can have an impact on the development of the country. For example, the pandemic has more or less affected the economic conditions of the nations. It can take a toll on the company's business.
The cost of the raw material of the beverages and the trade conditions with the suppliers can affect their business. The rising price of problematic trade relations can be a potential risk for the growth of the company.
Social Factors:
When a company does a business in a particular area, their socio-cultural condition significantly impacts the company. They need to come to terms with the issues to run a business smoothly. Otherwise, the company may fail to interest more customers. Here are a few sociological scenarios that can work upon the development of Coca Cola:
Coca-Cola primarily deals in carbonated sugary drinks. As more consumers are leaning towards healthy alternatives, the lack of it from the brand can result in a fall in their revenue generation. However, the firm needs to have more products like Coke Zero, which can target health-conscious customers.
As Coca-Cola has expanded its business in several countries, they need to consider the palate of those countries. They have already introduced more than 30 different flavors in Japan. These experimental flavors can be helpful for them to gain more consumers.
Coca-Cola is one of the biggest brands and is the mastermind of creating campaigns. They have concentrated on several social conditions while branding and campaigning. Thus, gaining the chance to get more customers, and at the same time, creating strong brand awareness.
Technological Factors:
Though technological issues do not directly impact the growth of beverage brands, there are certain other conditions related to technology that can indirectly affect them. The PESTEL analysis of Coca Cola can give an idea about how technical issues can impact the brand's business:
The brands need research to develop their products. The more they can invest in developing infrastructure, the more opportunity they get to conduct good research.
Technological development has also increased the number of smartphone users. The company can use social networking sites for promotion and marketing, which can help them to strengthen their brand recognition.
They can also conduct online polls to do market research about new products and customer tastes and get feedback about their services. It can decrease their costs of research and product development.
Ecological Factors:
For beverage companies, ecological issues may have a brand awareness-related impact. The PESTEL analysis of Coca Cola can show how ecological issues impact their business:
The company needs to consider more eco-friendly packaging options. They can substitute their plastic bottle with other materials which are easily recyclable.
The company can use advanced technology for waste management which can help the company to strengthen its brand impression. The company can raise awareness while launching creative campaigns or donate to environmental causes.
The company has been using water-smart farming methods like RAIN and CARE. It has helped them to interest people who are concerned about the environment.
Legal Factors:
The legal issues may not have a direct impact on the brand's business. However, they can show some indirect influence. Here are some legal conditions that can affect the brand's development:
Many countries have already issued a range for sugar usage in beverages. As Coca-Cola has a wide area of services, they need to consider it. Failing to do so may result in legal prosecution.
The caffeine quantity in any beverage is fixed for most countries. Coca-Cola has previously suffered for its excessive caffeine content and had to pay for the lawsuits.
The company must value the employment ethics and consider the working conditions of the labor. If they give fewer wages to the laborers and do not provide healthy working conditions, they may face legal issues.
EdrawMax Online
Create 280+ types of diagrams online
Access diagrams anywhere, anytime
Everything in desktop + Templates Community
Team management and collaboration
Personal Cloud and Dropbox Integration
4. Key Takeaways
As Coca-Cola is a huge company, they have some positive issues like a loyal customer base, robust infrastructure, and investments. The PESTEL analysis of Coca-Cola shows that company needs to strategize aptly to plan their future growth. They can consider working on the issues which can directly impact them. For example, Coca-Cola must find out some way to bring more people who are health conscious by offering new alternatives to their carbonated beverages. Market research and proper execution of strategies can help them to grow in the competitive market.
Use EdrawMax Online to create a PESTEL analysis diagram, or create any other diagram with ease! There are massive PESTEL templates and symbols to choose from, and creating a PESTEL analysis diagram could be really simple. Also, you can find substantial PESTEL templates in our template community to have a quick start. If you want to know more about how to make a PESTEL analysis diagram in EdrawMax Online, just check this PESTEL guide, it may help you to create diagrams without efforts.
5. References