What is PESTLE Analysis?
Business doesn't run independently without social and environmental factors. Hence there's a tool called the PESTLE analysis. The PESTLE analysis is an essential marketing tool used by businesses and organizations to examine and scrutinize the external forces that can potentially influence the operation of a business/organization.
The word PESTLE is an acronym derived from those external factors that can affect a business's performance. PESTLE analysis can also be called as PEST analysis.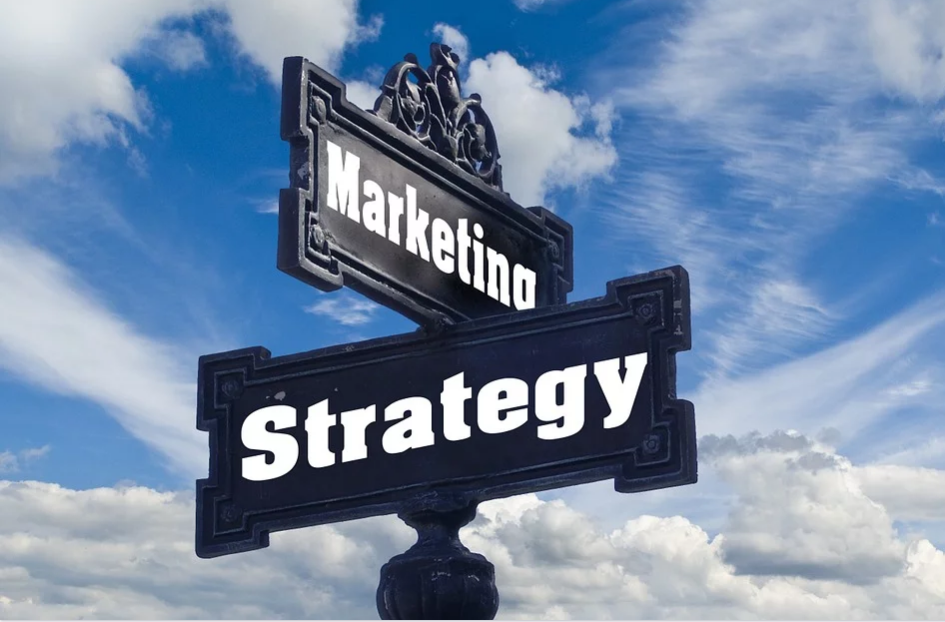 Image Source: pixabay.com
Critical Factors in PESTLE Analysis
The objective of carrying out a PESTLE analysis is to identify and assess those external factors that can impact the efficiency of an organization. These external factors form the pestle model used in creating a pest analysis. Below is a list of those external factors examined using a PESTLE analysis. 
Political factors: Political factors: This refers to how government policies and the political climate of an area impacts a business' operation. Such policies include taxation, trade tariffs, and import duties, etc. 
Economic factors: The economic state of a region exerts influence on the performance of businesses. Such economic factors include recession, inflation, foreign exchange rates, and economic growth patterns.
Social factors: This refers to how people and people-related forces determine the performance of a business. PESTLE analysis examines social factors such as demographics, cultural trends, and lifestyles. 
Technological factors: Here, PESTLE analysis examines how advances in technology can favorably or unfavorably impact a business. Technological factors considered contain trends in automation, innovative changes in technology, growth in research, and development. 
Legal factors: This refers to how the legal climate or system of a region can impede or strengthen the performance of a business. Legal factors include statutory regulations and rules, mandatory certifications, safety and quality standards, etc. 
Environmental factors: Environmental factors: PESTLE analysis considers how nature and nature-related factors play a role in the operation of a business. Environmental factors include weather, climate change, and the proneness of an area to natural disasters, etc. 
How to Do a PESTLE Analysis
Now that you know how vital PEST analysis is in marketing for businesses, you're probably wondering how to do a PESTLE analysis for your business. Creating a PEST analysis may seem complicated, but with the Edraw Max diagramming tool, you can create one in a matter of minutes. The following easy-to-follow guide will set you up for success when conducting a PEST analysis.
Step 1: Carry out research and collect information
The crux of a PEST analysis is the information that it examines and interprets. You can't carry out a complete PEST analysis without getting information relevant to the six factors in the PESTLE model.
So, the first step is to research and find out those factors that can impact your business. What do you think to have the potential to affect the running of your business? Answering this question will provide you with data to create a PEST analysis.
You can search out relevant websites or read government and industry reports to collect data that can help you create a PEST analysis.
Step 2: Sign up on Edraw Max to create your PEST analysis
Create a stunning diagram of your PEST analysis online using the versatile easy-to-use diagramming software, Edraw Max. Sign up for free using your email, Facebook, or Twitter account.
Step 3: Select a template
Once you sign in Edraw Max, click on New to start a new project. From the project categories, click on Strategy and Planning. Select and click on PEST Analysis. A list of templates will be displayed. Select any model of your choice to start creating your PEST analysis.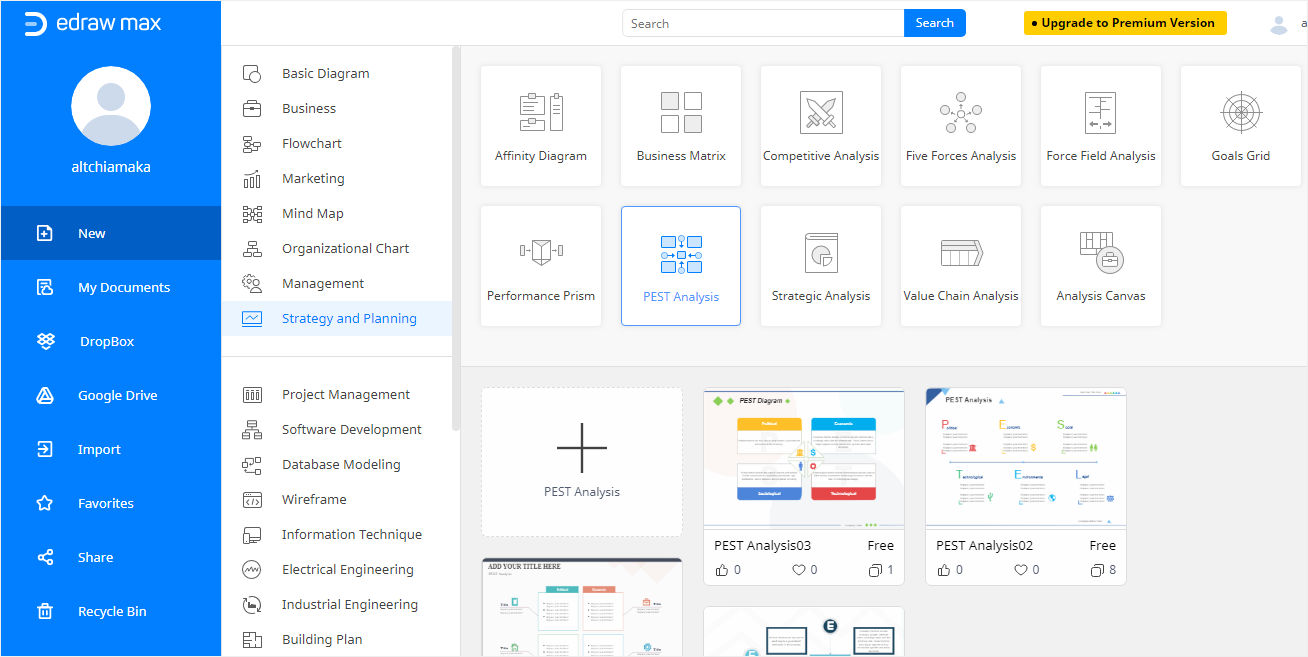 Step 4a: Customize the template by adding symbols
Once the template is loaded up in the work area, you start adding a personal touch to it. 
You can add symbols that are specific to PESTLE analysis to your template by navigating to the Symbol Library. Clicking the Symbol Library will open up a list of symbol categories. Scroll down and click Business, then click PEST to load up all PEST symbols on to work area.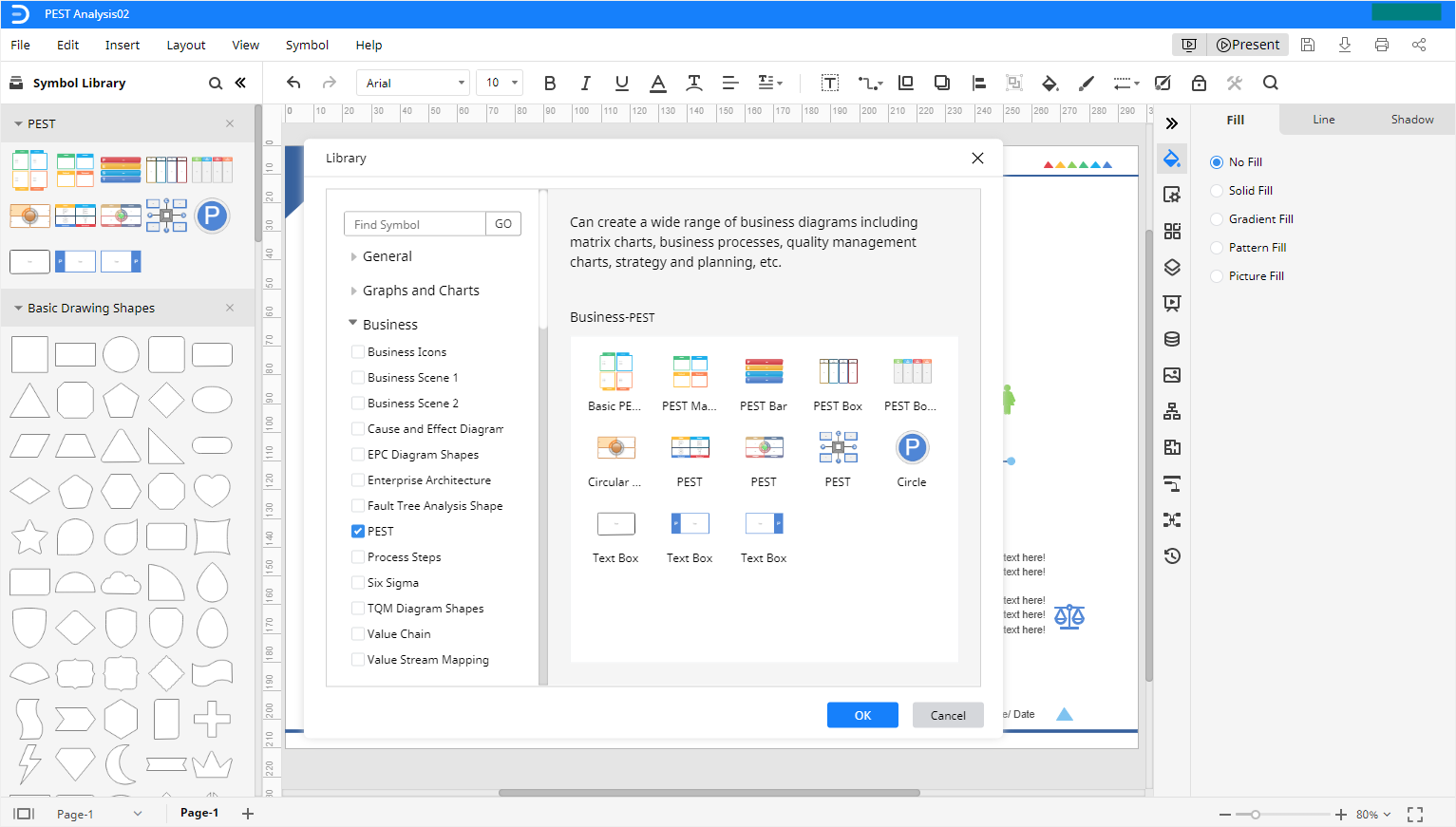 Step 4b: Enter the information for your PEST analysis
Enter the information and data for your PEST analysis in each of the text fields on the template.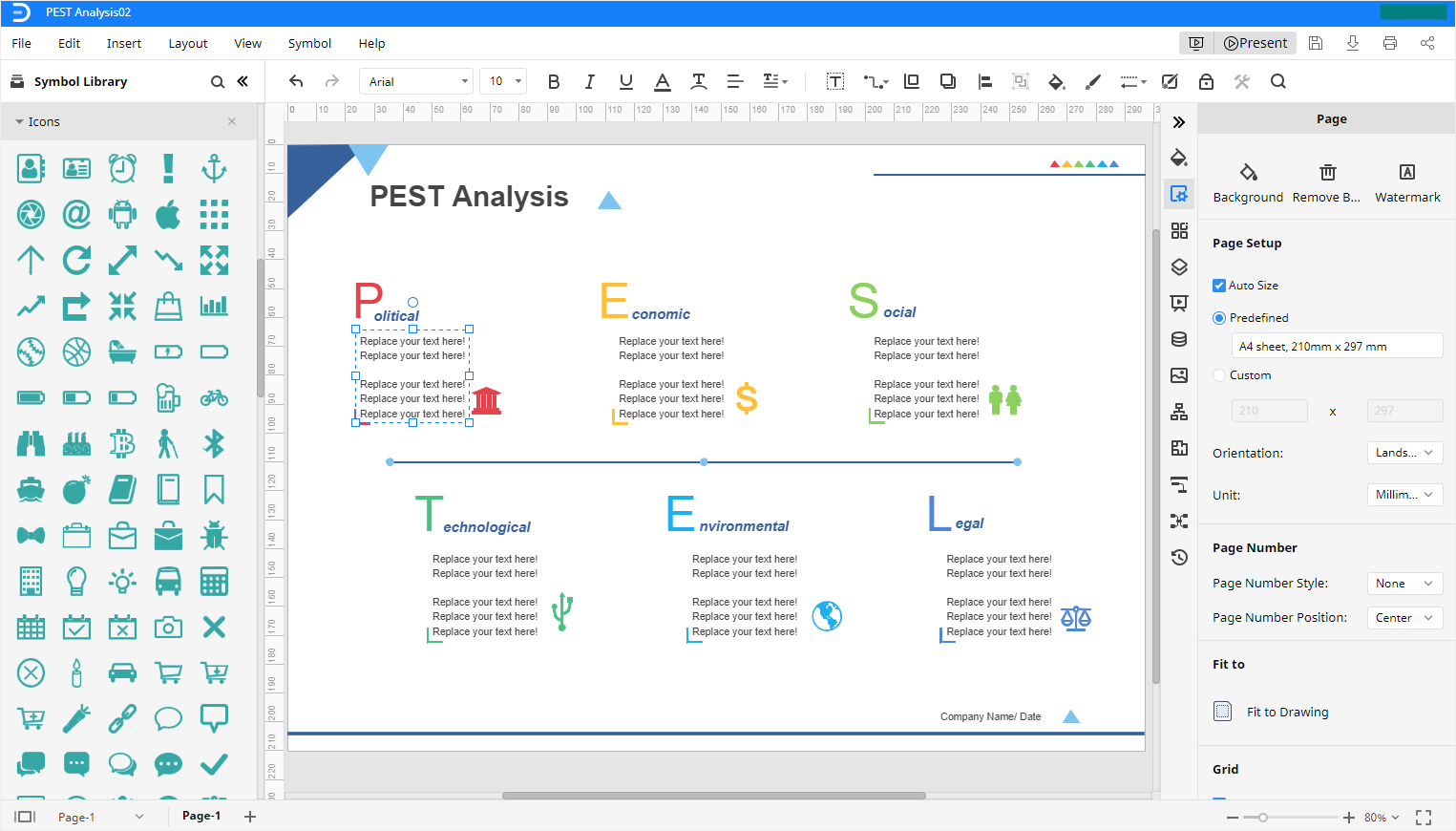 Step 4c: Edit and format text and color:
Make changes to the text and color scheme of the template by using the text format and style tools. You can change the font, color, and alignment of text. Use Bold, Italics, Underline, and Wrap Text to format text. You can also change the color of the symbols on the template from the style menu.
Step 4d: Edit the Page settings:
From the Page settings menu, you can add/remove background and watermark, resize the template and change orientation (Landscape or portrait), etc.
Step 5: Save, Export, and Print PEST analysis:
Once you finish designing and customizing the PEST analysis template, you can save, export, or print your work. Click the floppy disc icon to save the template. Click the download icon to download the template. Click the printer icon to print the template. With Edraw Max, you can export your PEST analysis in different formats, including JPG, PNG, SVG, PDF, MS Word, PowerPoint, and Excel.

More PESTLE Analysis Diagram Templates
Below are some professionally designed PEST analysis templates to help you itemize the challenges that can potentially influence the operation of your business or company.
PESTLE Analysis Mind Map Template
This template lets you capture a lot more information in a structured, clean format. It's a useful template for when you have to display a lot more data.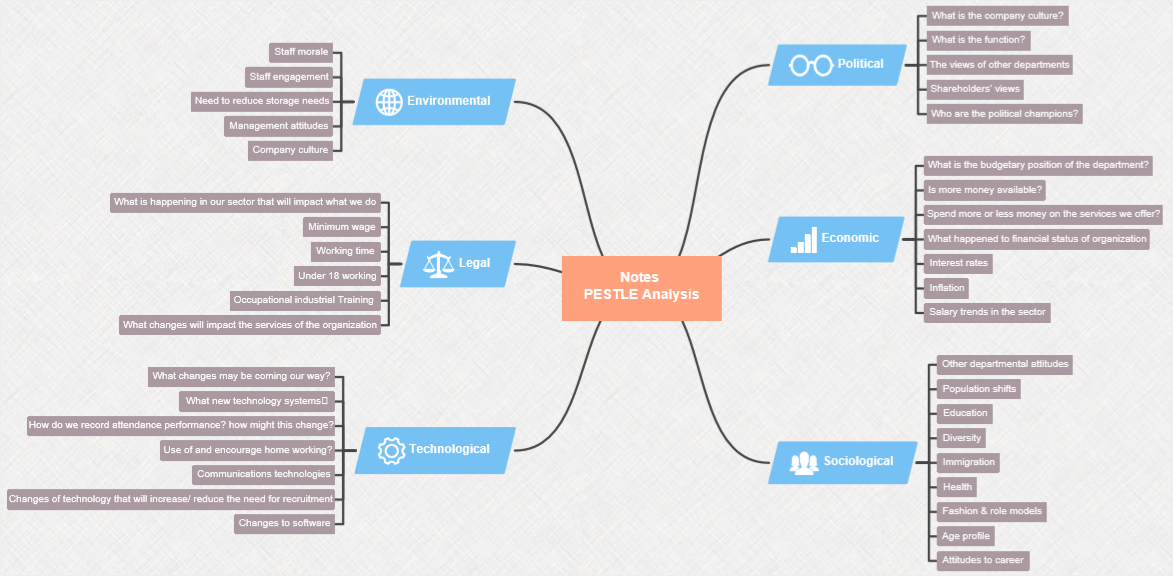 PEST Diagram Template
This bold template is sure to bring attention to your PEST analysis presentation. Customize and use it to display how external factors impact on your company or business.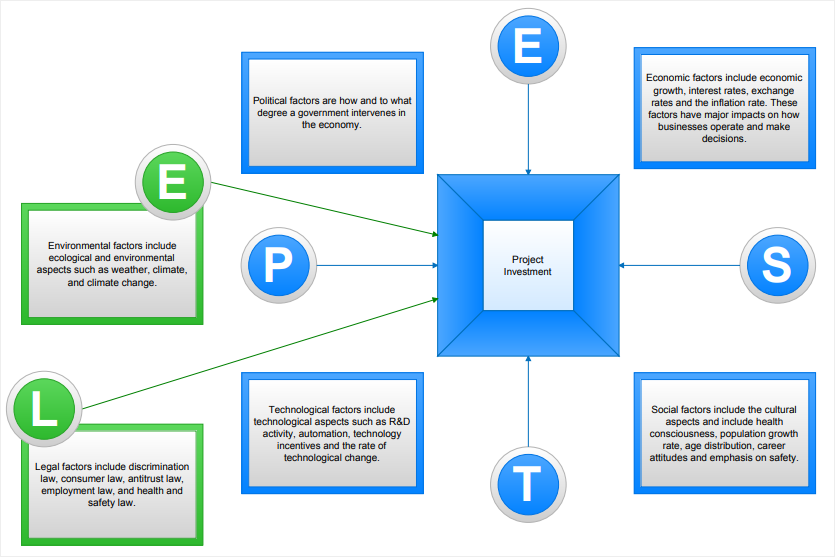 PEST Analysis Template
This one is another customizable PEST analysis template useful for when you want to keep your report concise, focusing on the key factors that can influence your company or business.