A Complete Guide on Making AI Diagrams
AI diagrams – the latest innovation to ease your drawing troubles. Harness the power of AI to modernize your diagram creation.
Also available for
Windows, Mac, Linux, iOS, Android, and Web.
All options >>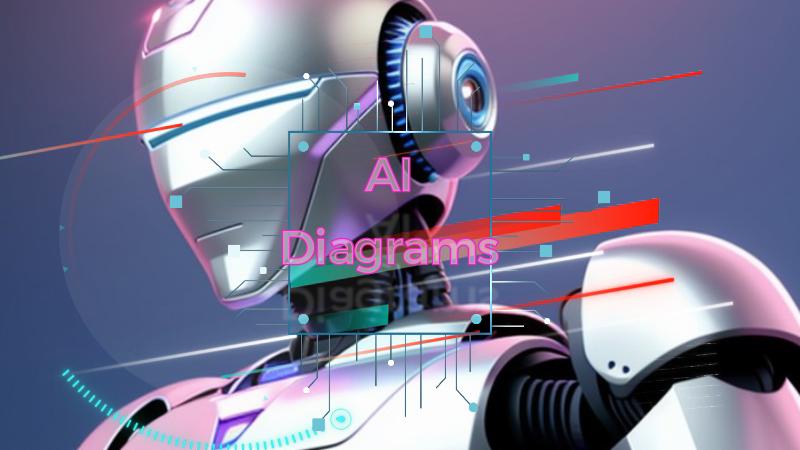 Making diagrams for simplifying your processes offers several benefits. Diagrams offer a visual depiction of complex processes. Such visuals can make processes easy to understand. Diagrams help users grasp the overall layout by simplifying complex data into visual elements. More, you can express relationships and the flow of a process quickly. Teams can boost topic insights and find potential bottlenecks in the combined tasks.
However, you can amplify this experience using AI technology. AI diagrams need little editing because they are already full-fledged. We will show a complete process to create a diagram of AI. Also, you will know which factors to notice in the best AI drawing tool.
1. What Is Meant by AI Diagram?
An AI diagram refers to a diagram created using AI algorithms and techniques. It involves using AI to automate the diagram creation process for better efficiency, accuracy, and insights. AI-created diagrams can take various forms and serve different purposes. Thus, the creation of AI diagrams can depend on your data's specific application and context.
Benefits of AI Diagrams
There are multiple benefits of creating AI diagrams using AI-powered tools. Yet, some of the most noticeable benefits are as follows:
AI algorithms automate the diagram creation process. This approach saves time and effort compared to manual methods.
You can handle large volumes of data, allowing extensive datasets processing.
AI ensures precise diagram generation, reducing the risk of human error.
Faster diagram creation leads to efficacy and workflow management.
You can enter your personalized requirements in an AI tool for tailored results.
AI ensures consistent formatting, style, and layout in diagram generation. Also, AI tools maintain professionalism in your diagram outlook.
Such diagram AI tools are always up-to-date with the latest trends. Thus, your AI-created diagrams will yield creativity.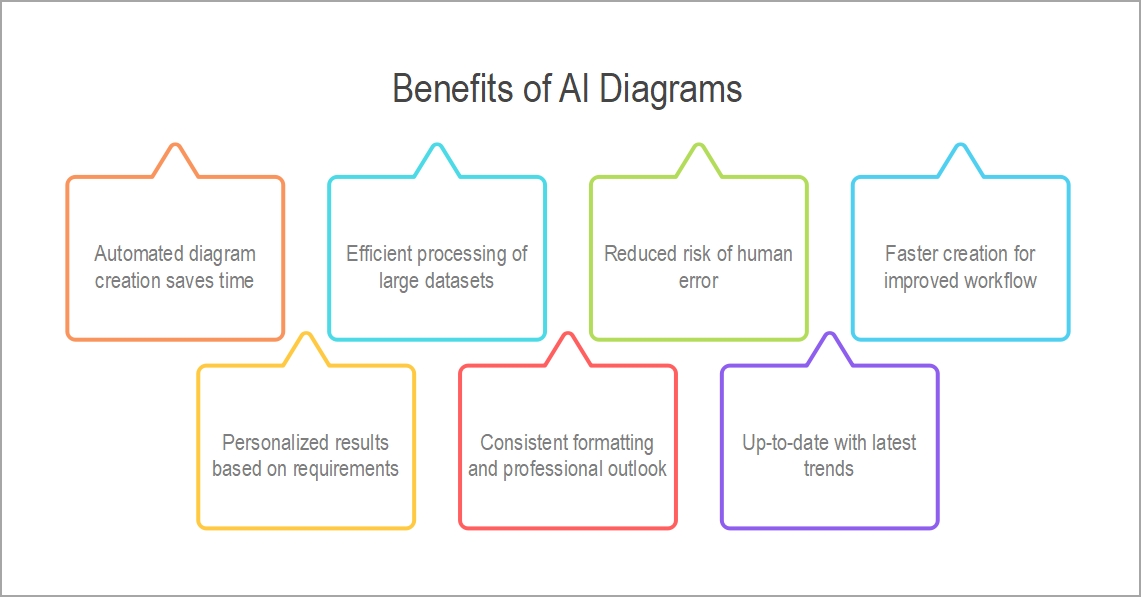 2. Enhance Your Creativity in AI Diagramming with AI-Powered EdrawMax!
Manual diagram-making can present various challenges to the creators. For example, adding and aligning shapes can make the process difficult for some users. Also, the process involves manually formatting text and adjusting the layout. All these tasks can be hard and time-intensive for new designers. Other issues may include consistency, technical skills, and inaccuracies.
Such a situation requires using an AI-driven drawing tool. To lessen your burden, we have brought EdrawMax for your design needs. EdrawMax AI boosts your experience by automating your diagram creation. The tool improves layout and formatting, does data analysis, and simplifies data conversion. These AI options offer a more efficient and appealing diagram-making process.
Highlights of AI-Powered EdrawMax
EdrawMax is a versatile tool that incorporates several AI-powered features. The tool provides the following features to bring life to your ideas:
You can communicate your ideas with Edraw AI Assistant. The tool allows you to input your topic ideas for one-click content generation.
Edraw AI enables diagram creation through a single click. You just need to insert your idea into the AI.
The tool auto-aligns your diagrams and their content to save your efforts. Auto alignment is useful, especially when dealing with large diagrams.
Edraw AI automatically creates shapes & connectors without human intervention. You will not require any manual drag and drop to add shapes.
If your content creation skills are not good, you can take help from Edraw AI to create smart content.
Edraw AI's one-click global style editing allows you to customize the theme of your diagram with a single click.
Using the unification features, you can unify the fonts and colors throughout in your diagram. It is because manual customization of each shape is difficult.
Edraw AI performs a smart analysis of your diagrams for improvement. The tool suggests possible corrections in the diagram.
How To Create a Flowchart Using EdrawMax?
Creating an AI flowchart on EdrawMax requires nothing but only a little manual input. The tool itself will generate a complete flow diagram. Follow the given procedure to create an EdrawMax AI diagram, such as a flowchart:
Step1
Download and launch the latest edition of "EdrawMax" on your device.
Step2
Click the "New" option in the left sidebar. Now, go to the top, and click the "Create New" bar.
Step3
It will launch the "Edraw AI" assistant. You can input your query directly in the search box. Also, you can choose a specific diagram type from the given options.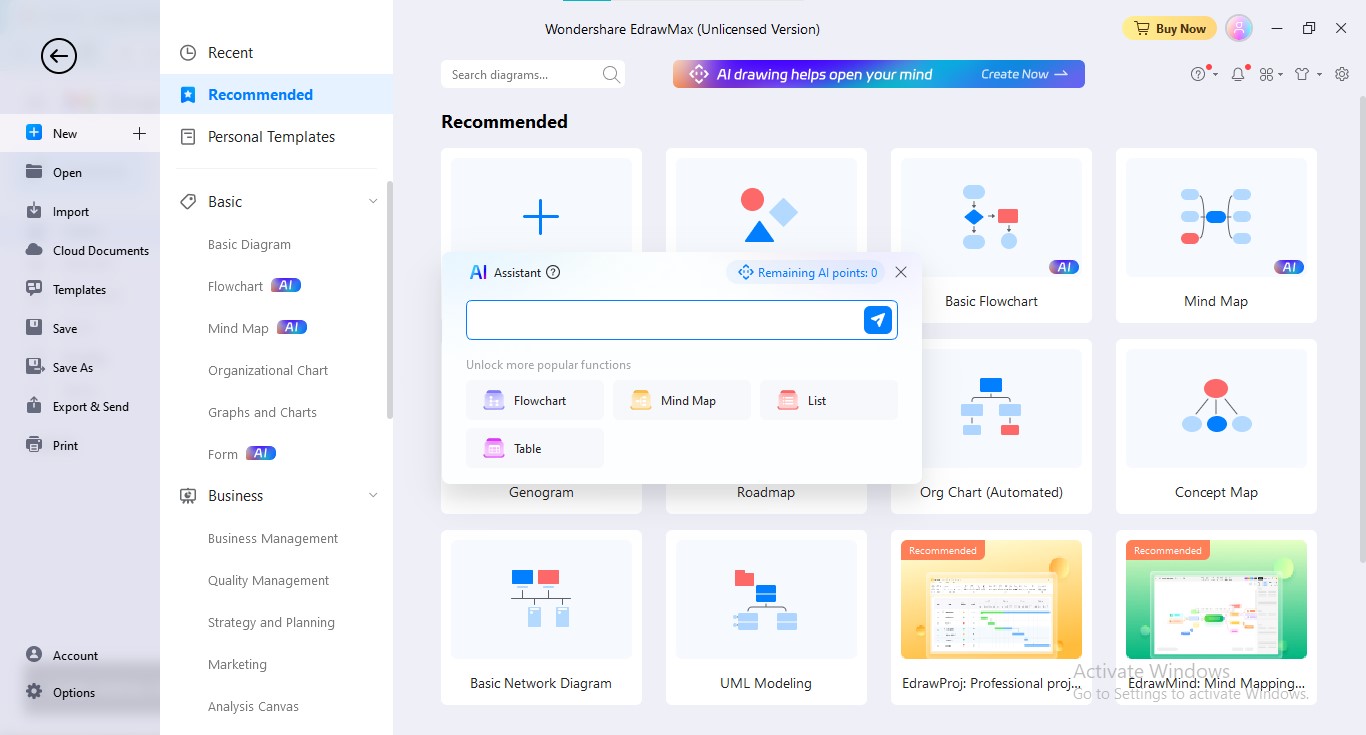 Step4
Edraw AI will ask for your target needs if you select a diagram type. Enter your topic in the search bar and hit the "Go" icon.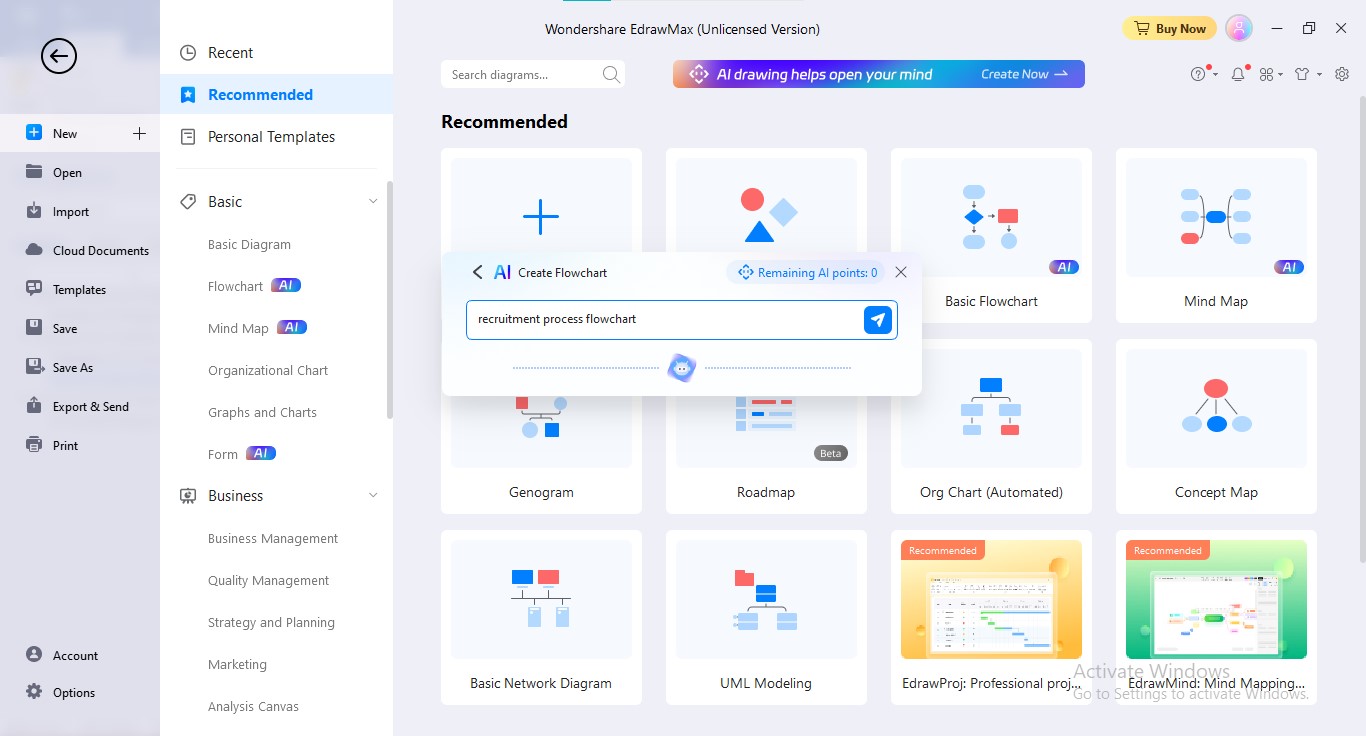 Step5
In seconds, your Edraw AI Assistant will create a well-formatted flow diagram.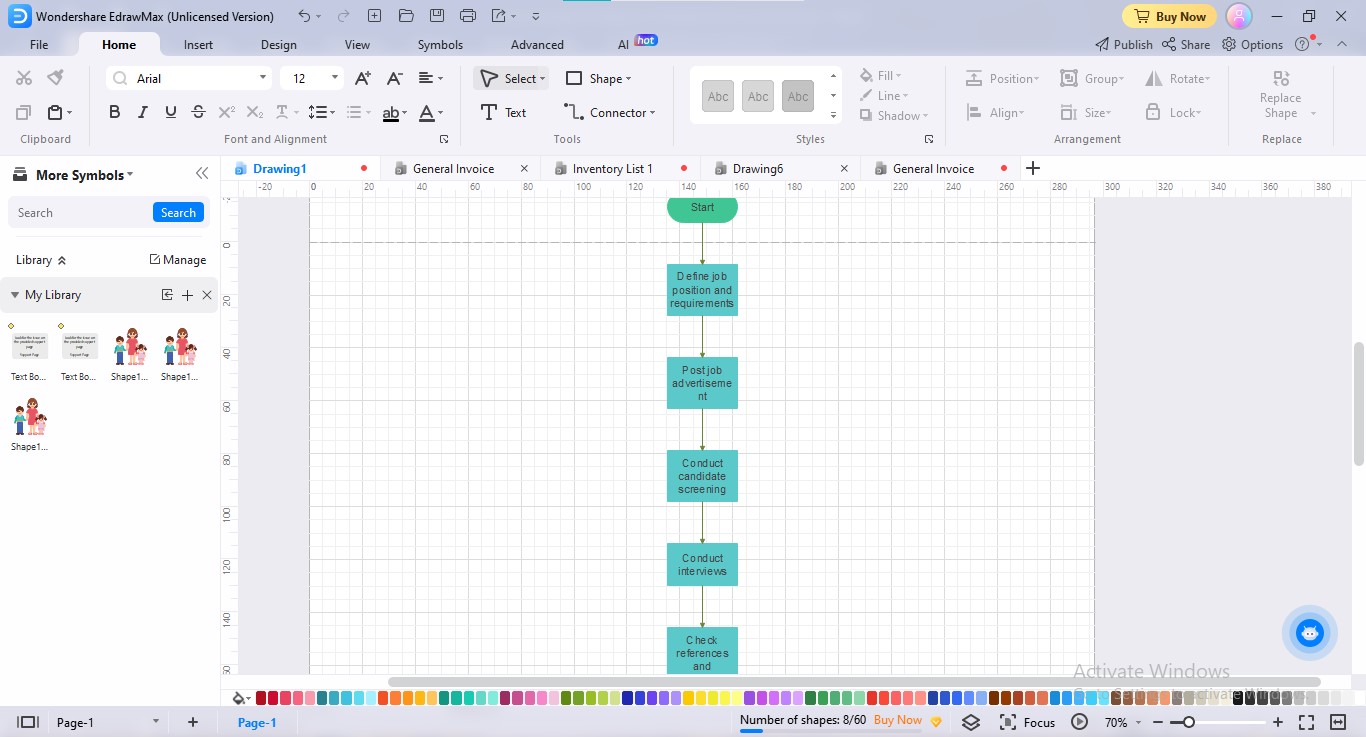 Step6
Go to the "One Click Edit" option to adjust your diagram with just one click. Choose the "Change Global Style" tab from the given options.
Step7
Apply your favorite theme by choosing it and clicking the "Apply" button.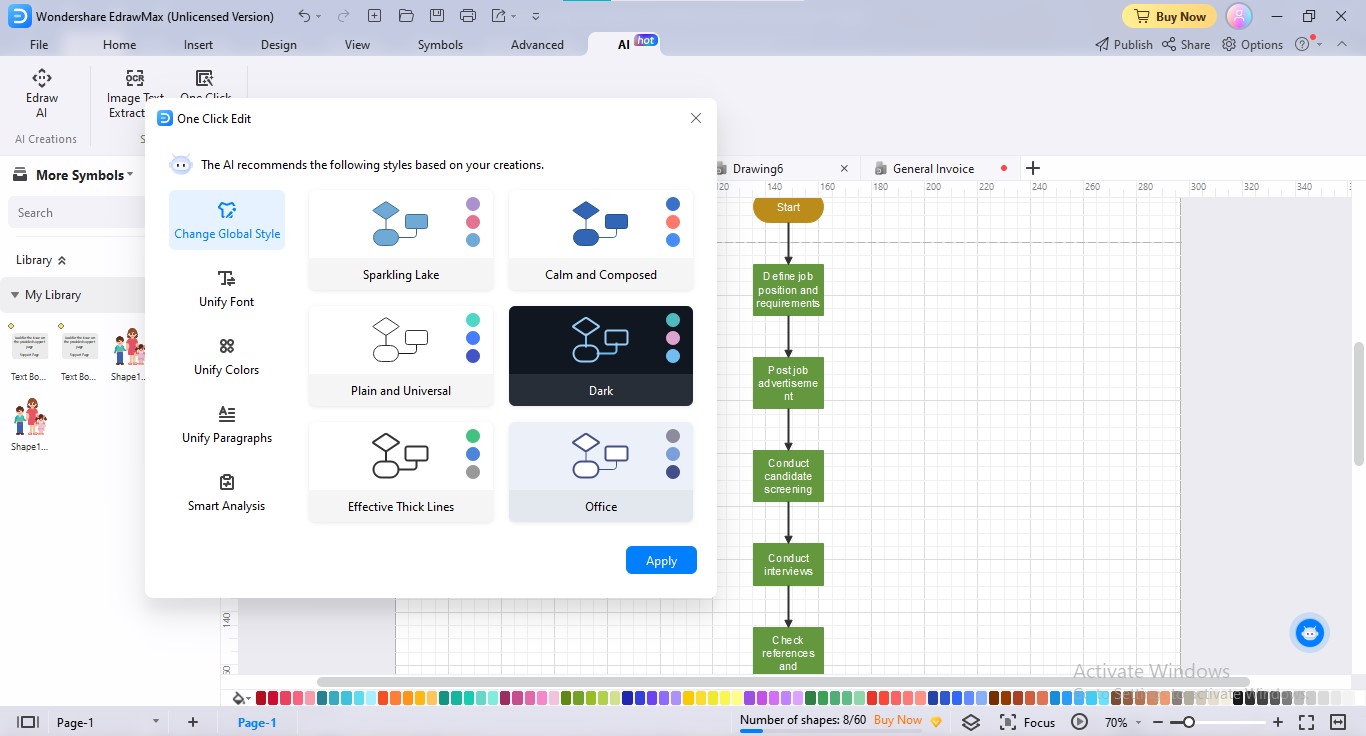 Step8
Choose the "Unify Font" tab from the given tabs in the One-Click Edit dialogue box for font unification. Choose your desired font from the gallery. Hit the "Apply" button to change the fonts.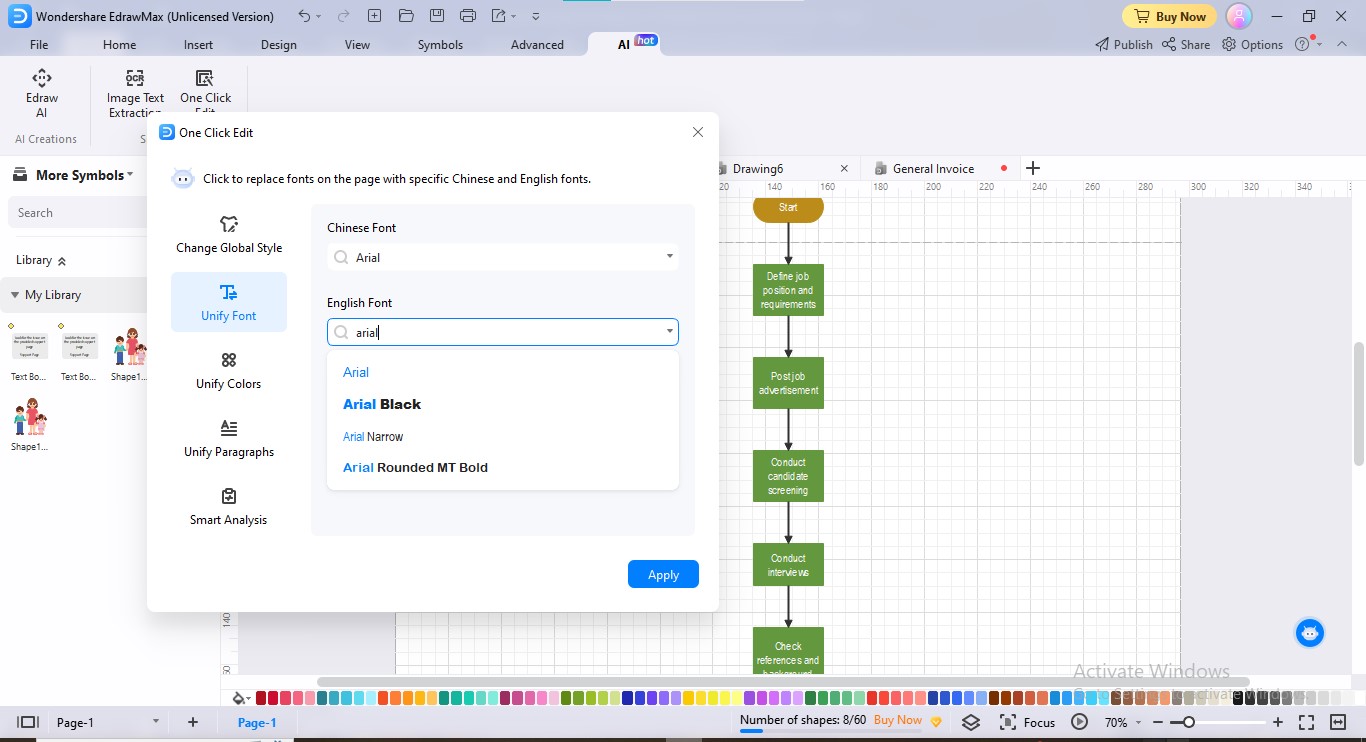 Step9
Go to the "One Click Edit" option to unify your AI flowchart colours. Choose the "Unify Colors" tab in the dialogue box. Set your preferred colors by selecting from the given range.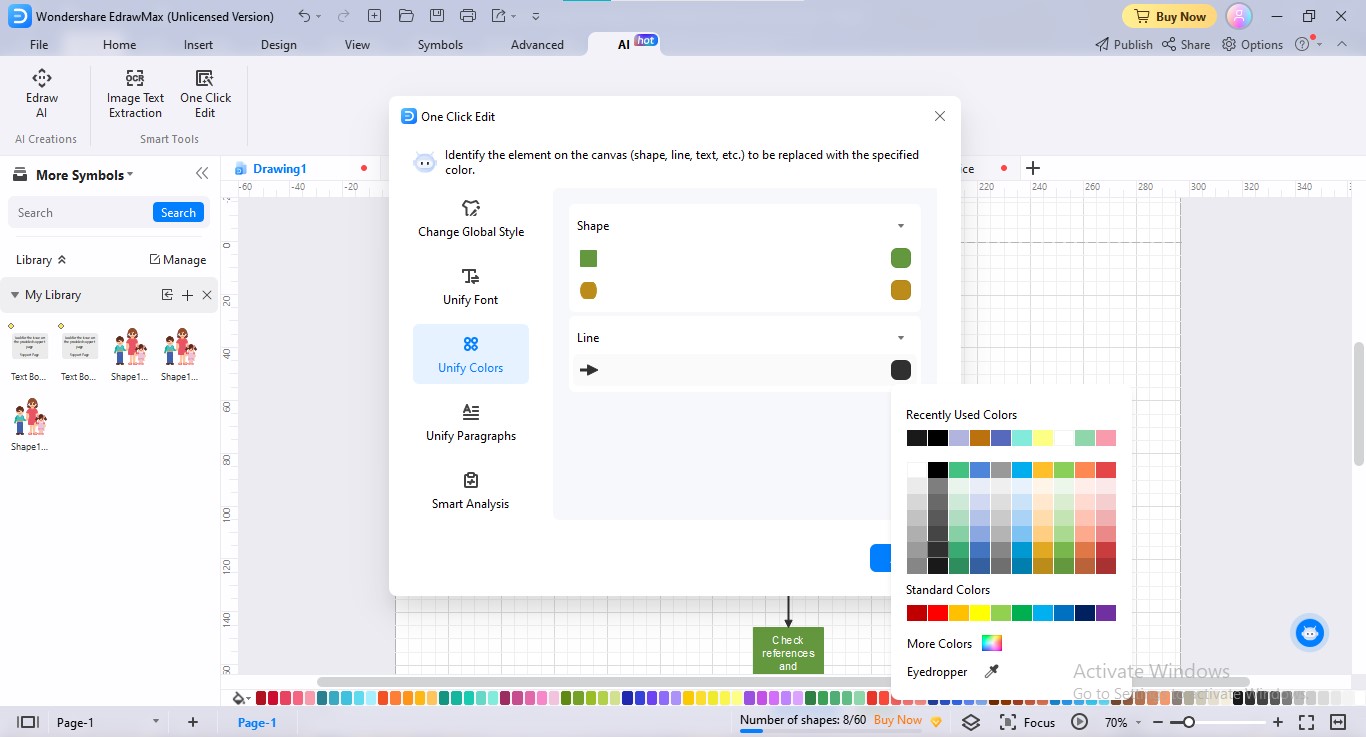 Step10
Click the "One Click Edit" option if you want to do Smart Analysis. Now, go to the "Smart Analysis" tab. Edraw AI will suggest how to improve your flowchart diagram. Accept Edraw's suggestions by clicking the "Optimize" button.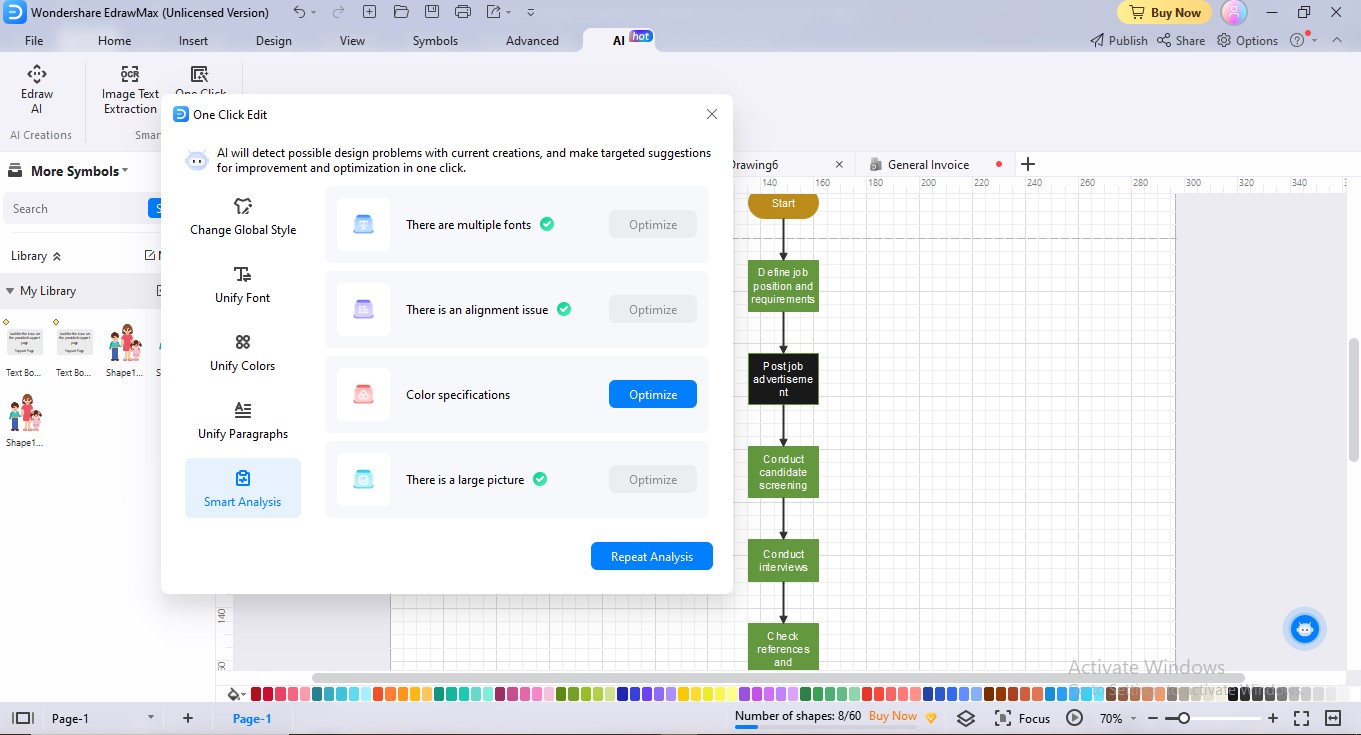 Step11
Click the "Export" icon above. Choose your preferred export format to save your AI diagram.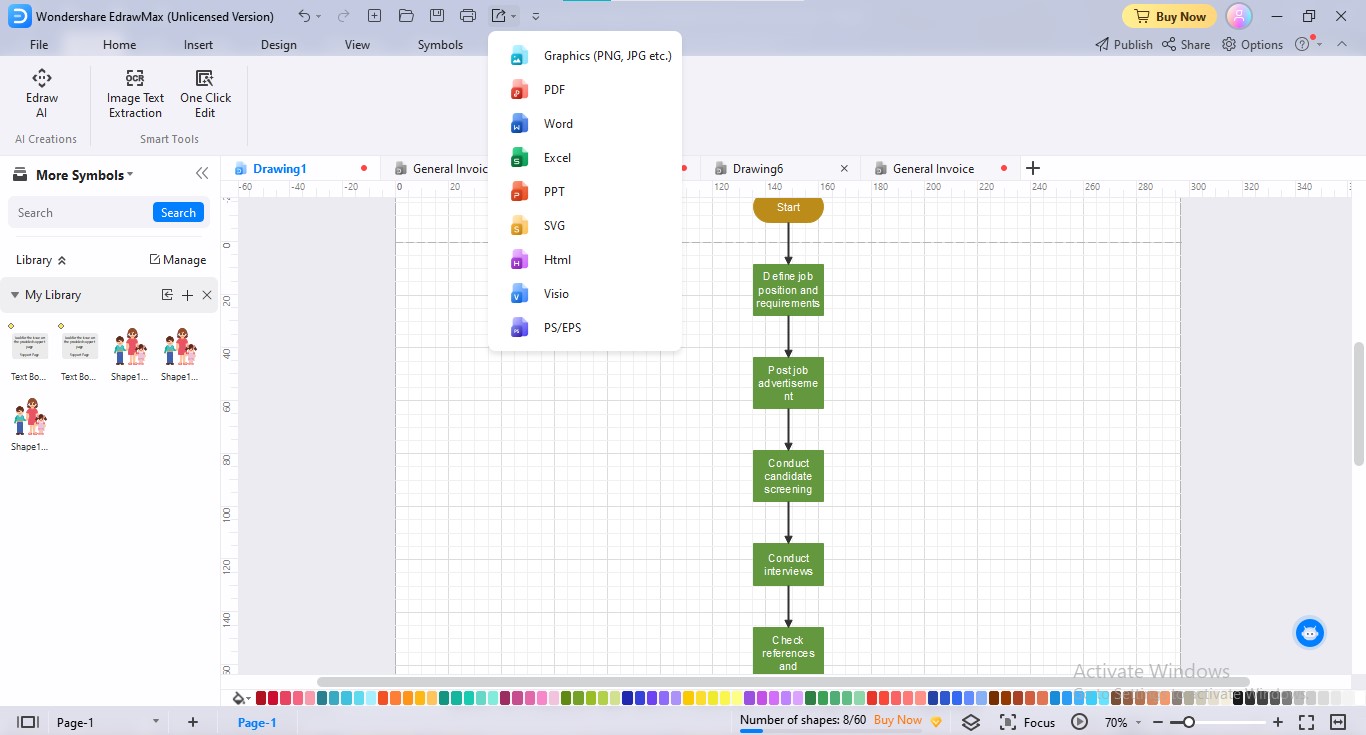 3. AI-Powered Diagramming Tools
AI diagramming tools have revolutionized the ways of data visualization by presenting incredible & thrilling diagram crafting functionalities. Several tools are available in market enabling AI features. Yet, very few of them provide commendable features spectrum. Let's have a look at some tips to select the ideal tool for your personal or business needs.
Tips to Choose the Best Tool for AI Diagram Designing
Looking into various factors of an AI diagramming tool is necessary. Extensive research allows you to make an informed decision. Also, you can choose an AI tool that best fits your specific needs and preferences. Here are some tips to help you choose your ideal tool:
AI Capabilities
Evaluate the AI functionalities of the tool. Look for features such as automatic diagram generation and intelligent layout choices. Other features can include smart analysis, content creation, and editing. The tool should entrench AI to glorify your experience and provide valuable options.
Vast Customization Choices
You must consider the library of shapes, symbols, and icons the tool offers. It should present a range of premade items about multiple diagram types. A detailed library saves time by providing readymade components. Also, huge customization options create a visual appeal in diagrams.
Pricing
Analyzing only the AI features is not enough. You must check whether the tool offers a free version. If not, check its premium plans for insights. You can do a comparative analysis of several tools' prices on this ground. It will offer you insights into their price-to-performance ratio. Also, you will know which pricing plan suits your needs better.
Integrations
Besides looking into AI functionalities, check whether the tool integrates with external sources. Seamless integration with productivity tools can enhance workflow efficiency and data-sharing capabilities. Your tool must have integrations for file sharing, editing, and document uploading. All these integrations make sure that your tool can offer a scalable diagram creation experience.
Export and Sharing Options
The tool should allow diagram export in various formats. Also, it should support easy sharing through email, social media, or collaborative sites. Flexible export options ensure that diagrams are accessible across different platforms and devices. PDF, graphics, and Visio formats are a must for any tool. It is because PDF and graphic formats are useful for file management. In contrast, the Visio format allows you to edit your file in MS Visio further.
4. Conclusion
Visual diagrams offer benefits such as better ideas understanding, and finding bottlenecks. You can foster problem-solving, teamwork, and decision-making. By leveraging the power of visual representation, you can unleash creativity. However, you can use AI's auto-generating diagram tools to ease your drawing journey. Diagram AI tools offer one-click diagram building in a few seconds.
You can save time and manual labor using these ways of AI diagram making. This guide explains everything about creating a diagram of AI. Also, it discussed major factors for choosing a perfect diagram AI tool.
EdrawMax Desktop
Create over 280 types of diagrams
Windows, Mac, Linux (runs in all environments)
Professional inbuilt resources and templates
On-premises software for business
Enterprise-level data security
EdrawMax Online
Create over 280 types of diagrams online
Access diagrams anywhere, anytime
Team management and collaboration
Personal Cloud and Dropbox Integration
Related Articles