A Detailed Review on Whimsical AI-Powered Tool
Whimsical, an AI-powered tool, unleashes the creative brilliance within brainstormers. With its AI-guided suggestions, Whimsical empowers individuals to overcome creativity-related obstacles.
Also available for
Windows, Mac, Linux, iOS, Android, and Web.
All options >>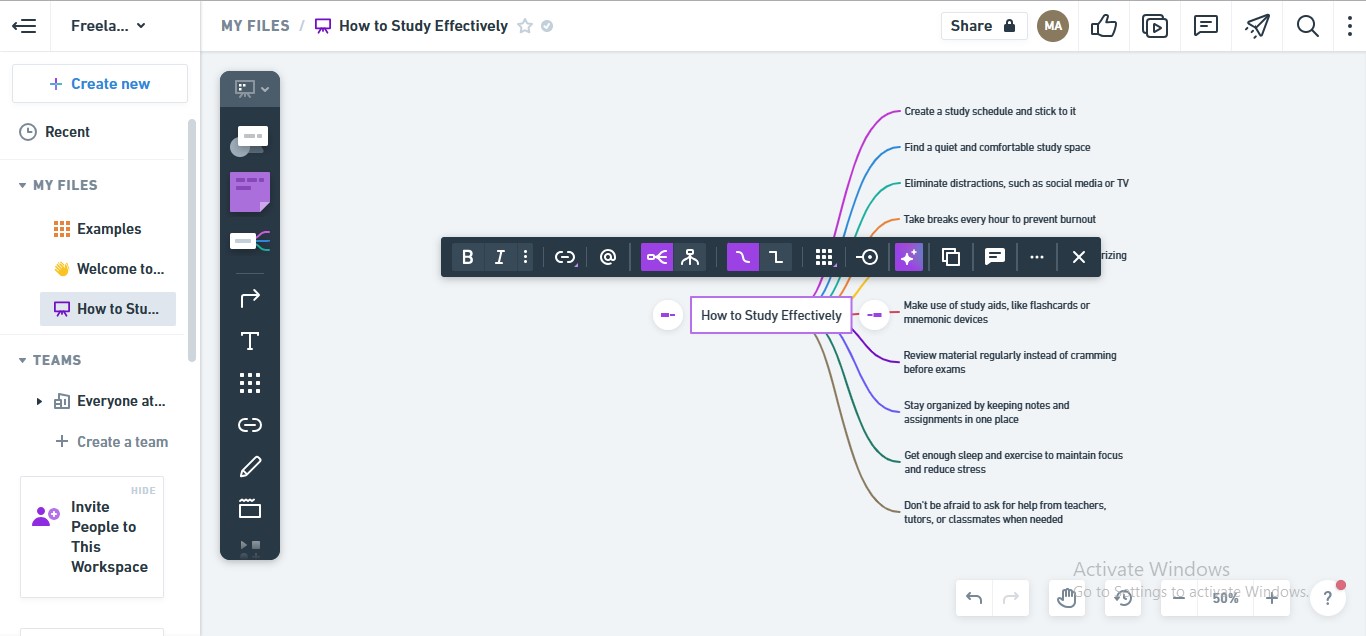 Have you ever imagined effortlessly converting your brainstorming ideas into stunning diagrams with a click of a button? With AI-powered tools, ideation has become ultra-convenient, unleashing your creativity and saving you precious time & energy. Bid farewell to the era of battling with intricate diagramming tools or grappling with painstaking manual design methods.
Whimsical AI is a groundbreaking ideas visualizer that overthrows the shackles of conventional diagramming approaches. The tool lets you embark on a voyage where your imagination knows no bounds. This article will present an honest review of Whimsical AI, an AI-driven drawing tool that makes your diagram creation enchanting and seamless affair.
1. Basics of Whimsical AI
Whimsical is an exceptional visualization tool that empowers you to bring your brainstormed thoughts to life with unparalleled ease and efficiency. With its revolutionary AI-powered algorithms, it propels your projects to unprecedented levels of accomplishment. The tool presents an extensive range of powerful features designed to enhance productivity by streamlining your processes.
Introducing Whimsical AI Mind Mapping Feature
One of Whimsical latest advancements is its cutting-edge AI mind-mapping feature. Whimsical AI leverages the supremacy of machine learning to interpret the connections between your thoughts. The smart algorithms uncover hidden patterns and generate fresh insights about your relevant query. Also, its AI functionality acts as a guiding companion, suggesting relevant concepts, associations, and flows to stimulate your thinking.
G2 Rating: 4.6/5
Compatibility: Windows, macOS, Linux, Android
Pros
Fast-paced content generation
AI feature available in the free version
Unlimited access to the AI feature
Maximized content accuracy
Allows freehand drawing
Enables adding icons and images
Sticky notes
Automatic customization
Manual customization with incredible elements
Cons
Subtopics may need manual alignment
AI feature is unavailable in other diagram types
How To Generate a Mind Map Using Whimsical AI Features?
Whether you're creating a personal mind map, planning a project, or mapping out your next big endeavor, Whimsical AI will create mind maps that truly capture the essence of your vision. So, let's witness the seamless fusion of technology & creativity and learn how to unleash the full potential of Whimsical:
Step1
Set up a "Whimsical" account by signing up to its official platform. If you already have a Whimsical account, sign in to that.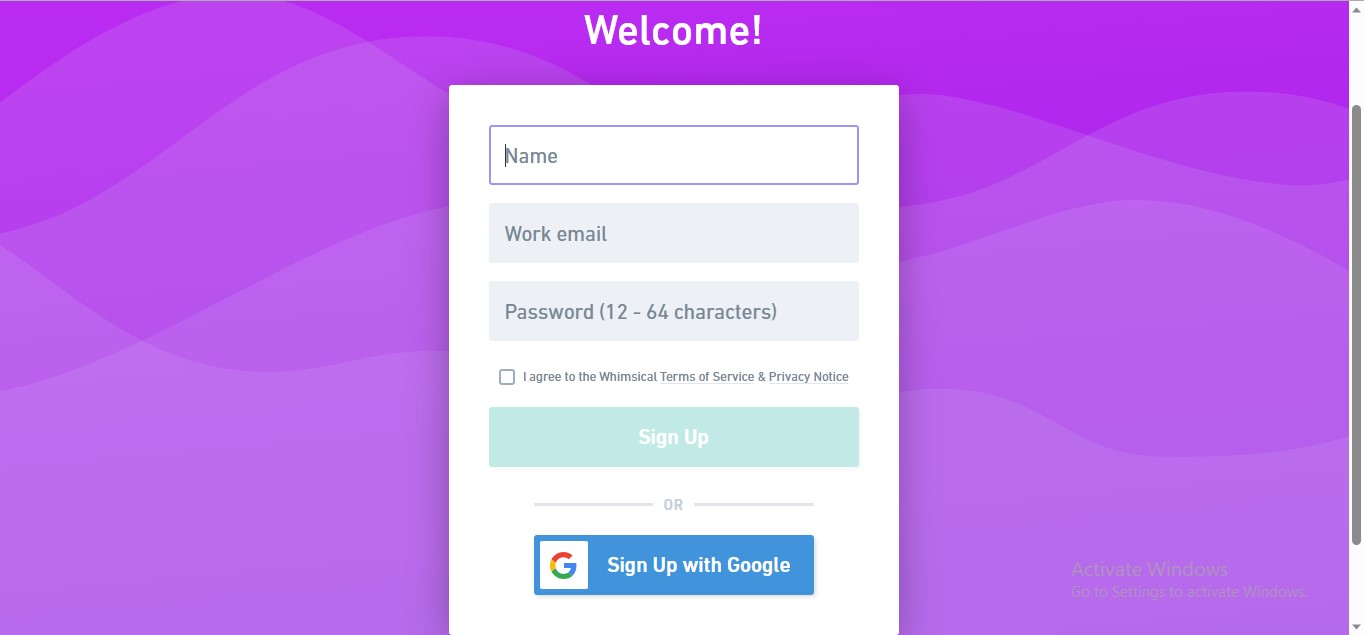 Step2
Whimsical will ask you to create a new Workspace. Rename it and click the "Next" button.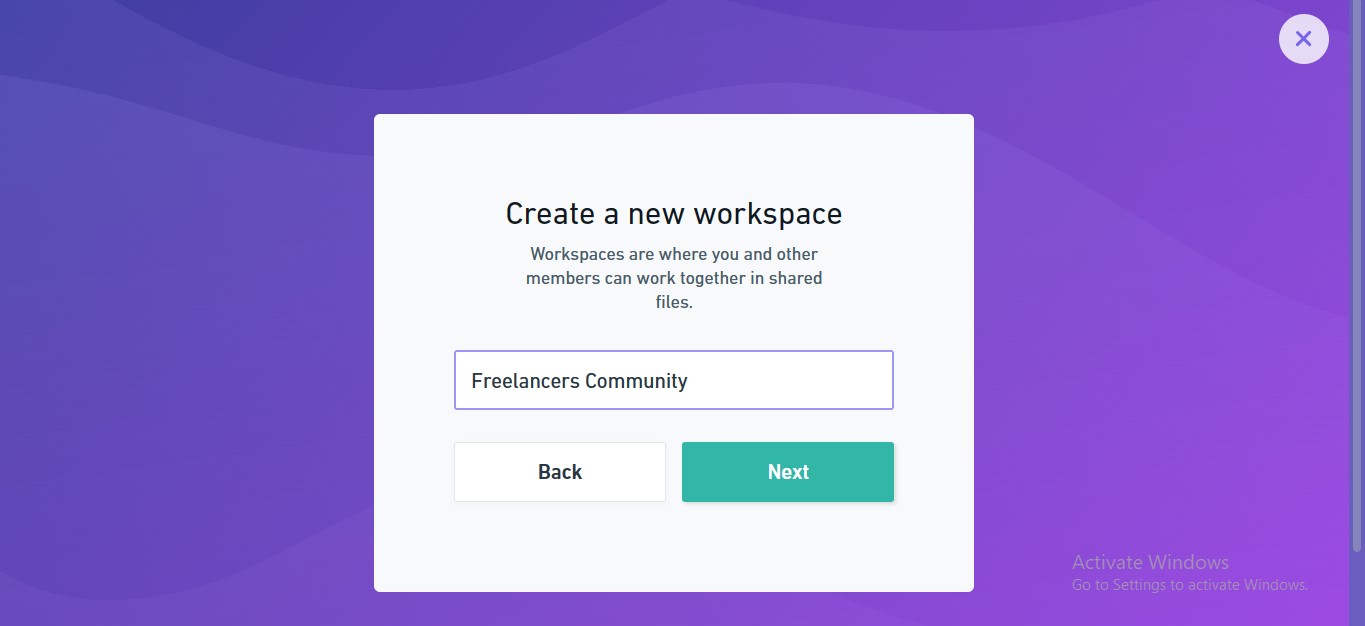 Step3
Click the "Board" tab in your Whimsical Workspace interface.
Step4
Go to the "Add Mind Map" option in the left vertical toolbar. Add a mind map on the board through drag and drop.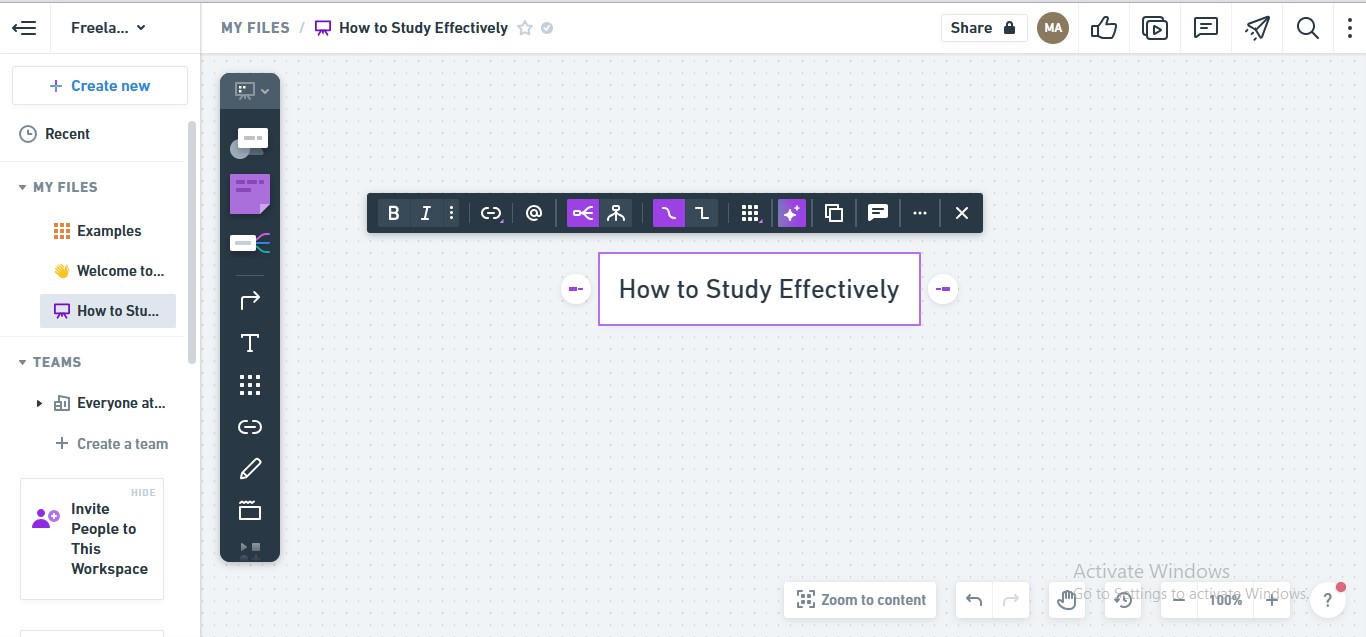 Step5
After adding the mindmap box, enter your core idea in the box.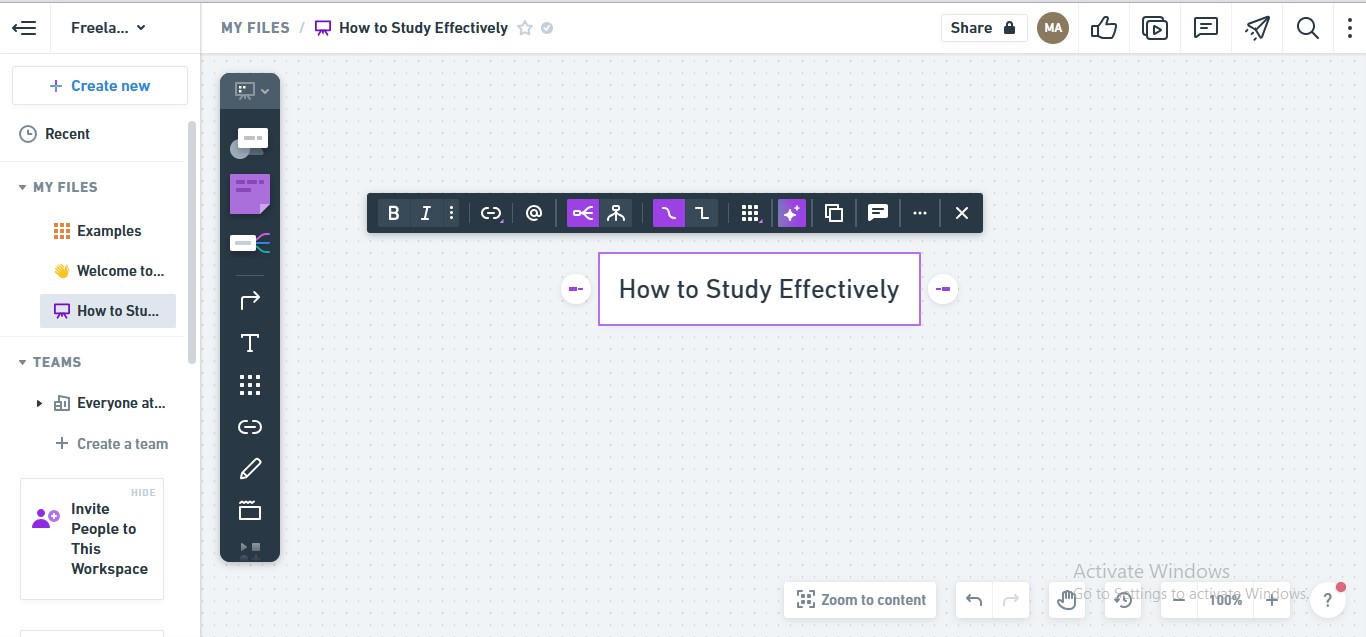 Step6
Click the "Generate Ideas" icon in the quick toolbar. AI will start analyzing your query and generating relevant content.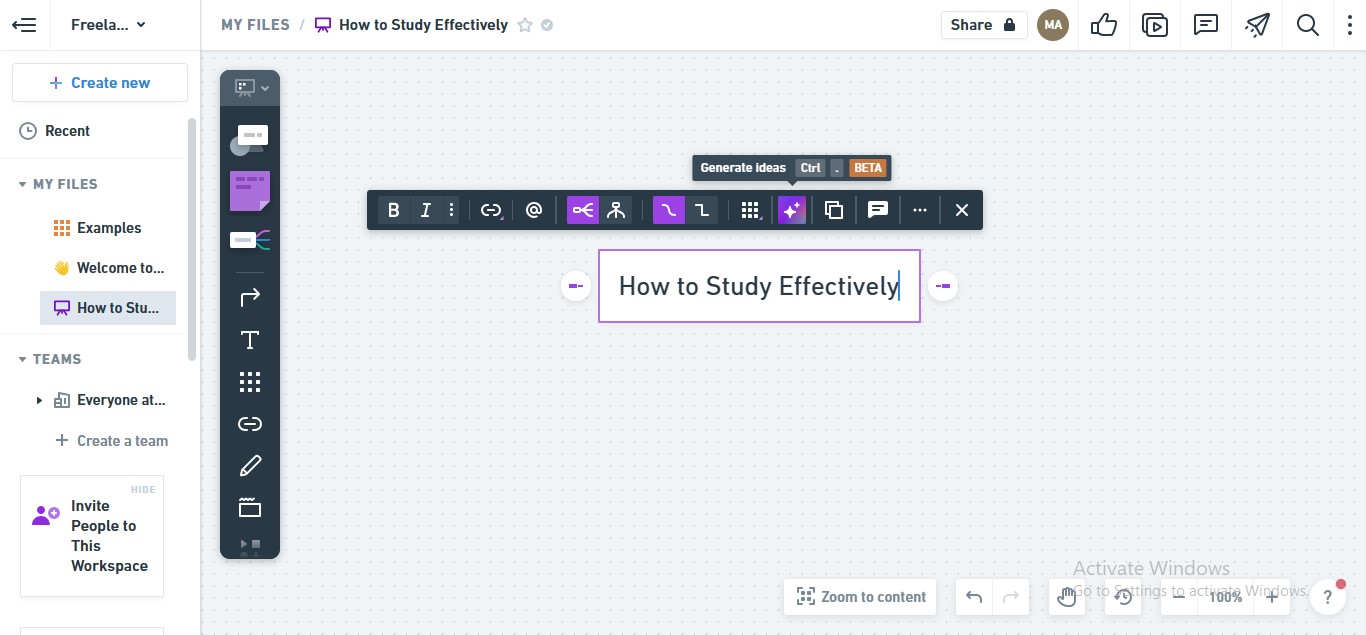 Step7
Whimsical will generate your ideas in a few seconds.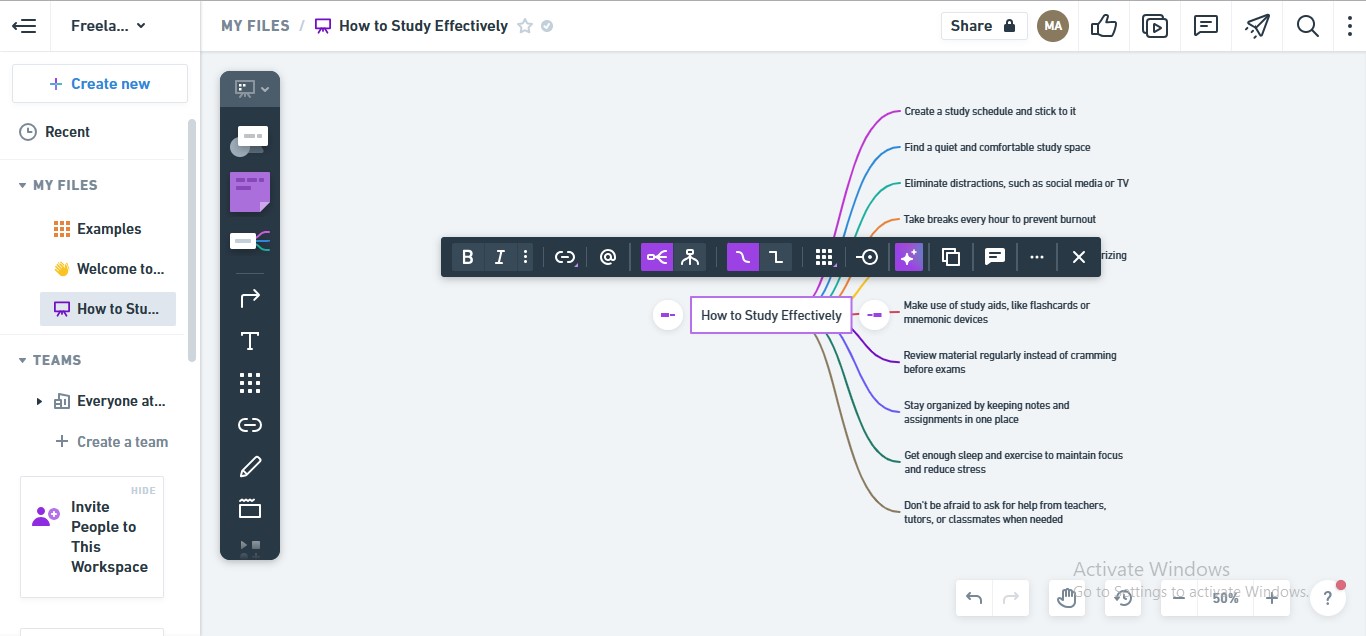 Step8
Using the AI feature, you can generate sub-ideas in a similar pattern.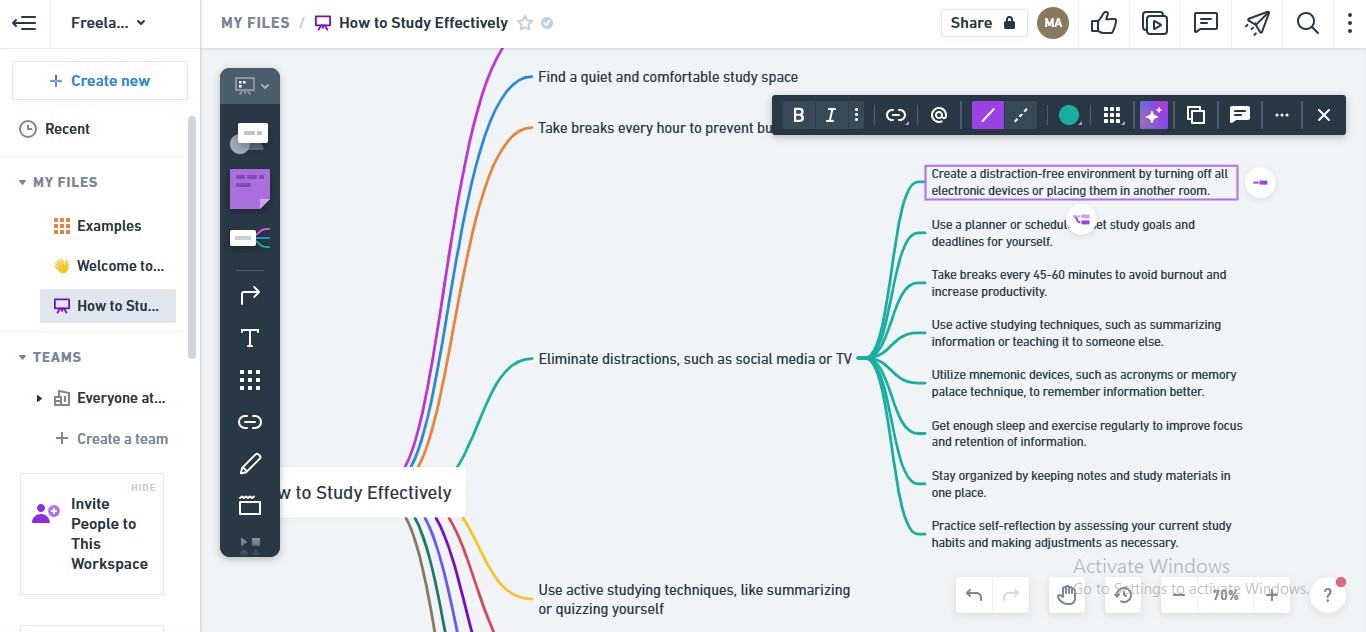 Step9
Save your mindmap by clicking the "Export and Share" icon above. Choose "Export" from the dropdown.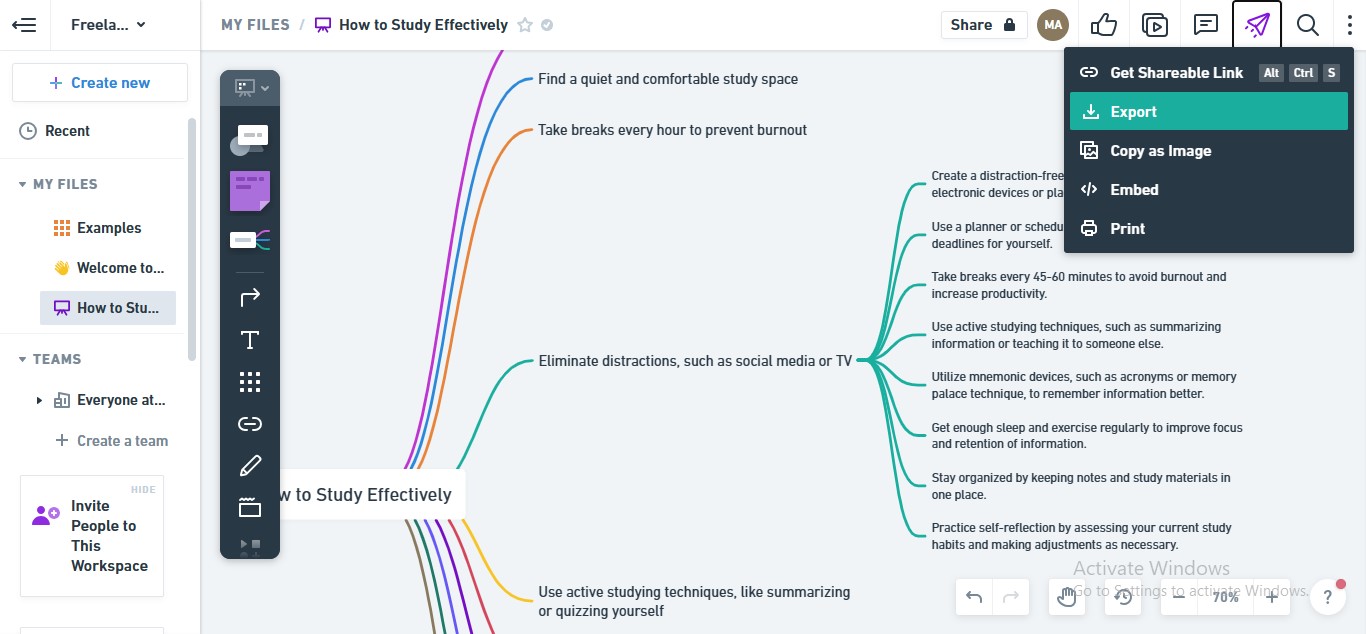 Performance Analysis of Whimsical AI
The whimsical AI mind-mapping feature brings a new level of performance and efficiency to the table. One of the standout aspects of Whimsical AI mind mapping is its incredible speed. The AI algorithms work swiftly to analyze your input, instantly generating a response based on your input. Moreover, the accuracy and precision of the Whimsical AI feature are commendable.
The tool understands the relationships between concepts, making logical connections and providing a coherent structure to your mindmaps. The tool represents your ideas accurately and eliminates blockages hindering the brainstorming process. Regarding AI-generated ideas customization, you get immense freedom to customize the text, shapes, and connectors. Overall, the performance of the Whimsical AI mind map feature is exemplary.
Users' Reviews of Whimsical AI
Users have been highly positive and enthusiastic about the Whimsical AI feature. The AI-powered ideas generation has been particularly appreciated for its role in sparking new concepts. One common attitude among users is the ease of use and intuitive nature of Whimsical AI. Users have found it straightforward to input their ideas and let the AI algorithms generate a visually appealing mindmap.
The accuracy of Whimsical AI content generation has also received praising remarks from users. They expressed that the tool effectively captures the relationships between concepts and logically organizes them. On the whole, users have shared positive experiences with Whimsical's new AI mind map feature, citing its efficiency and speed as its standout qualities.
2. EdrawMax- The Powerful Alternative AI Tool to Whimsical!
Are you venturing on the journey for the perfect alternative to Whimsical? We have brought an unrivaled solution that transforms your notions into remarkable creations. EdrawMax is the recent sensation in the market – a game-changer that elevates your written content to new heights of professionalism and clarity. From the simplest sketches to the most intricate diagrams, EdrawMax AI transforms your ideas into mesmerizing works of art with one stroke.
This cutting-edge tool revolutionizes the way you brainstorm, sketch, and collaborate on your ideas. With EdrawMax AI by your side, there are no limits to what you can achieve. Using EdrawMax, you can step into the realm of limitless possibilities and unlock the true potential of your creativity. In essence, EdrawMax is your reliable companion for transforming words into impactful visuals that captivate and inspire.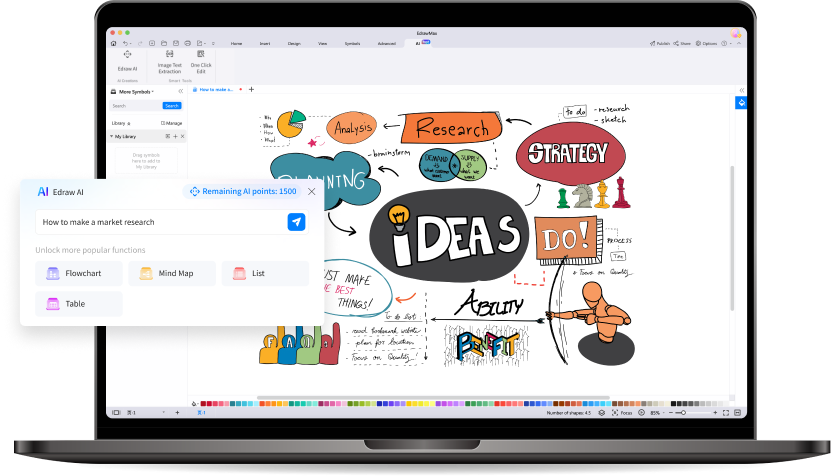 Quick Insights Into AI EdrawMax
Users can generate professional-looking diagrams with a single click, saving time and effort.
The EdrawMax AI algorithms intelligently align and arrange the diagram elements, optimizing the layout for improved readability.
EdrawMax AI provides a one-click edit feature to apply a consistent layout to the entire diagram.
You can translate your diagram content into more than ten languages.
The tool contains various innovative content improvement features, such as text continuation, polish text, tone changing, and more.
You can extract textual content from images using EdrawMax AI's intelligent Image-Text feature.
How-to tutorial list:
How To Generate a Mind Map With AI EdrawMax?
EdrawMax AI allows you to transform your ideas into a well-structured and visually appealing mindmap with one-command functionality. Just input your requirements, and the tool will generate a full-fledged mindmap for you. Observe the given steps to do so:
Step1
Launch the "EdrawMax" application to create an AI mindmap.
Step2
Navigate to the "New" option at the left. Click the "Create New" option at the top to wake Edraw AI Assistant.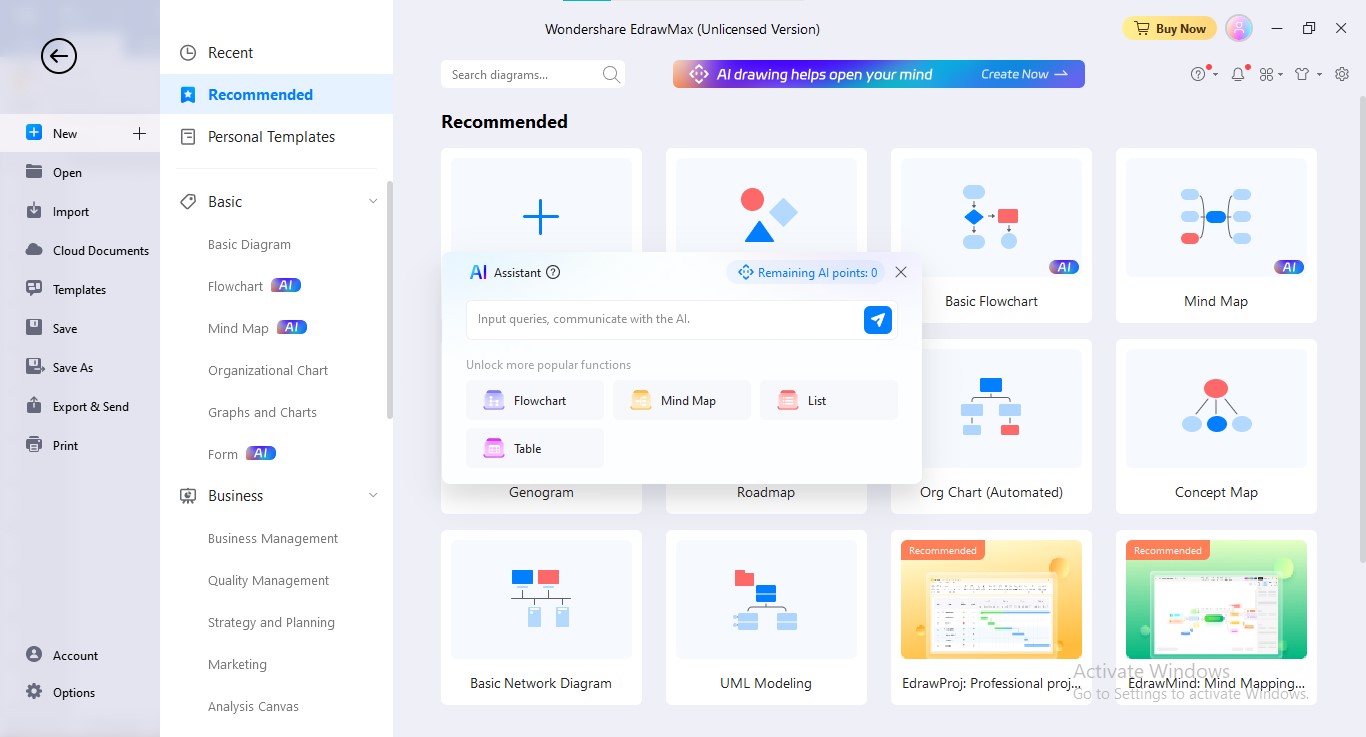 Step3
Choose the "Mind Map" tab. Input your mind map requirements by typing them in the search bar. Click the "Go" button to start mind map creation.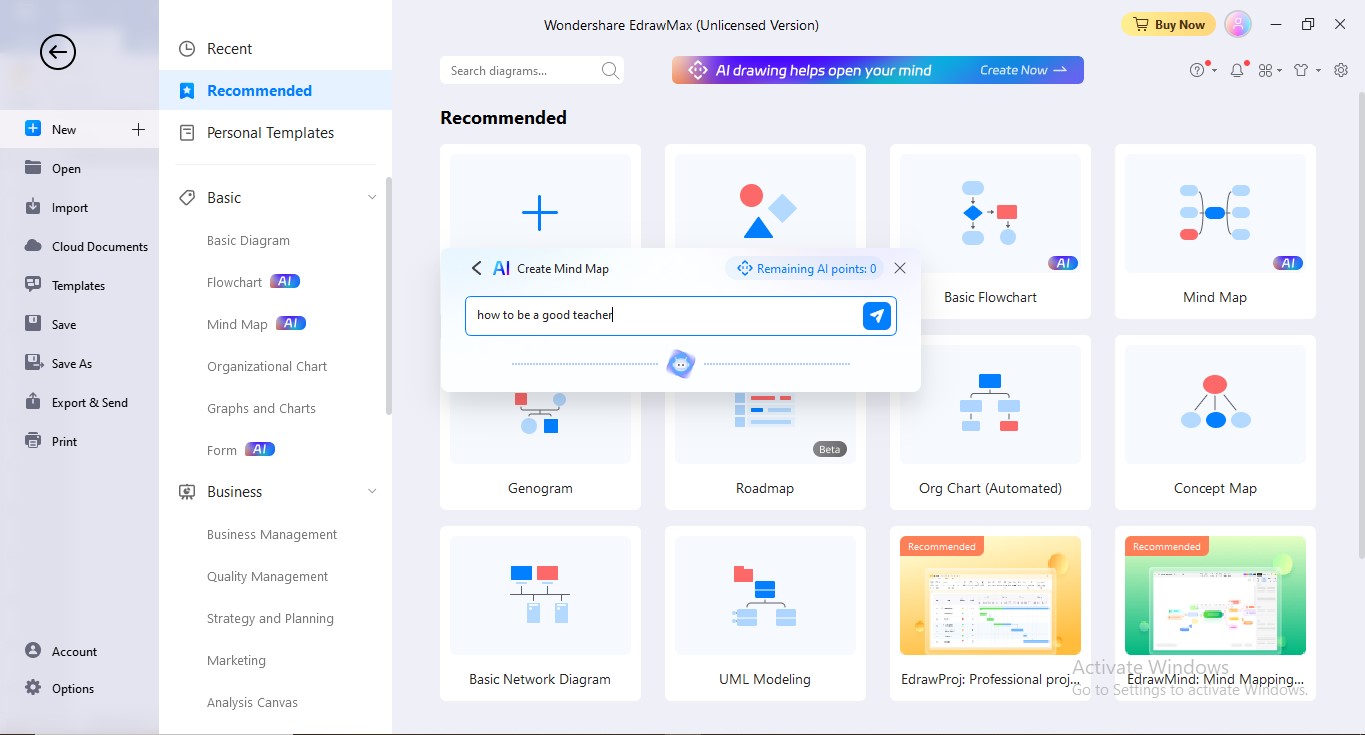 Step4
Edraw AI algorithms will generate a comprehensive mind map based on your query.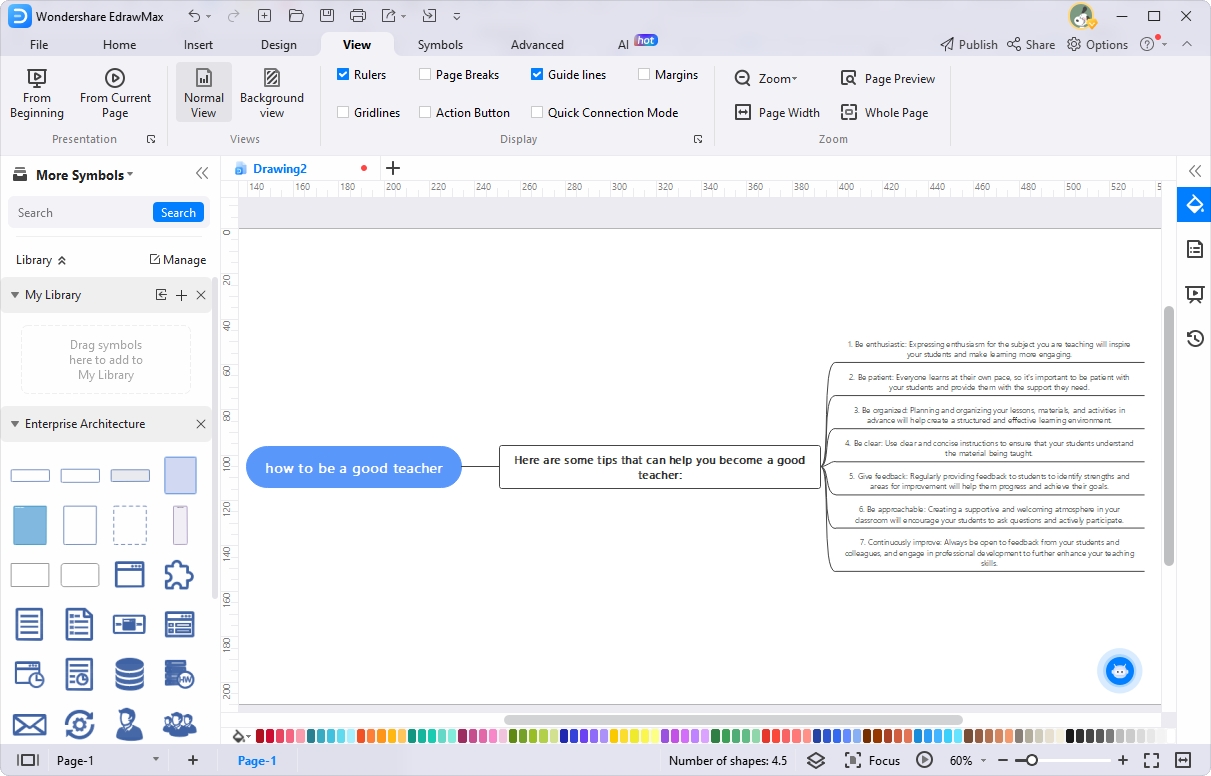 Polish The Text in Mind Maps With EdrawMax's AI Feature
With text polishing, you can easily adjust the font styles, sizes, and colors to ensure consistency. You can pick your desired fonts from a vast assortment of professional fonts that best suit your context or brand voice. Additionally, you have the flexibility to customize line spacing and alignment. Here's how you can polish your mind map text in EdrawMax:
Step1
Select a text by clicking it once. It will launch the quick customization toolbar.
Step2
Click the "AI Generated Content" button in the toolbar. Choose the "Polish Text" option from the dropdown.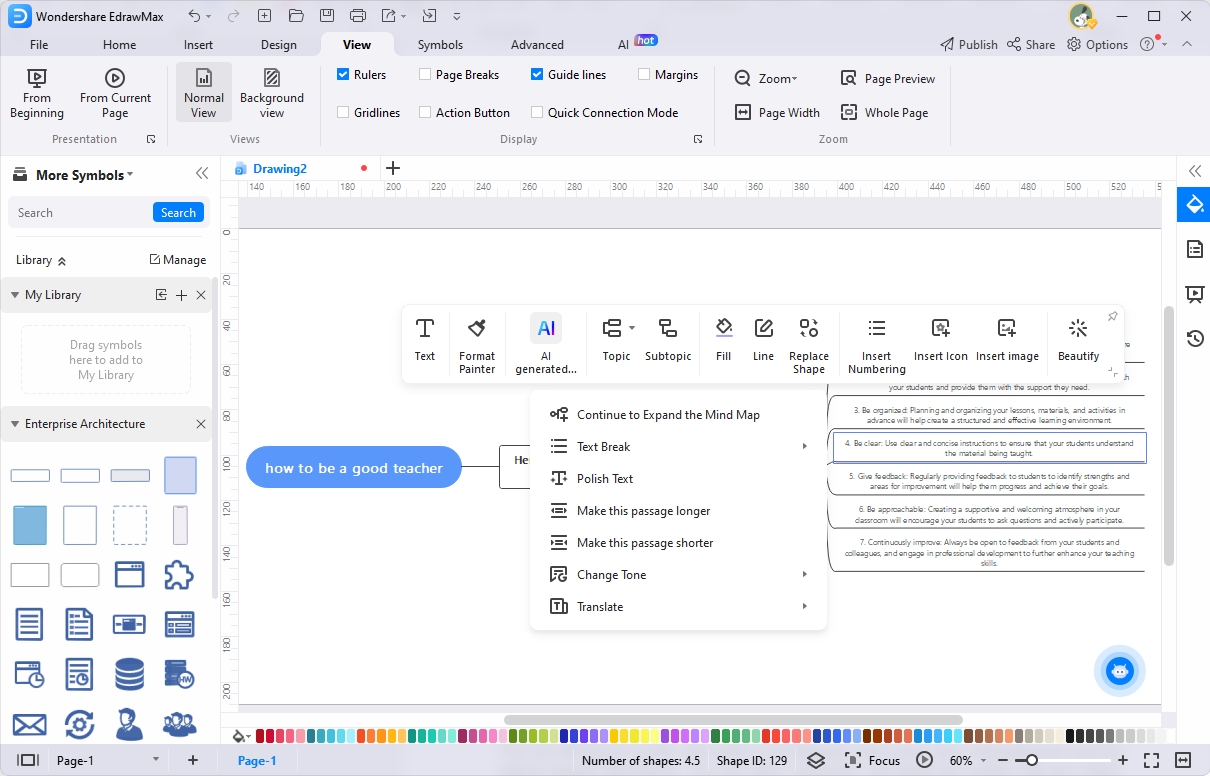 Beautify The Mind Maps with AI EdrawMax?
You can effortlessly modify and update your diagrams with a mere click, eliminating the need for tedious manual adjustments. You can refine, restructure, and adjust the content with just a flash. Follow the given procedure to beautify your mind maps using the One-Click Edit feature:
Step1
Go to the "AI" menu to use the One-Click Edit feature.
Step2
Choose the "One Click Edit" option under the AI tab.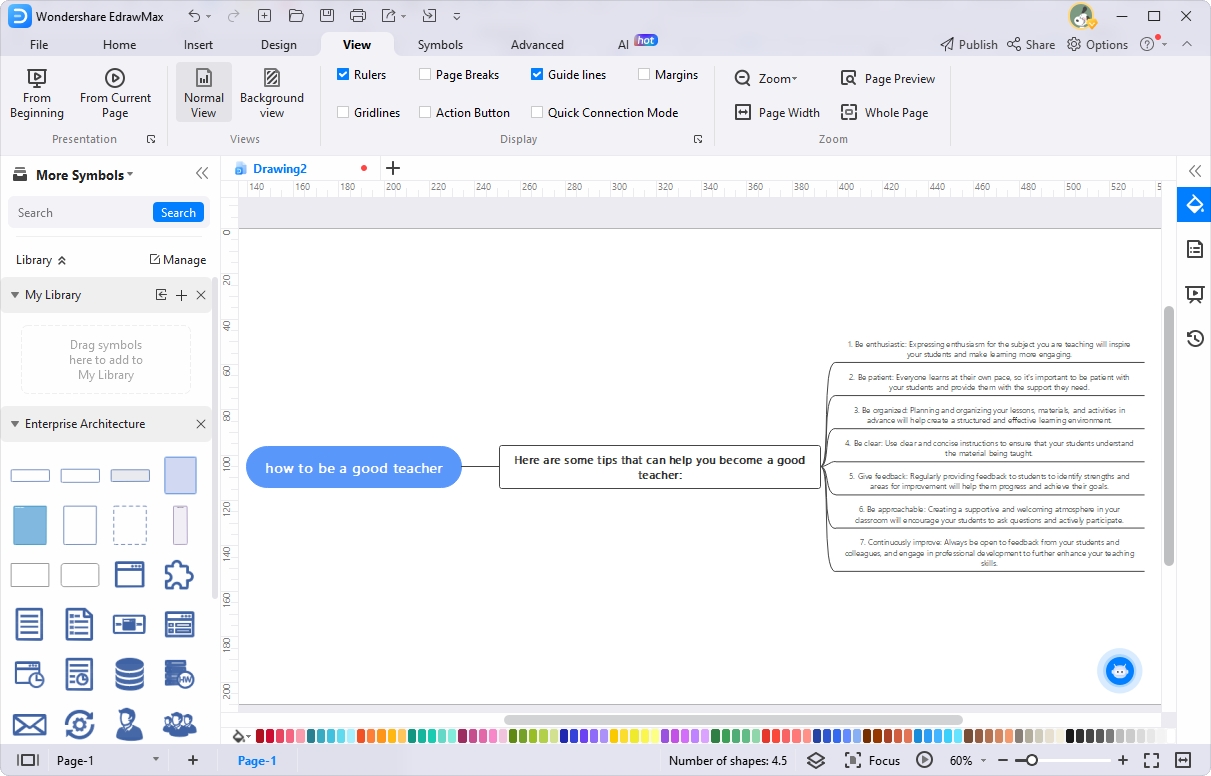 Step3
Click the "Change Global Style" tab in the popup to change the layout. Apply your favorite theme, and click "Apply."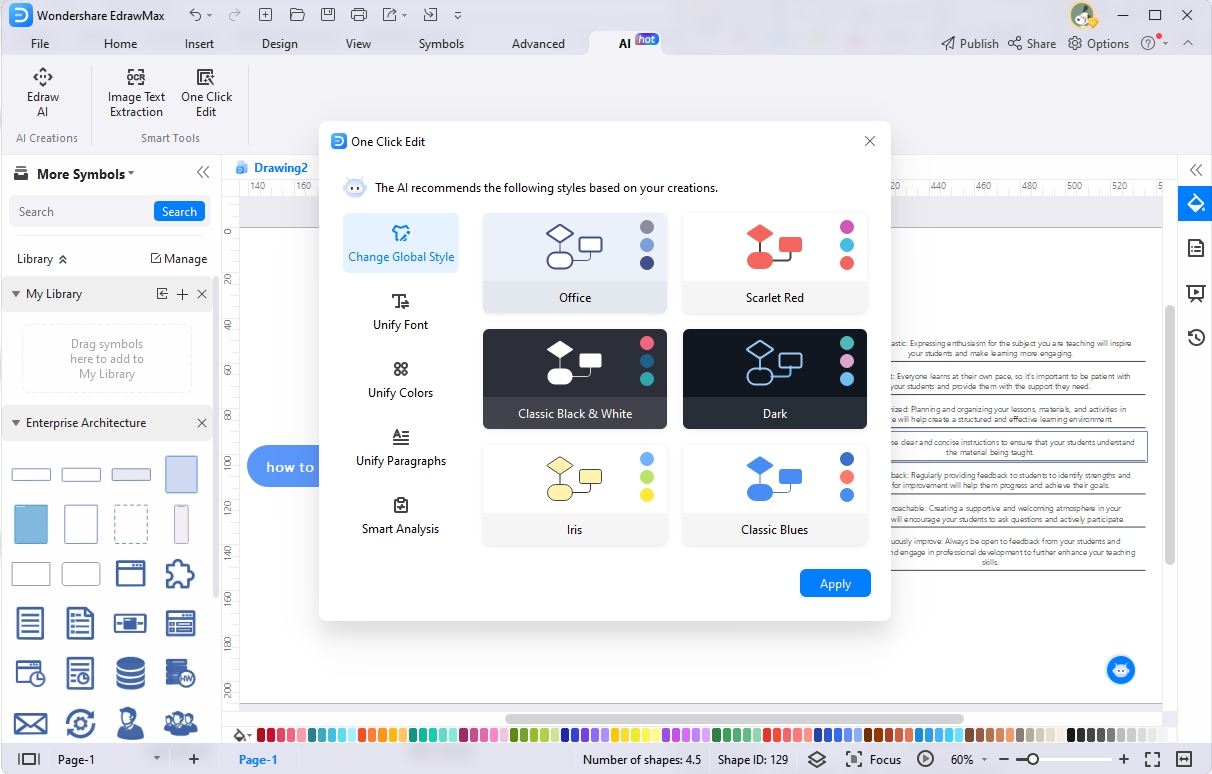 Step4
Click the "Unify Font" tab to unify the font formatting throughout your mindmap. Choose your preferred font and click "Apply."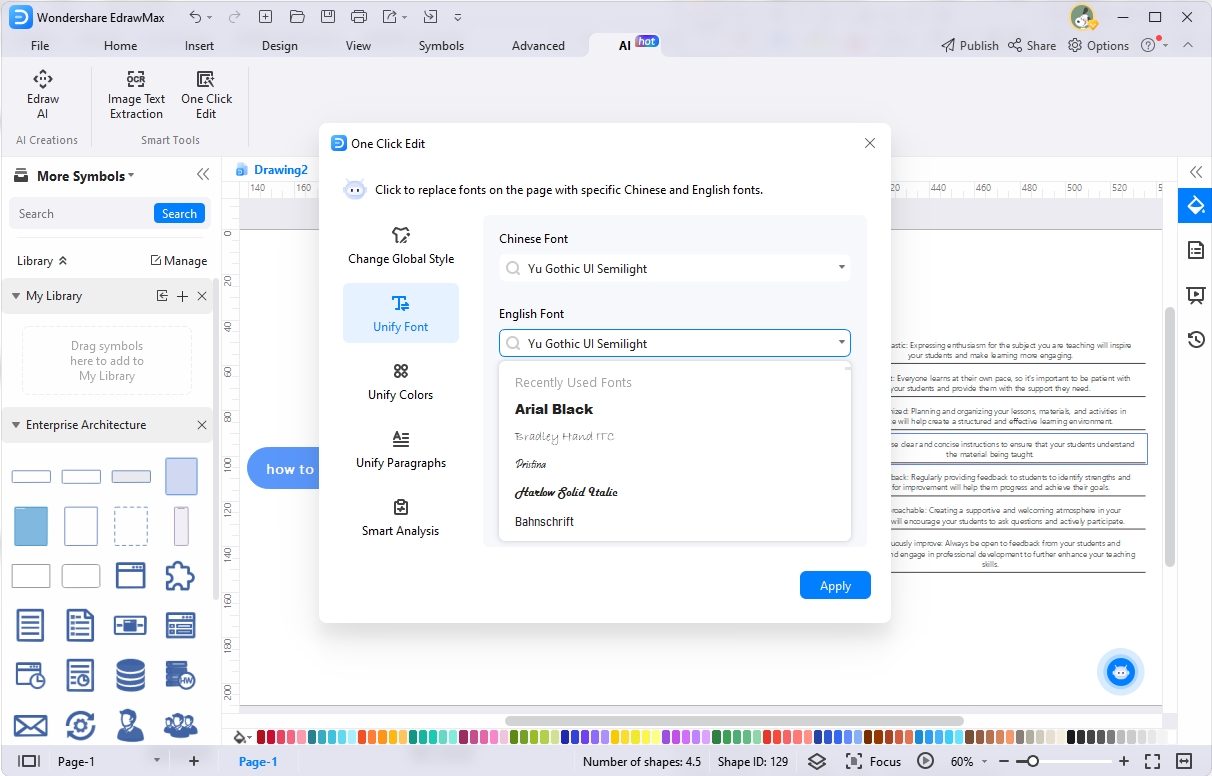 Step5
Choose the "Smart Analysis" to improve your mind map. Accept Edraw AI's suggestions by clicking the "Optimize" button.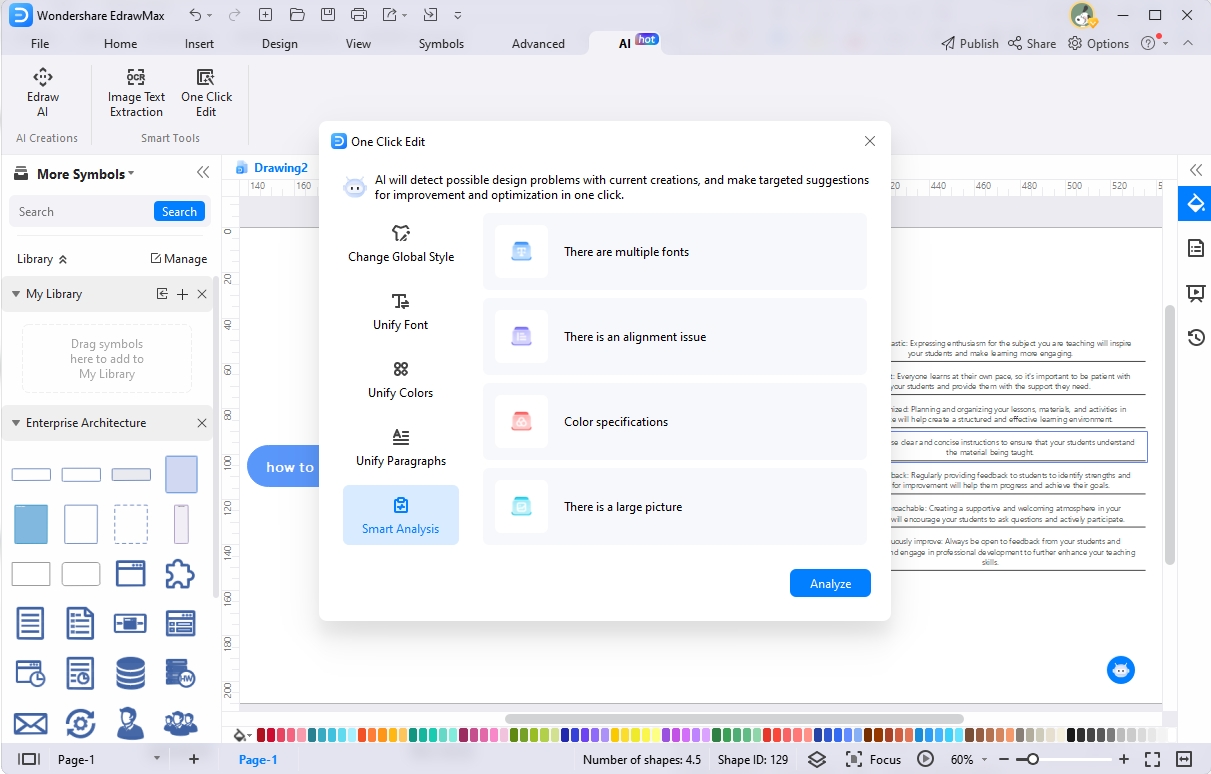 Step6
Save your mindmap by clicking the "Export" icon above.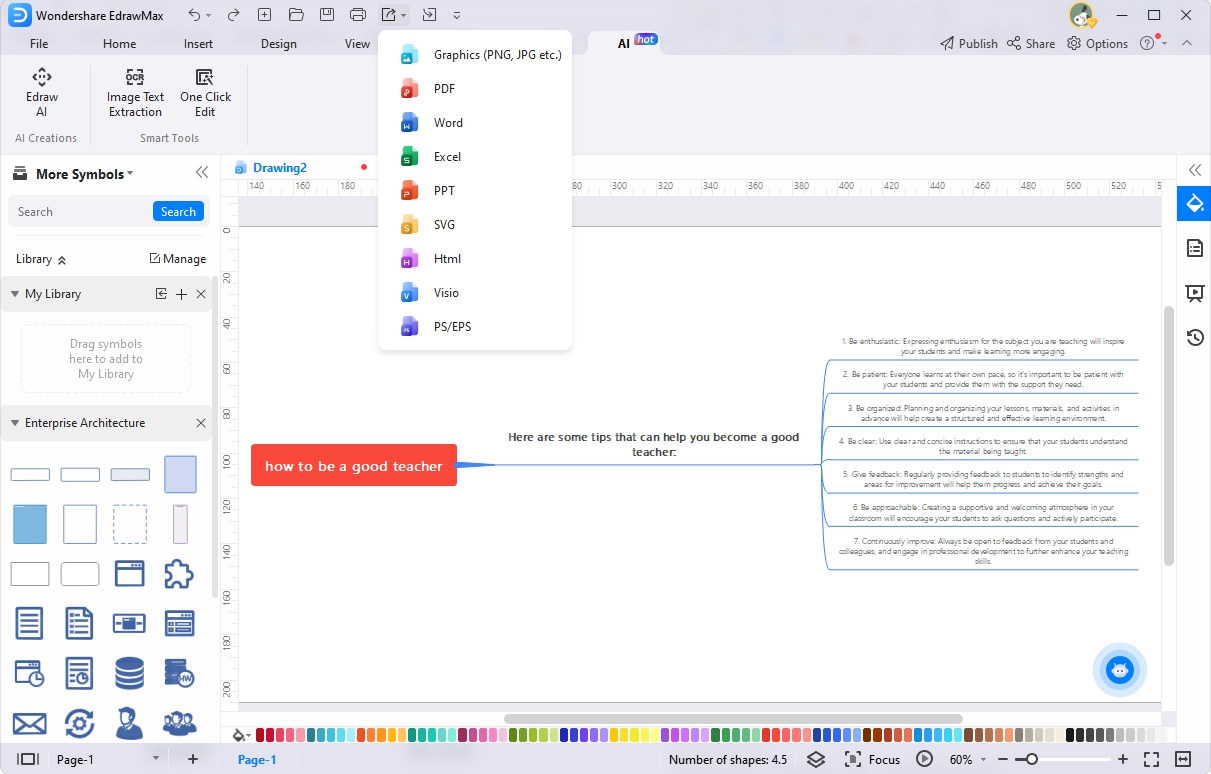 3. Conclusion
Whimsical AI stands out as a remarkable tool for creative thinkers seeking an intuitive way to visualize their ideas. Its AI mindmap creation feature empowers users to step into the realm of innovation. The positive user reviews highlight its effectiveness in streamlining the diagramming process.
If you wish to go for an alternative option, we recommend using EdrawMax AI. We have described the in-depth procedure to create and customize AI mindmaps in EdrawMax.
EdrawMax Desktop
Create over 280 types of diagrams
Windows, Mac, Linux (runs in all environments)
Professional inbuilt resources and templates
On-premises software for business
Enterprise-level data security
EdrawMax Online
Create over 280 types of diagrams online
Access diagrams anywhere, anytime
Team management and collaboration
Personal Cloud and Dropbox Integration
Related Articles