Free Editable Bank Organizational Chart Examples
Banks are complex financial corporations that require some sort of formalization to understand them better. It is only possible with a compact visualization that simultaneously states the connections, reporting relations, authority levels, and inter-departmental notions. Listing all these items on a page can induce confusion inside the recruit's mind. So, experts came up with the suggestion of a bank organizational chart to deal with the issue. It is a simple yet effective diagram, helping employees to communicate and follow their supervisors. That is why most banks use it in the framework for better working behavior. We'll provide you with some primary example templates that will help you understand the concept and make one for yourself.
1. What is a Bank Organizational Chart
A bank organizational chart is a diagram, visualizing the ownership structure of a finance bank. It is an active directory that improves employees' communication. Plus, it helps the governor's managing committee to monitor the bank's internal framework.
The visual interface of the chart can vary with the detail in it. The size scale of the bank impacts the chart presentation. Likewise, the type of bank is also an essential factor that can induce change in the bank org chart. For instance, the structure of sector banks is much different from official government banks. For that reason, their org charts will also vary.
An ideal org chart for a bank induces a positive interdepartmental impact. It features an executive framework for employees to know their way around the system.
2. Bank Organizational Chart Examples
Examples of bank organizational charts can help you understand how working personnel manages the wide array of structuring documents. Also, these templates can help you create your own bank org chart with minimum effort and time. We'll provide six separate templates to understand the basic notions of bank organizational charts.
Example 1: Bank Organizational Chart
Starting from the board of directors, this bank organizational chart example goes down to individual departments. There is no particular focus on employees in it. Still, every department and sub-department managing director can see which associative department connects them with the supervisor. Visually, the chart is engaging because of the diverse color scheme. Moreover, the chart uses different types of lines to depict the specific reporting relationship between the levels.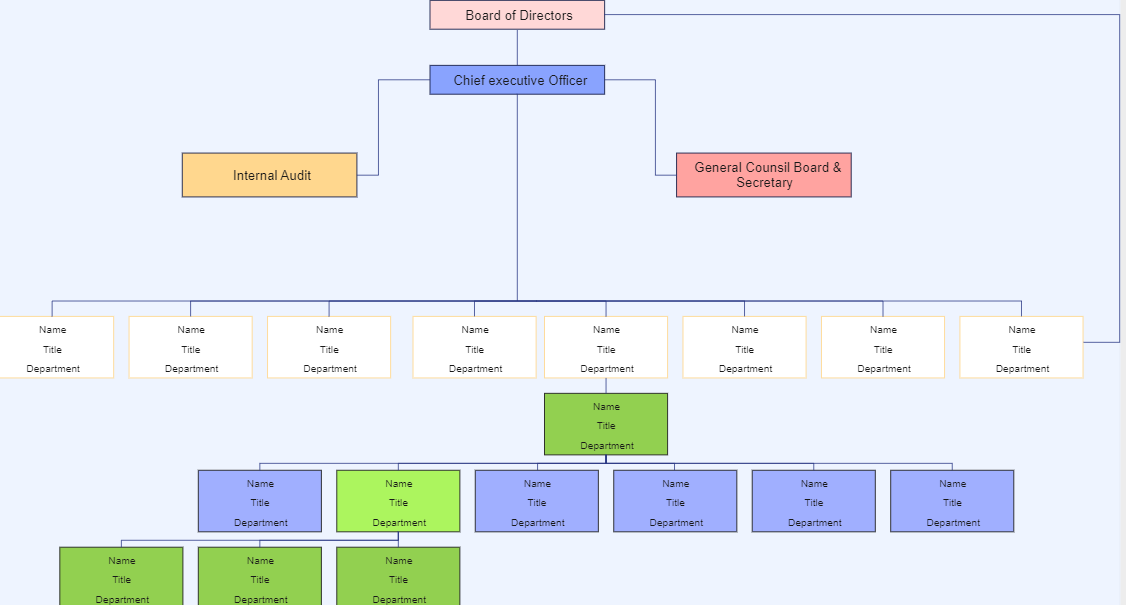 Example 2: World Bank Organizational Chart
The world bank organizational chart is the best option for official governmental banks. It includes different-sized rectangular shapes representing the bank's authority levels. The chart revolves around President, who holds sourcing managing power. The upper bigger rectangular shapes in the grey show all the management committees and sub-departments. Plus, it depicts how well connected these departments are with each other. The biggest pro of this chart is the use of varying colors inside the boxes that can help detect superiority level and departmental approach without confusion.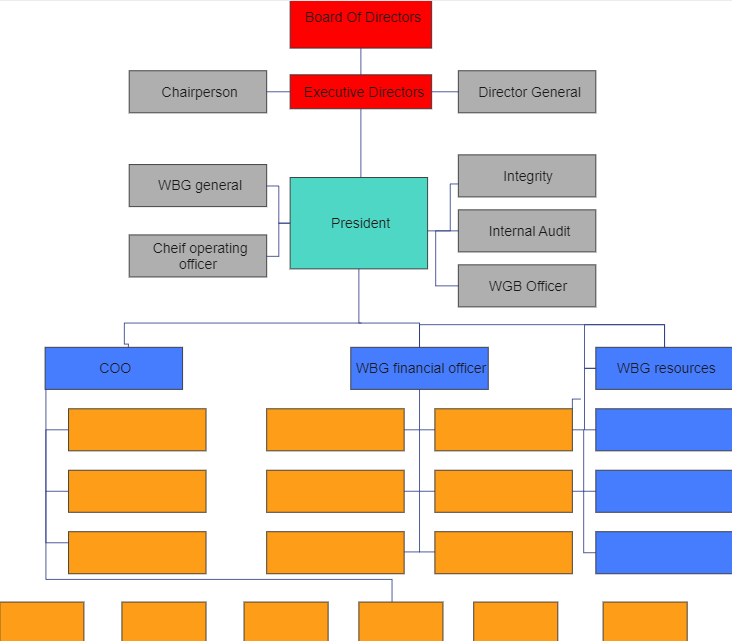 Example 3:Bank Organizational Chart Example
Bank organizational chart example is a much organized and formalized diagram. Like any typical chart, it uses primary shapes for the purpose. However, it takes the game up a notch by adding cliparts and related graphics that make it look premium and attractive. There are four separate managing individuals shown in the chart. Each has a direct connection with distinct HR departments and managing directors. For that reason, it shows the roles and responsibilities of every director. Ultimately, the final level has numbered branches that the president can use to keep a track of internal and external project management.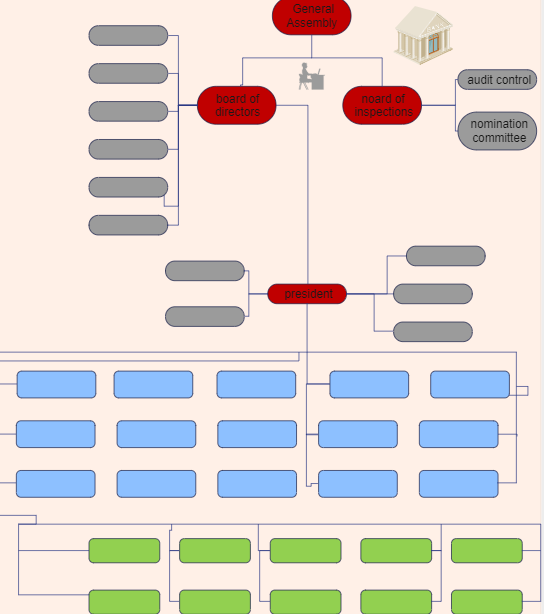 Example 4: Simple Bank Organizational Chart
As the name suggests, a simple bank organizational chart uses a basic visual interface to stay concise and deliver information. This example isn't suitable for a high-scaled government bank; instead, it is an excellent choice for sector banks and other start-up financial corporations. The diagram does not focus on detail or minor elements of the framework, such as individual employee responsibilities. Yet, it gives a top-down hierarchy of authority starting from the board of directors. The service-providing departments are the ones that have their responsibilities and roles listed inside this chart.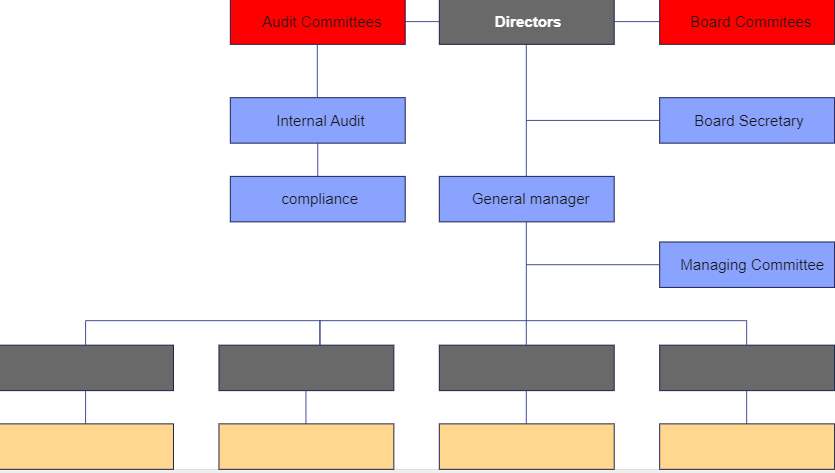 Example 5: Bank Organizational Chart Template
Unlike the previous example, this diagram starts its authority level from the regulator and then passes it down to the chairman. Visually it has two similar parts inside the same chart. One is directed primarily for management purposes, while the other focuses on individual groups. These examples are essential if you want to address a special task or project inside the bank framework. You can assign the task to different employees and direct them to their roles with its help.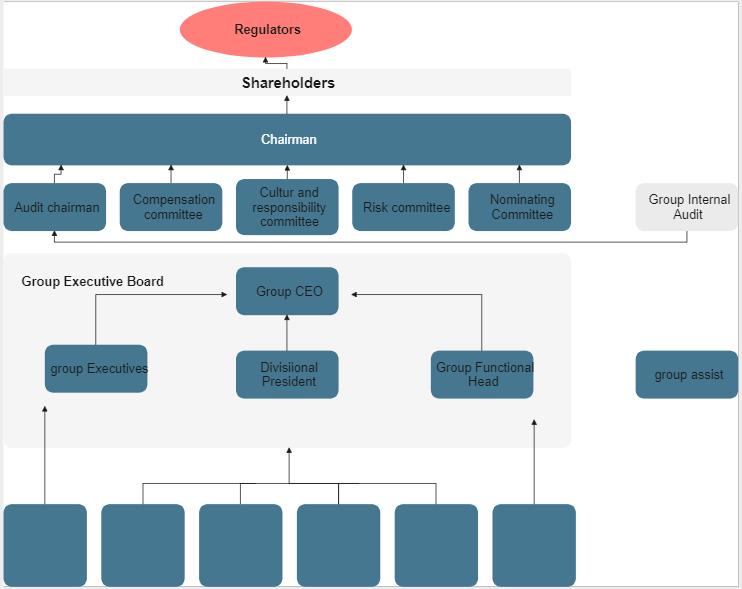 Example 6: Typical Bank Organizational Chart
The typical bank organizational chart has a pyramid-oriented visual interface. Its authority organization level is the same as other standard org charts. The sourcing superiority belongs to the CEO. As for the shapes, this example uses visually presentable rectangular shapes of different sizes. With every passing level, the number of individuals keeps increasing. This example has only three authority levels. The last one has individual departmental connections that help managers to keep track of the entire framework.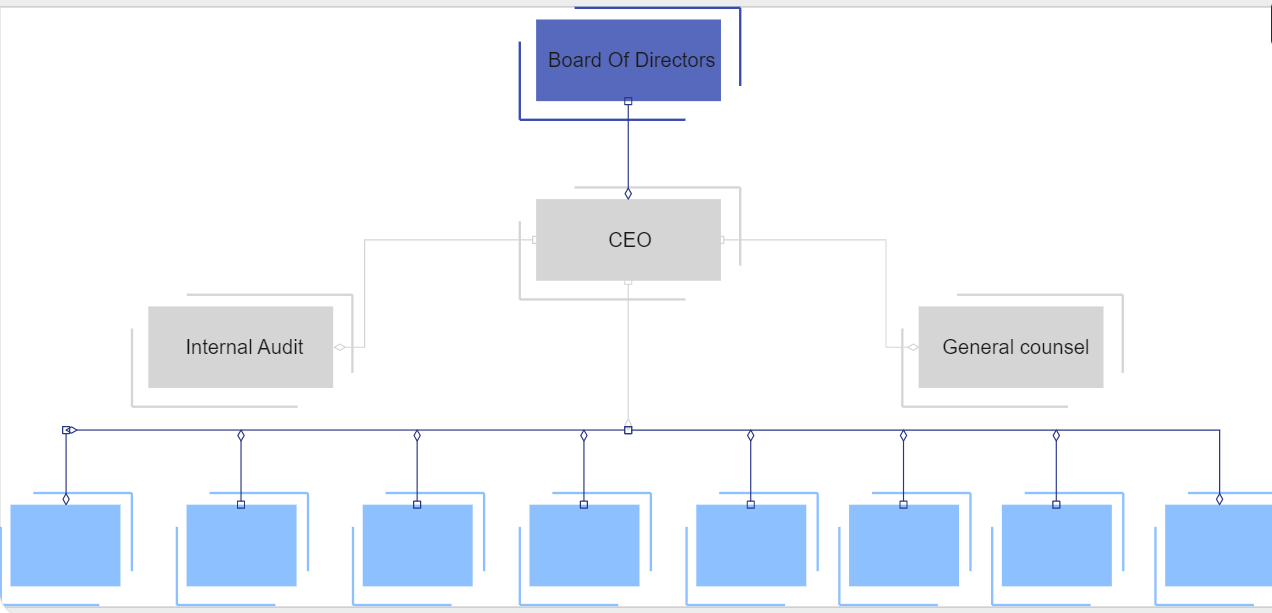 3. How to Create a Bank Organizational Chart
With minimum effort, you can turn a blank canvas into an eye-catching visualization, provided that you have an optimum program. The well-known Edrawmax is one of the suitable online programs that require no extensive design expertise. The following steps show how to create an org chart easily.
Step 1 - Head on to EdrawMax Online or download EdrawMax. Make an account and log in to it.
Step 2 - If you want to create your bank org chart, get into the templatesare already present. Choose any one of your desire and make its copy by clicking "use immediately."
Step 3 - Now revise and customize the template with the help of advanced editing tools of EdrawMax. It allows you to add numerous layouts and symbols from the built-in library. Every minor detail is editable in the template design, which makes it suitable for everyone.
Step 4 - Once satisfied with the design, export it by the "Save As" button. On top of that, you can share it with the other community members with the help of the "Publish" button.
4. Free Online Organizational Chart Maker
Finding a free chart maker is a challenge in itself. Experts suggest everyone to find a program that supplies a flexible approach for any sort of structural corporation. Considering that, only one option comes to mind, which is EdrawMax. This (free) org chart maker is a universal program ideal for bank organizational charts. The best part is its massive supply of predefined templates that make the production task less time-consuming and effort-taking. Besides that, EdrawMax is one of those (free) org software that provides you file encryption and cloud backup while ensuring your data's safety.
EdrawMax Online
Create 280+ types of diagrams online
Access diagrams anywhere, anytime
Everything in desktop + Templates Community
Team management and collaboration
Personal Cloud and Dropbox Integration
5. Key Takeaways
Beyond question, bank org charts are the only way to ideally summarize complex and scattered financial frameworks in a single visualization. These premium diagrams prove to be excessively beneficial for crew members and leaders. For that reason, most banks keep these accessible to every employee so they can get a better idea of the framework. Moreover, the managing committee members use it to light the way for new recruits. Generating a bank organizational chart is a no-brainer only if you have the perfect program with essential tools. EdrawMax can be an exceptional choice if you are looking for an easy way to get your hand on the perfect bank org chart. Get the program and check it yourself for free!
Related Articles