Free Editable Hierarchical Organizational Chart Examples
Throughout your employment period, you need several key attributes for your own and the company's good. A better sense of leadership, teamwork attitude, and good communication are some of them. Being an active member, you must know your way around the corporate structure. This is possible only if you know your roles and connections in the framework. Remember these things aren't written in your appointment letter; rather, it is the hierarchical organizational chart that tells you all about it. So, to become a valued employee you must know everything about the creation and purpose of these charts. There is no better way to perceive all that knowledge other than free examples. Therefore, we brought an excellent review of the hierarchical org chart with some premium free examples.
1. What is a Hierarchical Org Chart
The hierarchical organizational chart is a visual diagram that structures your corporation using a vertical or horizontal linkage. An organizational chart isn't just the name of visual authority levels. Instead, it is a top to bottom framework of a company based on reporting relations.
On top of that, the organizational hierarchy chart shows the direct chain of command sequence among employees. If we talk about its interface, things are pretty simple. The chart uses straight or curved lines to connect primary shapes, such as circles or boxes.
For that reason, it is easy to understand the departments and help them manage the structure effectively. Moreover, the hierarchical org chart acts as a personal directory for the CEO to keep track of employees, managing directors, and analysts.
2. Hierarchical Organizational Chart Examples
Hierarchical organizational charts have diverse functions. Putting all those in one example isn't possible. Therefore, we use different examples, each with its own distinctive feature. Every organizational chart is reliable for a corporation. Yet, some are ideal for complex frameworks, and some aren't.
Example 1: Hierarchical Organizational Chart
This hierarchical organizational chart has a structure similar to a pyramid. The top to bottom leveling starts from CEO and drops all the way down to the employees. For every decreasing level, the number of people keeps increasing. Therefore, there will be a high intensity of individuals at the last level. The connection lines of each individual with the superior authority personnel show employees who they should follow. As for the customization, there isn't a greater color scheme. Instead, a primary color combination makes it look sleek and premium.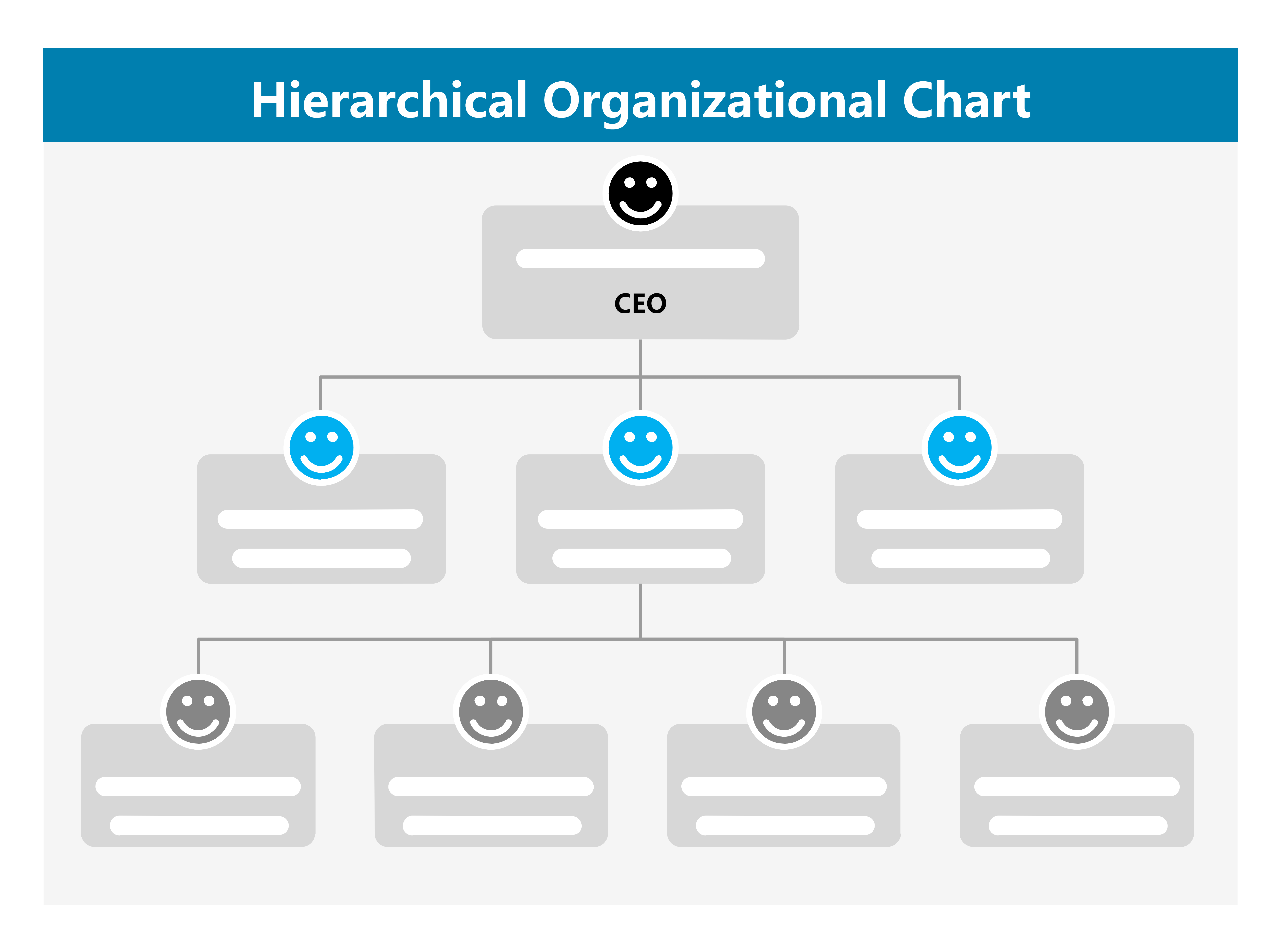 Example 2: Hierarchical Org Chart
This type of example is complex for ordinary employees. It is specially customized for the managing committees and high-end departments so they can relate different sub-fields and projects with each other. Unlike standard org charts, this one has more than one sourcing personnel. The hierarchical org chart starts from the shareholders and jumps down to individual departments step by step. Visual representation of the example isn't and peak. Still, it does visually appeal to the person analyzing it. As for the detail linking, the chart misses some important data. The only things available in the chart are the respective names and department connections.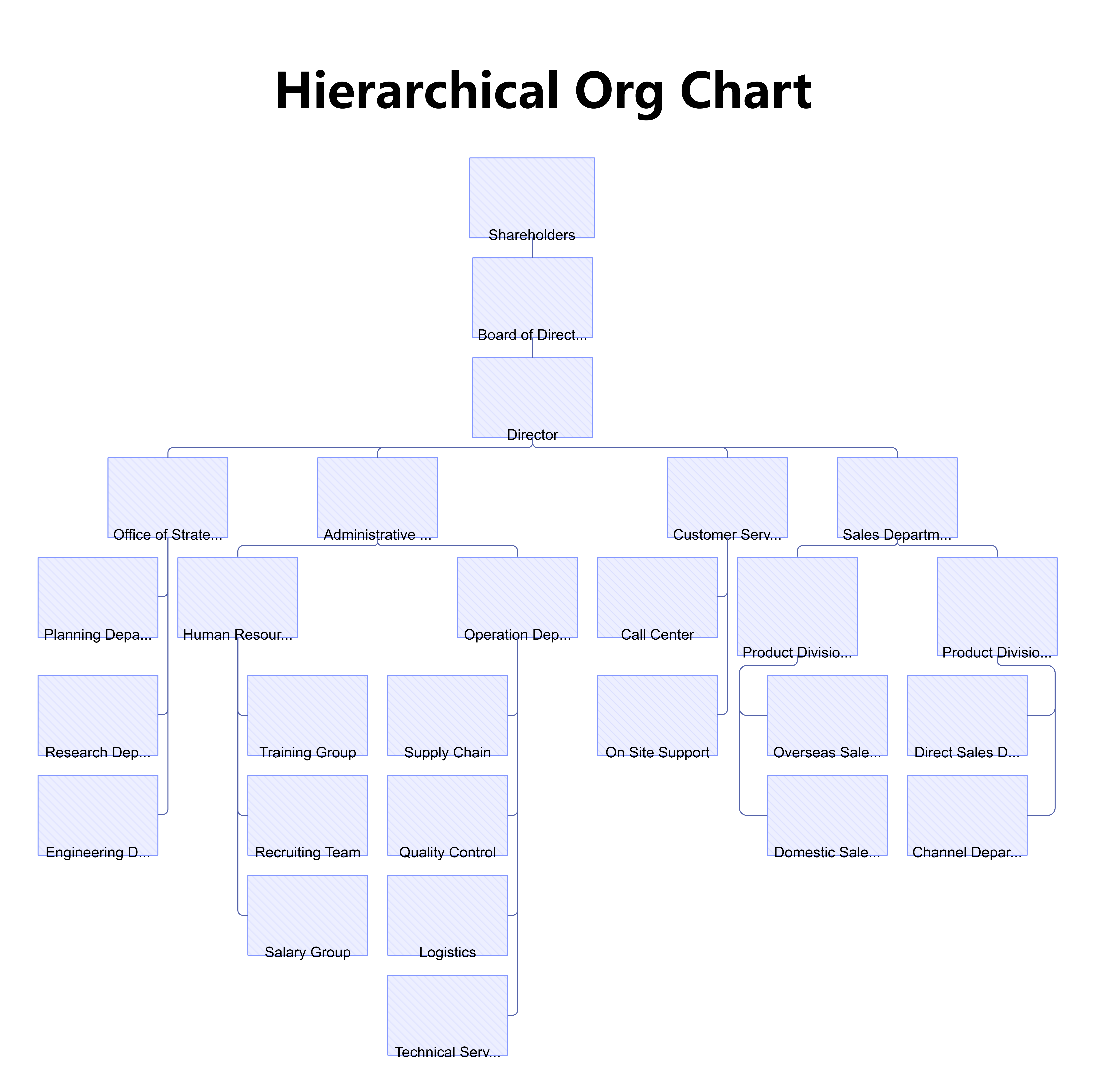 Example 3: Hierarchical Organization Chart Template
The hierarchical organizational chart template starts with the owner of a corporation. The interface is pretty simple and has a pyramid schemed interpretation. The authority levels gradually decrease from superior to junior. On top of that, the color scheme and element shapes are basic. A basic yet effective perk of this example is a separate coloring methodology. It helps identify the departments, directors, and employees based on box color. The primary and practical interface of the organizational chart makes it suitable for managing committees and employees. So, we can say it is a universal hierarchical organizational chart template.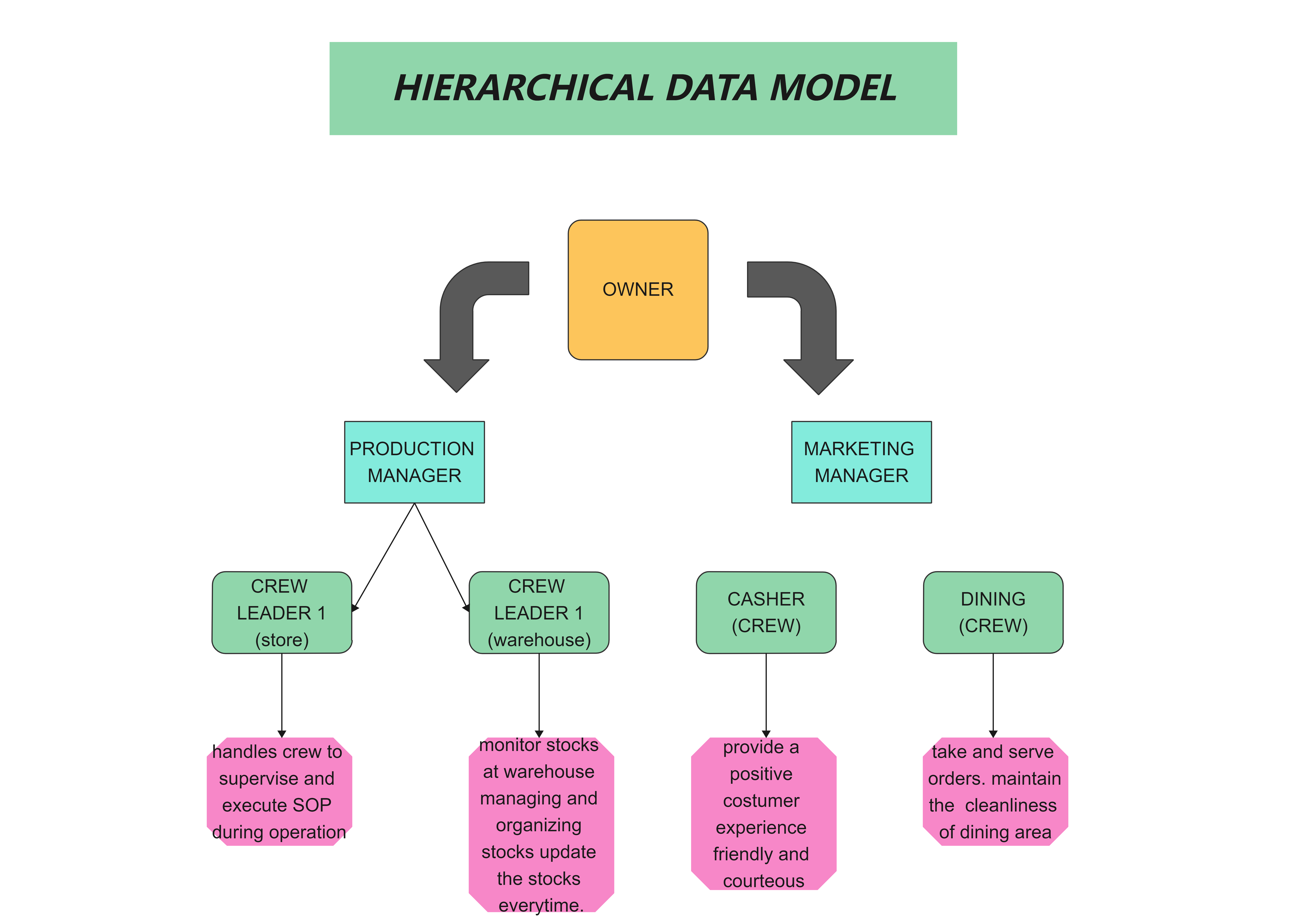 Example 4: Small Business Hierarchical Org Chart
As the name suggests, the small business hierarchical org chart is highly beneficial for start-up or miniature business owners. The example interface appears to be premium with curved shapes and attractive cliparts. However, in this chart, the amount of detail and number of targeted personnel is something that isn't suitable for big business firms. The example is mildly multi-colored and appears attractive enough to serve the purpose if we talk about visual engagement.

Example 5: Hierarchical Org Structure
The hierarchical org chart structure example has the most basic interface out of all. This example is for you if you are looking for an efficient yet fast way to complete your organizational chart. Besides that, you can use it to create a rough outline of your organizational chart template that may help you create a detailed one. The example has no vibrant or exaggerated colors. The theme is to keep it simple and informative for the employees and management.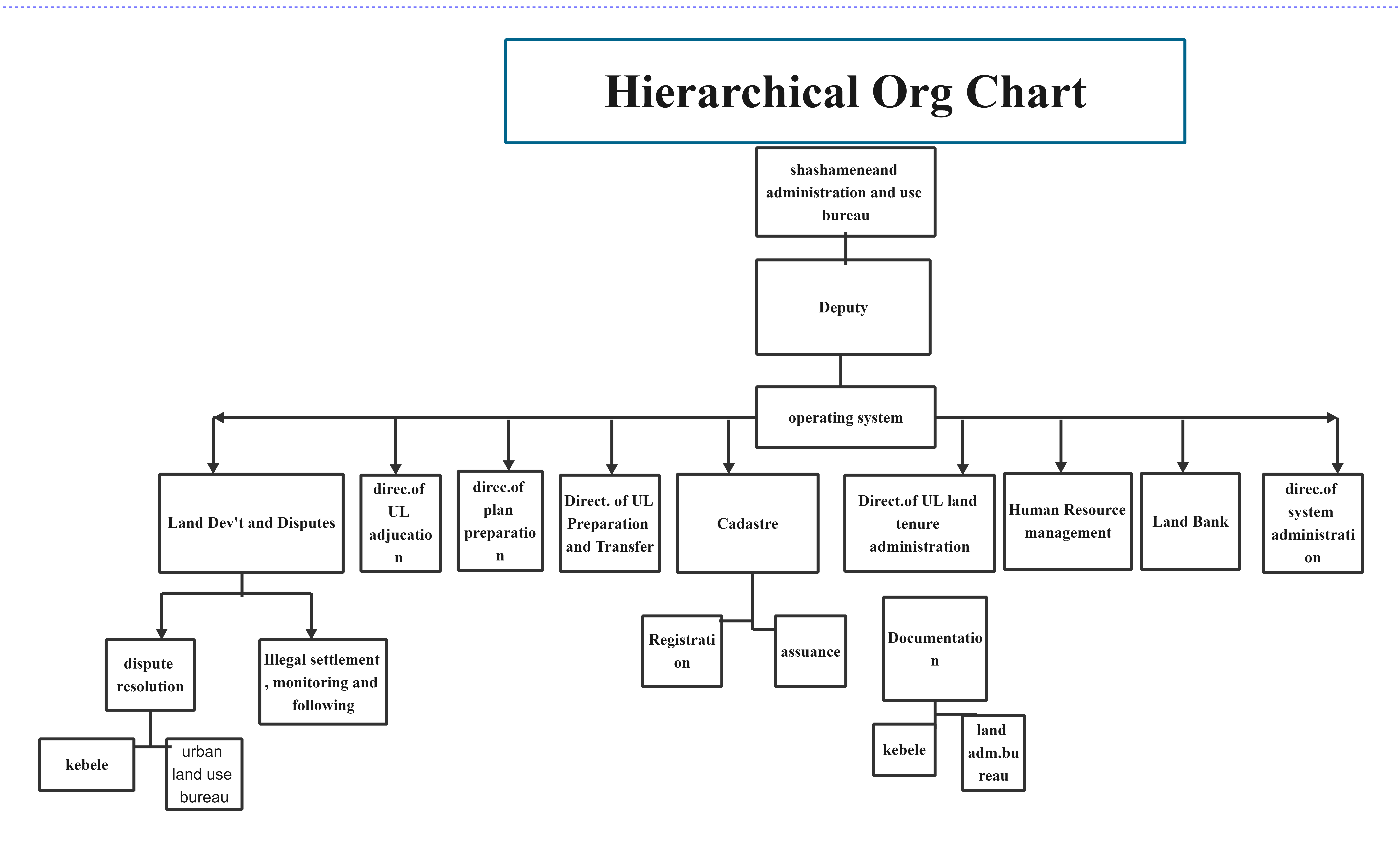 Example 6: Theater Hierarchical Organizational Chart
It is a hierarchical org chart with particular expertise in theater framework organization. The initiating level is for the producer, that holds all the authority. It further moves down constantly with a moderate shifting in superiority. The theater hierarchical organizational chart focuses on every individual element of a theatre. Whether it is a music direction or a prop master, this chart focuses on everything.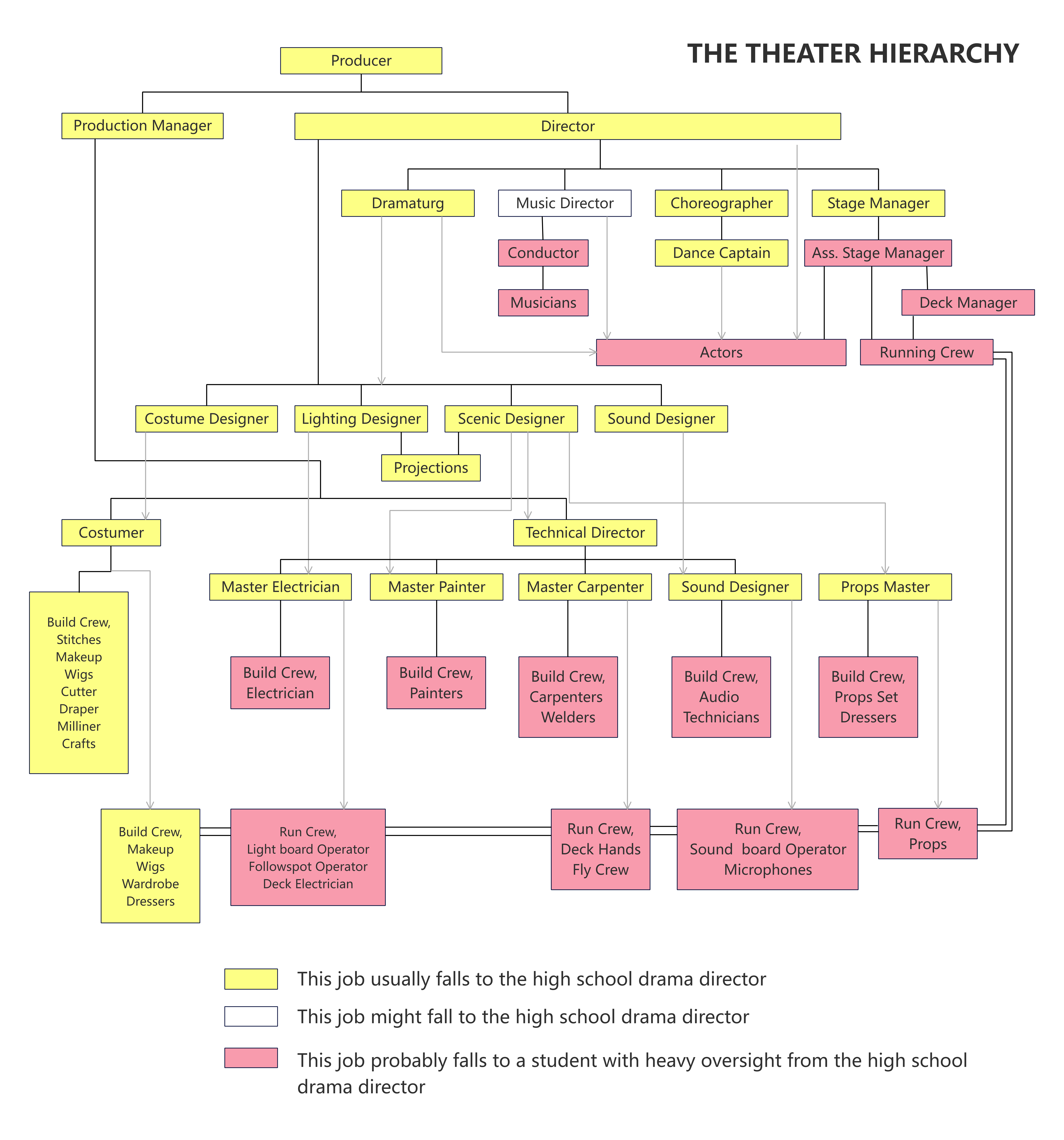 Example 7: Non-Hierarchical Organizational Chart
The interface of a non-hierarchical chart looks less like an organizational diagram and more like a spider map. This type of chart is the perfect choice for corporations where every person has direct reporting relationships with more than one department or employee. Besides that, this example fails to show the authority levels of each employee separately. It is specially designed for employees. Moreover, the chart is helpful for managers as they can create a well-connected project team.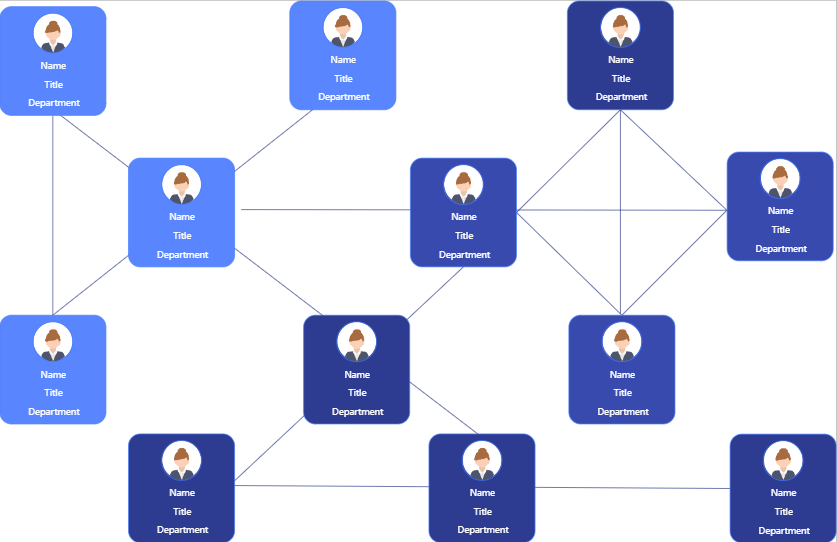 Example 8: Non-Hierarchical Org Chart
The non-hierarchical org chart example is similar to a streamlined network diagram. The interface is of a primary color with different shades to give it a unified look. On the top bar are special HR departments with specific colored streamlines passing through individuals. On the bottom bar, there are service departments, each with a specific colored line. The upper board streamlines will depict which managing directors an employee must follow. However, the bottom tab will enlist their roles and responsibilities.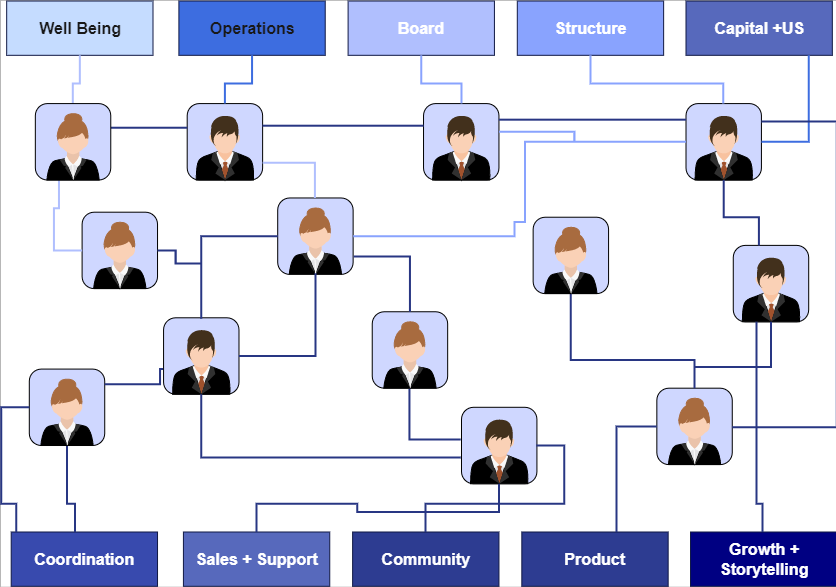 Example 9: Non-Hierarchical Organizational Chart Template
This non-hierarchical organizational chart template also breaks out of the stereotypical design of org diagrams. It is not for an entire organization; rather, it is optimum for only a single project or a single departmental employee connection. The connection in this example resembles the shape of a star. It depicts that every person has a direct connection with the other one. Moreover, it impacts every other individual in the chart equally or unequally.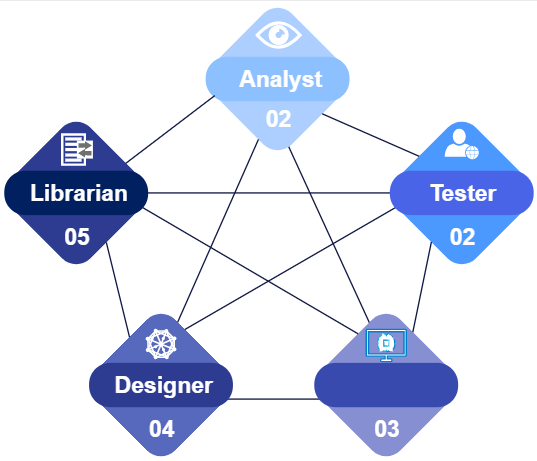 3. How to Create a Hierarchical Organizational Chart
As we are done with the general overview, you may ask how to create an org chart. Well, experts kept it simple. If you want your work done in minimum time with the least effort, go for a credible chart maker program.
There are tons of these software on the market. But, very few are ideal for you. Go for a program with all the tools and elements; if you can get a free template inside the software, that would be the best. Well-known EdrawMax can be the one you go for. Let's see how easy it is to create a hierarchical organizational chart using EdrawMax.
Step 1 - Head on to EdrawMax Online or download EdrawMax. Make an account and log in to it.
Step 2 - Once logged in, you'll find yourself at a home screen and a menu of options on the left. There isn't an extensive list, so you won't have to scroll down. If you want an easy solution, head to the main menu on the left, look for Templates, and with the button "Use Immediately," transfer it to your edit screen.
Step 3 - Start customizing it with the tools. EdrawMax has a massive 26000 symbols library for your to choose from. Moreover, you can change the font, shapes, and many more about the template.
Step 4 - Click "File" on the top left and then "Save As" to export your file. If you want to share your organizational hierarchy chart design with the world, click "Publish" on the top right and share it with a suitable name.
4. Free Online Organizational Chart Maker
EdrawMax not only provides exceptional services, but it gives it all for free. You will get all access to its growing template community without additional cost. The program has a universal approach as it does not require particular design expertise for handling. As for the customization, you can not only get the advantage of built-in symbols but add new ones and save them to your personal library to use later. Moreover, this (free) org chart maker is eligible to export your files in 14 different formats. All you have to do is select your desired format, and you would be good to go on every social media platform.
EdrawMax Online
Create 280+ types of diagrams online
Access diagrams anywhere, anytime
Everything in desktop + Templates Community
Team management and collaboration
Personal Cloud and Dropbox Integration
5. Key Takeaways
Undoubtedly, hierarchical organizational charts are optimum for structuring the framework of every type of corporation. However, these charts come in different shapes, elements and sizes. For that reason, every type of organizational chart is not optimum for every company structure. The best option is to create or find a specific organizational hierarchy chart that is ideal for your corporation. This is only possible with EdrawMax's exceptional tools and massive template community. Get the 15-day trials and check it for yourself.
Related Articles