Free Editable Body Systems Graphic Organizer Examples
Body system graphic organizer is the software that helps biology systems to learn the body organs and their classification conveniently. Bosy system graphic organizer can help you conveniently understand, organize and learn key biological terms, organs, and body system functions. Sign in to EdrawMax Online to draw the graphic template of your choice, save your time, and quickly learn your biology lesson.
1. What is Body Systems Graphic Organizers
Body systems graphic organizer is the software that helps biology systems to learn the body organs and their classification conveniently. The students can easily organize the function and physiology of the system in the table, bullet, or short key forms. Through the human body systems graphic organizer, students can fill in the blanks about the structures in the organ system and write down their functions. The concept map offers benefits to students to review and organize data. Thus, the simplified form helps students to save time during the exam. They simply read the key and easily memorize the terms and functions of a particular body system.
If you want to get free body systems graphic organizer examples & templates directly, please click here.
2. Benefits Of Using Body System Graphic Organizer
The human body is a biological machine and comprises of multiple systems groups in organs form. Therefore, to understand the complex living machine, students have to make a lot of effort. Learning in paragraph form may create difficulty for them. Therefore, with the use of body systems graphic organizers, they can learn conveniently. Students usually get confused about the cells, molecules, and forest of veins and arteries. Therefore, the utilization of a graphic organizer can be beneficial for them.
The graphic organizer creates an anatomical picture to understand the organ system and its functions. Teachers now prefer the concept map to help students understand and memorize the system quickly.
3. Types Of Body System Graphic Organizer
There are different types of body systems graphic organizers available for students. They can use it according to their requirement. Some of these are discussed below. Let's dive into the discussion so you can choose an appropriate graphic organizer to learn body systems without any hassle.
Sequence Chart

A sequence chart is a tool that helps in the visualization of the order of steps of the process. Or it can be used to understand the function of the system. The human body systems graphic organizer is perfect for understanding the anatomy and physiology of the system. For example, students who find difficulty in understanding the sequence of digestive system organs can choose this tool to make a sequence chain and write each organ in the block to quickly learn the arrangement of the digestive system.

Learning Map

Another efficient tool that can help biology and medical students to memorize the systems of the human body is a learning map. The main purpose is to help the student to improve their learning skills. Through this, students can have a high level in their lesson, course, or unit. They can make connections between organs and systems. For example, the relationship between brain function and the digestive system can be organized in a learning map to easily understand the system.

Analogy Graphic Organizer

Analogy graphic organizer uses an analogy to help students for identification of differences and similarities between the organ system.

Hierarchy Charts

For visualizing the element of the system, the hierarchy charts are beneficial. Students can use it to understand the categories of the body and make the relationship between them.
4. The Body Systems Graphic Organizer Examples
Certain examples of the body systems graphic organizer are discussed below. Let's have a look over them.
Example 1: 5 Senses Graphic Organizer
The senses chart is the most simple and easy-to-understand hierarchy type, graphic organizer. Kids in preschool find difficulty in learning the five senses of the body. For them, this graphic organizer can be a breeze. You can easily draw, make it colorful and then add understandable points to them. In this way, kids, after viewing the chart, will be able to memorize the five senses of the body in a few minutes. Moreover, they will take an interest in learning about body organs. You can easily draw on Edraw Max, choose your favorite color scheme and give it to your student to memorize organ systems.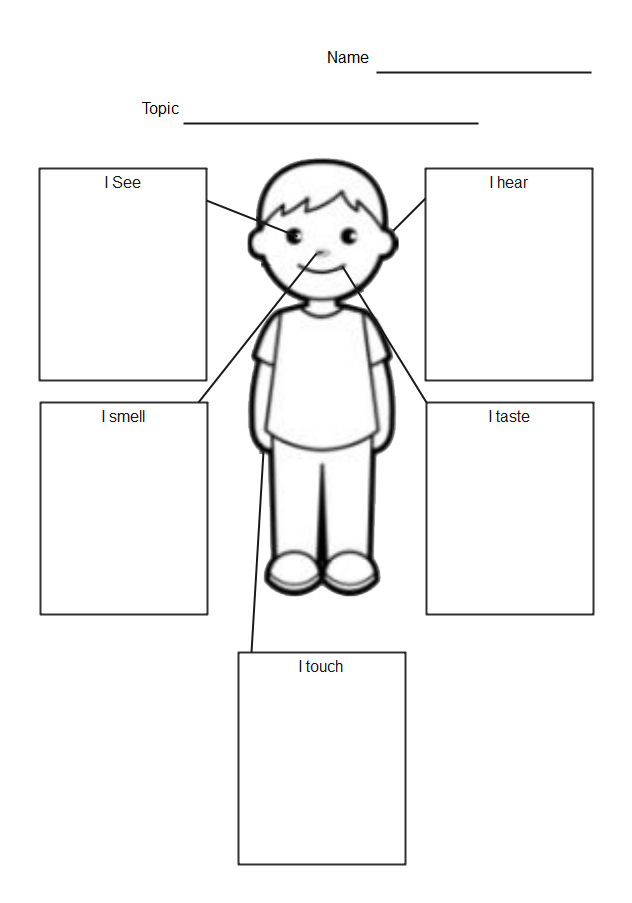 Example 2: Body Systems Graphic Organizer
One more body system graphic organizer that is helpful for kids and upper-grade students is the sequence chain and content mapping tool. Through this, you can create sequence boxes and a T chart to organize the organ system and functions of these body parts. Moreover, you can add a diagram of each organ in the block and add its particular function, hormone, or anything you need to memorize. This can save a lot of time, and you will find no difficulty understanding biological concepts.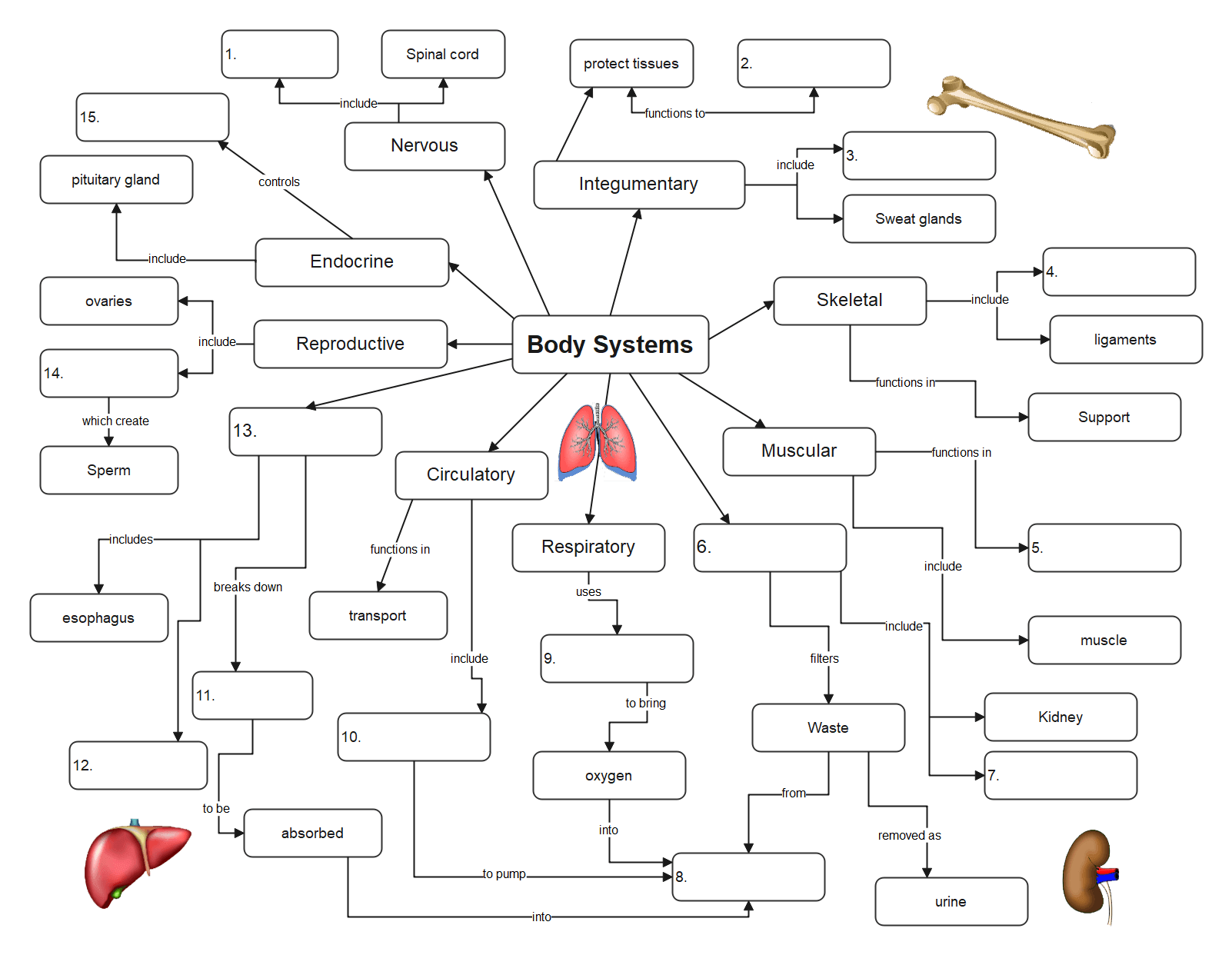 Example 3: Body Systems Graphic Organizer Answer Key
A hierarchical graphic organizer is one best example that can help you understand the body's overall system. The main parts are further classified in their functions or parts. Although it may look complex, once students start learning after understanding the body system graphic organizer, they can memorize the overall system within a few minutes. The shortlist form of systems and their organs can be a breeze for the 9th and tenth-grade biology students. They can keep this key with them or take a print to paste on their cupboard. Thus, the diagram presentation helps memorize the systems without getting under stress.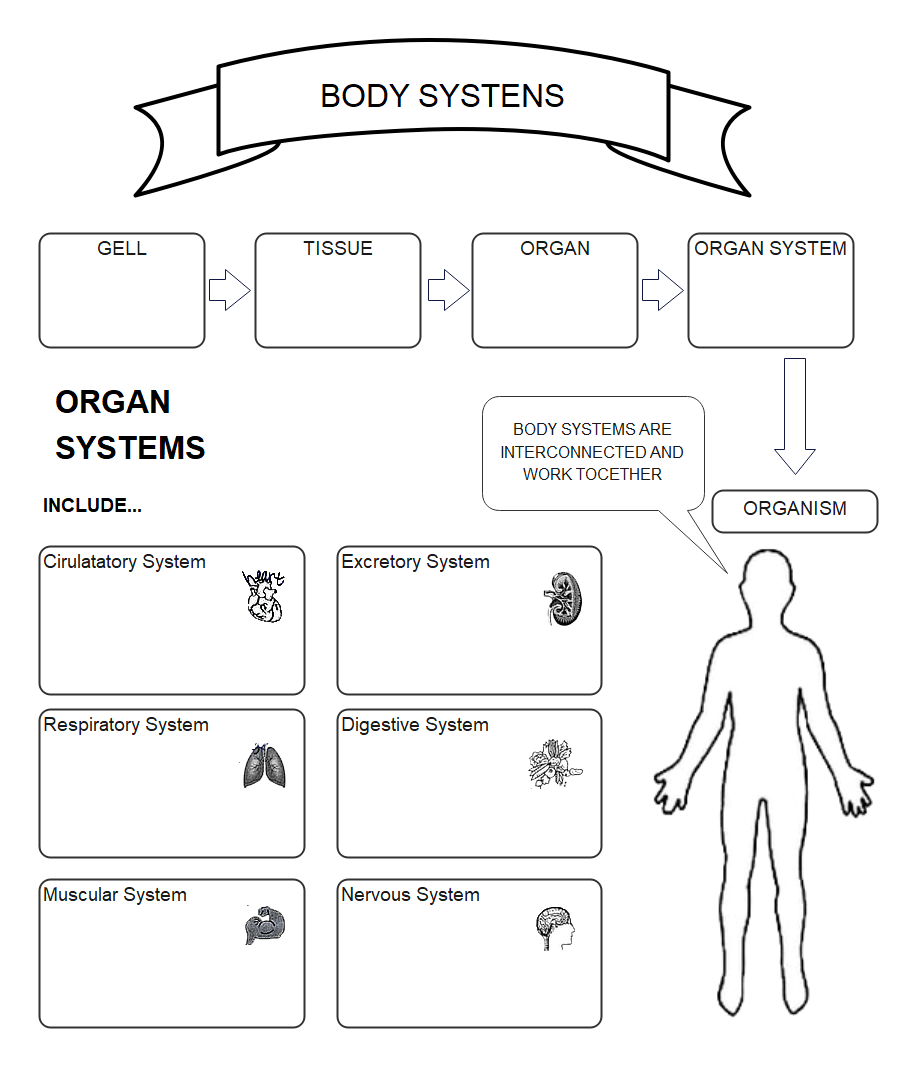 Example 4: Human Body Systems Graphic Organizer
The tabulated form is the last type of body system graphic organizer you can easily make from the Edraw Max. You can categorize the system in the table and write their function one by one. The key terms can help you learn the organ system nicely, and you can stay relaxed during exam night. No need to revise the book chapter. Rather use the graphic organizer summary table and do your revision quickly.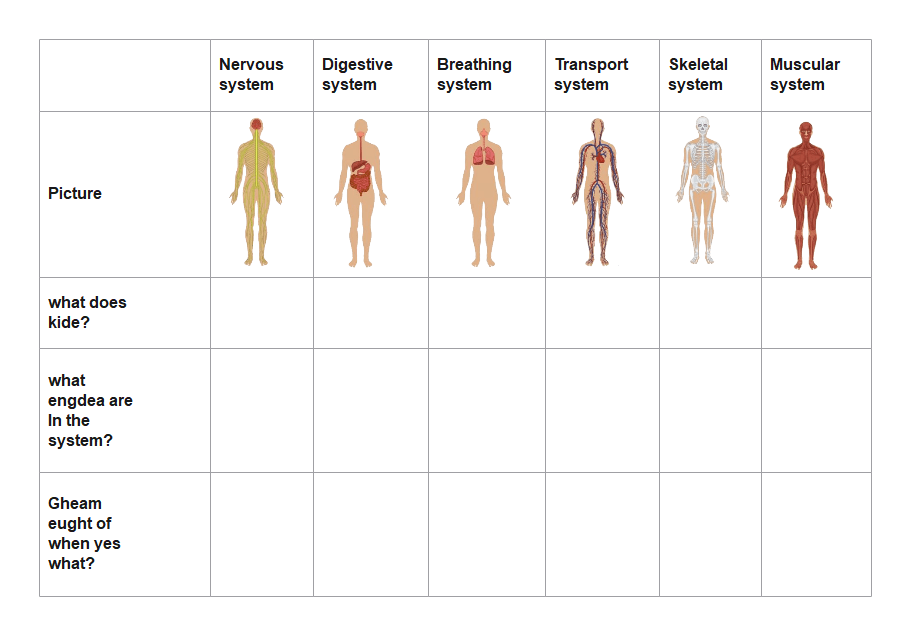 5. How to Make a Body Systems Graphic Organizer
You can make the human body system graphic organizer from the reliable tool that is EdrawMax. to use this, follow the steps given below.
Step1: Login With Edraw Max

First, open the site and connect with it by logging in and then opening the template community.

Step2: Select a Template

After getting connected with the site, choose the template of your choice. Select the one that meets the learning need. After selecting, click on the option of "Duplicate."

Step3: Customize Details of Your Template

There are several features in EdrawMax that you can use to alter the graphic organizer's features. These features may include a pencil tool, pen tool, text tool, shape formats, movement of point tool, various geometrical forms, etc.

Step4: Export, Print & Share the File

Edraw supports many file types, including MS Visio, MS PowerPoint, PDF, JPG, SVG, and others. You can convert your great graphic organizers to the files you choose with only a few clicks, whether you wish to make a stunning PowerPoint, print them out as classroom props, or share your smart thoughts with others.
6. Online Body Systems Graphic Organizer Maker
EdrawMax Online is an online tool where you can make a variety of graphic organizers. The easy-to-use tool is available free of cost and helps you draw flowcharts, mind maps, org charts, floor maps, Gantt charts, hierarchy charts, and much more. No matter what your requirement is, you can easily make the chart. Ether you are a biology teacher, math educator, or business person, the platform can be a breeze for you. Simply sign in, open templates, choose the one that meets your learning or teaching needs, and start creating the graphic organizer.
7. Key Takeaways
It is concluded that memorizing difficult organ systems is no more difficult. You can use the body system graphic organizer to arrange the biological data. You can select any type of chart so you can memorize or help your students to learn about body organs without getting in tension. So, if biology or anatomy lectures are stressing you, then there is no need to worry. Try EdrawMax and give your self-relief. By using these charts, you will be satisfied and able to save a lot of learning time.
Related Articles