Free Editable Corporate Organizational Chart Examples
Every corporation has a complex structure that requires some sort of sequencing. Sequencing isn't just about creating order. It's more complex where a person must consider several factors. Without an organizational chart, it will require time and effort. So, a corporate organizational chart is crucial to make the process easy and quick. The interface isn't much different from regular diagrams. Yet, it includes a number of shapes that collectively help enlist the entire operation. For that reason, here is the article that will discuss a general overview of the corporate org chart. Plus, you are in for a treat as the write-up will supply you with numerous premium examples for free.
1. What is a Corporate Organizational Chart
A corporate organizational chart is a basic collection of shapes that help organize an entire network of the corporation with minimum effort. As for the primary usage, it is an essential component that values the employees and directors. Typically, the board of directors, CEOs, HR departments, and management committees use these visual interpretations. The primary purpose of the corporation hierarchy chart is to provide an ordered, general, and moderately detailed overview of the company's constitution.
A detailed structure helps the CEOs to build befitting connections between authority levels. As for the employee's perspective, framework visualization brings primary advantages such as better communication and dealings. Understanding all the pain points of an organizational chart helps the workers to follow the lead of the right person. On top of that, it allots everyone their roles and responsibilities in a simple yet effective manner.
2. The Corporate Organizational Chart Examples
There is no better way to acknowledge the purpose and information in the corporation hierarchy chart other than its examples. The live shape feed helps you perceive the entire company's structure swiftly.
These examples are free templates for everyone. They will help you cut down the effort of generating an ideal corporation hierarchy chart. The overall process is cut down from hours to minutes, all thanks to these helpful templates.
Example 1: Corporation Organization Chart Template
Indeed, an organization focuses on minute details inside the complete structure. That is what makes it valuable and functional for employees. This corporate organizational chart template focuses on every minor and major department inside the organization. Starting from the shareholder, it goes all the way up to personal lines and payroll employees. The interface of this example is pretty basic. It uses simple lines to connect the superior authority levels with the lower ones. The significant feature absent in this example is the additional detail linking. Other than the names, there isn't any extra data regarding employees, CEOs, or departments.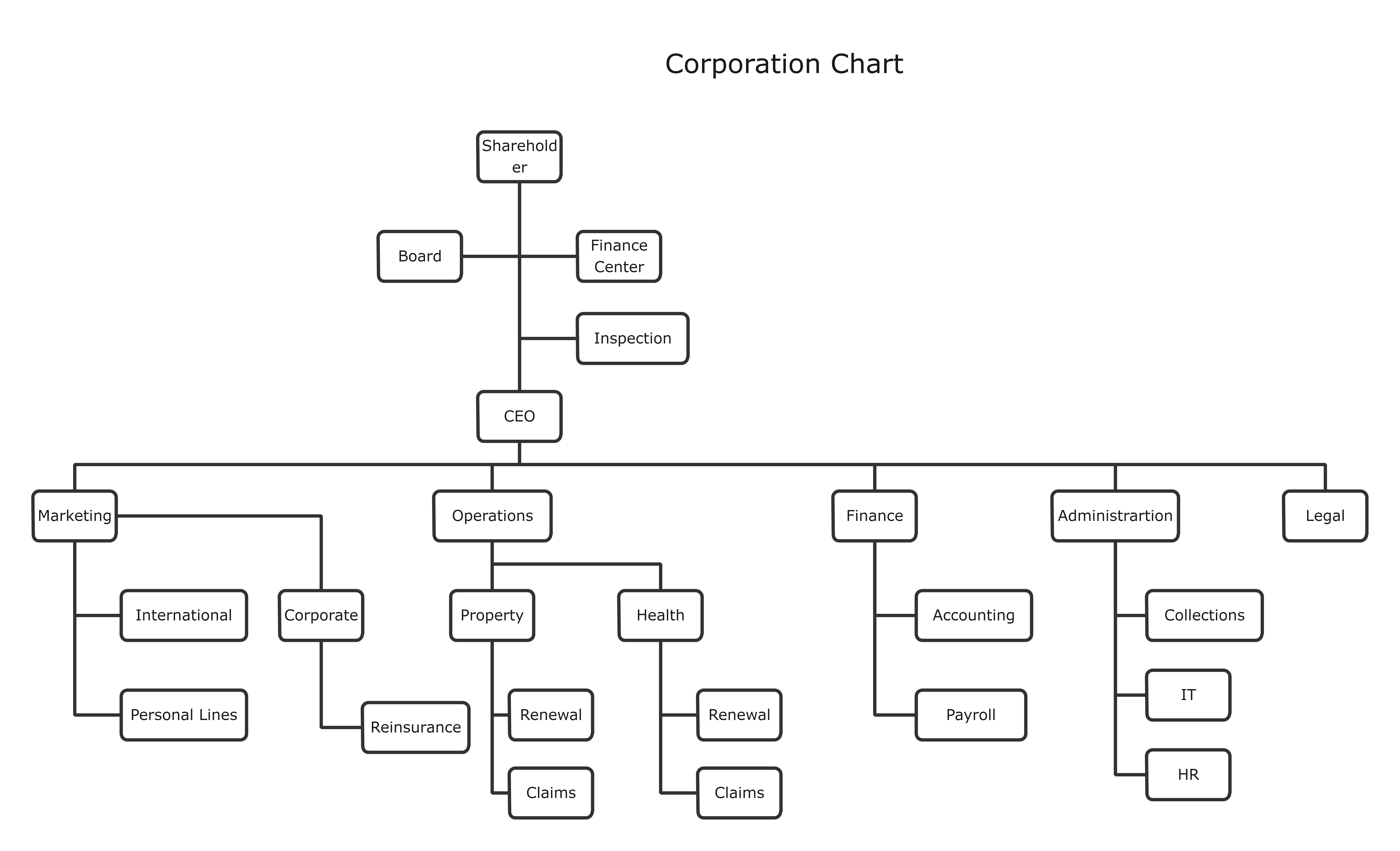 Example 2: Corporate Organizational Chart
This exemplary chart isn't as diverse as the previous one. Unlike the above example, it starts with the connection from the CEO, which is superior to the three VPs. Every VP has a network of managers, directors, and analysts for themselves to lead. The last level comprises field specialists, associates, and developers working under the directors and managers. This corporate organizational chart is much more physically appealing and engaging, all thanks to its distributed color scheme.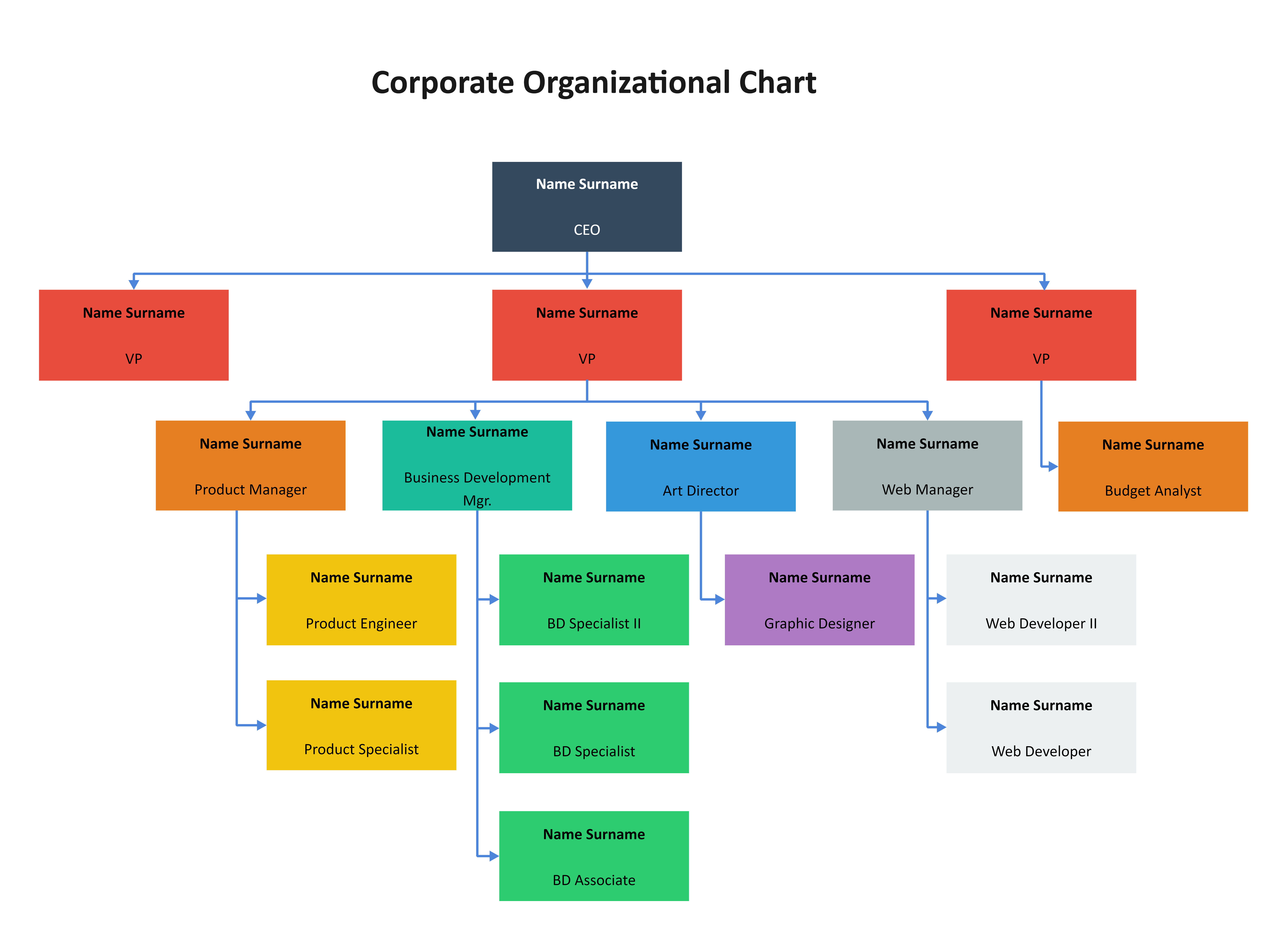 Example 3: Company Organizational Chart
From a single glance at the template, it is visibly a supreme example of a physically appealing chart. The contrasting color scheme helps deliver data and diversify it without extra sentences. The clipart delivers additional information, such as the gender of the individual. As for the structure, it starts all the way up from Managing Director, who is a supervisor to two associates. The biggest perk of this example is giving you three different layout setups to choose from - each with its unique features.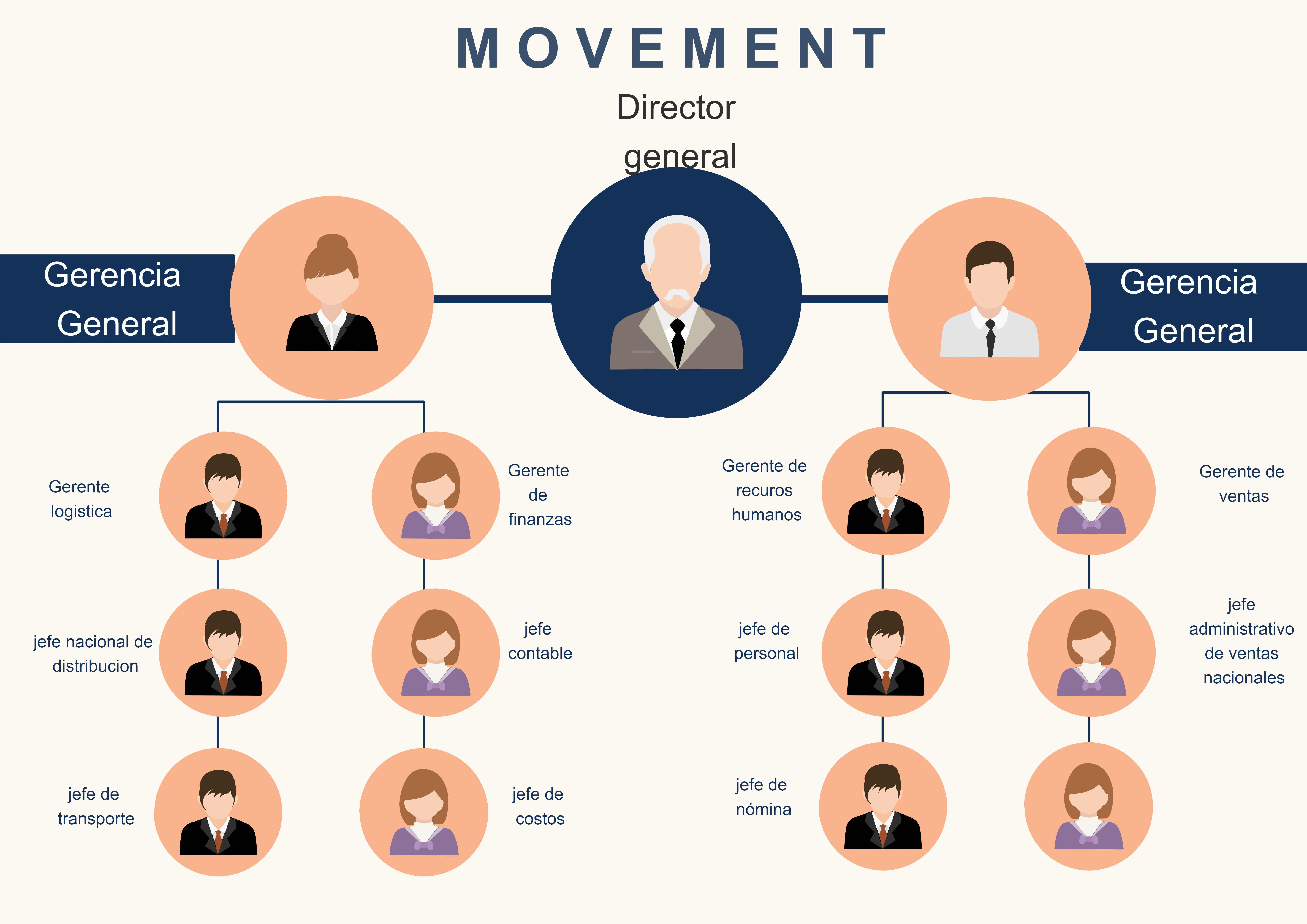 Example 4: Corporation Hierarchy Chart
Starting from the CEO, the corporation hierarchy chart focuses on valuing and powering individuals. Mostly this exemplary chart targets managing committee members who are supervisors for employees. This example is solemnly for understanding how the high-end managing departments relate to each other. Like the previous charts, this one also has diverse colors, making it attractive and eye-catching. As for the details, it focuses just on names and departmental authority inside the corporation.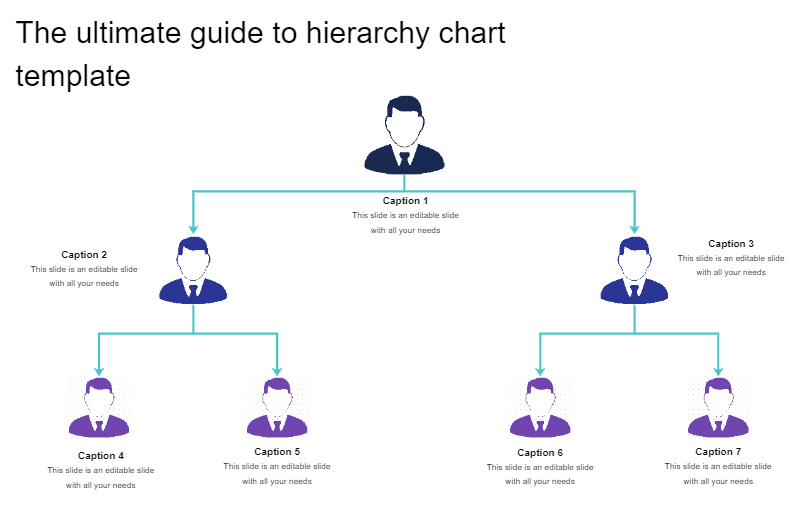 Example 5: HR Organizational Chart
An HR organizational chart like this one has the central notion of HR sequence. It has appropriate information about the superior and associative departments. Looking at the example, it starts from the CEO, which is interconnected to separate sections of the managing director and vice chairperson. Both these chambers have two separate columns that are top-down, leveled, and organized. It includes colors and cliparts, making it appealing and attractive.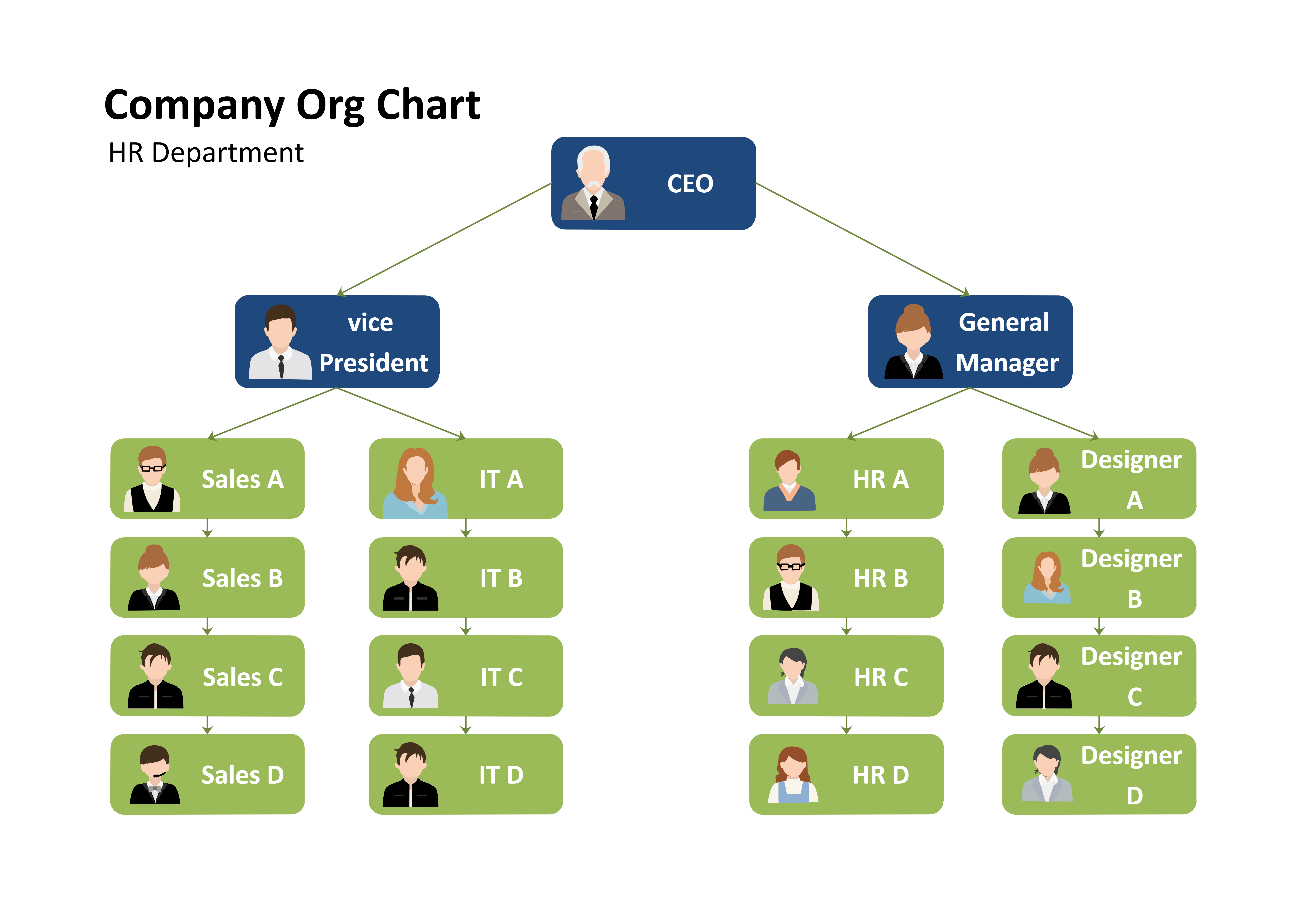 Example 6: Enterprise Organizational Chart
This example is ideal for organizations and corporations with complex and massive internal structures. Everything starts with the CEO and falls to different departmental VPs. Every VP is responsible for the directors and managers of the specific department. Moving further, the managers will have some supervisors with employee teams working on their watch. As for the physical engagement, the enterprise organization chart is moderately customized with color schemes. Still, it gives you a sense of variation that is helpful in personal listings.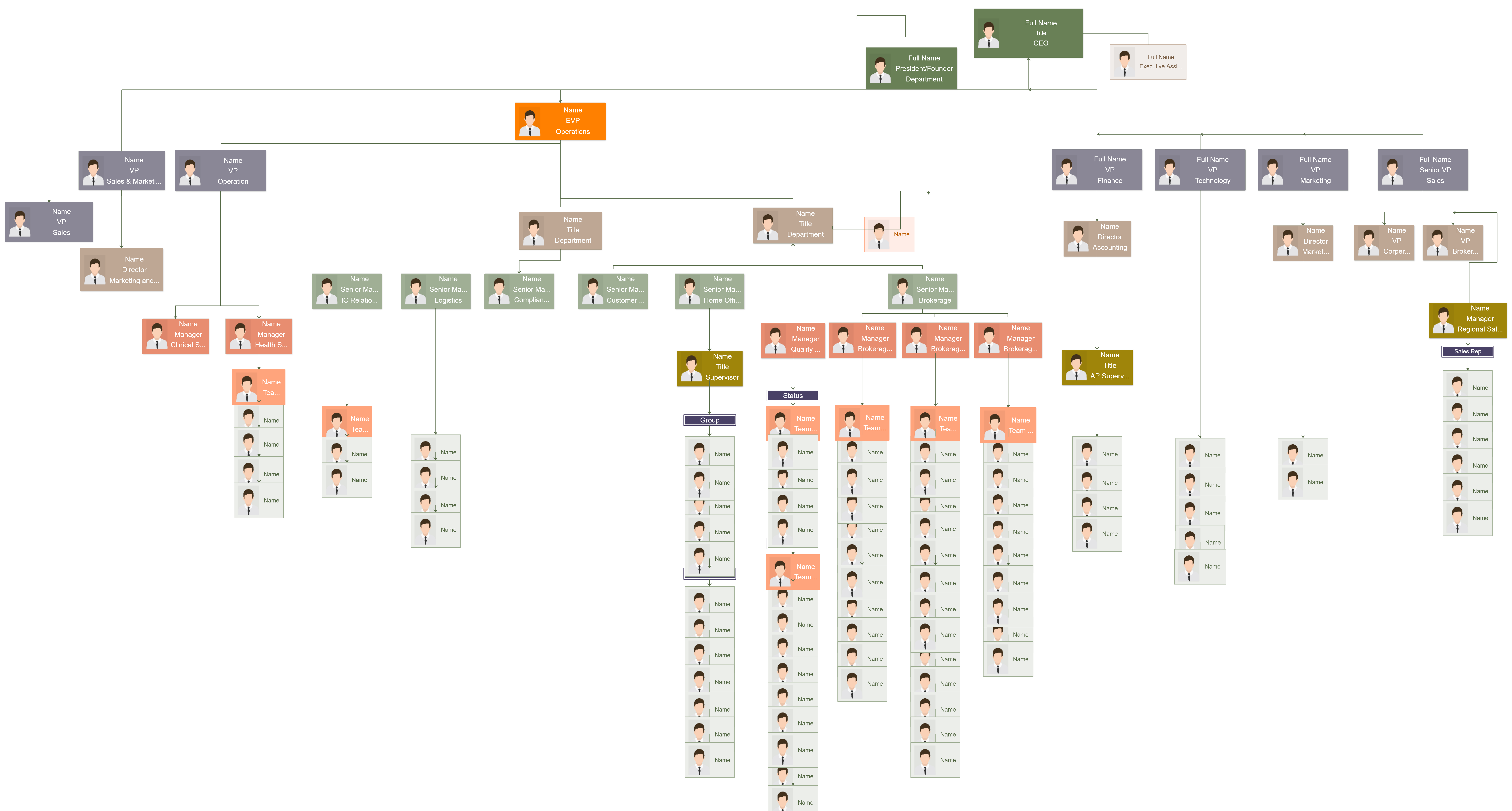 3. How to Create a Corporate Organizational Chart
Production of a corporation hierarchy chart requires no strenuous effort. In fact, minimum designing knowledge is enough to generate one. This task is even easier if you have the right tools and program, just like EdrawMax. It is an online software, giving you a hassle-free experience of organization chart production. These 4 steps will show you how to create an org chart.
Step 1 - Head on to EdrawMax Online or download EdrawMax. Make an account and log in to it.
Step 2 - Once inside, you can start creating the organizational chart on a blank edit sheet. However, this process is time-consuming. If you want an easy solution, head to the main menu on the left, look for Templates, and find your desired corporate organizational chart in minutes.
Step 3 - The next step is to add your favorite components inside and delete the ones you do not want. EdrawMax Online has a massive range of elements, cliparts, and components for you to choose from. Moreover, it gives you complete control over every single detail of the template.
Step 4 - Exporting is one of the factors that makes EdrawMax a priority among experts. Click on "File" and "Save as" to get your corporation hierarchy chart in your desired format. However, if you want your work to be acknowledged among the template community, click on the small "Publish button on the top right to share it on EdrawMax's social platform.
4. Free Online Organizational Chart Maker
Finding a free service for any premium task isn't easy. After all, why would anyone give away extreme value for free, right? That's not the case with EdrawMax. It is an ideal option for designing enthusiasts and ordinary people looking for (free) org chart software. With thousands of org chart templates and more than 26000 symbols, this online (free) org chart maker leaves everyone behind in the competition race. Size isn't something on which this program limits you. Rather, it gives you an infinitive canvas to test your creative ideas.
Are you worried about work routine disruption? Stop worrying! With this software, you can import your Visio files without errors and resume your work any time.
EdrawMax Online
Create 280+ types of diagrams online
Access diagrams anywhere, anytime
Everything in desktop + Templates Community
Team management and collaboration
Personal Cloud and Dropbox Integration
5. Key Takeaways
Long story short, a corporate organizational chart is an excellent source of information for every corporate individual to connect and play their role. Undoubtedly, the chart helps CEOs to direct their attention toward positively influencing their business.
As for its production, use traditional techniques and programs only if you got tons of hours to waste. However, if you want your work done in less time with less effort and extreme perfection, EdrawMax is the way to go. You can experience it all yourself for free from here.
Related Articles