Free Editable Project Organizational Chart Examples
Looking to create a project organizational chart for free? Concerned about your private data? EdrawMax will be your best friend to proceed with. Everything is simple and 100% secure.
1. What is Project Organizational Chart
Have you ever worked for a company on different projects? If yes, you must be familiar with the fact that every project may have a different team working on it. Collaborating with your team becomes super easy when you know every single member of it. This is where a project organizational chart comes in.
Do you often search online for what is a project organizational chart? Well, it organizes a project team and visually represents who precisely is your team member. From every member's responsibilities to the relationship between different members and the organizational structure of a project, a project organizational chart documents everything.
This article focuses on different examples of a project organizational chart to develop a better understanding. Moreover, you will get to know how to create this chart for your organization.
2. The Project Organizational Chart Examples
Let's have a closer look at a few examples of a project organizational chart to better understand this concept.
Example 1: Quality Assurance Project Organizational Chart
Maintaining the highest possible quality standards is necessary to gain customers' interest. The people who work in quality assurance departments are well familiar with how important it is to provide good quality products or services. This is where a quality assurance project organizational chart lends a helping hand. This chart shows a complete hierarchy of how a company maintains good quality. Furthermore, it helps organizations develop a solid bond between their products and customers, so the buyers are convinced.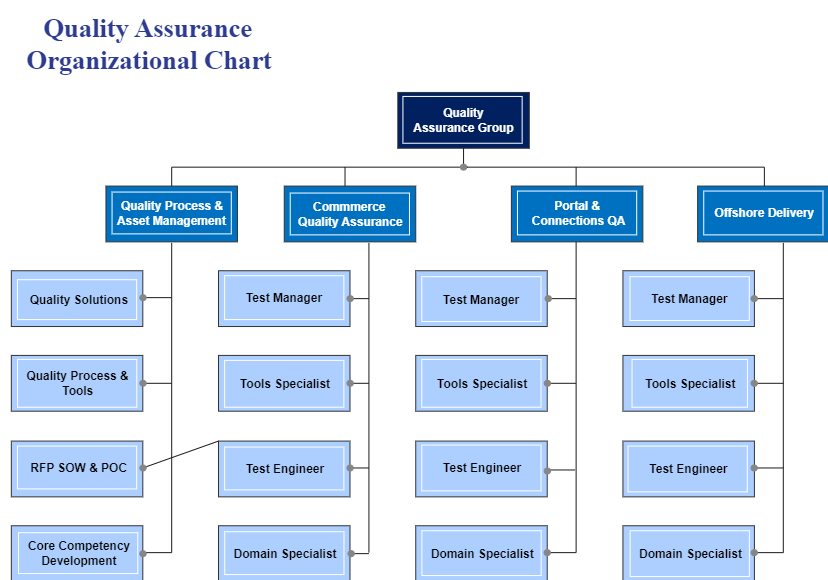 Example 2: Construction Project Organizational Chart
A construction project organizational chart helps construction teams smoothly coordinate with one another to ensure great progress. This chart visually displays how dedicated project managers manage all the tasks. Then, different project managers report to an organization's top management (e.g., CEO or board of directors). The complete flow of other departments participating in the company's growth is also part of a construction project organizational chart.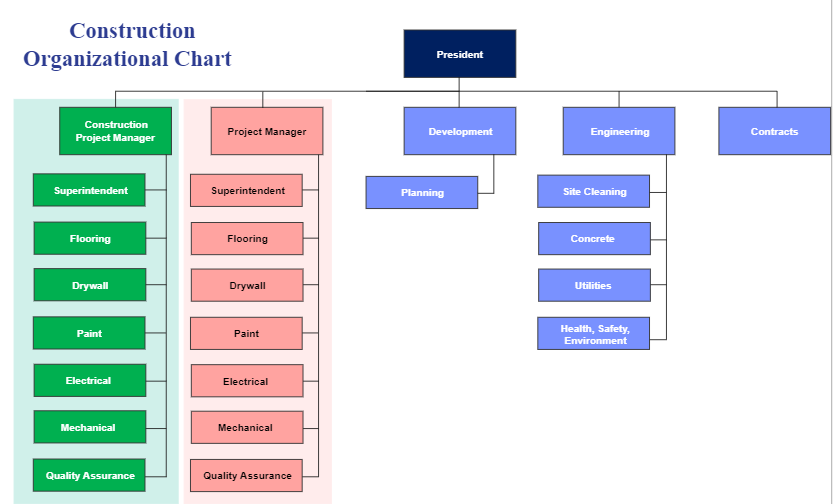 Example 3: Collaborative Project Organizational Chart
A collaborative project organizational chart helps the company divide a project into different phases and complete it on time. A project manager can make this organizational chart to ensure that the whole team collaborates smoothly until it gets completed successfully. This chart or diagram has proved to be a great tool for developing a good relationship between the core team, support team, and top management. Reputed organizations always create a collaborative project organizational chart before they start working on any project.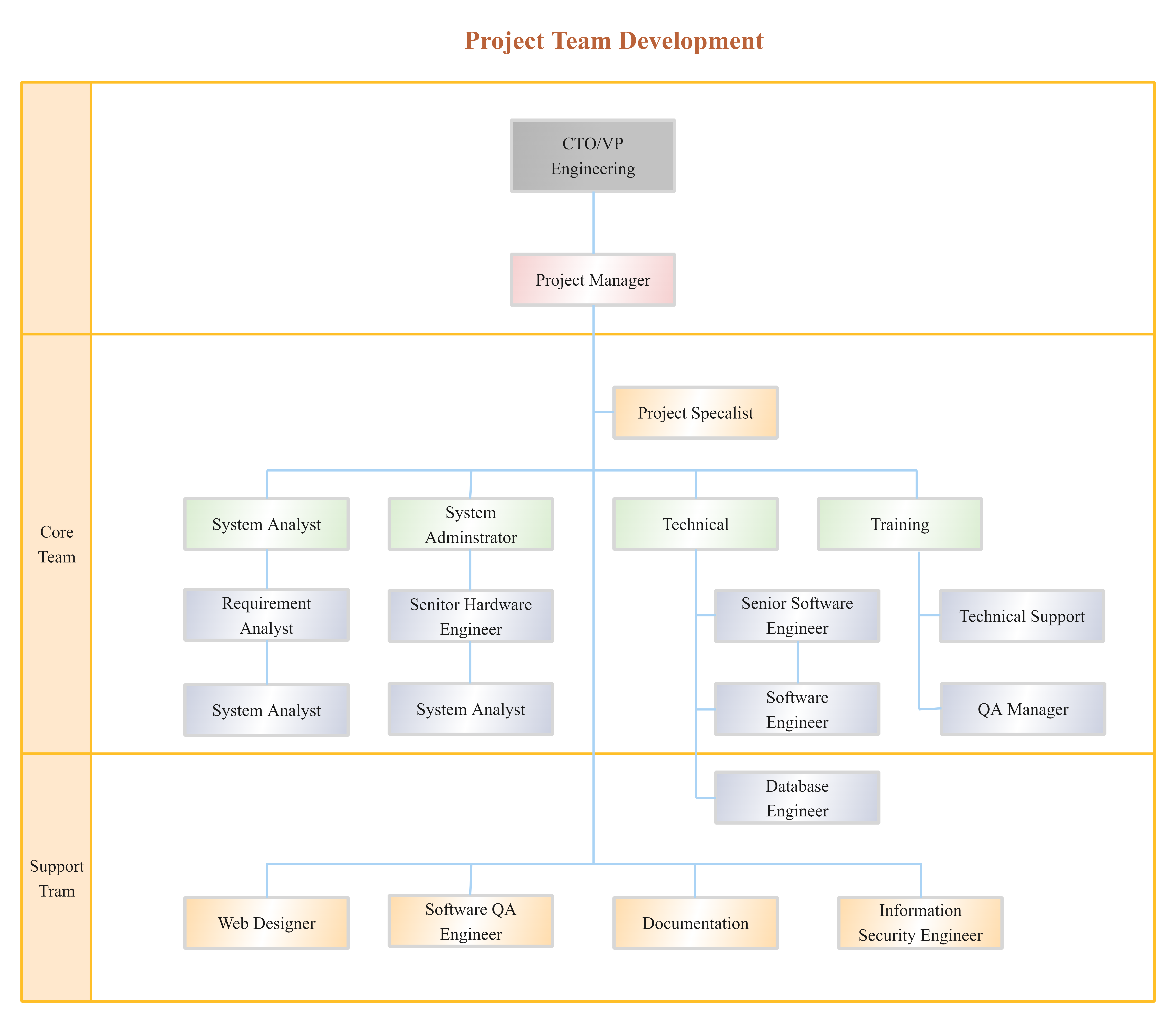 Example 4: Project Organizational Chart of Website Development
As the name depicts, this chart plays a key role when it comes to developing a website for any business. The web development team consists of front-end developers, back-end developers, designers, content creators, and search engine optimization managers. A project organizational chart of website development helps the whole team understand the complete project requirements and work collaboratively to achieve the desired goal within the given time. Digital agencies and web development companies frequently use these charts to compete effectively and deliver their projects.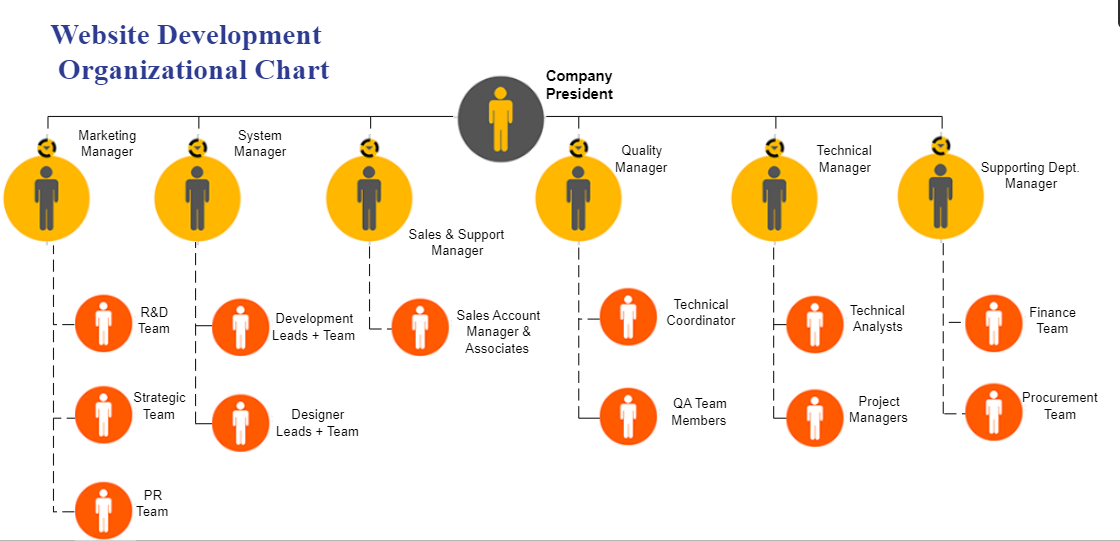 Example 5: Marketing Organizational Chart
This is another project organizational chart specifically dedicated to overseeing the marketing-related projects of different organizations. This chart displays the role of the team, the role of every team member, along with the supervisor's or manager's role. Therefore, a marketing organizational chart ensures that everyone in a marketing department has clear goals about efficiently and effectively completing the given projects and to whom to report. This chart is divided into multiple types, including but not limited to operations, customer journey, marketing channels, market-based, geography, and audience segments.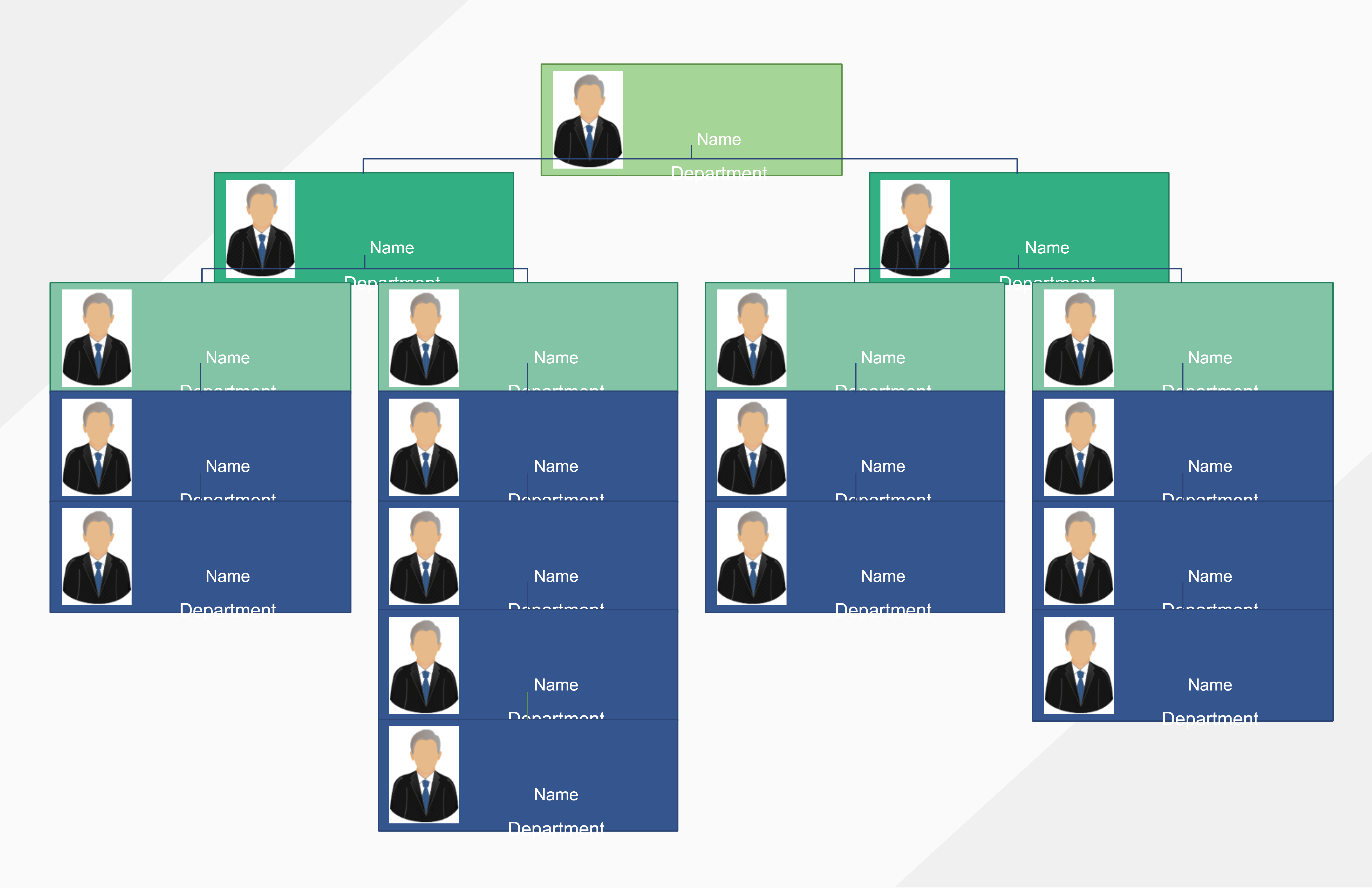 Example 6: EPT Project Organizational Chart
The English Placement Test (EPT) assesses the English competency of the students who plan to study in institutions where English is considered a primary mode of education. An EPT project organizational chart presents how a company defines the responsibilities of employees and ensures smooth interaction between them. If you prepare students for the EPT test, this chart is going to be a golden key to success for you to greatly manage and assess their English competency levels.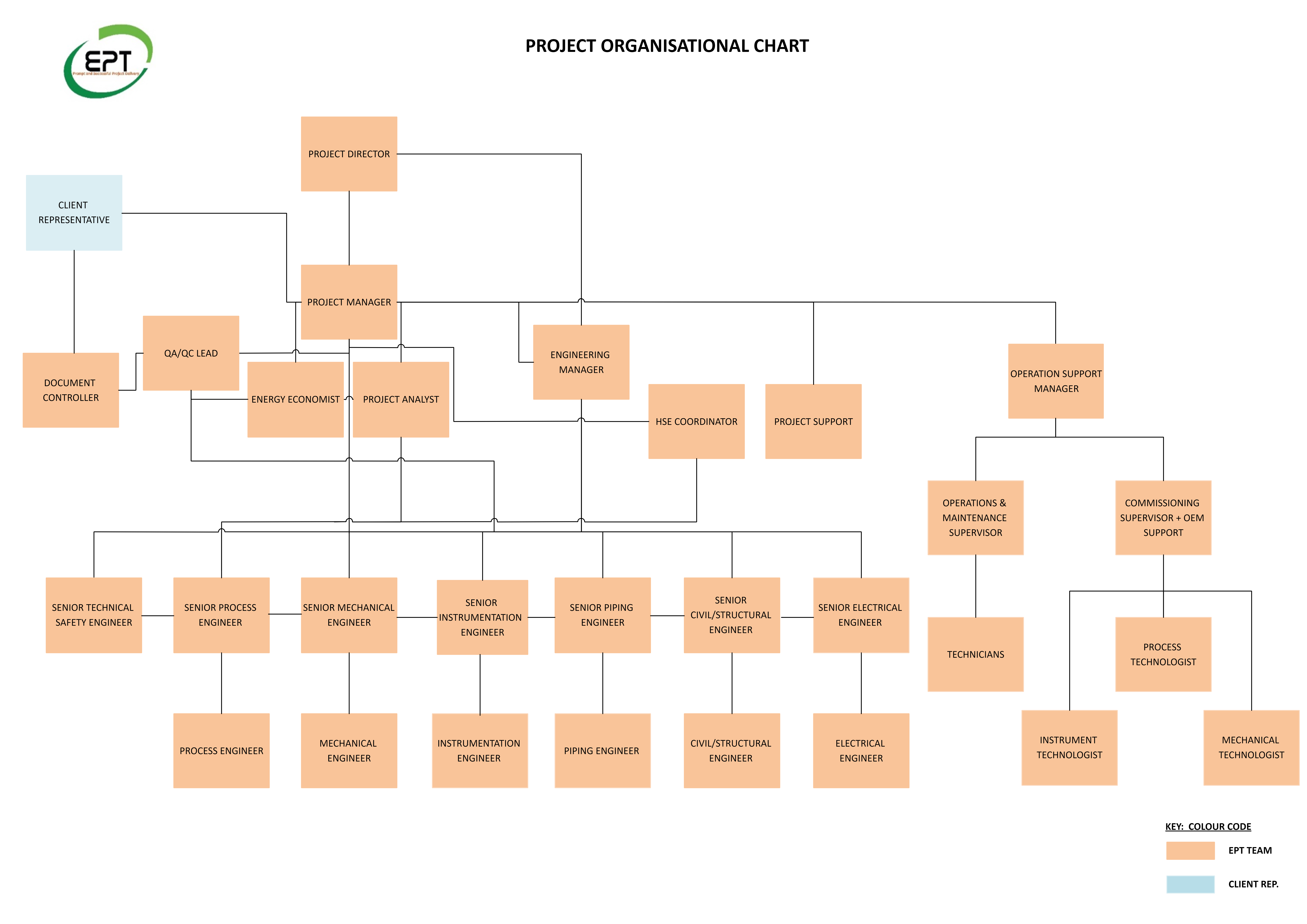 Example 7: Functional Project Organizational Chart
Thousands of organizations use a functional project organizational chart because it helps them divide the workforce into different groups or departments based on their professional skills and responsibilities. The professionals with great market exposure are mostly shown as department managers on this chart. These managers have the authority to run the whole department. A functional project organizational chart has three types, i.e., matrix organizational chart, flat organizational chart, and top-down functional hierarchy. Every type has its own significance.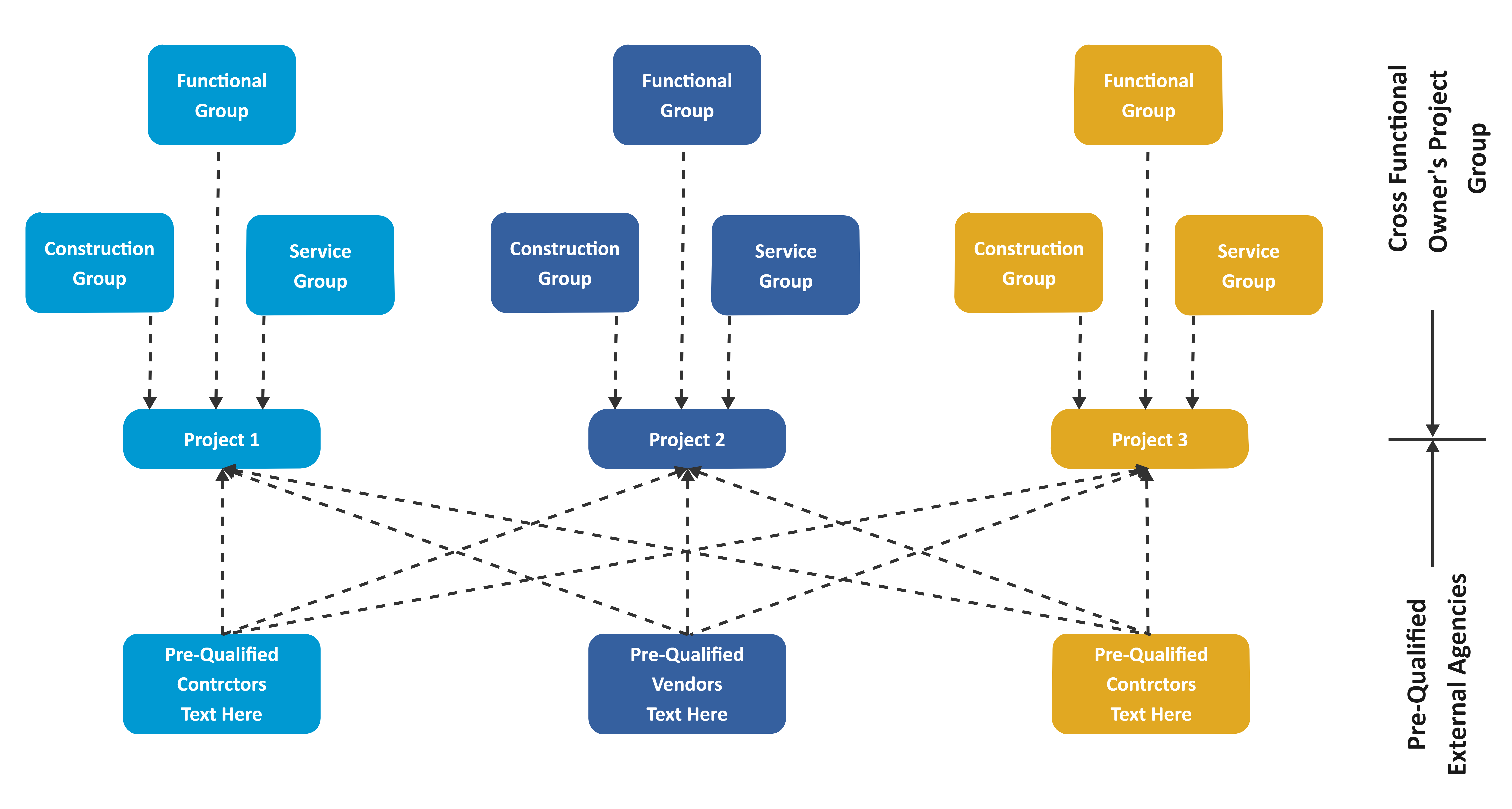 Example 8: Microsoft Project Organizational Chart Template
A Microsoft project organizational chart closely focuses on the internal organizational structure of the world's leading organization, Microsoft. The topmost box represents an individual who has the highest authority within the company and cares about the whole business. Looking at the chart below, you will see that Mr. Peter Murphy has the top position, which shows he has more organizational power than any other individual working at Microsoft. Similarly, the second highest position is occupied by Ronald Cox - auxiliary staff. You will easily understand the next levels shown in the below chart.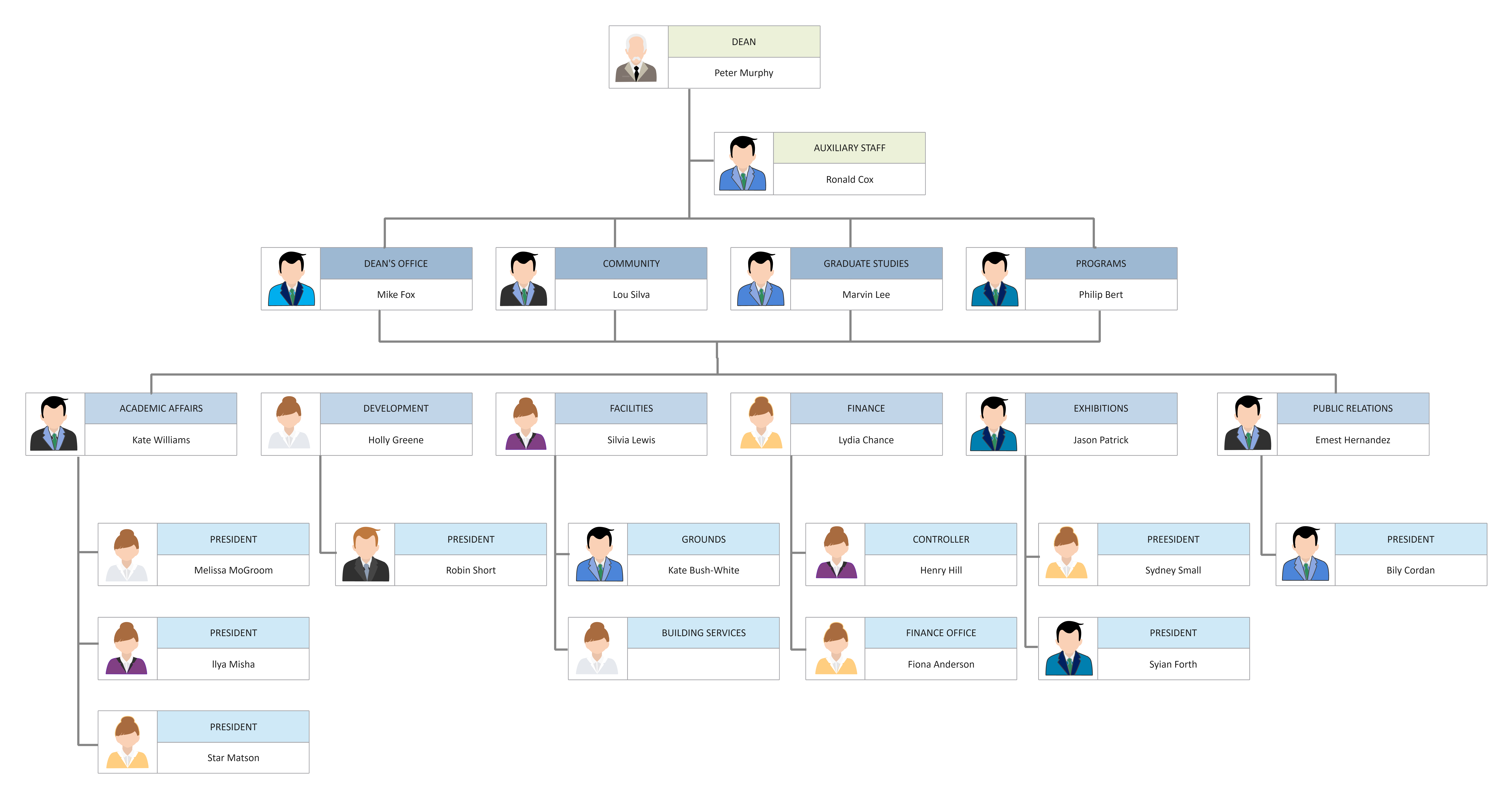 Example 9: Proposed Project Organizational Chart
A proposed project organizational chart highlights the roles and responsibilities of professionals working in different departments. The chart below exhibits the roles of individuals in the facilities management department. From the highest position - DH - to the second highest power - HPOD - this chart displays administration, building operation, EE, and the list goes on. Under every staff member's name, the role is highlighted. Furthermore, you can also see the vacant positions and apply accordingly. Only one "Assistant Manager" position is vacant as per the chart below.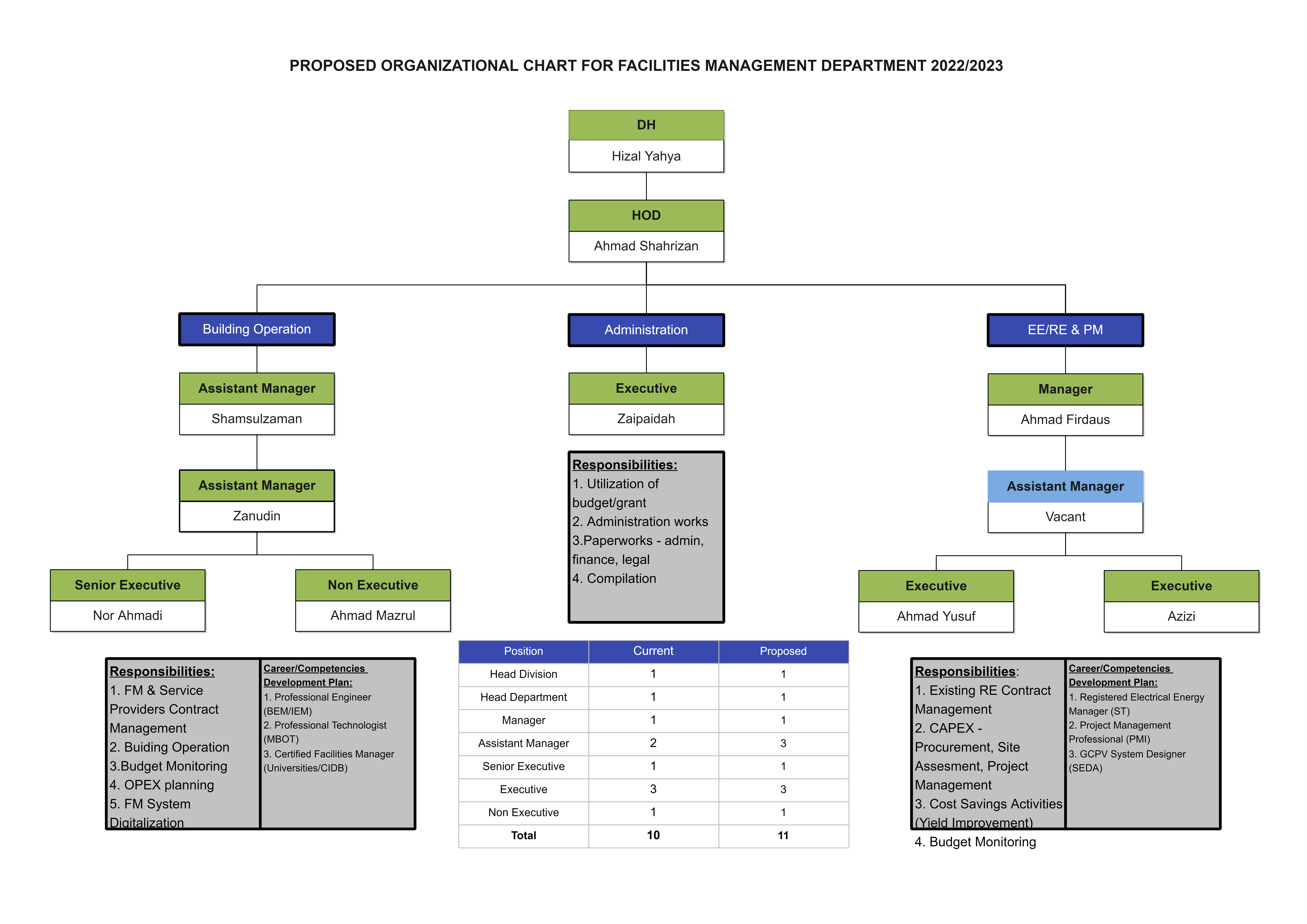 3. How to Create a Project Organizational Chart
Are you looking for how to create an org chart? In search of reliable software to lend a helping hand? Try using EdrawMax to create any type of project organizational chart. Let's take a look at how you can create this chart using EdrawMax.
Step 1 - Head on to EdrawMax Online or download EdrawMax. Make an account and log in to it.
Step 2 - Once inside, you can start creating the organizational chart on a blank edit sheet. However, this process is time-consuming. If you want an easy solution, head to the main menu on the left, look for Templates Community, and click on it.
Step 3 - Customize the selected template keeping in mind your project requirements. You can easily put some text on the diagram, change font size or color, or do anything else you want to update.
Step 4 - After following the above steps, if you are satisfied with the final version of your organizational chart, you can export and share it with your digital community. EdrawMax features various file formats (PDF, Word, Excel, PowerPoint, SVG, etc.), so you can choose the one that suits you the most.
4. Online Organizational Chart Maker
Are you on the hunt for a free org chart maker that safeguards your data? Looking for an excellent experience to get the whole job done? EdrawMax will surely be your best friend. The basic aim behind introducing this (free) org chart software was to provide you with the convenience you look for when understanding the organizational culture. The top features that set EdrawMax apart are:
The drag-and-drop features and easy-to-use interface make your workflow super simple. You can use this (free) org chart maker to improve visualization.
This software connects you with an online community where you can get inspired by other users. Regardless of the organization you work in, you can create any type of organizational chart, thereby choosing from more than 26,000 symbols.
It allows you to share your work with other team members to collaborate effectively.
EdrawMax Online
Create 280+ types of diagrams online
Access diagrams anywhere, anytime
Everything in desktop + Templates Community
Team management and collaboration
Personal Cloud and Dropbox Integration
5. Key Takeaways
A project organizational chart plays a crucial role in collaborating with your team while working on any project. It displays the top management, all team members, and their assigned designations or responsibilities.
If you want to create an organizational chart for free, don't forget to use EdrawMax to do it in a matter of a few minutes. It is not only convenient to use but also protects your private data. Apart from that, hundreds of built-in templates make the job super simple. This is why millions of professionals worldwide have been using EdrawMax for a while now.
Related Articles