Free Editable Blank Invoice Examples
Invoices are proof of agreement that lists the vendors' products or services and the agreed-upon price. Invoices can take many forms, e.g., a simple listing or a detailed structured document. Let us see some blank invoice templates to get an idea.
1. What is Invoice
Invoices are an essential part of business, from small scale to industrial scale. Invoices provide a record of sales and services to provide a notification for the customer for payment. Invoices serve many purposes, such as:
Account and record-keeping of all transactions and financial dealing of the organization.
Invoices are also legal proof of agreement with a customer. In case of dispute, both parties can present the formal invoice to prove their point.
Taxation is another purpose of invoice. Especially sales tax deductions, jurisdiction, and amount are determined based on invoices.
Invoices also support tracking, forecasting, and effective marketing strategies.
It is important to note that invoices must follow some standards and include the required data for proper and legal uses. We can see the details in blank invoice templates in the next section.
2. The Invoice Template Examples
We hope you understand the purpose and importance of invoices for businesses. This section will explore the best blank invoice templates that you can use for your requirements or even take as inspiration for your customized solution
Example 1: Commercial Invoice Template
This commercial invoice template is a classic example that can serve as formal proof of a selling transaction. It provides all the details required for the transaction. You will fill in dates, invoices, and addresses of both selling and purchasing parties. Next is complete information about the commodities involved. The constituents of this section include compartments for tax IDs, terms of sale, weight, and quantity of the product. Then there is a blank space for item-wise details of each product.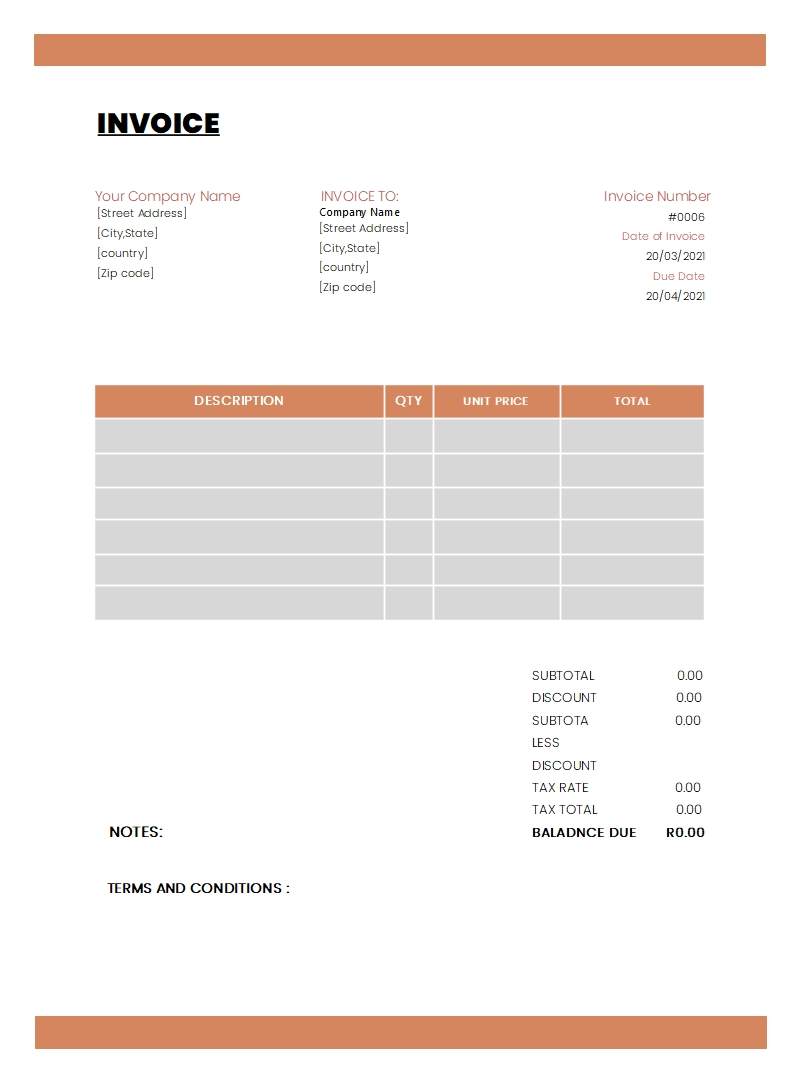 Source:EdrawMax Online
Example 2: Invoice Template Google Docs
This invoice template Google docs is an excellent blank invoice template for a services business. It has company details, date, and customer details. There are two sections after the preliminary information; one is a blank portion for products sold in the deal with quantity, description, and unit price. In comparison, the second portion has details about the services provided by the company. This section replaces quantity by hours, and unit price is replaced by price per hour.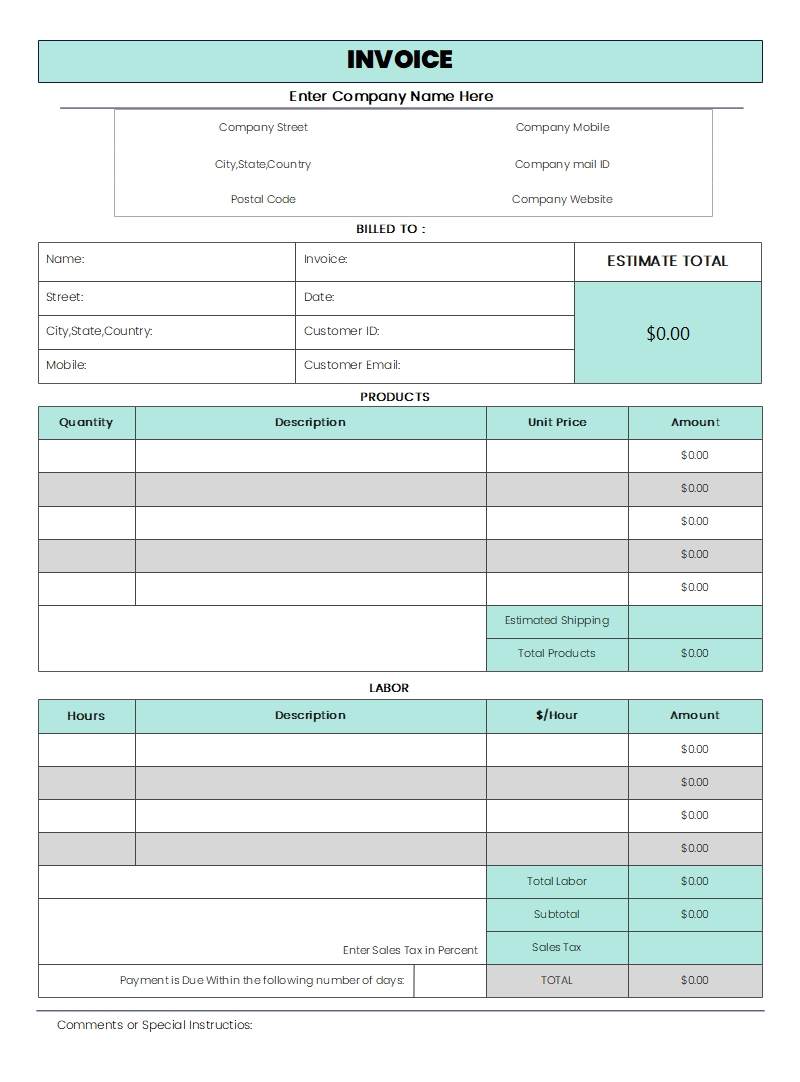 Source:EdrawMax Online
Example 3: Invoice Template Word
This blank invoice template word is very suitable for retail businesses. It has company letterhead, and then we have the business address. The next section has billing and shipping addresses. The next section has all the details of the products, including description, quantity, unit price, and total amount. It is a simple blank invoice template that has all the details but in a very straightforward manner.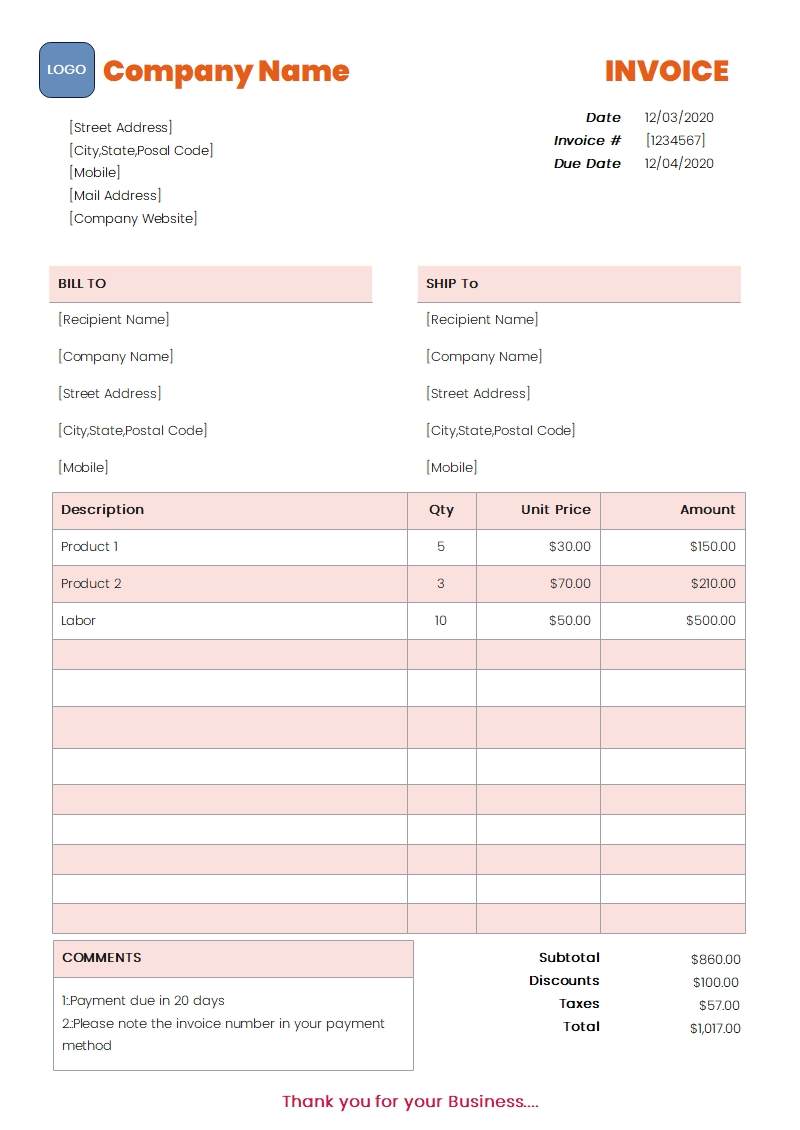 Source:EdrawMax Online
Example 4: Blank Invoice Template
This blank invoice template gives you space to fill out details, including date, invoice number, business address, billing address, description, hours, rate per hour, total, subtotal, tax, the total amount due, tax rate, and payment terms. You can notice that this template is based on hourly rates and not on product per unit price. So, we can conclude that this blank invoice template is directed at the business providing services and labor.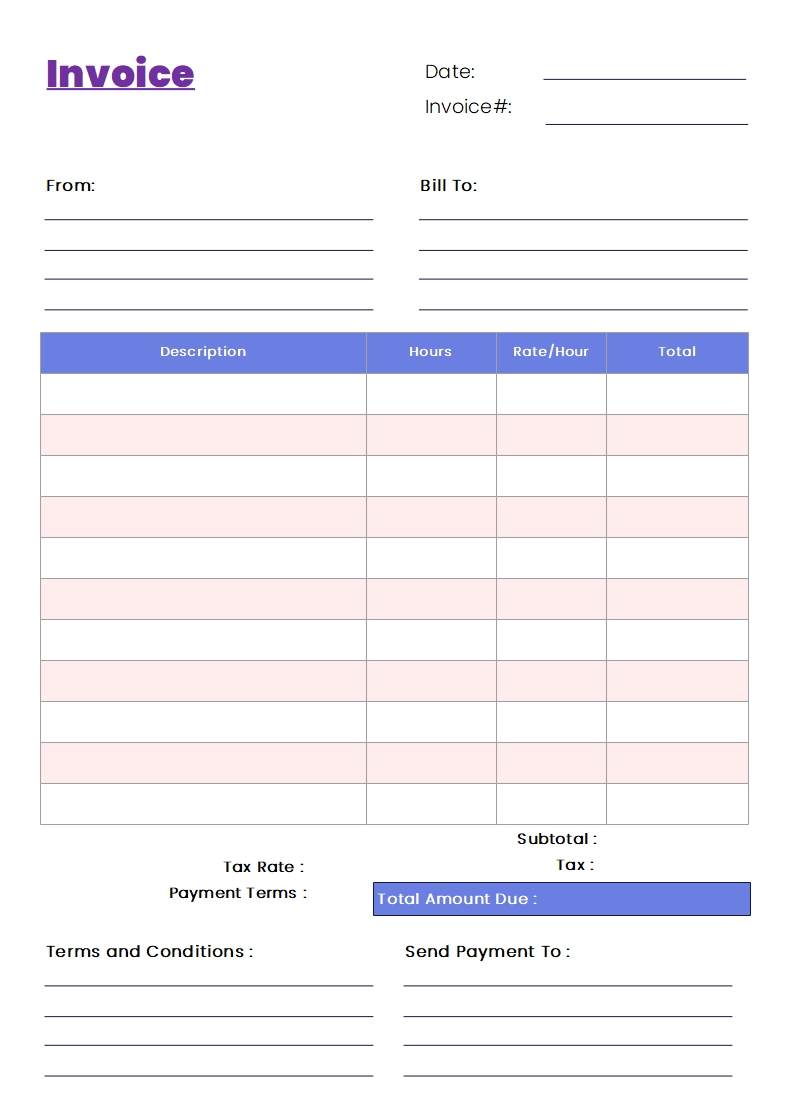 Source:EdrawMax Online
Example 5: Simple Invoice Template
This simple invoice template for product sales because it has details like description, quantity, and price of the product. This template is fully customizable, and you can add your company logo, business address, and invoice number. It is printable, easy to edit and fill in. so, any business can use it by filling it in and printing it for the record and for handing it out to the customer as well.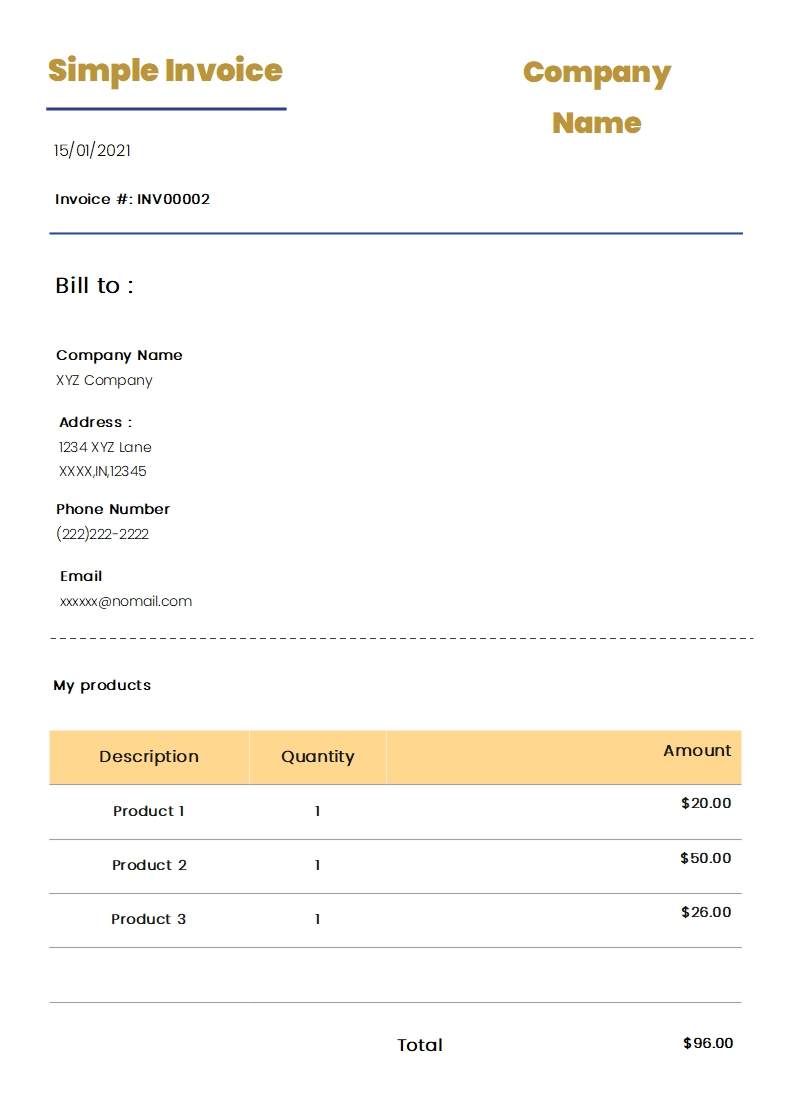 Source:EdrawMax Online
Example 6: Template for Commercial Invoice
The template for the commercial invoice is the best and the most detailed blank invoice template for import and export businesses. As we know, import and export businesses need more details and paperwork because there is government legislation of both countries involved, then there is taxation, shipping, and a lot of overhead. So, complete and proper documentation is critical for a successful transaction. In these blank invoice details, you can see the seller, ultimate consignee, and the buyer, so there are different entities involved. Then, there are different shipping details and a breakdown of costs like handling, shipping, etc. Of course, you can add and delete items, but overall it is an excellent layout.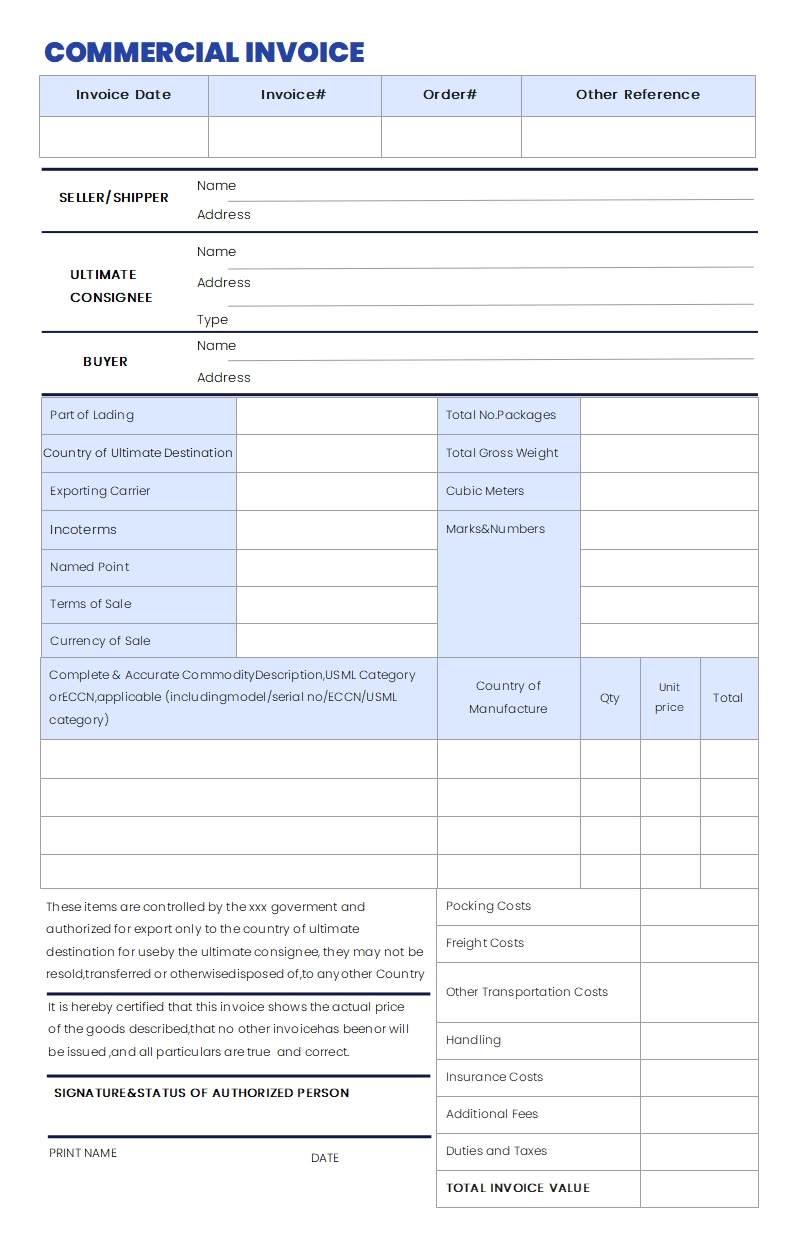 Source:EdrawMax Online
Example 7: Construction Invoice Template
The construction invoice template is a perfect fit for businesses dealing in construction and repairing business. However, it can be used for other industries that provide both material and labor in their deals. After the buyer and seller details, we can see there are two sections. One deals with the physical products provided by the seller with quantity and price. In contrast, the other section has the labor details with hours spent and the rate per hour.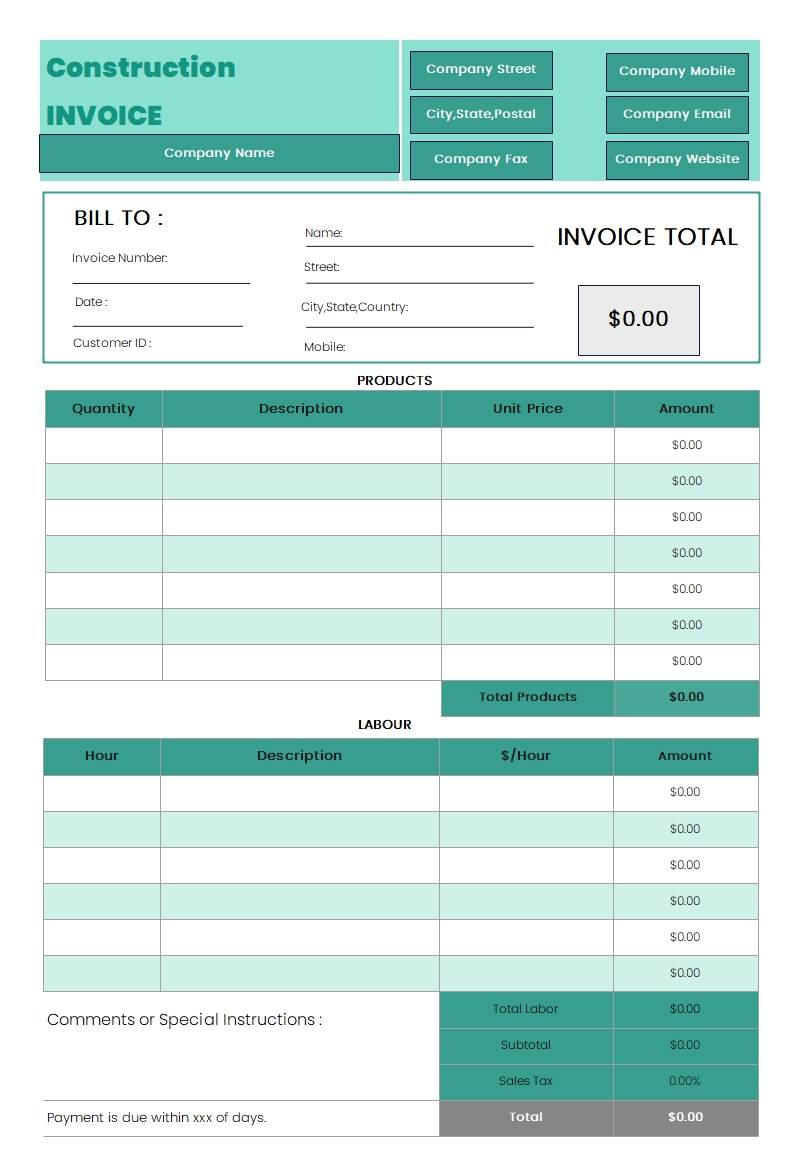 Source:EdrawMax Online
Example 8: Proforma Invoice Template
The Proforma invoice template is a suitable blank invoice template for shipping companies. It has details of the shipper and the receiver with the reason for the export of these goods. The next section deals with the mode of transport, gross weight, along item-wise details of the product. It is a simple format, but generally, export companies may need more details about taxes, shipping in different countries, and legal details.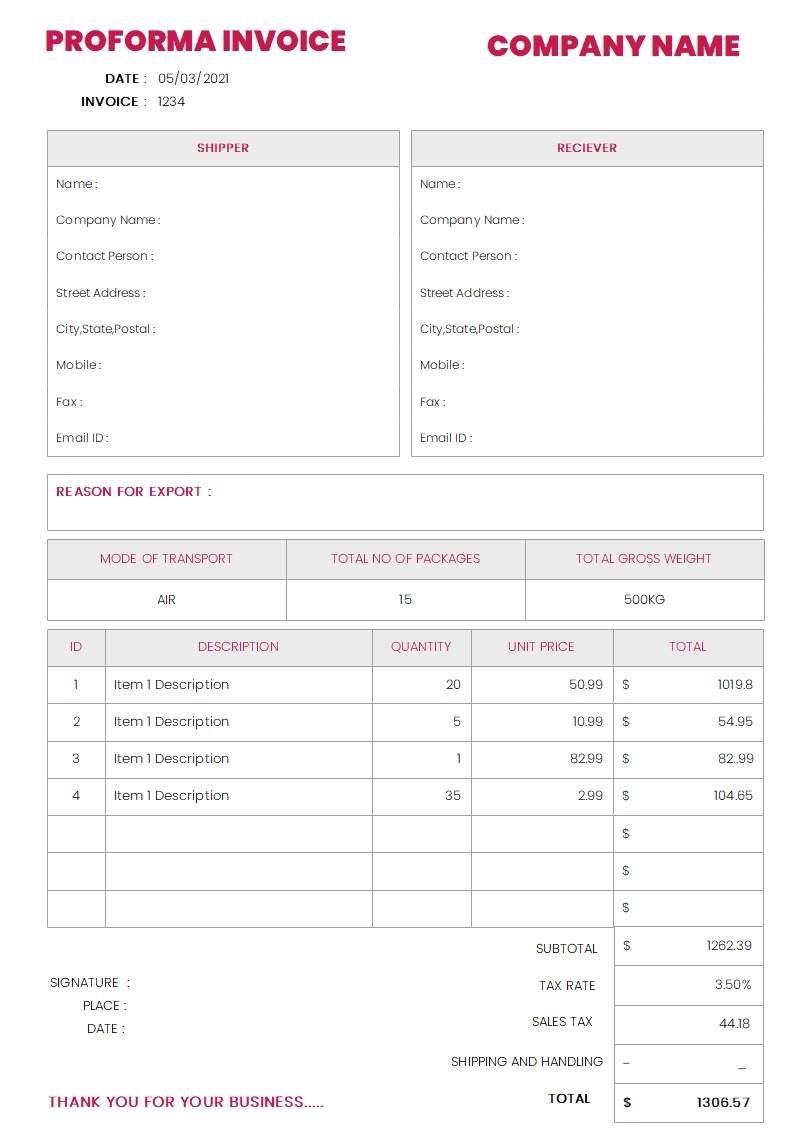 Source:EdrawMax Online
Example 9: Contractor Invoice Template
The contractor invoice template is suitable for the companies dealing with goods sales, services providers, or any of these. Construction companies, woodwork, plumbing, repairing, and other such businesses can use this blank invoice template for their dealings. It is a straightforward yet detailed and functional template.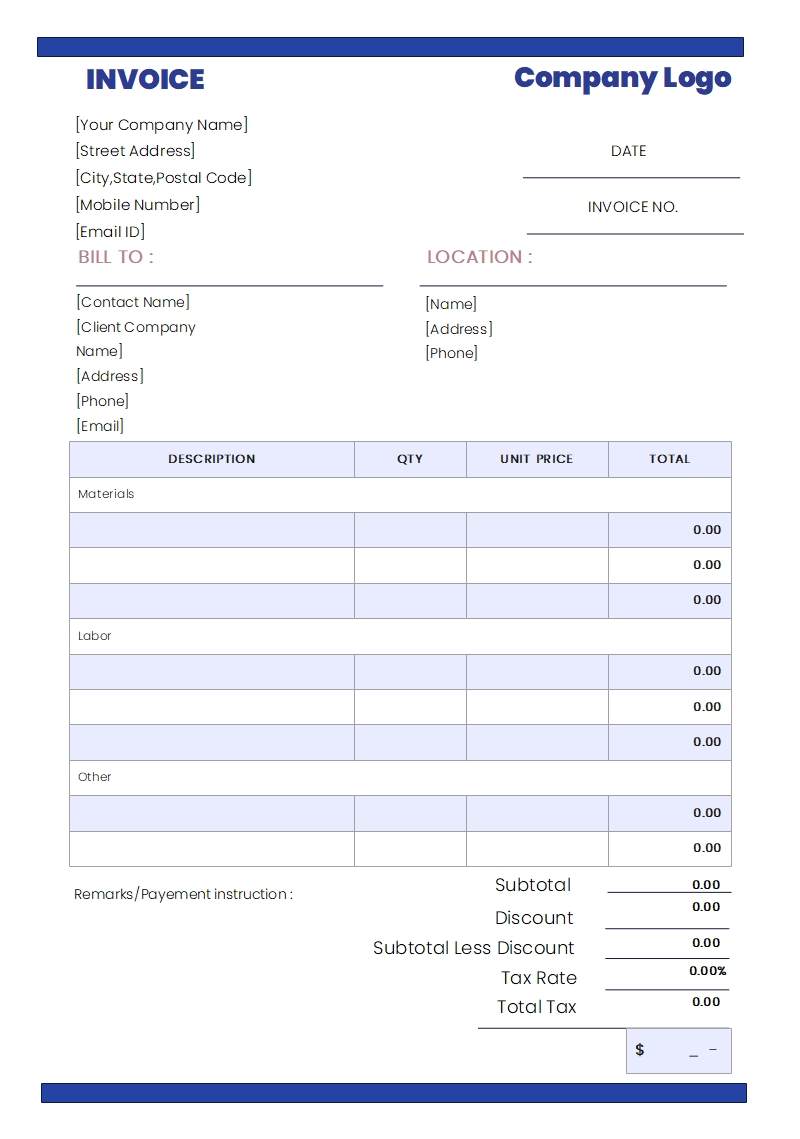 Source:EdrawMax Online
3. Online Invoice Maker
The problem with printed invoices is that their structure cannot be edited. Therefore, an online invoice maker is an excellent choice to create your invoices because as your business grows or the type of business or product changes, you can edit your invoice accordingly with a few clicks. EdrawMax Online is a premium online maker that is popular in the industry because it is easy to use, provides thousands of symbols, and also allows the import of data. You can also save time and get a quick start by using any free customized blank invoice template from the well-stocked template community.
EdrawMax Online
Create 280+ types of diagrams online
Access diagrams anywhere, anytime
Everything in desktop + Templates Community
Team management and collaboration
Personal Cloud and Dropbox Integration
4. Key Takeaways
Invoices are a critical part of business for the legal records, sales tracking, forecasting, and audits as well. It is important that the blank invoice template you are using encompasses all the required details so that you do not face any legal or financial binding because of a lack of record. EdrawMax Online is an excellent tool for creating your personalized invoices without spending a lot of time and effort because of its clean and easy layout, well-stocked libraries, and professionally designed templates that are free to use.