Free Editable Sales Process Flowcharts
A sales process flowchart is vital to the success of any business. Get to know all its key points, steps, and best places to develop it.
1. What is a Sales Process Flowchart?
A sales process flowchart will show the whole step-by-step process for business. It ranges from generating leads to finding qualified leads. A sales process can assist you in identifying and isolating the problems in your business process. Therefore, it helps to increase efficiency and reduce resource waste.
A sales process allows you to evaluate when it is time to refocus your business. It provides insight into when the products have grown less important over time. Also, the organization and optimization of the sales activities begin with the creation of the sales process flowchart. The optimization is possible as it ensures that every member of the team understands their positions and duties. Everyone can go over the glow chart that should describe the particular process in every stage of the sale. Hence, you can work more efficiently together with a sales process flowchart to close more deals.
#1 What is Sales Process?
The sales team takes a series of actions to find new clients, create relationships, and close deals. This series of stages is a sales process. However, the particular steps for a process will vary depending upon the type of business and the items or services being sold. The general steps of most sales processes involve a mix of prospecting, qualifying, pitching, objection handling, and closing approaches.
Sales representatives have to follow a well-defined sales process to be efficient and successful. A good process will assist establishments in tracking development and performance with time. In addition, it will improve marketing efficiency and boost profits.
#2 Purpose and Benefits of a Sales Process Flowchart
The purpose of the sales process flowchart is to keep the process and team streamlined. The sales team might become lost without the help of a straightforward and effective process when targeting customers. Therefore, a team lead or manager should plan a sales process for their team so that everyone can come to one page.
A streamlined sales process chart is highly beneficial for the business. The benefits of developing such a flowchart for your sales are as follows:
A simplified sales process can help you bring clients for your products conveniently.
It will save the time of new employees as they can immediately get to their jobs without confusion.
The team will not have trouble determining solutions to various obstacles while finding and closing deals.
A straightforward presentation of a flowchart can have a hold over conversations and processes.
It can enhance the understanding of your teammates or customers and help you get into an agreement with them.
A flow chart can assist in spotting what is going out of track with your business.
It can also help you make up for malfunctions with prompt solutions.
Tips for Sales Process Flowchart
When creating a sales process flowchart, keep the following points in mind:
Each member of the sales team should share the key elements of their success to contribute to the overall group's success.
After completing the flowchart, you should spend more time analyzing the results.
Innovate the flowchart using your teammates' or customers' actual business opinions and experiences.
Remember that the relationship between marketing and sales teams is critical.
Keep your chart up to date with what's going on.
2. The Sales Process Flowchart Examples
You might want to take a look at the charts produced by other teams before starting to design a brand-new one for yourself. For example, here are sales process flowchart examples.
Example 1: New Sales Process Flowchart
The sales process flowchart most commonly refers to a repetitive series of steps that the sales team follows from the moment a lead is identified until the sale is closed. We have identified four major tasks in this sales process flowchart: lead identification, lead qualification, solution proposal and proof of concept, and negotiation. A flowchart is a diagram that represents a series of instructions.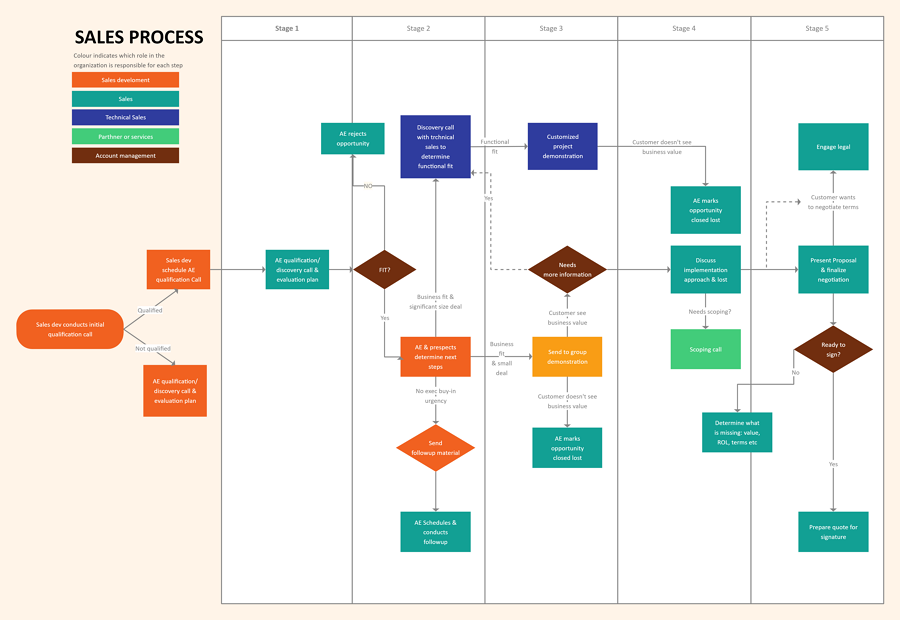 Example 2: Online Sales Process Flowchart
The Online Sales Process Template depicts the flow of online sales, from placing an order to the customer receiving goods, and the reference point is updated.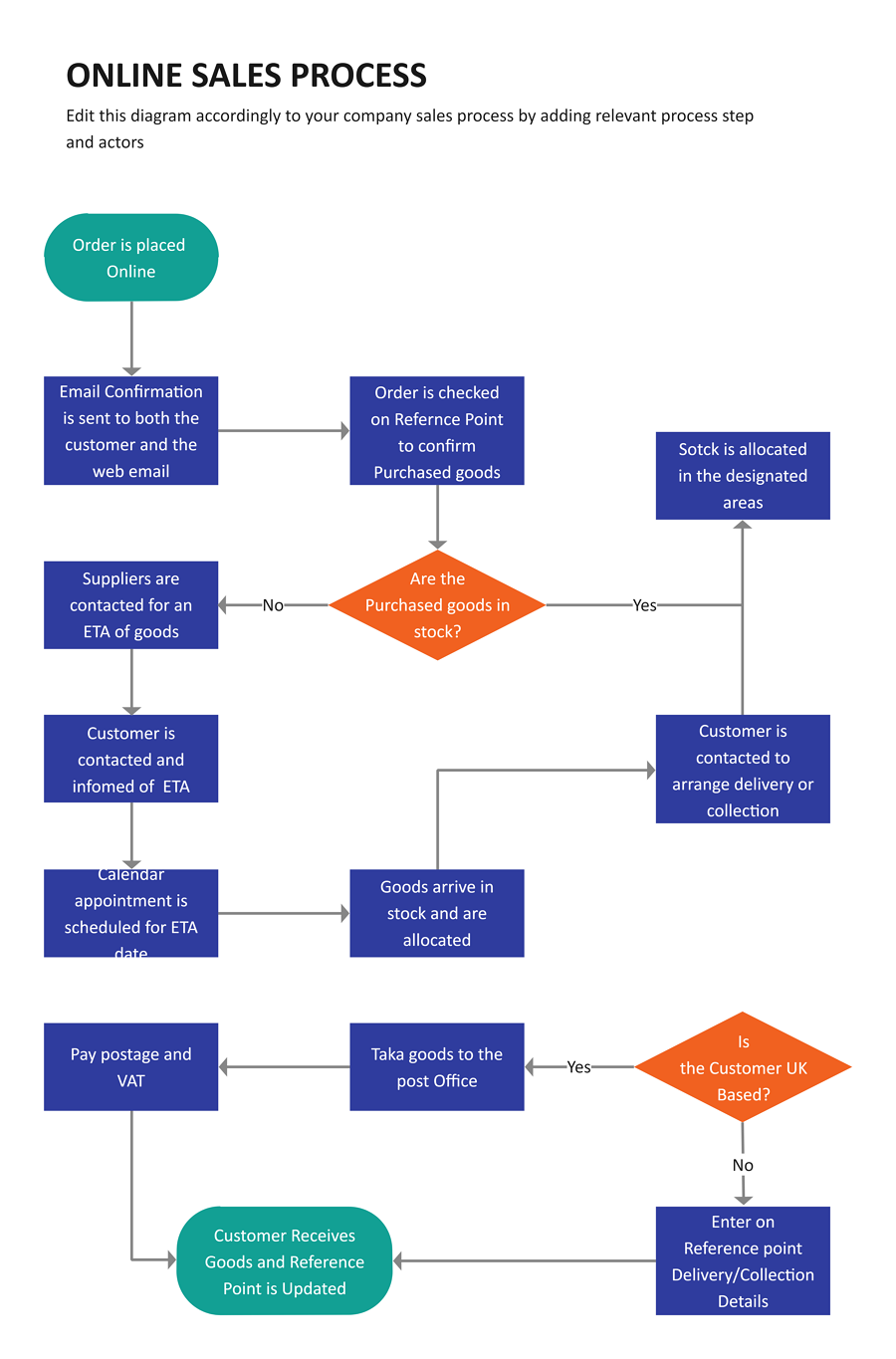 Example 3: Pre-Sales Process Flowchart
The pre-sales process is a collection of activities that occur prior to the acquisition of a customer.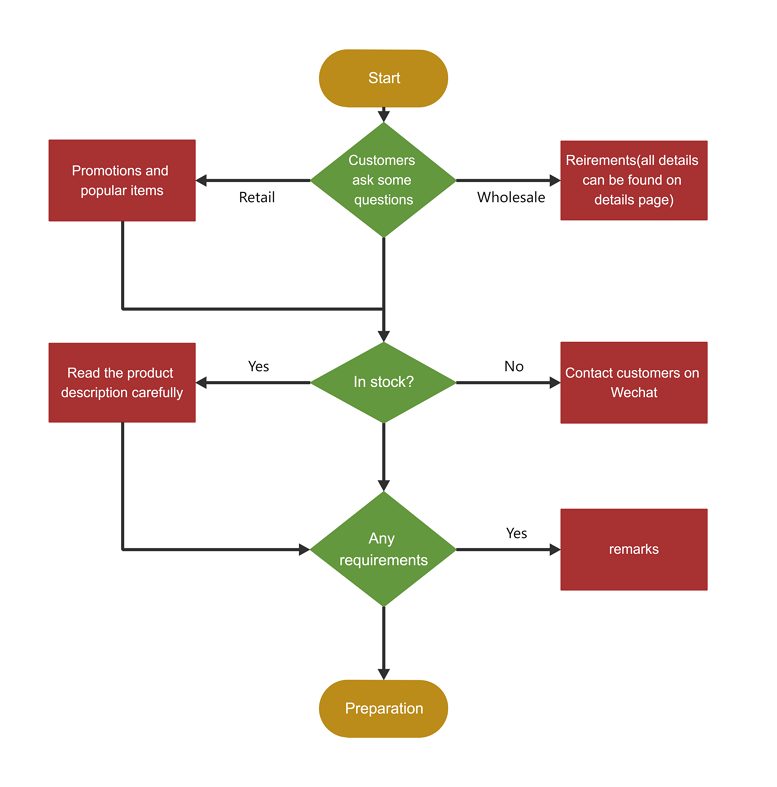 Example 4: Sales Process Audit Flowchart
The three major processes in the Sales Process Audit Flowchart are Sales Clerk, Cash Receipts Clerk, and Accounts Receivable Clerk. It is important to note that a flowchart is a graphical representation of an algorithm.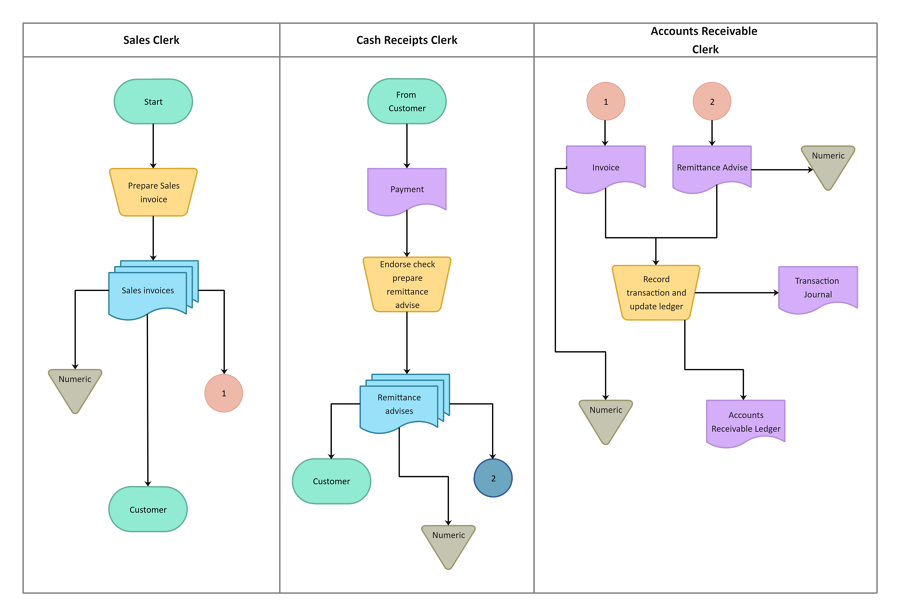 Example 5: Sales Process Flowchart Template
This is a standard sales process flowchart, and it covers the whole sales process. It's clear to understand the difficult and complex process from different aspects with this.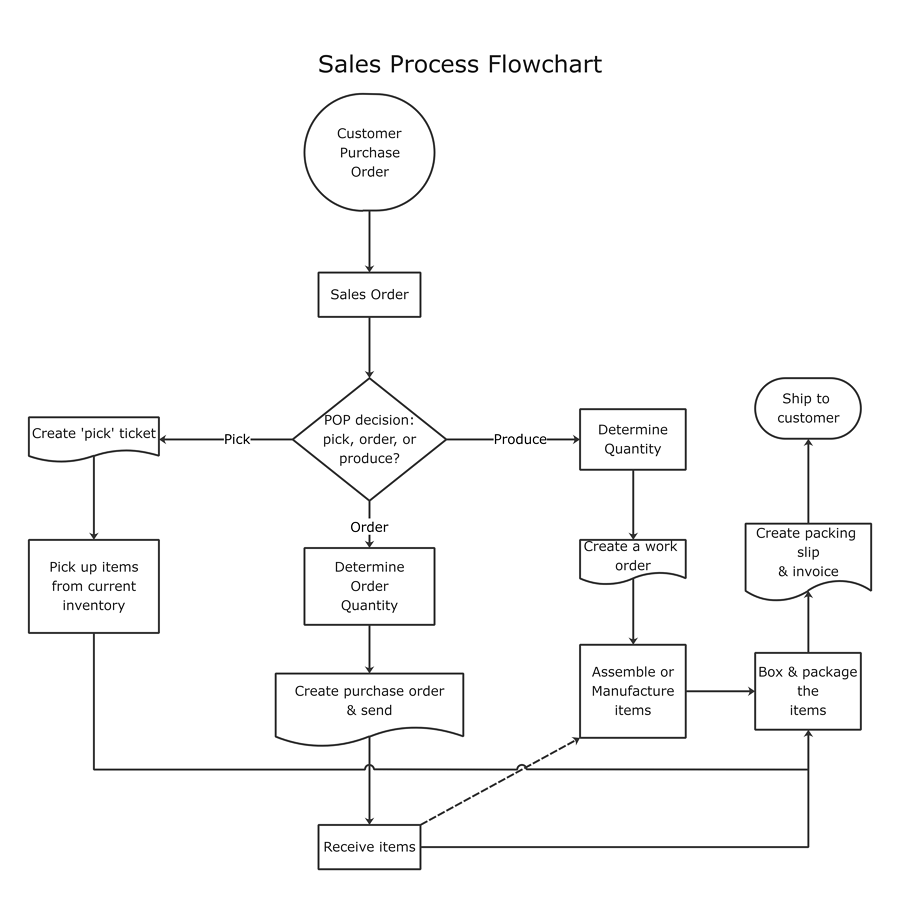 Example 6: Sales Process Flowchart
This is a flowchart of the sales process that depicts the entire step-by-step business process. Everything from lead generation to finding qualified leads is covered. A sales process can assist you in identifying and isolating problems in your business process.

Example 7: Sales Steps Flowchart
This is a flowchart of the sales process. A sales process can help you determine when it is time to refocus your business. It reveals when a product's importance has dwindled over time.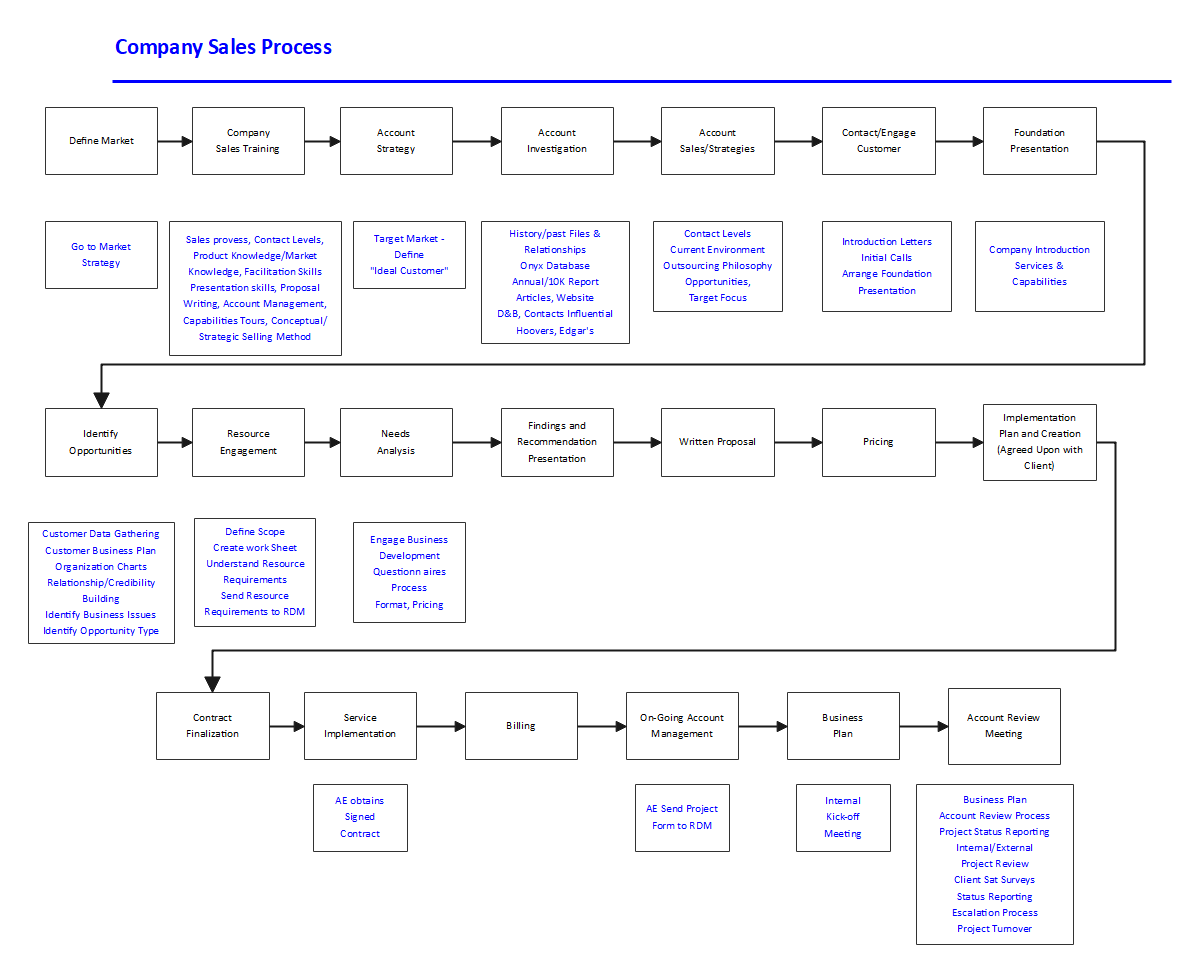 Example 8: Sales Process Flowchart Template
This is a flowchart of the sales process. A sales process flowchart is a flowchart that lists the stages of a typical sales process. Its goal is to keep the team and the process running smoothly.
3. Online Sales Process Flowchart Maker
Designing a sales process flowchart is not difficult anymore. It is hassle-free with an online sales process flowchart maker. You can use EdrawMax Online even as a beginner. It is a user-friendly tool that helps you create flowcharts aligned with your business needs. It also has free templates and symbols for decision flowchart makers that the designers can modify and use per their requirements. A resource center is also available for the user to connect in case of any problem working on the tool. Use EdrawMax online to create your floor plans without effort. Grab a template today or choose one from Templates Community and customization as per your taste.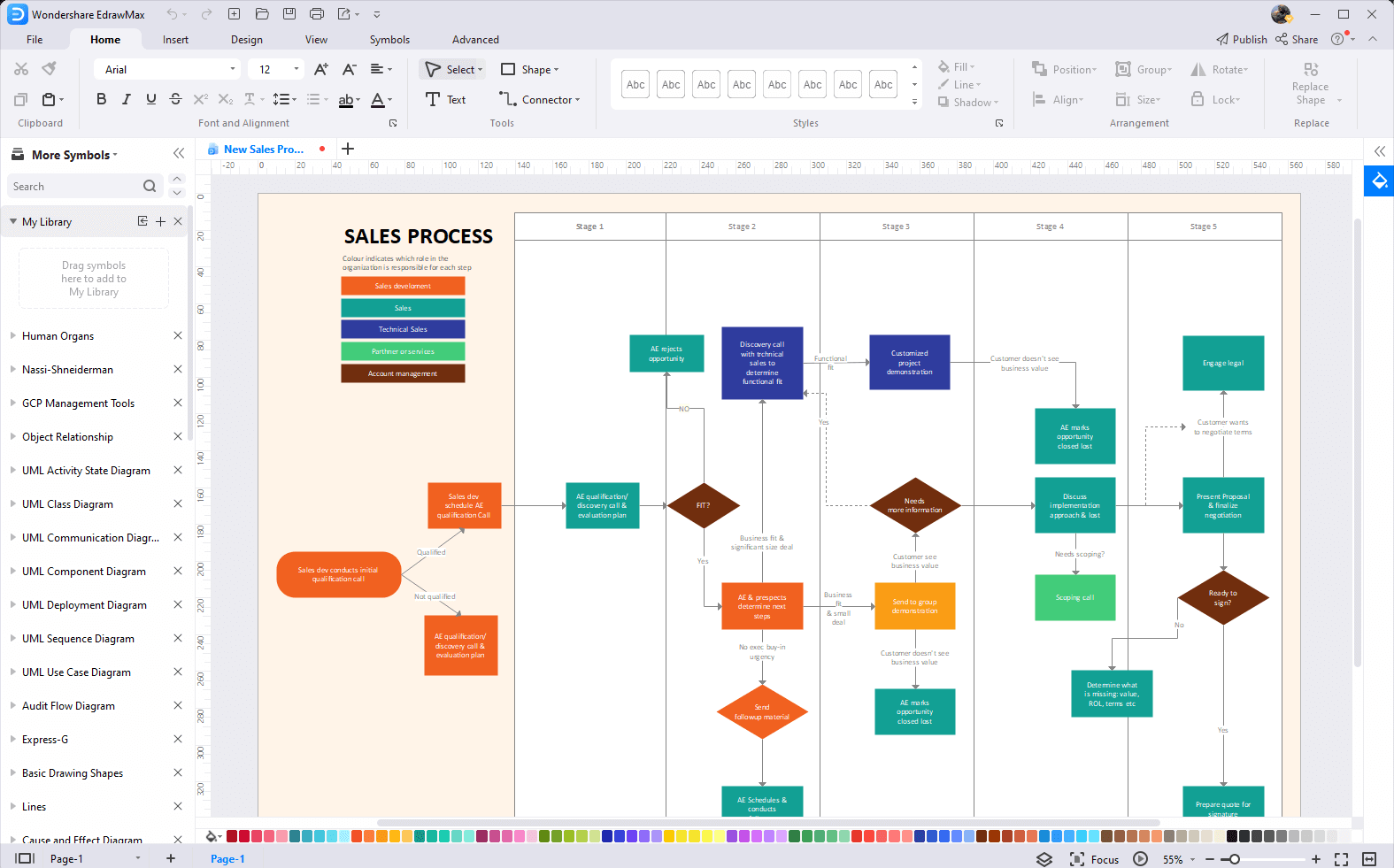 4. Key Takeaways
Now you understand what sales process is and the importance of a sales process flowchart. The sales process flowchart is a good tool to know your specific business and sales process. EdrawMax Online is a professional platform to draw out a sales process flowchart for your business. It allows you to choose your flowchart based on your field, ranging from educational to business. It is a trustworthy platform that has been assisting many professionals for over a decade.
If you want to get more types flowcharts, you can get from Flowchart Examples.
Related Articles