1. What is Health Infographic
Health Infographic is an advanced digital resource that facilitates patients to have the requirement to acknowledge the information on various illnesses, practices, and happening health subjects. These infographics are designed to simplify complicated healthcare facts into visual glimpses that will give you a better perspective of how an illness may occur, be addressed, and potentially even prevented.
2. The Health Infographic Examples
Health infographic is one of the mandatory data that should be accessible for the public. If you are a doctor, then constructing a compelling health infographic can benefit in making your patients in understanding some of the complex issues. It is also an excellent tool for conveying some of the sensitive topics in a simple way. For instance, when talking about some of the issues that are related to aids, health infographic examples can be an efficient way, as it does not interfere in making a patient uncomfortable towards listening directly to a doctor about their illness. With that said, now let us look at some of the common yet popular health infographic examples used across the globe.
Example 1: Health Infographic
This health infographic presents generic information on various ailments and their frequency in multiple nations throughout the world. This type of material may be quite beneficial in raising widespread knowledge about healthy living choices. Doctors' workplaces and other healthcare professionals can also discuss this matter with their patients to alert them about potential causes. The infographic is also done in vivid colors to grab the viewer's interest, making it ideal as an educational tool. Because it contains some basic knowledge about common disorders of bodily functions, medical students may also utilize this health infographic as an instructional tool.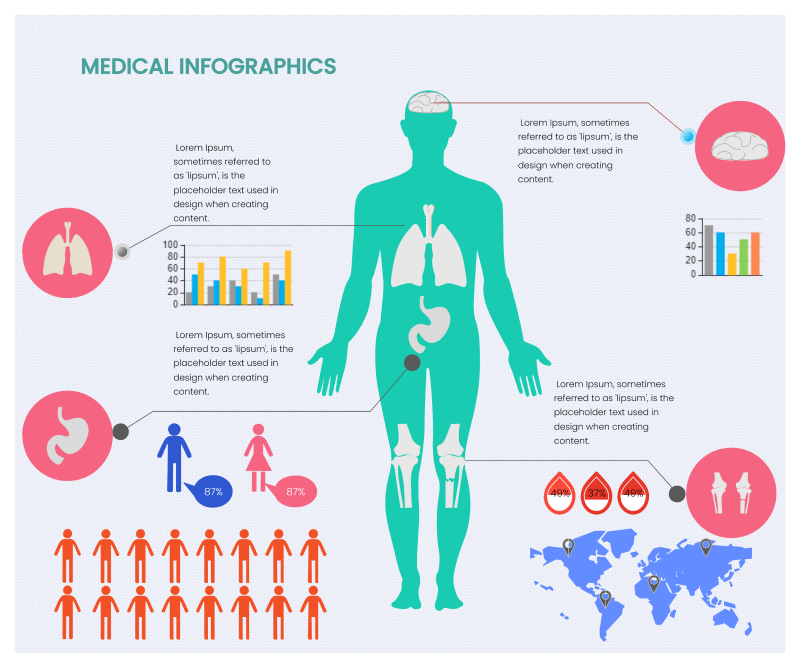 Example 2: Gut Health Infographic
A gut health infographic reveals some of the core functioning components of the human body. These types of health infographics can be found in a lot of clinics and hospitals worldwide. Mostly hospitals hang them on the wall merely to provide basic knowledge to their patients. These infographics are designed with suitable images and segregate each component of the image and provide an appropriate small description about them.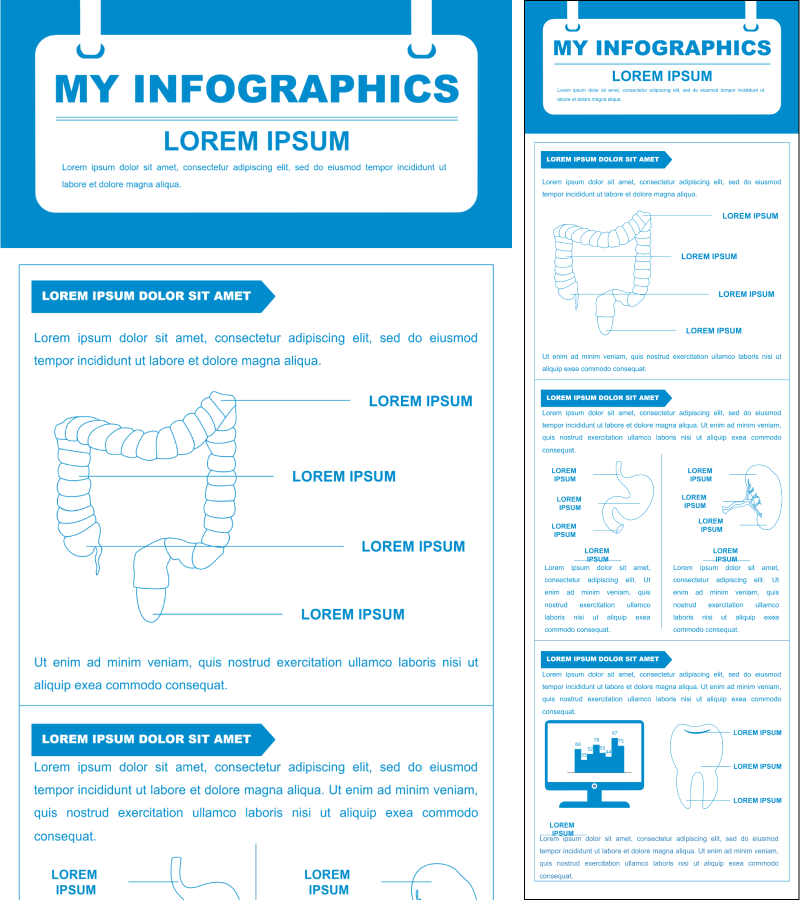 Example 3: Eye Health Infographic
As the name suggests, an eye health infographic is basically used in eye hospitals to provide the patients with an in-depth understanding of the fundamentals of how to take care of a human eye. The above diagram touches on the topics of a perpetual of healthy vision, which is one of the mandatory knowledge that everyone should be aware of. The above infographic does not use vibrant colors but instead focuses more on the images and textual information that is more than important in this scenario.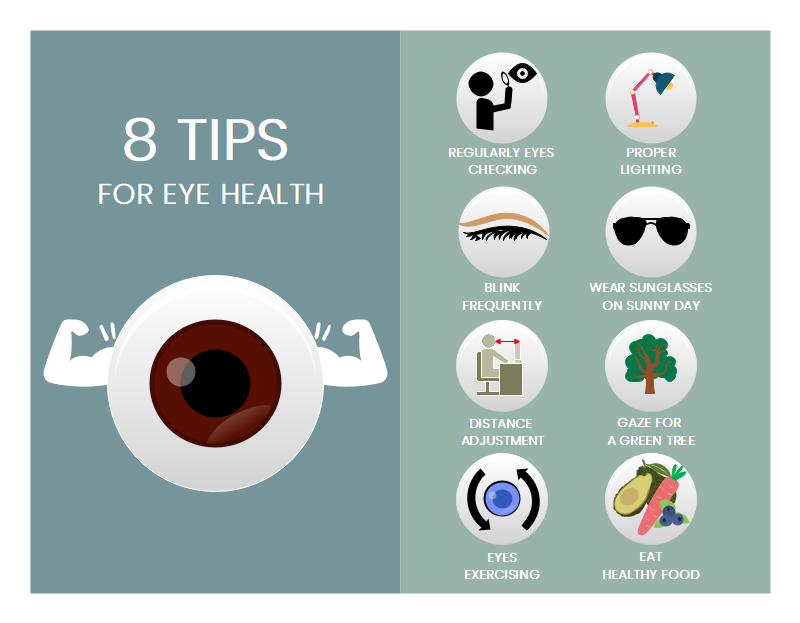 Example 4: Mental Health Infographic
A mental health infographic includes simple and easy visualizations that assist patients (who are not mental health specialists) in comprehending vital and complicated mental health knowledge. When communicating with workers, kids, families, or entire populations, mental health infographics assist you in conveying a lot of information straightforwardly and efficiently. In the above diagram, they have taken the topic of mental illness in children. Rather than visually making the infographic attractive, the creators have concentrated more on providing factual texts. This is because such infographics demand a short description for the masses to relate to and understand the core topic.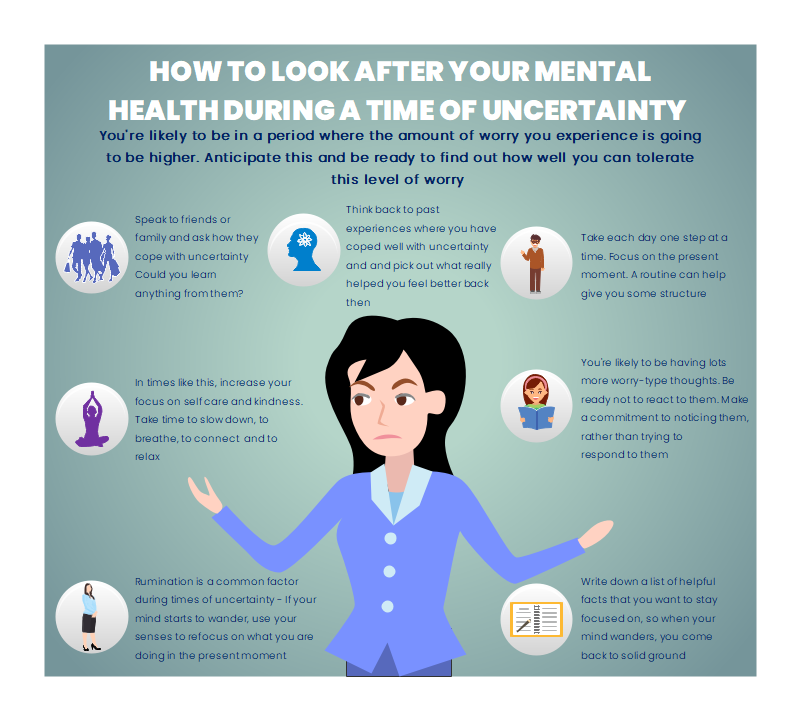 Example 5: Public Health Infographic
Notably, healthcare institutions such as the Canadian Institute for Health Information, the Centers for Disease Control and Prevention in the United States, the World Health Organization, and the European Institute for Disease Control have begun to use public health infographic for summarising statements or reporting information with their partners. Regional institutions, in addition to national and global ones, are adopting it into their work: Southwestern Healthcare, Ottawa Global Health, and Denver National Institute are a few examples.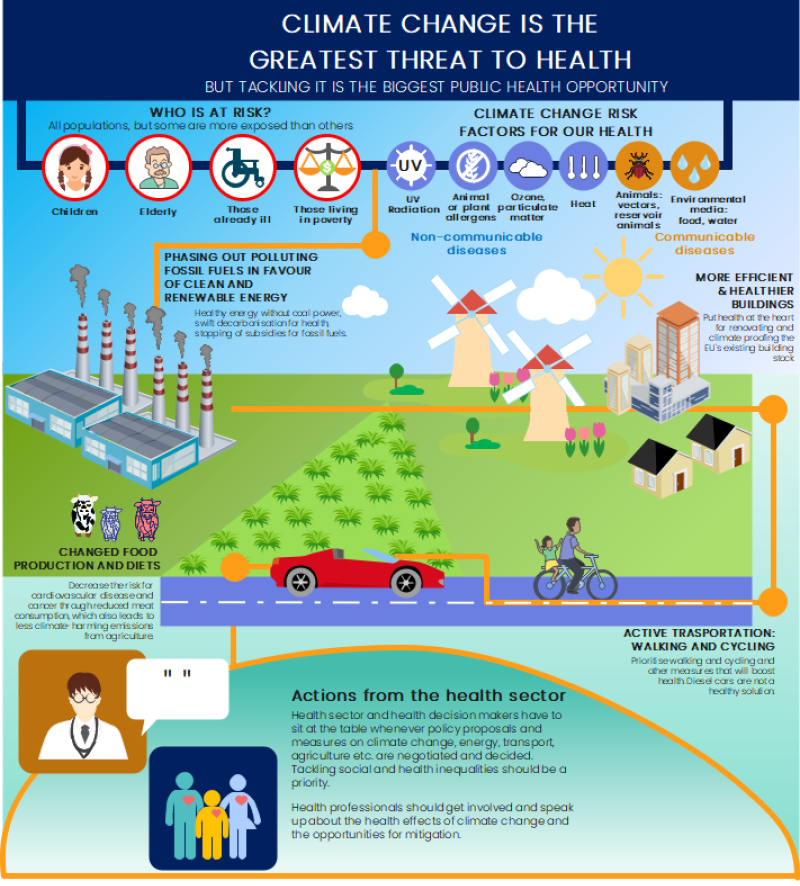 Example 6: Heart Health Infographic
A heart health infographic is a type of infographic that touches on the illnesses and the possible disease associated with the heart. The above diagram is an example of how a heart infographic can be created. Primarily a heart infographic constitutes a single visual of a human heart and talks about some of the illnesses that are associated with it.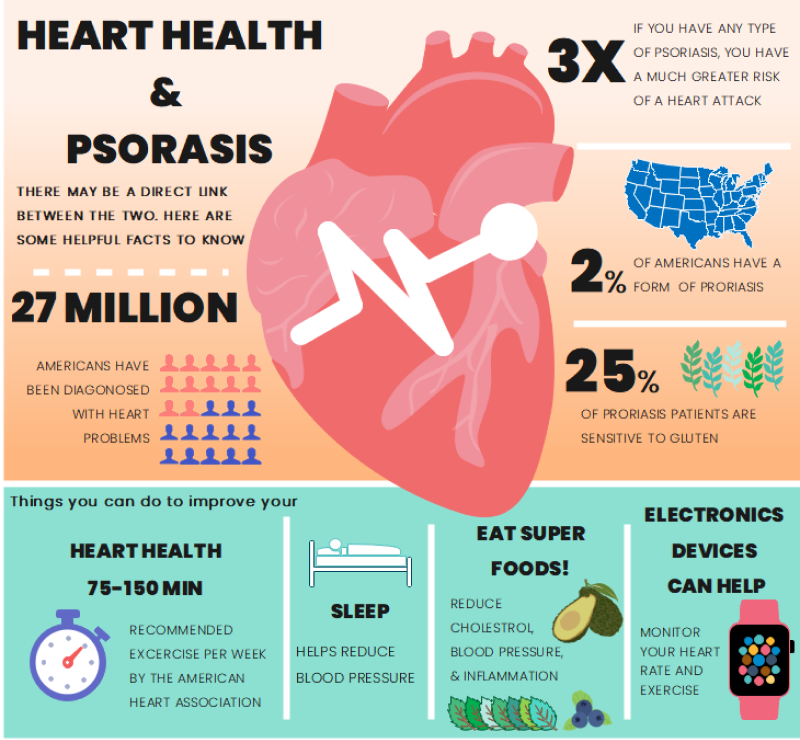 Example 7: Health Infographic Template
A health infographic template should convey the environment of the topic and the subheads that are going to be discussed even before inputting textual information. As we can see in the above diagram, the visuals such as the bones, eye, lungs, bile, bone can make the viewers understand what the topic is and what the infographic is going to talk about.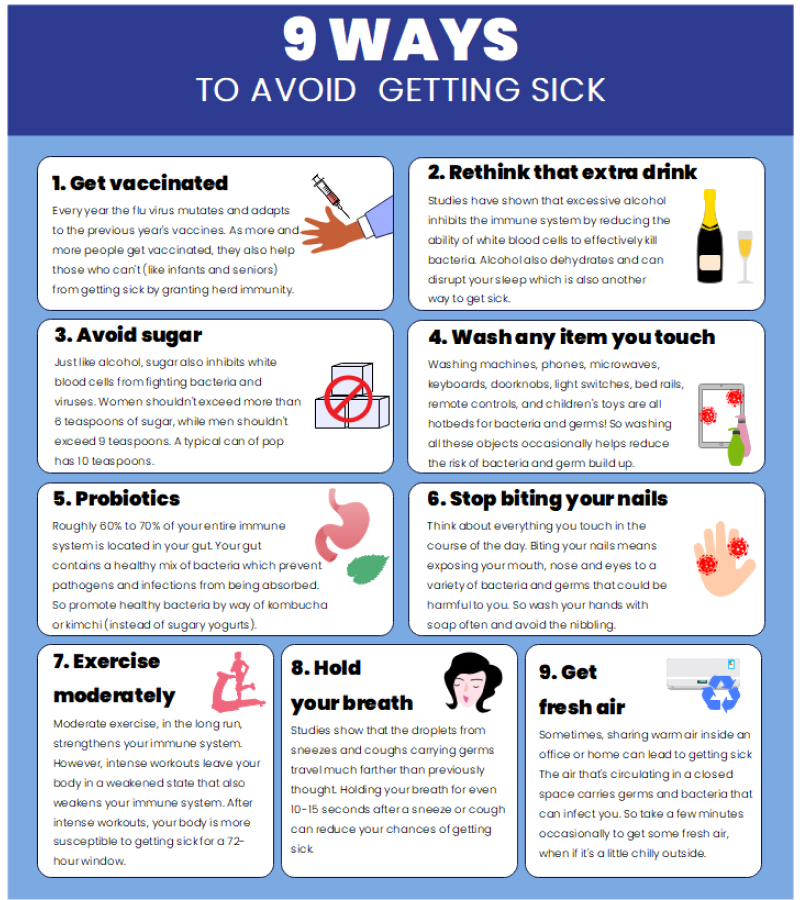 Example 8: Woman's Health Infographic
A woman's health infographic usually focuses on enhancing and improving women's knowledge of certain high-end "female issues". When looking at the infographic mentioned above, they have clearly specified some of the basic concerns related to women's heart diseases and the prevention methods. A visual that clearly empowers the female gender can be a great concept for bringing in many female audiences to view such infographics.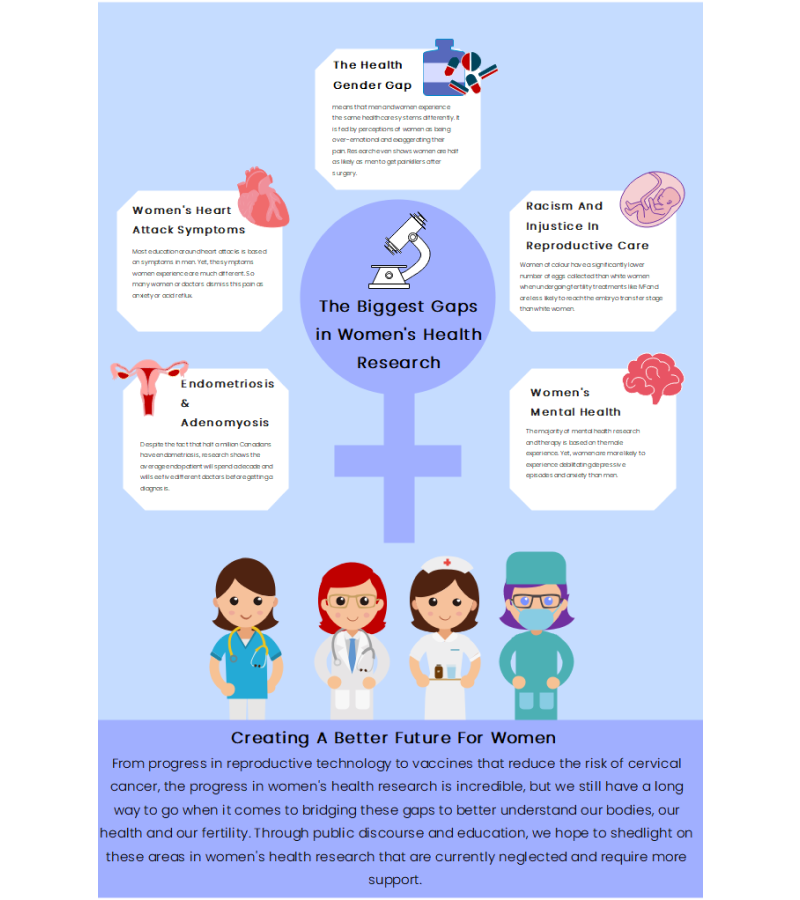 Example 9: Men's Health Infographic
Contradictory to the woman's health infographic, the men's health infographic primarily focuses on the basic issues with the male body. The above diagram is a simple health fact about the men's body. Moreover, here the main thing that is enticing is the textual descriptions when compared to the basic imagery.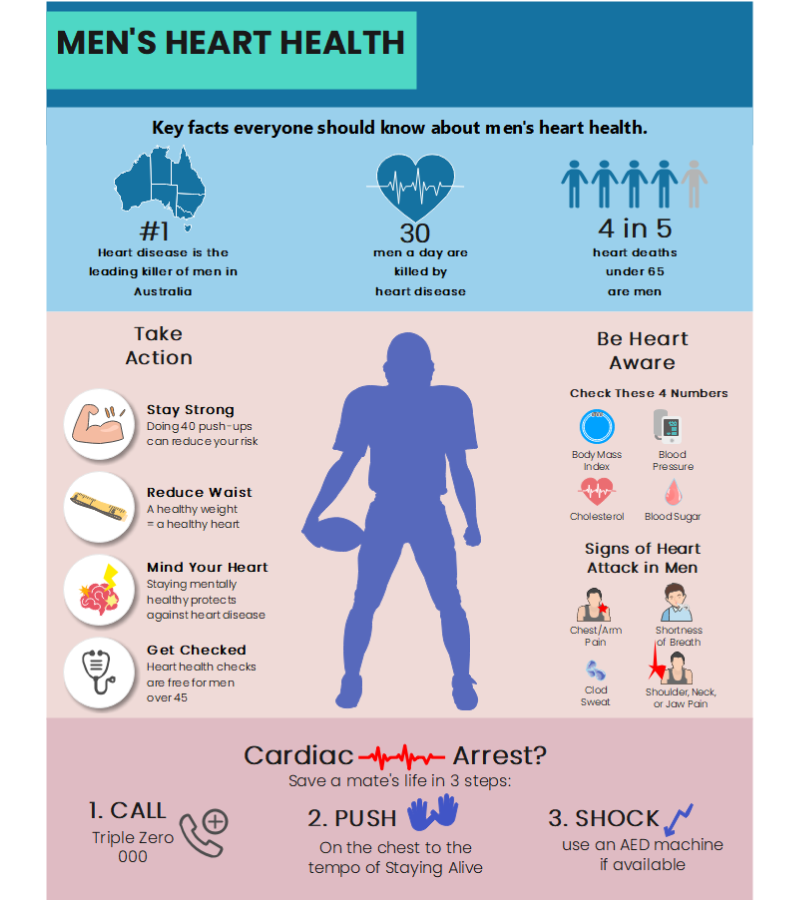 3. How to Design a Health Infographic
Compared to a standard infographic, a health infographic demands knowledge of specific fields. Not all could design a health infographic. But, if you think you have a factual understanding regarding health and awareness issues, then follow these simple steps.
Step 1 - Picking up a confident topic:There are several topics in terms of designing a health infographic. The topics can range from an eye-care infographic, heart infographic, men's, and women's health infographic, and so on. Always make sure to design an infographic that you are confident about.
Step 2 - Double-checking the facts:Health infographics are all about information. If you go wrong, then it could cause misery among the viewers. Before incorporating it into your infographic, it is always recommended to double-check the facts that you may know.
Step 3 - Simple yet understandable imagery:Always remember that you are designing a health infographic and not an interactive infographic. Hence, choose an image that is simple and can be understood by all the viewers, irrespective of their age.
Watch this video to learn more. If the video doesn't play, please visit it at YouTube.
4. Best Online Infographic Maker
Stressed out about creating or designing your own health infographic template? Worry not, as Edrawmax has got your back. With thousands of templates in their kitty, Edrawmax is an online designing tool that facilitates a built-in design feature. All you must do is, choose your desired template, design, or alter it according to your preference, and finally export it. It is that simple!
EdrawMax Online
Create 280+ types of diagrams online
Access diagrams anywhere, anytime
Everything in desktop + Templates Community
Team management and collaboration
Personal Cloud and Dropbox Integration
5. Key Takeaways
Overall, a health infographic should minimize the stress and burden of the patients by providing them explanations regarding specific complex issues and guiding them towards preventing it. Many doctors have now started the habit of designing infographics, as this can ease out the explanation process for their patients. Moreover, if you want to design your very own health infographic, then hover onto the Edrawmax template community and start putting your designing skills to good use. Find more infographic templates.
Related Articles