Free Editable Business Card Examples
Every working person needs a business card no matter the type of their business. There are a lot of uses for a business card. It represents your company name and brand, and it also gives your info such as name, contact, address, and title. You provide these cards to potential clients and colleagues. Check out the business card examples down here and find the best templates for you.
1. What is a Business Card?
Business cards are cards shared when you formally introduce yourself and information about your business to someone for the first time. With a business card, it gets more accessible for the other party to contact you and your company. It also serves as the first impression of someone towards your business. It also acts as a memory aid for the other party as it contains your name, business address, and occupation. Learn how to create a business card, its types, and popular business card examples from here.
2. The Business Card Examples
Having a business card is essential when meeting with your peers or clients. A business card markets your business brand and shows your professionalism and credibility. Nowadays, most business and marketing are usually done over the internet and by email. But, when you formally meet potential clients and peers, giving them your business card is the most efficient way to introduce yourself and your company, and you can give it as many people as you want. Following are some business card examples that will help you learn about various business cards.
Example 1: Unique Business Card
You can create a unique business card by adding various shapes and designs to the layout. The front side of the card tells the company name and brand logo. At the backside of the card, you can add the company's full name, your name to make people remember who give it to them. You can also add your contact details, such as number and address, at the back of the card. This type of card comes with a dark-colored background and light-colored design patterns. It is unique to everyone, and just by looking, it will help others memorize the person who gave it to them.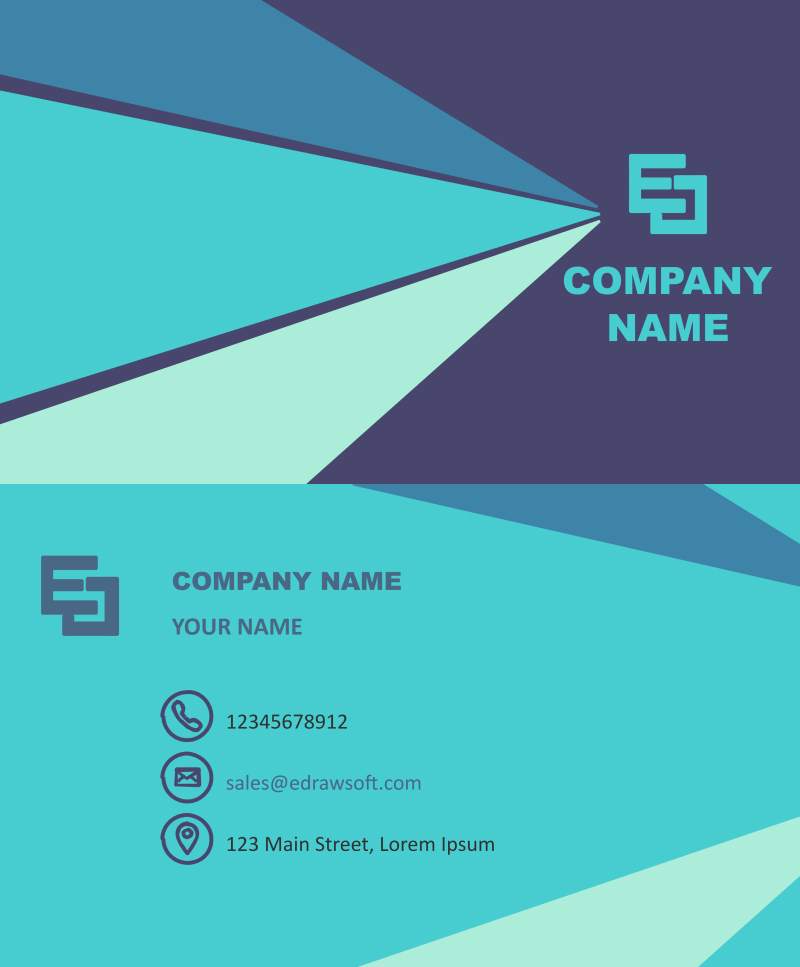 Source:EdrawMax Online
Example 2: Free Unique Business Card Template
A free unique business card template helps you design an attractive business card. It is a little different from other cards as you can only add info at the front of the card, and you have to leave the backside blank. On the right side of the card is a big business logo of your company, and on the left top, you add the business name. After that, you add your name, contact info, address, and title. Most people share a simple card when meeting with their clients.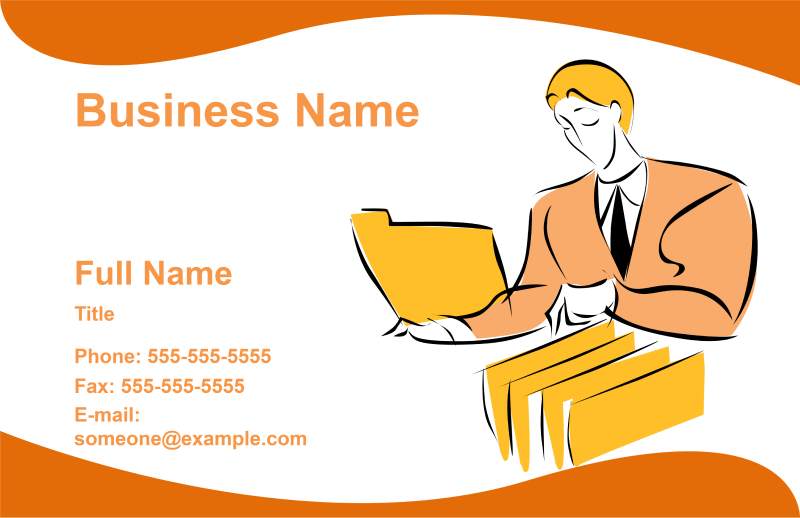 Source:EdrawMax Online
Example 3: Modern Business Card
Current times call for a modern business card as you know that there are QR code scanners on every phone. You can add a QR code with info about your company on your business card and give it to the other party. The front of a modern business card styles an attractive design and the company name in the middle. On the backside, you add the company's name, your name, your contact info, address, and your company's QR code. Instead of using your full title, you can use initials such as for a general manager; you can use GM.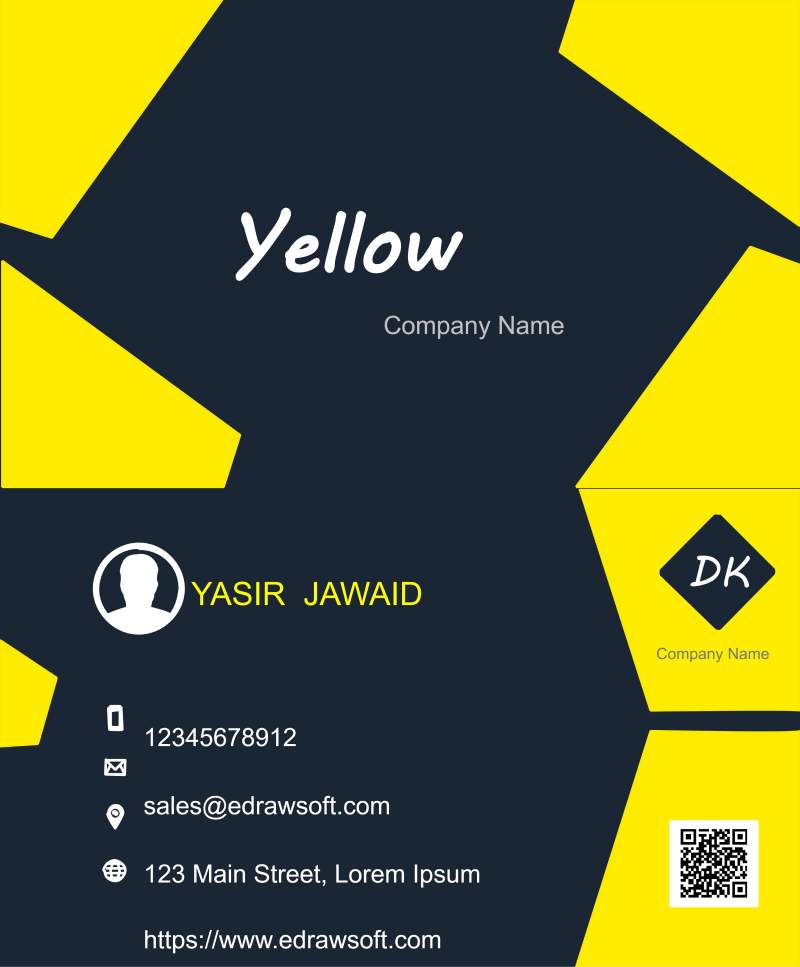 Source:EdrawMax Online
Example 4: Cute Business Card
Everyone shares their business cards with their peers and other people in business. You can create a simple business card or make a cute business card by adding a picture of any cute animal. Most people who use this type of card works in the toys industries for kids or animal care centers. The layout of this card is simple as you add the company name at the top. You can add the picture of the animal on the right side and give your name and contact info on the other side.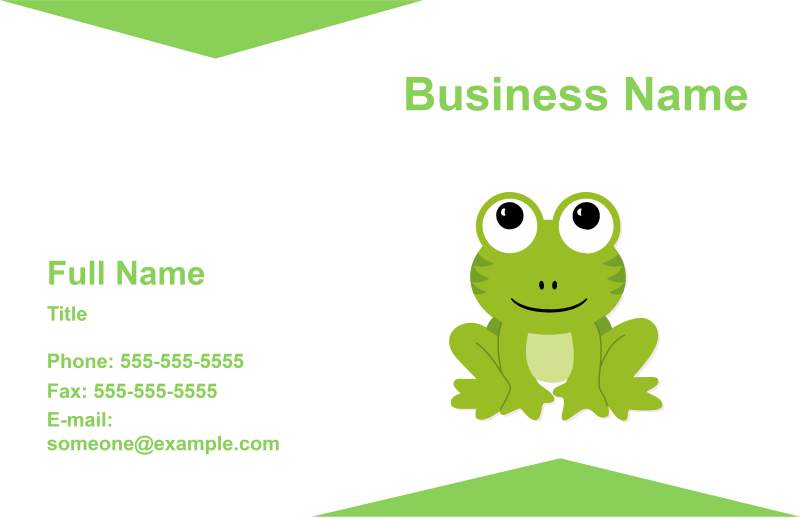 Source:EdrawMax Online
Example 5: Chic Business Card
A chic business card is a smart business card as you make it with an elegant design, using trendy colors and writing fewer words than other cards. People at high-posts of any business use these cards to showcase their professionalism and market their company's brand value. There are no shapes in the layout of this card, and it represents the brand name on the front side with a logo and name, contact, and address on the backside. The rest of the card is blank and with a plain background.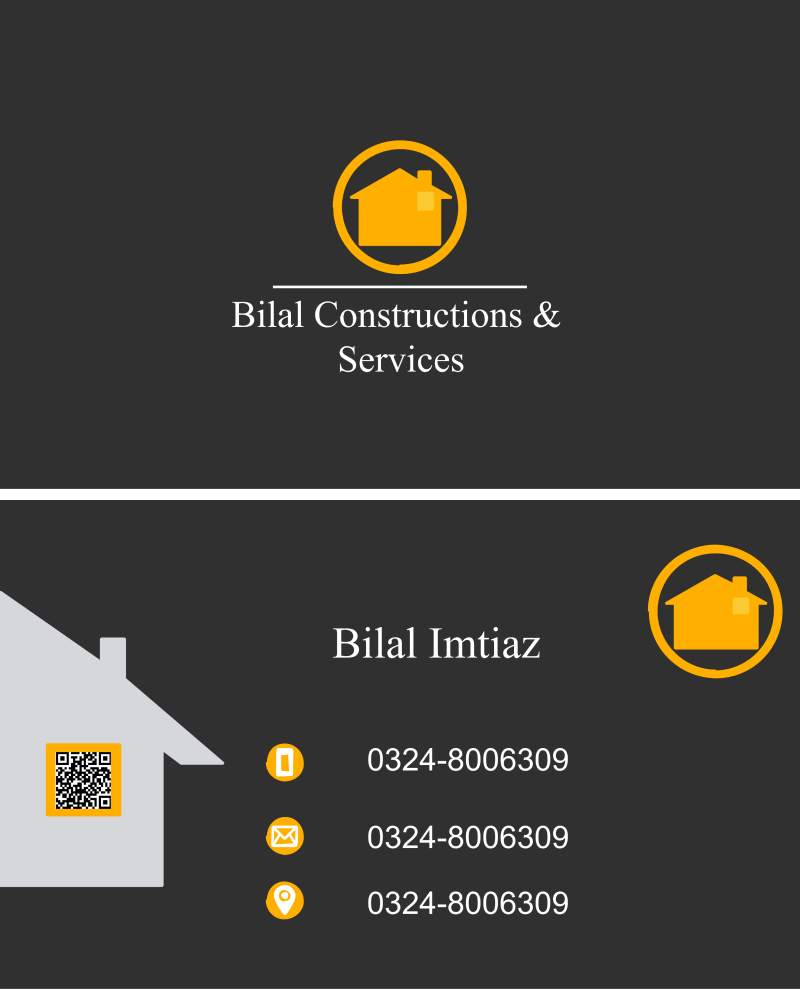 Source:EdrawMax Online
Example 6: Artist Business Card Example
Artist business cards are typically used by artists when they introduce themselves to the other party. Being an artist means their business cards also contain some of their artwork and skills as they like to create their card personally on the front side of a card, bright colors, and the logo at the middle. There is the company and artist's name on the backside, contact info such as email address and number. The background of the rear is white, with designs at the top and bottom border.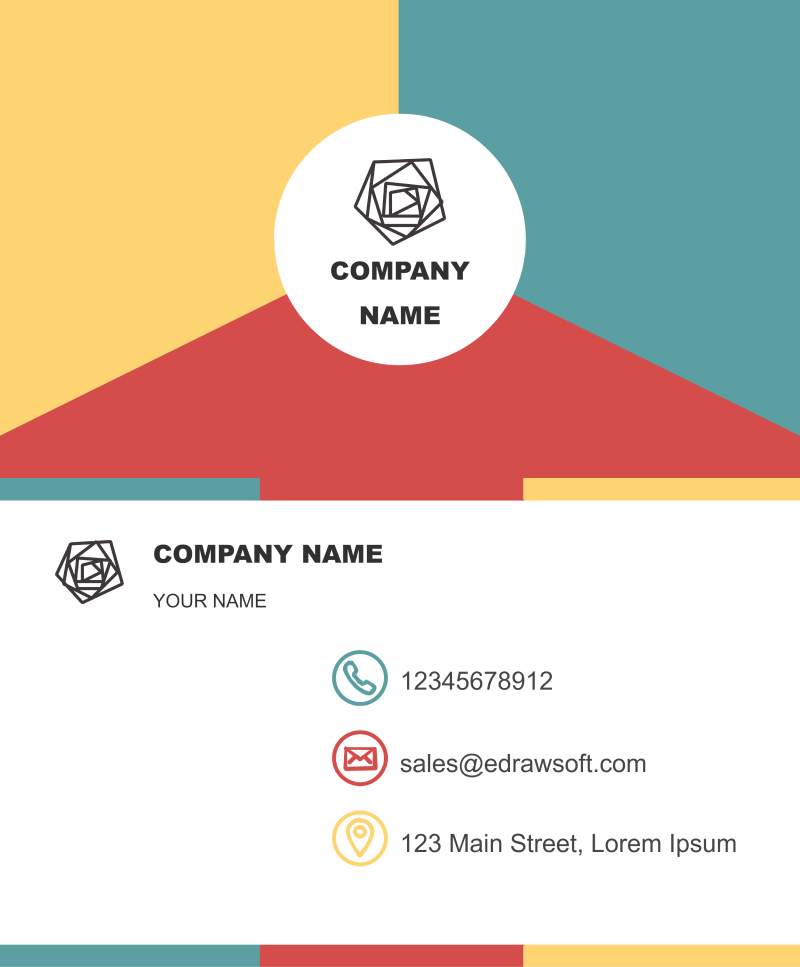 Source:EdrawMax Online
Example 7: Cool Business Card Ideas
If you want to impress someone you are formally meeting for the first time, these cool business card ideas will help you give the other party the best first impression. An excellent business card's background is usually black with bright colored design patterns and shapes. The card is not filled with prints; you only add a basic design and then your company's logo on the front side. You give your name and contact info on the backside using the same design pattern you used at the front.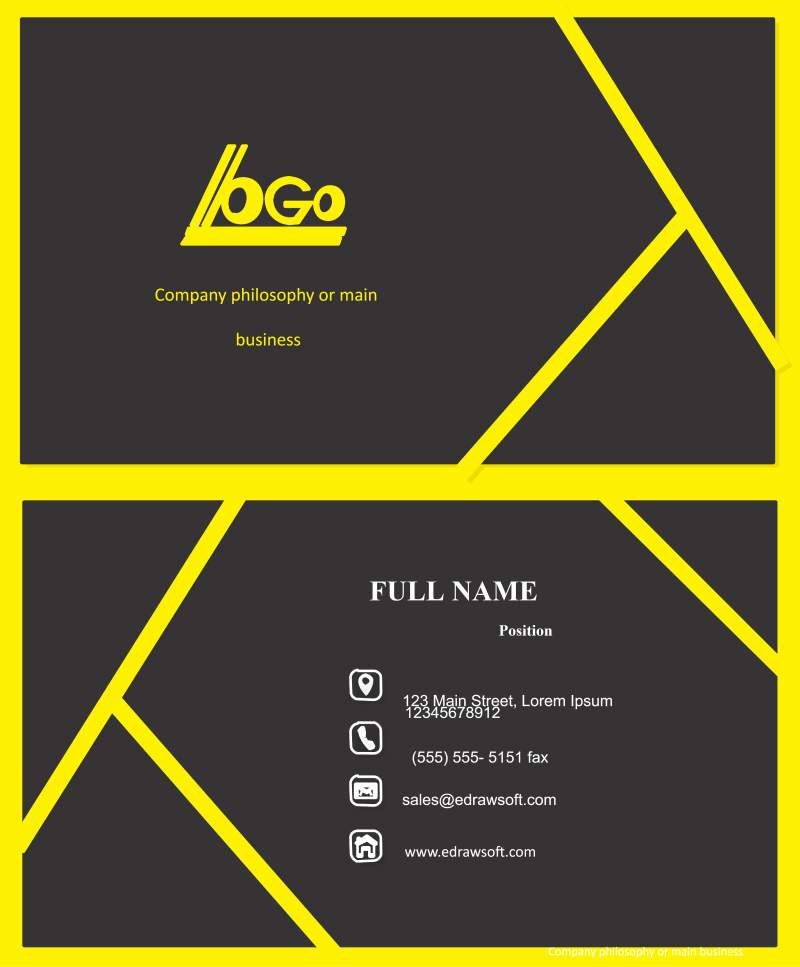 Source:EdrawMax Online
Example 8: Nice Business Card
Nice business cards represent an image of trust to your clients and customers. Most realtors and lawyers use this type of business card. It comes with a plain black background. You add the company's logo, name, and address on the front side. You add your name, contact info, and your email address on the backside. There are no design patterns, and its simple design gives your company a trusting first impression.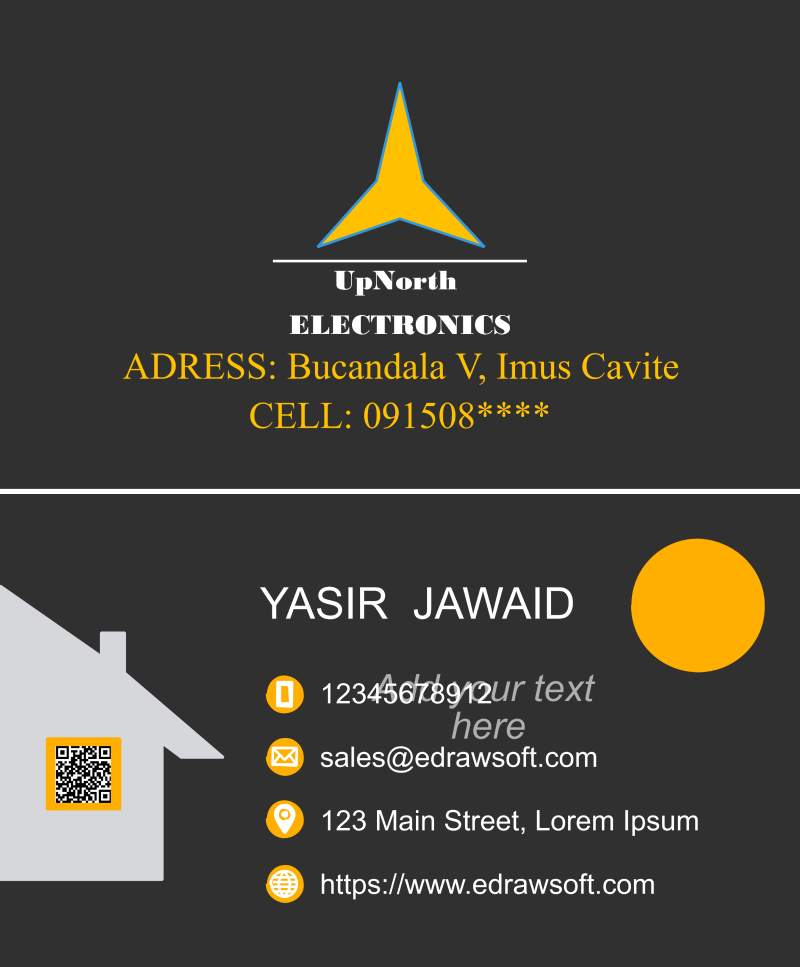 Source:EdrawMax Online
Example 9: Eye-Catching Business Card
Some business requires you to carry eye-catching business cards. This type of business card comes in many colors, shapes, and design patterns. Its layout makes a stunning first impression and showcases the creativity of your business. If you work in the paint industry, you need this business card. You can add a beautiful design at the front with the company's logo in the middle. You can keep the background plain and give your name and contact info on the backside.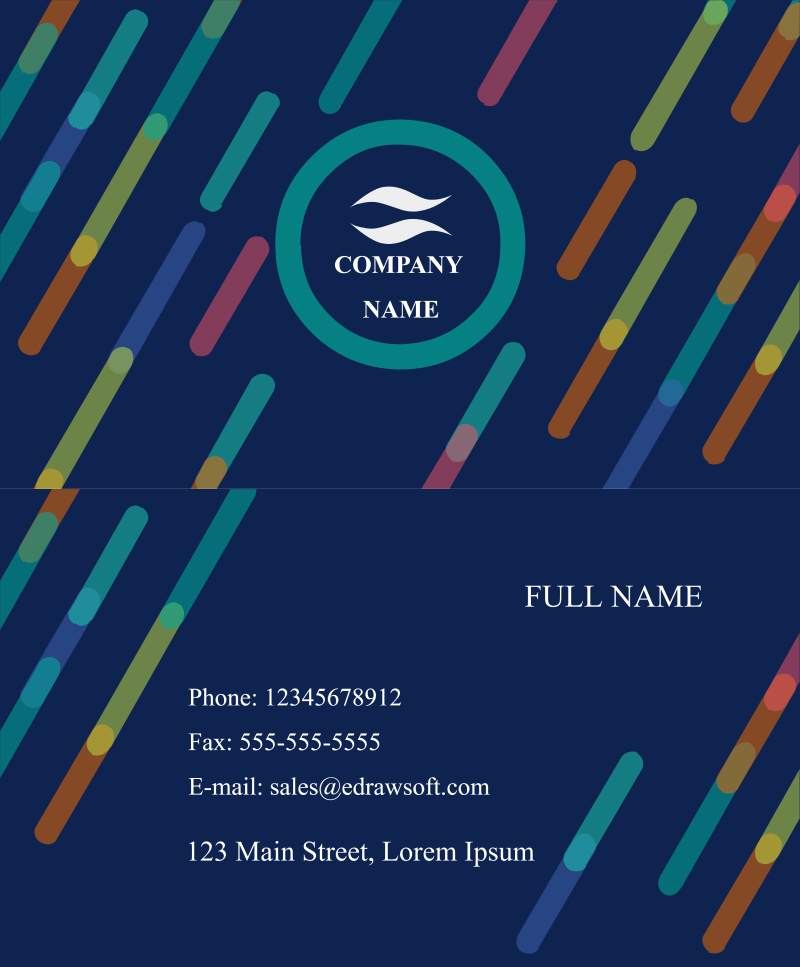 Source:EdrawMax Online
3. Online Business Card Maker
When you formally meet others, your business card gives them the first impression about yourself and your company. Having the perfect business card not only helps you connect with lots of possible clients and peers it also makes it easy for you to explain your business and your occupation to others. EdrawMax Online is the best business card maker out there. You can easily create one for yourself, same as the business card examples shown above, or you can select some other template from its library. It also comes with a comprehensive collection of icons and symbols and lots of customization options that you don't see in any other card maker.
EdrawMax Online
Create 280+ types of diagrams online
Access diagrams anywhere, anytime
Everything in desktop + Templates Community
Team management and collaboration
Personal Cloud and Dropbox Integration
4. Key Takeaways
A business card is the best way to introduce your business and yourself to others. You can increase the brand value of your company with a business card based that represents your company's good services. A business card gives others the first impression of your occupation, making sure your card perfectly depicts your business. Sharing business cards is the most efficient way to share your contact info with the other party. With EdrawMax Online, you can create your card based on any business card examples given above. Find more business card examples in the template community.