Free Editable Vicinity Map Templates Examples
Vicinity Map shows the project's location or activity concerning significant street or geographic features. So, you can reference the location using the nearby developments or landmarks and community facilities and services within the city or county. A vicinity map allows your users to reach your location without asking for more information.
1. What is a Vicinity Map?
A vicinity map shows the site of an event, project, or activity to reference general layout and configuration. It may include building footprints, landscaping, site cross-section drawing, parking, building elevations, and street layout. A vicinity map template does not have to be drawn to scale, but it must be proportional to give a better view of the landscape. Then, you must mark the significant landmarks, roads, and motorways in the area if you are covering an ample space.
2. The Vicinity Map Examples
You might be thinking that vicinity maps are very tricky to handle. Still, fortunately, there are tools in the market that allow you to create your maps easily using the templates already provided. Let us see some vicinity map samples first to understand what is expected in such a map and what details must be covered.
Example 1: Simple City Map
This simple city map is a sample to show how you can show significant landmarks in a vicinity map. It shows roads, a post office, a school, restaurants, and a park. You can see this vicinity map sample shows a location by the seaside. Interestingly, this map shows the labels as pictures too. No textual labeling is used. A great combination of colors, aesthetics, and functionality is shown here that makes this map very attractive.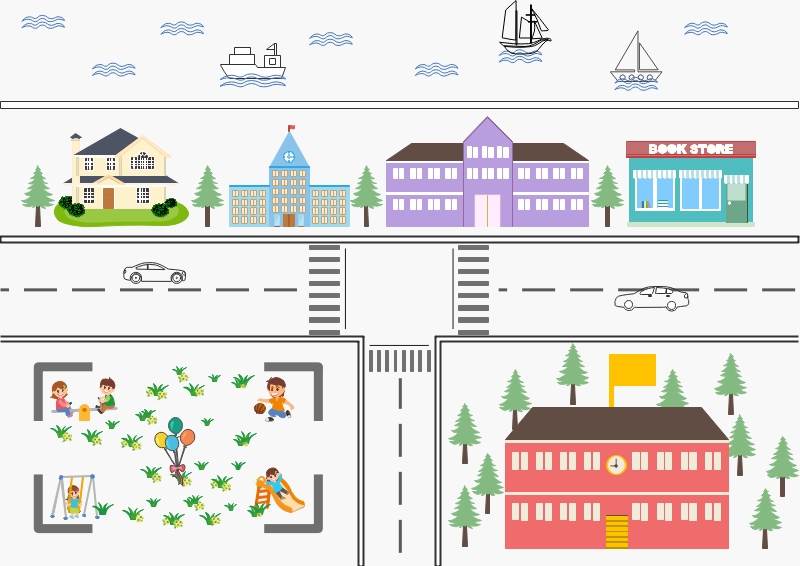 Source:EdrawMax Online
Example 2: 2D Busy Town Map
This busy town 2D map example is an excellent tool for learning about towns, maps, directions, and traffic signals. It uses grid patterns to show the significant buildings in a city, parks, and a great representation of trees and greenery. You can see several signs on the right-hand side of the map. A teacher can plan many activities around this map for a great learning experience revolving around traffic lights, signs, transport, and people.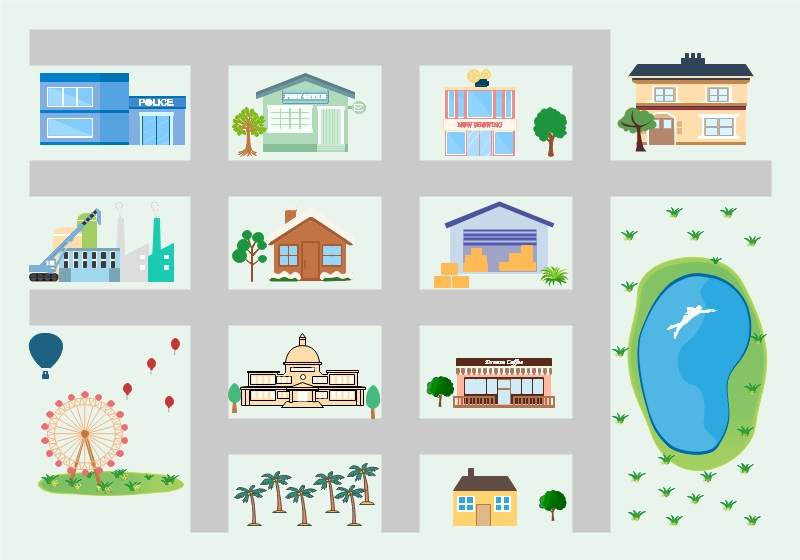 Source:EdrawMax Online
Example 3: Cartoon City Map
A great vicinity map example to attract kids and teach them many concepts. It may help in learning navigation, home address, things around us and much more. Since it uses bright colors and simpler pictures, it is easy for students to understand this and dive deep into the actual learning milestones. Some teachers may also use this for improving fine motor skill by getting the kids to run cars or toys by hand on the roads. This cartoon map is an excellent class learning tool, indeed.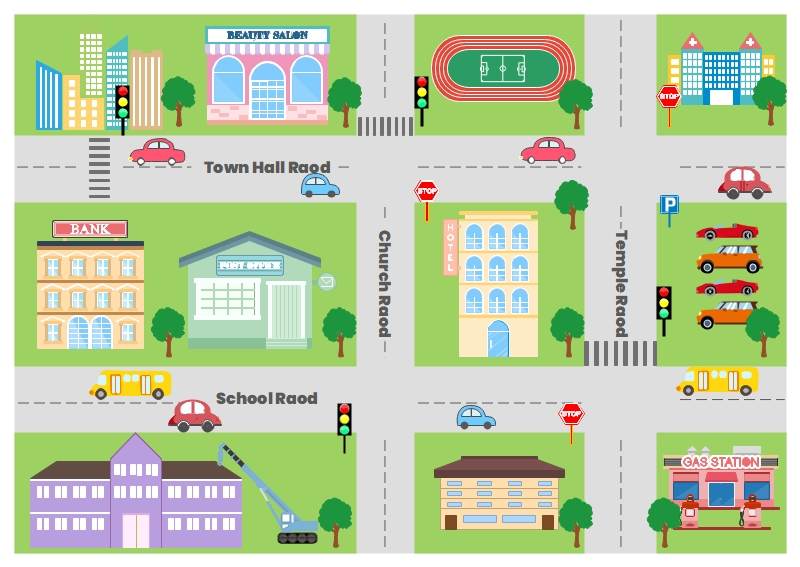 Source:EdrawMax Online
Example 4: Vicinity map
Let us appreciate the bright colors and the great use of graphics in this vicinity map first. It shows a sample of locations where some significant buildings are present. Then, there are different vehicles, trees, ponds, etc. Teachers can use this to teach other traffic signals, signs, and road navigation. I can see great potential for learning and activities in this vicinity map sample.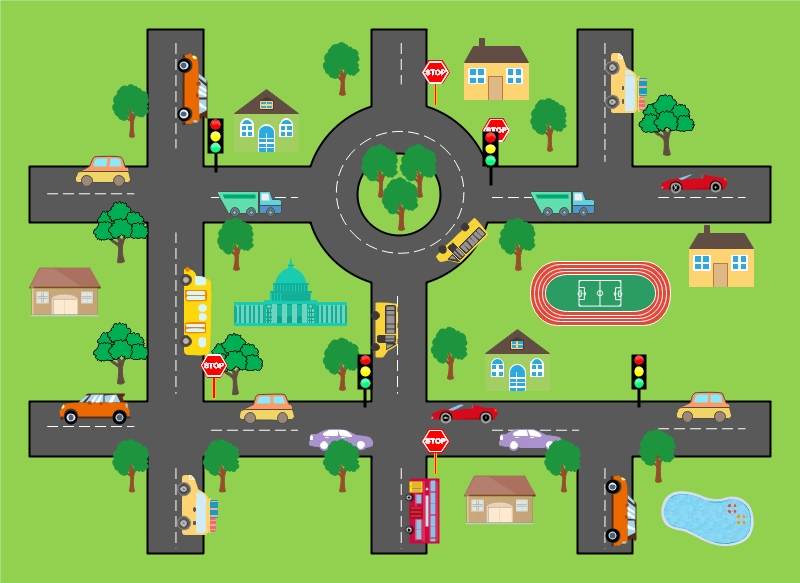 Source:EdrawMax Online
Example 5: City Isometric Map
The city isometric map shows buildings, houses, roads, and cars for urban conceptual projects. It has a 3D look which makes it look more authentic. It is an excellent example for projects and buildings to show the landscape and the relative location. You can take this as a sample and then add more details according to your physical location and the requirements. Sometimes, you may ignore unnecessary and irrelevant information to keep the user focused on the point.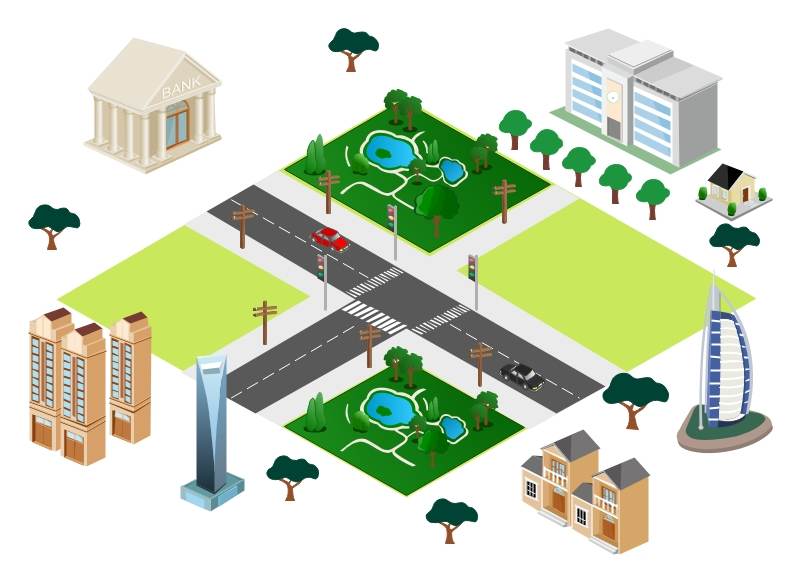 Source:EdrawMax Online
Example 6: Vicinity Map Sample
This vicinity map sample is a great example to take inspiration for your location map. It uses 3D techniques to look more authentic. Any business can use this vicinity map to show its location for its clients and potential customers. When you show the famous building around your place, it is easier for the customer to reach you. Great use of signs and parking space is also very functional for the person commuting to you as she can also plan her parking.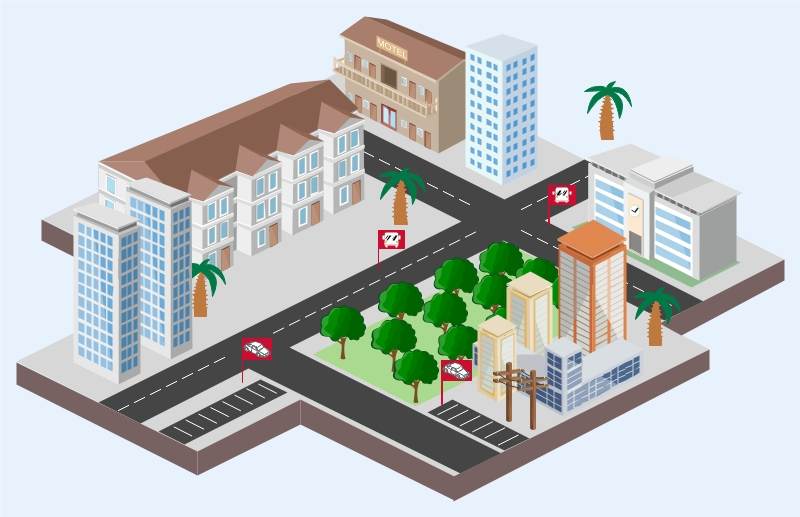 Source:EdrawMax Online
Example 7: City Map Infographic
The blank yearly calendar shown here is an event planning or project planning calendar. It has less space for writing but more functionality with project phases placeholders with starting and ending dates. The color-coding of the phases allows the user to highlight the specific phases with the same colors in the calendar placeholders with months and dates. It is a fully functional and easily editable blank calendar template for projects.
Source:EdrawMax Online
Example 8: Green City Plan
This vicinity map is a 3D isometric map diagram for Green City. It shows numerous solutions for creating an environmentally friendly solution for a green city. The different solutions include power, transport, and consumption. You can also see a legend for the labels used in this map. The environmentally friendly solutions shown here are solar energy, wind power, driverless electric cars, recycling, hydrogen train, local farming, hydropower, dedicated cycle lanes, and vertical farming.
Source:EdrawMax Online
Example 9: Vicinity Map Example
The Vicinity map example shows an infographic with the center as a vicinity map. It shows buildings and the road network. There are pinned locations that can be vital landmarks on the map. The 3D images make this map more authentic, relatable, and usable. Then there is a labeling tool that allows more readability of the map.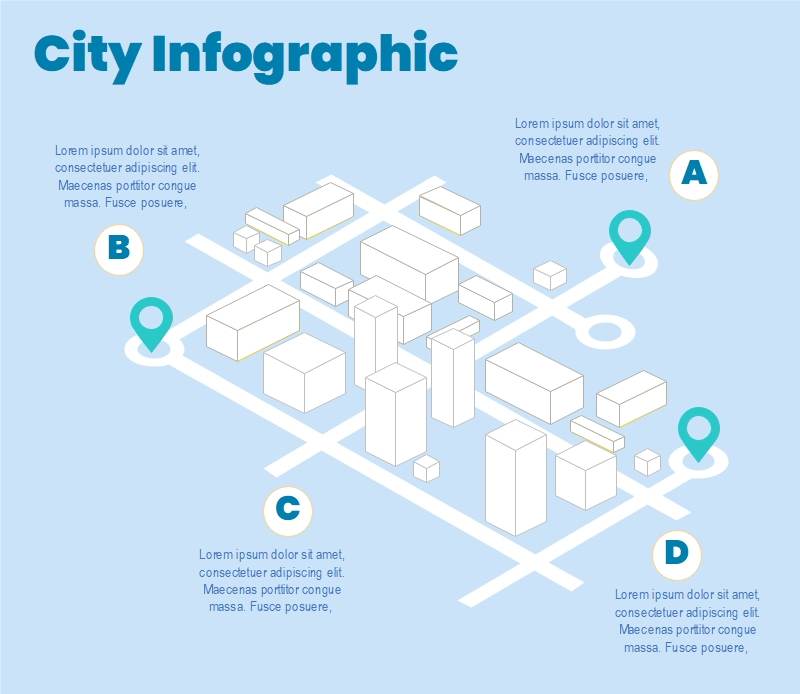 Source:EdrawMax Online
3. Online Vicinity Map Maker
Vicinity maps are not easier to create because you need to research and analyze the purpose of the map and the relevant details. It is straightforward to skip critical information to make it simple, and then it is very attractive to get overwhelmed to add irrelevant information. So, a good analysis is vital. Then comes the difficult task of representing geographical information in an image. So, an online vicinity map maker supports you in this challenging task. An effective vicinity map maker must have;
Easy-to-use and user-friendly user interface.
Color codes states, provinces, and regions.
Option to add data
Symbols and graphics are required in a map, including roads, different types of buildings, traffic signs, and legends.
A well-stocked library of templates lets users start quickly with a premade foundation.
EdrawMax Online is a drawing software that has all these features. It has a great library of templates, including many professionally made vicinity maps. These templates are fully customizable, and you can add different symbols from the thousands of available signs and notations.
EdrawMax Online
Create 280+ types of diagrams online
Access diagrams anywhere, anytime
Everything in desktop + Templates Community
Team management and collaboration
Personal Cloud and Dropbox Integration
4. Key Takeaways
Vicinity maps help teachers, users, businesses, and even civil service providers to show directions, demographics, ideas, and their presence in a geographical place. You can add as much detail as you want and improve readability with labeling and legends. However, a detailed analysis must be carried out to add only the relevant information so that the map focuses on the primary purpose. You can use EdrawMax Online to create professional-looking, color-coded maps with a few clicks. You can find more map examples from the template commnity.