Free Editable Resume Templates Examples
It would help if you had a perfect resume to get the job you like. If you are an expert, but your resume is not attractive enough, then you will not get the job. Some people think that they can get a job with various achievements to write in their resume, but if you don't present the best of you, it will not matter how skilled you are. Look at the examples down here and find out what a perfect resume looks like.
1. What is Blank Resume?
A blank resume is a resume format you can make the perfect resume for yourself. It is just like a blank resume template that you can get in various formats based on your field of profession. Having a blank resume helps out a lot when you are on the clock and don't have the time to make your resume. You can use a resume template with the correct format and fill it out in just five minutes. With a resume template, you don't have to worry about creating a resume with an appealing format. It is easy to create, and the reader can quickly navigate your resume's key points.
2. The Blank Resume Template
The main point of giving your resume to employers is to familiarize them with your work and experience in the field and how hiring you will help their company. If you make a plain and boring resume, they will think that you are not creative enough even if you have the skills needed. With a blank resume, you can create a perfect resume and make them believe that you are the right person for the job. Here are some examples of the most popular resume templates that will help you out.
Example 1: Nurse Resume Example
If you are a nurse and you want to make the perfect resume, then use the format from this nurse resume example. Most of the time, you will give your resume to hospitals and medical centres as a nurse. There are some strict requirements to get a job when it comes to medical care. With this clean and attractive resume format, you can list your complete contact info and your qualifications and working experience without worrying that your resume becomes wordy. The employer will focus on the critical points by underlining and using bullets.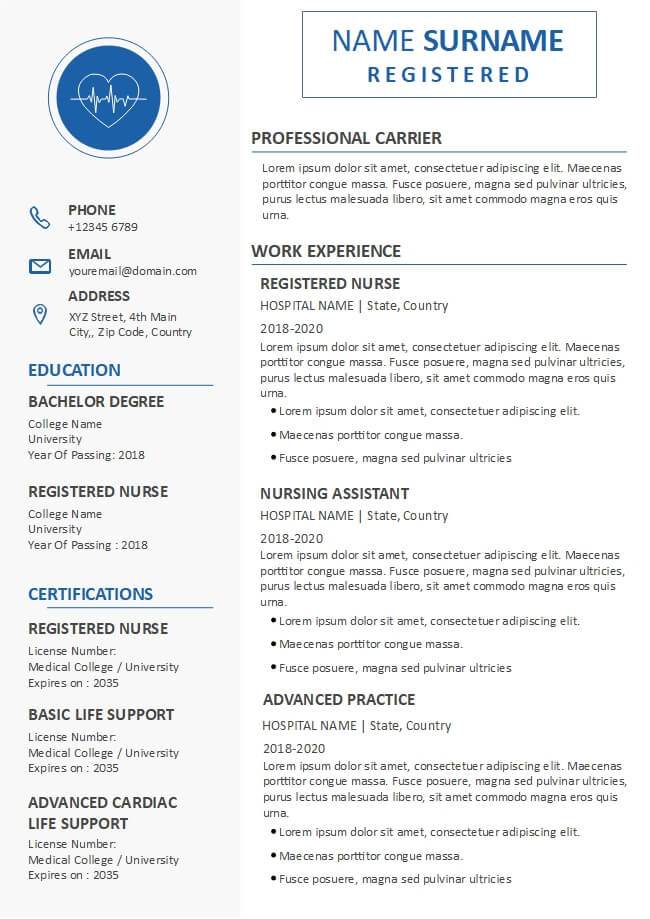 Source:EdrawMax Online
Example 2: Customer Service Resume Example
A customer service job is for persistent people who can talk on phones for many hours a day and efficiently deal with angry customers. Suppose you are good at these three things, then you can do good as a customer service employee. You can create the perfect resume by using the format of our customer service resume example. For this resume, you need to write a few lines about yourself, and you have to make sure that the employer gets impressed by your creativity and working experience.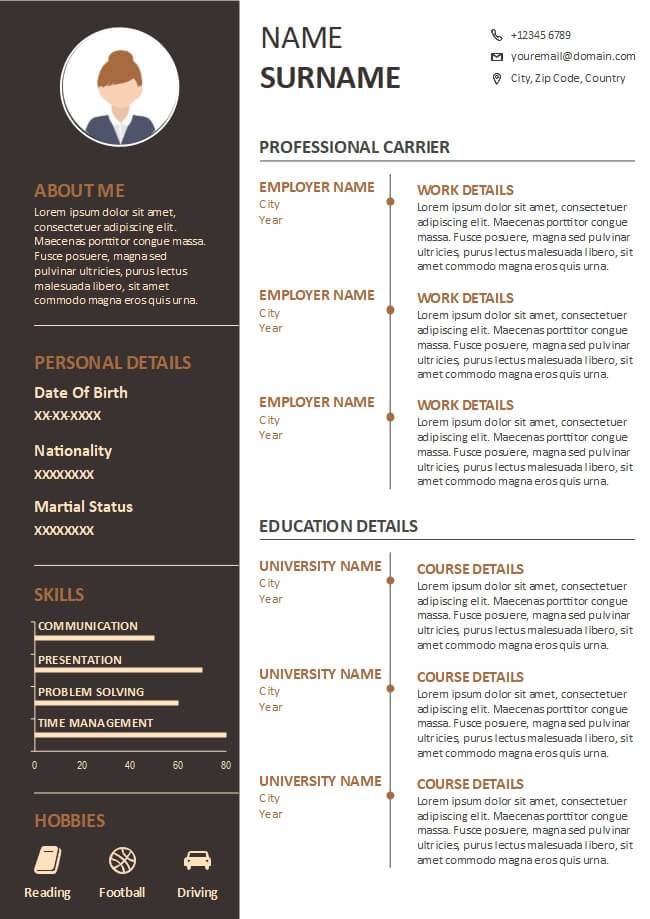 Source:EdrawMax Online
Example 3: Business Analyst Resume Example
For people who want to apply for business analyst jobs, their resume format should represent that they are analysts without them writing that in the resume. A business analyst is a high-level job, and companies usually hire people based on their work experience rather than their skill set. You can create your resume with the same format as our business analyst resume example to make it attractive. You can add bar charts and statistics of your skills and experience to showcase that you are the best for the job.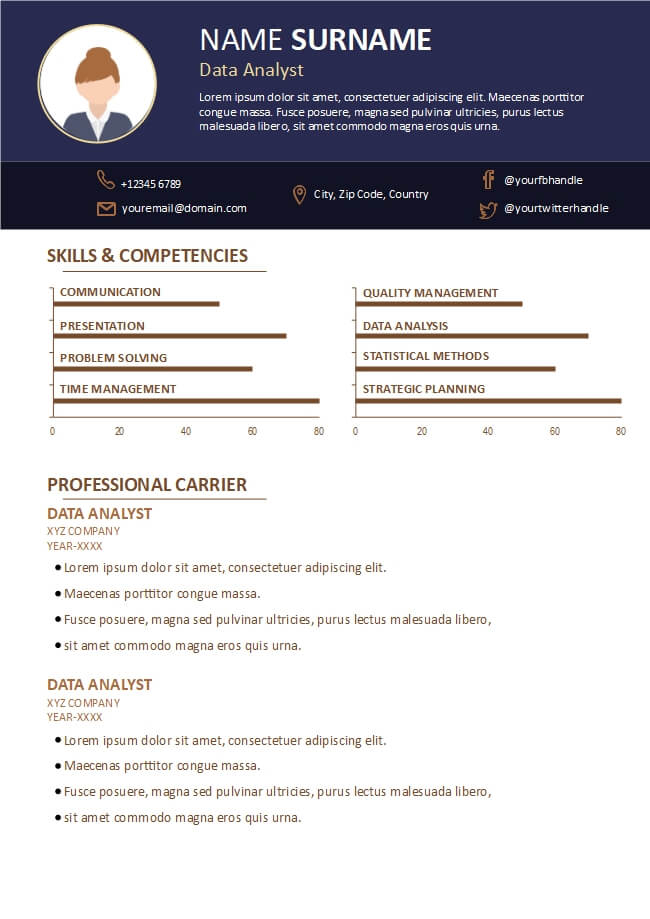 Source:EdrawMax Online
Example 4: Administrative Assistant Resume Example
If you want to get a job as an administrative assistant, then our administrative assistant resume example format is ideal for you. For this job, your skills matter the most that are why you have to highlight each of your general and soft skill that will help you with the job. Add your photo at the top and write a few lines about yourself. On the left side, list your work experience and your education. You have to list all of your skills and the certificates you got on the right. You can also list your hobbies at the end.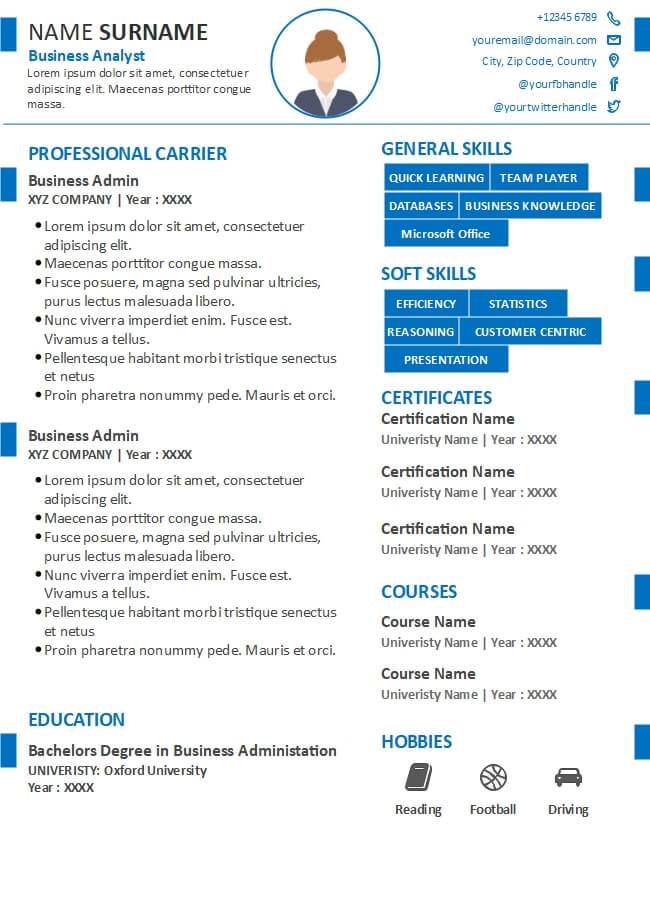 Source:EdrawMax Online
Example 5: Resume Example for Student
Having an attractive resume is best for students looking for jobs while getting higher education. Most students apply for part-time jobs, and there isn't much they can list in their work experience section, so the resume's primary focus is their skillset and achievements. You can follow the basic resume format by adding your profile and education information at the top left. Then instead of listing your experience using bullets, you can write four to five lines about each internship. You can also add information about your volunteering projects.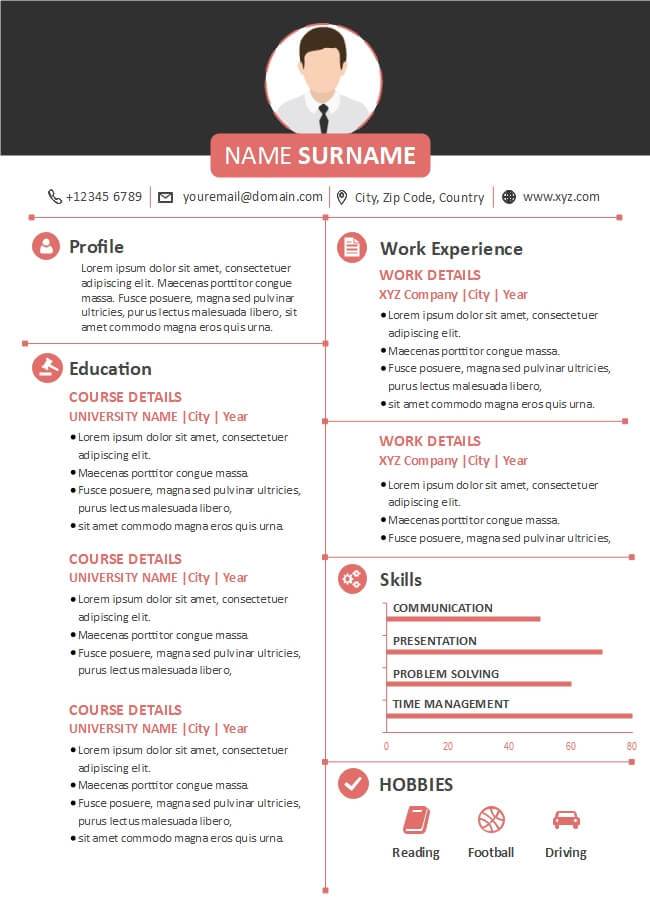 Source:EdrawMax Online
Example 6: Sales Resume Example
If you want a job in sales, you have to make a resume with a simple format and attractive design. Follow our sales resume example to create a perfect resume. You don't have to add much info about yourself to the resume. Just add your picture, contact info, and accomplishments on the left side. On the right side, start listing your work experiences and move on to your skills in the field. In the end, you can add your education.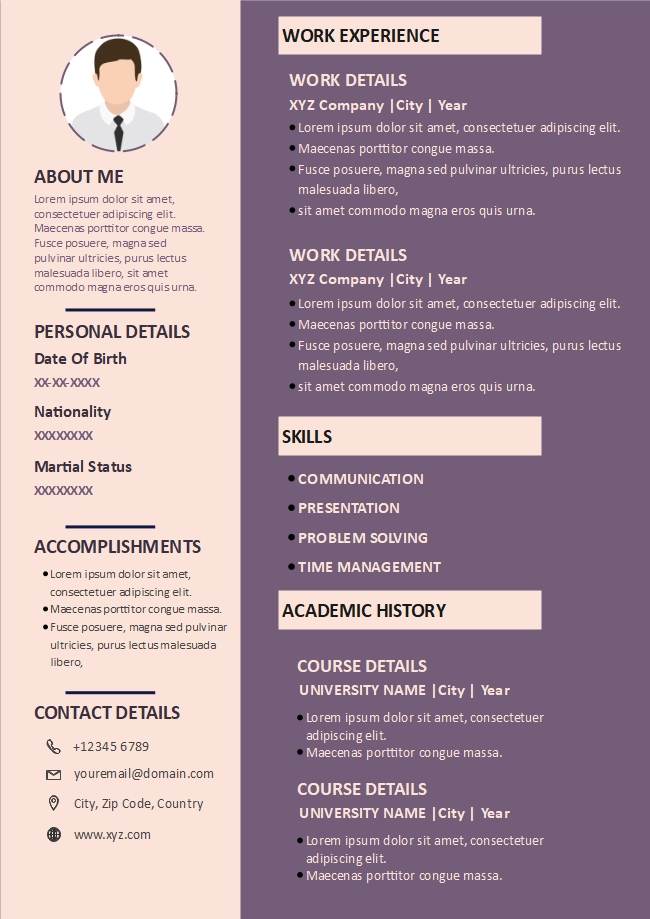 Source:EdrawMax Online
Example 7: Medical Assistant Resume Example
The main focus of your resume for a medical assistant job is your professional experience. Don't make a wordy resume by adding lots of details about your education and skills or even profile. Just give details of your experience as a medical assistant to create a perfect resume. Follow the format of our medical assistant resume example and add your contact info and your education at the top. You can list your skills on the left side and your professional experience on the right side.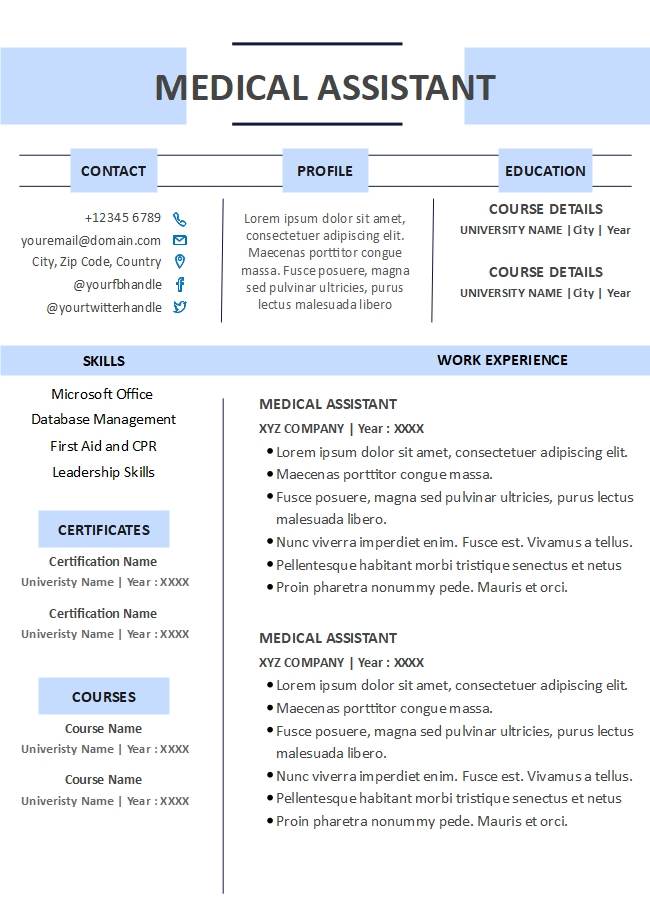 Source:EdrawMax Online
Example 8: High School Resume Example
Suppose you want a good-paying job with high school education, then you will need the best resume. You can make your resume by following our high school resume example format. As a high schooler, you will not have any prior work experience, so you can only add your volunteer projects. Makes sure to list your grades if they are good. On the left side, add your contact info at the top, then add your education and your certificates under it. List some of your critical skills, and don't forget to add your career objective in the resume.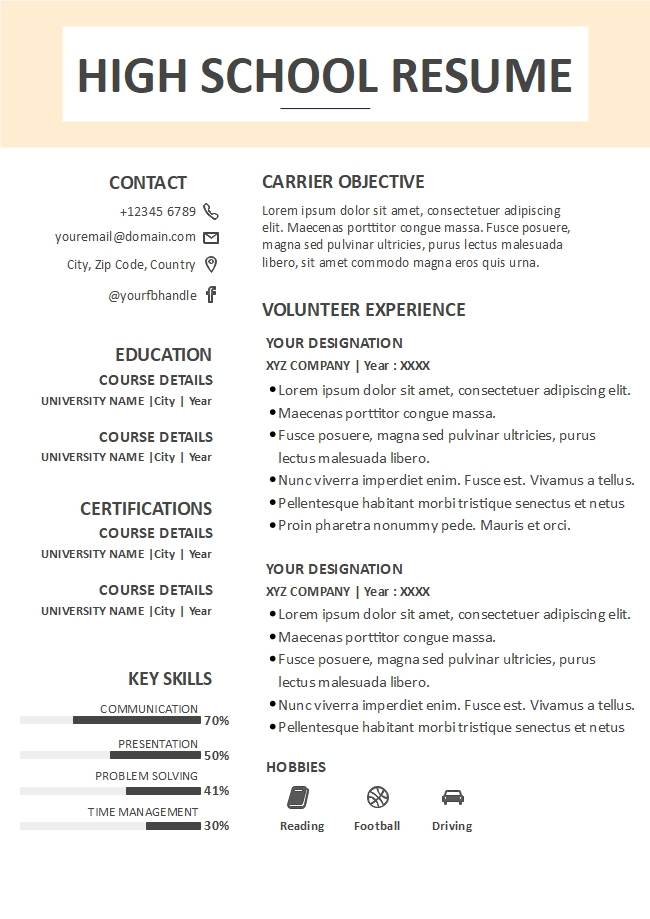 Source:EdrawMax Online
Example 9: Teacher Resume Example
When it comes to getting a job as a teacher, resume format doesn't matter because your skills, education and teaching practice decides whether you get the job or not. You can follow our teacher resume example and make a simple resume. Add contact info by writing your name, age, address and number. After that, add your certificates and self-evaluation to tell the employer that you are best for the job. On the other side, list your teaching practice and your education in detail. You can also add your other teaching gigs.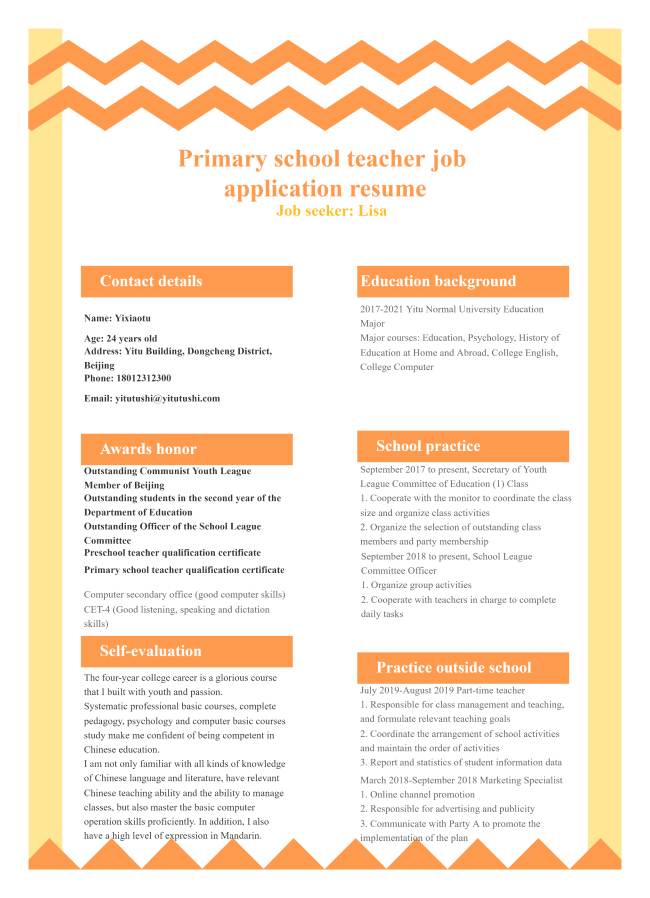 Source:EdrawMax Online
Example 10: Project Manager Resume Example
The most things that matter in a project manager resume are work experience and management skills. You can create a clear resume with our project manager resume example format. You don't have to add much profile info and your career goals. You can add your best skills and move to the experience section. You can list each of your previous professional experiences, and you also have to give details. Name the projects that you managed before and list your planning skills.
Source:EdrawMax Online
Example 11: Marketing Resume Example
As a marketing specialist, you have lots of things to add to your resume so that you can use plain text for the better part of your resume. You don't have to make it appealing; add as much information as possible without making it look wordy. Follow the format of our marketing resume example and get the job with your perfect resume. Start by adding some lines of self-evaluation and move towards your honorary awards. Write about your previous work experiences in detail and list the types of products that you worked with as a marketing specialist
Source:EdrawMax Online
Example 12: Accountant Resume
You can get a good accounting job with work experience and a perfect resume. For an accountant resume, your main focus is your work experience. You can start by adding a self-introduction with four to five lines on the left side. Add your educational background and your contact info after your self-introduction. On the right side, you only have to list and detail your previous work experience. In the end, add your professional skills and write a few words of self-evaluation.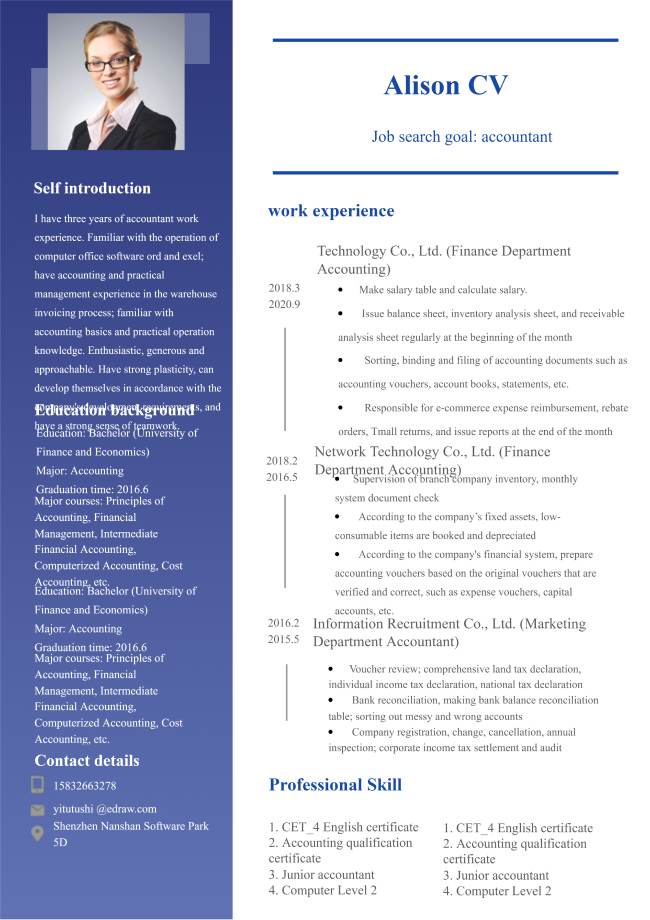 Source:EdrawMax Online
3. Online Resume Maker
Creating a resume takes no time, and it gets effortless if you are using an excellent online resume maker. EdrawMax Online is the best resume maker out there. When making a resume, you need professional blank resume templates, and you can quickly get them from EdrawMax Online. It also gives you lots of customization options and editing tools that will help you create the perfect resume. You can also use its comprehensive library of symbols and icons to design your resume. You can also add bar charts to represent information, and you can export your resume in any format you want.
EdrawMax Online
Create 280+ types of diagrams online
Access diagrams anywhere, anytime
Everything in desktop + Templates Community
Team management and collaboration
Personal Cloud and Dropbox Integration
4. Key Takeaways
Having a good resume increases your chances of getting the job. A blank resume helps you create your resume with the ideal format based on your profession. You can use resume templates to make a resume for any job. If you have many things to add to your resume, you can follow a professional format to avoid making a wordy resume. EdrawMax Online is the best resume maker with its comprehensive professional templates and customization tools. You can find out more resume templates in the Template Gallery.