Chick-fil-A SWOT Analysis
EdrawMax's Chick-fil-A SWOT analysis investigates the Strengths, Weaknesses, Opportunities, and Threats of one of the leading fast-food outlets in the US.
1. Lead-in
SWOT is a powerful management tool. It helps an organization in evaluating its position in the competitive market scenario. SWOT Analysis can give an idea about the strengths that have helped the company to reach its present status while pointing out the weaknesses that can hinder its future growth. A fact-based and realistic SWOT analysis can hint at future opportunities for the company and identify the threats.
Chick-fil-A is a leading fast food chain in the USA. They are generating a handsome revenue while surviving in a highly competitive market. Chick-fil-A SWOT Analysis helps show how their strengths helped them achieve and hold their present position. It can also spot the weaknesses that slow down their progress with the help of Chick-fil-A SWOT Analysis. The management can figure out their future opportunities while cushioning their threats using the Chick-fil-A SWOT Analysis. In this article, we will introduce EdrawMax Online that helps in creating Chick-fil-A SWOT Analysis diagrams with free templates.
2. About Chick-fil-A
2.1 Introduction of Chick-fil-A
Chick-fil-A is one of the largest fast food chains in the USA, specializing in chicken sandwiches. Headquartered in Georgia, the company operates in the USA and Canada. They are available in 47 states and locations like Puerto Rico and Columbia. The company focuses more on small menus and catering services for customers. Therefore they serve breakfast menus besides lunch and dinner menus. It is a privately owned company, but they have franchises. A Chick-fil-A franchise requires a $10,000 initial investment to start their service. Despite being open six days a week, they generated average revenue of $4.8 million in 2016, the highest sales of all the US-based food restaurants.
2.2 Overview of Chick-fil-A
| | |
| --- | --- |
| Name | Chick-fil-A |
| Founded | 23rd May 1946 |
| Industries served | Fast Food Chain |
| Geographic areas served | The United States, Canada |
| Headquarters | Atlanta, Georgia, USA |
| Current CEO | Andrew Truett Cathy |
| Revenue (US$) | 5.8 billion (in 2021) |
| Profit (US$) | 5.3 million |
| Employees | 35,574 (in 2021) |
| Main Competitors | KFC, McDonald's, Wendy's, Fogo de Chao |
2.3 History of Chick-fil-A
| | |
| --- | --- |
| 1946 | Truett Cathy opened the diner Dwarf Grill in Atlanta suburb |
| 1961 | The company is registered as Chick-fil-A.Inc |
| 1964 | After multiple trials, it made its original sandwich |
| 1984 | Established its corporate Headquarters outside downtown Atlanta |
| 1986 | Chick-fil-A opened its first stand-alone restaurant in Atlanta |
| 1995 | First advertising campaign was released saying, "Eat Mor Chikin." |
| 2006 | The company passes its $ 2 billion in worldwide sales |
| 2015 | Chick-fil-A in New York City |
| 2019 | Reported $11.3 billion in sales in the United States |
| 2022 | First Puerto Rican location opened in Bayamon |
3. SWOT Analysis of Chick-fil-A
A company SWOT Analysis includes four components; Strengths, Weaknesses, Opportunities, and Threats. This article aims to analyze the Chick-fil-A SWOT Analysis in detail. While identifying the strengths and weaknesses of the fast food chain, Chick-fil-A SWOT Analysis highlights its future opportunities and threats.
Strengths
Chicken-based menu: While the burger is a prevalent food to be found on the menus of most fast food chains, Chick-fil-A replaced beef with chicken as a healthier alternative to red meat. Their campaign, "Eat Mor Chikin'' received good attention from the masses as it talked about eating more chicken. They also include a variety of dishes for their breakfast, lunch, and dinner platter. Hot beverages, salad dressing, sauces- they have plenty to offer. It attracts many customers.
Customer Service: The company has unmatched customer service. Their skilled and polite employees consider serving the customer as their top priority. Thus, a customer feels comfort and belongingness. Hence, they feel enthusiastic about going back to the restaurant. Chick-fil-A has sufficient staff to serve fast and clutter-free, which reduces the waiting time. The mobile-app ordering system also saves time.
Robust Financial condition: Chick-fil-A is privately owned. Hence handling the finance of the projects is smoother. As one of the largest fast food restaurant chains, they earn a good profit, which they can further invest in campaigns or new projects. Due to its fewer owners, it can make financial decisions with less hassle when compared with its competitors.
Positive Image: In a competitive market, a positive brand image can make a difference for a brand. Chick-fil-A has successfully built a positive brand image. They provide high-quality food at a reasonable rate while giving back to society, feeding people, and taking care of the environment. They also encourage the staff by giving them chances for career advancement. It also adds to their positive brand image.
Weaknesses
Limited Presence: Fast-food market is highly competitive and promising because of the rising demand in Asia and Europe. Despite having a dominating position in the US market, Chick-fil-A never explored its opportunities. Other than the US, they are available in the UK and Canada. It has limited their growth.
Expensive: Today, there are many fast food chains with similar menus, and the customers are more inclined toward less expensive ones. Thus, Chick-fil-A's menu is slightly overpriced when compared to its competitors. However, the company has claimed that their price is a bit higher because of the quality of their food. Thus, the brand lacks customers from lower and middle-income groups.
Less Innovative approach: Chick-fil-A does not try out many innovative ideas with their food, campaign, marketing ideas, supply chain, etcetera. This lack of new ideas has decreased their profitability. It is limited to a particular location, and the lack of innovation impacts its growth. They do not use innovative ways to retain their loyal customers.
Lack of diversity: The restaurant chain concentrates solely on chicken items and lacks variations. Though a couple of outlets have beef items, they are significantly less in number. The company considers its franchise owners more like operators. Hence, they have to be rigid with a menu lacking different options.
Opportunities
Exploring the market: Chick-fil-A is already successful in the US market, and they can find new markets like India, China, and other European countries. Competitors of the company like Mcdonald's and Taco Bell have already established their names in various other countries. Chick-fil-A can do market research and try expanding its business outside the USA. It will increase their sales.
Using Combos: Since the menus of Chick-fil-A are a bit pricey, they can bring combos of food and beverages on the menu. Keeping the combo at a lesser price will attract customers, and at the same time, the brand will not suffer a massive loss from the price decrease.
Introducing New offers: Besides attracting new customers, retaining the old ones is also essential. The brand requires an innovative approach to marketing strategies and campaigns. There should be more enticing offers, coupons, and reward points for returning customers.
Variety in Menu: Though Chick-fil-A mostly has chicken-based items, they can include healthy dishes of beef, fish, and gluten-free items. This change will bring more customers looking for variety in the menu.
Threats
Healthy Diet: The younger population tends to stay away from fast food. They are always looking for healthier alternatives. The middle-aged and old customers are also lessening due to the threat of lifestyle diseases. The lack of healthy food on the menu is significant. It can hinder the brand's future growth.
Infectious Diseases in Chicken: As Chick-fil-A has a chicken-based menu, Chicken-related diseases like bird flu can completely disrupt their business. The threat of getting infected will discourage people from eating chicken, and the firm may experience a loss for it.
New competitors: The fast food chains operate in a competitive market where new competitors are dropping now and then. If they fail to offer tasty and quality food, variety on the menu, and affordable prices, Chick-fil-A will struggle hard to survive in the market.
Disruption of the supply chain: Chick-fil-A is known for its fresh food, and its well-established supply chain is responsible for that. However, in present conditions, lockdowns and other emergency conditions threaten the organization as these are likely to clog the supply chain, disrupting the process of bringing fresh food to the plate.
Chick-fil-A SWOT Analysis Diagram
Use EdrawMax to create SWOT analysis diagrams of Chick-fil-A. This free SWOT analysis software offers a wide range of customization options that ensures you create a unique SWOT analysis diagram every time.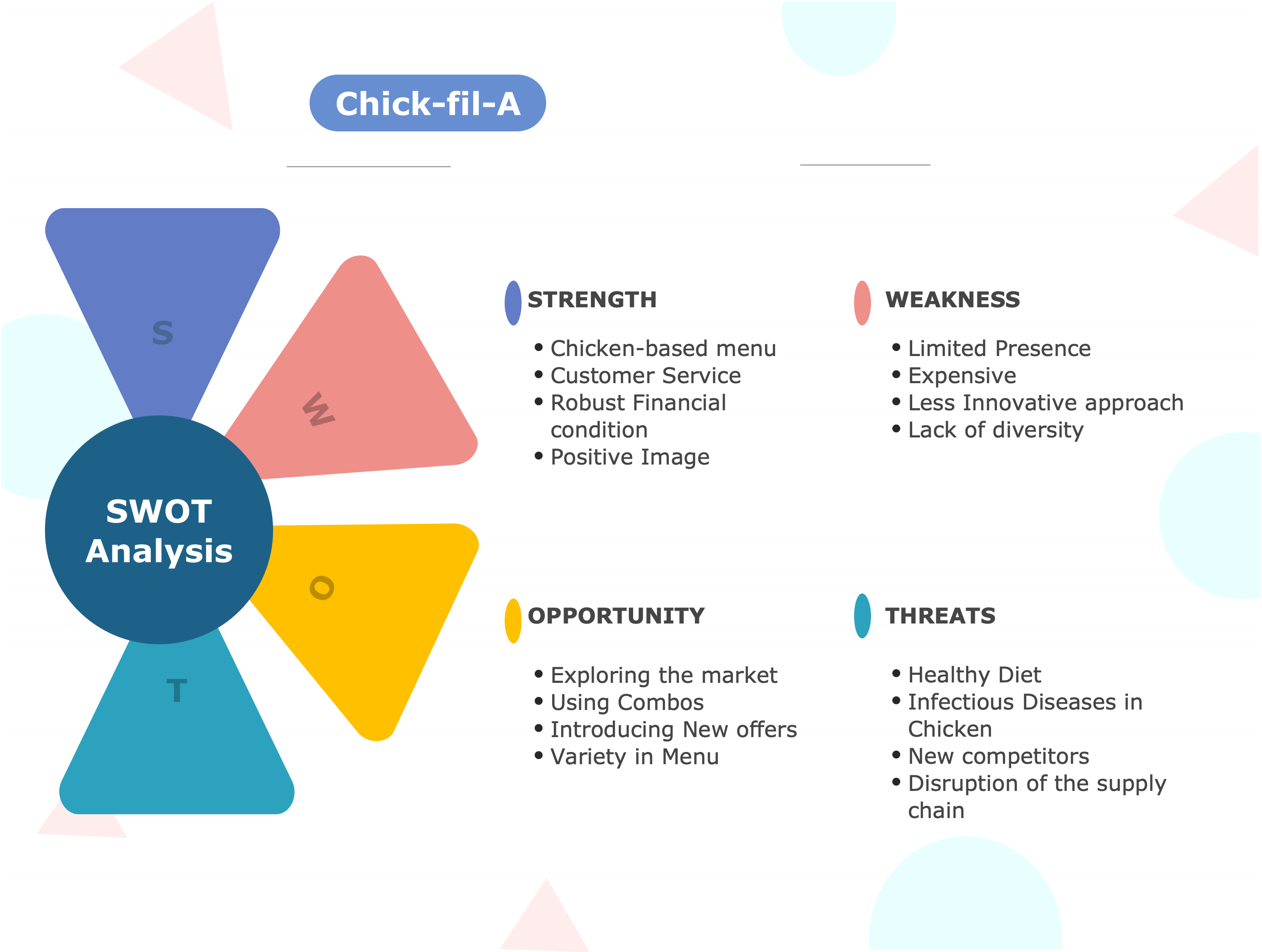 4. Free SWOT Analysis Diagram Creator
Now that you have understood the importance of creating the SWOT Analysis, let us introduce some of the amazing features of EdrawMax that will benefit you in the long run.
Remember that EdrawMax lets you create over 280 types of diagrams, which means that you can create most of the latest diagrams, like flowcharts, Venn diagrams, org charts, and more, and share them in multiple formats you deem fit. Some of the amazing features of this free SWOT analysis diagram creator are:
EdrawMax has an online version, which can be accessed by going to https://www.edrawsoft.com/online/. With the online version of this free SWOT analysis diagram creator, you can easily access your remote files and even work on the diagramming tool from anywhere in the world.
This free SWOT analysis diagram creator lets you share your SWOT diagrams on multiple social media platforms, like Facebook, Twitter, Pinterest, and Line.
EdrawMax hosts over 20,000 vector-enabled, resizable, recolorable, and reshapable symbols. This free SWOT analysis diagram creator helps you create good-looking designs and ensure that your business diagrams stand out.
With EdrawMax, you never run out of ideas. We have a strong template community of over 25 million registered users who constantly update the template sections.
This free SWOT analysis diagram creator is developed and designed by professionals who have been in this industry for decades. The user-friendly interface offers a drag-and-drop feature that allows beginners to work efficiently on their SWOT analysis diagrams.
This free SWOT analysis diagram creator is power-packed with several customization options -- from adjusting the font size, font color, text color, adding vector text, and more, and you can easily customize every element of your SWOT designs.
EdrawMax Online
Create 280+ types of diagrams online
Access diagrams anywhere, anytime
Everything in desktop + Templates Community
Team management and collaboration
Personal Cloud and Dropbox Integration
5. Key Takeaways
The Chick-fil-A SWOT Analysis can show its present status in the US and the global market. Readers can have a comparative view considering its competitors. For a fact-based Chick-fil-A SWOT Analysis, it is significant to know the basic information concerning the company, including its operating area, business strategies, marketing trends, etcetera. It can show how the company has operated its system to earn a position in the market. It plays a significant role in figuring out the strengths and weaknesses of the organization. Chick-fil-A SWOT Analysis shows its strengths and weaknesses, which it can strategically improve to add to its strengths. Moreover, it can also help in identifying opportunities. Thus, increasing their business while cushioning their threats.
EdrawMax is an all-in-one diagramming tool that offers many customization options, templates, and symbols. In the template community of EdrawMax, you will find thousands of templates you can import to your canvas board. Download EdrawMax as per your operating system or head to EdrawMax Online if you are looking to access the online features of this SWOT analysis diagram creator.
Reference
Related Articles