Under Armour SWOT Analysis
SWOT analysis of Under Armour analyzes the brand by its strengths, weaknesses, opportunities & threats. Check out EdrawMax's detailed SWOT analysis report.
1. Lead-in
SWOT analysis is necessary for evaluating a company as it provides data on strengths, weaknesses, opportunities, and threats. With the help of SWOT analysis, it is easy to analyze the position of a company in the market. It will also provide solutions on how to fight to stay abreast in the competitive market. SWOT analysis of an organization gives an accurate, data-based exploration of a particular company.
Under Armour, Inc. is a trading company responsible for retailing sports apparel and accessories. Under Armour SWOT analysis reveals the strengths, weaknesses, opportunities, and threats that the company has faced or will have to face in the future. SWOT analysis of Under Armour will be necessary if a group of individuals provides concrete, data-based study instead of abstract beliefs. This article details the SWOT analysis of Under Armour for the management committee so that they can make a proper decision regarding the company's expansion. In this article, we will also introduce EdrawMax Online and the amazing features that help in creating different SWOT Analysis diagrams.
2. About Under Armour
2.1 Introduction of Under Armour
Under Armour was founded in 1996 by Kevin Plank and gradually made a name as a sports apparel brand. It also deals with sports accessories and footwear. Under Armour, Inc. manufactures, advertises, and sells its products worldwide. Through the segment of Connected Fitness, clients can digitally sign up for necessary subscriptions offered by Under Armour. Customers can digitally avail of subscriptions through Endomondo, MapMyFitness, and MyFitnessPal. Currently, the CEO of Under Armour is Patrik Frisk. Under Armour's business analysis reveals that it is a well-known sports brand in the global market.
2.2 Overview of Under Armour
| | |
| --- | --- |
| Name | Under Armour |
| Founded | 1996 |
| Industries served | Textile, Sports Equipment |
| Geographic areas served | Worldwide |
| Headquarters | Baltimore, Maryland, U.S |
| Founder | Kevin Plank |
| Revenue (US$) | $5.270 Billion (2020) |
| Significant people | Kevin Plank, Colin Browne |
| Employees | 16400(2019) |
2.3 History of Under Armour
| | |
| --- | --- |
| September 25, 1996 | Foundation of Under Armour. |
| 1997 | Oakland Raiders quarterback Jeff George was featured in USA Today wearing an Under Armour mock turtleneck. |
| 1999 | Made outfit for two Warner Brothers feature films, Oliver Stone's Any Given Sunday and The Replacements. |
| 2003 | Launched their Women's Performance Gear product line. |
| 2003 | Got $12 million Capital investment from Rosewood |
| 2005 | Went public, trading at NASDAQ under "UARM" and doubled on its first day of trading |
| 2006 | Began offering footwear |
| 2007 | Opened the first full-line full-price retail location at the Westfield Annapolis mall in Annapolis, Maryland. |
| 2013 | Opened stores and outlets in Canada, China, and 39 states, Brand House in Baltimore in 2013 and second Brand House in Tyson's Corner, Virginia. The company grew from $15 billion to $30 billion |
| 2015 | Under Armour earned $232.6 million |
| 2016 | Under Armour with UCLA announced a plan for a 15-year, $280 million contract. |
| 2018 | Signed Philadelphia 76ers center Joel Embiid to a sneaker endorsement deal. |
3. SWOT Analysis of Under Armour
The article delineates the Under Armour SWOT analysis in detail. The SWOT analysis of Under Armour will discuss the strengths and weaknesses of the company. It will also consider the opportunities management can utilize and the threats they have to deal with to survive in this competitive market.
Strengths
Digital expansion: In the era of online shopping and application-based client interface, Under Armour has launched applications such as MapMyFitness and MyFitnessPal. These applications are necessary for staying connected with the clientele and involve more people interested in fitness. The subscription plans offered digitally help in earning revenue.
Revenue: The revenue stream is excellent because in 2021, Under Armour generated $5.7 billion in revenue, which is 27% higher than the previous year.
Diversity of products: Initially, the company offered only a few sports products, but with time they augmented their product list to include activewear, apparel, sportswear, and more.
Advertisement campaigns with sports celebrities: Under Armour often ropes in famous sports celebrities to feature in their commercials. Basketball player Steph Curry promoted their brand. The company has launched a global campaign featuring inspirational stories of well-known athletes.
Some famous athletes featured in this promotional and inspirational campaign include Michael Phelps, Steph Curry, Kelley O' Hara, and Tom Brady. Featuring famous athletes also influences buyers' perspectives because people who adore sports celebrities are likely to buy products from the brands they advertise.
Weaknesses
Selling of MyFitnessPal: MyFitnessPal was a high revenue generating platform for Under Armour, but in 2021 they made a deal of $345 million with Francisco Partners to sell the application. However, Under Armour had purchased MyFitnessPal for $475 million. Apart from reducing revenue, it also revealed that the company might be going through a strenuous phase.
Lack of global presence outside the USA: Under Armour is an established sports brand in the US market, but the company's global presence needs to be strengthened. IN 2021, the company generated revenue of $842 million in Europe and $832 million in Asia, compared to $3.8 billion from the US.
Expensive products: The premium quality products offered by Under Armour are not affordable for a vast majority of customers. Hence, customers select competitor brands that provide budget-friendly products.
Excessive investment: The investment of any company is required for financial growth. However, Under Armour has successively increased investment in numerous projects. In 2020 The Company gave a restructuring plan that showed an expenditure of $600 million, which is pretty high.
Opportunities
Business Expansion: Under Armour can extend its business relations with Asian countries. There is an excellent chance for brand business growth in these regions. Apart from higher revenue collection, the brand can establish itself in the Chinese and Asian markets. The Chinese market estimates about 5 trillion Yuan for this industry by 2025.
Associating with retailers: Under Armour previously entered into a successful partnership with Kohls. It is a potent field of opportunity, and Under Armour should opt for more joint ventures with retailers like J.C Penny, Macy's, and Dillard's. It will help the company to enter more markets and increase the overall revenue.
Increasing the production of Female products: According to Forbes, there is a 46% increase in sales concerning Under Armour female products. It provides massive scope for the company to tap into more female products manufacturing and selling to increase revenue.
Use of online platform: Under Armour took time to enter the e-commerce field, but the scope is apparent in this field. People often do online shopping. Thus, strengthening the e-commerce platform of the company will generate more clients. The present statistics show that 33% of Under Armour's sales came from the online platform.
Threats
Established competitors: Nike and Adidas are globally renowned and are pretty well-known brands. They are generating huge revenue with an excellent market share. Thus, Under Armour will face challenges while competing with these highly-famous brands in the market.
Cases of Injuries and controversies: The company has faced several controversies that have tarnished its reputation. The news of athletes' injuries due to faulty products has made headlines. The Chin Straps of Under Armour have caused around six injuries which led to the recall of the faulty products, which has caused a setback in sales and revenue.
Lack of advanced digital applications: Brands like Nike and Adidas are already using the digital field and are ripe for advancing business prospects and features like Augmented Reality and Virtual Reality. It will be difficult for Under Armour to keep up if they don't rapidly apply digital innovations in the e-commerce field. Under Armour has already started late in the digital arena. So, rapid innovation is required to keep up with well-established sports brands on the digital platform.
Allegiance of clients: A company remains steady with the support of loyal customers, but recently it has been observed that preference for Vans' products has increased among teenagers. Under Armour is bound to suffer in the future market if the allegiance shifts towards other companies.
Under Armour SWOT Analysis Diagram
With EdrawMax, you can easily visualize the SWOT analysis so that students and beginners will retain the information longer. With built-in templates and symbols, you can create customized SWOT analysis diagrams that can easily be shared across different mediums.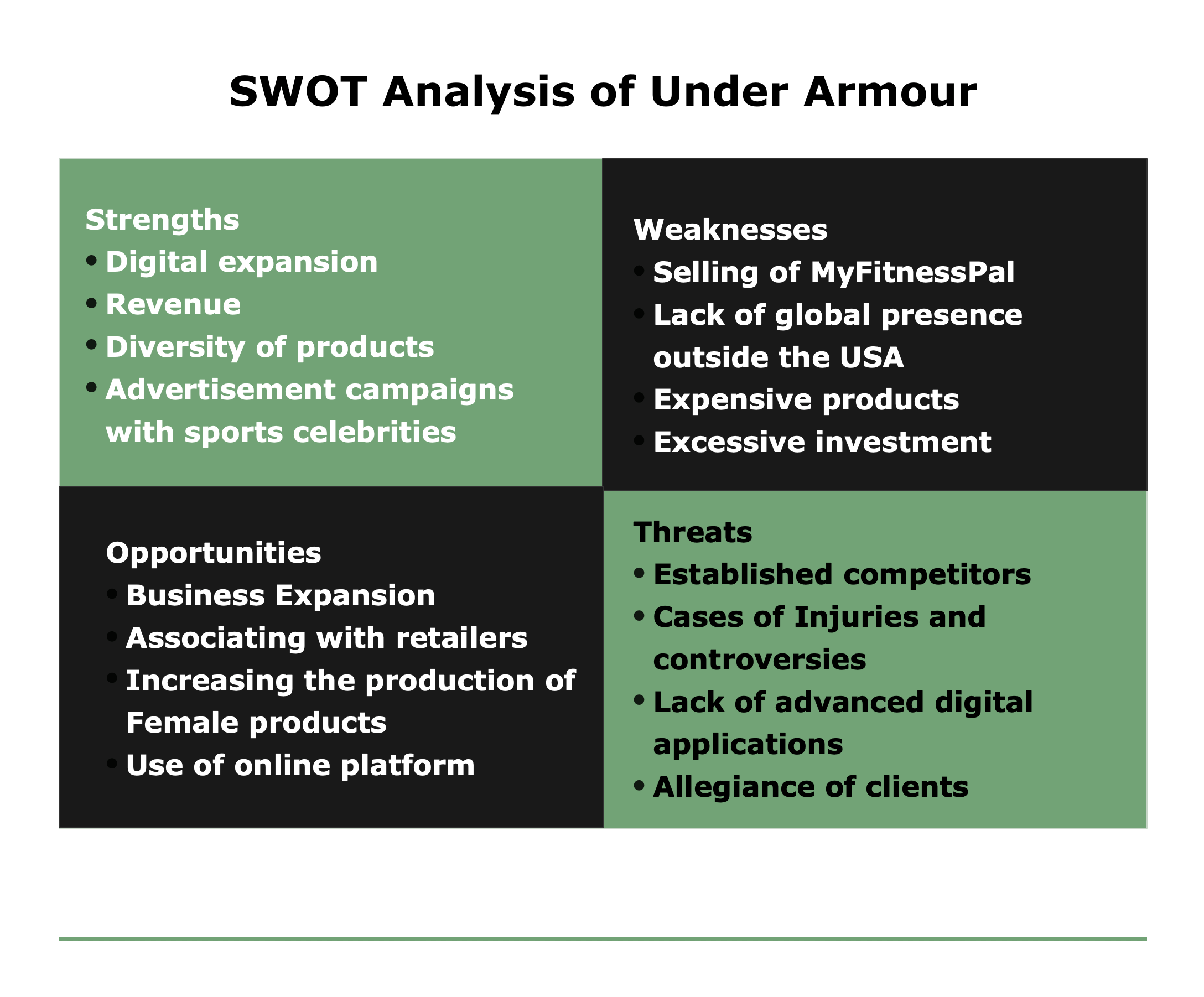 4. Free SWOT Analysis Diagram Creator
As you saw in this SWOT Analysis diagram guide, there are many ways to present a company's SWOT Analysis. You can even go ahead and use the traditional method on paper and submit it to your team. However, the stakeholders in charge of the company will prefer a diagram over a generic representation. In order to create a great-looking SWOT plan, you should start using EdrawMax. This free SWOT analysis diagram creator has several amazing features, like:
EdrawMax has over 20,000 vector-enabled symbols that let you create SWOT and other business-related diagrams for your personal and professional needs.
Unlike Word or Visio, this free SWOT analysis diagram creator gives you access to thousands of templates that ease your efforts in creating any complex business or sales-related diagram.
With this free SWOT analysis diagram creator, you can import and export the SWOT analysis in MS Visio format, making collaboration with different team members simpler and more affordable.
EdrawMax comes with a free online version that allows you to access your files from anywhere in the world.
This free SWOT analysis diagram creator can be downloaded for Windows, Linux, and macOS.
This free SWOT analysis diagram creator comes with a template community that inspires beginners as they set out on a journey to create complicated diagrams.
EdrawMax Online
Create 280+ types of diagrams online
Access diagrams anywhere, anytime
Everything in desktop + Templates Community
Team management and collaboration
Personal Cloud and Dropbox Integration
5. Key Takeaways
Under Armour SWOT analysis gave a possible insight into the company's perspective concerning the global industry. It also charts the vantage points it has against its opponents. One can see that the company needs to improve in the online business field through this SWOT analysis of Under Armour. The management can tactically lay out a plan, further assess the company's progress and reduce expenditure through the Under Armour SWOT analysis. A comprehensive SWOT analysis provides a complete picture of the strengths and weaknesses of Under Armour as a worldwide business. It also details its prospects and the threats the brand may face in this competitive field.
When it comes to creating a SWOT analysis of any company, EdrawMax is considered the best tool in the market. From the free templates to symbols, this free SWOT analysis software offers a ton of features that not only help beginners but also provide a highly professional environment for the experts who want to work on complicated diagrams. Go ahead and download EdrawMax Online today to create a SWOT analysis of your company.
Reference
Related Articles