SHEIN SWOT Analysis 2022
SHEIN is an international B2C fast fashion eCommerce platform. Check out EdrawMax's guide to understand SHEIN's SWOT analysis of 2022.
1. Lead-in
SWOT analysis will help evaluate a company based on its strengths, weaknesses, opportunities, and threats. With SWOT analysis, you can analyze a company's position in the industry and how it can fight for its position against its competition. The company's SWOT analysis puts forth a factual, realistic, and data-based analysis of that particular company.
SHEIN SWOT analysis brings in front the strengths, weaknesses, opportunities, and threats that this company has and faced or will have and might face in the future. SWOT analysis of SHEIN will work the best if a variety of people are ready to share practical, data-based analysis and just not some ideologies. This article here carried out the SWOT analysis of SHEIN for the management to make a sound decision for the company's sustainable development. In this article, we will introduce EdrawMax Online that helps in creating SHEIN SWOT Analysis diagrams with free templates.
2. About SHEIN
2.1 Introduction of SHEIN
SHEIN is a Chinese company dealing with fashion clothes that operates all its business online. When the company started, it was more like a company concerned with drop shipping and not so much as a retailer. However, now it has stopped manufacturing clothes as they collect its products from the local Guangzhou market. The company is primarily based in China, with its headquarters there. However, it ships to 220 countries worldwide. SHEIN business analysis says that currently, it is the world's largest fashion retailer.
2.2 Overview of SHEIN
| | |
| --- | --- |
| Name | SHEIN |
| Founded | 2008 |
| Industries served | E-commerce |
| Geographic areas served | Worldwide |
| Headquarters | Nanjing, China |
| Founder | Chris Xu |
| Revenue (US$) | US$ 10 billion as of 2020 |
| Significant people | Quist Huang |
| Employees | 100000+ |
| Native clients | iOS, Android |
2.3 History of SHEIN
| | |
| --- | --- |
| 2008 | Foundation of SHEIN |
| Early 2010s | Made products available in Spain, France, Russia, Italy, and Germany |
| 2012 | Started using social media for advertisement and collaborative works |
| 2014 | ROMWE was acquired |
| 2016 | Established headquarters in Guangzhou, China |
| 2018 | Started to form it is very own supply chain system |
| By November 2021 | The company grew from $15 billion to $30 billion |
| As of May 2022 | It is the most significant fashion clothing firm online |
3. SWOT Analysis of SHEIN
The article here will discuss the SHEIN SWOT analysis in detail. Thus, the SWOT analysis of SHEIN will discuss its strengths and weaknesses. Moreover, it will also reflect the opportunities management can grab and the threats they should overcome.
Strengths
Will ship anywhere in the world: No matter what country the order is from, SHEIN delivers the product to the customer's doorstep, which helps consumers to save precious time.
A massive collection of products: No matter what the consumer wants to buy, they will prefer choices and options because that gives them mental satisfaction.
Keep in mind competitive prices: Competition is a big part of the whole business industry, and the main factor that drives this competition is the product prices. Maintaining a competitive price for the products sold is one of the significant strengths on the company's part.
The Positive sales taxes included: No matter what you buy, where you buy it from, and how you do that, there is always inclusion of taxes on every product you buy. So, even though consumers have to pay taxes to purchase products from SHEIN, they still have a pretty high sale of products.
Personalized mobile app: Personalized mobile app in this generation is a big plus point. An app that only shows products and with a user-friendly interface can make customers prone to buy goods from there. In addition to that, personalized apps somehow depict the company's stability.
Weaknesses
Time-consuming delivery: Sometimes, customers order goods they need with an immediate delivery facility, and taking more than the desired time to deliver products can be a massive setback for the company.
Unavailability of warehouses: The SHEIN supply chain lacking a warehouse can be a severe weakness for the organization. The availability of proper warehouses makes the entire delivery process fast and reliable because the information is available for customers at every step. Lacking such a warehouse again is a significant weakness of the company.
Vague origin history: Sometimes, this can be a severe drawback for a business, especially when customers need continuous assurances about their products.
Opportunities
The recent rise of the fashion industry through e-commerce: The new trend is to buy every fashionable product, whether clothes or jewelry, or some other online products. So, when this is the trend, the popularity of the sites providing good services is pretty high too. Everything depends on marketing and consumer satisfaction. Thus, SHEIN can grab this opportunity and expand its business in the market.
Selling high price products to consumers who can afford them: Keeping lower prices of products is a good thing, and it increases the popularity of the company among customers, but then sometimes there are opportunities where the company can set certain products for higher prices, but the targeted audience for these high priced products are consumers who have the massive disposable money. Thus, the premium-class consumers can buy these products even at higher prices, thus, in return, increasing the company's profit.
Virtual ambassadors: SHEIN depends a whole lot on its virtual marketing. They collaborate with well-known social influencers who can increase the demand for certain products and thus bring good deals for the company. So, they need to choose the right person to make them the face of the whole business.
Social networks: Marketing through different social networks helps reach a maximum number of consumers from various parts of the world. The social network provides access to the most remote areas. Thus, social media marketing can be a crucial SHEIN marketing strategy, providing an opportunity for the company to grow and sustain itself in this competitive market.
Threats
The mishandled data: Data breach is a recurring issue. Moreover, it is a very concerning problem. SHEIN's whole business is based on a computer. Hence, it could be a considerable threat to the company.
The shift in consumer taste: It is impossible to predict what customers want at specific periods. So, businesses like these always need to be on their toes and ready to put certain products aside.
Influential competitions: Companies like Amazon are big deals in this market. So, to make an impression on these companies is hard work.
Increase in the number of competitions: The competition has also increased with the increase in the popularity of e-commerce. So, to stand out amongst so many businesses can be difficult.
SHEIN SWOT Analysis Diagram
Now that you have understood the SWOT analysis of SHEIN, here is a visual representation of the same. You can use EdrawMax to work on the SWOT analysis diagrams as it gives templates and symbols that ease your efforts in creating them.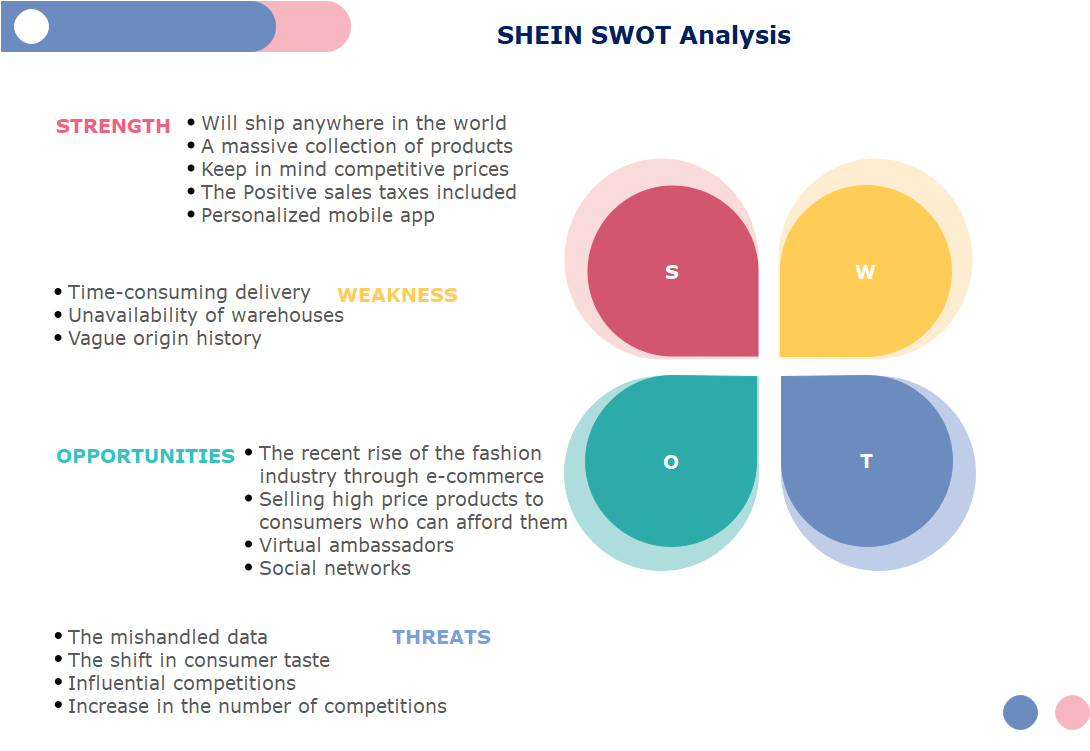 4. Free SWOT Analysis Diagram Creator
A SWOT analysis is crucial for a company to understand its strengths, weaknesses, opportunities, and threats. With EdrawMax, creating a SWOT Analysis takes only a few steps and minutes. In addition, you do not require special technical skills to create the SWOT analysis on this free SWOT analysis diagram software.
There are several other important features of using EdrawMax, like:
EdrawMax has free templates, symbols, remote collaboration, multiple theme options, and more.
With EdrawMax, you can create over 280 types of different diagrams -- way more than Microsoft Visio. At the same time, you can easily import and export Visio files without losing any formatting.
From changing the shape of the templates to updating the dimensions, you can do almost anything with this free SWOT analysis software.
EdrawMax has over 25 million registered users who constantly update the template community. There will never come a day at EdrawMax when you do not find the template idea you are looking for! You can find thousands of free templates in the template community, from floor plans to HVAC layouts, from network diagrams to business diagrams.
EdrawMax lets you export your file into multiple formats, including PNG, JPEG, PDF, and other Microsoft formats, like PPTX, MS Word, etc.
With this free SWOT analysis diagram creator, you can share the SWOT analysis diagram on several social media platforms, like Facebook, Twitter, Pinterest, and more.
EdrawMax Online
Create 280+ types of diagrams online
Access diagrams anywhere, anytime
Everything in desktop + Templates Community
Team management and collaboration
Personal Cloud and Dropbox Integration
5. Key Takeaways
SHEIN SWOT analysis gave an understanding of the company's standpoint in the global market within its particular industry and against its competitors. Through this SWOT analysis of SHEIN, it has been doing pretty well in the market and has acquired the number one position. The management can strategically plan and provide assessment tools through the SHEIN SWOT analysis. A detailed SWOT analysis gives a distinct picture concerning SHEIN's strengths and weaknesses as a worldwide company. The opportunities they might get and the threats they will probably face in this competitive market.
As you saw in this SWOT analysis article, creating a SWOT analysis diagram using EdrawMax Online is not only an easy approach to doing a detailed analysis but also proves to be effective for those who prefer visuals over detailed guides. EdrawMax is available for macOS, Windows, and Linux, and you can download the SWOT analysis diagram software to work on different diagrams as required.
Reference
Related Articles