Free Editable Family Tree Templates for Kids
Get through on this article to get some amazing, free, and editable family tree templates for your kids. Also, learn why family trees are beneficial for your kids and how you can create them using EdrawMax.
1. What is a Family tree?
As the name suggests, the family tree is a visual tool used to illustrate family relationships in the form of a tree structure. A family tree shows the previous history of a particular family. It depicts the generations after generations of families and how everyone is related to one another. Just as a tree stems out into different branches, a family tree chart also stems out into other branches and subbranches of the family. Family trees have their advantages, but they tend to benefit kids specifically.
Benefits of Family Trees for Kids
Family trees may seem like a fun activity to pass the time, but it also benefits kids. Many kids find it challenging to grasp the concept of a world beyond them. Thus, a family tree chart can help them see beyond themselves where they can learn about their roots and ancestors. Some of the benefits of family trees for kids are listed below.
Learning about Their Ancestors
Family trees give a detailed overview of the ancestors of a family. When kids learn about their ancestors, it boosts their sense of belonging and self-worth. It helps them understand the generations that passed before them.
Developing an Interest in History
Learning about your ancestors and the periods and eras that they lived in helps kids make a more personal link with history. It gives them a better understanding of the history and the circumstances of that time. Thus, most kids develop an interest in history when they see that their grandparents or great-grandparents lived during Nazi rule.
Creating a Stronger Bond
When kids understand the relations and links they have with a relative, it helps them create a stronger bond as they realize the similarities in their personalities and characteristics. These meaningful connections help the kids live a happier and more fulfilling life.
Making Informed Medical Decisions
There are a lot of medical diseases such as cancer, diabetes, heart and respiratory problems, and mental health issues that are genetic. Learning about the previous generations' health conditions can help children make informed medical decisions in the future.
2. How to Make a Family Tree With Kids?
Now that you know how family trees benefit kids, we will guide you a little about making a family tree with your kids.
1. Decide on the Complexity
Family trees can be extremely simple or highly complicated, depending upon your desire. You can not only make a simple family tree consisting of just your siblings, parents, and grandparents, but you can also design a family tree dating back to your great grandparents and all the aunts, uncles, and cousins. So, firstly decide how big of a family tree you want to make. Then move on to the next step.
2. Collect Data
The most important part of designing a family tree is to collect the genealogical data. Use different libraries, genealogical websites, and other relatives to get as much information about your ancestors. Learn about their date of birth and death, occupations, careers, hometowns, achievements, etc. The more information you have, the better your kid will understand.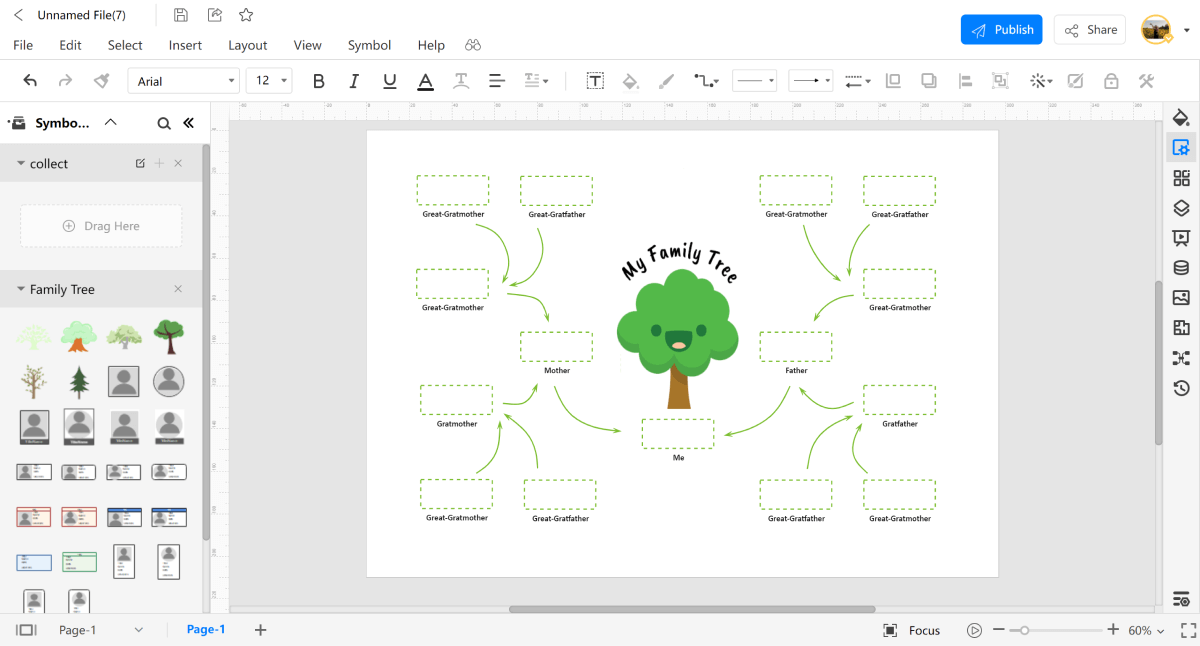 3. Arrange the Data
Once you have all the information about your ancestors, arrange them from oldest to youngest. Create an outline of your family tree.
4. Add Information
Lastly, ask your kid to fill in all the information in the outline you created. You can also ask your kids to share the family tree with their relatives and cousins to exchange family stories and add new information (if any).
3. Free Family Tree Templates for Kids
To help you and your kids make a family tree, we have listed some of the templates that will be useful for your kids.
Example 1: 4 Generation Family Tree
This diagram is a free four-generation family tree that kids can use for their school projects or fun. The colors and the tree at the center give the family tree a bright look, making the whole thing engaging for kids. Furthermore, the arrows between each box show how each person is related to the other. Moreover, this family tree allows kids to go back 4 generations to their great grandparents, starting from themselves.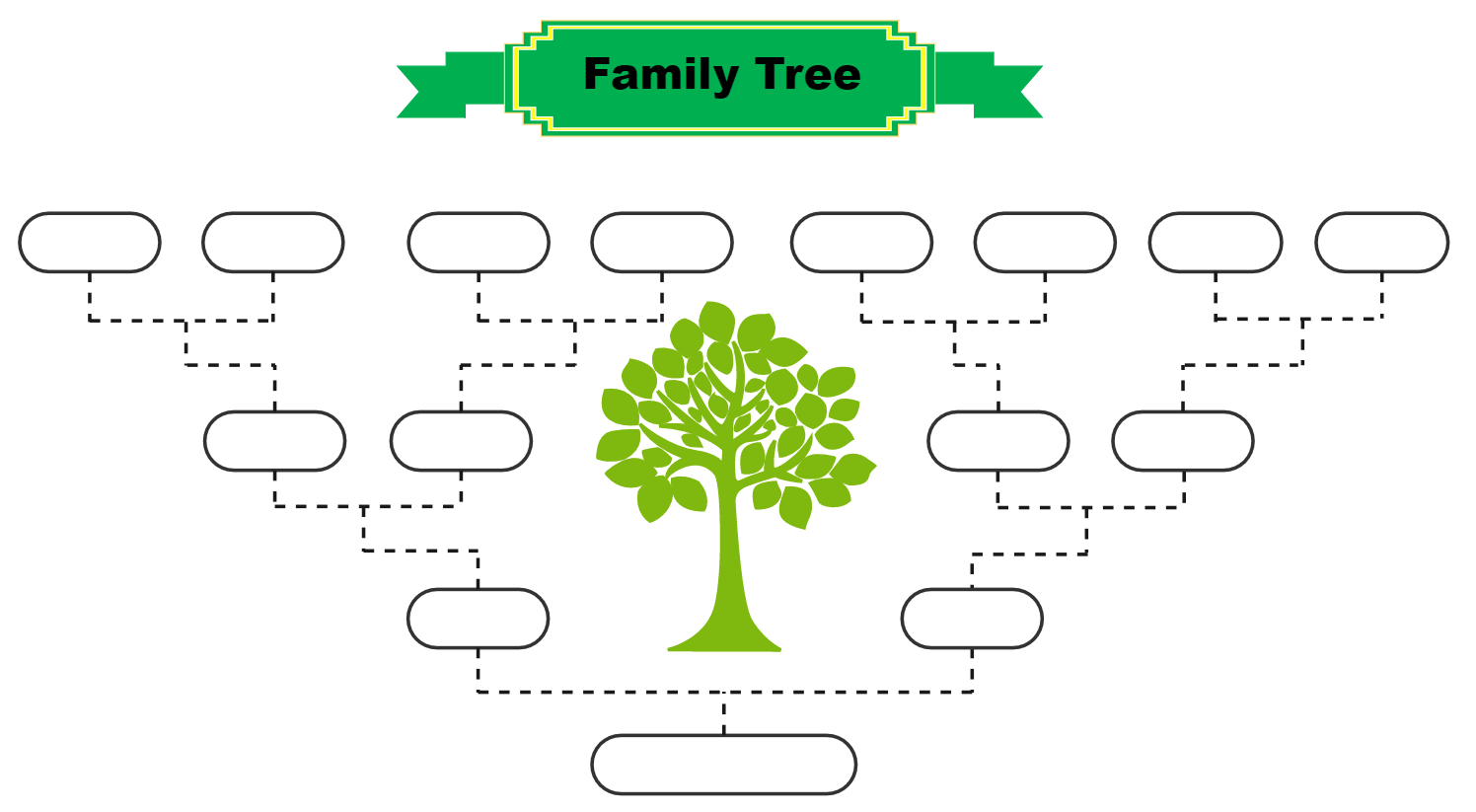 Example 2: Family Tree Graphic Organizer
The family tree graphic organizer template is easy to use and creatively designed. It allows kids to add names and other information such as lifetime and pictures. This additional information gives a more accurate representation of the family tree. Kids can use this graphic organizer when they wish to avoid the trouble of designing an outline. This family tree template does all the work for them. All they have to do is fill in the information.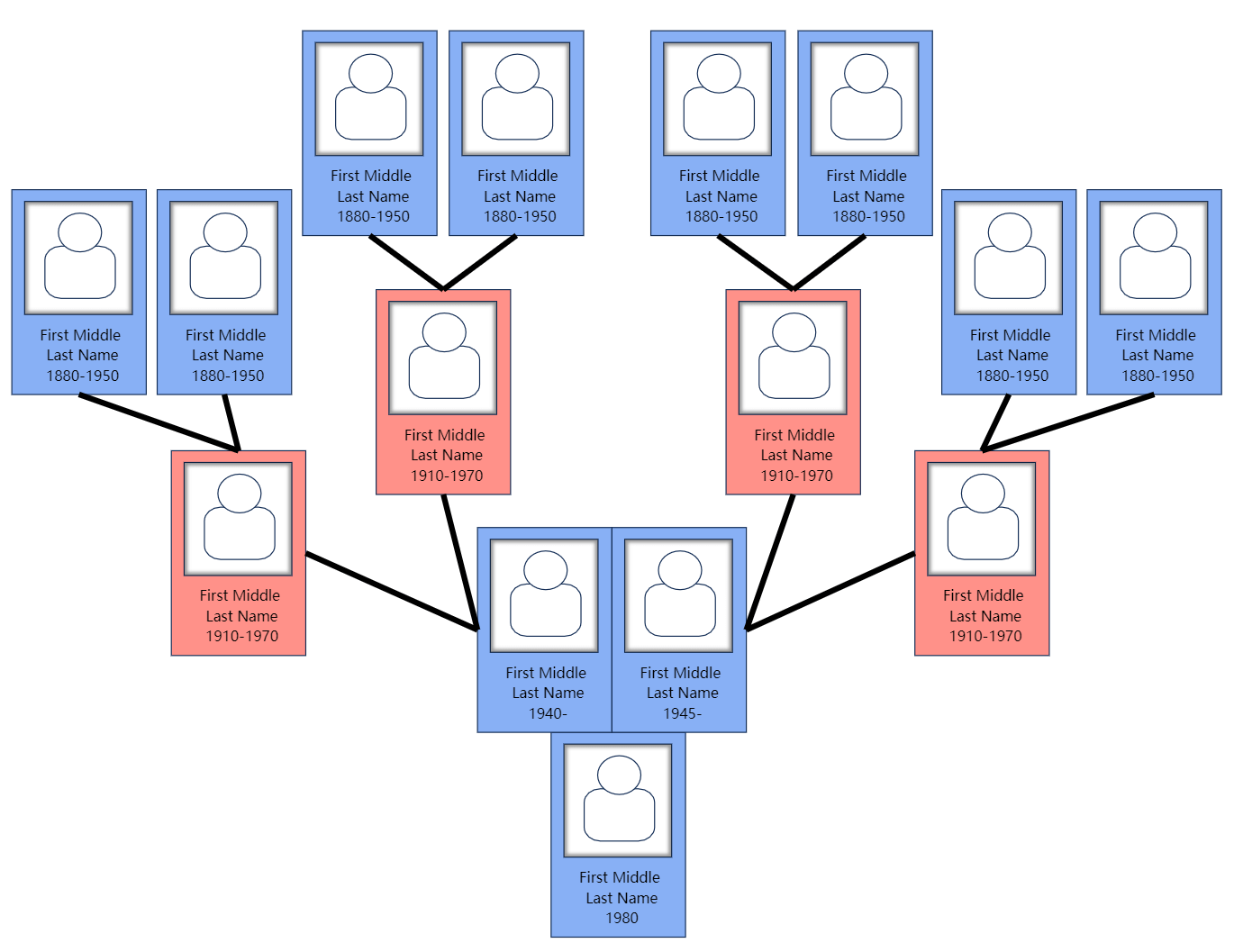 Example 3: Family Tree for Children
This family tree template is another fun and engaging design for children and kids. It helps them in understanding linkages and relationships with other family members. As with most family trees, this one starts with a single person. It is usually the person making the family tree. They start with themselves and then trace back to their ancestors.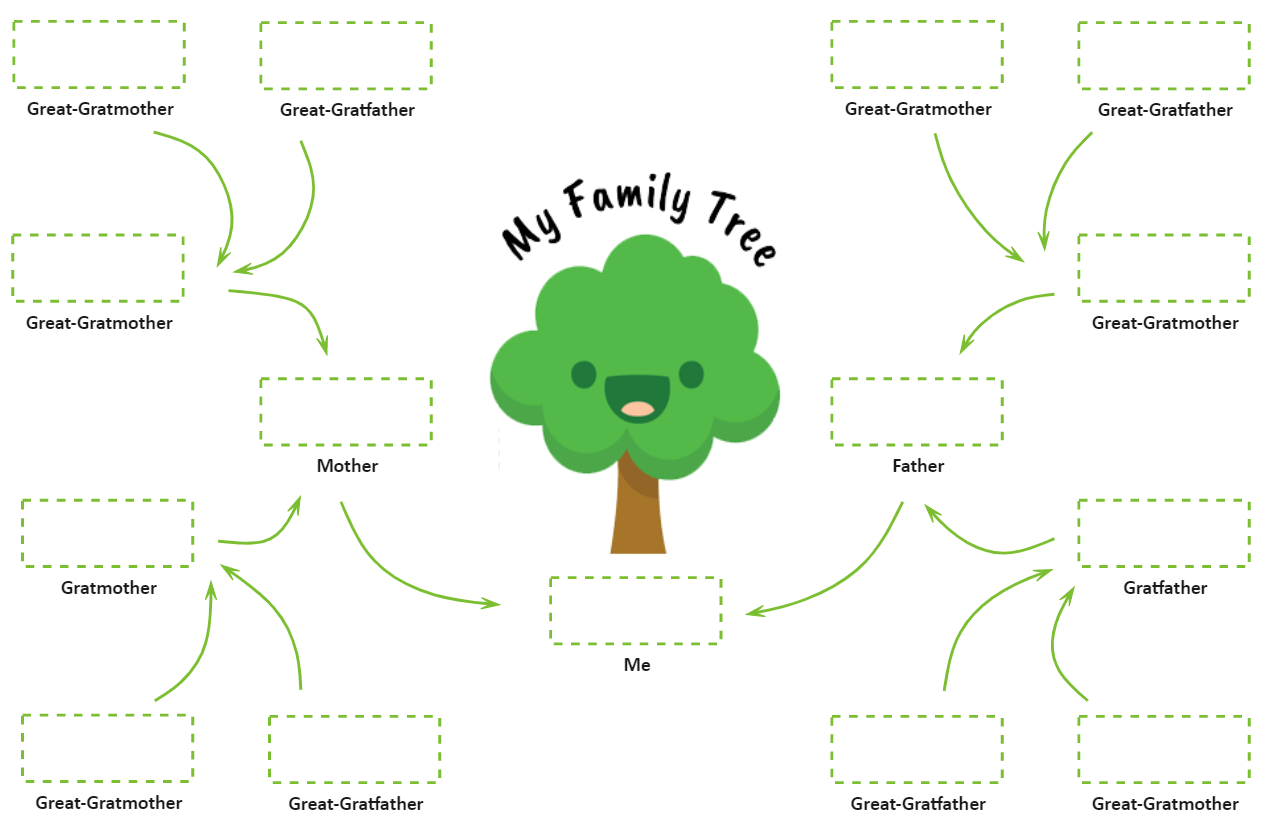 Example 4: Do You Know Your Family Tree
The Do You Know Your family tree is usually used to see if something runs in the family or is a genetic trait or not. Such a family tree can give kids a better understanding of the traits and characteristics of their ancestors and what it means for them. Depending upon their history, they can make informed future decisions that can lead a good life. For example, given below is a financial family tree that shows the economic conditions of each generation.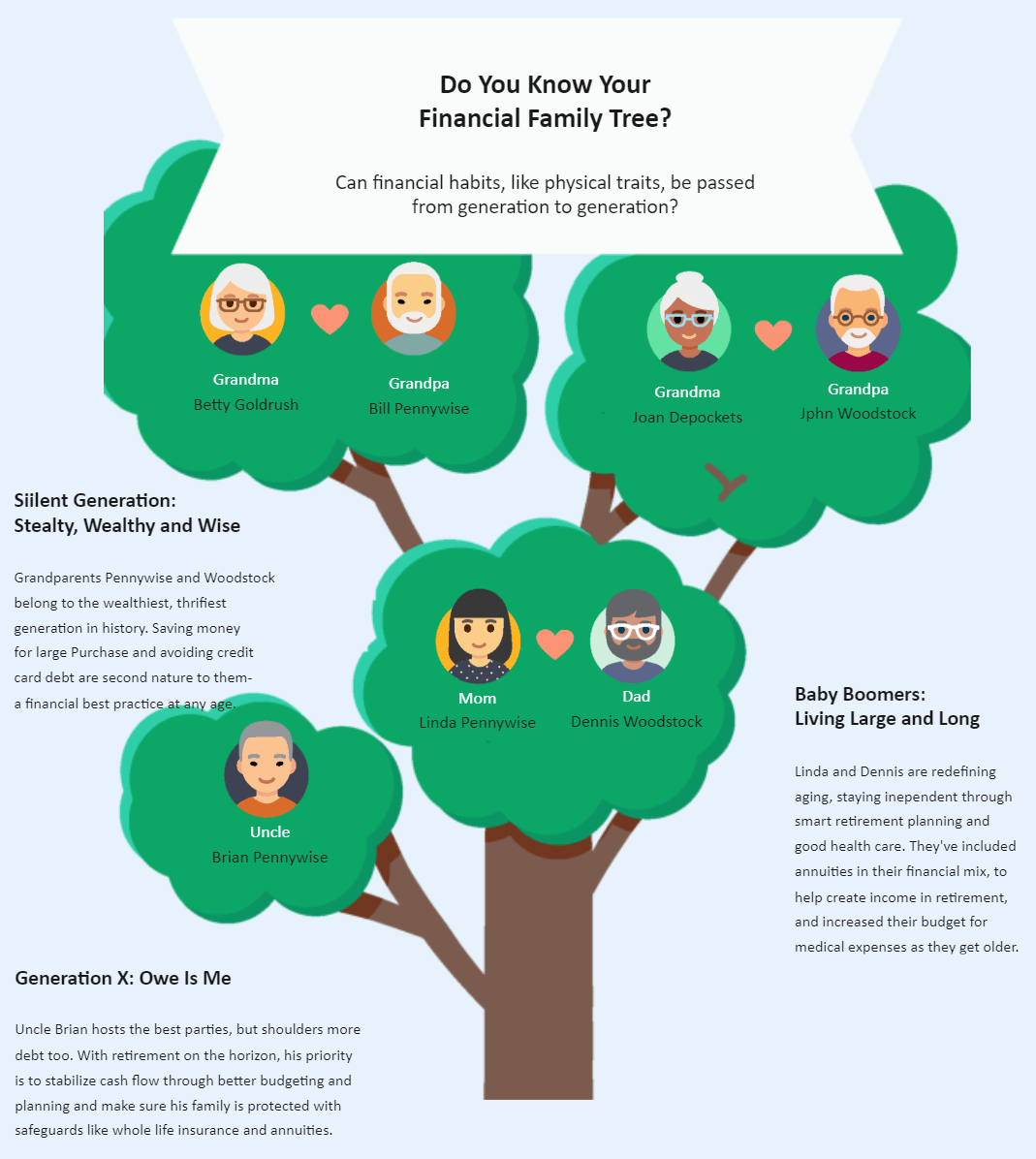 Example 5: Lion King Family Tree
Lion King is one of the most-watched animated movies. It was released in 1994, and even though it has been more than a decade since its release, every kid has watched that movie. It has an amazing story that piques the children's interest and gives them very good lessons. This template provides detailed information about the different families in the Lion King universe. Kids can use this template to understand the plot better or share their love for Lion King with their friends.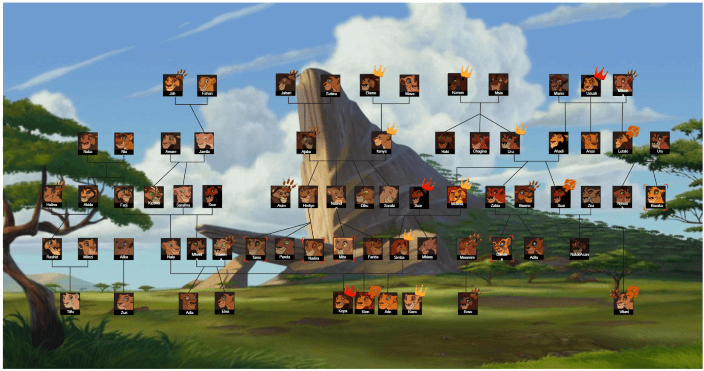 Example 6: Floral Illustration Family Tree
This diagram is a cute and breezy template that kids or adults can use to demonstrate their family lineages and linkages. For example, Eliza used the template below to create a family tree for the Santos family. She added her siblings, their spouses, and her nieces and nephews. Eliza could use this to show her kids how they are related to their cousins and how they are all one big happy family. The template given above was created using EdrawMax.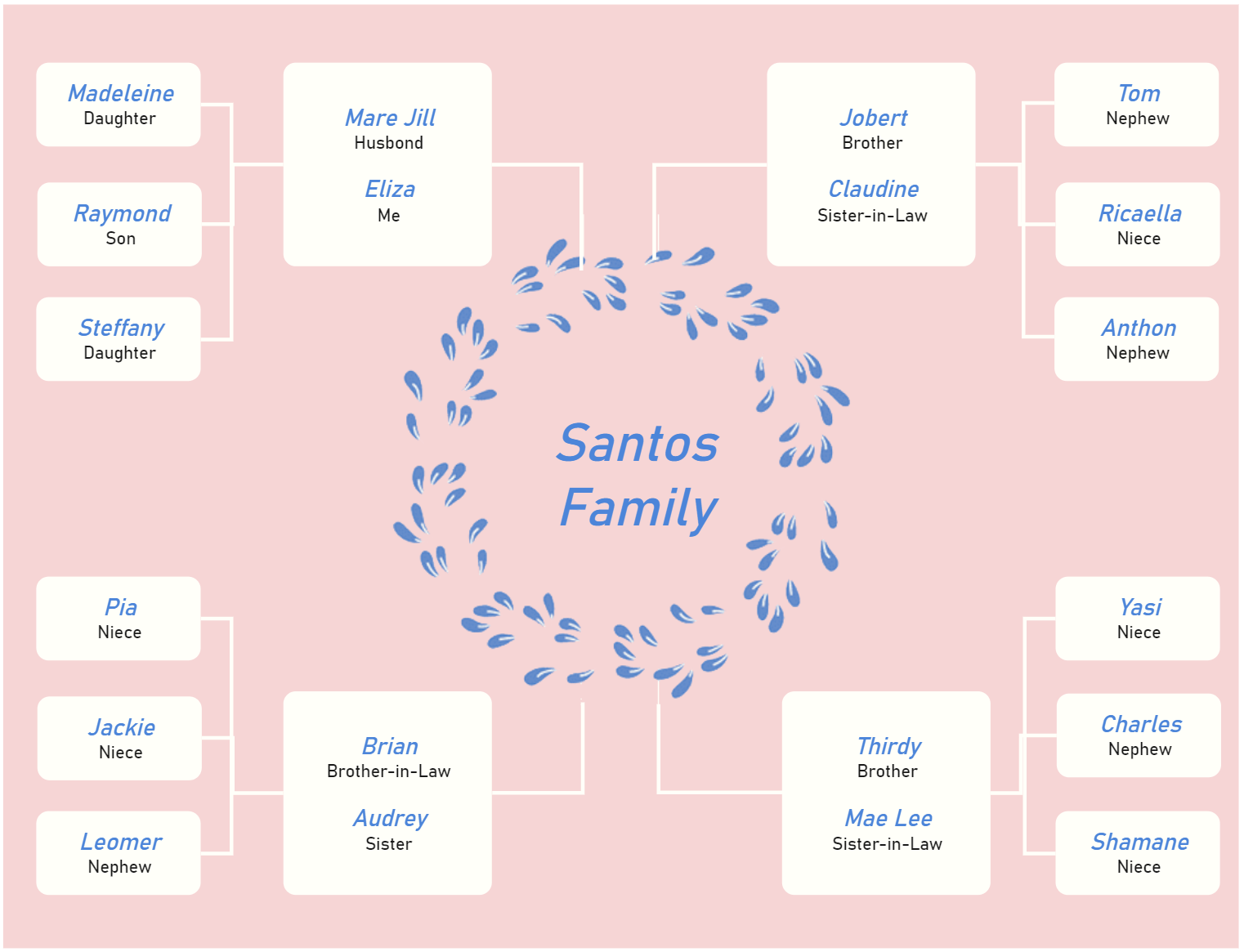 4. Online Family Tree Maker
If you are wondering where you can get these amazing templates from, we won't keep it a secret any longer. EdrawMax Online is an excellent tool for creating family trees online or getting trendy and valuable templates. EdrawMax offers multiple templates and allows you to customize these templates according to your needs and preferences. It comes with around 26,000 symbols that let you experiment with the designs.
The best part about EdrawMax is that it is very easy to use, so children can also use it to make family trees. Furthermore, with EdrawMax online, you can easily share different family tree designs with your friends and family. You can also allow them to edit the template that you designed.
5. Key Takeaways
There are different kinds of family trees that a kid can use depending upon his desire. Kids, in general, find it difficult to grasp new concepts. So, if your kid wants to learn about their family and shows interest in their lineage, then family trees are the way to go. Furthermore, to make the process even easier, EdrawMax offers numerous templates which you can customize according to need. Not only that, but it also allows the user to interact with people online. Thus, making it one of the best family tree makers!
Related Articles