How to Create A Customer Journey Map?
For any business model to strive, an understanding of the consumer journey has to be well-defined. This article will explain a customer journey map and elaborate on how to create a customer journey map.
1. What is The Customer Journey Mapping?
Visual representation of the process that the customer or prospect is going through to achieve a target for your business is termed the customer journey map. With the assistance of a customer journey map, you can get a sense of your customers' motives, desires, and pain points.
The best way to visualize how a customer interacts with a business is to map it out. Most customer journey maps begin as excel sheets that outline key events, customer motivations, and areas of friction within the customer's interaction. This information is then incorporated into a detailed visual that describes the average experience with the business.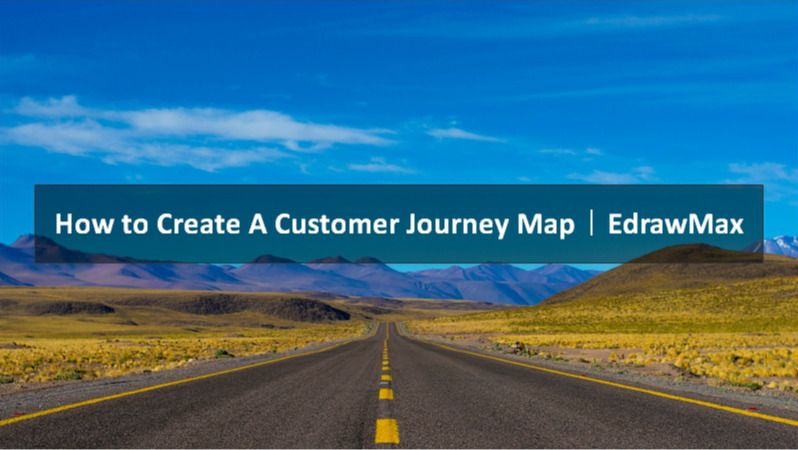 1.1 The Importance of Customer Journey Mapping
The customer journey map aims to necessarily have a holistic view of what the customer will be going through from their perspective and what it is meant for them on an individual basis, the human level.
The customer journey map helps to crystallize where customers are stuck or frustrated on the purchase process and beyond. It's a representation that visualizes data on customer persona and their buyer behavior.
2. How to Create A Customer Journey Map?
There are mainly 2 ways to solve the problem of how to create a customer journey map, the first one is more about the general steps that each customer journey map should consider, and the next one is the specific steps to create customer journey map in EdrawMax.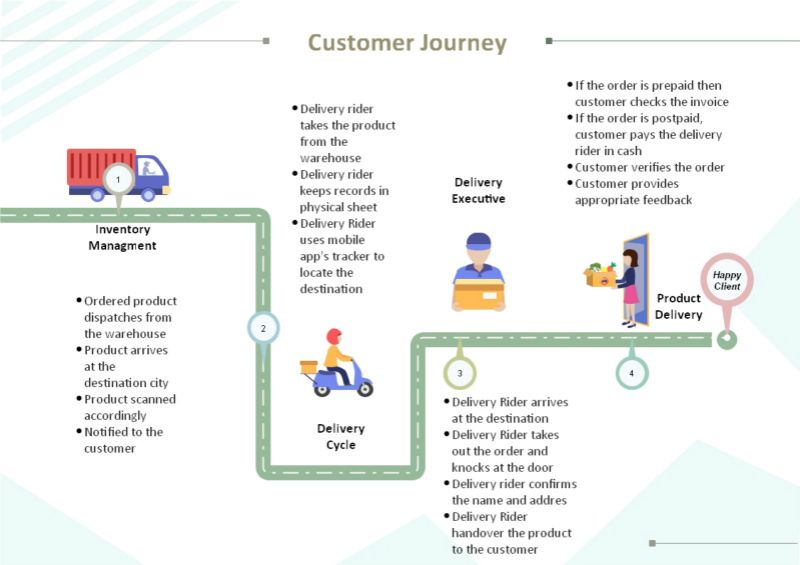 Source:EdrawMax
2.1 How to Create A Customer Journey Map in General
Define your buyer persona

The first task is to recognize who your customers are. The persona you define should give you a relatively decent idea of the process that customers are going through from their first interaction to their eventual purchase and subsequent communications.

Just remember that it's not enough to have a single buyer persona. People at various stages of purchase will behave differently and interact differently with your organization.

Align customer goals

When you've created your customer persona, the next move is to dig a bit deeper and recognize what they want to do when they're on a consumer journey path.It can be the most crucial and, in some situations, the most challenging step when designing a customer journey map. Sources of data to obtain the necessary information:
Surveys;
Testing by the user;
Transcripts of interview;
Customer service emails or transcripts of support.
Map out the Touchpoints
A "touchpoint" refers to the time that customer comes into contact with your brand – before, during, or after purchasing something. It also includes moments that happen offline/online, through marketing, in person, or on the phone.Some points of touch can have more effect than others. For example, a lousy check-in experience at a hotel can tarnish your entire stay.
Identify if customers achieve their goals/pain points
It's time to pull together all the data (quantitative to qualitative) to look at the larger picture to find possible hurdles or pain points on the customer journey. You would also want to see areas where current systems are operating and find ways of improving them.
Ask yourself about the following questions:
Are my customers meeting their goals on my website?
Where are the roadblocks?
Where are the significant areas of friction and frustration?
Where are people going to abandon purchases (and why)?
Fix Roadblocks / Recommend changes
Start by prioritizing which pages or touchpoints should be addressed first. You can rank pages with ease and cost-effectiveness to incorporate changes. It's a matter of deciding what to test, then. For example, if customers frequently complain about how complicated your registration process is, it's probably time to rework it to make it simpler.
Once you have established these roadblocks, take a step back, and look at the larger picture from a macro perspective. Please recognize that the ultimate aim is not to optimize each move or touchpoint only for the sake of optimizing it. It is also crucial to drive the customers down the enclosure and get them one step closer to conversion.
2.2 How to Create A Customer Journey Map in EdrawMax
Step 1: Open EdrawMax to choose a bulit-in template in "Marketing" Category and select a blank canvas.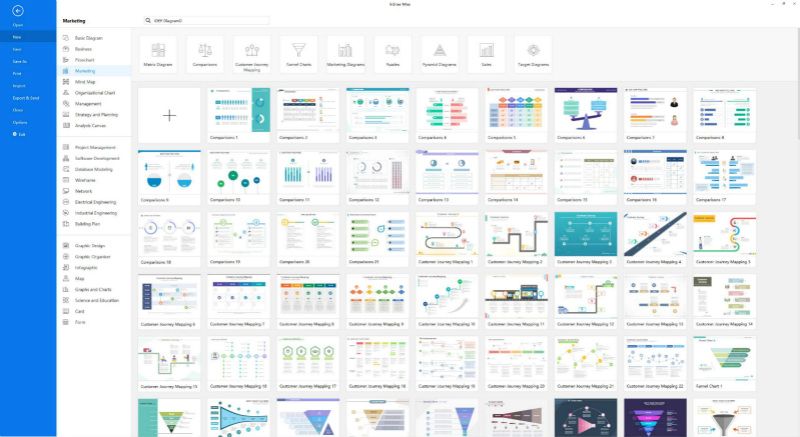 Source:EdrawMax
Step 2: Use the wide range of symbols from the libraries available to create your customer journey map.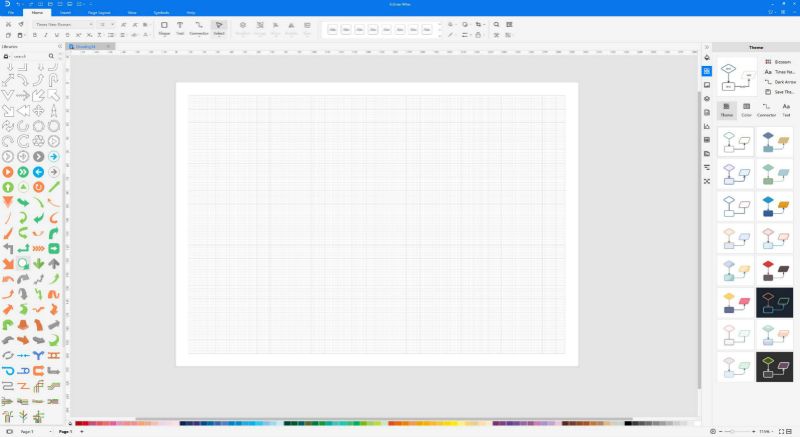 Source:EdrawMax
Step 3: Add in your text and design the customer journey map to suit the requirements. You can also use icons from the multitude of options available.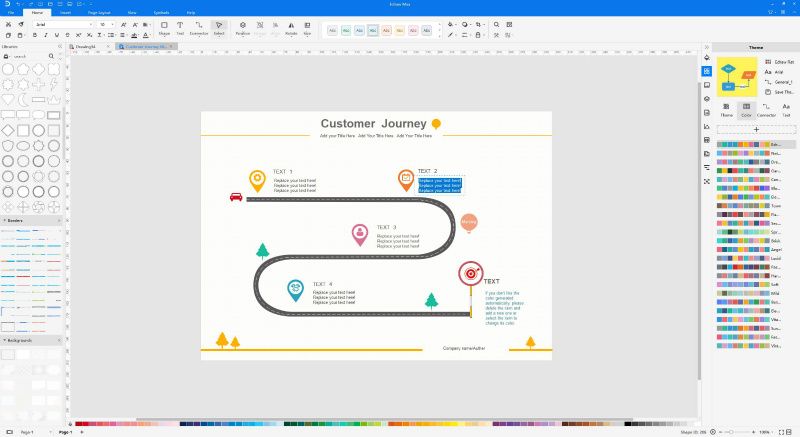 Source:EdrawMax
Step 4: Save and export your diagram to any file type you wish to. EdrawMax is compatible with multiple file types.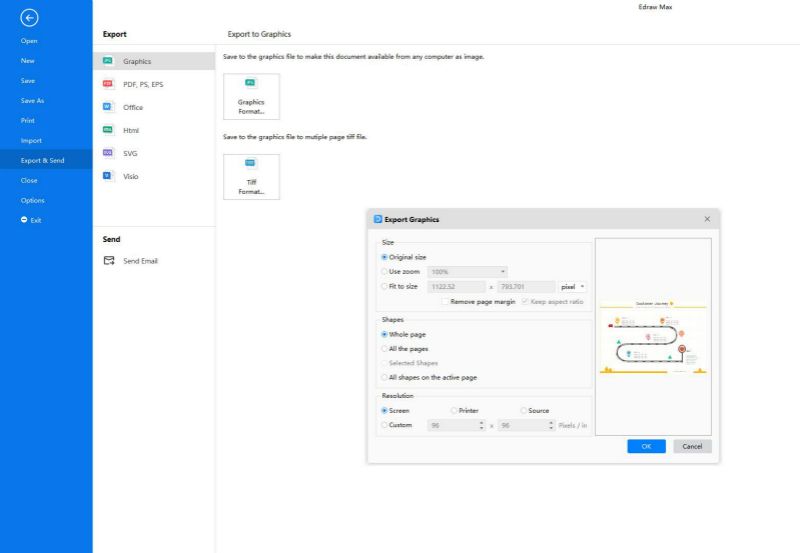 Source:EdrawMax
2.3 The Common Missteps of Creating Customer Journey Map
Getting stuck in the inside-out perspective

Customer journey maps usually cover four main purchaser steps: awareness, consideration, preference, and purchase. Typically, it is based on a bias that the purchaser will purchase from the company.

Instead, it is recommended that companies consider the general buyer journey through three phases: early, middle, and late. This approach forces you to understand the experience of the time the buyer discovers whether their problem needs to be resolved and then explores different ways to solve it.

Taking too narrow a view of the customer journey

Business needs to consider how consumers use digital and mobile platforms to effectively direct their purchasing journeys. Customers demand not only better online interaction, but also digital and interactive content.

Businesses need to invest in technology, data and analytics to gain insights into consumer purchasing behaviour and help offer more important, personalized interactions and content to customers.

It is also important to note that, attempting to build a consumer jounrey map with feedback from one or only a few customers will not be valuable. You need data from enough sources to be able to identify patterns. Such trends will direct the interpretation of where customers appreciate the pain points as well.
3. Example of The Customer Journey Map
In this example, the customer journey map is of the hospitality industry to understand travellers and how they go about booking hotels, flights, and other aspects of travel.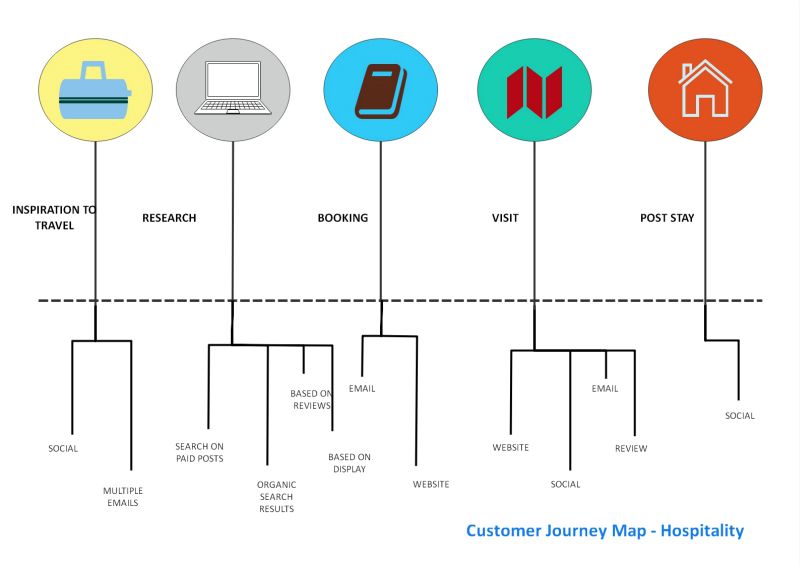 Source:EdrawMax
4. Key Takeaways
Customer journey maps are a proven approach that helps drive enhanced consumer insight and strengthen organizational efficiencies. While they are by no means a 'silver bullet,' they are still exceptionally effective tools that help brands identify engagement and improve opportunities.
EdrawMax is a conceptual diagramming program that helps construct the flowcharts, hierarchical charts, mind maps, network diagrams, floor plans, and customer journey maps. It is extremely interactive and designed for convenient use. Thus, when it comes to answering how to create a customer journey map, EdrawMax is the best fit.