How to Create A Perfect Work Schedule for Your Team
There are too many questions click on the mind when operating the business, such as how to manage the work, who did what, how to create a work schedule, etc.
Creating a perfect work schedule may reduce the work pressure, increases productivity, efficiency, and overall business profit. In this article, it explains what is work schedule, and how to make a perfect work schedule in EdrawMax.
1. What is The Work Schedule
A work schedule is a list of employees and their associated information within a given period, including their working times, place, and responsibilities.
The best work schedule is always built before the two weeks of the implementation. Scheduling of employees' work is a necessary process for both the employee and employer. As it provides ease of access to understand the responsibility, which has been proved to be helpful in swap shifting, and it is easier to apply.
There are several platforms like Jooble where you can find excellent job opportunities to put your new knowledge about work schedule into action.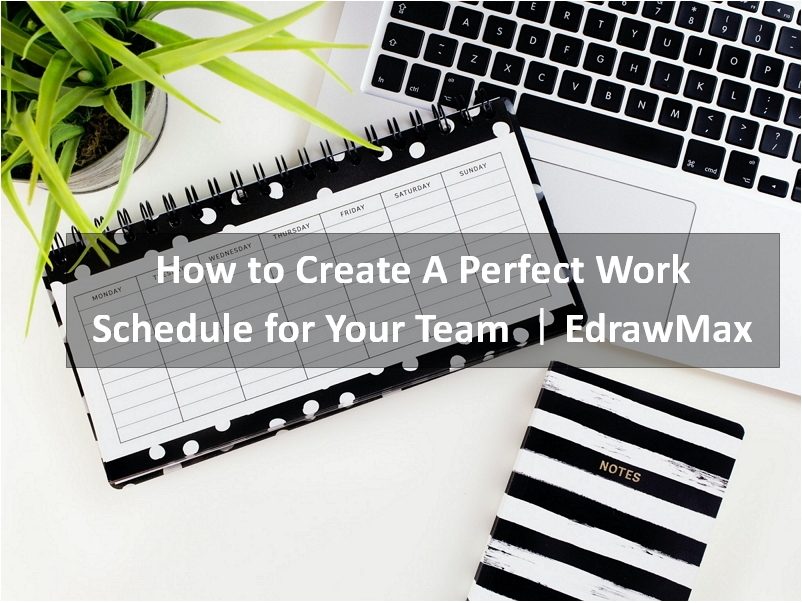 2. The Types of Work Schedule
There are mainly listed 7 types of work schedule according to the usages and working time.
2.1 Full-time Work Schedule
A Full-time schedule means employees usually work from 9 to 10 in a day (37 to 40 hours a week). A full-time schedule is usually followed by various industries, such as paint, garments, and chemical industries.
Where the timing is from 9 am to 5 pm, Monday to Friday. However, the job timing is long, but this type of schedule has various employee benefits, including health insurance, vacation and sick days, and different retirement plans.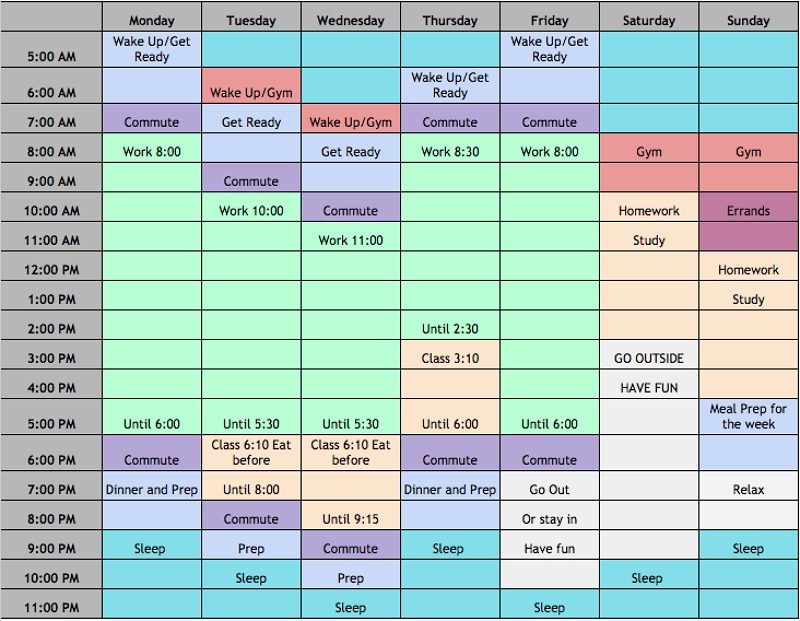 Source:Pinterest
2.2 Part-time Work Schedule
A part-time schedule means employees usually work from 4 to 5 hours a day (17-20 hours per week). Primary schools and colleges usually follow a part-time schedule. Where the working hours are from 8 am to 12 pm, Monday to Thursday.
Although this type of job doesn't have benefits of insurance, sick days, retirement, etc., it has the flexibility to fulfill the employee's responsibility outside the job.

Source:Pinterest
2.3 Fixed Work Schedule
When the employees work the same number of hours in a day or the same amount of days in a week, they are consistently known as a fixed work schedule. Many full-time workers adhere to a fixed work schedule or timetable.
It is commonly followed by project-based companies, for example 4 days on three days off schedule. Another example is 8:30 AM to 5:00 PM, Monday to Friday and 3:00 PM to 11:00 PM, Thursday to Sunday.
Source:Pinterest
2.4 Rotating Work Schedule
When the employees' working hours are fixed, they cycle among day shifts, weekend, night shift, swing shifts, or overnight shifts, known as rotating work schedules.
This type of schedule is often followed by hospitals and call centers, where the working hours are from 7:00 AM to 3:00 PM or 1:00 PM to 9:00 PM for a day shift or swim shift, respectively. The employees of this schedule compromise their daily routine but have a lot of time to spend with their friends and family.

Source:Pinterest
2.5 Flexible Work Schedule
When the employee's working hours are flexible throughout the week and set out by employees and employers together, it is known as a flexible work schedule. This type of work schedule is very infinitely but more flexible than a fixed standard of the plan.
In this case, the shifts are usually switched with other coworkers. For example, 9:00 AM to 12:30 PM on Monday, 11:00 AM to 4:00 PM on Tuesday, 2:00 PM, to close on Saturday and Sunday.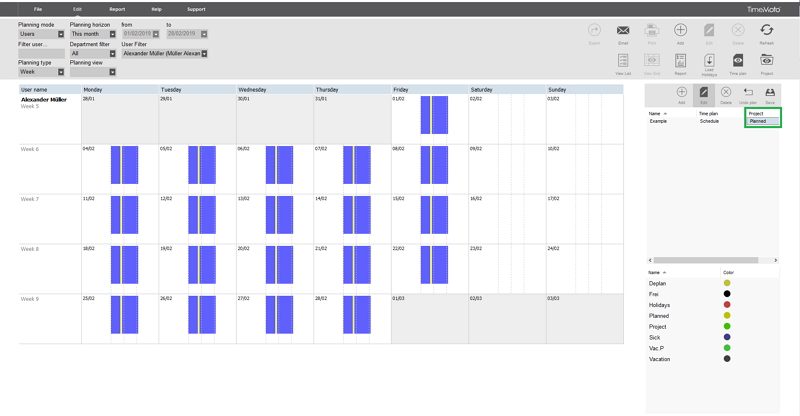 Source:Pinterest
2.6 Over-time Work Schedule
An over-time work schedule means employees work more than their regular working hours, such as more than 8 to 10 hours a day (> 40 hours per week).
An over-time schedule is usually followed by big projects or during a specific period, when there would be any business session, like festivals. The working hours may be double-timed or time-and-a-half. However, this schedule earns some bonus points, but it often gets fast and expensive.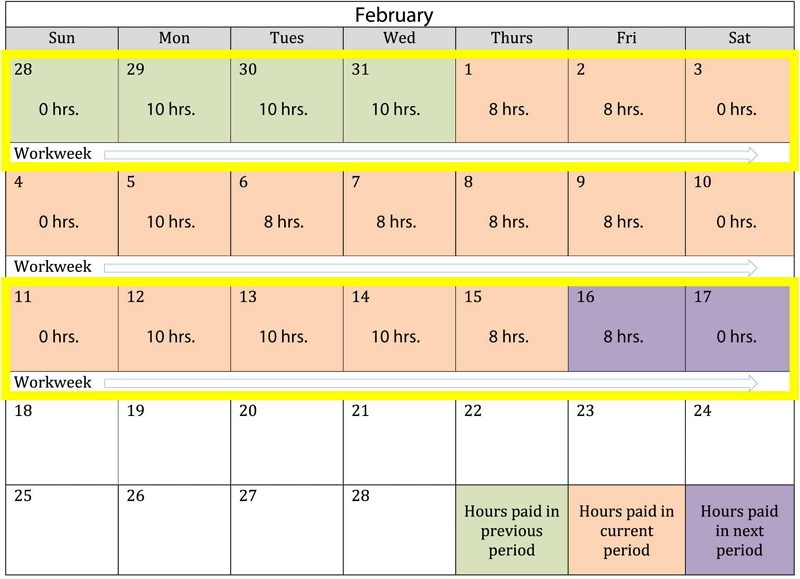 Source:Pinterest
2.7 Freelance Work Schedule
This type of work schedule is relatively new to others. However, the freelance work schedule makes good deals of senses, but there is a more chance of scam. In this work schedule, employees work as long as the deadline, which is more flexible than other work schedules.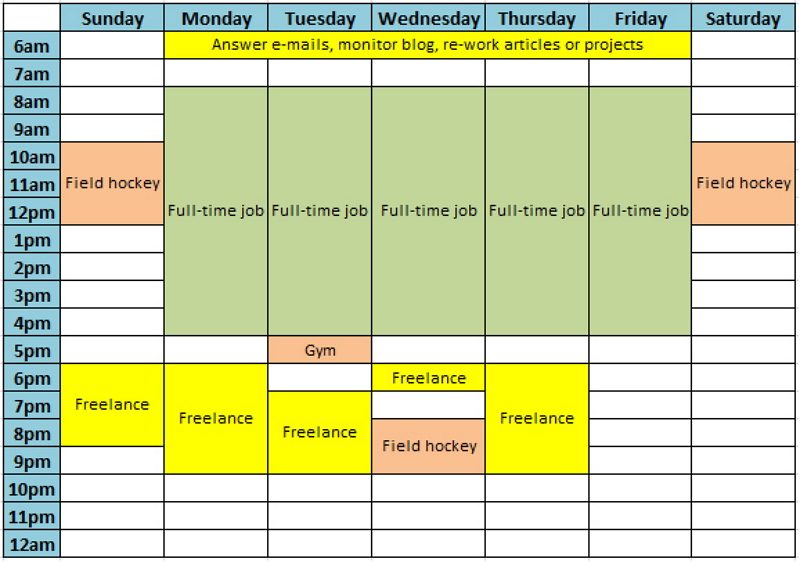 Source:Pinterest
3. Tips for Preparing The Work Schedule
There are a few basic tips to follow when you ask yourself how to make a work schedule
Build and follow policies

First of all, you need to create a core schedule that should be strictly followed. Also, predefine, and enforce some expectations policy, such as before leaving, after leave, and late policies. Accept time-off applications based on first-come, and more-served. Define ahead the shift-rotating strategy for each member of staff and shift.

Plan as early as possible

Plan up the upcoming schedule as early as possible. It will help the employee to set their routine and to fulfill their responsibility. Furthermore, you can plan a better work schedule as you plan longer. Subsequently, employees don't need to shifts or swaps the proposed program.

Determine and define the required skills for each shift

As we know, all the employees in an industry don't have the same skills, qualifications, efficiency, and experience. They may differ from each other up to some extent. The schedule should be a master schedule, which utilizes every employee's quality for each post and every shift.

Use scheduling technology

There are many scheduling tools available in the markets that can create an automated work schedule for your business. Employee scheduling applications are more efficient than traditional scheduling, which proceeded manually. These are easy to use and can save your business hours.

Be flexible and humble

Always keep in mind that employees are also human being while scheduling a work schedule. Think about their daily routine, health fitness, and family background. It is more flexible. You give access to fill up a small part of their work schedule, themselves. It will encourage the employees that may result in a more productive team of employees.
4. How to Create The Work Schedule
There are basic steps to create a perfect work schedule in general and in EdrawMax.
4.1 How to Create Work Schedule in General
Step 1: There must be only one version of the work schedule at all times.
The work schedule should follow only one version all the time, so the software must be carefully selected at the initial stage of the scheduling. If you are scheduling the employee's work using an online scheduling technology like EdrawMax, it is better than other offline software. You can make changes in the current schedule or correct the schedule. It will save you time, and anyone can access it easily.
Step 2: Ensure the work schedule is available as soon as possible.
It is better to distribute your schedule as soon as possible. To do so, you need to choose a cloud-based app, which will help to spread out the schedule among the employees, as it makes. A two-week early notice of the new schedule is highly recommended for all types of business.
Therefore, the employees will have enough time to adjust, and it also reduces the employee's shift change request. Make sure that employees feel free to ask about the upcoming new schedule before two weeks of its release, as it will help you remember.
Step 3: Avoid schedule micromanagement.
Always encourage your employee's goodwill by backing off a little, because it is considered the best way to make a perfect work schedule. There should be a section left behind, where the employee can input themselves, when they prefer to work, rather than keeping in mind. Use the information of this section next time to assign the shift to make the new schedule.
However, you need to aware of the expertise, ability, and qualification of employees for which you are scheduling, or you can make a separate file for it. It will help you to avoid allowing a less expert, and unqualified members swap shifts in place of a qualified person.
Step 4: Make a well predictable schedule.
Avoid imposing an unpredictable or irregular schedule on the employees and don't make that type of work schedule, which is very difficult to maintain the semblance of order. A constant change of shift is directly related to the physical health of workers. Always think about your older and unhealthy workers while making a shift swapping schedule.
Step 5: Keep scheduling conflicts to a minimum.
There should be consistency while creating a schedule. Avoid frequent swapping of shift, and maintain the conflict of swap shifting. Always keep in mind the responsibility and preference of workers while scheduling. Avoid favoritism between the team members of the shift.
4.2 How to Create Work Schedule in EdrawMax
Step 1: Open EdrawMax online/software and select Form;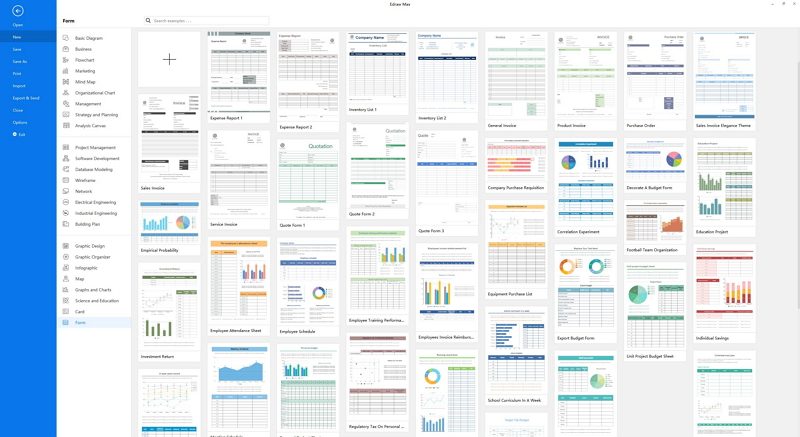 Source:EdrawMax
Step 2: Choose a template from templates gallery, and keep editing until you're satisfied;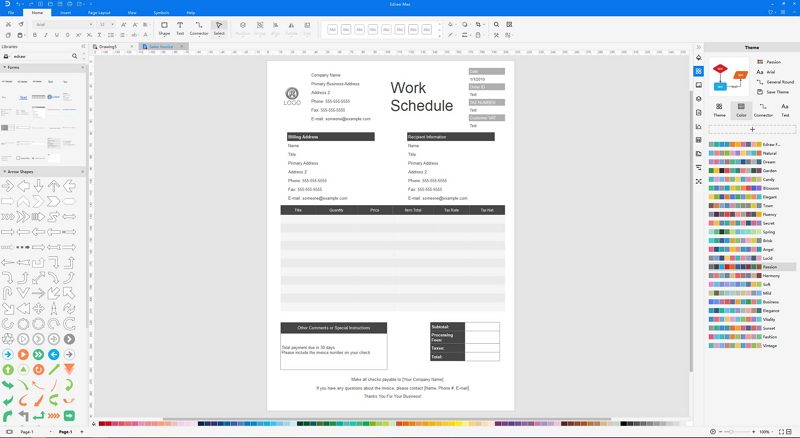 Source:EdrawMax
Step 3: Once finished your work schedule, export in multiple formats, then attached in your presentation or report. Or just print it directly.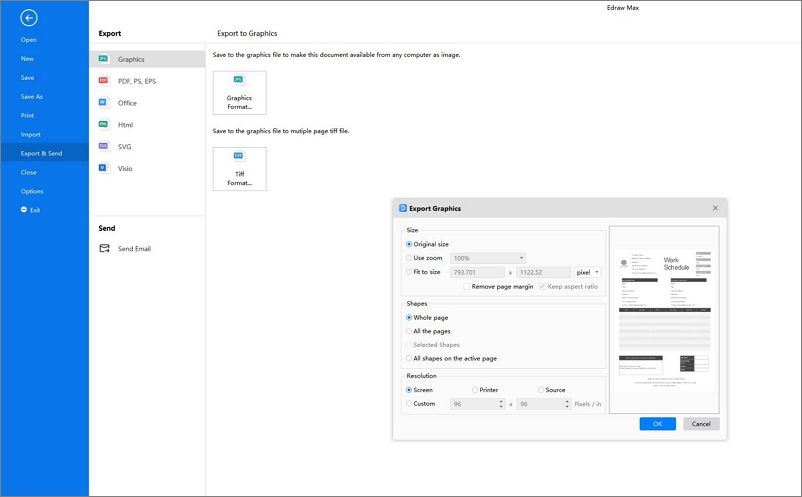 Source:EdrawMax
5. Conclusion
There are various steps to do before going to think about how to make a work schedule. A work schedule should build as ahead as possible. The best work schedule always made by the encouragement of goodwill, which is more predictable without any conflict of interest. EdrawMax is the best tool for creating a work schedule and more diagrams with ease.