How to Make an Action Plan?
An action plan refers to a guideline for completing the targets you desire. It is a necessary role of the calculated planning procedure and assists with refined partnership-work planning. The action plan helps in work administration, as well as enhances the team productivity. What's more, it manages all arrangements and tasks for better monitoring progress ahead out. The Action Plan is not anything that is cast in concrete. Even though your firm develops and the situations change, you would need to reconsider and modify to fulfill the newest requirements.
So, it is important to figure out how to make an action plan in the first place!
What is the action plan?
According to the definition, the action plan is a checklist to ensure everything goes well in people's work or life. There are several elements included in the action plan are:
A precise explanation of the objective to be accomplished;
Projects/stages which have to be performed over to achieve the target;
Individuals who would be responsible for conducting each project;
When this work has to be finished (time-limit and turning-point);
Materials necessary to accomplish the activities.
In some instances, an action plan is a "courageous" behavior. It allows us to transform our ideas into reality. The action strategy is a process to ensure that the mission of the company is made practical. This explains how the company can use its tactics to achieve its goal. The action plan consists of a series of acts or improvements that need to be made.
The following details must be included in every action or improvement to be pursued:
What behavior or adjustments will take place?
Who's going to make these improvements?
When and for how far they 're going to be happening?
What funds (i.e. cash, employees) are required to make these events happen?
Interaction (who's going to learn what?)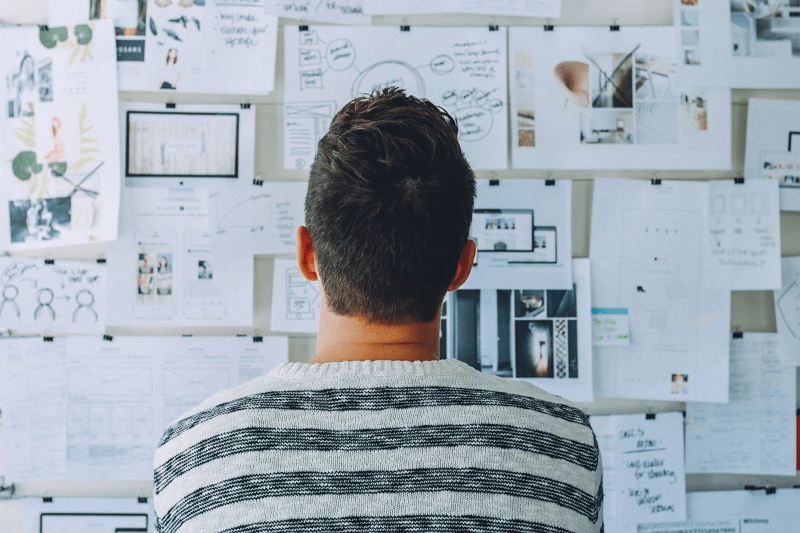 Why You Need an Action Plan?
As Benjamin Franklin stated, "The failure to prepare is organizing to fail." Therefore, strategies assist you to make preparations for the hurdle ahead and make your stay on the path. Now with a successful action plan, you could improve your performance and simply focus. These are few of the positive parts of an action plan that you really should think about:
It provides a visible path to take. Once the Action Plan sets out precisely what course of action needed and when it comes to completion, you can understand exactly what you'll do;
Seeing your expectations written and outlined in stages will serve as a motivation to stay focused and committed during the task;
With such an action plan, you can monitor your achievements towards your target;
When you outline all the stages you ought to follow in your Action Plan, it could support you to evaluate your work rooted in commitment and effect.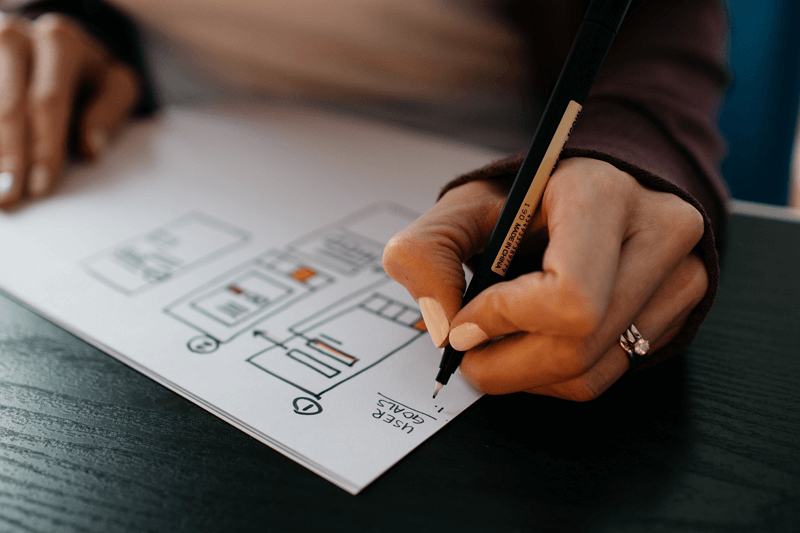 How to Make an Action Plan?
From the point of view, it does seem simple to complete an action plan. However, there are some crucial moves that you'll have to take with care in preparation to obtain the most out of it. Below is how to make an action plan mentioned in seven simple stages.
Stage 1: Explain your desired outcome;
Stage 2: Mention the measures to be undertaken;
Stage 3: Allocate activities and incorporate time frames;
Stage 4: Set up the Benchmarks;
Stage 5: Recognize the necessary resources;
Stage 6: Imagine your way to proceed;
Stage 7: Track, review, and upgrade.
The Steps of Making Action Plan in Edraw Max
The Action Plan is a set of actions that assist you to accomplish your targets in meaningful ways. It is crucial to know how to create an action plan to achieve your goals. Below mentioned are the stages of how to make an action plan in Edraw Max.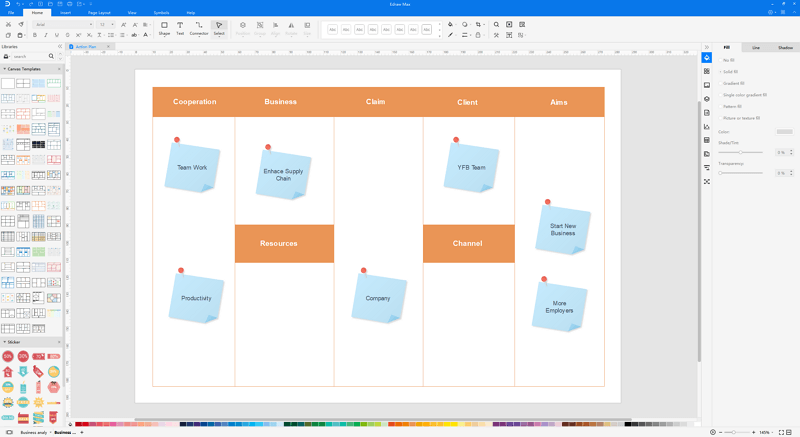 Stage 1: Explain your desired outcome
If you're not completely obvious regarding what you have to do and what you'd like to do, you're missing out on valuable. Starting to plan for a fresh policy? Begin by discussing where you're going where you'd like to be. Trying to solve a question, huh? Evaluate the issue and consider alternative options in advance of mapping it. Start by writing your target. Preliminary to pass toward the next phase, process your target via the SMART norm. And, to put it another way, please ensure that it is:
Certain – well established and simple;
Observable – use measurable metrics for monitoring progress;
Gainable – feasible in terms of capital, energy, income, knowledge, etc;
Related – link yourself in your further targets;
Timely – does indeed have a date of completion.
Stage 2: Mention the measures to be undertaken
In stage 2 of how to make an action plan, the purpose is what specifically you are going to do to recognize it? Develop an essential to describe all of the activities to be done, the work schedules, and the individuals involved. Please ensure that every function is strictly outlined and workable. If you encounter bigger and also more challenging tasks, split them back to tiny tasks that are simpler to understand and handle.
Stage 3: Allocate activities and incorporate time frames
In this stage, we reconfigure the checklist by emphasizing the activities. You might have to organize some of the stages because they'd be restricting many sub-stages. Add timelines and ensure they are practical. Communicate with the individual required for implementing out the assignment to consider his or her ability while agreeing on time limits.
Stage 4: Set up the Benchmarks
Benchmarks can be labeled a mini-goal foremost to the main target at the bottom of the day. The benefit of adding benchmarks would be that they offer the group leaders a chance to look ahead to anything and encourage them to remain motivated however if the end deadline would be far distant. Begin with the final target and navigate your path back as you establish benchmarks. Mind to never hold an excessive amount of period between the goals you created. It's the greatest option to set space benchmarks two weeks separately.
Step 5: Recognize the important resources
Ever since you begin your task, it is important to guarantee that you already have the tools at your disposal to carry out the works. And if they're not presently accessible, you have to formulate a strategy to obtain them anyway. The expenditure will also be included. You should add a note to your Action Plan to label the expense of every mission if there is any.
Stage 6: Imagine your way to proceed
The target of this move is to build information that everybody can grasp at a glimpse and also be exchanged with others. If the action plan takes the form of a process flow, bar charts map, or a panel, ensure that it precisely expresses the components we have defined so far – assignments, project holders, timelines, finances, etc.
Stage 7: Track, review, and upgrade
Arrange enough time to review the improvement you've achieved with your squad. You will identify activities that have been accomplished as you have accomplished on this last action plan, drawing awareness at how you've worked towards the target.This also involves projects that seem to be overdue or postponed, in this situation, you need to solve why and find acceptable remedies. And modify the Action Plan appropriately.
Examples of Action Plan Templates
Following are some of the examples of action plan templates.
1. Business Action Plan 1: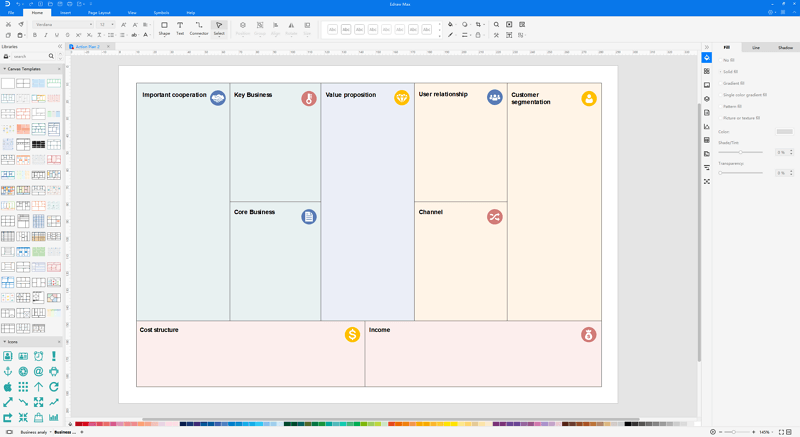 1. Business Action Plan 2: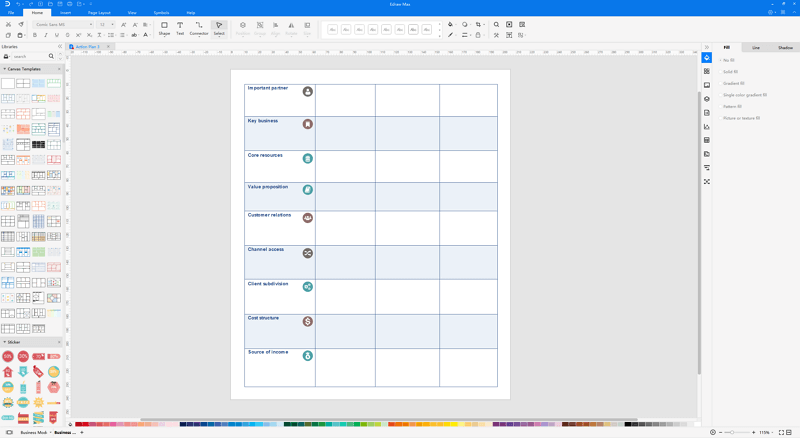 Conclusion
An action plan is the best way to monitor your personal and business plan in each process, and how to make an action plan seems crucial for you. No matter for the individual use or for the employee in the company, the action plan may remind and push you to achieve your goal indeed. Except for the examples mentioned above, it will be a nice try for you to create your own action plan in Edraw Max, which is an amazing tool for your creation!