How to Make a Subway Map
Not sure how to draw a subway map? In this post, we are taking a look at a step-by-step guide to help you create awesome subway maps and layouts using the many features and perks using EdrawMax Online.
1. Introduction
A subway map, more generally known as a transit map, shows the various routes covered by a public transport vehicle. A subway map serves the purpose of helping passengers understand the positions of the different stations and stops so that they may switch between trains if the journey requires it. This post will check out the range of excellent tools and features that you can use to develop professional-looking subway maps in EdrawMax Online.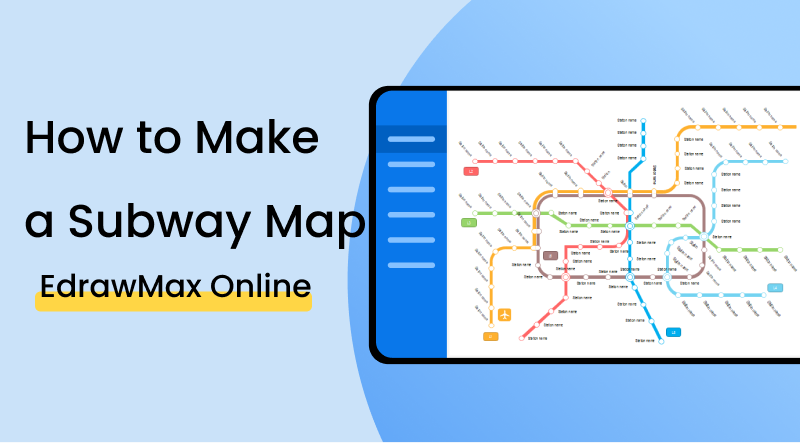 2. How to Create a Subway Map
One of the primary functions that a subway map - or any transit map, for that matter - serves to perform is providing ease in navigation. If a passenger has to get from one end of the city to the other, he might have to switch between trains and get off at certain stations, etc. To effectively plan this sort of stuff out, it is necessary to have a detailed graphical representation perusable as a reference. Keeping in mind that this is the purpose and function of subway maps in general, here are a couple of things that you should be careful about when making one:
1. Use consistent angles
It is imperative to draw everything at a fixed angle when making a map. For example, if you are drawing the routes and pathways while showing them at a 30° angle, you can't implement this in one place and omit it in another. You have to stick to a single perspective necessarily.
2. Use horizontal labels
Be sure to only use horizontal labels in your map. Whether it's station names, route numbers, intersections, or any other such element, use a straight line of text to represent it. If you place the labels horizontally in one place and vertically in another, it will be difficult for the reader. They may have to bend and crane their necks to understand what the text says.
3. Include graphical and pictorial elements in your map
A map is not considered easy to read if it shows a couple of intersecting and crisscrossing lines across a blank and empty layout of a city or town. It is essential to add some icons for significant buildings, parks, fields, etc. The water bodies in the area should also be incorporated into the map. It will make the map more engaging and appealing to the reader.
If the video doesn't play, please visit it at YouTube.
3. How to Create a Subway Map with EdrawMax Online
Step 1.
Sign up or log in
The first thing you will have to do is make an account on EdrawMax Online At the top right, you are going to see a login button. Click on that, and you will be directed to the sign-in screen. Select the 'Create Account' option under the fields.
Step 2.
Choosing the diagram type
There are two ways to start creating a subway map in EdrawMax Online. You can either start from scratch or use an existing template. You choose to move around the various elements in the latter option and rename the different points and places. On the other hand, if you want to start from scratch, head over to the homepage and select 'New' from the left-most menu (indicated in the above screenshot). Then, go down the list of categories and select 'Map'. Click on 'Subway Map' and select the 'Blank Drawing' option to get to the canvas.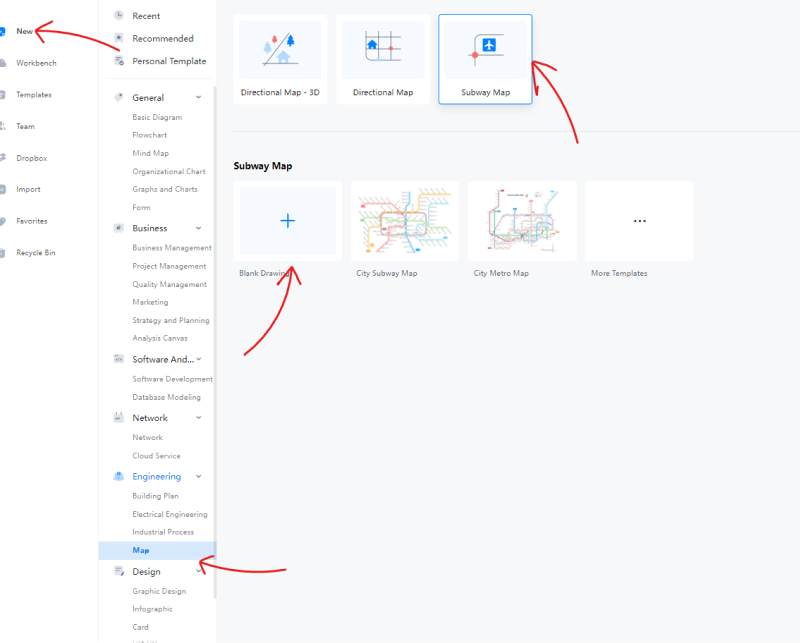 Step 3.
Choose a template
If you want to save some time and effort, you can use a pre-made template instead. To do so, select the 'Templates' option from the menu on the left. Once the gallery is open, search the list of categories for 'Map'. You can browse through the various diagrams from here or simply use the search bar to get a precise result.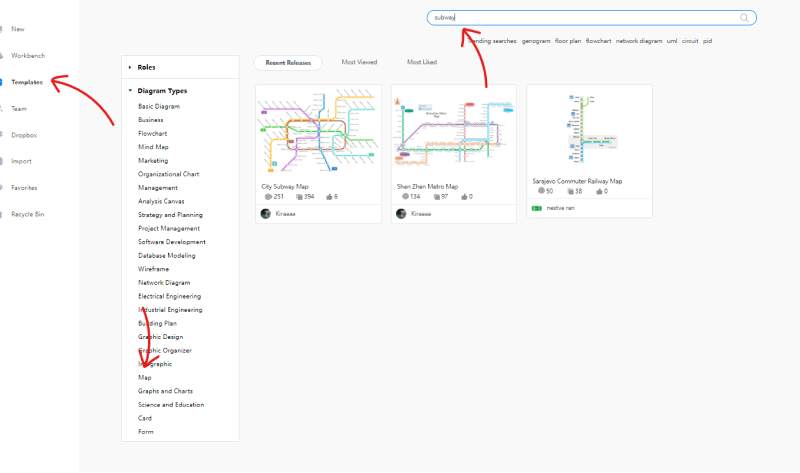 Step 4.
Drag and drop the symbols
With EdrawMax Online, adding shapes and symbols to the drawing is simple. You can click on an icon from the library on the left and drag it over to the canvas. Once you have added it to your drawing, you can edit, resize, and rotate it all you want.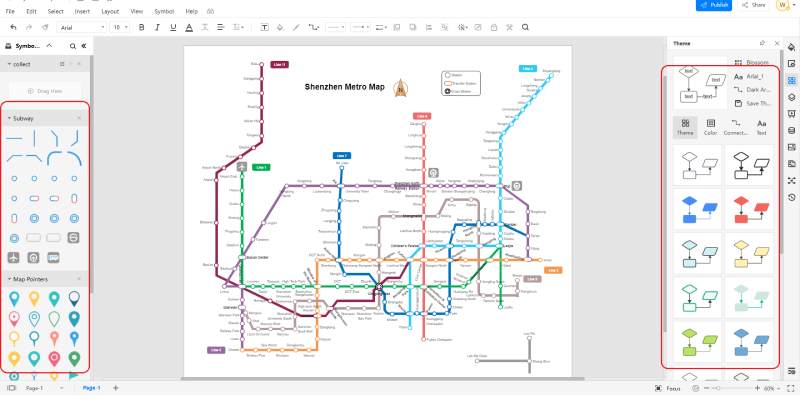 Step 5.
Customize your diagram with themes
In the above screenshot, take a gander at the right side of the screen. See those colorful lines and boxes? With EdrawMax Online, you can change the whole theme of your diagram to a color palette of your choice. You can target the connectors, text, and colors individually as well. This customization option can help you give your work a unique touch.
EdrawMax Online comes with a bunch of nifty collaboration features. Sharing your work with others is super easy and hassle-free. Apart from sharing your file online, you can export it to a format of your choice and then send it via email or social media. The software supports popular formats such as PDF, Word, PPT, Excel, etc. If you are trying to share your work with someone who does not have an EdrawMax Online profile, you can save it as a file type that they can easily view and send as an attachment.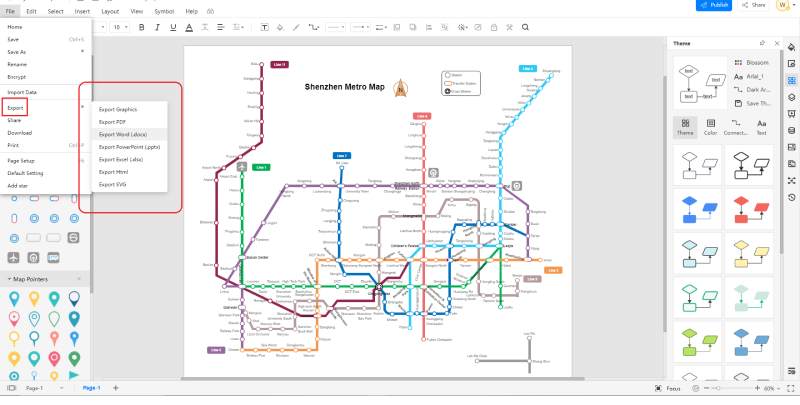 And that's not it as far as collaboration and sharing are concerned. You can also present your completed work to an audience within the application. You can either start a slideshow by clicking on the 'Play' (▶) icon at the bottom right or create a good collection of slides using the 'Slide' option on the right menu bar. When making the slides, you can select what portion of the drawing you want to include and leave out. When you choose the 'New Slide' option, you will get a purple, dotted box on the canvas that you can resize and reposition. Whatever this box covers will be included in the slide, and whatever is beyond it will be left out.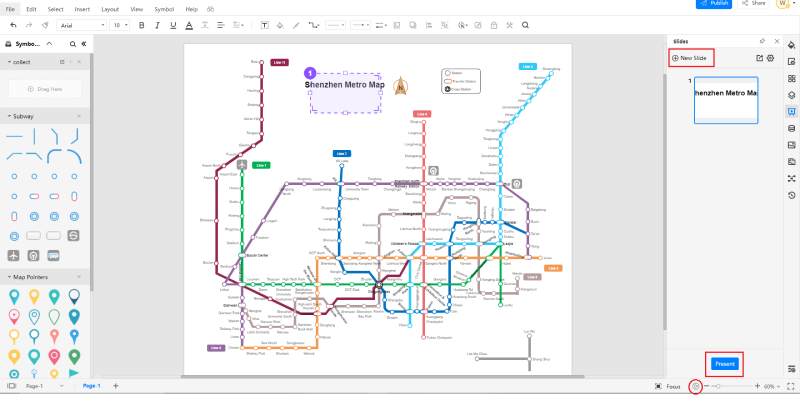 4. Expert Tips for Making Subway Map
Use bright and vivid colors.
When making a subway map, you can only distinguish between different routes by using different colors. If all the routes are colored the same, it will be complicated to follow one of them, especially if the map has a lot of intersections and crisscrosses. Be sure to color every line differently and in a bright color to discern the reader easily.
Add the geographic factors.
It was mentioned earlier, but let's elaborate a bit more here. Many people recognize a particular region or place in a city by geographical factors such as mountains and lakes. When making a map, drawing the lines depicting the pathways and adding some shapes and symbols to represent the famous landmarks and natural sites is advisable. That way, the people who are not very familiar with the names can quickly peruse the map and understand their destination.
Use clear and bold text.
A map's readability can get damaged if the text is unreadable or too challenging to understand. When labeling the different stops, stations and regions, use bold and simple fonts. If necessary, increase the letter spacing to discern the words from a distance.
EdrawMax Online
Create 280+ types of diagrams online
Access diagrams anywhere, anytime
Everything in desktop + Templates Community
Team management and collaboration
Personal Cloud and Dropbox Integration
5. Key Takeaways
Subway maps are a great help to passengers looking to plan their commute. By giving an in-depth representation of the subway system, these maps enable the reader to understand the position of the stations, stops, and intersections. With EdrawMax Online, you can develop professional-looking subway maps in an instant. The software has various tools and features that make diagramming an effortless affair.
With EdrawMax Online, drawing a subway map is a quick and easy job. The available features, tools, and perks leave little to be desired as far as the customization and detail-creation are concerned. You can choose a pre-made template to save time and effort on the base layout. To top it all, the collaboration features such as the export formats and the slideshow/presentation are excellent for sharing files between team members and co-workers. Find more swubway maps examples.
Related Articles