How To Do a Value Chain Analysis
How to do a value chain analysis? Value chain analysis is the process of identifying the activities that add value to a company's final product or service. It also analyses these activities to understand how to create a competitive advantage for the company.
1. Introduction
How to do a value chain analysis? It is essential to understand the value chain and value chain analysis before answering this question. A value chain is a business model that describes an organization's activities to deliver a valuable product or service.
Value chain analysis is the process of identifyication of the activities that add value to a company's final product or service. It also analyses these activities to understand how to create a competitive advantage for the company.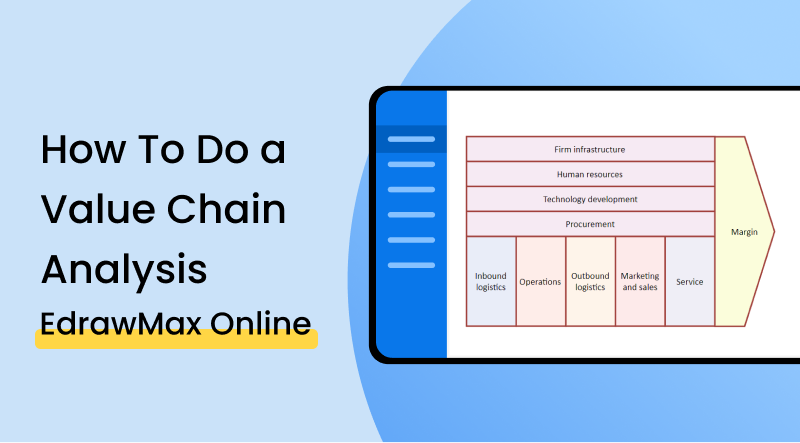 2. What to Know Before Doing a Value Chian Analysis.
How to do a value chain analysis is an essential question for every company because the ultimate goal of any organization is to gain profit and competitive advantage. Value chain analysis helps to identify the factors affecting these two parameters.
1. Identify all crucial value chain activities
The first part of how to do a value chain analysis is to identify all the activities that are an essential part of creating your product or service. Since it is a time-consuming and complex task and missing out on a critical activity will affect all the following steps, cross-collaboration is crucial here. Every department can contribute to this step for accuracy.
2. Calculate each value chain activity's cost
Once the activities are identified, you will want to know the actual cost incurred on each activity. It is vital to calculate primary costs and contribution costs such as rent, utilities, and staff. Eventually, you will see the most expensive and the least expensive activities in the value chain.
3. Look at what your customers perceive as value
As they say, the customer is always right. So, when you want to create value, you will have to get the customer's mindset to determine what they perceive as value psychology. Collect both quantitative and qualitative data to help you identify patterns of customer's buying behavior.
This will help you in product development, product marketing, and promotions. Because you will have a clear view of what is essential for your client, you will impress them by providing those features in your product.
4. Market Analysis
Market value is the best way to determine value. You may use your competitor's benchmarking to determine how the competitors are gaining value. There are three types of benchmarking i.e. Process benchmarking in which you will compare your and your competitor's process structure and operations.
Strategic benchmarking is where you will compare your high-level business strategy to your competitors' to determine the source of success.
Performance benchmarking is where you will compare the performance features such as revenue, social media performance, reviews, organic traffic and ratings, and so on.
5. Decide on a competitive advantage
After reviewing your crucial activities, their cost, and your competitor's benchmarking, you are in a position to decide what will be the foundation of your competitive advantage. There can be different factors like optimizing the cost of activities, automation, outsourcing, higher quality, unique products, and other factors.
6. Diagnose areas of improvement
Always strive for continuous improvement. Make a process aimed at always examining the system to improve trends and patterns in the different sub-activities. Keep evaluating potential improvement opportunities in the value chain.
3. How to create a value chain analysis diagram?
EdrawMax Online is a comprehensive program for creating 280+ types of diagrams and drawings. When you are creating a value chain analysis diagram in this program, the process is fairly simple.
Step 1.
Sign Up or Login EdrawMax Online
Open EdrawMax and sign up to start exploring the world of drawings. If you already own an account, please sign in with your username and password.
Step 2.
Go to Diagram Type
Once inside the program, go to New>Business>Strategy and Planning>Value Chain Analysis. You will see a blank canvas in front of you with the symbol library on the left-hand side pane.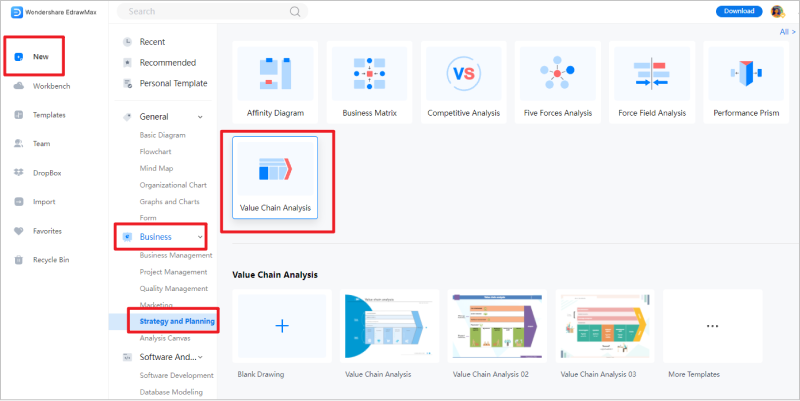 Step 3.
Drag and Drop Shapes and Symbols
You can drag and drop symbols from the library, customize the text, and develop your customized value chain analysis diagram.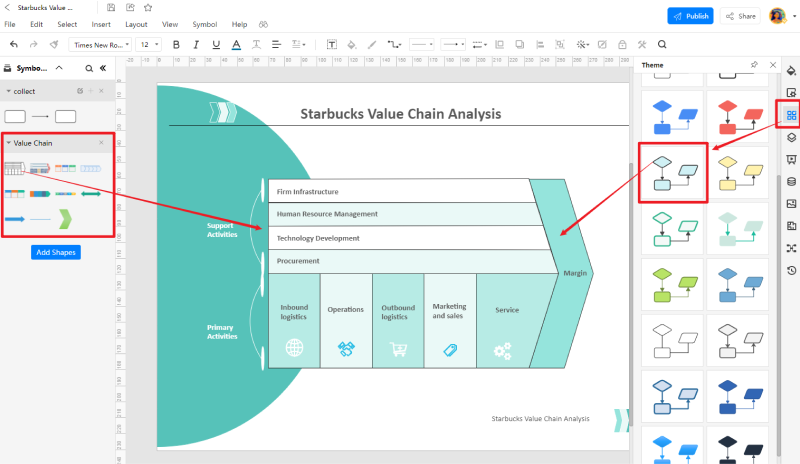 You can also style your drawing by using the drawing tools given in the toolbar at the top. There are various functions such as line filling, text, line style, and arrowhead styles that you can use.
Step 4.
Customize and Polish the Diagram
Once the basic foundation is done, let your creative side play. You can use different fonts, colors, layouts, and media to make your diagram professional and more readable, and relevant. The customization toolkit is available in the right pane.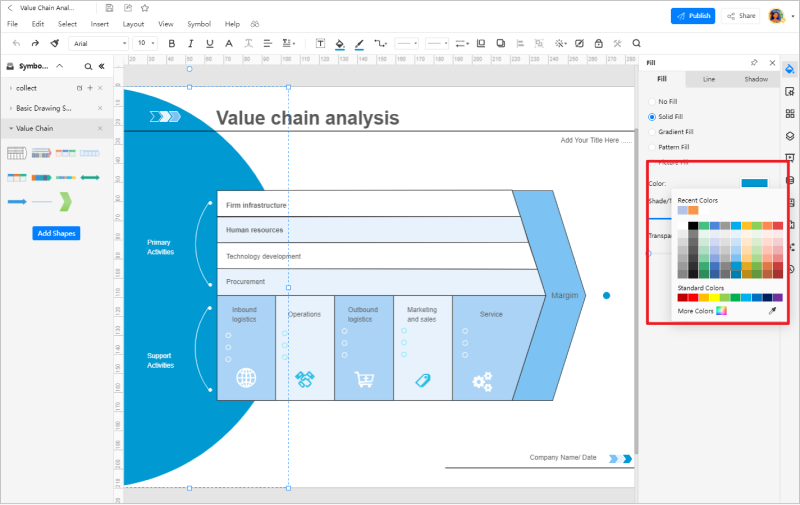 Step 5.
Choose a Template
Alternatively, you can take advantage of the comprehensive library of templates available in EdrawMax Online to make your task even more accessible. They have professionally made templates that are fully customizable to adjust to your requirements.
Choose a template from File>Templates and search for your required type of diagram in the search bar or navigate from the left-hand side index.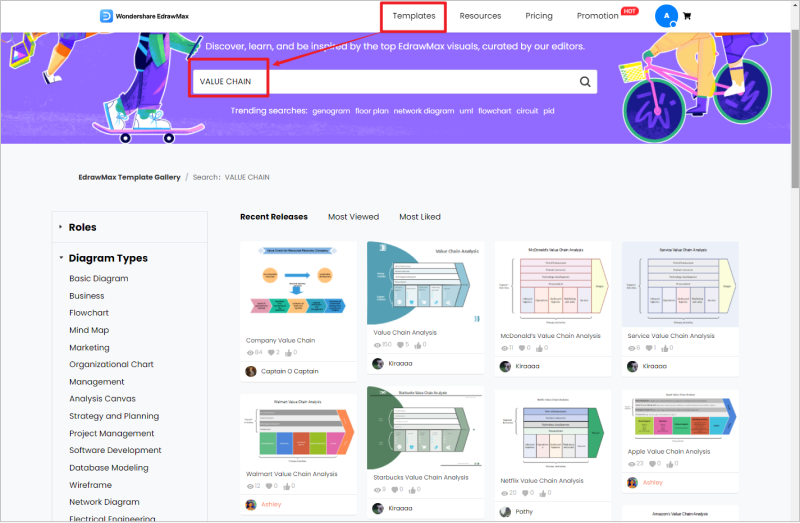 Step 6.
Save and Export to Other Formats
Choose the most suitable template and the go-ahead to change it according to your requirements.
Once you are done with your creation, save your work from the File menu, whether from scratch or using a template. You can even export your drawing in various popular formats for easy access and distribution of your work, e.g., JPEG, PDF, HTML, PowerPoint, etc.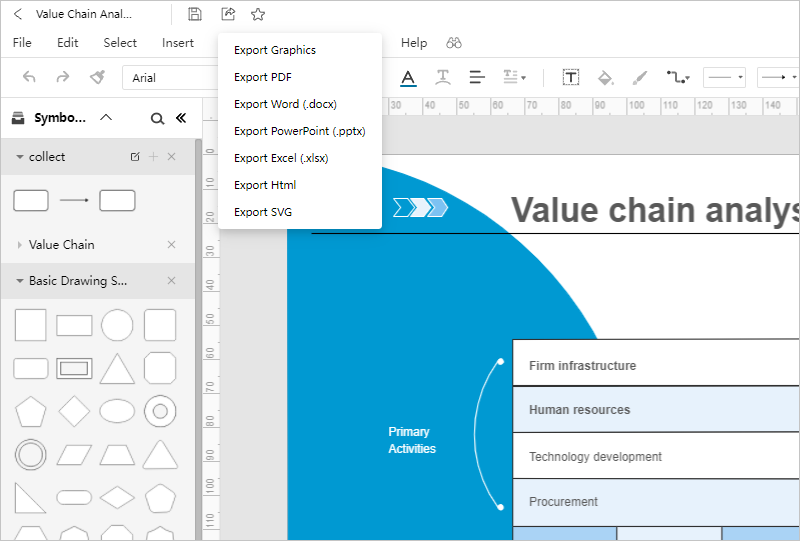 4. Expert Tips for Creating Value Chain Analysis Diagram
Tip 1: Collaboration
Value chain analysis is one tool that affects the foundation of the whole process, so it is essential to take views from all the involved departments to come up with a collaborative piece of work that everyone can relate to. It includes every department from customer care, marketing, operations, productions, quality control, etc. In this way, you can guarantee an accurate and compelling value chain analysis.
By asking these types of questions, you can establish exactly what the connections are and how strong those connections are.
Tip 2: Involve your customers
As we have already discussed, the value depends on what the customer perceives as valuable. So you can ask for feedback from your trustworthy customers to find out if your efforts are geared in the right direction.
Tip 3: Decide your purpose
Before taking the first step towards developing your value chain analysis, make sure that you and your company know what your analysis's purpose is. Do you want to reduce cost or want to work on differentiation?
Wondershare EdrawMax
EdrawMax is the easiest diagramming tool that serves all your purposes. Try it free now!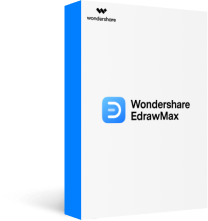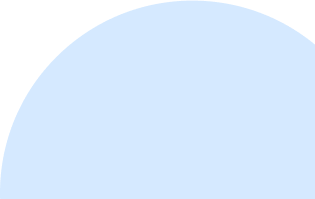 5. FAQs About Creating Value Chain Analysis Diagram
What are the cost drivers of value chain analysis?
A cost driver is what triggers a change in the cost of an activity. It is also commonly used for the assignment of overhead costs to the number of produced units. It is also a significant component in activity-based costing analysis to determine the causes of overhead to contain and minimize the losses. When the teams focus on how to do a value chain analysis, the cost drivers play an essential role.
What are the advantages of value chain analysis?
1.Value Chain Analysis enables a company to identify value-creating activities and focus on them. It also allows the team to establish the cost drivers of each process. 2.It helps identify innovative ways to perform value-creating activities that result in improved overall performance and competitive advantage in the market. 3.It helps to understand issues involved in the company process and allows complete focused attention on the activities needed to deliver the value proposition.
Which are the primary activities in the value chain?
The five primary activities described by Micheal Porter in his value chain analysis model are inbound logistics, operations, outbound logistics, marketing and sales, and service.
6. Key Takeaways
Companies use value chain analysis to get the most value in return for the least possible total cost. A company can create efficient processes by analyzing one or more of the five primary value chain activities, gaining a competitive advantage, and boosting profits. The question of how to do a value chain analysis efficiently has two aspects: the groundwork and analysis, and the second is drawing.
Using the EdrawMax Online makes the actual construction of the value chain analysis. It allows the team to focus more on the creative and innovative solutions for cost reduction and differentiation.
Create and share 280+ diagrams with EdrawMax Online
Related Articles