How to Make a Postcard
The next time you want to send someone a postcard, why not make it a bit meaningful by designing it yourself? Follow the stepwise tutorial above to learn how to do it with EdrawMax Online.
1. Introduction
A postcard is a card that is used for sending a written message through the mail. Postcards generally have the text written on one side while the other has a picture or drawing on it. They are handy since you can post them without any envelope. Check out this post to learn how to make a postcard. You can also find more postcard examples.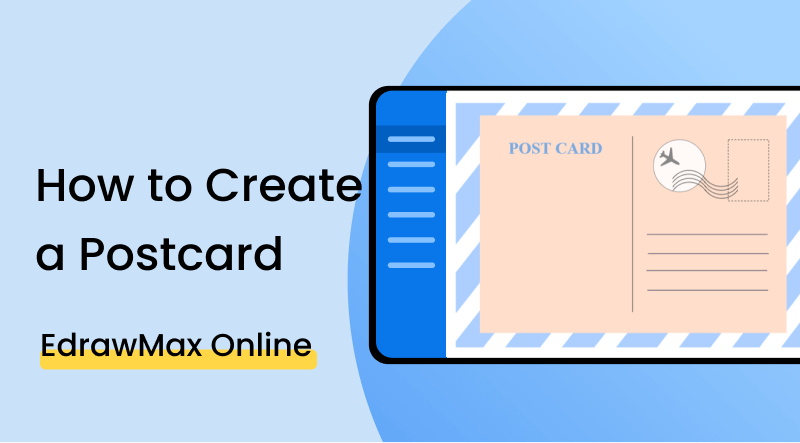 2. How to Make a Postcard?
Although email has rendered "r-mail" (real mail) obsolete, it is not entirely unheard of to send someone a letter or a postcard on occasion. Postcards can be more meaningful than a simple text message or typed email, and it is partially due to this sentiment that they are still somewhat popular nowadays. And if you make a design of your own and make the effort of creating something unique and non-generic, then your card will carry even more value for the recipient. To make a postcard, there are a few steps that you have to follow, such as:
1. Choose your illustration
As it was mentioned in the start, postcards usually have a drawing or picture on one side, while the other has the address and message. If you are making your own design, you have to first choose the illustration. Ideally (and typically), the front of the postcard should show a landscape or a landmark, etcetera.
2. Make the sections on the back
In this context, the 'back' refers to the part of the card which has all the contact info and addresses, etc. Draw a line vertically on the back of the card. This is to divide the parts where the recipient and sender address is later mentioned. Afterward, draw the spaces for putting the name, address, and number in both sections. Make a square shape for the stamp and then mark a box for the message. Deciding the finer details are up to you.
3. Choose the material
When printing a card, you should take care to use such material that can endure the mailing process and come out in one piece at the recipient's address. If you are doing the whole card-creation process yourself, then you should get a thin cardboard material or a thick and hard paper one. If, on the other hand, you are just making the design for a company that deals in printing postcards, then you don't have to worry about this part. Moving on, let's take a look at how to make a postcard using EdrawMax Online.
If the video doesn't play, please visit it at YouTube.
3. How to Create a Postcard with EdrawMax Online
Step 1.
Sign up or log in
The first thing you will have to do is make an account on EdrawMax Online. At the top right, you are going to see a login button. Click on that, and you will be directed to the sign-in screen. Select the 'Create Account' option under the fields.
Step 2.
Select the diagram type
Once you are done with step one, go back to the homepage. Click on 'New' from the left list of options. In the categories, go down to the bottom. Under 'Design', click on 'Card' and then select 'Postcard'. Open up the blank drawing by clicking on the option as shown below.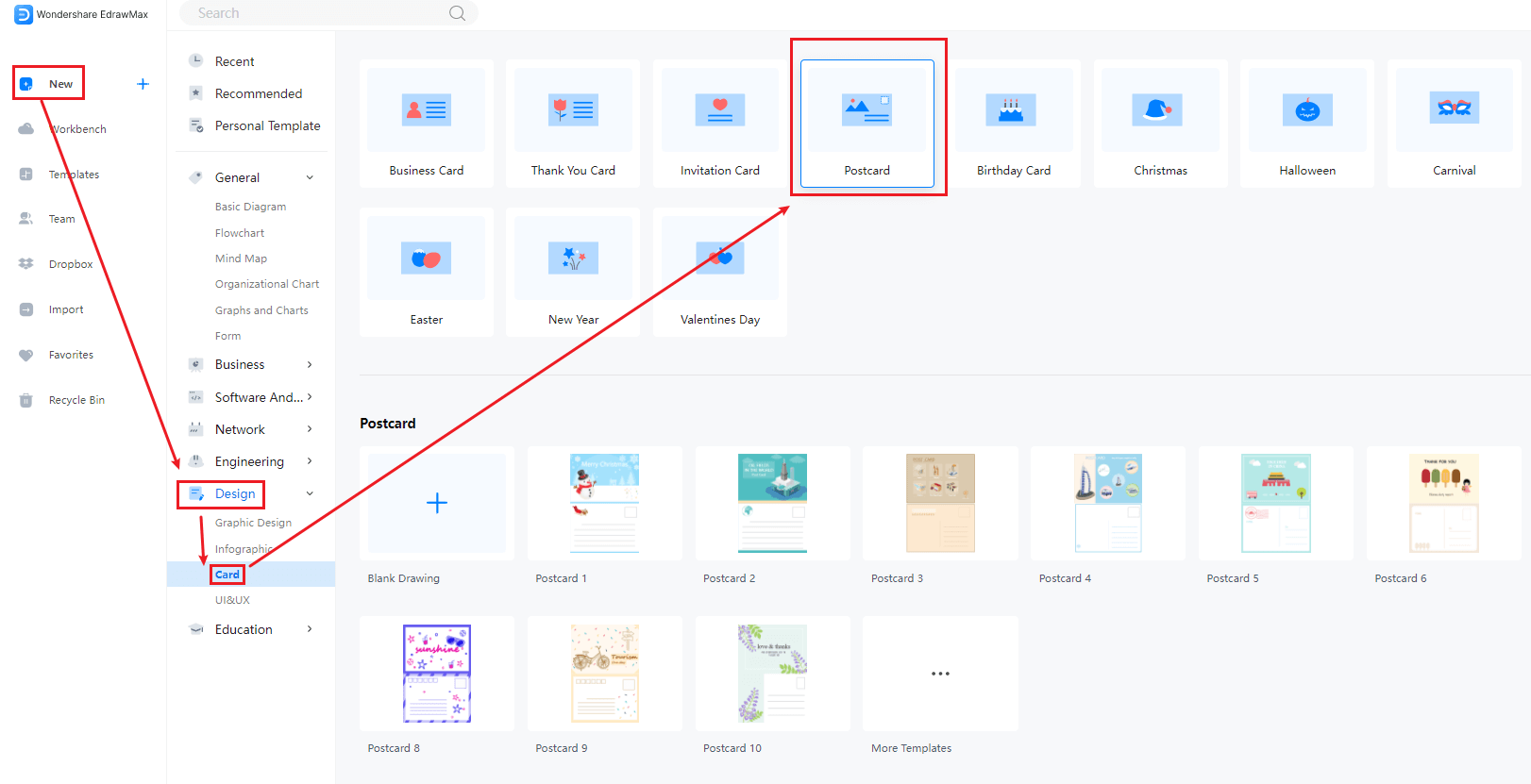 Step 3.
Choose a template
If you want, you can choose a template instead to save some time and effort. If you work with a template, you don't have to worry about coming up with a design and layout. You can simply change the details and particulars. Go to the homepage and click on the 'Templates' option from the left menu. When the gallery opens up, go in the list of categories and click on 'Card'. Choose 'Postcard', and you will get all the available templates for the category. Click on the one you need to work on, and then select the 'Use Immediately' button to get in your drawing canvas. Find more templates in Templates Community.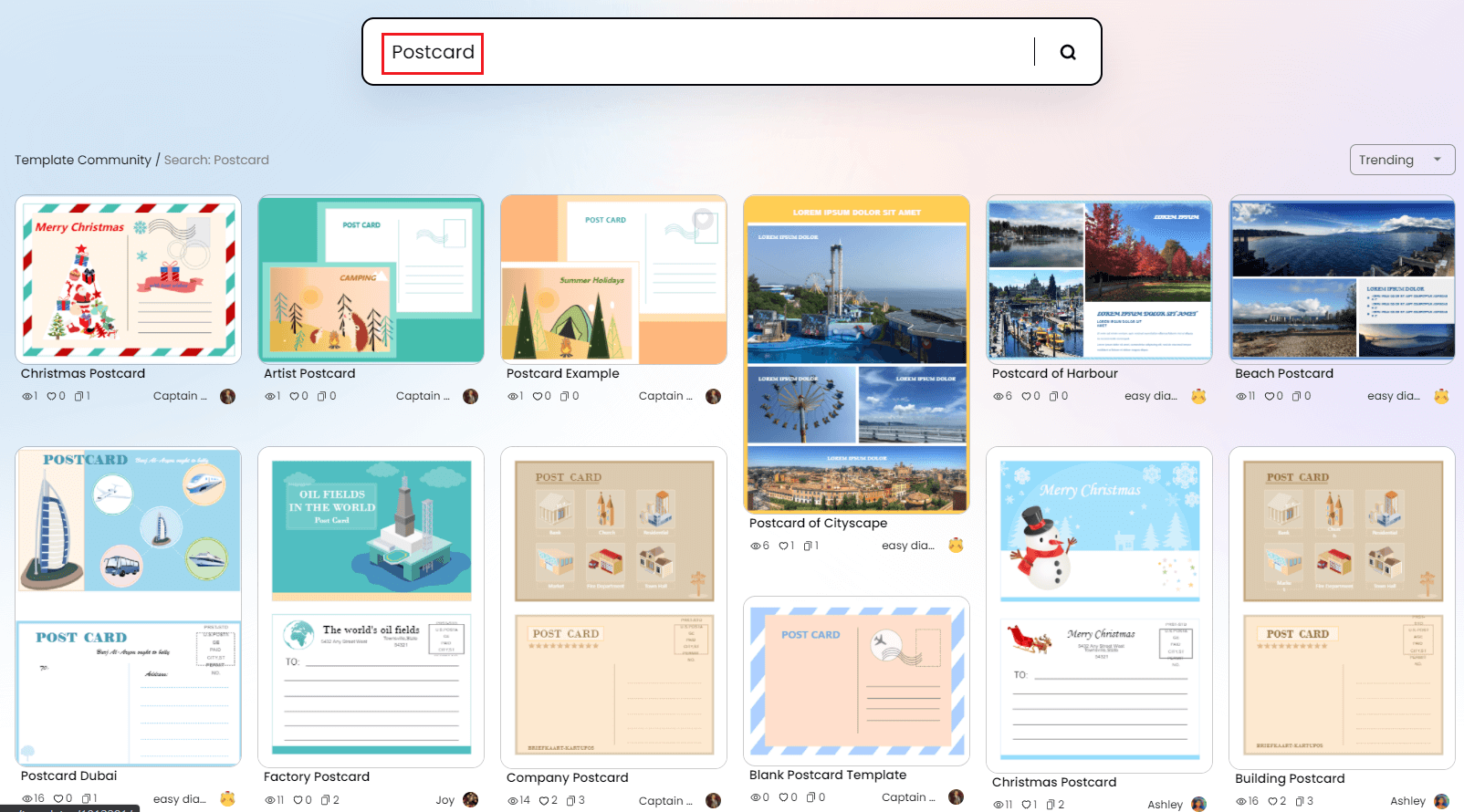 Step 4.
Drag and drop the symbols
With EdrawMax, you can add icons and shapes by making a simple drag-and-drop gesture. That means you have to click on a symbol from the library on the left, and then while holding the button down, bring it over to the drawing board. If you want to move an existing shape to another position, you can do the same action.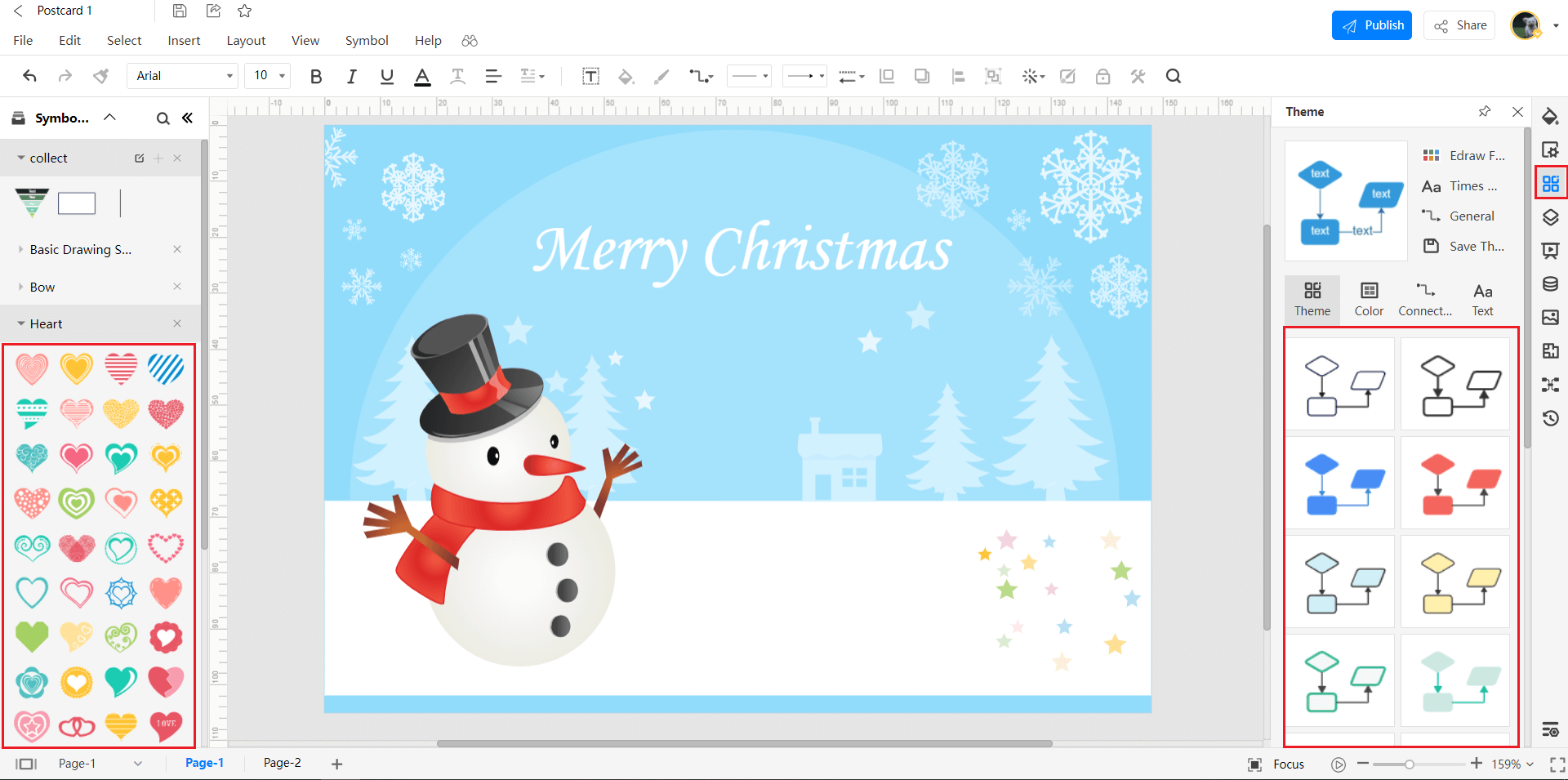 The 'Theme' option can be accessed from the right menu bar. By changing the themes, you can select the color combinations used in your drawing as well as the font size and style. You can also mess around with the connectors, but since postcards don't have any, your customization will be limited to just the former two options.
You can export your drawing to a format of your choice. This feature is only available for premium users. The option can be accessed from the 'File' menu at the top left. You can choose to download the card in PDF format, SVG and .docx, etc. On the other hand, if you want to simply save your work to the cloud for resuming later, click on the 'Save' option (from the same menu). You can also use the good old 'CTRL + S' shortcut. Saved files can be accessed from the 'Workbench' at the homepage.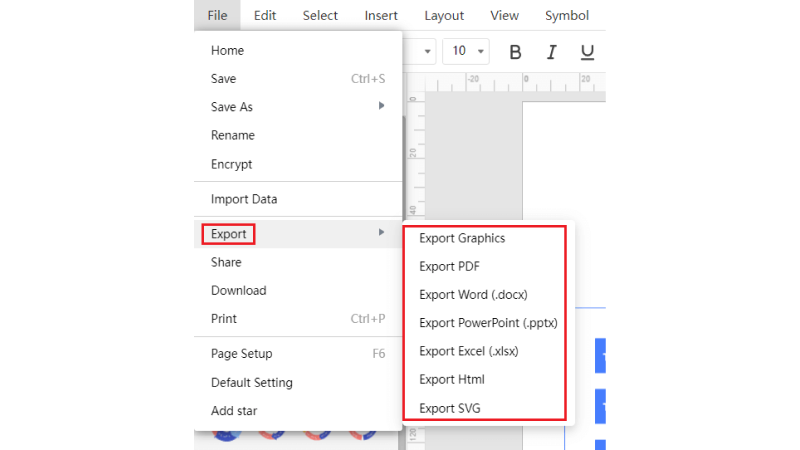 To make a presentation from EdrawMax, go over to the 'Slide' option on the right menu bar. Click on 'New Slide', and you will get a purple selection box on the canvas. This box can be moved around and resized. The stuff that you include in the box will be made into a slide. This is a great way to come up with a selective display of your work. If you want to show the whole canvas without any cutting or trimming, start a slideshow instead. Click on the play icon at the bottom right for this feature.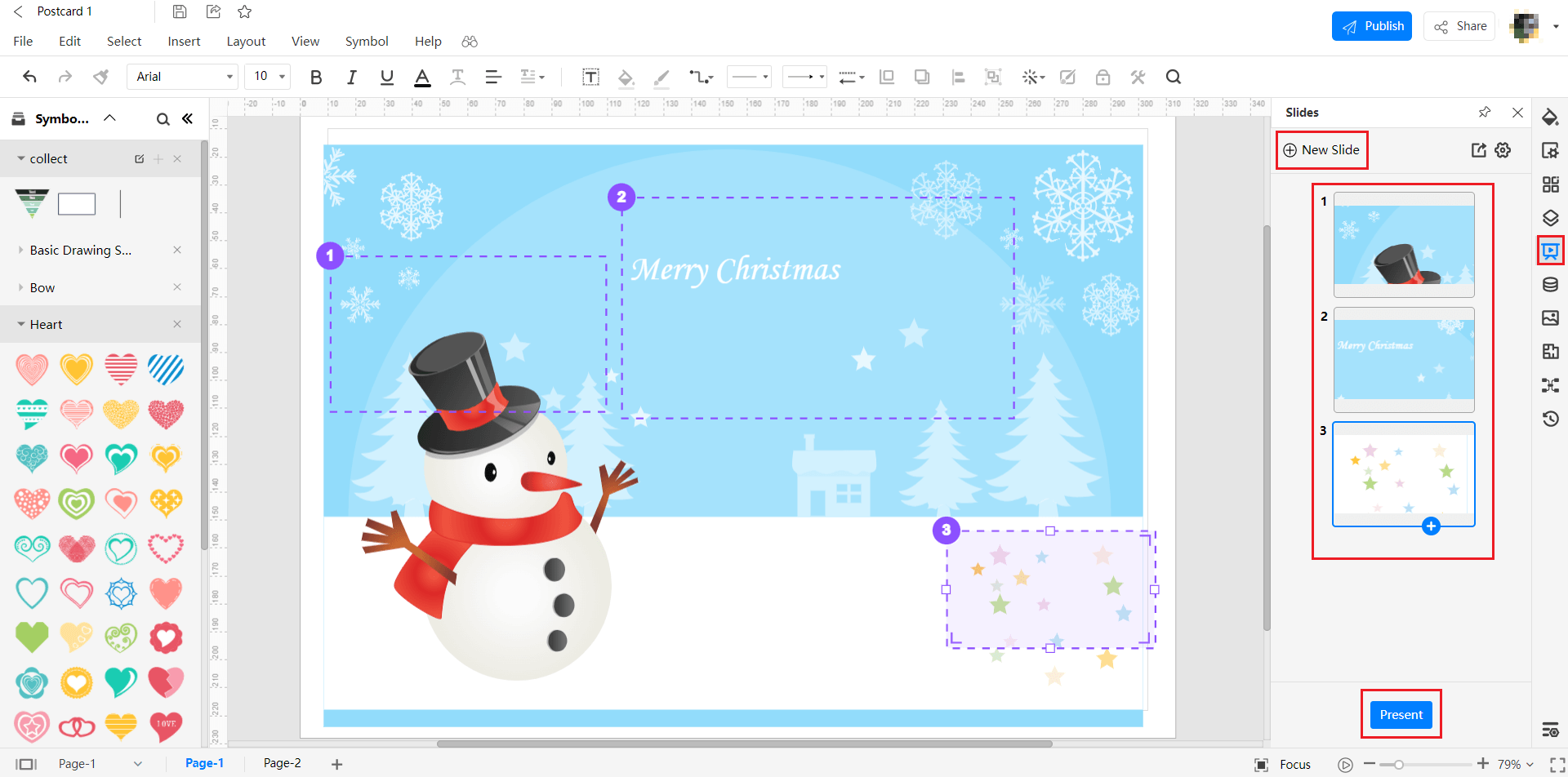 4. Expert Tips for Making a Postcard
Tip 1: Pick a durable paper for the card
You could come up with a nice and pretty card, but what good will it be if it ends up as a mashed and crumpled mess while in the mail? Although this sort of 'sabotage' is not something typically heard of, it can happen. So be sure to pick a thick and durable piece of paper or cardboard when making your card.
Tip 2: Use a picture/illustration of a landscape or landmark
A postcard generally looks good if you add a picture of an iconic site or building on the front. You could go with some doodling or bubbly pieces of cheery texts or whatever you like but remember this point as a tip.
Tip 3: Add and use shapes from other libraries on EdrawMax
If you are using EdrawMax Online for creating your card, why not utilize the galore of available icons and symbols? By default, you won't get a lot of them in your library, but you can click on the 'Add Shapes' button to import any icon set from the other categories.
EdrawMax Online
Create 280+ types of diagrams online
Access diagrams anywhere, anytime
Everything in desktop + Templates Community
Team management and collaboration
Personal Cloud and Dropbox Integration
5. Key Takeaways
Confused about how to make a postcard? EdrawMax Online has a ton of features you can use to make your card unique and one-of-a-kind. You can add shapes and icons, mess around with the colors and fonts, and save your work in a format of your choice. The above guide covers all these points in detail.
Related Articles