Free Editable Postcard Examples
A well-designed postcard example is a perfect choice to send greetings and messages to your loved ones. You can create postcards from scratch or use a premade blank postcard template as a foundation to build upon. Postcards may employ different graphics, clipart, borders, and layouts to send the message attractively.
1. What Is Postcard
Postcards are used to send a thoughtful and personalized message. It started as a staple of written mail and then took more modern forms like e-postcards. Though a postcard can be a simple rectangular layout with a border and some lines for address and message, we can make it more attractive using graphics, art, and colors.
Let us see some guidelines for perfect postcard examples.
Use appealing graphics and visuals for attractive postcards.
Design a layout for your postcard's backside. Here you can write the address of the receiver and the message.
If you intend to use it for mail, make sure to follow USPS guidelines.
2. The Postcard Examples
Postcards can be very basic and straightforward, but sometimes you want to add styling and a customized layout to make it more attractive and functional. In this section, we will review some postcard examples from various sources to present different ideas for inspiration.
Example 1: Postcard Example
This holiday postcard example gives perfect summer holiday vibes in a camping theme. The backside of the card also has the address lines. Postcards are very useful in sending holiday wishes to your friends and family. You also find postcards in souvenir shops that serve as keepsakes and a gift option. This postcard example follows the same theme, and you can send cool vibes with this summer holiday postcard.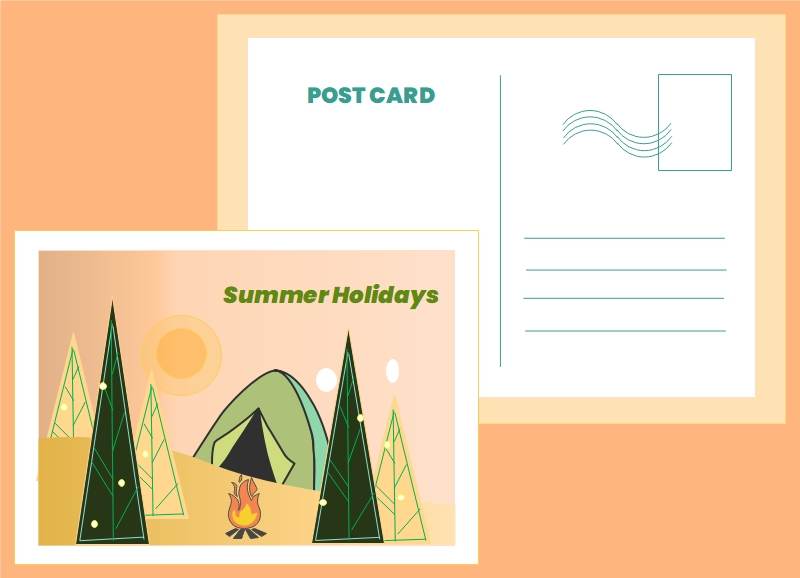 Source:EdrawMax Online
Example 2: Postcard Address Example
A Postcard address example helps you design your mail according to the USPS mailing regulations. This blank postcard template shows a design with layout guides for front and back, including the mailing address area format. This is a handy example for people who are uncertain about the USPS rules and layout guide. You can use the measurements and layout to design your customized postcard for business or personal use.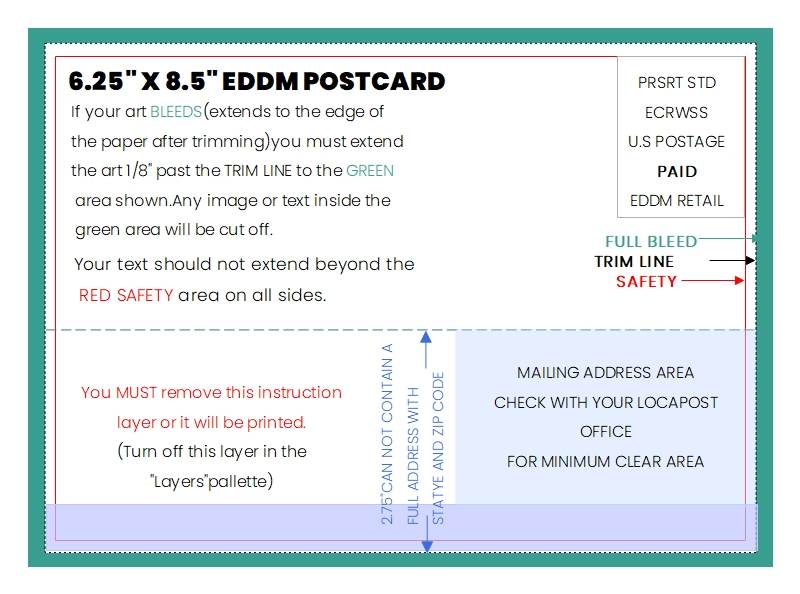 Source:EdrawMax Online
Example 3: Vacation Postcard Example
Vacation theme, funky design, and attractive colors make this vacation postcard example a perfect candidate for my vacation wishes. This postcard inspires people to travel and explore the world for fun and knowledge. I like the fun and free vagabond lifestyle, and this vacation postcard has the potential to deliver the right message.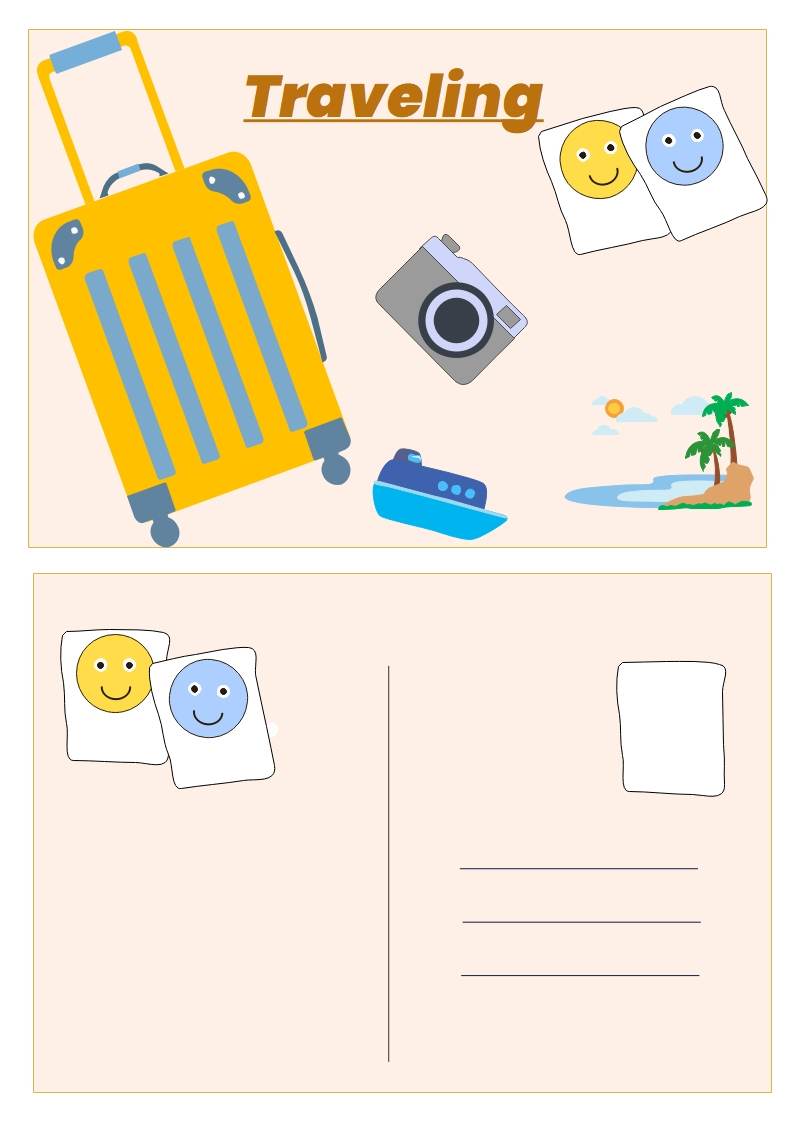 Source:EdrawMax Online
Example 4: Postcard Example Front and Back
Bright colors, beach, water, and sun; Isn't it the perfect definition for a summer vacation trip? This postcard example with the front and the back layout shows exactly this concept visually. You can take this card as an inspiration and build on it with your creative sense. Travel postcards are the best and the cheapest travel souvenirs. You can design your postcard to give a personal touch to your postcards so that they stand out in the crowd and deliver a personal touch and emotion.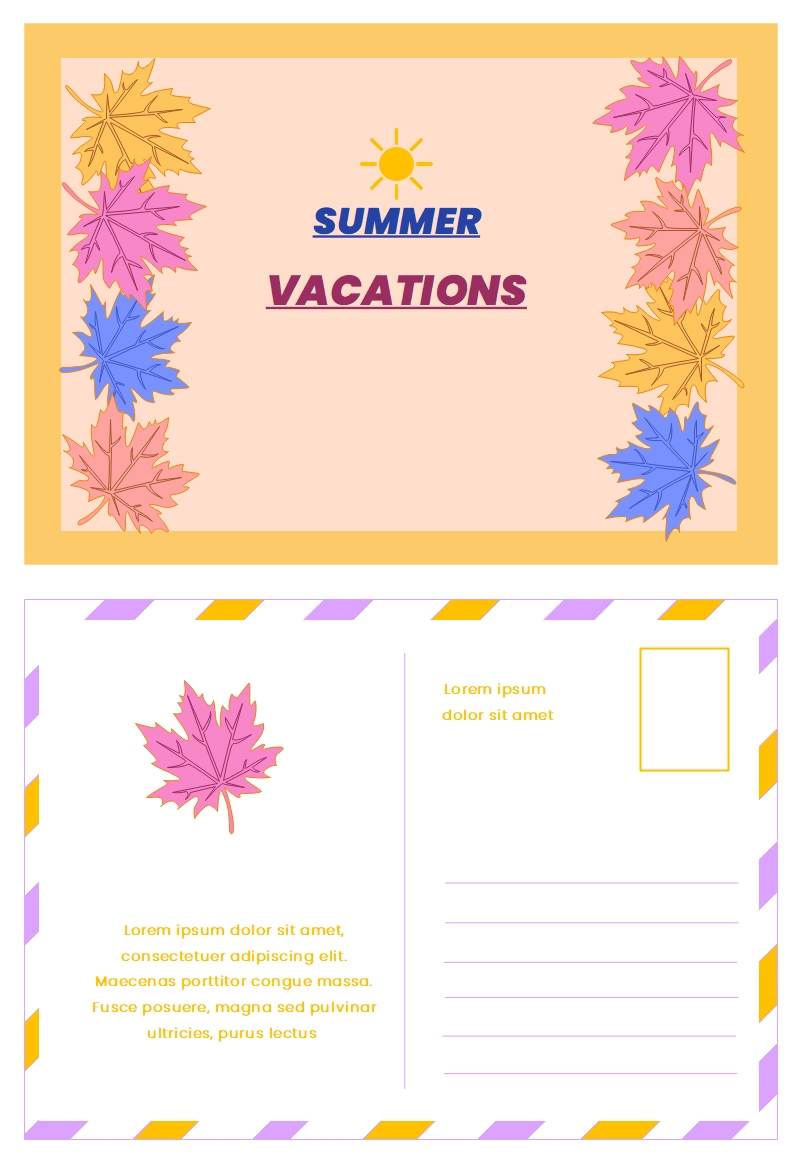 Source:EdrawMax Online
Example 5: Spanish Postcard Example
Travel postcards remind you of the time, mood, and place where you have traveled. If you design your customized postcards, you also add a personal touch and feeling to your postcard. You can express how much you have enjoyed your travels and inspire your friends and family. Spanish postcard examples store a visual memory of your travel and adventure.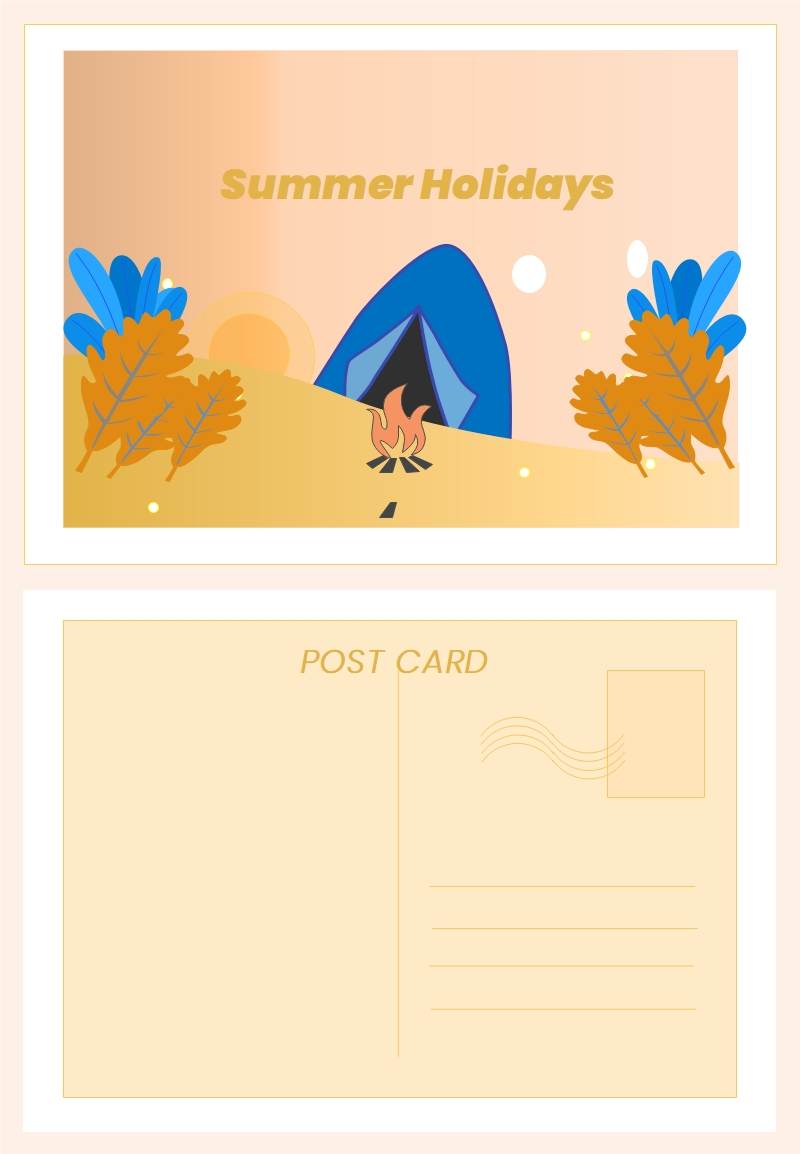 Source:EdrawMax Online
Example 6: E Postcard Example
The E postcard example has summery graphics at the front and back of the postcard. It also follows the summery feel to the audience. E postcard stands for the electronic postcard. You can make e postcards on the latest drawing tools like EdrawMax Online using the clipart and the graphics provided in the toolbox already. You can even create your graphics and import them into your e postcard when you are an expert.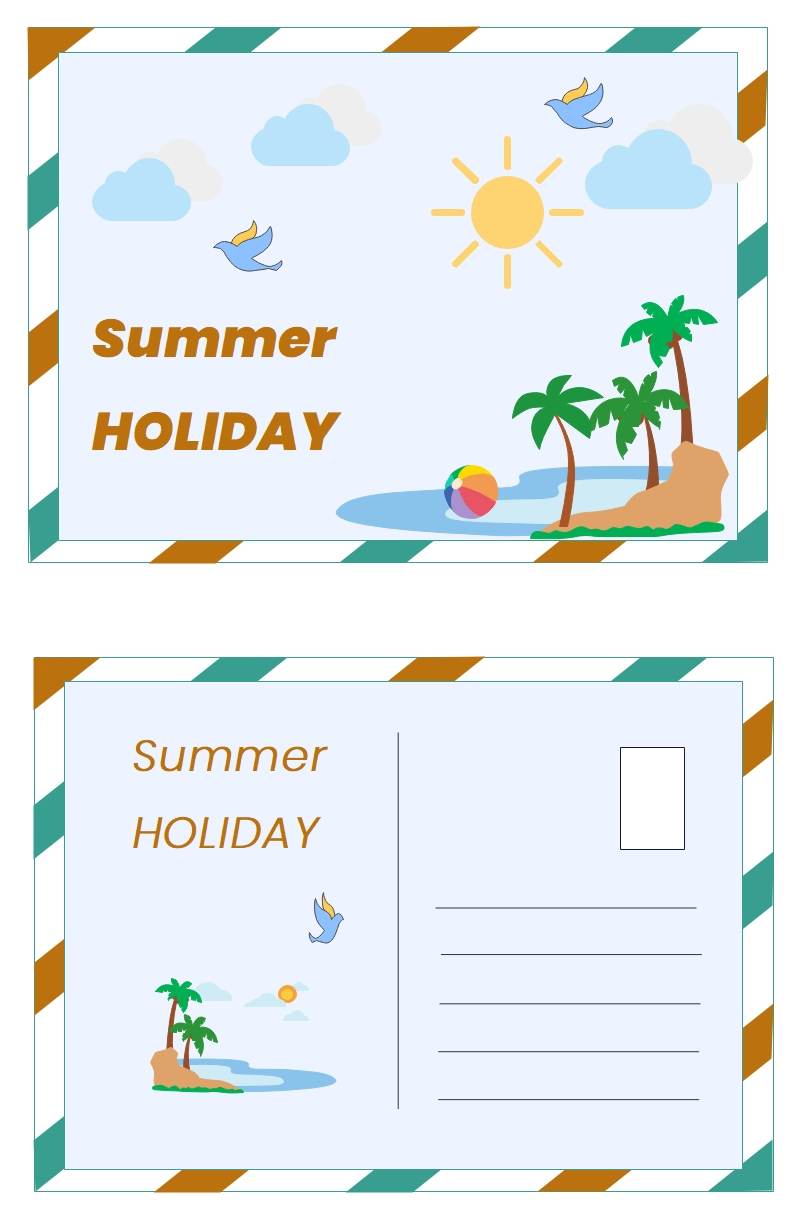 Source:EdrawMax Online
Example 7: Artist Postcard
Artist postcards are a great addition to your postcard collection because these are unique and personalized art pieces. This art can be handmade to convert into digital images and print. Alternatively, digital art like 3D pictures, clipart, and other forms are also converted into artist postcards for easy printing and storage. A personalized gift or postcard is surely much more worthy and valuable.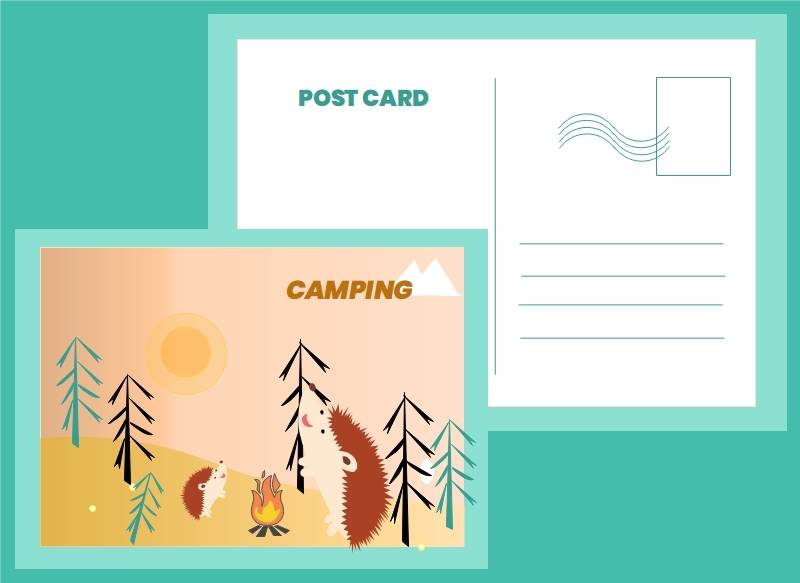 Source:EdrawMax Online
Example 8: Christmas Postcard
We wish you a Merry Christmas! Christmas postcards are important in family traditions and play an important role in corporate settings for relationship building. We can see how royal family Christmas postcards are the most sought-after and most anticipated postcards. The Christmas postcard in this example uses a Christmas clipart to create a design.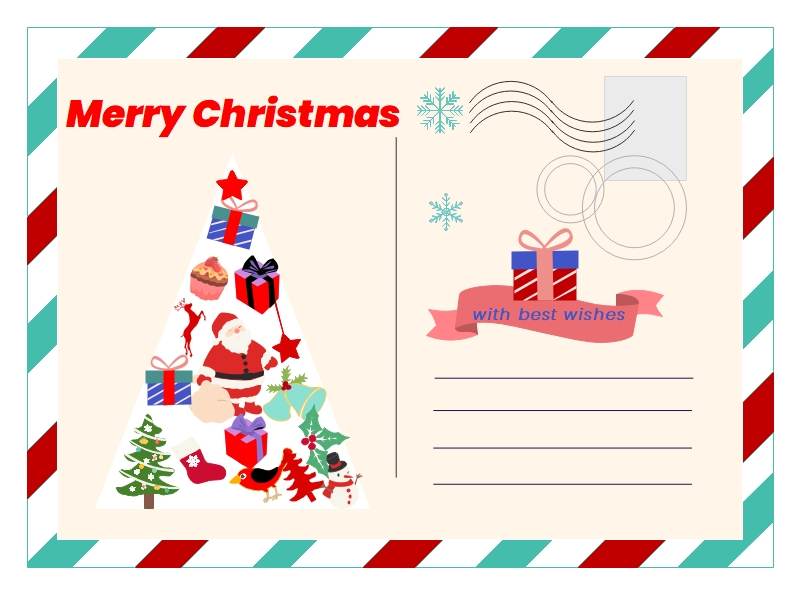 Source:EdrawMax Online
Example 9: Blank Postcard Template
The blank postcard template is the most basic and the simplest. It can be used for mailing and digital conversation as well. You can customize your postcard according to your requirements. The customization may update the text, color, font, graphics, borders, etc. This blank postcard template gives a vintage look and brings people back to the old times.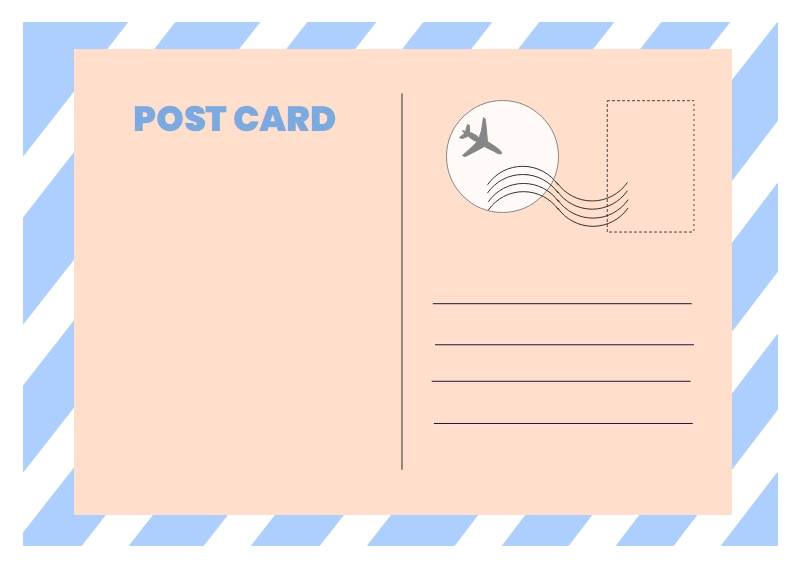 Source:EdrawMax Online
3. Online Free Postcard Maker
You do not have to be an artist or a graphic designer to create your personalized postcards. An online free postcard maker helps you create postcards without any technical skills or artistic background. EdrawMax is an online free postcard maker that allows you to create postcards with a few clicks. It has an easy and clean layout with a drag-and-drop tool to design your postcard example. If you do not want to start from scratch and would appreciate some foundation work for your postcard, templates are your way. EdrawMax Online has a library of designer-made postcard templates that are fully customizable and free to use. Make a unique postcard to send your message friendly and personalized.
EdrawMax Online
Create 280+ types of diagrams online
Access diagrams anywhere, anytime
Everything in desktop + Templates Community
Team management and collaboration
Personal Cloud and Dropbox Integration
4. Key Takeaways
A well-designed perfect postcard is a tool to send sincere greetings to your friends, family, colleagues, and clients. We have seen different beautiful postcard examples, including vacation postcards, classic postcards, holiday postcards, and many more. You can also take inspiration from the templates library in EdrawMax Online for a quick start. You can also use the clipart, symbols, and the font styling toolkit along with different layouts to create professional-quality postcards easily. Find more postcard examples in the template community.