Free Editable Manufacturing Organizational Chart Examples
We get it! You want the new recruits to perform exceptionally. Yet, it won't be possible until these people understand everything about their objectives and roles. What if we tell you there's an easy and simple solution to your problem? It isn't simple. You can't just hand it out written on paper and expect every employee to memorize it as a poem. They'll be too confused by the complex connections. An easy fix is a visual interpretation. That is where manufacturing organizational charts jump in. These diagrams use primary shapes and colors to sequence your scattered corporate framework and make direct connections between every minor detail.
1. What is a Manufacturing Organizational Chart
A Manufacturing organizational chart is a type of organogram that maps the responsibilities of individuals in a corporation. The manufacturing org chart is in sequence. It means the flow of superiority, authority, responsibility, and the action limit aren't the same. Instead, it keeps decreasing with gradual steps till the last person.
Its creation is simple now with advanced strategies. Still, it was time-consuming back in the time because of traditional procedures. Now with exemplary templates, things have become pretty easy. These help the employees and managing directors to understand the basic concept of the manufacturing org charts and use them for their own good.
Here are some of these free examples of manufacturing organization charts.
2. The Manufacturing Organizational Chart Examples
There is no better way to acknowledge the purpose and information in the manufacturing organizational chart other than its examples. The live shape feed helps you perceive the entire company's structure swiftly.
These examples are free templates for everyone. They will help you cut down the effort of generating an ideal manufacturing organizational chart. The overall process is cut down from hours to minutes, all thanks to these helpful templates.
Example 1: Manufacturing Org Chart Template
This manufacturing org charge template example shows an extremely formalized way of announcing the employee's responsibilities. The chart starts with the shareholders, that are supreme authority personnel in every corporation. It keeps narrowing down to authoritative departments and helps focus all minor details. The physical interface is minimal and attractive. The shapes have a special texture that attracts the eyes. This example shows employees how they can communicate with superiors in the company. Plus, it helps build inter-departmental connections between employees.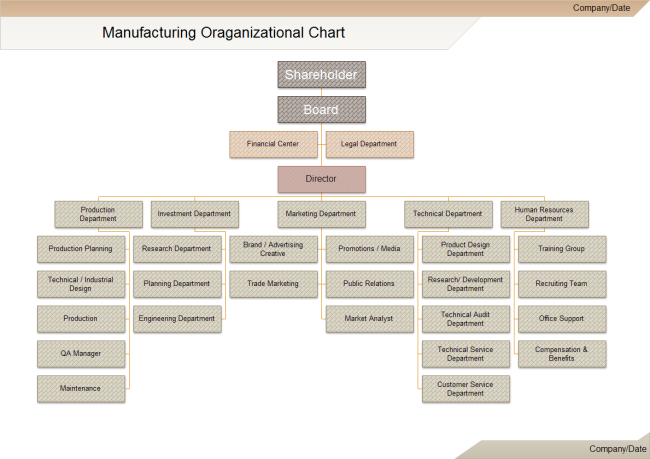 Example 2: Manufacturing Organizational Chart
This example is an excellent understanding of relationships between employees and crew leaders. Its interface is somewhat similar to the previous one. But this manufacturing organizational chart is visually presentable and engaging. It has a different color scheme and curved shapes that give it a refined look. Long story short, the employees will never see it as an outdated rough outline of a sequence chart. A single drawback of this example is its limited information supply. The detail in the boxes is limited to names only. However, you can modify it as you desire.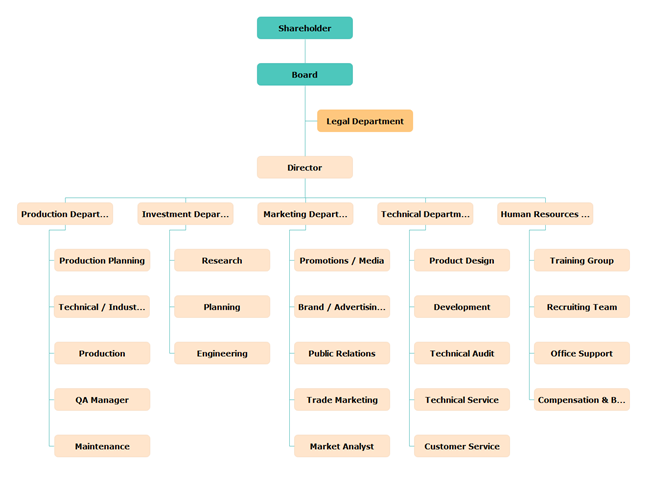 Example 3: Simple Manufacturing Organizational Chart
The simple manufacturing organizational chart has a typical org chart layout. Yet, it is a bit different in terms of authority level formalization. Where all organizational charts go straight downwards in authority sequencing, it goes out of the box and shifts a bit laterally. But the color scheme minimizes confusion. Plus, unlike the previous examples, it does not include shareholders: rather, it starts straight from the CEO and goes down step by step.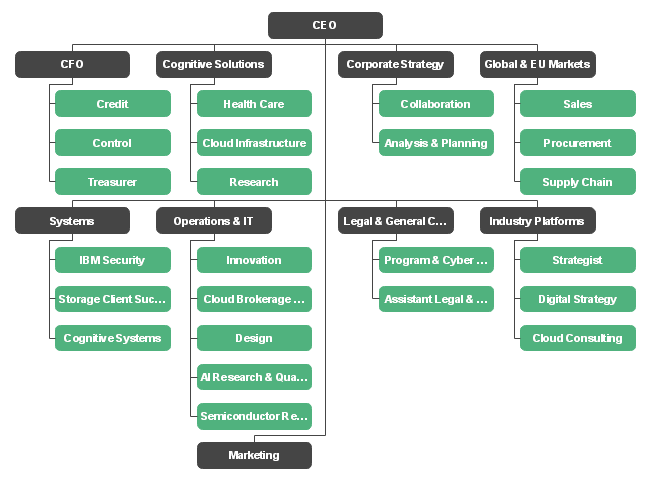 Example 4: Production Manufacturing Organizational Chart
Unlike the previous examples, the production manufacturing organizational chart is more direct and sequenced. This chart example is for a production department, so it starts with the engineer and then goes down by changing the color scheme at each level. It means that every time you jump vertically, you'll see a color change indicating that the authority has changed along with the roles and responsibilities. It is ideal for complex departmental frameworks as it minimizes confusion.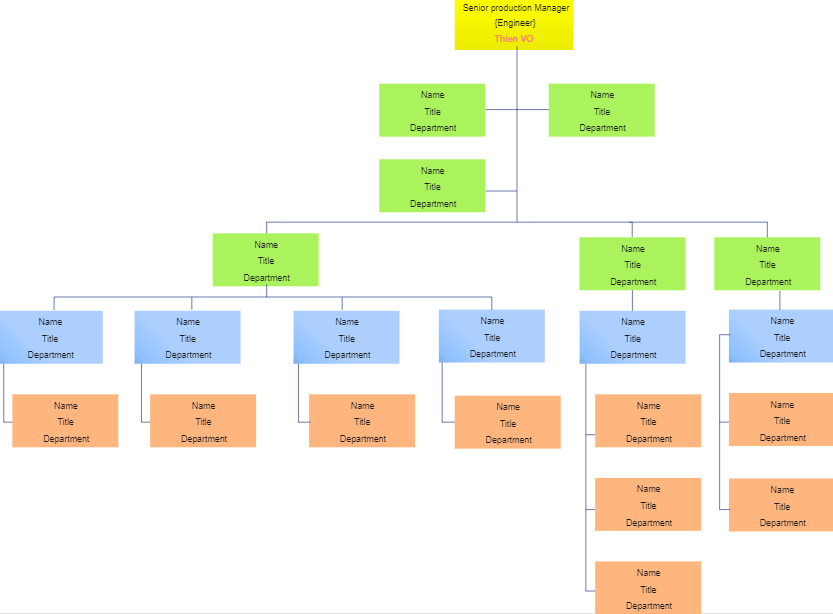 Example 5: Manufacturing Organizational Chart Template
The manufacturing organizational chart template also has more than one superior authority personnel. The chart is physically appealing with sleek and minimal looks. However, it is too basic for an advanced systematic framework. There is no diverse color scheme: instead, the entire diagram is an interconnected spider web with each employee directly or indirectly relating to the inaccurate departments. This example is especially for you if you need a basic chart with essential information in the least time.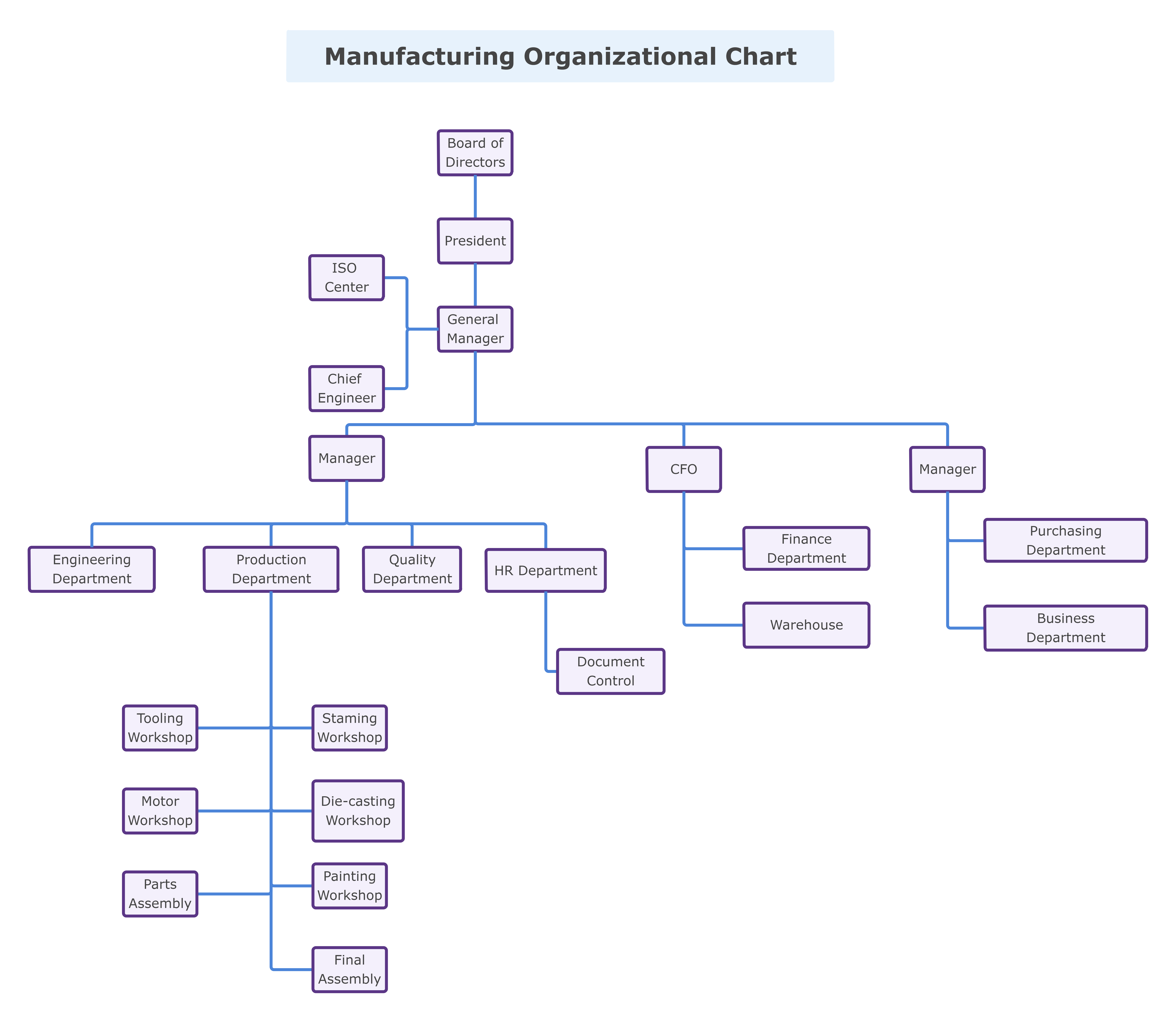 Example 6: Blank Org Chart Set
Straight by looking at the example, you can judge it is the most visually appealing one yet. However, it not only visually presents the idea but also gives additional information. The blank org chart set is a complete collection of diagrams having 4 distinct layouts of org charts. Every layout has different features and details for the analyzer. Some depict the project's roadmap, while some give a bottom-to-top corporation's organized internal structure. The cliparts can tell you the gender of the individual. Plus, there is a special portion along every clipart that enlists the name and job post of the individual.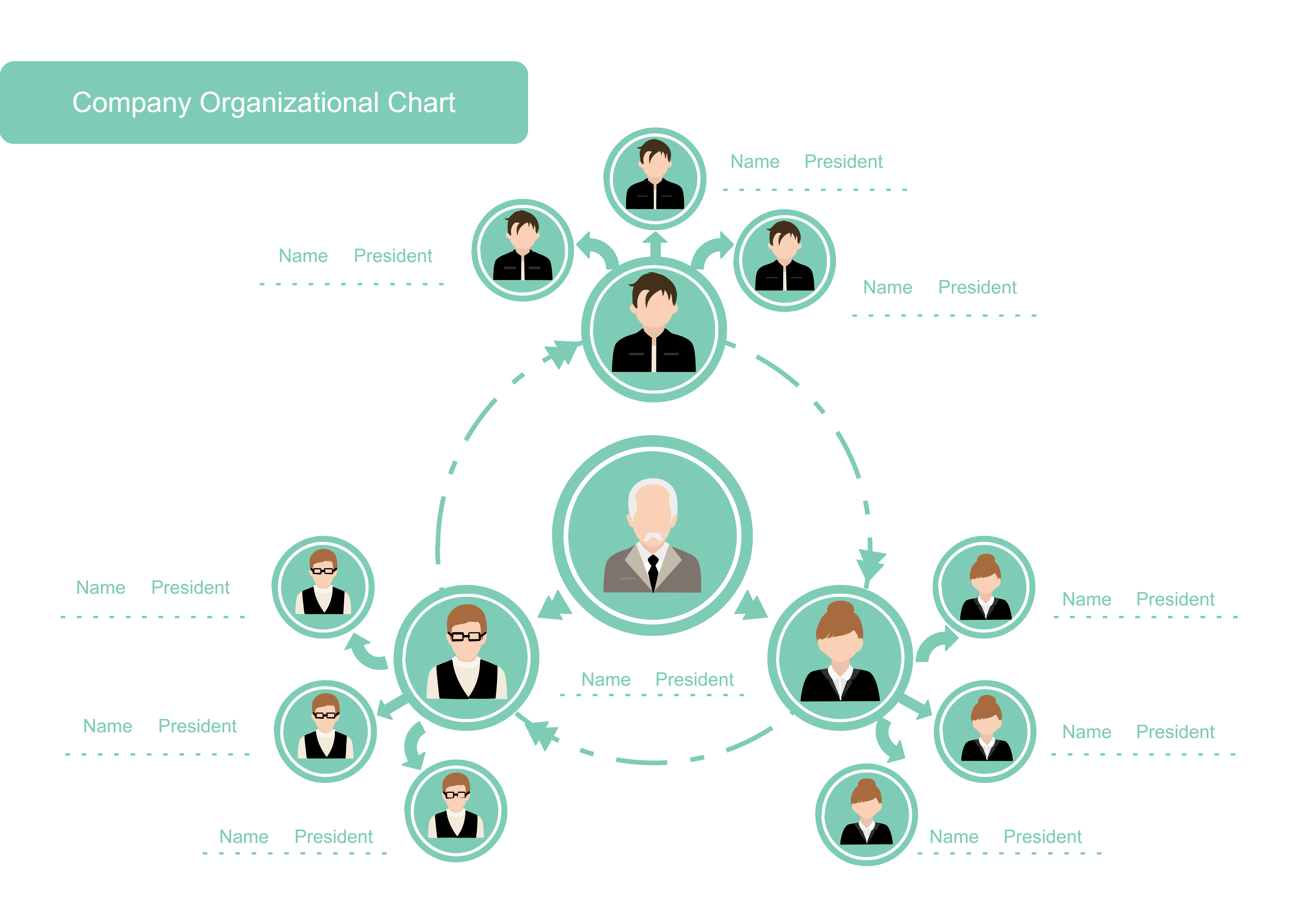 3. How to Create a Manufacturing Organizational Chart
As the creation and analysis of the chart are complete, let's jump to the important question; how to create an org chart? The production of a manufacturing organizational chart is as simple as it seems. A simple drop and drag motion is enough to generate your diagram if you have an optimum program.
However, if you still use traditional stock paint techniques, be ready to waste hours creating a single shape. Experts suggest a program that has maximum options for your ease and has an easy-to-use interface. EdrawMax is one of that software. Let's see how it can help you create your ideal manufacturing organization chart.
Step 1 - Head on to EdrawMax Online or download EdrawMax. Make an account and log in to it.
Step 2 - Once logged in, you'll find yourself at a home screen and a menu of options on the left. There isn't an extensive list, so you won't have to scroll down. If you want an easy solution, head to the main menu on the left, look for Templates, and click on it. Out of thousands of pre-built templates find the one you desire and replicate it.
Step 3 - The next step is to add your favorite components inside and delete the ones you do not want. EdrawMax Online has a massive range of elements, cliparts, and components for you to choose from. Moreover, it gives you complete control over every single detail of the template.
Step 4 - Exporting is one of the factors that makes EdrawMax a priority among experts. Click on "File" and "Save as" to get your Production Manufacturing Organizational Chart in your desired format. However, if you want your work to be acknowledged among the template community, click on the small "Publish button on the top right to share it on EdrawMax's social platform.
4. Free Online Organizational Chart Maker
EdrawMax Online is the best (free) org chart maker in the market that supplies all its primary features without any price. It values the customers with the seamless connection and easy-to-use interface. Those days are gone when you had to sit hours in front of the computer screen to make a single symbol. With the help of this (free) org chart software, you can access thousands of symbols and use them with just a drag-and-drop action. That is not only the best part. You can continue your work from where you stopped with its ideal cloud service. Importing your data inside its servers is much easier. Plus, its cloud service minimizes the need to manually save the file repeatedly.
EdrawMax Online
Create 280+ types of diagrams online
Access diagrams anywhere, anytime
Everything in desktop + Templates Community
Team management and collaboration
Personal Cloud and Dropbox Integration
5. Key Takeaways
If you need an easy and concise way to list the roles and responsibilities of your corporate employees, manufacturing organizational charts are the way to go. It not only helps your employees to direct their effort positively but also helps you to track their work behavior.
From the time online chart makers jumped onto the internet, the production of these manufacturing organization layouts has become more accessible. Especially the free ones like EdrawMax are leaving every contender behind with their hassle-free experience and user-oriented interface.
Related Articles