Free Editable Open Floor Plans
Open floor plans have been a popular residential design since the 1990s. It brings back the essence of communal living space by eradicating extra spaces from the house layout. Let's see what an open floor plan is and how to create it without a professional's help in minutes.
1. What is an Open Floor Plan?
Decades back, houses had dedicated rooms for everything, i.e., kitchen, living room, dining room, etc. Space has been used wisely in modern architectural designs, and two or more common spaces have been joined to form a larger space. Such layouts are known as open floor plans in architectural terms. Open floor layouts eliminate all the room dividing walls and make it into one unified space. They have been a popular architectural design since the 1990s because of their numerous benefits, which have been discussed below.
#1 More Traffic Inflow
Open floor plans can make a small space look bigger and more spacious. Just replacing the kitchen wall with a good dining table, you can maximize the square footage. An open layout eases the movement around the room and accommodates more people in the room.
#2 Improve Communication
Whether you want to keep a check on your kid, talk with the family, or gossip with your friends, an open layout makes it easy to get your voice across to the living area while you work in the kitchen. Besides, the open floor layout offers excellent visibility of the surroundings, promoting a sense of togetherness.
#3 Entertain Guests
The most quoted perk of an open floor plan is that it makes hosting parties comfortable because there is ample space for guests to move around and socialize. Without a sense of crowding or imposing yourself on one another, you can easily cater to a large group of guests. The cherry on top is that kitchen is in reach and makes it easier to serve the guests and arrange snacks for the night. Even though open floor plans have the edge over closed layouts for providing more space, they also have drawbacks. Open floor layouts stamp out your privacy. Your burnt cake's smell in the kitchen may trouble someone sitting in the living room.
Losing walls means having less space to hang your artwork and pictures. You will have fewer electrical sockets too. Above all, the open layouts provide visibility across the space; hence you need to be tidy. Otherwise, the guests could quickly peek at your living room/kitchen mess. This was a quick briefing about the insights of an open floor plan. Let us just see some examples to discuss some different open layouts.
2. Open Floor Plan Ideas
Here are some open floor plan ideas for helping you define your house's architecture.
Example 1: Open Floor Plan
This is an open concept map for the first floor. By merging the kitchen, family room, and dining area, a larger room is created that makes up for all three individual spaces. Plenty of space promotes a sense of togetherness and brings all your loved ones together. You can cook delicious meals in the kitchen and simultaneously inquire about your family's day. Adjacent to the kitchen is a bonus room that can be turned into a pantry or a mini attic. Entertaining family and friends are effortless with this layout- it aids in good communication and conveniently manages home traffic.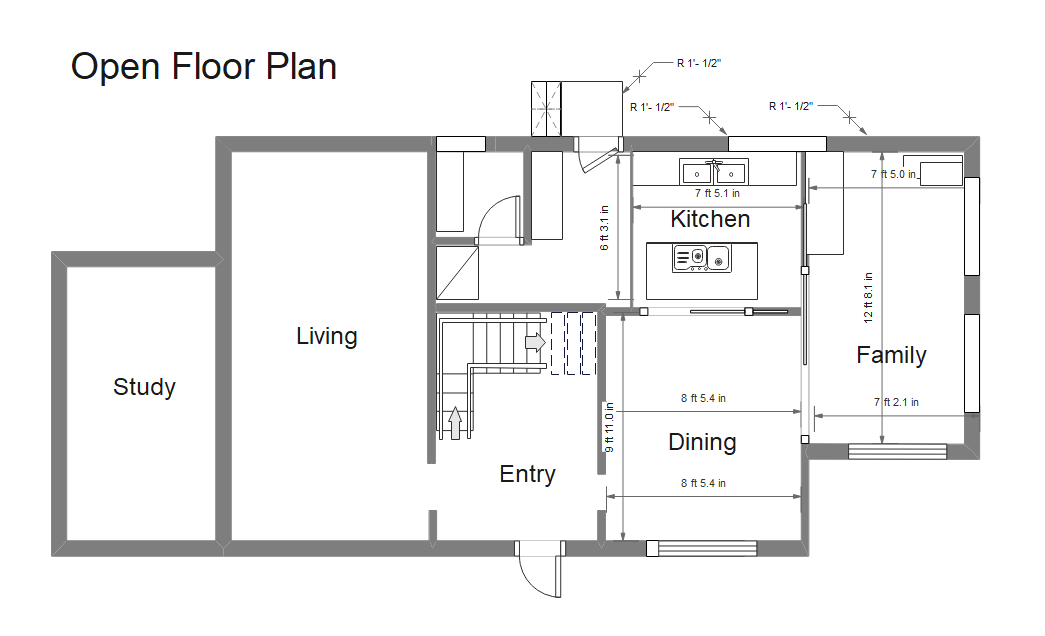 Example 2: Open Concept Floor Plan
This open floor plan ensures that you don't miss out on any essential amenities and offers a spacious house map. Opening into a lovely foyer, the map leads you into the great room. The kitchen, dining room, and living room have been merged, giving the house a more prominent feel and atmosphere. Just adjacent to this is the outdoor living room that can be used if you ever fall short on space. Besides, it provides a great place to enjoy the tea or entertain your guests. This is a grand plan packed with all facilities and versatility.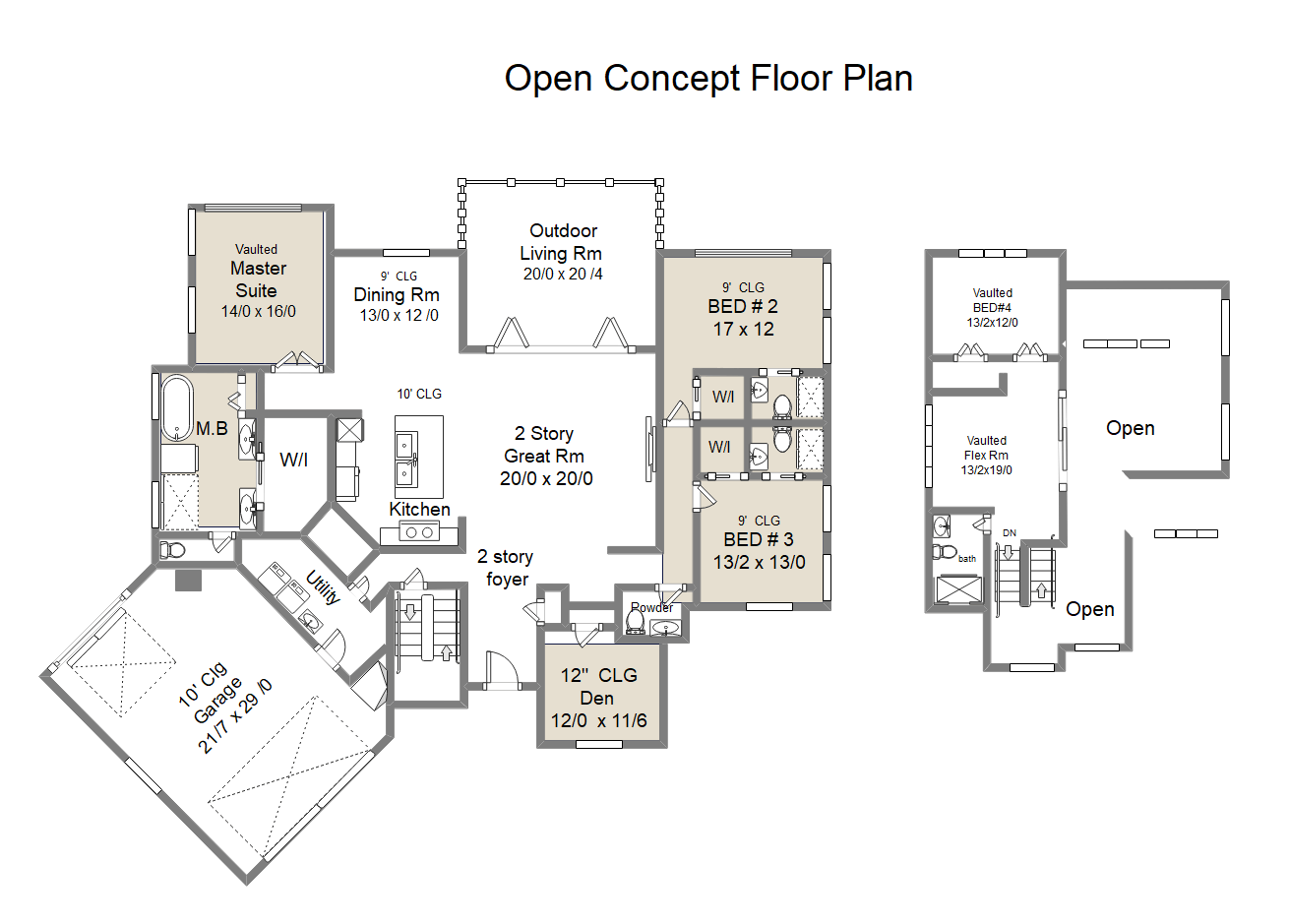 Example 3: Ranch Style House Plans with Open Floor Plan
This ranch-style house plan is simple and easy to build. The spacious porch at the front leads you to the foyer that opens into the family room. Off to the side of the foyer is the study room connected with the swing outside. The family room opens into the kitchen on the left. The kitchen features a sizable breakfast nook and a small pantry. The nook is connected to an outdoor lanai that can be a perfect venue for a BBQ party. All bedrooms are located on the right of the layout making everything accessible.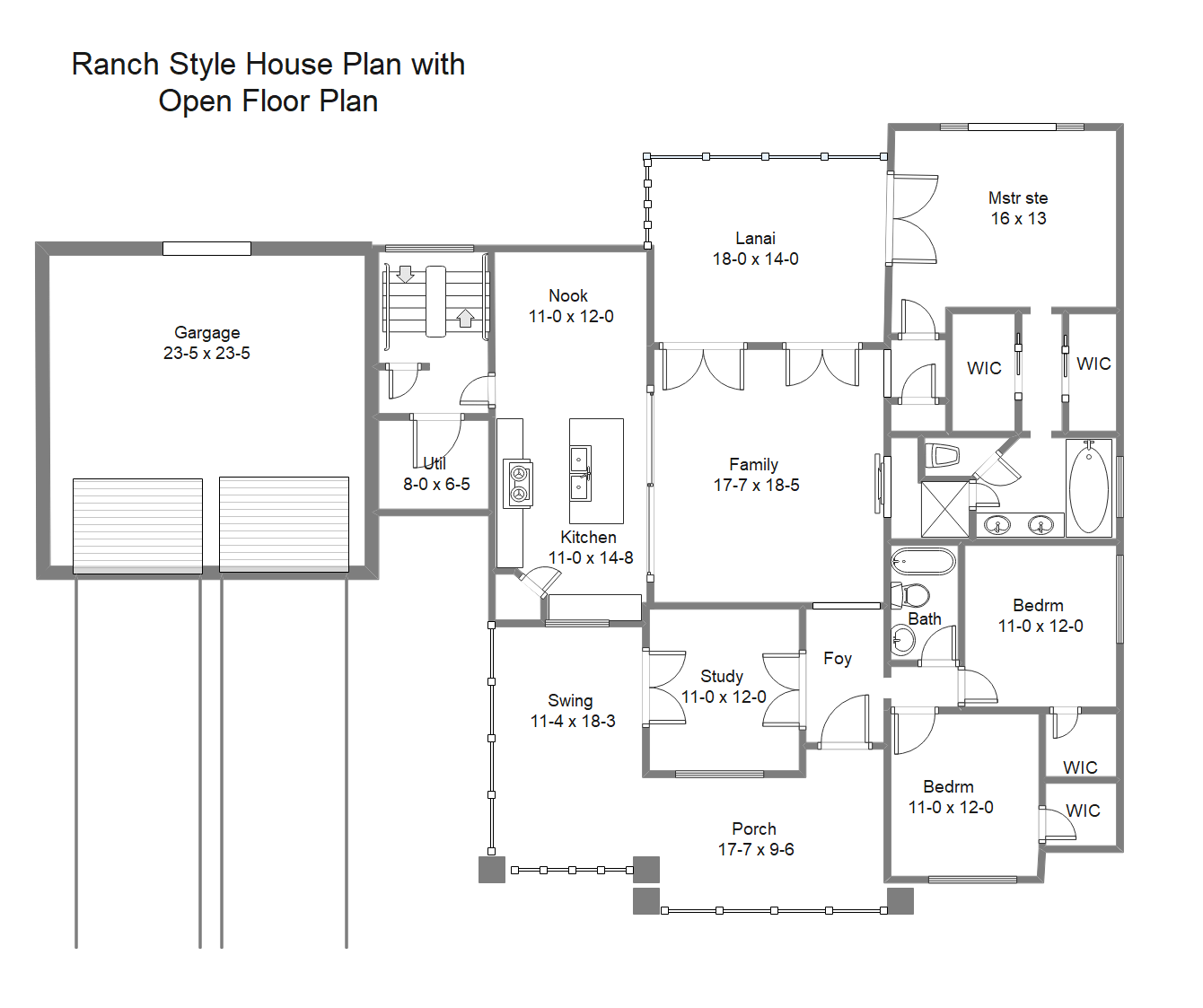 Example 4: 2 Bedroom House Plan with Open Floor Plan
This 2-Bedroom house plan is perfect for people looking for a small and cozy house map. Entering the house, you are invited into the main living room that is large and spacious and leads into the open kitchen and dining area. The kitchen features a central working counter with all other facilities arranged against the wall, making it spacious and easy to prepare food in social situations. The dining room has access to the covered patio outside, an excellent space to host parties. The house layout exhibits comfort and spaciousness.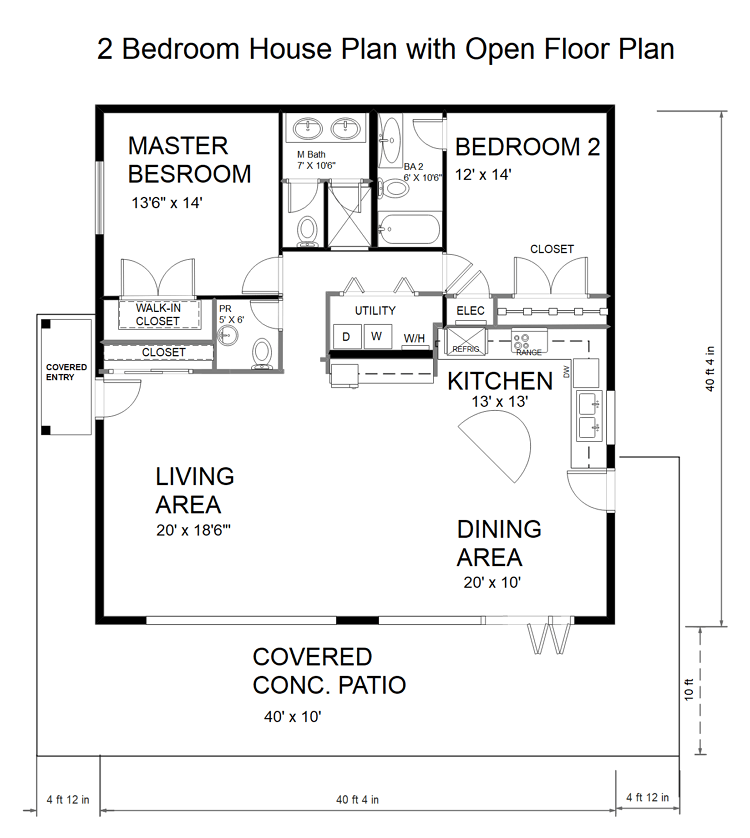 Example 5: 5 Bedroom Open Concept House Plan
This luxurious five-bedroom open concept house plan motivates you to entertain guests outdoors and indoors. With ample porch space and a deck at the side, the house allows you to enjoy the outdoors and host parties. The porch welcomes you into a great vaulted room. The great room is considerably large and connected with the dining and the open kitchen. A large walk-in pantry and utility area are just behind the kitchen, which helps keep the kitchen organized. Down the kitchen and pantry area, there lies the main bedroom. The open concept plan is impressive, with a thoughtful arrangement of all the house spaces.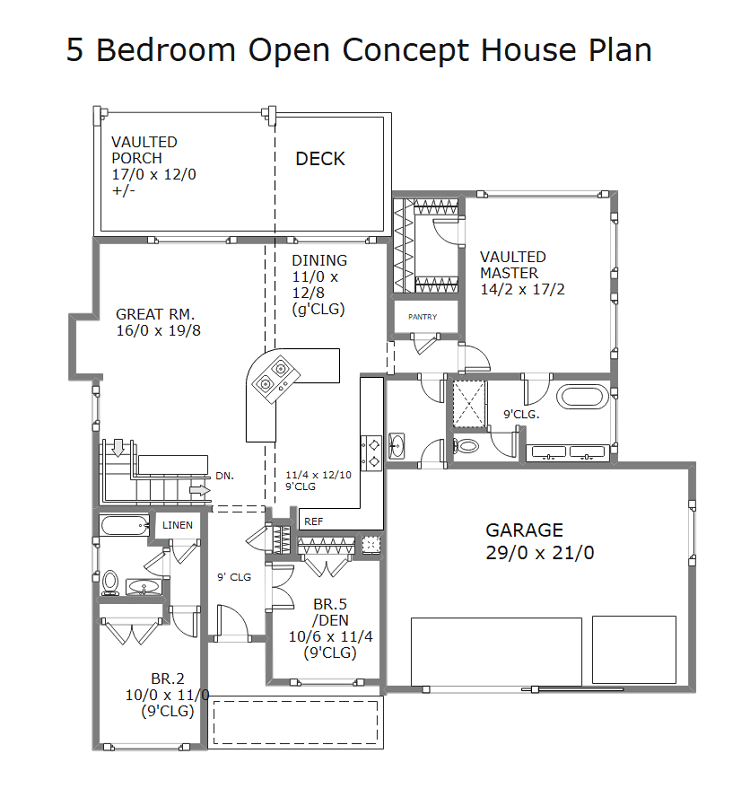 Example 6: Small House Open Floor Plan
This might be an excellent option if you are looking for a carefully planned small house open floor plan. The layout seems very well mapped out, with a porch at the front that leads you into the house. The considerably sizeable sized garage provides an entry to the walk-in pantry. Anchor a dining table in the nook to enjoy family mealtimes with a live kitchen sideways. A patio at the backside offers the perfect spot for tea times and gossip.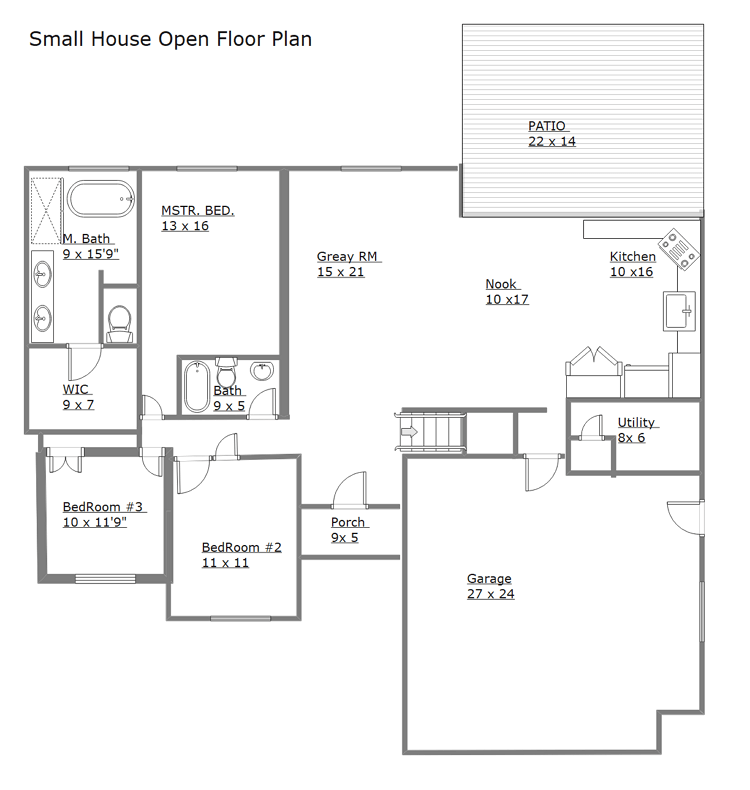 Example 7: Modern Farmhouse Open Floor Plan
This double porch modern farmhouse open floor plan is a standout house layout with clearly defined spaces. The front porch welcomes you into the large and spacious living room while it continues to be divided into a kitchen at the back. With plenty of space in the rear porch and living room, you can easily host parties indoors and outdoors. The farmhouse has two-bedroom- a bunk bed and a master room. A bunk bed provides ample space to squeeze the beddings and accommodate several people. This open concept plan carves out space well and offers space paired with functionality.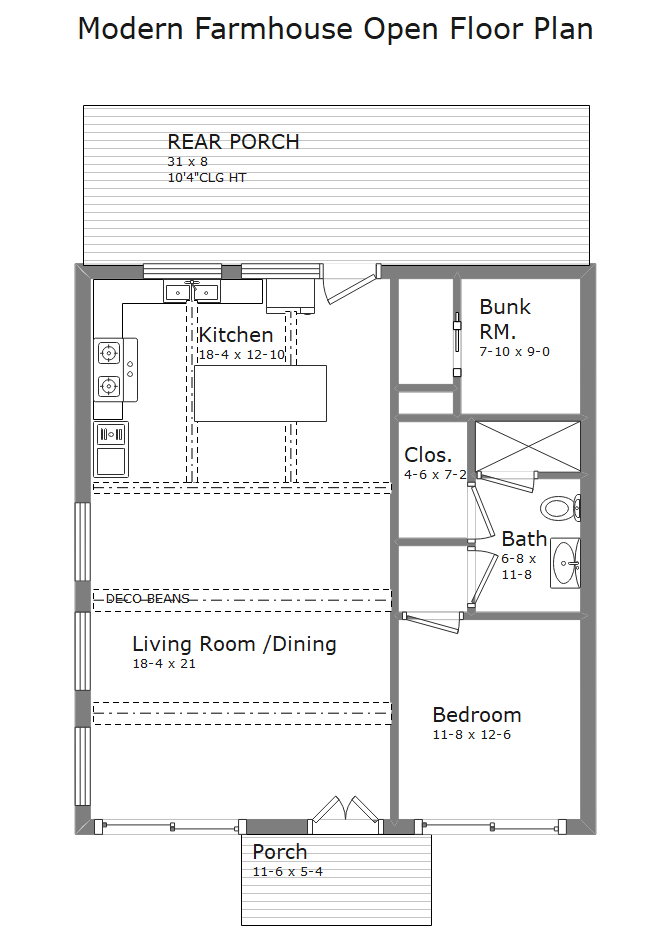 Example 8: Single Story Open Floor Plan
The single-story open floor plan is not only luxurious but a relaxing haven for cozy nights. The porch invites you into the foyer, leading into the great room. For an open concept, the living room and kitchen space are merged but have been delineated by the presence of a kitchen counter. The grandeur of the map is exhibited by the two porches and a patio at the back that offers comfort and space to hold luxurious parties. With a well-illuminated porch and a private spa for yourself, this may be the layout for the house of your dreams.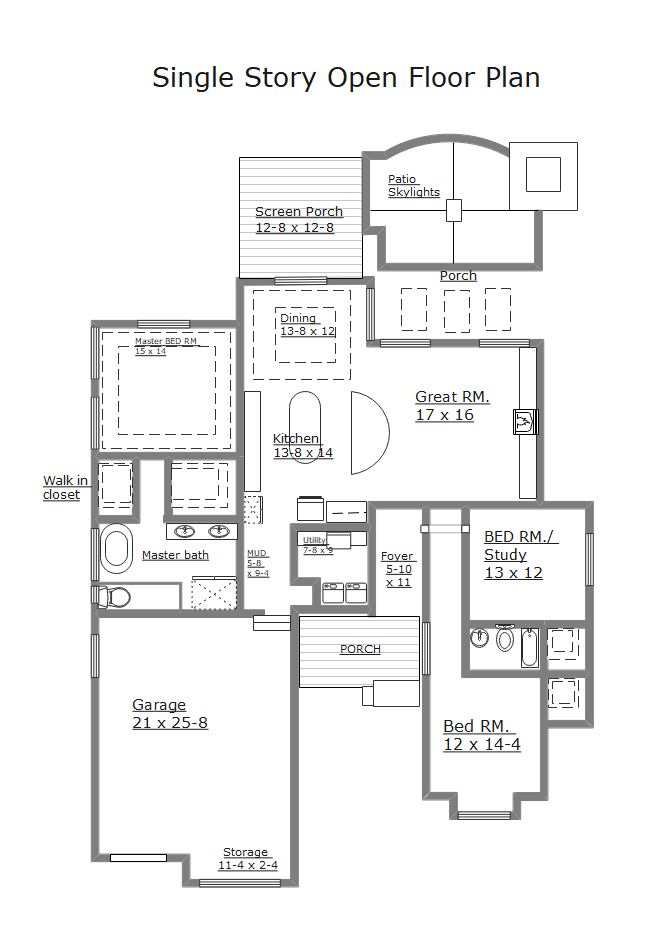 Example 9: Open Floor Plan Kitchen
This basic layout demonstrates a close-up view for an open floor plan kitchen. The space is specified into an open kitchen and a living room, boundaries traced out with by the breakfast table in the center. All the kitchen cabinets and appliances have been arranged with the wall to allow more space and easy inflow of people inside the space. The layout also shows a walk-in pantry with easy access to the kitchen essentials. This cozy and inclusive kitchen layout guarantees style with practicality. These were some ideas for open floor plans. They might look simple but require a lot of effort and time. However, the entire designing process can be simplified with amazing software like the Wondershare EdrawMax.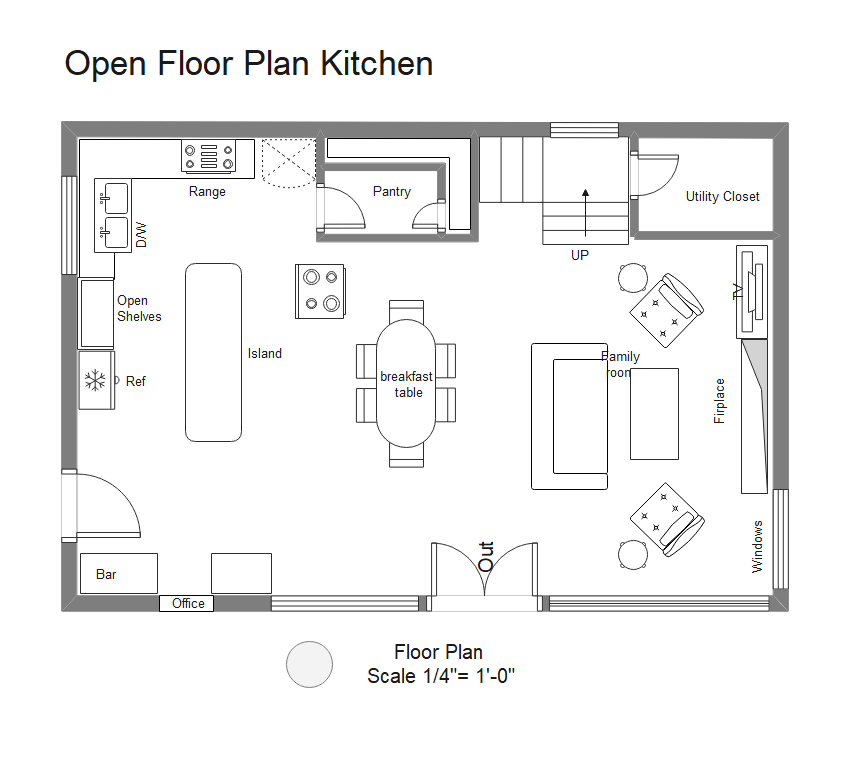 3. Online Open Floor Plan Maker
Creating open floor plans with EdrawMax is a five-finger thing. EdrawMax Online is a professional and user-friendly diagramming software that offers functionality and instigates users' creativity. The application has over two hundred templates ready to be customized according to your liking. Whether you want to create a diagram from scratch or edit a template, the large symbol library and million editing tools are super easy. The highlight is the compatibility of the software that allows you to export your diagrams in different formats, i.e., PDF, DOCX, VSDX, etc. EdrawMax also allows you to collaborate with friends virtually and work on a single project. The application is versatile and serves all your diagramming purposes well.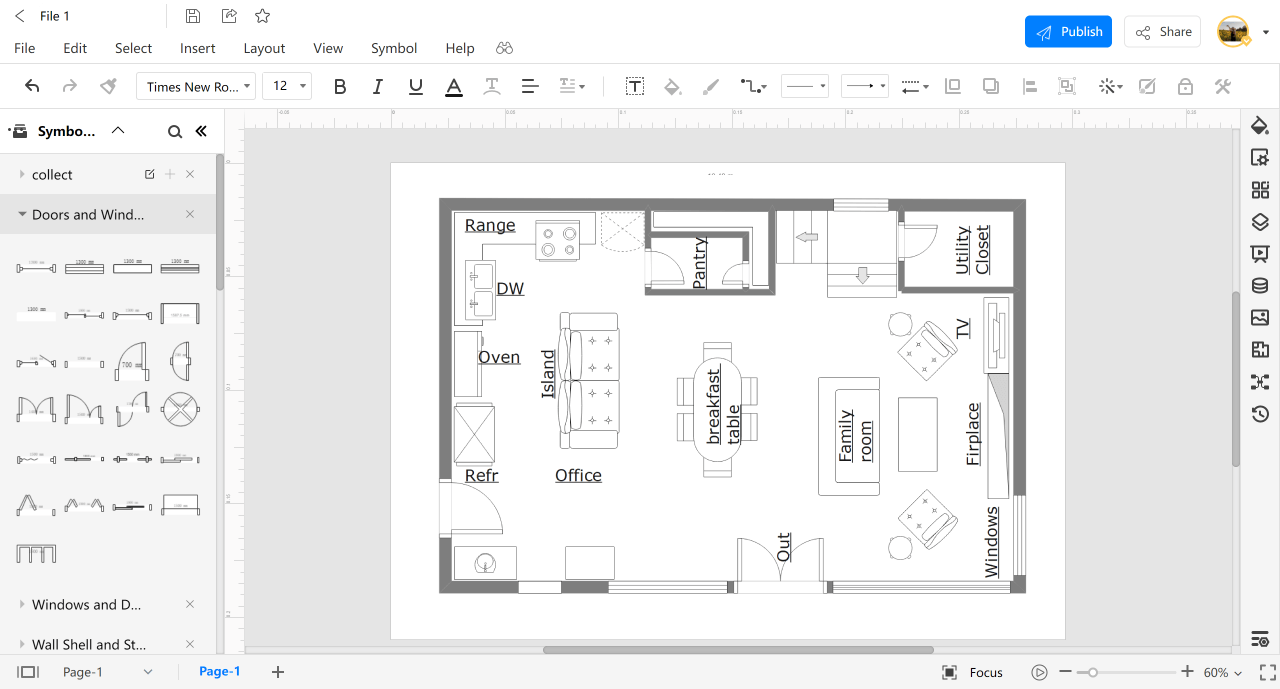 4. Key Takeaways
Open floor plans are a modern house architecture that offers style and functionality. The living space is organized cleverly, making even small spaces look bigger and more comfortable. With no partitions between different rooms, it makes communication easier. Open concept maps require thoughtfulness and time, which may not be a huge deal if you have a convenient diagramming tool like EdrawMax Online. The application is packed with over 280 templates, millions of symbols, and a gamut of editing tools to make diagramming a piece of cake. Try out the application to believe it is true!
Related Articles