Peloton SWOT Analysis
EdrawMax's Peloton SWOT analysis examines the Strengths, Weaknesses, Opportunities and Threats that the exercise equipment company faces.
1. Lead-in
SWOT Analysis is a tool that helps an organization find its position in the market and work on its growth. A business must know its strengths and weaknesses to ensure its sustainability in a competitive market. They can make strategies to utilize their future opportunities and remove the upcoming threats. Peloton's SWOT analysis can show the strengths and weaknesses of the company. The Peloton SWOT analysis can also hint at the opportunities and threats that might impact their business in the future. In this article, we will introduce EdrawMax Online that helps in creating Peloton SWOT Analysis diagrams with free templates.
2. About Peloton
2.1 Introduction of Peloton
Peloton is one of the successful American brands that offer home fitness equipment like stationary bikes and treadmills. They started their business on Kickstarter, initially seeking crowdfunding. The company is headquartered in New York City and earns handsome revenue from its 123 showrooms and two studios. Their innovative ideas in pricing and subscription and designing equipment have made Peloton a household name.
2.2 Overview of Peloton
| | |
| --- | --- |
| Name | Peloton |
| Founded | 2012 |
| Industries served | Home Fitness and Training Equipment |
| Geographic areas served | US, Canada, UK, Germany, Australia |
| Headquarters | New York, USA |
| Current CEO | Barry McCarthy |
| Revenue (US$) | 1,825.9 million (in 2020) |
| Profit | 189 million (in 2021) |
| Employees | 8,662 (2021) |
| Main Competitors: | PreCor, Bkool, Echelon, and more. |
2.3 History of SHEIN
| | |
| --- | --- |
| 2012 | Peloton Interactive was founded by Graham Stanton, Hisao Kushi, John Foley, Tom Cortese, and Yong Feng. |
| 2013 | The company sold its first bike on Kickstarter. |
| 2014 | Peloton releases their first internet-connected stationary bicycle |
| 2018 | The company unveiled its first original Treadmill, Tread+ |
| 2019 | Peloton goes for IPO, turning into a public company |
| 2020 | Covid pandemic hit, creating a surge in demand the exercise equipment |
| 2022 | CEO John Foley stepped down, and Barry McCarthy joined as the CEO |
| 2022 | Peloton starts a new pricing structure, namely One Peloton Club |
3. SWOT Analysis of Peloton
A company SWOT analysis includes four features: strengths, weaknesses, opportunities, and threats. Peloton SWOT analysis can identify the strengths and weaknesses of the company that acted on its efforts as it tried to establish itself as a trusted brand. At the same time, Peloton's SWOT analysis can show the opportunities that might cement its position at the top. You can also point out the threats that may decelerate their growth.
Strengths
Brand Recognition: Peloton is one of the well-known brands headquartered in the USA. They have expanded their business in various countries, including Canada, Germany, the UK, and Australia. Their name is known to many people and the media. Thus, increasing their chance of being visited by a maximum number of potential customers. Their brand recognition has helped them garner a loyal customer base.
Loyal Customer Base: Peloton is well known to the customers for the quality of their equipment, best quality service, and innovative approach. These features have earned them more than 5 million users in the five countries they serve. They have an annual retention rate of 92%. Despite several negative advertisements and brand rivalry, the company's sales did not get much impacted due to their loyal customer base.
Unique Service Strategies: Peloton is one of the pioneer companies that has answered the requirement of the customers uniquely. They have combined services of fitness equipment and training classes. They have multiple high-quality hardware teamed up with powerful software which has their equipment in an innovative approach. They also offer apparel and accessories, which brings in more customers.
Powerful Business Model: Though the brand is recognized as a sports equipment manufacturing brand, they also earn from fitness training. They have subscription models, allowing buyers to enroll for fitness training from home. This business model has helped them to gain a good profit. In 2020, their collective sale was $1,825 million; $1462.2 million came from the sales of the equipment and $363.7 million obtained from subscriptions.
Weaknesses
Selective Equipment: Though Peloton earns revenue from selling equipment and subscription-based fitness training sessions, a significant portion of its profit comes from fitness equipment. However, they have a narrow product line consisting of stationary bikes and treadmills. It has limited their chance of growth.
Competitive Market: Peloton operates in five countries. But they perform well in the US compared to the other brands. Their geographical presence is limited and has less international recognition. The market of fitness equipment manufacturers is experiencing rapid growth as many new companies become a part of the market. This limited presence is a significant weakness of the brand.
Outsourcing: The brand has outsourced some of its services. It has impacted its performance. They are dependent on some third parties and do not have much control over them. Any disruption in those third-party operators can harm the reputation of Peloton and can question its efficiency and trustworthiness.
Branding and Marketing: The brand has lost much money in lawsuits recently. The safety of equipment came under the scanner, leading to negative advertisements that affected their image. They also faced lawsuits due to patent issues. The company needs to engage in innovative branding and campaigns to revive its image. However, the company lacks efforts in marketing.
Opportunities
New Array of Products: Multiple gym equipment is suitable for home training. Peloton can invest in its R&D unit to release more products for fitness enthusiasts. Fitness accessories and clothing are also in demand, which they can explore to increase their sales.
International Market: The post-Covid international market has a high demand for home fitness equipment. They can use this opportunity to penetrate the global market. They can target the Asian and European countries where demand is more and fewer suppliers.
In-house service: They can invest in in-house operational units instead of outsourcing. It will increase their efficiency, and they will be in control of the manufacturing and services.
Well-designed campaigns: They can increase the company's robustness using well-designed campaigns. They can use social media or make innovative marketing efforts to bring more customers.
Threats
Patent Issue: That brand does not have a registered patent which can lead some new companies to come and copy their products. They have also faced lawsuits due to patent issues. It makes their competitors a threat to them.
Financial problem: Peloton has lost enough money recently due to negative advertisements and lawsuits. Their financial issues can limit their scope, impacting their future growth.
The disadvantage of First-mover: As a first-mover company, they have some drawbacks. They need to do thorough marketing research to have a complete idea about the taste and requirements of the customers.
High Competition: As many people face health problems like obesity due to sedentary and fast-paced life, the demand for fitness equipment is increasing. It is leading more manufacturers to enter the market. The high competition can be a threat to Peloton.
Peloton SWOT Analysis Diagram
As you have seen in this SWOT analysis of Peloton, students tend to forget important stuff when they study about such companies in detail. You can use EdrawMax to create wonderful SWOT analysis diagrams. This SWOT analysis software comes with templates and symbols that ease your efforts in creating SWOT analysis diagrams.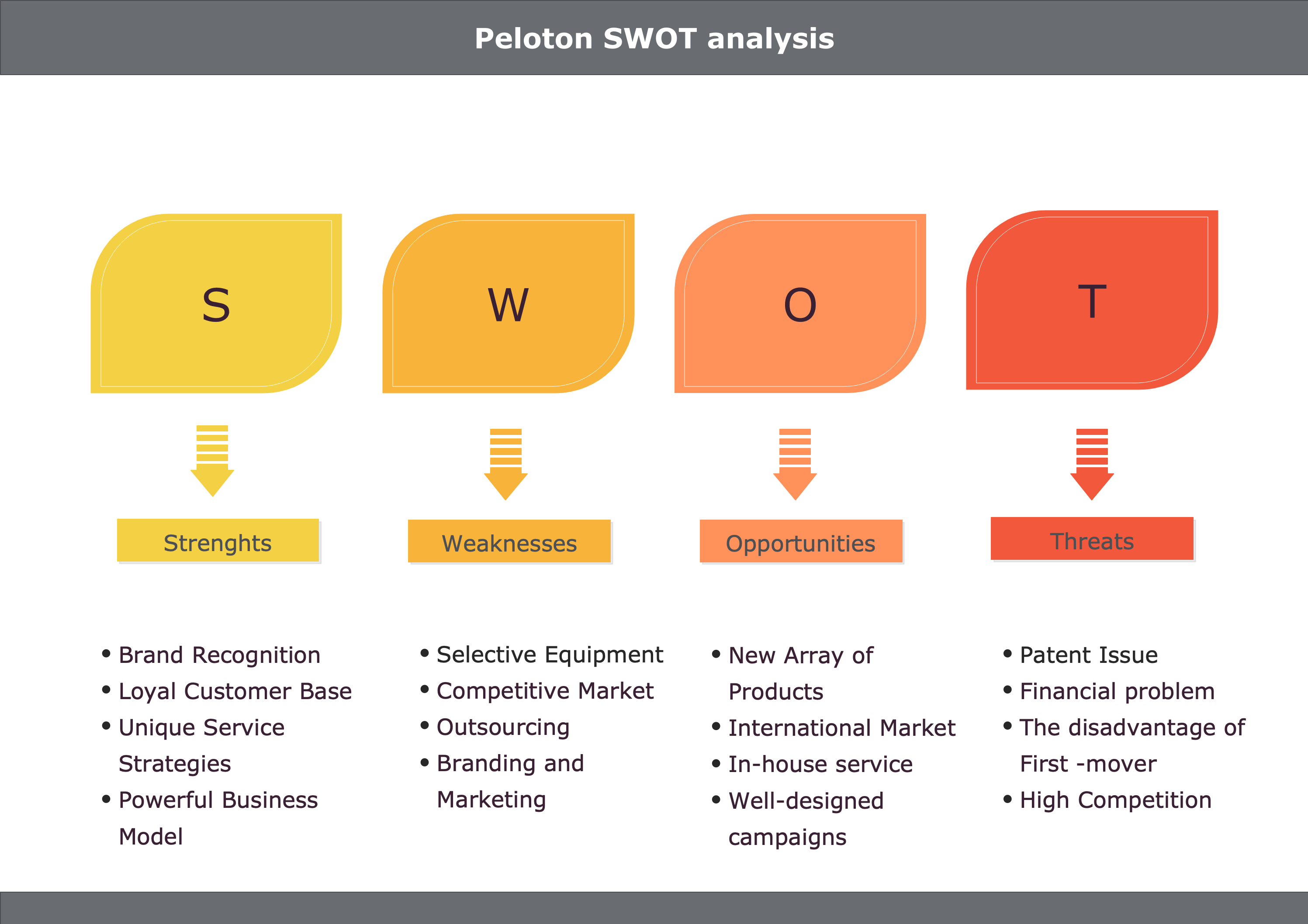 4. Free SWOT Analysis Diagram Creator
Instead of designing a SWOT analysis on paper or on tools that are way too complex, it is recommended to use EdrawMax. Unlike other tools that require expertise, EdrawMax comes with several easy-to-understand online resources. EdrawMax is an all-in-one diagramming tool, well equipped with business and management symbols. These business-related symbols are in vector format, which is scalable and flexible. With EdrawMax, these SWOT analysis components can easily be resized, recolored, and rotated. The free SWOT analysis diagram software has more features including:
EdrawMax comes with free templates that are 100 percent customizable. The built-in vector symbols let you easily add SWOT analysis components to your design.
With this free SWOT analysis diagram creator, you can easily share the SWOT analysis with your team.
With EdrawMax, you can easily present the SWOT analysis diagram with just a click of a button.
EdrawMax lets you export the file in multiple formats, including MS Docs, PPTX, JPEG, PNG, PDF, and more.
This free SWOT analysis diagram creator has a strong community of 25 million users who update the template community with their creative projects.
EdrawMax is considered the best tool for beginners and professionals because of the user-friendly dashboard and easy drag-and-drop feature.
EdrawMax Online
Create 280+ types of diagrams online
Access diagrams anywhere, anytime
Everything in desktop + Templates Community
Team management and collaboration
Personal Cloud and Dropbox Integration
5. Key Takeaways
SWOT analysis of a company can allow them to check the conditions that favored or hindered the firm's growth. Peloton is one of the top fitness equipment manufacturing brands. They have earned remarkable success within ten years. SWOT analysis of Peloton can show the strengths that have helped them to grow and their weaknesses that harm the organizational growth. Peloton SWOT analysis hints at the future opportunities that the company can use to expand its business. They will also get an idea about the threats they can strategically remove for their expansion.
In this guide to analysis of the SWOT, we saw how easy, effective, and efficient it is to work on a SWOT analysis once we use EdrawMax templates. This SWOT analysis diagram software comes with a free template and customization options that help create wonderful diagrams and ensure your analysis diagrams stand out from the rest. Go ahead and download EdrawMax Online today to create amazing SWOT analysis diagrams for different companies.
Reference
Related Articles