---
What is SWOT Analysis?
As stated above, SWOT stands for strengths, weaknesses, opportunities, and threats that perform a holistic analysis of different internal and external components of an organization. It is assumed that SWOT analysis was first introduced by Albert Humphrey of Stanford Institute in the 1960s when he performed the same analysis on numerous Fortune 500 companies.
Since the concept helped others understand the present limitations, advantages, scope of improvement, and other vital characteristics – it was immediately accepted by leading researchers. Today, SWOT analysis is probably one of the first things that managers do to minimize risks and maximize the revenue of an organization. It is represented by a 2D matrix with every cell corresponding to a particular characteristic of the analysis.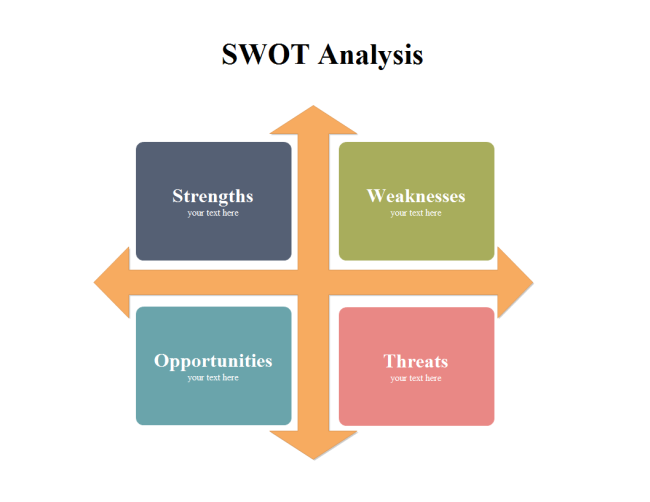 When to use SWOT Analysis?
Ideally, SWOT analysis has a universal appeal and can be performed in every kind of firm, irrespective of the sector it belongs to. Following are some common scenarios in which SWOT analysis would prove extremely beneficial.
Business strategy
In every business, it is important to take strategic and data-driven decisions. This is where SWOT analysis plays such a vital role. It gives us an overall picture of the organization, letting us work on numerous strategies. It will also help you make better decisions related to your strategy.
Marketing
Marketing is all about identifying the new opportunities in the industry and optimizing the available resources. Needless to say, SWOT analysis considers all these crucial components that help a company develop a future-proof marketing plan.
Financing
In finance, the analysis can help you avoid or minimize the coming threats as well as maximize the available resources.
Corporate planning
SWOT analysis also helps in designing the overall environment of a corporate firm. You can test a plan, draw conclusions, identify the loopholes, and do so much more.
Competitor Analysis
After learning what is SWOT analysis, a lot of people try to draw a SWOT diagram of their competitors. This helps them identify their pitfalls and exploit the same for their advantages.
Other scenarios
From risk management to policy making and project scheduling to asset management, SWOT analysis has limitless applications. That is why, it is recommended to understand what SWOT analysis is thoroughly, as it can be a powerful analytical tool.
Why SWOT analysis is an Outstanding Methodology?
According to almost every leading expert, SWOT analysis is one of the go-to principles that every organization should work on. Here are some of the advantages and benefits of the methodology that makes it so popular.
It helps us solve a problem and get a new perspective on it.
As a brainstorming tool, it can be used for better decision making and strategy building.
It makes us understand the limitations of our plan/firm so that we won't over-push things.
Also, it can be used to manage simple tasks or even a complex management force.
It backs up our strategy by helping us improve the overall credibility of our plans.
You can work on your goals, identify barriers, and analyze how to overcome them.
The analysis helps in understanding all the crucial internal as well as external factors that we could have missed.
Since it is quite easy to learn what SWOT analysis is and how to do it, any professional can work on it.
Basic Concepts of SWOT Analysis
Now when you know what SWOT analysis is, let us dive in and discuss its four major building blocks. Ideally, Strengths and Weaknesses are considered as internal attributes of an organization while Opportunities and Threats are the external factors that are related to the environment. Furthermore, Strengths and Opportunities are the helpful factors while Weaknesses and Threats have negative characteristics.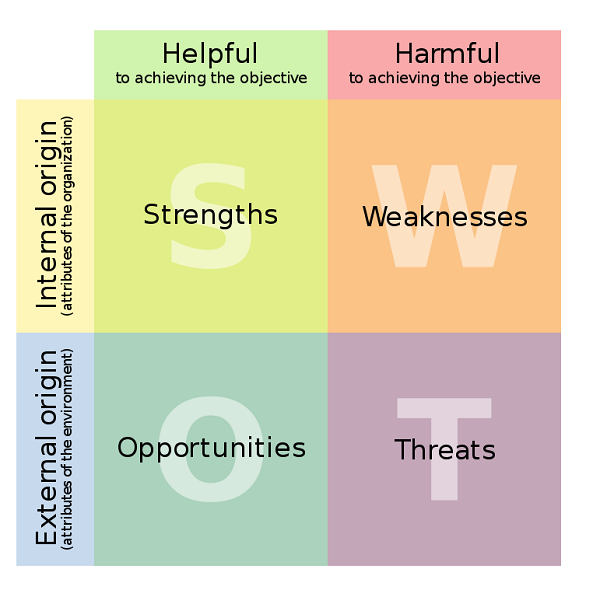 Strengths
This explores the positive side of your organization and what makes it different from your competitors. To identify the strengths of your organization, try to focus on these areas:
What are the key selling points of your firm?
How is your business better than others?
What makes you a key player in the industry?
What are the values your organization is focused on?
What at the major elements that are responsible for your success?
How much profit the firm has generated?
What are the unique skills your workforce has?
How is the overall reach, culture, management, and other key verticals?
Weaknesses
This includes the areas in which your organization is lacking and some work should be done to improve them. Here are some pointers that will help you identify the weaknesses in your organization.
What are the verticals that are not performing well?
How much loss has your firm suffered from?
What are the key areas of improvement?
Is there any communication gap between verticals?
Why are you losing out to your competitors?
What are the products or sectors that might collapse?
Is the morale lacking in the company?
Opportunities
This external factor explores the potential development of the organization. For instance, it could be the market that is yet to be explored by it or an acquisition it can make. Following are some other examples.
Where can the businesses be expanded?
What are the leads that are yet to be converted to prospects?
How can the current market benefit the organization?
What are the key trends that the marketing department should explore?
What are the leading strengths that are yet to be leveraged?
Are there any global or local positive influences on the business?
What are the possible mergers, expansions, and acquisitions we can make?
Threats
This includes all the things that can damage your firm. Apart from its reputation, it can also damage its function as well. These are some of the common ways to examine the upcoming threats.
What are the prospective obstacles to the growth of the company?
Are there any political or geographic factors that can hinder the firm?
Is the organization not versed with the current technology?
Are there better players in the market that might overtake us?
Is the workforce not equipped to handle the firm's weakness?
Is the company not able to gain profit in the long run?
Are there any unexpected events that can shut the firm or a product down?
SWOT Analysis Examples
In order to further understand the principle, let's have a look at some common SWOT Analysis example. This will help you understand how SWOT analysis work so that you can later conduct one on your own.
SWOT Analysis of Starbucks
At first, let's have a look at the following SWOT Analysis example of Starbucks. The firm is extremely reputed and well-funded. Though, it also has bad publicity with its products being costlier than its competitors. The brand has the entire world to expand (majorly Asia), but also needs to consider the fluctuating coffee bean's prices among other threats.
SWOT Analysis of Disney
Disney is one of the biggest entertainment firms in the world with a global reach and a positive reputation. Though, there have been some changing viewership trends and not every Disney product is a success. Nevertheless, there are lots of emerging markets and the brand has recently launched its streaming service to tap them. The only threat it has is the dynamic landscape in the industry and the existing competitors.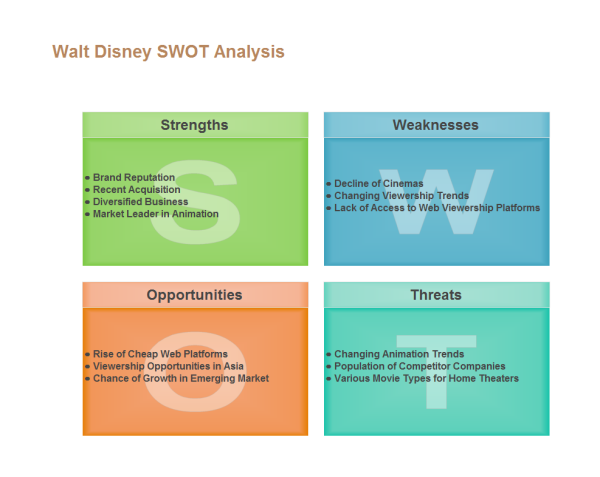 SWOT Analysis of Amazon
Amazon is one of the most valued brands in the world with a global presence. Though, its fragile eCommerce model is its leading weakness. With so much of funds in its hand, it can easily acquire other eCommerce firms and expand its business. Nevertheless, the brand can struggle from the rising competition and the regulating laws on eCommerce in different countries.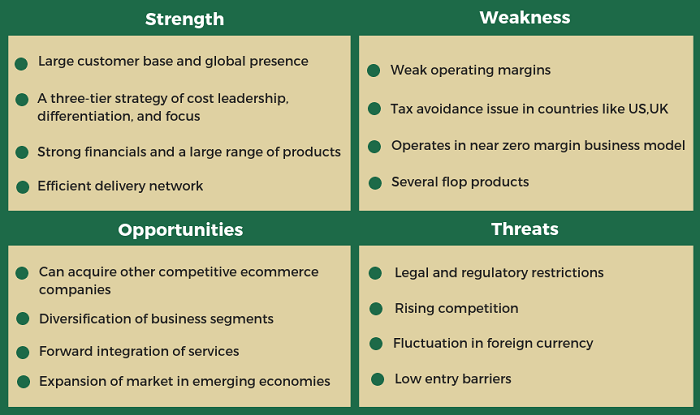 Source: https://makewebbetter.com/wp-content/uploads/2018/11/Amazon-SWOT-Analysis.png
How to Conduct SWOT Analysis with EdrawMax?
Conducting SWOT Analysis using a professional tool like EdrawMax is extremely easy. All you got to do is follow these steps.
Step 1: Identify the internal parameters
Once you know about the topic of analysis, you need to make a list of all the internal characteristics. Further, you need to mark them as either strength or weakness.
Step 2: Include the external characteristics
Later on, you need to take in mind all the positive and negative external parameters that can either be opportunities or threats. You can follow the above-listed suggestions to draw these points.
Step 3: Use EdrawMax to prepare the chart
As you know, SWOT Analysis is a 2D matrix that has 4 major components. You can just launch EdrawMax and choose from either of the readily available templates. On the sidebar, you can find numerous vectors that you can just drag and drop to the canvas.
These vectors are 100% editable and you can enter your details with a single click. Afterward, you can also alter their appearance and even export them to the format of your choice.
Several Tips to Do a SWOT Analysis
To come up with better SWOT analysis results, consider following these tips:
Make sure that you are focused on the technique rather than the stepwise process.
Consider learning from some SWOT analysis examples before you conduct one on your own.
Maintain a quantitative list of all the factors and carefully prioritize them.
The segments can be inclusive in the matrix. That is, your strengths can lead to opportunities or weaknesses can become threats.
Avoid having a tunnel mentality and always look at the bigger picture while performing the analysis.
Consider using a professional tool like EdrawMax to save your time in designing.
Now when you know what SWOT analysis is and how to conduct one, you can easily fulfill your requirements. To make things easier for you, we have even included some SWOT Analysis examples here. If you wish to work on your next analysis and get better results, then use EdrawMax. It will help you work on different vectors and diagrams even without any prior designing experience. Go ahead and give its free version a try and come up with some impressive SWOT Analysis diagrams on your own!