Trader Joe's SWOT Analysis
SWOT analysis of Trader Joe's conducted by EdrawMax analyzes the brand/company with its strengths, weaknesses, opportunities & threats.
1. Lead-in
This article intends to evaluate the business aspects of a world-class brand like Trader Joe's based on its strengths, weaknesses, opportunities, and threats, commonly known as SWOT analysis. Trader Joe's SWOT analysis is a detailed study of the business' overall journey of establishing itself as a successful firm and how it can improve to achieve more. It also will inform you about the factors that are capable of stirring opportunities or are possible threats to its growth.
Trader Joe's SWOT analysis primarily evaluates the internal and external factors responsible for positive outcomes or are the cause of the negative results.
A SWOT analysis is essential for evaluating the trade performance compared to the trade for future references and actions. Through Trader Joe's SWOT analysis, the brand can become aware of the various aspects of its functioning and thus can strengthen itself against its competitors. This article will introduce you to the retailing giant Trader Joe's, the overview of its business operation, the history behind the setting up of the business, and a detailed Swot analysis of Trader Joe's. In this article, we will create Trader Joe's SWOT Analysis using EdrawMax Online to help you better understand the company.
2. About Trader Joe's
2.1 Introduction of Trader Joe's
Headquartered in Monrovia, California, Trader's Joe is a large chain of grocery stores with over 530 stores across the nation. It has been among the leading brands in America in the lifestyle and retail sector since its inception in 1967. The company was named after its founder Joe Coulombe. In 1979, Theo Albrecht bought the company. Since then, it has remained with his heirs. Awarded with several recognitions in the business sector and overcoming all the shortfalls, Trader Joe's business model has seen the pinnacle of success over the years as a service provider.
The company is known to have thrown over Trader Joe's competitors with a stark Trader Joe's growth margin. The retailing giant Trader Joe's SWOT analysis is a powerful management tool that enables the brand to grow further by nurturing the positive factors and neutralizing the impacts of the negative ones.
2.2 Overview of Trader Joe's
| | |
| --- | --- |
| Name | Trader Joe's |
| Founded | 1967 |
| Industries served | Retail |
| Geographic areas served | United States |
| Headquarters | Monrovia, California, United States |
| Founder | Joe Coulombe |
| Revenue (US$) | USD 16.50 billion as of 2020 |
| Significant people | Daniel T. Bane (Chairman & CEO), Bryan Palbaum (EVP of Finance and Administration). Piet Louw (Sr. Director Technology Services), Ron Glickman (VP, Information Technology), and others. |
| Employees | 50,000+ |
2.3 History of Trader Joe's
| | |
| --- | --- |
| 1958 | The company began as a Pronto Market convenience store in Greater Los Angeles. |
| 1967 | Opened their first store under the brand name in Pasadena, California. |
| 1979 | The owner and CEO of Aldi Nord, Theo Albrecht, a German, bought the company. |
| 1987 | John V. Shields succeeded Joe Coulombe as the company's CEO. |
| 1993 | The company expanded into Arizona under the leadership of its current CEO John V. Shields. |
| 1996 | Opened its first stores in Brookline and Cambridge. |
| 2001 | Dan Bane succeeded as the CEO on the retirement of John V. Shields. |
| 2004 | BusinessWeek reported that the company quintupled its number of stores between 1990 and 2001, thus observing a steep rise in Trader Joe's growth in terms of profit margins. |
| 2008 | The company recorded the highest sales generating retail grocery chain in the United States by BusinessWeek. |
| 2016 | Estimated sales of $1,750 per square foot in merchandise, reported by Fortune magazine. |
| 2020 | Joe Coulombe, the founder of the brand, died. |
| 2021 | Joe Coulombe's memoir was published. |
3. SWOT Analysis of Trader Joe's
In this section, the reader will find a detailed discussion on the various business aspects of the company through a SWOT analysis of Trader Joe's. Trader Joe's SWOT analysis will give a clear picture of the areas where it has outgrown its competitors. It will also identify those areas where it needs to work on and improve.
Strengths
Robust domestic market: Trader Joe's has a thriving market on its home ground. Trader Joe's primarily operates for the domestic market. It can be seen as a Trader Joe's marketing problem as it has not reached the international market. However, so far, it has worked very well for the company.
Competitive prices: Due to its one-of-a-kind private label business policies, it has presented lower prices successfully than its competitors.
Loyal customer base: It has a large group of loyal customers, which is the primary source of revenue generation for the company. Trader Joe's has successfully gained the trust of these customers through quality service.
A diverse range of merchandise: The company hosts a vast range of products and merchandise. Thus, making it an attractive retailing destination for varied customers. Buyers can also find some exclusive products in these stores.
Strong brand presence: A long legacy and trustworthy repute have influenced the organization's image as a powerful brand.
Top-notch services: Trader Joe's has maintained its quality of services in terms of merchandise and customer dealing over the years of its existence. Its customers never have to give a second thought before putting their trust in it and thus can be accounted as a valuable strength of the brand.
Weaknesses
Geographical limitations: The company is known to function very well in California but somehow failed to get a dominant hold on the markets of the other states or the international market. It means low market share as compared to other leading competitors.
Absence of eCommerce: When every other organization is fighting for an online presence, not having an eCommerce option or any other delivery substitute is a fundamental weakness for a company.
The Negative product recall history: The past product recall scandals have negatively impacted the company's reputation.
Low return on investment: Although the company is in a thriving financial position, its low return on invested capital can be accounted as one of Trader Joe's organizational problems compared to other competitors.
Negative customer reviews: Customer reviews for Trader Joe's posted on various online platforms show the growing discontent among the customers regarding the services provided by the company.
Opportunities
The untapped market of organic products: There is an increase in demand for organic products, primarily for food. Trader Joe's has a huge opportunity to tap the market for organic merchandise. After all, it has been unexplored until now.
Ecommerce or home delivery service: Trader Joe's have no eCommerce facility or home delivery services. Setting up eCommerce platforms and providing home delivery services will open new opportunities for the company.
Reaching for the International market: It is one of Trader Joe's marketing problems that has hindered the growth of the company's market outside the domestic circle. A vast array of opportunities for Trader Joe's in the global market is there, which they must explore.
Booming market size: In past years, the market size has substantially increased. Also, the customer's changing preferences increase the chance of expanding the business.
Threats
Increase in labor costs: The increasing labor costs can hugely affect the profit margins. Also, there has been a steep rise in the cost of running a business in recent years.
Substitute products: The wide availability of substitute products can hinder the demand for quality merchandise from Trader Joe's.
Economic recession: This factor can alone impact the business of the company. Limiting its debt factors and availing of credit options might reduce this risk.
Intense competition: factors like lack of eCommerce or home delivery services can be a downfall where the competitors are prompt in these areas.
Trader Joe's SWOT Analysis Diagram
You can use EdrawMax to create a SWOT analysis of Trader Joe's. The free templates and symbols ensure that your SWOT analysis diagram stands out from the rest of the submissions.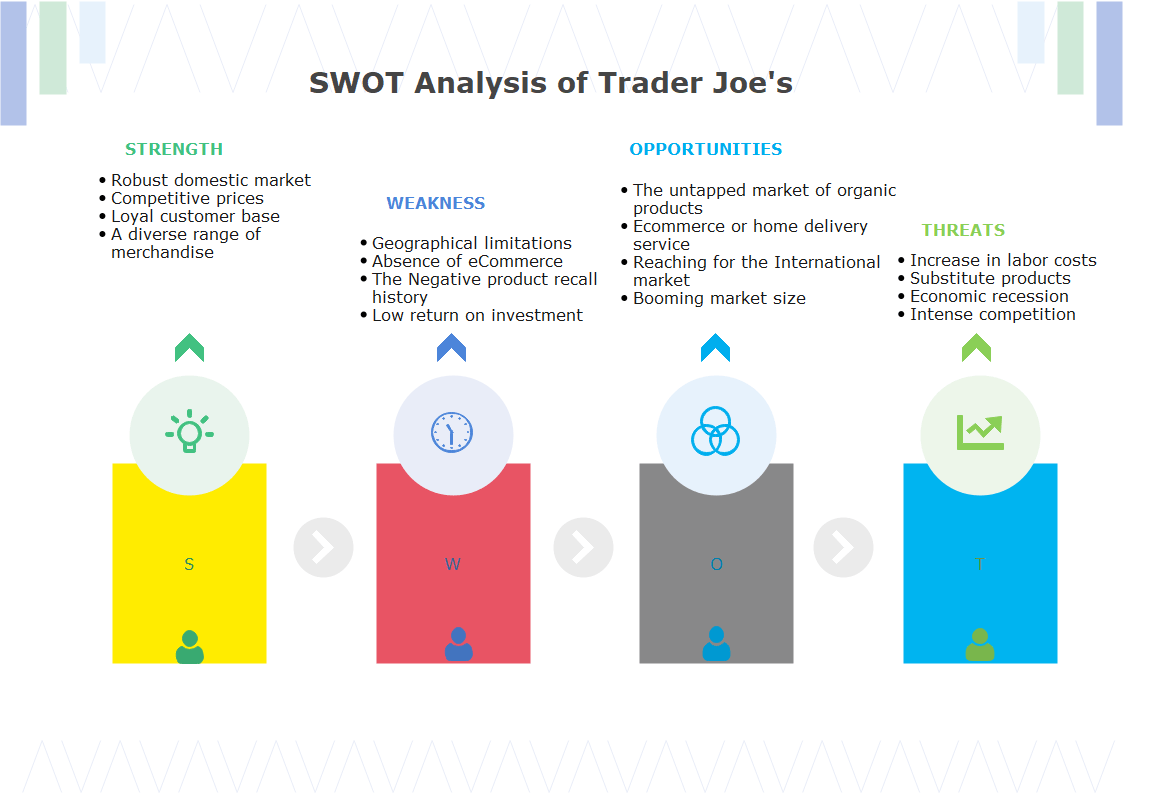 4. Free SWOT Analysis Diagram Creator
Most beginners and learners will recommend EdrawMax for its price, better user interface, and seamless experience when it comes to making SWOT analysis diagrams of different companies. Some of the other brilliant features of this free SWOT analysis diagram creator are:
Unlike other tools where you have to pay an annual renewal charge, this free SWOT analysis diagram creator has a lifetime option to receive all the updates, priority support, and additional cloud storage.
With EdrawMax, you can create a SWOT analysis, PESTEL analysis, graphs, and more with support from its constantly updating template community right from a single dashboard.
Unlike Word or other offline tools, this free SWOT analysis diagram creator easily lets you access your privately stored files.
EdrawMax is created for beginners and professionals alike. From changing the symbols to adding the colors, this free SWOT analysis diagram creator offers you many options.
With this free SWOT analysis diagram creator, you can share your SWOT analysis diagrams on different social media platforms, like Facebook, Twitter, Pinterest, and Line.
This free SWOT analysis diagram creator lets you export the SWOT analysis diagrams in different formats, like JPEG, PNG, PDF, Word, HTML, and more.
EdrawMax Online
Create 280+ types of diagrams online
Access diagrams anywhere, anytime
Everything in desktop + Templates Community
Team management and collaboration
Personal Cloud and Dropbox Integration
5. Key Takeaways
The SWOT analysis Trader Joe's carries out a detailed study of the various aspects of a business that can help the organization. It helps to identify the company's strengths, weaknesses, opportunities, and threats. A company must recognize these as it presents a distinct scenario of how the company can grow or what factors can prove to be disastrous.
A detailed Trader Joe's SWOT analysis report is an essential management tool that can help the company overcome its shortcomings and prevent huge losses. As you analyzed in this article, creating and sharing a SWOT analysis diagram with EdrawMax Online is easy, efficient, and affordable. This free SWOT analysis diagram software offers many elements that ease your efforts when creating complicated SWOT analysis diagrams. With the help of EdrawMax, you can also share your diagrams on different social media platforms, like Facebook, Line, Pinterest, and more.
Reference
En.wikipedia.org. Trader Joe's - Wikipedia, [online]. Available at: https://en.wikipedia.org/wiki/Trader_Joe%27s (Accessed 9 August 2022).

Team, M., 2022. Trader Joe's SWOT Analysis, Competitors & USP | MBA Skool, [online]. Available at: https://www.mbaskool.com/brandguide/lifestyle-and-retail/9643-trader-joes.html (Accessed 9 August 2022).
Related Articles