Zara SWOT Analysis
Looking for the SWOT Analysis of Zara? Read the EdrawMax guide to learn about Zara's success, strengths, weaknesses, threats, and more with a diagram.
1. Lead-in
SWOT analysis allows the management teams of different organizations to evaluate their position in the market. Every company has some strengths and weaknesses, which affect its growth. SWOT analysis can identify their strengths and weaknesses. At the same time, SWOT analysis hints at their growth potential by considering their opportunities and threats.
Zara is a Spanish apparel brand with a worldwide presence and offers products like clothing, shoes, accessories, beauty products, etcetera. The clothing market dealing with fast fashion is a rapidly changing market. However, Zara has already earned a stable position in this highly competitive scenario. SWOT Analysis of Zara can show their strength that has helped them to be a customer favorite despite its weaknesses. You can also use the data-based SWOT analysis of Zara to figure out its future opportunities and threats that may hinder its progress. We will also introduce EdrawMax Online as a tool which help you create professional-looking Zara SWOT analysis diagram.
2. About Zara
2.1 Introduction of Zara
Zara is a Spanish clothing retail brand that has earned its name for attracting customers from multiple spectrums of society. The company started its business in 1975. It brought the concept of "fast fashion" to retail while grabbing the customer's attention who likes to follow fashion trends. Being a fashion powerhouse, Zara has apparel collections for men, women, and kids. They have also introduced a sub-brand Zara, TRF targeting the young generation and teens. They have around 7400 stores. Zara has expanded their business in Greece, Sweden, Belgium, Israel, and more.
2.2 Overview of Zara
| | |
| --- | --- |
| Name | Zara |
| EstablishmentDate | 1975 |
| Industries served | Apparel |
| Geographic areas served | Worldwide |
| Headquarters | Arteixo, Spain. |
| Current CEO | Amancio Ortega |
| Revenue | €19,586 million. |
| Stores | 2047 (in 2022) |
| Employees | 16,500 (2021) |
| Main Competitors | H&M, Uniqlo, Nike, Gap, and Forever 21 |
2.3 History of Zara
| | |
| --- | --- |
| 2008 | Foundation of SHEIN |
| Early 2010s | Made products available in Spain, France, Russia, Italy, and Germany |
| 2012 | Started using social media for advertisement and collaborative works |
| 2014 | ROMWE was acquired |
| 2016 | Established headquarters in Guangzhou, China |
| 2018 | Started to form it is very own supply chain system |
| By November 2021 | The company grew from $15 billion to $30 billion |
| As of May 2022 | It is the most significant fashion clothing firm online |
3. SWOT Analysis of Zara
A fact-based SWOT Analysis analyzes four primary components; strengths, weaknesses, opportunities, and threats. Zara is one of the biggest apparel brands which has customers all over the world. The SWOT Analysis of Zara can identify the strengths of the brand that has helped it to grow over the last few decades while pointing out the weaknesses they need to work on for its sustainability. SWOT Analysis of Zara will also help in deciphering future opportunities and threats.
Strengths
Unique Designs: The brand pays attention to the market and the fashion trends, allowing them to have unique designs to compete with the other apparel brands. They have a team of more than 700 designed to develop trendy garments attracting customers from different age groups, ethnicities, and cultures. On average, the company designs around 450 million products. Hence, they do not have issues with launching a variety of items.
High Quality at Low Price: Zara produces clothing items and accessories that are high in quality. They keep the price affordable which attracts more customers. The brand does not spend money on advertising, but its unique designs and high demand compel the buyers to bag the items as soon as they are dropped.
Global Presence: The brand is not only successful in its homeland but has expanded its business in countries of Europe, Asia, and the USA. They have more than 2000 stores all over the world. Additionally, they operate an online boutique which also contributes to their sales.
Environment-friendly manufacturing: The brand concentrates on developing toxic-free production units. They have eliminated the harmful elements that can be hazardous to the environment. At the same time, they participate in campaigns that stress preserving natural resources.
Weaknesses
Limited Advertising: Though the brand is quite a pro at visual merchandising, they do not spend much money on Television and Print ads. Though they make apparel for women and teens, they primarily target the younger generations. Hence, they prefer using social media for advertising rather than traditional media. The 'word-of-mouth' promotion also works fine for the brand, but including the print and TV ads might help them increase the revenue.
Disruption in Supply Chain: The brand has more than 2000 retail outlets worldwide, and its supply chain needs to work in close coordination to maintain a smooth process. Any disruption in the supply chain causes delay and leads to customer dissatisfaction.
Committing too much to fashion trends: Although Zara is known for its unique design and favoring new fashion trends, this can be its weakness. They pay too much attention to highly volatile trends.
Issues with Offline sales: Zara is very much dependent on their outlets for sales, and they are yet to explore the potential of the online business. There is a lack of adequate details about apparel on their website, and the customer may not be satisfied with the delivered product for the same reason.
Opportunities
Innovative Campaign: The brand can design innovative campaigns to interest its customers while targeting audiences on print, TV, and social media. Zara's creative campaign may target people of the middle age group, bringing them more customers.
Domestic Factories: The company is a part of a large brand and can afford to invest money in making domestic factories and warehouses to avoid delays in deliveries and cushion the disruption in the supply chain.
Classic and Unique: As rapidly changing fashion trends can be a weakness of the company, Zara may come up with some classic ranges, apart from being unique. It will decrease the chance of losses while something 'in' fashion suddenly becomes back-dated.
Concentrating on Online Business: The COVID pandemic has shown that problems can arise if a company depends largely on its offline counters for sales. Zara can expand their business by aptly structuring its online boutique. They must fix the website issues reported by the customers and use innovative ideas to increase their sales online.
Threats
Competition: Many apparel makers are coming to the market and offering trendy clothes at a competitive price. Although Zara offers unique designs at a competitive price, the stiff market competition is a threat.
Government Initiatives for local products: Zara's revenue depends on its worldwide sales. However, while operating in countries where the Government has favorable schemes and promotional offers for the local sellers, they can face a setback.
Fluctuation of currency: Since Zara is a global presence, currency fluctuations, instability in the economy, and pricing problems can negatively impact its growth.
Imitations: Due to their low interest in advertising, they fail to reach a maximum number of customers. Taking that opportunity, many local companies are coming up with cheap imitations of their products having similar designs. It is also a threat to the sale and their reputation.
Zara SWOT Analysis Diagram
Use EdrawMax to create a SWOT analysis diagram of Zara. This free SWOT analysis creator offers a wide range of customization options that helps in creating amazing SWOT analysis of different companies.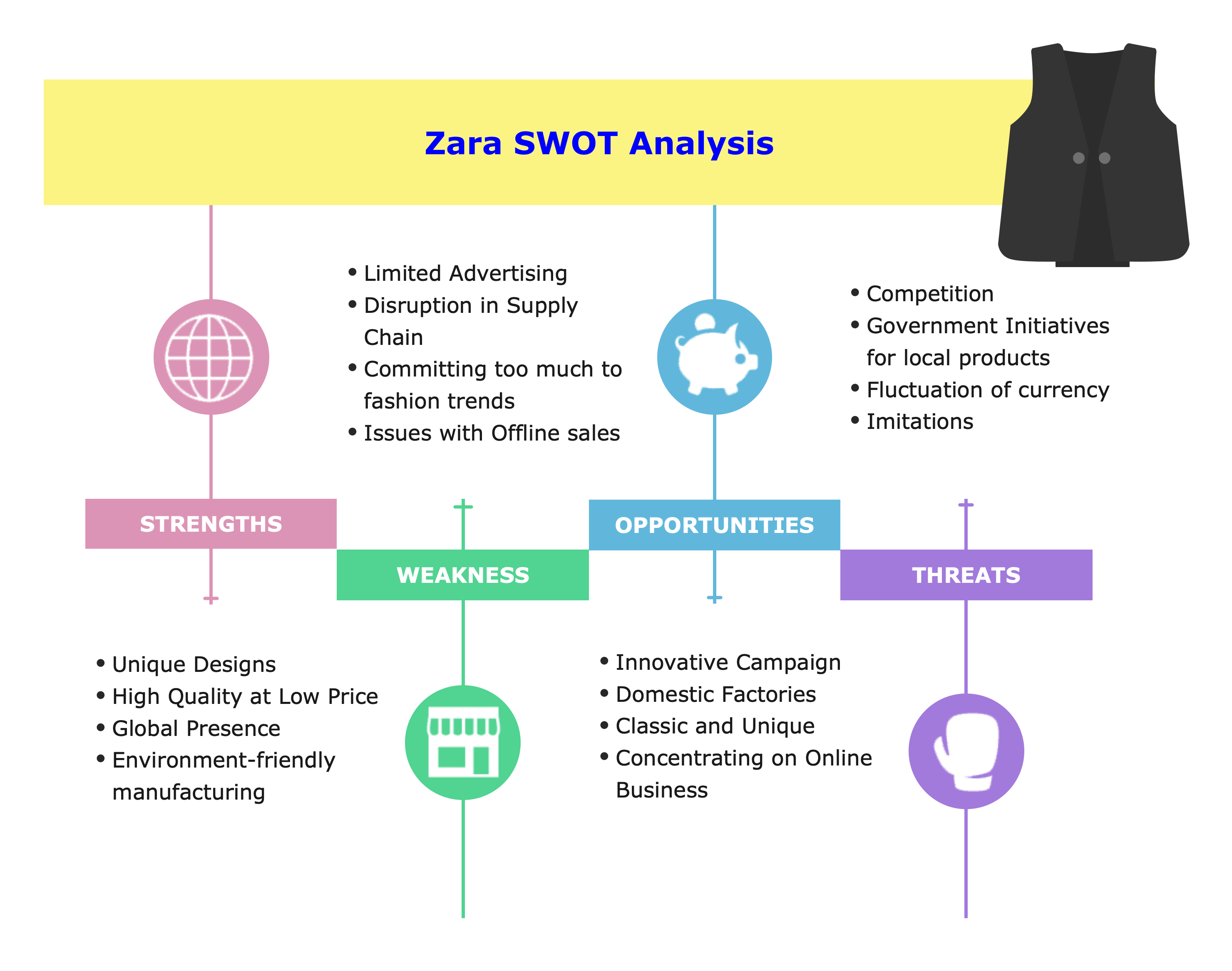 4. Free SWOT Analysis Diagram Creator
Over 25 million people are currently using EdrawMax for its robustness, platform independence, and ease of creating and sharing SWOT analysis diagrams in it. Some of the great features of using this free SWOT analysis diagram creator are:
EdrawMax comes with 20,000 vector-enabled symbols that let you easily create over 280 types of different diagrams, which is 3x times more than what Visio offers.
This free SWOT analysis diagram creator lets you create SWOT analysis and provides additional features to share your file to different social media platforms or directly share the URL in your email with your client or business analysts.
EdrawMax also offers multiple structure and theme options to make your diagram stand out from the rest.
This free SWOT analysis diagram creator easily imports and exports files created in MS Visio, making team collaboration extremely efficient.
The free trial version of EdrawMax offers so much that you will wonder why you have not used it before to create different SWOT analysis or business-related diagrams.
EdrawMax Online
Create 280+ types of diagrams online
Access diagrams anywhere, anytime
Everything in desktop + Templates Community
Team management and collaboration
Personal Cloud and Dropbox Integration
5. Key Takeaways
Zara has many strong competitors as it is a retail brand in apparel. But the company has retained its position as one of the top brands. Though the fashion trends change rapidly, Zara has successfully retained its customer base captivated. For a proper SWOT analysis, it is crucial to take the details and timeline of the brand into account. An objectively done SWOT Analysis of Zara can find the company's strengths that have allowed it to attain its present success despite its weaknesses. The Zara SWOT analysis can show its potential growth. Zara may achieve if they explore the opportunities. The SWOT Analysis of Zara can hint at the threats the company may face in the future, which they can strategically remove to keep up with their phenomenal success.
As you can see in this ZARA SWOT Analysis guide, creating a SWOT Analysis diagram in EdrawMax Online is easy and efficient. With the built-in sharing and export options, you can go ahead and export your SWOT Analysis into multiple formats. At the same time, the built-in template community provides you access to thousands of similar templates that ease your efforts in making SWOT analysis diagrams.
Reference
Ravin Style. 2022. How Many Employees Does Zara Have 2021?, [online]. Available at: https://www.ravinstyle.com/how-many-employees-does-zara-have-2021 (Accessed 9 August 2022).

IIDE. 2022. Detailed SWOT Analysis of Zara - 2022 Update | IIDE, [online]. Available at: https://iide.co/case-studies/swot-analysis-of-zara/ (Accessed 9 August 2022).

Martin Roll. 2022. The Secret of Zara's Success: A Culture of Customer Co-creation | Martin Roll, [online]. Available at: https://martinroll.com/resources/articles/strategy/the-secret-of-zaras-success-a-culture-of-customer-co-creation/ (Accessed 9 August 2022).

Projects4mba.com. 2022. SWOT Analysis of Zara [Step by Step SWOT], [online]. Available at: https://www.projects4mba.com/swot-analysis-of-zara/5024/ (Accessed 9 August 2022).
Related Articles