Twitter SWOT Analysis
This Twitter SWOT analysis from EdrawMax explores the social media giant's strengths along with its drawbacks, opportunities, and threats.
1. Lead-in
SWOT analysis is necessary to examine an organization's strengths, weaknesses, opportunities, and threats. It provides a perspective regarding the market position of a company.
Factual data helps in creating a SWOT analysis. Twitter SWOT analysis brings forth the company's strengths, weaknesses, opportunities, and threats of this social media company. The analysis helps to predict the predicament of this company. SWOT analysis of Twitter ensures that the management team knows the changes it has to make for growth in the social media field. In this article, we will also reveal how EdrawMax Online can help you create some amazing SWOT analysis diagrams, including Twitter and other social media platforms.
2. About Twitter
2.1 Introduction of Twitter
Twitter is a well-known platform mainly used for social networking and micro-blogging. Users on Twitter can send/share messages by tweeting or re-tweeting. People can currently post tweets with a maximum of 280 characters on Twitter. The exclusive services and products offered by Twitter include Audience Ads Platform, Twitter Social Networking, MoPub, Periscope, Micro-Blogging, Promoted Tweets, Promoted Trends, and Promoted Accounts. The notable competitors of Twitter are Vkontakte, Facebook, Tencent, Instagram, Tumblr, LinkedIn, Google, WeChat, YouTube, Snapchat, Microsoft, WhatsApp, Quora, Pinterest, Orkut, and MySpace. Twitter's business analysis says that it is currently one of the most popular microblogging sites on the internet.
2.2 Overview of SHEIN
| | |
| --- | --- |
| Name | Twitter Inc. |
| Founded | 2006 |
| Industries served | Social Media |
| Geographic areas served | Worldwide |
| Headquarters | San Francisco, US |
| Founders | Jack Dorsey, Noah Glass, Biz Stone, Evan Williams |
| Revenue (US$) | $5.08 Billion as of FY 2021 |
| Significant people | Parag Agarawal (CEO) |
| Employees | 7500 |
2.3 History of Twitter
| | |
| --- | --- |
| 2004 | Foundation of Odin, Twitter's parent company |
| 2006 | It is set up and the first tweet is sent by Jack Dorsey |
| 2007 | It is extremely successful at South by Southwest Interactive (SXSW) |
| 2008 | Evan Williams takes over as CEO after Jack Dorsey |
| 2009 | Executives Biz Stone and Evan Williams were included in the TIME 100 |
| 2010 | Unassisted off-Earth message is posted from the International Space Station by NASA astronaut T. J. Creamer |
| 2011 | Acquires a real-time social analytics platform called BackType |
| 2012 | Acquires a video clip company called Vine |
| 2013 | Launch of a music app for the iPhone called Twitter Music |
| 2014 | Acquires password security startup Mitro and open sources the product. |
| 2015 | Acquires Periscope, a live video streaming startup. |
| 2016 | Acquires Magic Pony Technology, providing expanded data for images. |
| 2017 | Introduction of "Twitter Lite." |
| 2019 | TLS 1.0 and 1.1 support ended. |
| 2021 | The first trial of downvoting feature |
| April 25, 2022: | Plan to Privatize Twitter with Elon Musk offering a deal to acquire the company for $44 billion |
3. SWOT Analysis of Twitter
The article details prime aspects of the Twitter SWOT analysis. The SWOT analysis of Twitter will enumerate its strengths and weaknesses. The SWOT Analysis is also significant because it will provide valuable information regarding the company's future scope and possible threats.
Strengths
Substantial market value: It is known as the second most popular platform for social media users. In April 2022, the market share of Twitter was 7.13%. The market share of Twitter in Europe is 5.74%. It has the highest share in the USA. In North America, it stands at 8.18%. This social media company has more market share than YouTube, Reddit, Instagram, and Pinterest. Twitter acquired a considerable market share as it entered the market pretty early.
Image of the brand: Twitter entered the field as a micro-blogging site in 2006. It has developed a unique logo, mascot, and color for the brand. It is pretty smooth to recognize, and many celebrities flock to Twitter, making it all the more popular and adding more value to its brand image. Twitter has ranked fourth in the list of most visited websites, according to Finances Online. The iconic bird of the Twitter logo is highly noticeable.
Revenue models: There has been observable diversification to generate revenue. Twitter has engaged in businesses beyond the technology arena, which helped them to diversify the revenue stream.
The Positive sales taxes included: No matter what you buy, where you buy it from, and how you do that, there is always inclusion of taxes on every product you buy. So, even though consumers have to pay taxes to purchase products from SHEIN, they still have a pretty high sale of products.
Popularity as a Communication platform: It has become almost akin to a mainstream news channel where the official provides updates through Twitter handles. Not just individuals but organizations have their Twitter handles through which they disseminate informational updates. It is easy to send a direct message to the crowd through Twitter. So almost 67% of organizations treat Twitter as a B2-B advertising platform.
Weaknesses
Misuse of information: The users who sign up on the platform provide information, and it is up to Twitter to protect against hacking information and misuse of clients' information by sponsors. But information leaks have been observed, and the micro-blogging platform has acknowledged and issued an apology in 2019.
Insufficient Modernization: The platform is necessary for reading quick updates and news, but it is still behind the innovation offered by other social media platforms. There is no process to edit a wrong tweet or spelling errors in a tweet. The only way to resolve mistakes while tweeting is to delete the tweet and post the correct one. The lack of an edit function is a huge negative point when most social media platforms and applications offer users the option to edit their posts. It has led to slower growth as many people are getting bored with the lackluster features of Twitter.
Upgrading the Business Model: Competitors in the field of social media or computer services can easily employ the simplistic business model of Twitter. It is vital to have a system that can integrate end users with vendors or suppliers to grow as a platform. An innovative business model is required to fight against the growing competition.
Accounts without real users: The problem of fake accounts is a pronounced issue on Twitter. Estimates claim that around 5% of active users use spam accounts. The reputation of the social media platform has plummeted due to the high increase in the number of spam activities.
Opportunities
Streaming of videos: It is a huge advantage to have a video streaming feature on Twitter because it already has an excellent database. Competing social media platforms like Facebook also inserted the video streaming option. Moreover, it is necessary to have this feature to bring in more users.
Local Partnership: Local tie-ups are a great way to augment growth. It is beneficial to build more opportunities in international markets, and working with local companies with expertise in that arena is a great way to create new global processes.
False news: Twitter users are often dealing with false information. There is also the issue of abuse and lack of protection of users' information. These are burning issues that worry users on the platform, and people are leaving the micro-blogging site to avoid such harassment and complications. The platform needs to alleviate the concerns of the users because, in the end, it is hampering user interaction on this platform.
E-commerce platform: Buying and selling products online is not limited to specific e-commerce sites. Moreover, social media is also part of this e-commerce culture. Twitter can enhance the users' engagement with the site by offering a marketplace where users can purchase items. Twitter can become not just a place for interaction but also for making purchases.
Threats
Celebrity exits: There are influencers and celebrities on Twitter that improve brand image and value, but often it has been observed that well-known names have suddenly left Twitter. It results in a loss of fan base, and if the trend continues, it will create a big threat for Twitter as it will reduce their user base.
Advanced Excise duty: The European Union imposed tax duty as an advanced assessment for technological companies. Twitter is also a tech company and needs to pay the required advance tax, which will impact the company's productivity.
The Powerful competition: Social media is highly influential, and there are quite a few platforms that allow users to interact with others via their platform. Facebook is a potential competitor and has grown magnanimously, and Twitter needs to realize the threat of such a giant social media company. There is a massive difference between the market share of Twitter and Facebook.
Legal threats: The WTO regulations have made the legal processes lengthy and expensive. Twitter is already facing legal actions. Moreover, it can lead to scanty investment in new markets. It will harm the overall growth of Twitter.
Twitter SWOT Analysis Diagram
With the help of EdrawMax, you can work on the visual side of SWOT analysis. This free SWOT analysis software offers templates and symbols that help create unique SWOT analysis diagrams.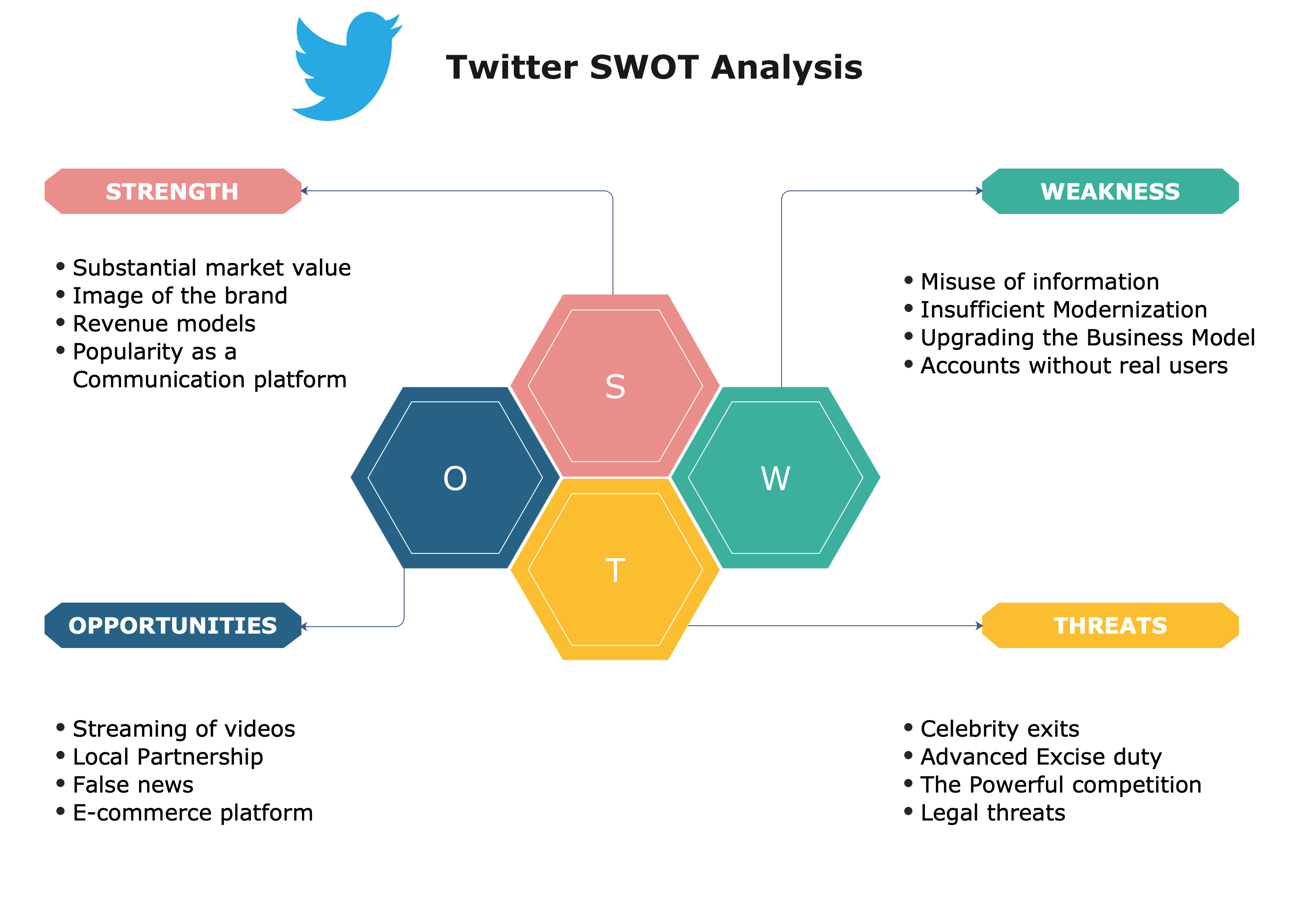 4. Free SWOT Analysis Diagram Creator
Most beginners and learners will recommend EdrawMax for its price, better user interface, and seamless experience when it comes to making SWOT analysis diagrams of different companies. Some of the other brilliant features of this free SWOT analysis diagram creator are:
Unlike Visio, EdrawMax's yearly or one-time license is not that costly.
EdrawMax's auto-arrange feature works smoothly even though you have added hundreds of different objects to your canvas board.
This free SWOT analysis diagram creator lets you create over 280 types of different diagrams, which are way more than MS Visio and other competitors.
This free SWOT analysis diagram creator is built just like any other Microsoft Office program, so anyone familiar with Microsoft suite will find it relatively easy.
EdrawMax offers over 2,800 free templates in its template community that let you create hundreds of diagrams in just a couple of steps.
EdrawMax Online
Create 280+ types of diagrams online
Access diagrams anywhere, anytime
Everything in desktop + Templates Community
Team management and collaboration
Personal Cloud and Dropbox Integration
5. Key Takeaways
Twitter SWOT analysis clearly shows that the popularity of Twitter is more concentrated in the US region. Moreover, it can improve to gain more revenue from other parts of the world. SWOT analysis of Twitter reveals the impact of spam and fake accounts on the micro-blogging site. The lack of timely insertion of new features like video streaming hinders its progress. The other competitive platforms are already moving towards innovation. So, Twitter needs to upgrade its features and security protocol to earn the trust of its loyal users.
EdrawMax Online is considered the best free SWOT analysis diagram creator for various reasons. The free version of EdrawMax offers some amazing features that get you started with SWOT analysis diagram making. As a registered EdrawMax user, you can access the template community that offers user-generated templates. In this free SWOT analysis diagram creator, you can publish your SWOT analysis diagrams to inspire other beginners and professionals. Download EdrawMax today and start working on different diagrams.
Reference
Related Articles