UPS SWOT Analysis
EdrawMax's UPS SWOT Analysis for 2022 provides a complete picture of strengths, weaknesses, opportunities, and threats that UPS faces.
1. Lead-in
The fundamental aim of a SWOT Analysis is to gather basic information about a particular company. SWOT Analysis stands for Strength, Weakness, Opportunity, and Threat. These four are the most significant factors that can give an idea about a company's past and present and predict its future. The SWOT Analysis can conduct a company's factual, realistic, and data-oriented analysis. This analysis helps to identify a particular company's competition and where they stand concerning their competitors.
UPS SWOT Analysis is nothing but the analysis of its Strengths, weaknesses, opportunities, and threats that makes them a premier package delivery company. This analysis highlights the points that strengthen the company's position in the market and reflect on the hurdles that helped it to gain its current position. The SWOT Analysis will also show those points that can take this position away from the company. Hence, the article here will deal with the UPS SWOT Analysis. In this article, we will also introduce how you can make UPS SWOT Analysis using the amazing templates and features offered by EdrawMax Online.
2. About UPS
2.1 Introduction of UPS
UPS or United Parcel Service is a multinational company in the United States. Its primary service area is shipping and receiving. However, they also give services in supply chain management. The company foundation took place in 1907. After establishing the company in the initial days, it was known as the American Messenger company. Its primary focus then was on telegraphs, but now the success that UPS has received has helped it to grow into a Fortune 500 company, and when it comes to shipping couriers, it is the world's largest company.
Now it is mainly famous and popular for its ground shipping services, as well as the retail chain known as the UPS Store, this chain of retail assists with the shipping service, and small businesses receive tools from this chain. Air shipping overnight or within two days is also a part of this service they produce. The firm carries out this delivery entirely to post office boxes using UPS SurePost, a subsidiary. Thus, they can pass packages to the United States Postal Service needed for the last mile delivery.
2.2 Overview of UPS
| | |
| --- | --- |
| Name | United Parcel Service (UPS) |
| Founded | August 28, 1907 |
| Industries served | Courier Service Industry |
| Geographic areas served | Worldwide |
| Headquarters | Sandy Springs, Georgia, USA |
| Founder | James E. Casey |
| Revenue (US$) | US$97.29 billion as of 2021 |
| Total assets | US$ 69.41 billion, according to 2021 data |
| Employees | 534,000, last checked data from 2021 |
| Main competitors | National-level competitors include United States Postal Service (USPS) and FedEx, and when it comes to state-level competitors, they are OnTrac and LSO for its international competitors, such as SF Express, Canada Post, and more. |
2.3 History of UPS
| | |
| --- | --- |
| 1907 | In August, James Casey founded the company. |
| 1913 | A Model T Ford was taken as the first vehicle owned by the company for delivery purposes. |
| 1916 | More vehicles were brought in by Charles Soderstrom. |
| 1919 | Expansion of the company for the first time outside Seattle to Oakland, California. |
| 1922 | Acquiring common carrier service.. |
| 1930 | First expanded to the East Coast in metropolitan New York City |
| 1953 | Began common carrier operations |
| 1975 | Became the first package delivery service to reach every address in the continental U.S. |
| 1985 | UPS Next Day Air service reached every address in the 48-contiguous states, Hawaii, and Puerto Rico |
| 1988 | Launched UPS Airlines |
| 1989 | Extended service to the Middle East, Africa, and the Pacific Rim |
| 2001 | Entered the retail business |
| 2018 | Began offering Saturday ground delivery and Saturday pickup services |
3. SWOT Analysis of UPS
Strengths
Global service provider: UPS has gone through several expansions, which has helped them provide services in many countries worldwide. Its shipment business has been going on in over 140 countries. Moreover, they have their small delivery services across 220 countries all over the globe.
Tracking shipments online: Customers need continuous reliance that their products are safe and will reach them on time. Shipment tracking online is a common feature that every courier service has nowadays for their customer's peace of mind. However, compared to other shipping services, UPS provides the best service, as each day, they carry out almost 295 million deliveries with their online tracking system.
SMART ways of network: UPS is the best courier service that works efficiently with their dominant on time and safely collecting and delivering shipments. UPS has invested enough money to build its Southeast Metro Automated Routing Terminal (SMART) network.
Customer-friendly: A public service company should be customer friendly and have excellent customer service. There can be issues during deliveries. However, customers are happy if people hear their problems and have solutions for them. UPS provides this customer service, and customer satisfaction is better than FedEx.
Deliveries reach customers before time: With how fast the world works, everything needs to be done within time, if possible, maybe even before it. Shipping goods is one such thing where customers have many reasons for sending their packages to reach them within time. Or maybe even before time. UPS uses uncomplicated yet effective delivery communication devices, such as GPS navigation, reroute technologies, scanning packages, and more.
Weaknesses
Heavily dependent on the US market: Though UPS has a presence internationally, its business depends on the US market more than it should be.
Safety of employees is not up to the mark: Employees should always have a work-friendly environment where they can work to their highest potential, but if that environment is missing, workers will always lack in their duties. Several instances within the firm triggered the fact that the safety of employees is not up-to-the-mark within UPS. For example, one employee passed away after contracting the COVID-19 virus.
Issues related to the system: The company infrastructure should be up-to-date and should be updated regularly to make the whole process smoother. As the management of UPS fails to do so, this can be considered a weakness.
High level of purchased transportation cost: Delivery companies are heavily dependent on transportation costs; it is one of the primary investment sectors for any company. The purchased transportation cost of UPS has been high for the past years, and if it continues to grow the way it is currently growing, it can be considered a fundamental weakness.
Opportunities
Expansion via drone delivery system: Delivering products via drone delivery system is a very unique, time-saving, and fascinating way, and UPS has already tested its drone services. So, it can give the company a competitive advantage in the market.
Growth in the E-commerce operation: The growth of e-commerce has helped delivery companies in their businesses a lot. Online shopping leads to the need for door-to-door delivery systems, and this is where the courier industry is thriving. It will also give the company a sustainable advantage.
Mergers help to grow: Mergers help companies to grow and expand in the industries where they have no links. UPS failed to show its popularity in the European market when it couldn't merge with TNT Express, but it still provides services for smaller shipments. Thus, it can also work in the brand's favor.
Diverse business segments: UPS operates three primary sectors. UPS' revenues might increase with its diversity based on its business segments.
Threats
High competition: With the growth of e-commerce, courier services have grown too. Now, many companies work to deliver shipments in front of their customers' doors.
Recession and its effects: Recession is the cause of the pandemic, and if the world's financial condition is under threat, then every business will face problems.
Pandemic and its aftermaths: Pandemic has changed everything globally. Every sector of business of our society, whether global or national, has faced issues. Same with the courier services, they encountered problems with transportation and thus their business.
Amazon is the primary customer: Amazon and UPS have a relationship where UPS delivers Amazon's packages, but now Amazon is trying to start its courier services. Thus, UPS might lose one of its biggest customers because of this.
UPS SWOT Analysis Diagram
You can go ahead and use EdrawMax to work on the SWOT analysis diagram of UPS. This free SWOT analysis software is trusted by 25 million people and offers a wide range of templates and symbols.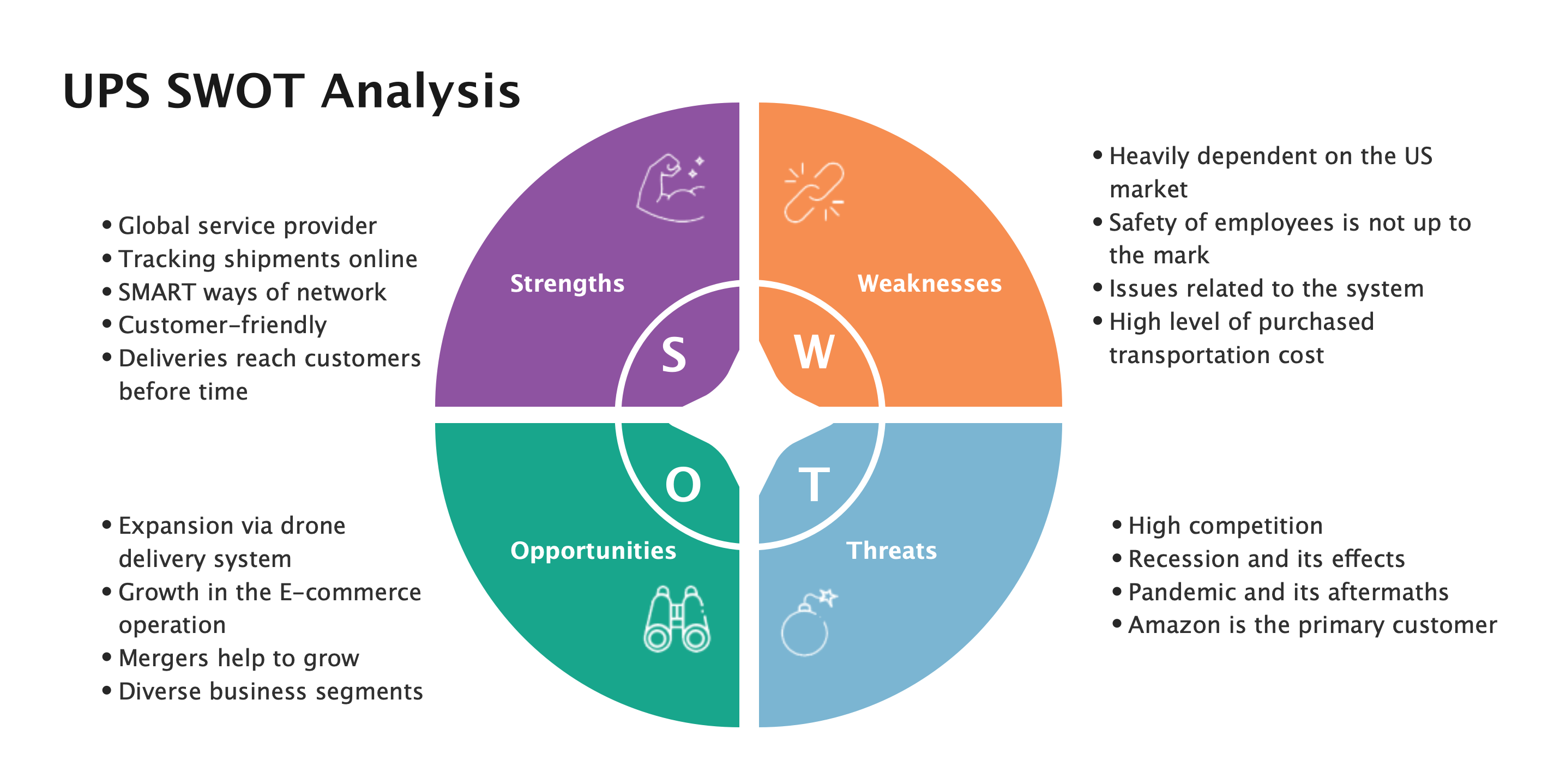 4. Free SWOT Analysis Diagram Creator
Over 20,000 vector-capable symbols are included with EdrawMax, along with thousands of user-made templates. Additionally, this free SWOT analysis diagram creator has several other incredible features, including:
EdrawMax comes with a free version where you get to access some of the amazing design features. Even the paid version is highly affordable.
Unlike Visio, this free SWOT analysis diagram creator comes with in-built templates for diagrams. From creating a business card to working on a network diagram, EdrawMax has free templates for all.
With the help of EdrawMax, you can make over 280 different types of diagrams -- way more than MS Visio and other diagramming tools.
EdrawMax comes with a free online version that allows you to access the files that you stored in the cloud storage.
With this free SWOT analysis diagram creator, you can customize the SWOT analysis templates in any way you want or require.
This free SWOT analysis diagram creator comes with a template community where you can find SWOT analysis templates of different diagrams. As a registered EdrawMax user, you can also publish your SWOT analysis design to inspire others.
EdrawMax Online
Create 280+ types of diagrams online
Access diagrams anywhere, anytime
Everything in desktop + Templates Community
Team management and collaboration
Personal Cloud and Dropbox Integration
5. Key Takeaways
The main reason behind this article is the UPS SWOT Analysis. This SWOT Analysis of UPS will help everyone to understand the company's position among its competitors and how well it is doing in its industry, the reason behind its success and the probable reasons behind its failure. Readers can evaluate everything in detail with the help of factual information in this SWOT Analysis for UPS. Through SWOT Analysis of UPS, you can say that the company is doing pretty well for itself and has acquired the position of one of the biggest companies amongst its competitors.
EdrawMax Online is the best SWOT analysis software for varied reasons. In this UPS SWOT analysis software, you will find a wide range of features that helps in creating different SWOT analysis diagrams. This way, you can better present any company's strengths, weaknesses, opportunities, and threats. So, what are you waiting for today? Head to the download option, get yourself EdrawMax, and use it to create wonderful SWOT analysis diagrams.
Reference
Related Articles