Verizon SWOT Analysis
SWOT analysis of Verizon 2022 by EdrawMax is a strategic planning tool that can be used by Verizon Communications Inc. to do a situational analysis of the organization.
1. Lead-in
While studying management, students must understand why analyses like SWOT and PESTEL are essential to understanding a business in every detail. The SWOT analysis, developed in the 1970s at Stanford, is a management technique used in the strategic planning of a business organization to achieve its strategic goals. Strategic planning is the way a business defines itself and evaluates its performance. Strategic planning through SWOT analysis, like the SWOT analysis for Verizon, is a management tool used to analyze the company's functioning based on its strength, weakness, opportunities, and threats. Thus, Verizon's SWOT analysis is the appropriate way to understand the telecommunication company's various aspect that has led to a successful business.
Verizon Communications Inc. is an American multinational providing telecommunication services worldwide. The services by this company include voice, data, video, and other network services. A SWOT analysis of Verizon will give us insight into the company's operations that have given it a strong and profitable presence.
This article will discuss the company's history, its various services, and other aspects like financial situation and competition through the SWOT analysis Verizon or Verizon wireless SWOT analysis. In this article, you will learn how effective it is to create and share SWOT analysis diagrams using the in-built features of EdrawMax Online.
2. About Verizon
2.1 Introduction of Verizon
Verizon is a multinational telecommunication company with its roots in America. In 1984 its parent company Bell Atlantic came into existence while breaking up the Bell System into several regional units. It is one of the leading companies providing network services worldwide.
This article deals with Verizon's SWOT analysis which will tell you a lot about the company's operations. It will discuss where it derives its strength and the pitfalls where it needs to work. It will also discuss the factors influencing its opportunities and external threats. A detailed SWOT analysis of Verizon will let you understand the marketing strategy that is working and not working for the company.
2.2 Overview of Verizon
| | |
| --- | --- |
| Name | Verizon Communications Inc. |
| Founded | 2000 |
| Industries served | Telecommunications sector |
| Geographic Area Served | Worldwide, primarily United states |
| Headquarters | New York, United States of America |
| Founder | Vodafone Bell Atlantic |
| Revenue (USD) | $128.29 billion as of 2020 |
| Products | Verizon Smart Family, VZ Navigator, Safe Wi-Fi, Total Mobile Protection, Hum by Verizon, and Verizon Support & Protection Security and Privacy Roadside Assistance. |
| Main competitors | AT&T, Sprint, Vodafone, T-Mobile, Nextel |
| Significant people: | Hans Vestberg, CEO |
| Employees: | Over 132,200 employees |
2.3 History of Verizon
| | |
| --- | --- |
| 1984: | Bell Atlantic corporation came into existence. |
| 1996: | Bell Atlantic merged with NYNEX; headquarters moved from Philadelphia to New York City. |
| 2000: | In April 2000, Verizon Wireless was formed through collaboration with Vodafone. In June 2000, Bell Atlantic was renamed Verizon Communications Inc. |
| 2000 to 2001: | Verizon Wireless released Mobile Web. |
| 2002: | Partnering with MSN, Verizon Wireless launched VZW. |
| 2004: | Launched its Fios Internet service. |
| 2004 to 2006: | Fios had catered to eight states offering 350 channels, 20 high-definition television channels, and video on demand. |
| 2005: | Launched a multimedia service, VCast. |
| 2006: | Got into the controversy of being connected with the September 11 attacks, followed by lawsuits. |
| 2007: | Launched V Cast Mobile TV with V Cast, won a lawsuit against Vonage, acquired Cybertrust, and opened its network to third-party devices and apps. |
| 2010: | Launched 4G LTE network in 38 markets. |
| 2013: | LTE network expansion, purchased 45% stake in Verizon Wireless |
| 2015: | Launched Hum, a device and service for vehicles. |
| 2016: | Acquired Sensity, a startup for LED sensors, Social Radar |
| 2019: | Spread of 5G mobile network |
| 2020: | Collaborated with Apple. |
3. SWOT Analysis of Verizon
We have landed on the section where we will discuss Verizon's SWOT analysis or Verizon's wireless SWOT analysis. This discussion will help you understand the various facets of Verizon's business strategy, or Verizon's marketing strategy is the soul of the entire business performing effectively. So let us talk about the strengths, weaknesses, opportunities, and threats found in the SWOT analysis of Verizon.
Strengths
Constant innovation: A company is likely to sustain itself if it constantly improvises and innovates its services in the current scenario of a highly competitive market. Verizon has expertise in this area through continuous technological initiatives like 5G Network and 4G LTE. Verizon keeps up with market trends and always has something new to offer.
Market dominance: Verizon has a large share of the US market. It is the largest wireless carrier in the nation with a fair amount of market dominance and gives a robust ground to stabilize its position. It also caters to network services to over 150 locations worldwide.
Strong financial position: SWOT analysis for Verizon shows how having a dominant financial environment is necessary for maintaining the company's hold over the market. It allows it to take more risks to compete more efficiently. Verizon has been ranked 3rd in the US market in terms of profitability.
Successful marketing strategies: Intense and innovative marketing strategies can help a company survive through the cut-throat market that the business world faces daily. Verizon has always come up with wonderfully crafted marketing strategies, which have always added value to the brand name.
Acquisitions : Verizon has a dominant range of acquisitions starting from AOL, Alltel, Yahoo, and Blue Jeans. It has immensely supported the company in continuous growth. Moreover, it is the reason behind it being one of the telecommunications giants.
Weaknesses
Safety issues: Safety and breach of consumer privacy are primary concerns for telecommunication companies. There have been incidents where Verizon was suspected and convicted of not providing sufficient security features and data leakages. When a company's reputation is tarnished, it affects the business to a great level. It took some time to regain.
Dependence on the US market: Verizon depends heavily on its home ground market. It could be a problem for a large-scale company like Verizon. When a company relies primarily on a single market, there is a high risk of being exposed to all its vulnerabilities, increasing its negative impact altogether. Diversifying in foreign grounds and extended customer base is its only solution.
Unwanted data charges: Customers never acknowledge the extra charges. Thus, companies like Verizon must refrain from enforcing added data charges.
Opportunities
Exploring other areas: Exploring and diversifying might be the only way for a company to survive in the present market. Verizon can explore other services such as augmented reality, smart cities, and many more as enhanced work with its 5G network. It will ensure sustainability in the future.
Globalization: Globalization is a substantial opportunity for businesses to grow at a fast pace. Yet, Verizon has not opened up all its services to the global market. Verizon's SWOT analysis shows that touching this area could boost revenue generation to a great extent.
Acquisitions expansion: Each expansion, whether that is a small or a large one, helps a company to grow further. After Verizon acquired Alltel, it enabled the company with further expansion by overtaking AT&T. Verizon must acquire more to build a strong position for its future.
Threats
High competition: Verizon faces some tough competition from companies like AT&T and T-Mobile. This company could survive the tough competition by keeping up with the market trend and innovating to provide better services than its competitors.
Data leakages: In previous instances, Verizon was convicted of a data breach. Data leakage is a primary threat to the telecommunication industry. These incidents may cost the company billions of dollars. Thus, better security software or any other way that checks data security issues.
Expense behind expansion: Expansion is good for a business, but frequent acquiring of other companies might lead to an unchecked financial situation. Also, several expenses go behind business expansion to the global market. If Verizon looks forward to expanding globally, it should prepare itself for further financial requirements. The above SWOT analysis of Verizon says a lot about the telecommunication company's positive and negative forces while running and how they have influenced the brand's growth.
Verizon SWOT Analysis Diagram
As you saw here, SWOT analysis is an integral part of any organization's progress as it not only depicts the strengths and weaknesses in detail but also introduces the opportunities and threats it faces. In order to retain the information for a long time, students and professionals are advised to work on a Verizon SWOT analysis diagram using the astounding customization options offered by EdrawMax.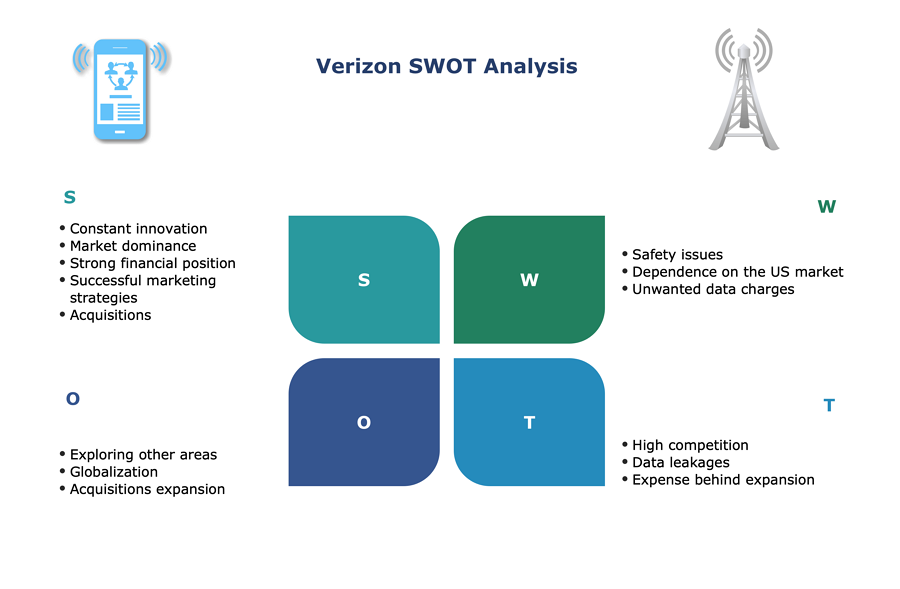 4. Free SWOT Analysis Diagram Creator
EdrawMax is one of the finest tools that money can buy in 2022. The tool offers a wide range of templates and symbols and provides extensive guides, complete resources, and more such online resources. Some of the great features of this SWOT analysis creators are:
With EdrawMax's template community, you can easily create a SWOT analysis, PESTEL analysis, Venn Diagram, and more in one canvas.
This free SWOT analysis diagram creator is designed by professional experts. So when you work on the design and customization parts, you do not have to worry about accuracy.
EdrawMax has an online version allowing you to access your files from anywhere.
Unlike other tools that take up much space on your system, this free SWOT analysis diagram creator is very user-friendly for your system.
The amazing feature or element of using EdrawMax is that it is free to use.
With this free SWOT analysis diagram creator, you can export the file in multiple formats depending upon your requirement.
EdrawMax Online
Create 280+ types of diagrams online
Access diagrams anywhere, anytime
Everything in desktop + Templates Community
Team management and collaboration
Personal Cloud and Dropbox Integration
5. Key Takeaways
Verizon's SWOT analysis is the perfect way to learn about the brand's functioning. As Verizon is one of the leading names in the telecommunication sector, the SWOT analysis of Verizon becomes significant to understanding its strengths and weaknesses. This analysis also deals with the opportunities for steady growth and the possible threats that will hamper the business's profitability. A time-to-time SWOT analysis of Verizon will help the company keep its business plan updated and will also help them stay on the green side.
From SWOT analysis to PESTEL analysis, network diagrams, science diagrams, business-related diagrams, flowcharts, org charts, genograms, HVAC diagrams, and floor plans, you can make over 280 diagrams with EdrawMax Online.
Reference
IIDE. 2022. Detailed SWOT analysis of Verizon - 2022 Update | IIDE.Marketing91. [online]. Available at: https://iide.co/case-studies/swot-analysis-of-verizon/ (Accessed 3 September 2022).

Visual-paradigm.com. 2022. What is SWOT Analysis?., [online]. Available at: https://www.visual-paradigm.com/guide/strategic-analysis/what-is-swot-analysis/ (Accessed 3 September 2022).
Related Articles