Best Ideas on Mother's Day Cards Printable
Mother's Day cards printable – an exclusive way to pay tribute to your mother for her sacrifices, devotion, and unconditional love.
Also available for
Windows, Mac, Linux, iOS, Android, and Web.
All options >>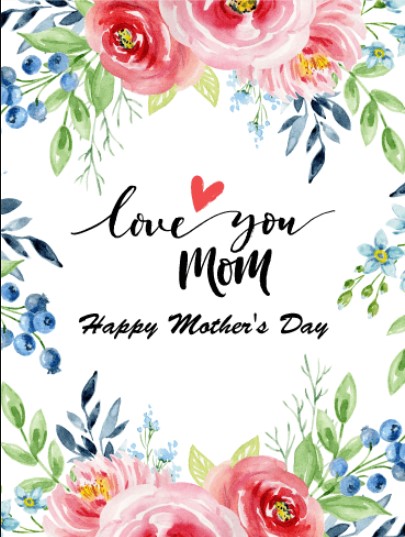 The paramountcy of motherhood cannot be abnegated in our lives; our glorious mothers instill confidence, self-esteem, and optimism in us. A mother is a priceless treasure who always fills the gaps in her children's life, encouraging positivity even in their darkest hours. Our mothers' endeavors for upbringing us are commendable, and it is not unjustifiable to say that nobody can replace a motherly affection and her sublime status.
An exquisitely-designed Mother's Day card printable can efficiently convey your sincere feelings to your mom, allowing you to express your sentiments. Thus, this article presents some most creative Mother's Day card templates free to impart the best card-designing ideas to you.
1. Importance of Mother's Day Cards Printable
If you are planning something exceptional for your mom, such as arranging a Mother's Day party, a delicious brunch, a family-friends gathering, organizing affectionate activities with her spouse & children, or a spa for her, it will deliver her unforgettable memories. However, we all acknowledge that every celebration is incomplete without an earnest card; a truly expressive Mother's Day card printable pdf presented to your mom can bring a smile to her face, making her feel buoyant & revived.
You can construct your digital Happy Mother's Day printable cards, especially if you are not good at making DIY cards. Additionally, digital-driven Mother's Day card printables PDF are a viable option for remote individuals who cannot directly express their wishes to their mothers due to spatial constraints. Free printable Mother's Day cards are also cost-effective and time-saving solutions, especially for those who cannot afford to arrange premium card printouts or handmade cards.
2. Best Examples Of Mother's Day Card Template Free
Mother's Day card printable creation becomes quite effortless when we personalize a predesigned printable template. If you want to make your Mother's Day memorable, choose and customize your dream Mother's Day card template for presenting it to your mom:
Happy Mother's Day Printable Card
Free printable Mother's Day cards pdf are the reliable solution when it comes to custom-made Mother's Day card creation. The above Happy Mother's Day printable card contains a cordial image, showing motherly love to her child. The color combinations in the template are outstanding, mixing pink and white. Along the image, the header is written explicitly, below which there is a sample text to compose Mother's Day wishes.
The card can be multipurpose, allowing you to use it as a Mother's Day card printout to display love to your biological mother, foster mother, stepmother, and mentors, who love you with a motherly heart. Additionally, you can use this template as a happy Mother's Day grandma printable card to express love to your grandmother.
Happy Mother's Day Card Template
The excellent graphics, flowers, alluring fonts, and sky-blue background make this card an exceptional present for your mother. The sunrays sparkling through the pinkish flowers symbolize the optimism our mothers inculcate in us. The mentioned Mother's Day wishes describe the splendid attributes of our mothers, declaring them as the best listeners, excellent cooks, and fast friends.
You can customize this free printable Mother's Day card pdf by composing your personalized wishes & headline for your mom and printing it as a DIY Mother's Day printable card.
Happy Mother's Day Card Print
The above template comprises various elements, symbolizing multiple themes. The header text is placed in a pink-colored heart, and a white-shaded tag is attached to the heart containing wishes. The heart affixes white-colored wings, which signify the power and motivation our mothers impart to us to make us fly higher in life. Fuchsia and blue fonts are employed to compose the card's text, which allots vibrancy to the overall template.
This free printable Mother's Day card pdf can consummately manifest heartfelt feelings to your mom, whether she's your biological mother, Godmother, foster mother, aunt, or elder sister.
Funny Printable Mother's Day Card
We all have a unique relationship with our moms; we share our important moments, make jokes with them, take inspiration from them, and express our thoughts like friends. This particular template is worth considering if you want to bring giggles to your mother's face through this funny printable Mother's Day card.
Although simple, this printable Mother's Day card template has a comical theme, portraying Tomato as a kid. The caption contains the word "Tomato," which is represented as "to my toes," giving a cute & humorous touch to the card.
Happy Mother's Day Card Printable
Mommies are our best childhood friends, contributing to our socialization by playing with us, teaching us essential values & mores, and advising us in problematic situations. The unique wish quote of this happy Mother's Day card template makes it a valuable present for this Mother's Day. A mother is seen playing with her child on the card, portraying her as an ultimate guide, well-wisher, and lover. The whole design is framed against a pale canvas with pinkish grids; the quote box is white to foreground the quote.
If you have an exceptional cordial relationship with your mamma, you can send her this card, reminding her of how she strived for your nurturing.
Foldable Mother's Day Cards Printable
Moms are very conscious about what they receive from their kids, whether it's a card, gift, or surprise feast. To satisfy their curiosity, you can exploit this Mother's Day foldable card. The iconic background, the transparent text box, and the captivating header are the noticeable assets of this printable card. Pale-hued tulips are portrayed against the dark-blue background for an exceptional look.
This Mother's Day card template printable can be perfect for foldable Mother's Day card printouts because of its stunning color combinations. Additionally, this dayspring Mother's Day card will further aggrandize its charm if you add a custom-printed tag.
Happy Mother's Day Card Template Printable
Floral cards are always a splendid solution, whether it's a birthday, an invitation, or a global day. The above chart contains alluring floral patterns wreathed around a moon-shaped textbox, enwrapping the entire text. The vibrancy of colorful hues like red, yellow, green, pink, and purple is the supreme source of its glamor.
The fonts are designed according to the overall card layout, giving a sleek look to the card. The background is painted peach-colored to add splendor to the template; additionally, peach efficiently houses colorful elements without minimizing their spark. You can customize this card to send it to your mom with a bouquet or presentable gift.
3. Make this Mother's Day More Special with EdrawMax!
If you want to celebrate this Mother's Day by sending a heart-throbbing card to your mom, we recommend using EdrawMax – a reliable Mother's Day card maker. With its outstanding features like templates community, drag-and-drop, symbols library, multiple page creation, icons & clipart, and color customizations, it imparts credence in its users to employ it for special card creation.
EdrawMax provides two routes to formulate your Mother's Day card: customizing a predesigned template and creating a happy Mother's Day card print from scratch. We have provided both methods in detail for your illustration.
Method 1: Use EdrawMax's Template to Create a Mother's Day Card
Creating a parallel process flowchart in EdrawMax is incredibly straightforward, requiring no complex coding or tech-specific knowledge. EdrawMax enables drag-and-drop functionality with which you can easily import parallel mode symbols in your flowchart. The detailed procedure for inducing a parallel process in a flowchart is presented below:
• Step 1: Launch "EdrawMax" on your device to create a Mother's Day card.
• Step 2: Navigate to "Templates," type "Mother's Day Card" in the search bar, and proceed with your favorite template.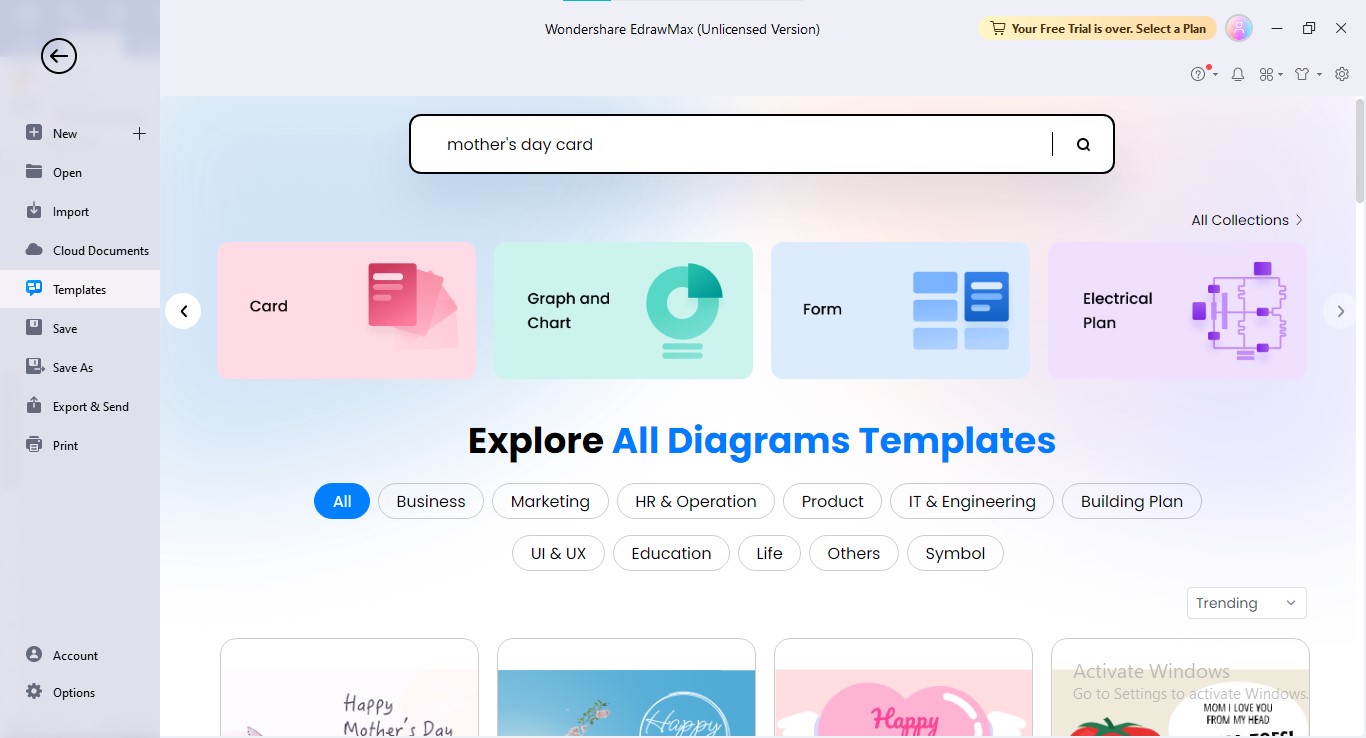 • Step 3: Customize the content of your card template by editing the boxes and the textual information; you can also add or remove a particular element.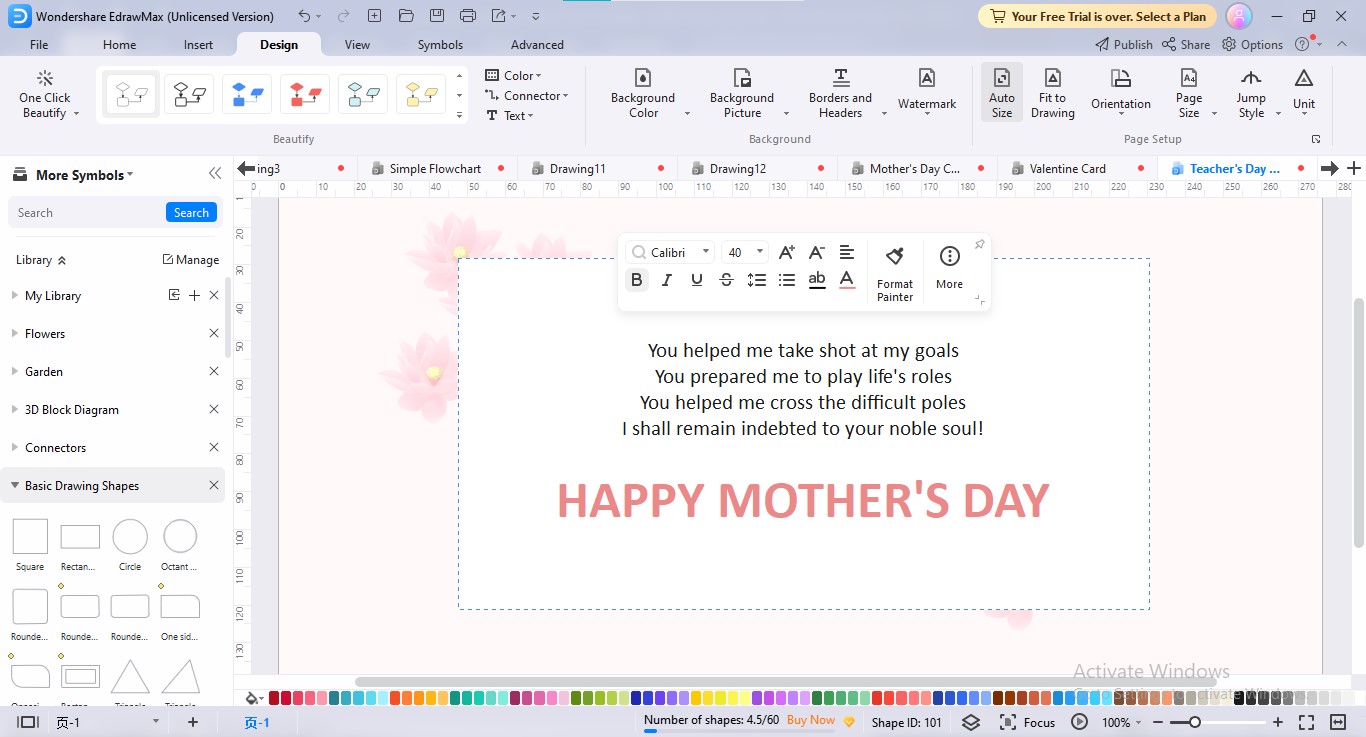 • Step 4: After completing the personalization, export your card in your desired format by clicking the "Export" icon at the top.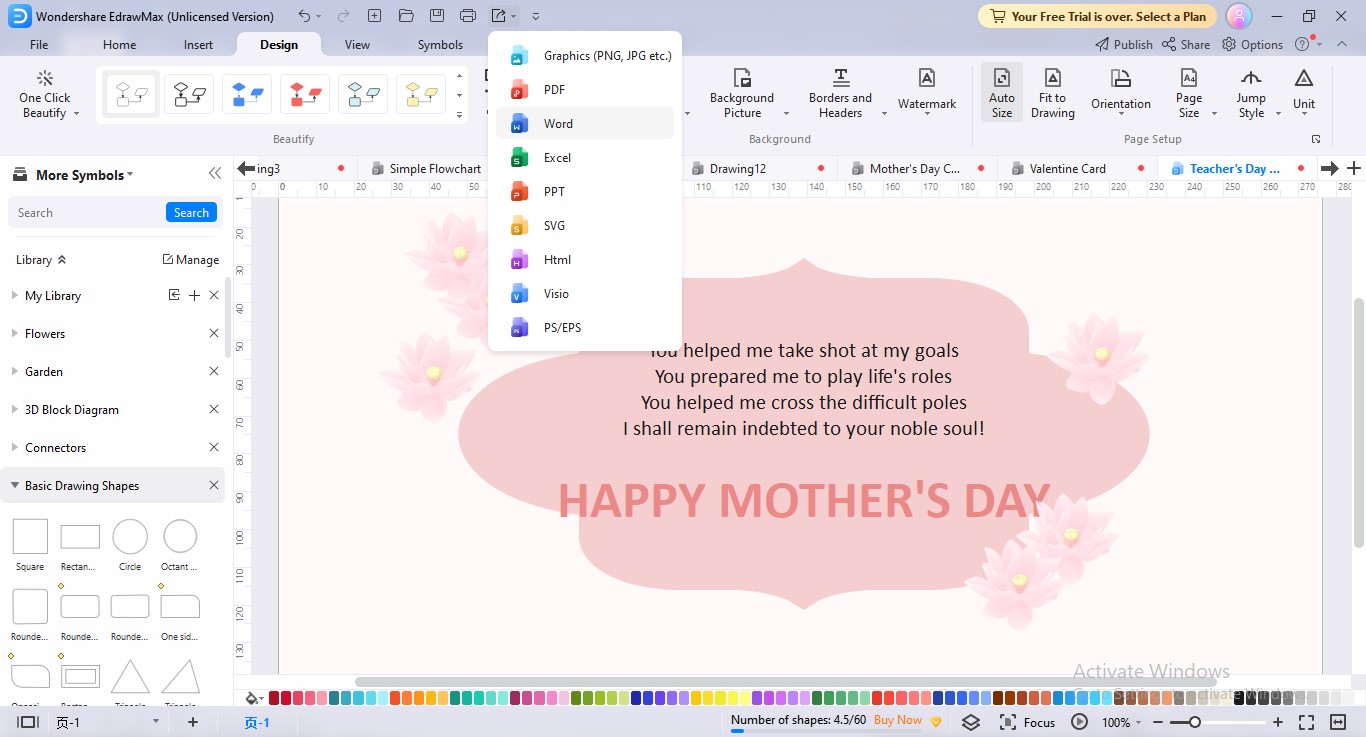 Method 2: Create an A Fresh Mother's Day Card Printable Using EdrawMax
• Step 1: Launch "EdrawMax" on your device for Mother's Day card making.
• Step 2: Navigate to "New>Design>Card" to initiate your card creation from scratch.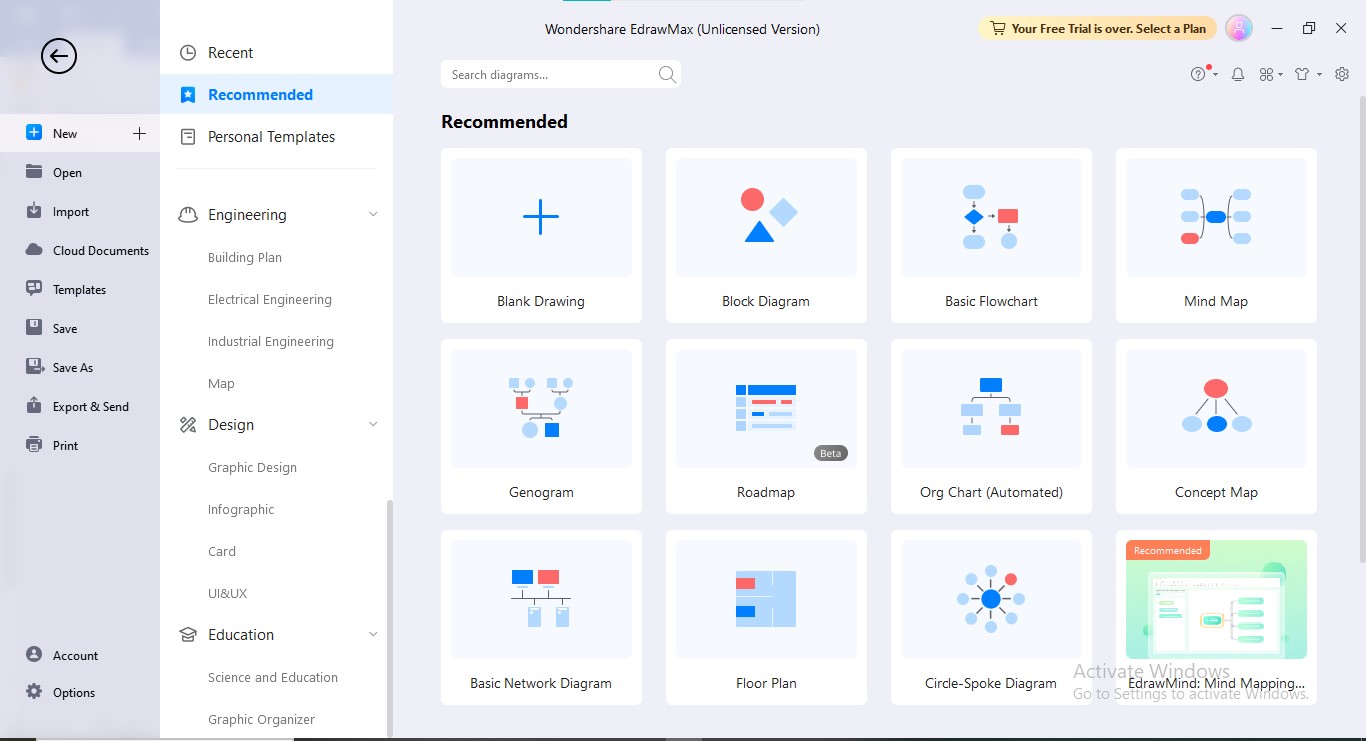 • Step 3: Insert your textbox first from the prebuilt textbox library to add the header and wishing quote; edit the text by double-clicking the box.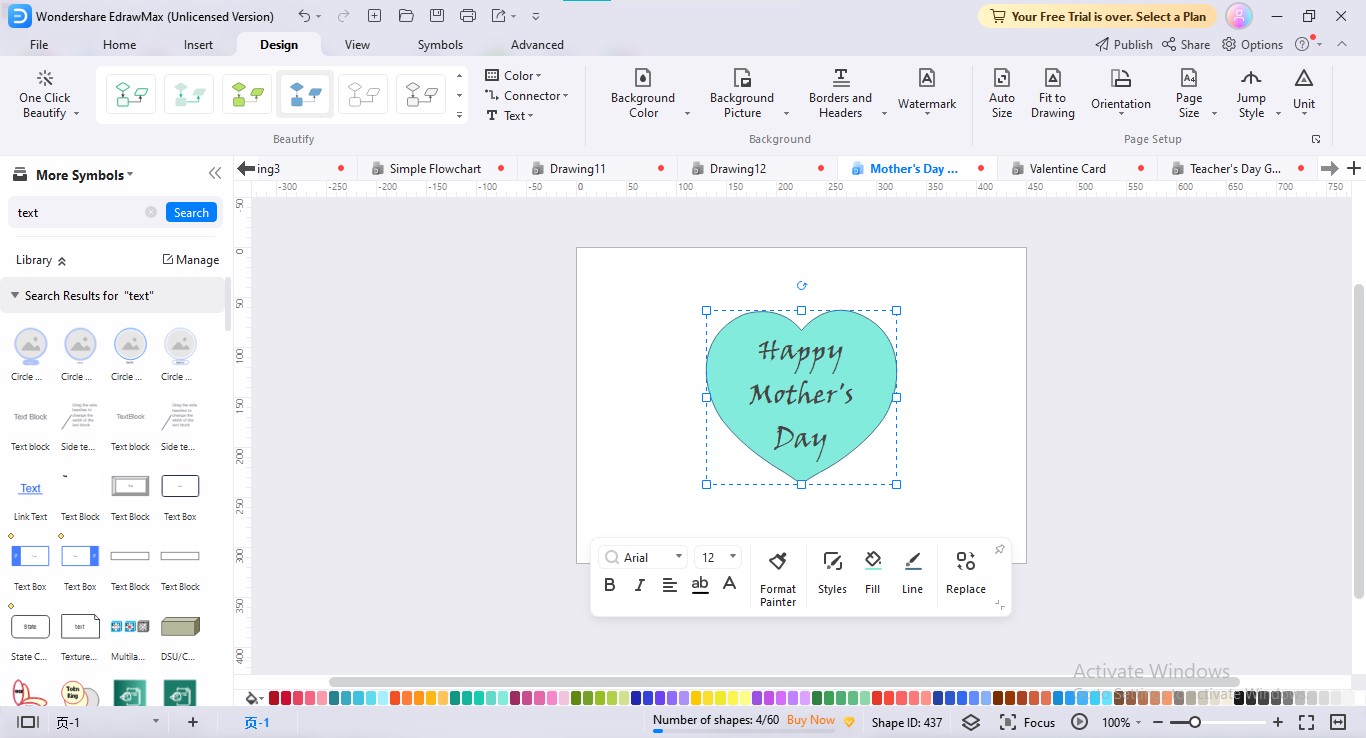 • Step 4: To add graphics, click the "Insert" option, navigate to "Clipart", and search whatever you want to add.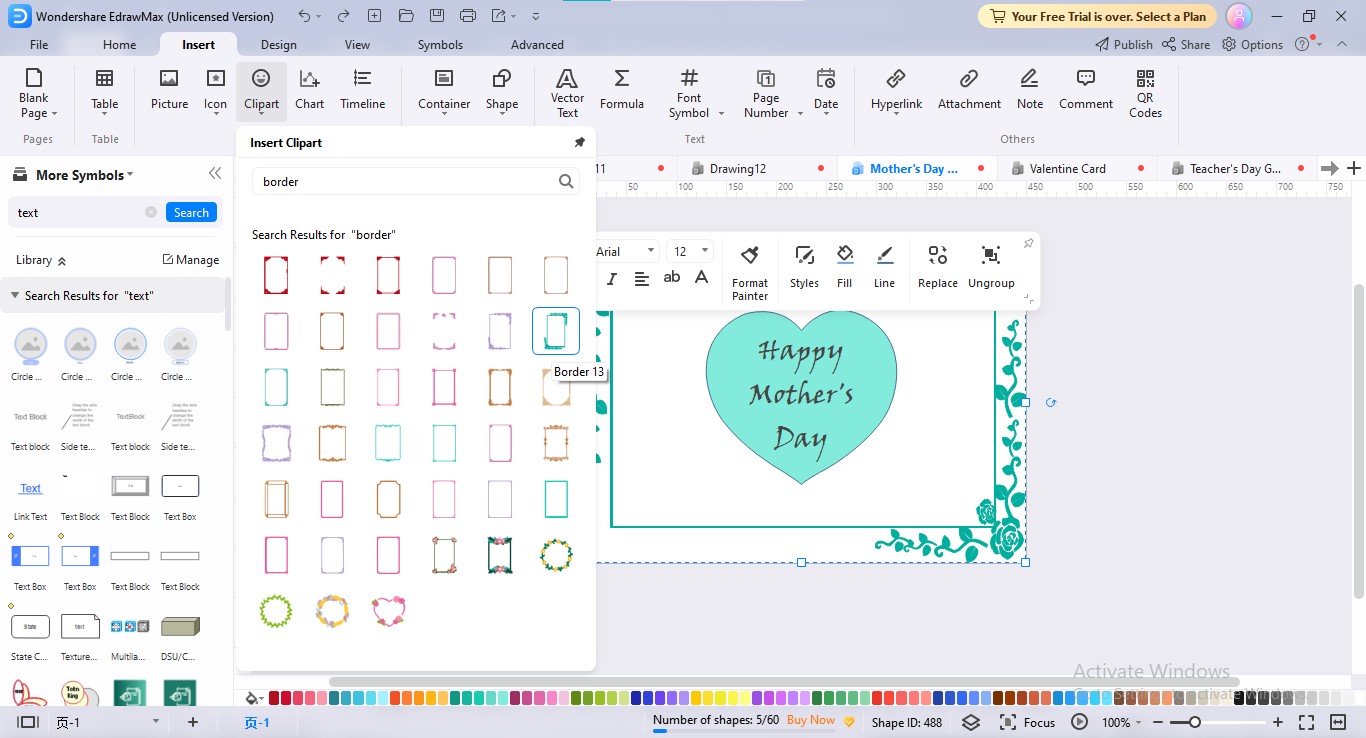 • Step 5: Personalize your card by applying your favorite background, color theme, fonts, and bordering.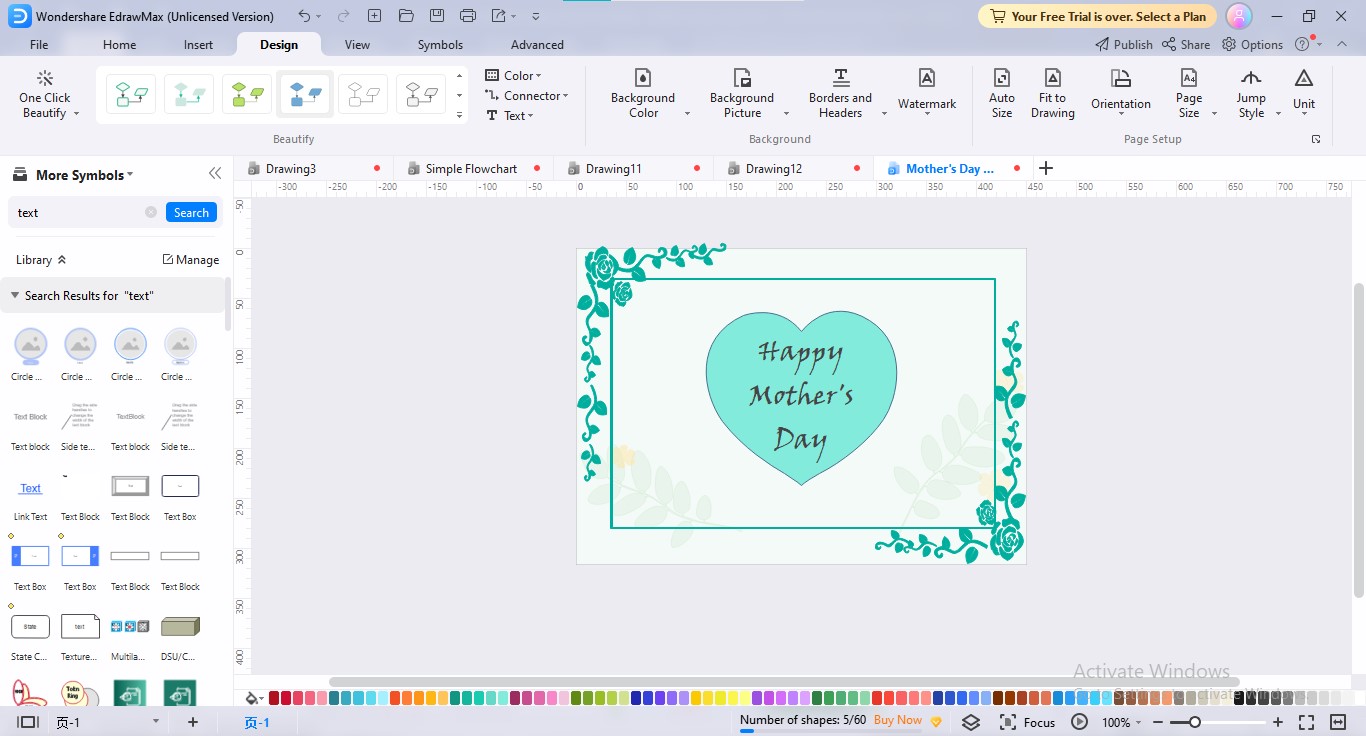 • Step 6: Click the "Export" option at the top to save it in your preferred format.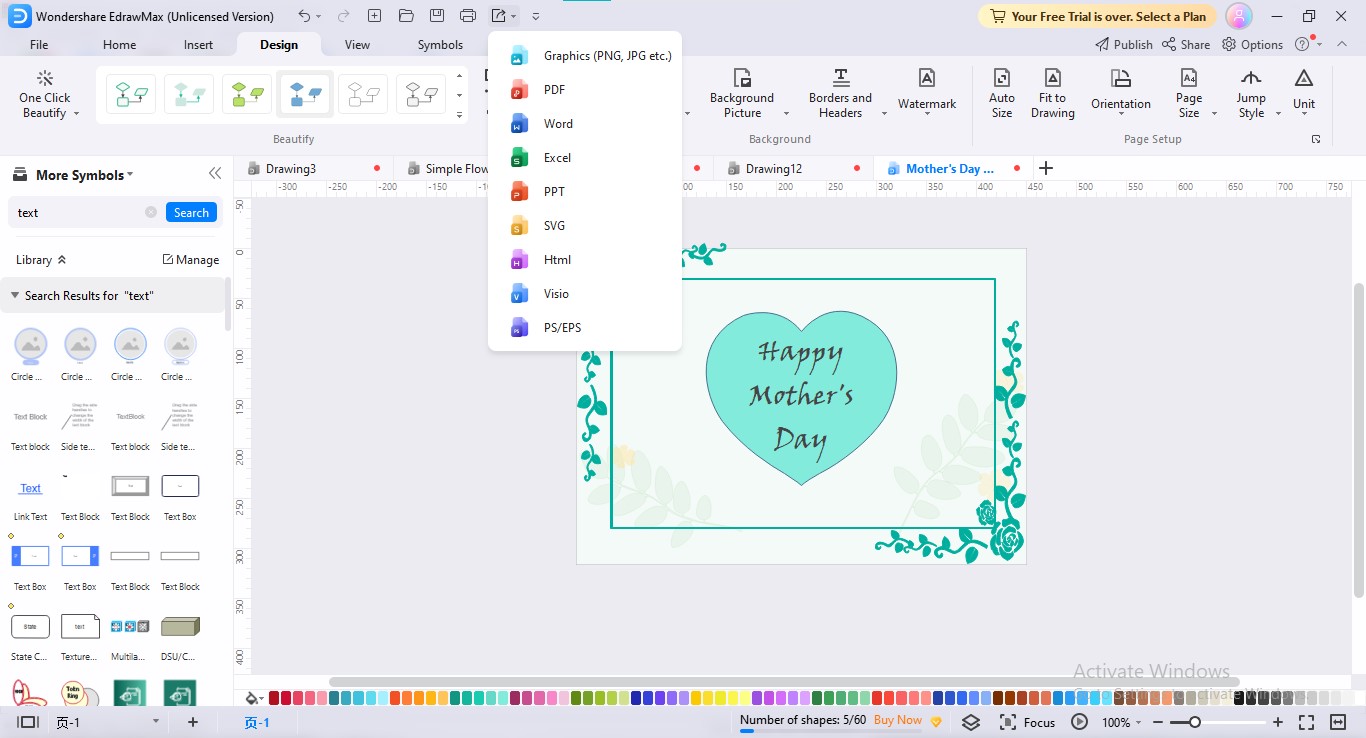 4. Conclusion
Mother's Day is a global event to celebrate the accomplishments of mothers and pay kudos for their devotion. If you want to please your mom with an exciting present, offer her a custom-made Mother's Day card. We have provided top-notch printable Mother's Day cards pdf for your dream printed card creation. However, if you cannot decide on the best one according to your needs, you can design a customized Happy Mother's Day card using Card Maker - EdrawMax.
Related Articles