Top 8 Android Flowchart Apps
Here we have collected a few best flowchart apps Android offers, which will assist you greatly in designing outstanding flow diagrams whether you are a professional or a student.
Also available for
Windows, Mac, Linux, iOS, Android, and Web.
All options >>
1. Introduction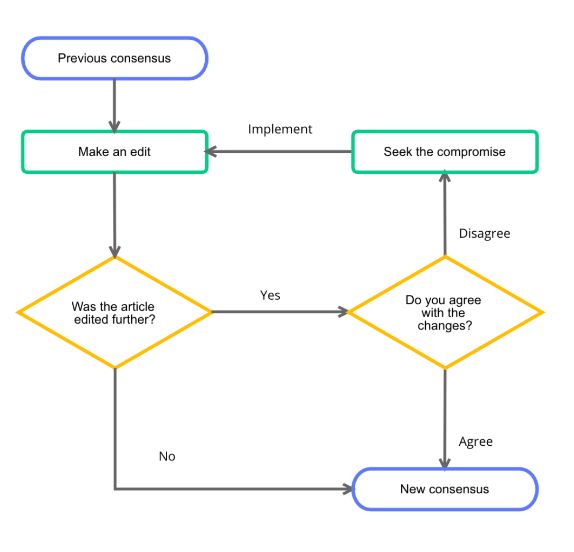 Flowcharts are a great way to easily and concisely visualize complex ideas that help you understand areas for improvement by mapping out processes and showcasing the project overview. Flow diagrams come in handy for businesses and educators to organize complex problems. You just need to land on a righteous tool to smooth out the flowchart designing procedure.
In this connection, we have performed a detailed comparative analysis to find the best Android flowchart app you can conveniently use on all your Android devices. Moreover, here you can discover the tactics to improve your Android app flow diagramming experience.
2. The Usefulness of Flowchart Apps
Android flowchart apps are considered the most rapidly utilized way of clarifying complex concepts into clear ones by visual representation of ideas. Such apps are designed in a way so that you can get started quickly with their in-built features. Visual presentation of data catches viewers' eyes and makes things easy to remember. Moreover, flowchart apps are the roof solution for many industries as these offer numerous benefits to end-users regarding creativity; so, against this backdrop, here we have elaborated on a few benefits, such as:
Massive Library of Pre-Built Templates
Many individuals find it quite challenging to initiate with a blank page to design a flowchart. Flowchart Android apps prove to be quite helpful with their enormous library of pre-made templates, allowing you to start putting your ideas directly.
Real-Time Collaborations to Manage Remote Team
Flowcharting tools are often considered time-saving resources when it comes to remote team management. Most apps provide real-time collaboration, allowing users to collectively share their thoughts, ideas, and feedback on flowcharts to form a collaborative environment.
Built-in Standard Flowchart Symbols
Finding and placing different shapes to create a perfect masterpiece is not a cup of tea, especially if you aren't an expert flowchart designer. Android flow diagramming tools encompass an extensive range of built-in standard symbols and connectors to make your task effortless.
Provoke Individual Creativity
With massive customization options, these apps allow team members to collaborate and visualize the thoughts of all members and put them to life by customizing pre-made templates without any hassle.
Export & File Sharing Facility
A perfectly designed flowchart may need to be shared with others. Given this need, flowcharting apps allow users to export their flowcharts in various formats to make the sharing process easier & quicker.
3. Overview of The Top Android Flowchart Apps
The market exhibits a plethora of options in the context of picking out an appropriate flowcharting tool. Therefore, we've eased out the screening process; check out these perfect Android flowchart apps to easily organize tasks and simplify complex ideas into flowcharts and diagrams.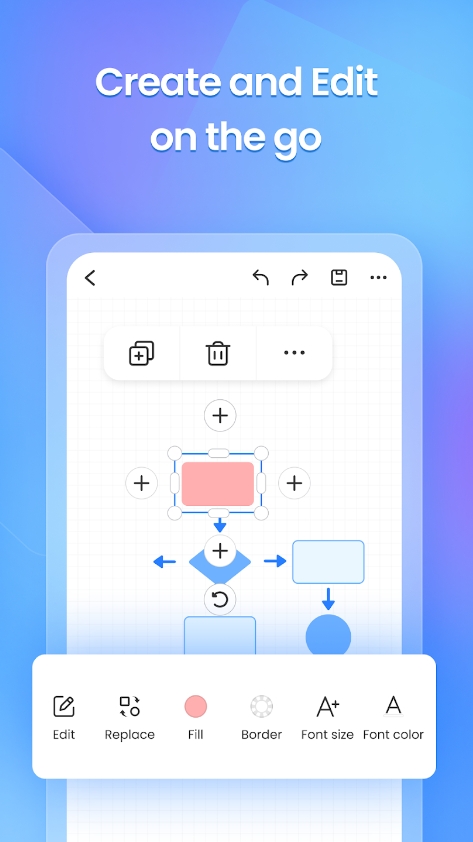 Unleash your inner creative artist and instantly turn design complexity into clear flowcharts with EdrawMax. Whether you want to visualize, ideate or collaborate, EdrawMax is the ultimate solution. From humanly unimaginable flowchart tools to the heaven of the colorful, creative, and customizable template library, EdrawMax makes thought sharing process the easiest!
Specifications
Explanation
Rating from Play Store:
No ratings yet
Main Features:

Symbols library
Templates community
Shapes and text customization
Various data Import/export options
Publishing & Sharing
Icons and clipart incorporation
Pros:
EdrawMax allows you to share your innovative flowcharts on various social platforms with just a click and save you from the hassle of finding other ways.

The tool has a massive library of 5000 shared templates for various businesses and provides a wide range of creative ideas.

EdrawMax's intuitive user interface makes it easy to use, and you don't require any particular usage knowledge to interact with it.

It opens doors for creative block by allowing you to create over 280 diagrams in the free plan.

You can now upskill your flowcharting game as the app is loaded with over 26000 ready-made symbols to create unique designs every time.
Cons:
Sometimes connecting lines may pick the wrong route and need extra focus to avoid ruining the whole flow.
EdrawMax Desktop
Create over 280 types of diagrams
Windows, Mac, Linux (runs in all environments)
Professional inbuilt resources and templates
On-premises software for business
Enterprise-level data security
EdrawMax Online
Create over 280 types of diagrams online
Access diagrams anywhere, anytime
Team management and collaboration
Personal Cloud and Dropbox Integration
2. Ayoa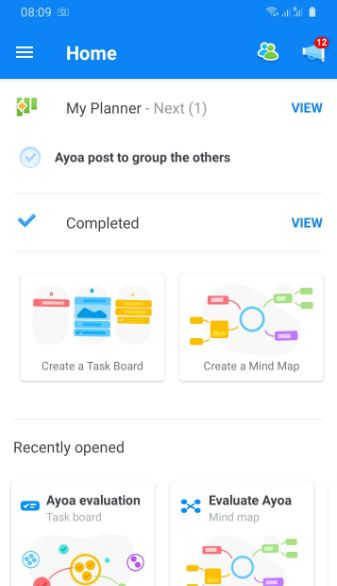 Ayoa brags unrivaled flexibility with its AI-powered flowchart tools and ideas. The tool offers diversity and acts as a neuro-inclusive design platform to gather different-minded people to work together. Ayoa's Android app flow diagrams easily unlock creativity and productivity by shaking hands with AI.
Specifications
Explanation
Rating from Play Store:
4.9/5
Main Features:

Grouping
Chat/Messaging
Visual task management
Real-time collaboration
Quick onboarding
Mind-map sharing
Pros:
Ayoa's flowchart templates are adjustable and customizable for any project or workflow. You just need to select and drop down your ideas.

You can now get your first draft ready within minutes because of its easy-to-use and visually attractive interface.

The system allows various types of integration that allow you to work with your favorite apps.

Ayoa allows its members to use communication tools during editing or team collaboration, which results in effective teamwork.
Cons:
The free version provides limited customization features.

It has a monthly base subscription model for students, which can be a bit unaffordable for disciples to purchase.
3. Mindly (Mind Mapping)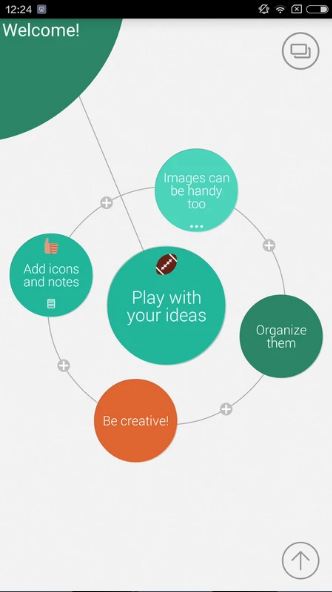 Mindly is a blessing if you are searching for an amazing, user-friendly application to arrange your thoughts, ideas, and facts. It assists you in turning complex processes into simpler & unambiguous visual illustrations. So, look no further!
Specifications
Explanation
Rating from Play Store:
4.5/5
Main Features:

Element hierarchy
Dropbox integration
Visual clipboard
ID protection
Printing & Sharing
Pros:
Mindly allows you to export your flowcharts in several formats, including graphics, PDF, text, and OPML.

With its Dropbox integration, your files are automatically saved; thus, you don't need to worry about losing your file.

You can hide and expand elements effortlessly, especially when your flowchart gets pretty complex, and you need to focus on a particular operation.

It provides a massive assortment of icons to incorporate into your flowcharts for more precision and understanding.
Cons:
You can only create up to 3 files in the free version.

If you need exclusive features, you will need to subscribe to premium plans.
4. Automate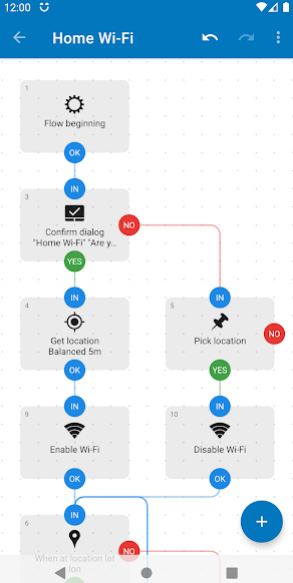 Automate is an exquisite Android app for creating a flowchart for both personal and enterprise uses. Replenished with incredible features, like location automation, cloud storage, and integrations for elements import, Automate tries to satisfy the diagramming requirements of Android users. Additionally, you can exploit its free version to commence flowcharting as a newbie.
Specifications
Explanation
Rating from Play Store:
4.4/5
Main Features:

Automate the repetitive tasks
Remote storage
Backup files
Flowchart sharing
Communication channels
App integrations
Pros:
Automate provides a free basic plan which is a significan perk if you are a novice user.

The tool syncs your diagramming files on the cloud, allowing you to access the most updated version of them.

No complex drawing or selecting symbols are required, drag and drop and menu selection help create impressive flows.

You can share your flowcharts to your associates for better project understanding and elevated workspace environment.
Cons:
The interface could be more straightforward, hence requiring some demos to start.

One might face bugs now and then.
5. Lekh Diagram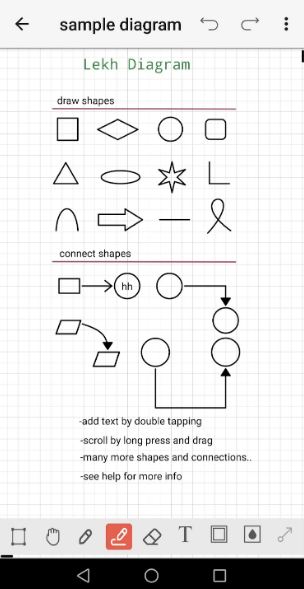 Looking for an all-in-one program to manage complex ideas? Try the Lekh Diagram. You can have a wide range of possibilities with Lekh Diagram to make your presentations more comprehensible with flowcharts, business process diagrams, and more.
Specifications
Explanation
Rating from Play Store:
4.4/5
Main Features:

Auto shape recognition
Readjustment of drawn shapes into corresponding shapes
Zoom gestures
Multiple connector types
Multiple pages creation
Importing images from the gallery
Pros:
The navigable interface of Lekh Diagram makes it super simple to import shapes, customize elements, and upload documents.

The tool allows exporting your flowchart in plenty of formats, such as SVG, JPG, PDF, PNG, Doc, etc.

With just one tap, you can transform your drawn shapes into standard flowchart shapes.

The massive shape library enables users to import flowchart shapes relevant to their scope.
Cons:
The tool provides no information regarding external integrations.

Sometimes adding an element overlaps the existing ones, creating trouble for the user to manage the shapes.
6. Miro
Work productively with a collaborative online platform that enables teams and individuals to work remotely on a digital canvas regardless of time and location constraints. Miro makes creating and conveying ideas visually through mind maps & flowcharts simple.
Specifications
Explanation
Rating from Play Store:
4.2/5
Main Features:

Configurable workflow
File sharing
Flowchart customization
Customizable members' dashboard
Data Import/Export option
Drag & drop editor
Pros:
The interface of Miro is incredibly intuitive, requiring no tech knowledge; each option is available at the main interface, and the dropdowns are pretty straightforward.

Miro contains various tools and built-in features for efficient project management and progress evaluation.

The integration competence of the tool is much more expansive, allowing delightful flowcharting, file uploading, and syncing experience.

Miro enables team collaboration by providing cutting-edge features to help users connect through different locations.
Cons:
The tool lacks video tutorials for edifying the users' experience about its usage.

The interface often slows down in the case of large, complex-structured diagrams.
7. DrawExpress Diagram Lite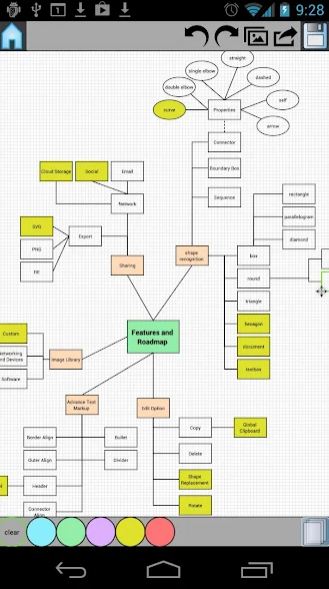 If you're looking for an Android flowchart app that uses a fast gesture recognition method, DrawExpress Diagram Lite is what you need. Being intuitive and unique, the tool uses only two fingers to bring any complex flowchart idea to life.
Specifications
Explanation
Rating from Play Store:
4.2/5
Main Features:

Gesture recognition
Multiple file export options
Decision trees
Double tap for text addition
Two fingers swipe to pan
Multi-touch to unselect the item
Group elements selection, copy, delete, and undo
Vertical & horizontal alignment with fingers
Documents uploading
Pros:
DrawExpress Diagram Lite helps you to avoid any symbol selection and uses your finger gesture to create an intuitive flowchart on your Android phone.

The tools make flowcharting a piece of cake just by drag-and-drop selection or replacing options for created designs.

Excellent features like snapping, fine gestures, tuning capability, and a simple interface in a free version, makes the app a breeze for your users.

You can upload documents and images to your flowchart, making them more meaningful and expressive.
Cons:
The app does not offer the utility to print the flowchart directly.

The undo option does not remove the mistake but removes anything you've drawn before the mistake! So, it's a little tricky to understand.
8. Lucidchart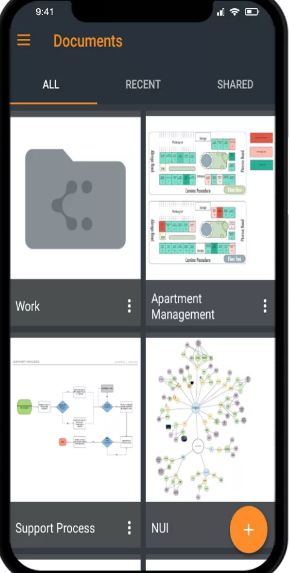 Lucidchart, in the mainstream, inspires you to visualize and transform unaligned processes into meaningful and expressive flowcharts. No matter; how distributed the team is, it always offers a platform for customizable innovative flowcharts with endless possibilities for shape addition and idealization. The tool also provides real-time collaboration, which makes it a go-to weapon for many businesses or designers.
Specifications
Explanation
Rating from Play Store:
3.5/5
Main Features:

Create & edit files
Import Visio diagrams
Export diagrams as PDFs
Add comments to shapes
Chat / Messaging
Pros:
The tool owns an array of creative shapes, lines, and customizable templates to enhance the flowcharting experience.

Lucidchart saves you a lot of hassle by allowing multiple formats for flowchart sharing and exporting, like PDF, SVG vectors, and image files.

Lucidchart employs account sharing, allowing call flowcharts within the group to make collaboration more effective.

It offers flexibility to set viewers or individual permission while working with remote members on a personalized project.
Cons:
You might encounter customization-related limitations in its free plan.

Being a new software, it has a high learning curve for users.
4. Best Practices to Make a Good Flowchart
No matter which platform you use for making flowcharts, if the technique exploited for Android flowchart creation is inaccurate, you will end up creating a cluttered mess of unorganized ideas on the canvas. Therefore, ensuring the utilization of correct approaches to flowchart making on your Android device is highly essential. We have devised a few valuable practices that can render your Android-driven flowchart effective, meaningful, and attractive, ensuring the maximized output from your visual diagrams:
Ideate and Organize Your Ideas into a Chronological Order:
The foremost step to creating a successful and well-organized chart on your Android device is making a crystal-clear conception of your ideas in a sequential manner. For this, you can jot down all the brainstormed ideas on the notebook or sticky notes and arrange them chronologically, prioritizing each idea according to its significance level.
Try to Keep the Flows Clear:
It is advisable to maintain an appropriate-level distance between the shapes to make your mobile-made flowchart seem intelligible to the viewers. Drawing the shapes congested with each other makes the whole diagram messy, vague, and unattractive. Additionally, align your flowlines in a suitable way by considering the flowchart requirements. For example, if your Android flowchart has reached the end of the page, instead of drawing rectilinear flowlines, you can sketch sideward lines to expand the flowchart to peripherals.
Keep the Return Lines Under the Diagram:
It is the natural cognitive pattern of human beings that they analyze the visual patterns from above to the bottom. Thus, it is rational to keep the return flowlines under the Android diagram rather than placing them above the flows. Additionally, if you place them in between the processes, they might intersect or merge in the process flowlines, creating a misstructure.
Make Your Flowchart Vibrant:
Rather than opting for monochromic flowchart themes, utilize different colors for each shape; it will not only help identify different operations clearly but also enhance the visual appeal of your Android flowchart diagram. The usage of flamboyant colors is not requisite; you can use light color palettes, but at least tint each shape with a variant color for easy discernment.
Use Capital Letters:
You should use all caps in your Android flowchart texts to impart a professional look to your flowcharts. The usage of capital letters not only captures the viewers' attention but also enhances their understanding.
5. Conclusion
Flowcharting has never been this easier without a proper digital app. At present, you can come across a vast number of free or paid flowchart-making apps to meet your need to align certain processes into a fully structured form. It seems perplexing to elect the one most suitable for your project & device because the applications' functionality may also vary with the device operating systems.
Related Articles