How to Make a Funnel Chart in Excel
---
Funnel charts are often used to represent different stages in a sales or marketing process and show the amount of sales revenue or customer for each stage. In this article, you will learn two different ways to create a funnel chart in Excel.
How would you like to create your Funnel Chart?
How to Make a Funnel Chart in Excel
Using a Stacked Bar Chart
The first way to create a funnel chart in Excel is to use a stacked bar chart. You can follow the steps below.
1.  
Open the Excel worksheet that you want to insert a funnel chart and input your data. Please note that the data in the column of
Horizontal Space
is essential. If you don't add this column of data, the final chart may look strange.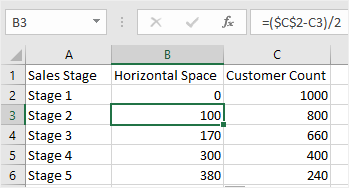 2.  
Select the data without the row headings (it's
A2: C6
in this example); go to
Insert > Column or Bar Chart
, select
Stacked Bar
.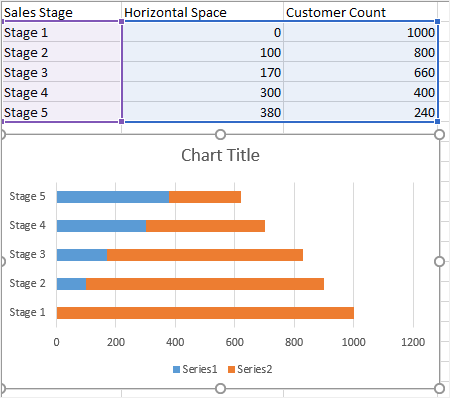 3.  
Right-click on the vertical axis, choose
Format Axis
on the contextual menu to open the
Format Axis
, then tick
Categories in reverse order
.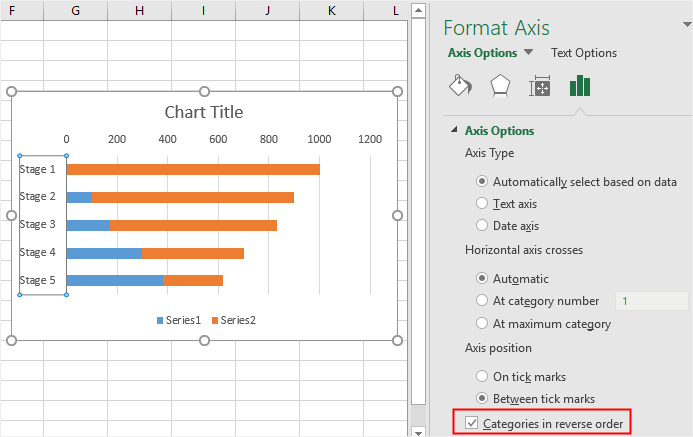 4.  
Right-click on the blue bar to select them all, choose
No Fill
on the contextual menu to make the blue bars invisible. Double-click on the chart title and type your own.
5.  
Click on one of the orange bars to open the
Format Data Series
pane if you don't close the right pane in Step 3. Then move the slider of Gap Width to 0%.
6.  
Similarly, you can change the fill color of the Customer bars. Use the
Add Chart Element
option next to the funnel chart to add data labels and delete legends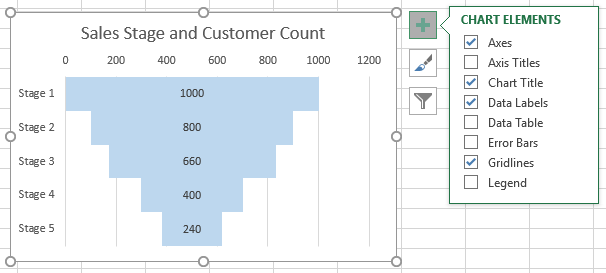 Using a SmartArt Shape
To insert a SmartArt shape as your funnel chart, you can use an inverted pyramid from the SmartArt graphic gallery. Here's how to do this with the following instructions.
1.  
Go to
Insert > SmartArt
and select the
Inverted Pyramid
in the
Pyramid2.  
Click the arrow icon to open the
Text
pane and input your data and information.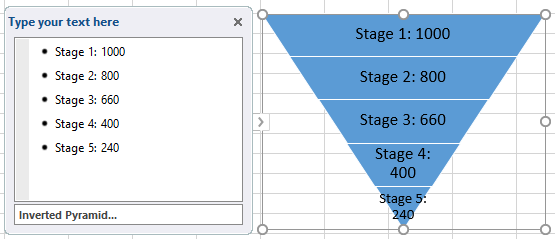 3.  
Select the chart and
SmartArt Tools
will show up on the ribbon. You can customize your chart with the editing options under
SmartArt Tools
, including
Change Colors
,
Change SmartArt Styles
,
Add Shape
, etc.How to Make a Funnel Chart in EdrawMaxNow, with (
EdrawMax Online
), you are able to make a funnel chart more quickly with a few simple steps. Besides, after you sign up for EdrawMax, you can also use pre-made funnel templates in the template gallery freely.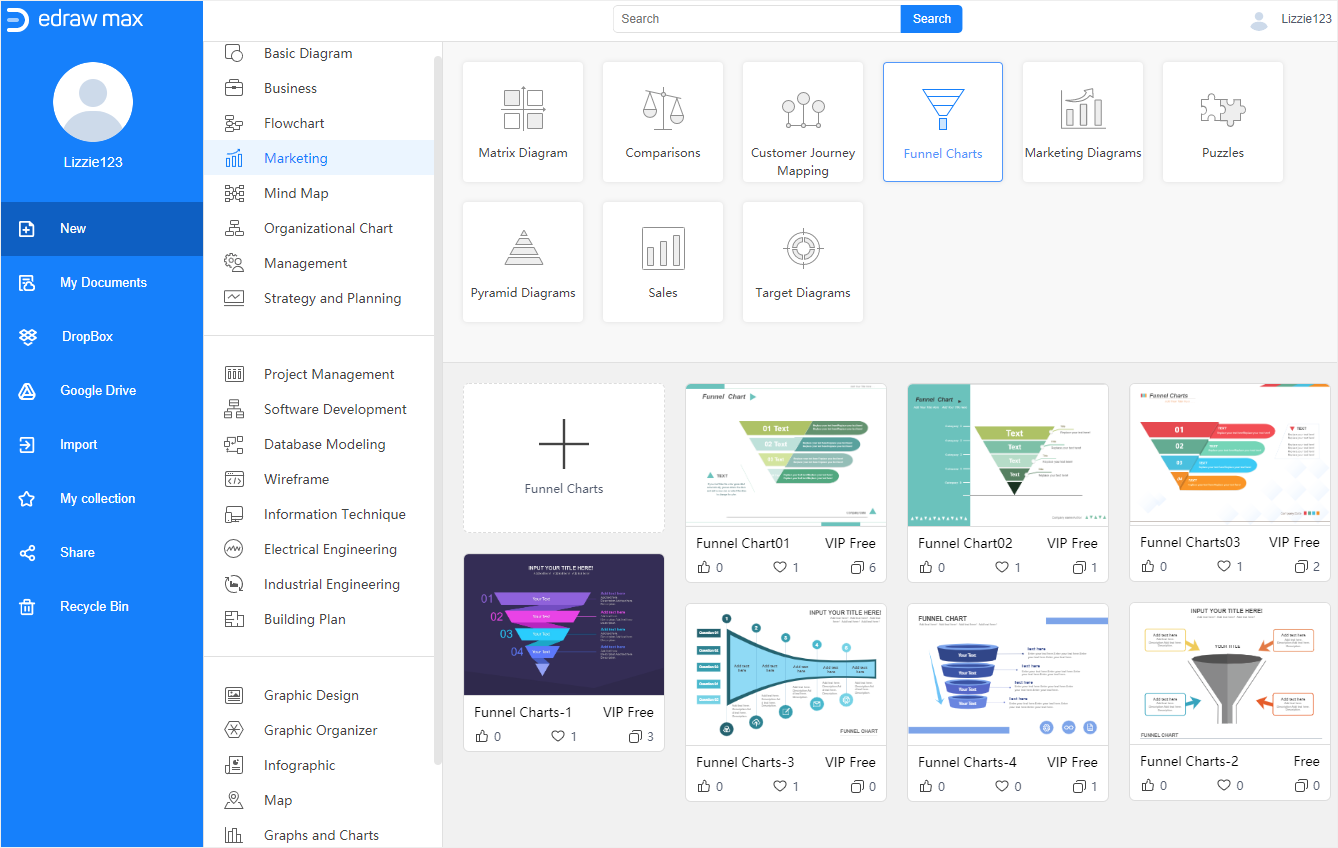 Here is how to create a funnel chart in
EdrawMax
from scratch. Just follow the steps below and it's much easier than those in Excel.
1.  
Enable (
EdrawMax Online
), click the plus icon on the template gallery and open a blank drawing page.
2.  
Select
Insert > Chart
to open the
Insert Chart
dialog box, and choose the
Funnel Chart
.
3.  
Select the example funnel diagram and change the example data with your own in the
Chart (Data)
There you only need to add stage titles and corresponding values.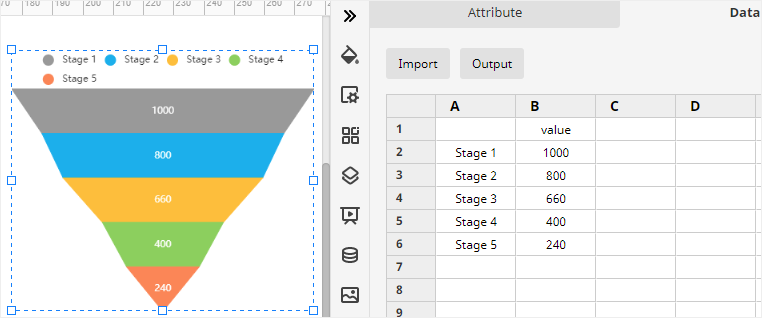 4.  
The formatting and editing tools in
EdrawMaxOnline
are mostly on the right pane and the toolbar. Users can try it several times and get familiar with the powerful drawing features in
EdrawMax
and then you will find a lot of surprises.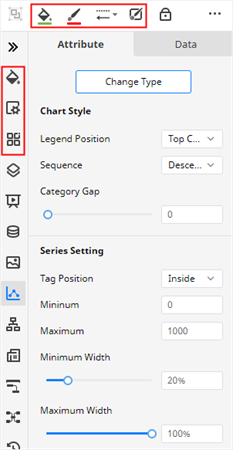 How to Export an Edraw Chart as an Excel FileWhen you complete your funnel diagram in
EdrawMax Online
, you can choose to save it in the cloud, export it in common formats or share it with others.Firstly, navigate to
File > Save As
and select to save your chart in Edraw personal cloud, Google Drive and Dropbox.Next, click
Export
, choose a format on the menu and the document will be saved on your computer automatically. Actually,
EdrawMax
allows users to export their documents as MS Office files and these files are all editable and printable in MS Office programs.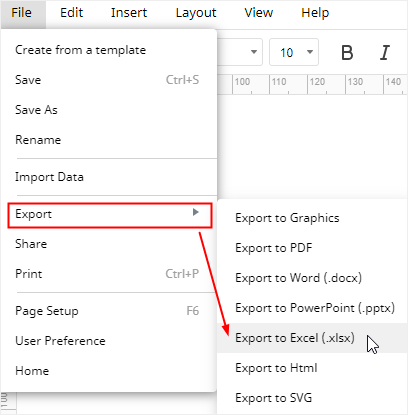 Finally, click
Share
on the menu or the upper right corner and then you can choose the desired way for sharing your funnel charts with others, such as a website link, a QR code and a piece of HTML code.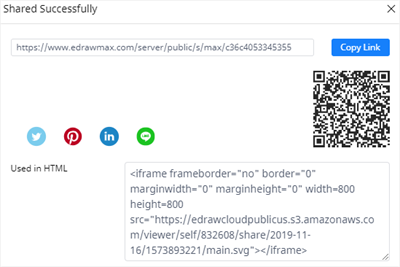 Try EdrawMax for Free