How To Design A Garden Using Edraw Max
Outdoor spaces, especially the garden areas, play an important part in one's life. It's a perfect spot to relax and soak in Nature or laze around in the afternoon. While some love to spend time in exotic gardens, others enjoy more of a quaint look as witnessed in cottage garden styles. Irrespective of one's level of fascination, sketching a garden design is vital. It's an art, mastered by professionals, who have vast experience in horticulture and design principles. But, not necessarily!
With the introduction of avant-garde Edraw Max online, even an amateur can effectively create a layout of one's choice and go with it to set up a splendid green patchy area, interspersed with vibrant flowers. Wondering how to design a garden with it? The article here aims to guide you through it. Read on to find out.
A Versatile Garden Design Maker - Edraw Max Online
Edraw Max online is an all-rounder when the matter arrives at designing gardens. From rooftop gardens to landscape designing, it approves every possible idea, coming from the most creative of individuals to quickly arrive at something remarkable. And, what paves the way forward are its built-in features, symbols and templates. Let's check them out in this section.
Speaking of software features, the following govern the success of the online tool.
Predesigned templates to get started right away.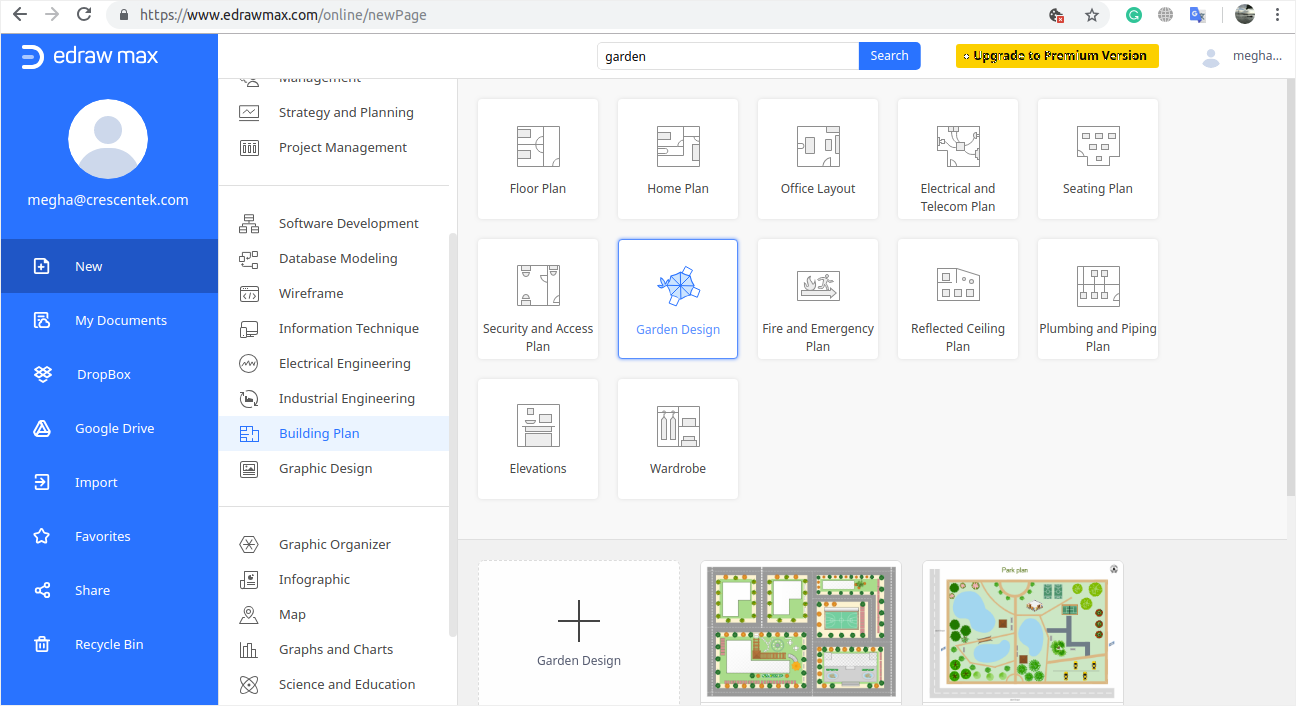 Smart icons to help you generate high-precision vector diagrams.
Functional options like 'save', 'export' and 'print' to give shape to your diagrams in the best possible format of your choice.
Links to easily transport viewers to essential files and other online communities.
Free of charges technology support.
Extensive resources for guidance.
Using the same, one can come across the following templates.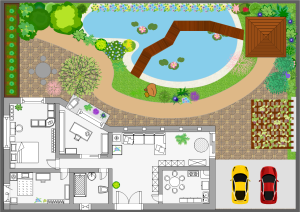 Front Garden Design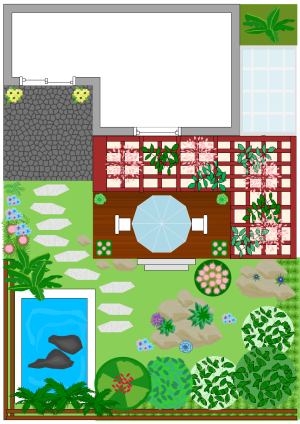 Roof Garden Design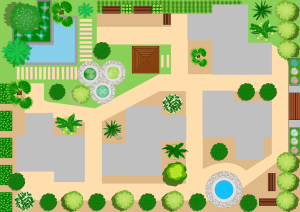 Landscape Design
Whether you are planning a small garden design or an elaborate one, the icons depicted shall come to be of great use. Available in popular vector format, what's best about them is scalability and flexibility, enabling re-colouring, re-sizing and rotations, as per the requirement.
Things to Consider Before Designing Your Own Garden
Now that you are well versed with all the features and accompanying symbols, which are nothing but the building blocks of unique garden design, let's look at a few considerations for a flawless work of art.
Since sunlight and shade are the primary aspects, do not forget to consider them while planning your garden area.
To arrive at a perfect layout, segment your garden into separate areas with each having trees, shrubs, plants, herbs
Take budget and sunny and shaded areas into consideration when choosing plants.
Check soil conditions from beforehand as it's the very foundation of a garden.
Address common issues like drainage problems at the time of planning.
In case maintenance is your problem area, consider succulent plants instead of flowering ones to lower the gardening chore.
Once everything's sorted out, proceed to the next step.
How To Design An Amazing Garden With Edraw Max Online?
We presume you are ready with the online software. If yes, here is a tutorial for beginners to follow.
Step 1: Chalk Out An Outline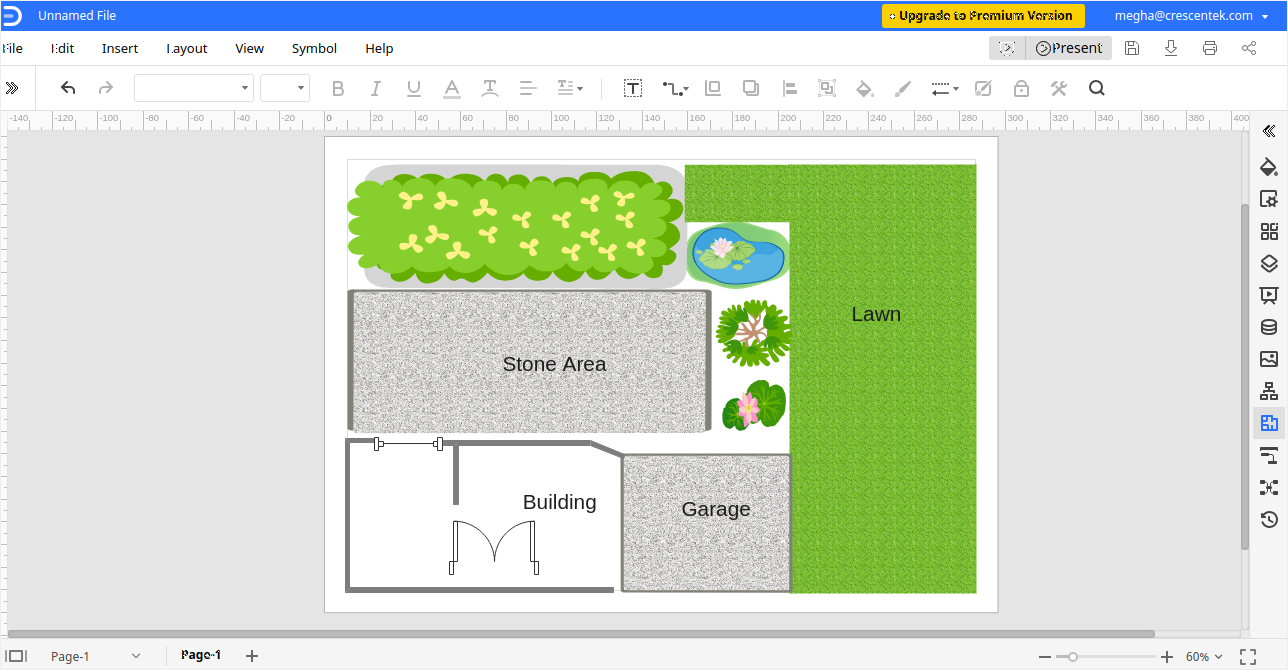 By an outline, we indicate pool, lawns, boundaries, building entrance etc. This would entail drawing of basic outlines.
Step 2: Explore The Tools In 'Library' To Add Necessary Elements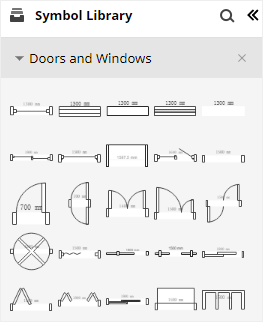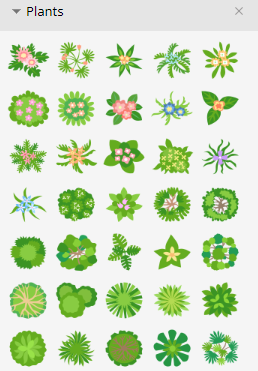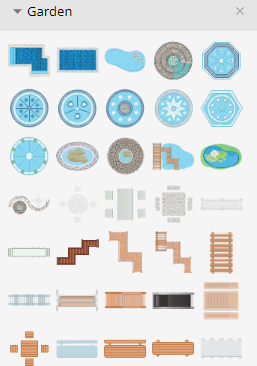 Under the library section, you can trace myriad elements and symbols, ready to be included in your diagram. From walls, doors, structures, plants and garden to miscellaneous elements, there's a complete package of icons to select, drag and drop on your blank canvas.
Step 3: Add Features To Enrich It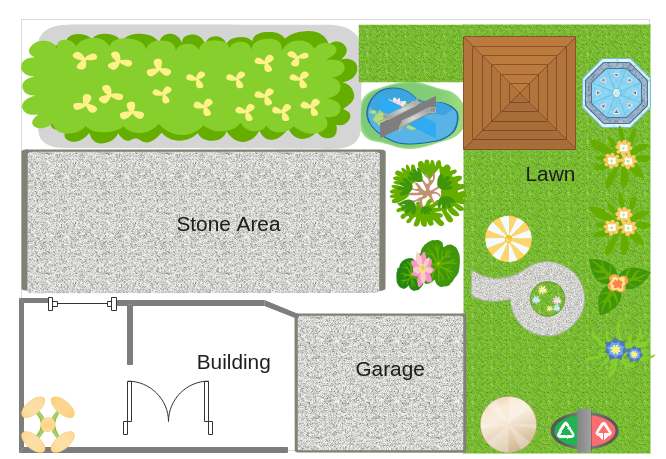 Do not overlook dimensions for a complete picture. You can find the same under the garden library section.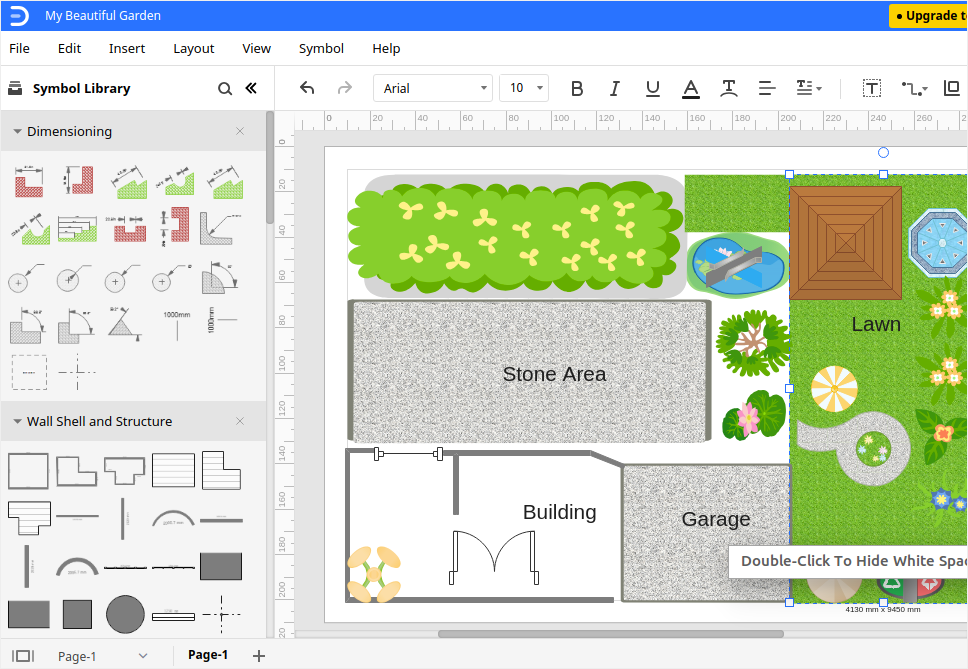 Step 4: Insert Miscellaneous Design Elements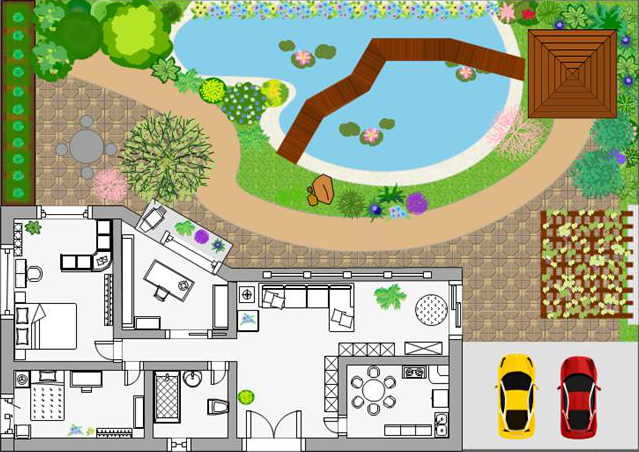 There are myriad other design elements such as grass, shrubs, flowers and trees. If it's a lawn that you wish to insert, plan it around a pool or a lake. It's easy to trace them all under the library segment.
Step 5: Save & Export The File To Suitable Format
The final step is to save the design created by you. You shall get the following options as depicted in the image below.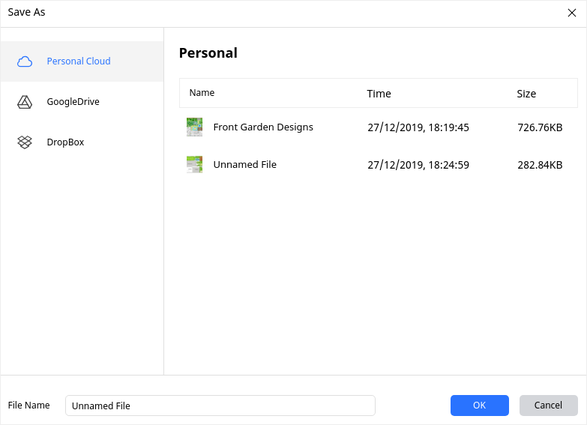 On saving, you can export it to any of the formats - SVG, PDF, Html etc.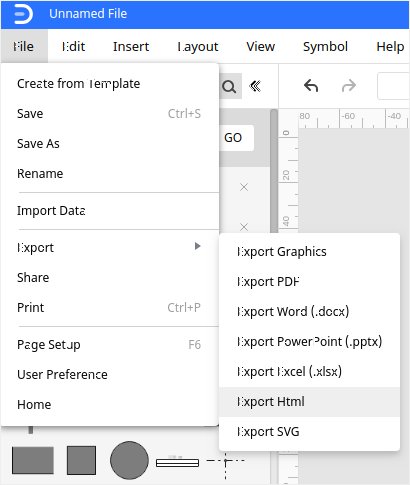 Tips For Designing Your Ideal Garden
To help you make a great garden design without the unnecessary hassles, we have a few tips and tricks for you to follow.
Make sure you develop a detailed and workable plan when sketching the design as the architect will go by it.
Ensure you prepare an all-inclusive plan, as this will ensure the success of the blueprint.
While adding elements at the time of designing, check whether you have left ample play area for children.
If you have pets at home and do not wish them to trample the delicate flowers and vegetation nurtured by you, insert exercise areas for them.
So, don't restrict the gardener in you and dismiss your favourite hobby of growing flowers and veggies in your front-yard or backyard. Give shape to them without even taking the aid of a professional. Edraw Max, an easy to use online software for creating diagrams, can help you out in preparing both elaborate and small garden design. Get started today and let us know your valuable feedback. We would love to hear from you!