What is a Storyboard?
A storyboard is a type of graphic organizer, which visually represents the data and information collected for a particular project using a series of images. It follows a linear trend of a plan or a timeline to explain a specific event or process. Storyboards are commonly used in business, media, and fashion-related industries, for example, photography, animation, movie-making, marketing agencies, etc. However, everyone can make a storyboard to design a plan. You can create your storyboard with the help of Edraw Max.
In Edraw Max, the storyboard belongs to the graphic organizer, where you will find a wide range of both free and premium online templates to create storyboards.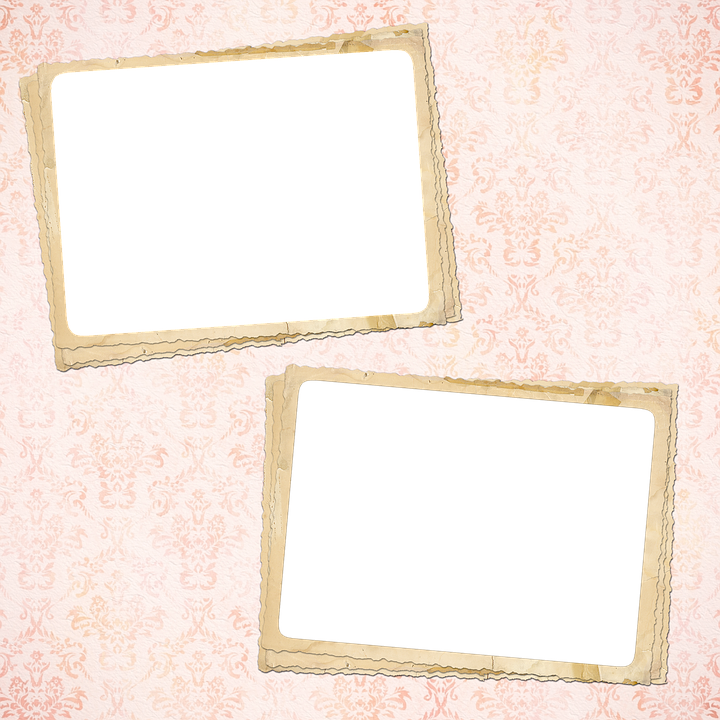 Image Source: pixabay.com
When to Use a Storyboard
A storyboard can be used to plan or to represent a journey, process, or event visually. It makes it simpler to execute a task and highlight any potential issues before the execution. Many people use storyboards for different purposes, such as for filming, writing, comics, fashion designing, interior designs, business plans, and much more. Anyone can create a storyboard for personal, educational, or business purposes.
How to Make a Storyboard Online
Edraw Max Online is a potent and versatile diagrammatic tool for creating visual content easily and quickly. Hence, it also works as a great online storyboard creator. Make a storyboard in Edraw Max Online with the help of our step-by-step guide mentioned below.
To create your storyboard, follow these steps below:
Step 1 – Open Edraw Max Online
First of all, launch your browser and open Edraw Max Online. Note that the storyboard in Edraw Max is not for filming, but it is suitable for creating storyboards for writing or educational purposes.
URL: https://www.edrawmax.com/online/
Step 2 – Select Storyboard
Select the New tab and scroll down to Graphic Organizer in the navigation pane on the left side of the screen. You will see different types of options on the screen like Sequence Chart, Grid and Matrix, and Spider Chart. Click on Storyboard and wait for the results to load. You can make a storyboard in Edraw by using a pre-made online storyboard creator templates or starting from scratch. You can either select a template of your choice or use a blank template. We will choose a blank template for this tutorial.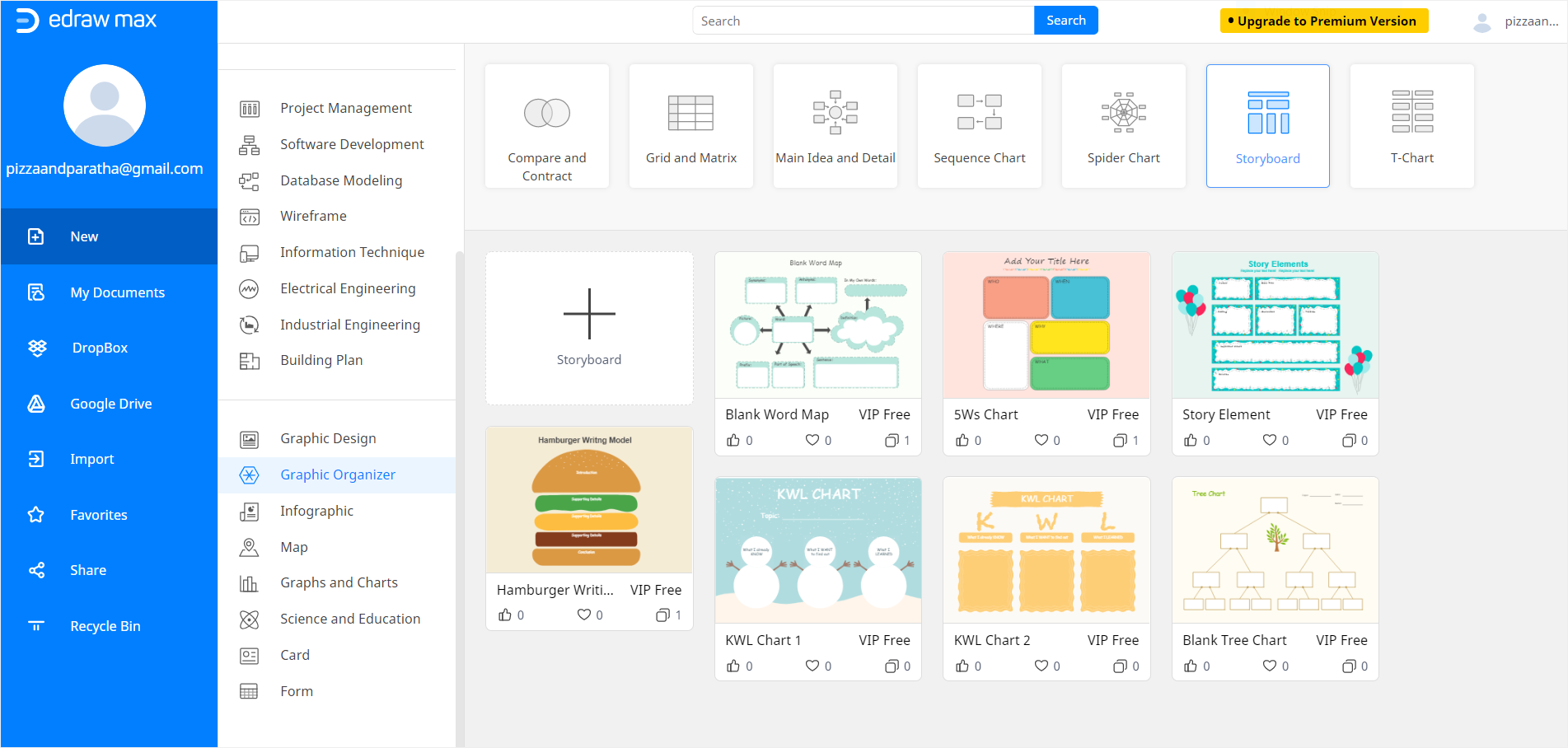 Step 3 – Create Storyboard from Scratch
Once you click on the blank storyboard template, a new Edraw online tab will launch on your browser. To make a storyboard from the start, use an online storyboard maker by Edraw. For this, go to the Symbol Library on the left side of the screen and click on the symbol icon; a pop-up window of Edraw Online Symbol Library will appear. Now scroll down to Education in the navigation pane, select Graphic Organizer and click OK.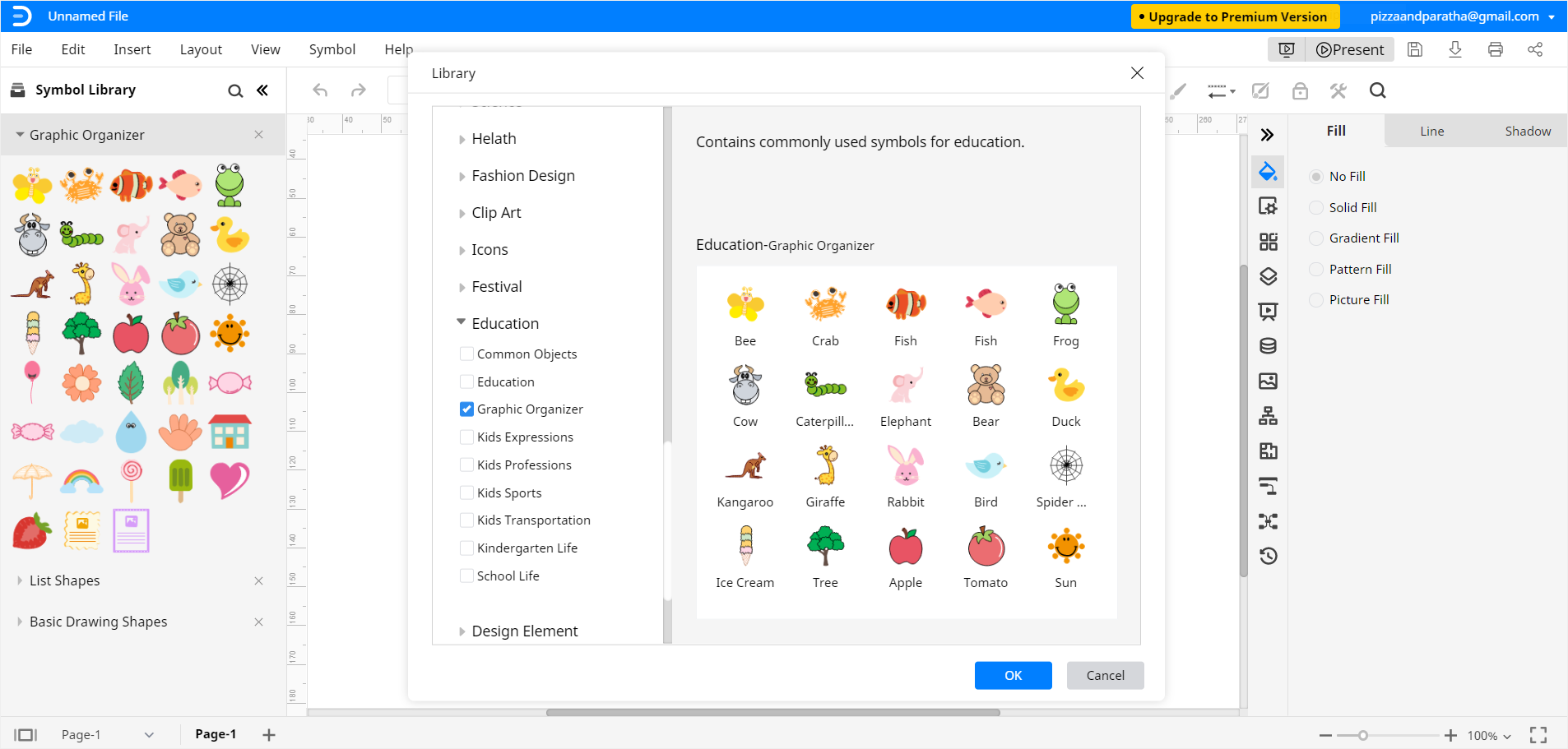 Step 4 – Design and Customize your Storyboard
Now use the graphic tools of Edraw online storyboard maker to design your storyboard. You can choose from a wide range of illustrations, images, shapes, and basic drawing shapes. Just select the one you want, drag it towards the drawing sheet, and place it where you desire. Use the editing and formatting tab on the right side of the screen to change fonts and colors. You can change the size of the object by selecting it and then dragging the corners in and out.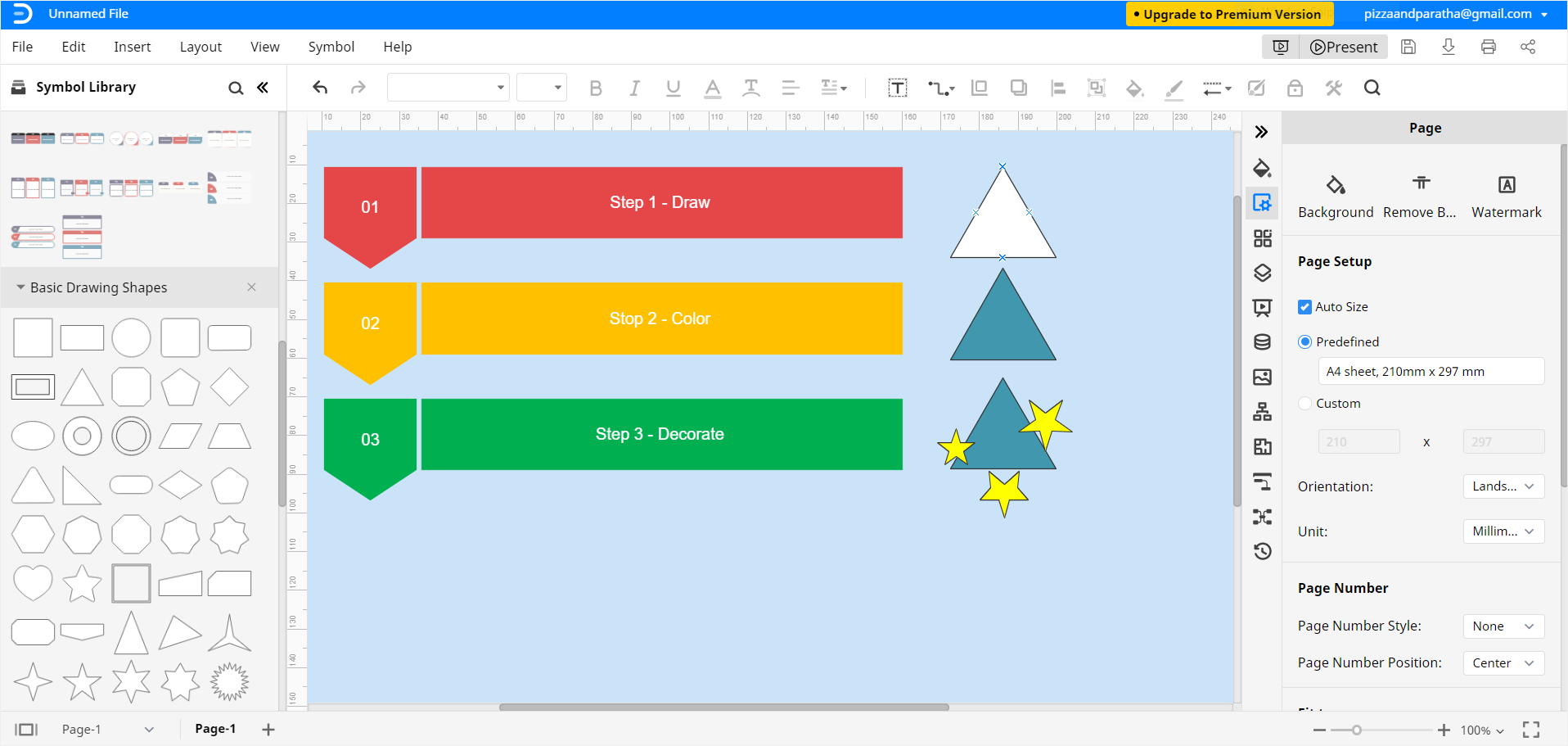 Step 5 – Save File
Once you have completed your storyboard, and you are satisfied with how it looks, close the side panel by clicking on << and >>. You can also save your file for future edits or sharing by clicking on the File tab.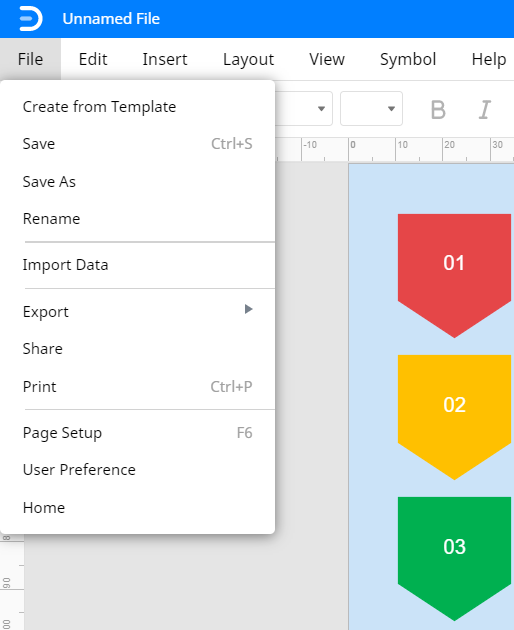 That's it! Now you know how to make a storyboard in just a few simple and easy steps using Edraw Max Online.
Visit More Free Storyboard Templates
Now that you have learned how to make a storyboard with the help of Edraw Max free templates, here are some more storyboard templates, which you can use and customize for free.
Colorful 5Ws Storyboard Template – Create a beautiful storyboard to remember a sweet moment with a special someone or students can use it to highlight and remember the most elements of a story.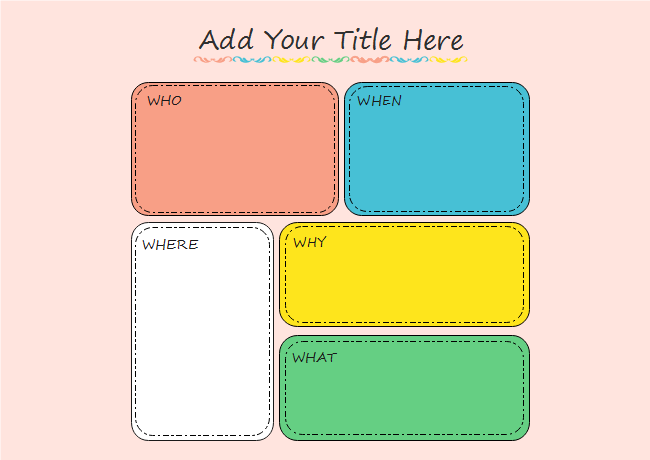 Hamburger Writing Model Storyboard Template – This cute graphic model can be used by teachers to help students create an engaging piece of writing systematically.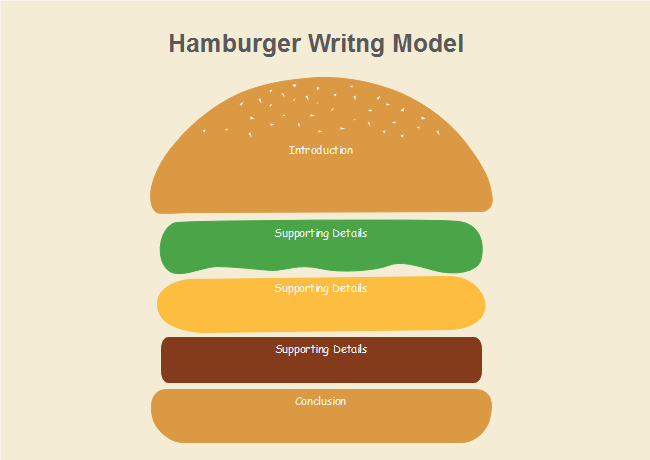 Festival Elements Storyboard Template – Anyone can use this cheerful storyboard to write a book review.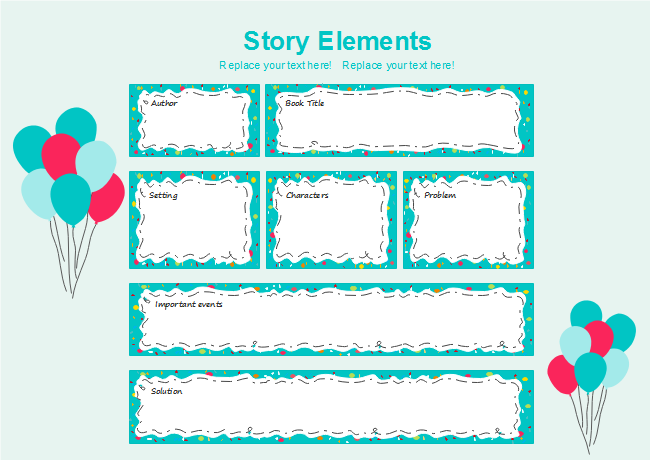 Hope this tutorial will be helpful. Our guide on how to make a storyboard using Edraw Max Online concludes here.