Know About Posters
A poster is a way of advertisement or promotion on an event, idea, place, or product to gain public attention. Posters are designed in a way that includes both graphic and textual elements. Posters need to be informative as well as eye-catching to attract the desired audience. There are many online tools available to make a poster design at home. However, the most efficient and effective means to create poster online free is Edraw Max Online. You can use this graphic software to create posters online using predesigned templates, symbols, and other visual elements.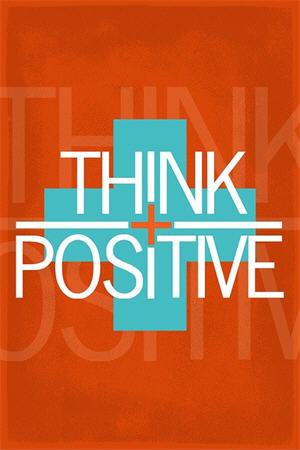 Image Source: pixabay.com
We have put together a detailed beginner's guide to teach you how to make a cool poster easily and quickly.
When to Use Posters
Posters are widely used in our day to day life; we can see them all around us. For instance, posters can be used in the following circumstances:
In schools to announce an event
In shops to announce the annual sale
In businesses to promote a new product/service
In public rallies to endorse a social movement
In festivals to attract customers to a stall
How to Create a Poster Easily
Edraw Max online is a very versatile and easy-to-use diagramming tool for creating a wide range of visual content in an efficient and stress-free way.
Hence, it can also be used to design posters online. Make a cool poster in Edraw Max Online with the help of our step-by-step guide mentioned below. Follow these steps to learn how to make a poster online.
Step 1 – Open Edraw Max
First of all, launch your browser and open Edraw Max Online. Note that posters in Edraw Max can be created for any purpose with or without the templates.
URL: https://www.edrawmax.com/online/
Step 2 – Select Poster
Scroll down to Graphic Organizer in the navigation pane on the left side of the screen. You will see different types of options on the screen like Storyboard, Sequence Chart, Spider Chart, etc. Click on Poster and wait for the results to load. You can make a cool poster in Edraw by using a pre-made online poster template or by starting from scratch.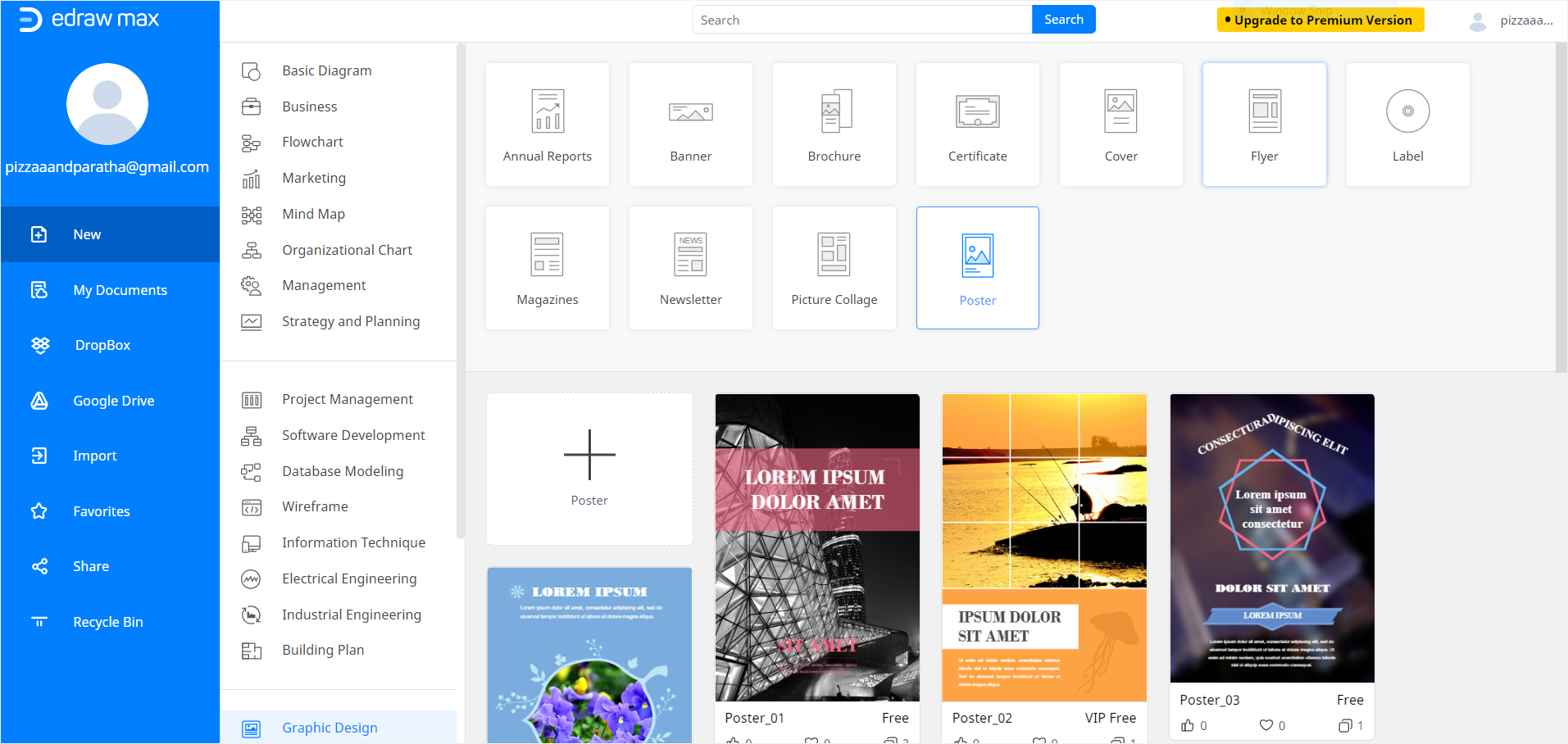 Step 3 – Create Poster
To use a poster template (Graphic Organizer > Poster), click on the desired template. Edraw will launch a new tab that you can use to customize your poster.
Apart from using templates, Edraw Max also provides different types of symbols to help users create posters from scratch. These symbols are mostly in Symbol Library on the left side of the screen. Search for more symbols in Symbol Library, scroll down to General and select symbols of your choice now. You can choose from Graphs and Charts, Fashion Design, Clip Art, Icons, Festival, Education, Design Element, People, etc.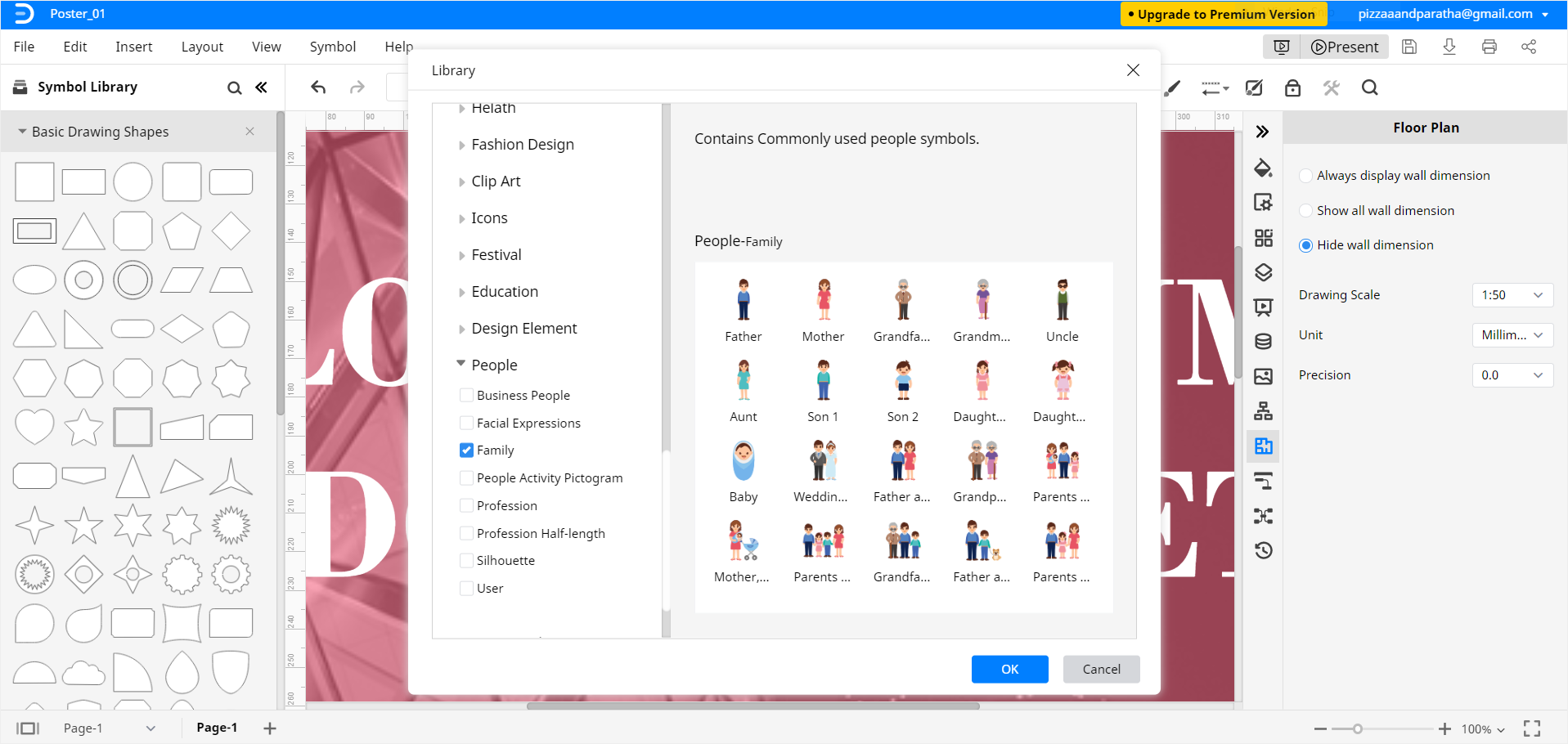 Step 4 – Customize Your Poster
To customize your poster template, use the navigation pane on the right side of the screen. Edraw offers a wide range of formatting tools for every aspect of the model so that you can customize it 100%. 
Use illustrations, images, shapes, or basic drawing shapes to add more graphic content to your poster. Just select the one you want, drag it towards the drawing sheet and place it on the desired spot. You can also change fonts and colors. Users can also adjust the size of the object by selecting it and then dragging the corners in and out.
Step 5 – Save File
Once you have completed your poster and are satisfied with how it looks, close the side panel by clicking on << and >> icons. You can also save your file for future edits by clicking on the File tab. Edraw documents can also be shared with other users by exporting files as common file types. Go to File > Export and select the preferred file type.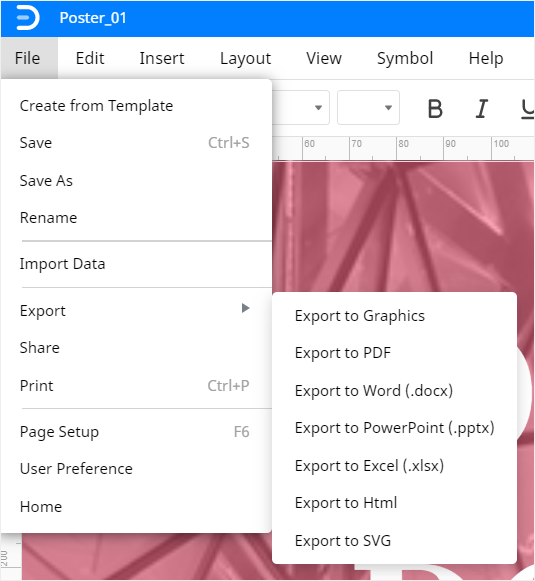 That's it! Now you know how to make a poster in just a few simple and easy steps using Edraw Max Online.
More Free Poster Design Templates
Use these free poster design templates from Edraw Max Online to create cool posters online.
Baseball Business Poster Template – Promote your baseball business using this professionally designed poster.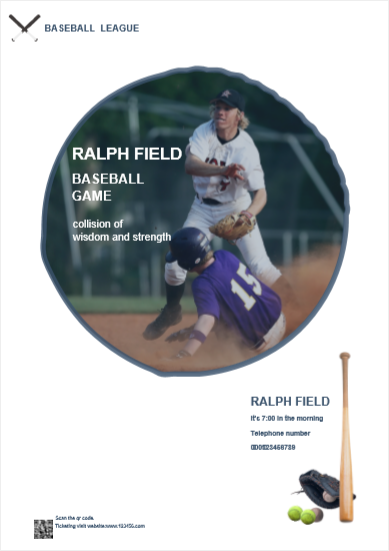 Christmas Sale Poster Template – Announce your special Christmas sale for holiday seasons with this free Christmas sale poster template.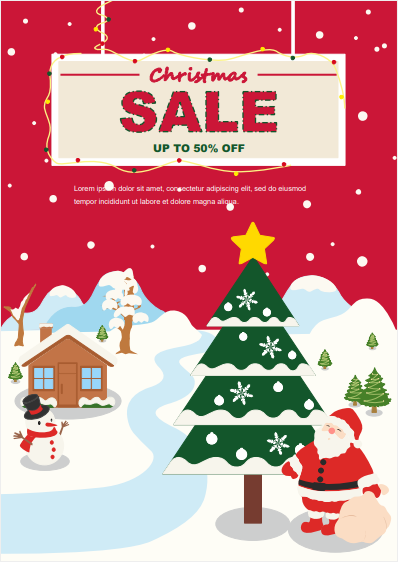 Office Building Sale Poster Template – Improve your business sales with this impressive office building sale poster template.