How To Make A House Plan Using Edraw Max
Have you moved into your dream home just recently? Or, maybe you are planning to do so shortly. In both cases, you will require modern house designs to keep it neat and prevent furniture misplacement from taking away space and leaving your abode all crammed up. But, this hardly demands a professional to a self-sufficient individual for there exists state-of-the-art software to create modern home designs online, without compromising homely comforts. The article here wishes to convey the process through the same online tool. So, read on and gain valuable insights on how to make a house plan.
An Excellent House Plan Maker - Edraw Max Online
It's time we introduce you to an outstanding software, named Edraw Max, simplifying the process of designing home plans online from one's abode. If you are new to it, let's brief you on it a bit, citing special symbols and features that could help you with effortless drawing. Wondering what makes it exclusive? The fact that it demands no CAD skill from beforehand speaks volumes about its universality.
To begin with, let's check out the primary features making it up.
The same cuts down the waiting time 5 times through a single click, unlike traditional drawings.
It's a marvelous process of dragging and dropping images, both internal and external, to heighten the visual appeal.
This part of a hyperlink function allows embedding of hyperlinks to relevant files and web-pages, thereby leaving no scope for confusions.
Being a vector-based online tool, it enables users to export prepared home plans in the form of SVG documents. The specialty of such full-fledged documents is its accessibility in different web browsers.
You can have a look at the feature-enriched interface right below: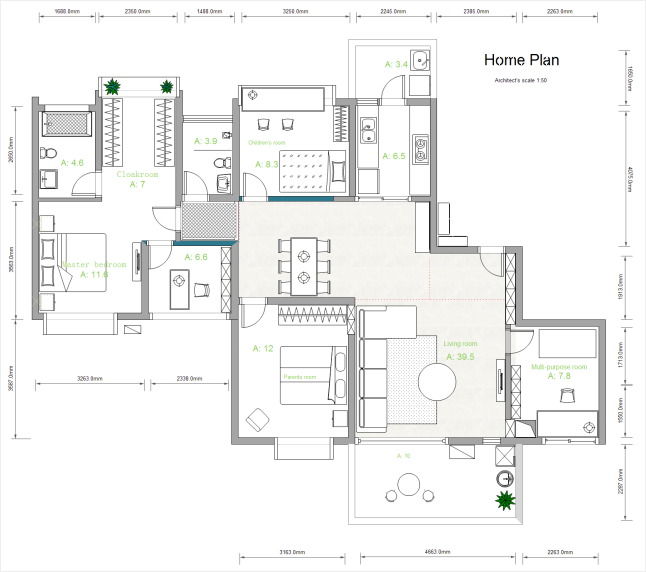 To build up your confidence levels and help you gain trust, we have a few templates to begin from.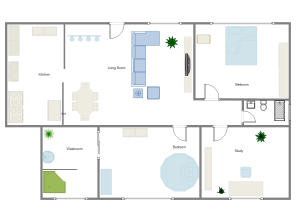 Home Plan Template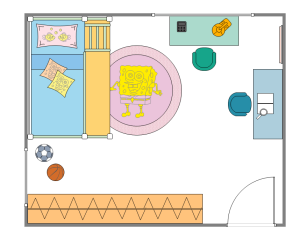 Kids Room Plan Template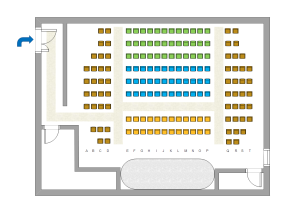 Seating Room Plan Template
As you can check, these are some of the quick-start templates to save you time. And, regarding modern house design symbols, like walls, doors, windows, fixtures and other elements, you can recognise them right away from the following picture.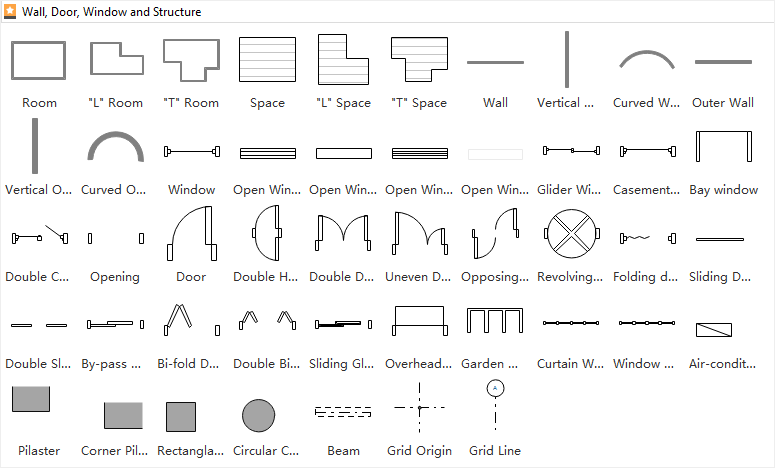 Necessary Symbols to Create a Home Plan
By just dropping them over your canvas, you can effortlessly come up with a graphical house plan and let it meet your purpose with grace.
Things to Consider Before Creating a House Plan
There are a few things to keep in mind when designing a house plan. This concerns both the basics and the online software - Edraw Max. Get a cue below:
Check whether your system supports Windows 7, 8, 9, 10, Citrix, XP and Vista and compatible with either 32 or 64 bit Windows. If it runs on Mac OS, the version should be X 10.2 or later.
Since the trial version of Edraw Max is free, you can save money on the same.
Get an idea about your lifestyle, privacy, furniture count, etc to nail the look.
Try to foresee the future cost of including certain architectural features.
Now, that you are all set to design a house plan, let's move ahead and look at the step-by-step process to finish it like a pro!
How to Make a House Plan With Edraw Max Online?
You are just 5 steps away from achieving the perfect house plan ever! Take a look below:
Set Up Your Canvas
Follow the commands to start drawing.
New>Building Plan>Home Plan and double click it to begin immediately.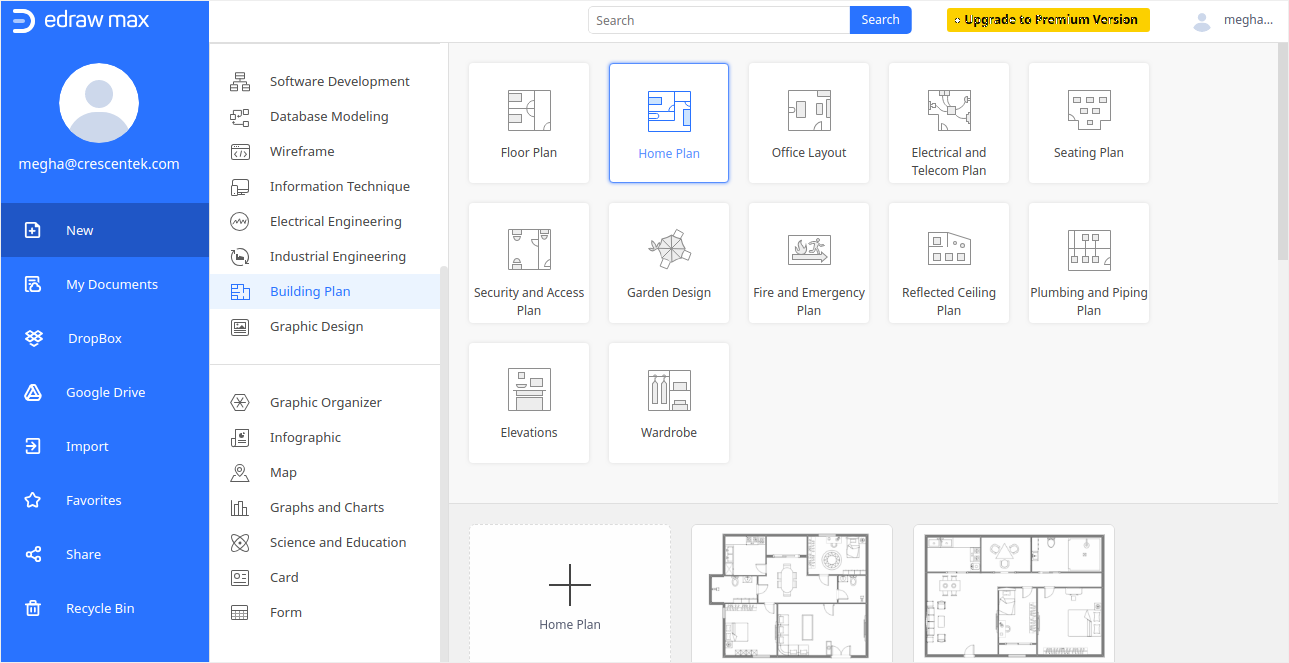 Select from Room Shapes
By tracing the Wall, Shell and Structure find the appropriate room shape and drag it down to the drawing page. Resize it accordingly.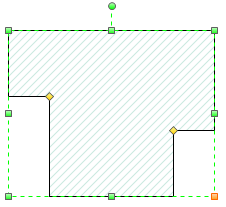 Decide On Wall Shapes
Again from the same menu, select exterior wall shape and drag it down to your canvas. Endpoints enable resizing. Wait for endpoints to turn red on successful wall gluing. You can take a hint from the image below.

Design The Interior Wall Structure
The process is almost the same as exterior walls. It all depends on your capability to position them within the exterior structure. In the case of resizing, dragging of endpoints much like before is necessary.
Add Structural Elements & Electrical Icons
From the same Walls, Shells and Structure option, you can come across structural shapes. Similarly, Building Core has core shapes to assist you with drawing. Once done, you can explore the Dimension Library and add dimension lines.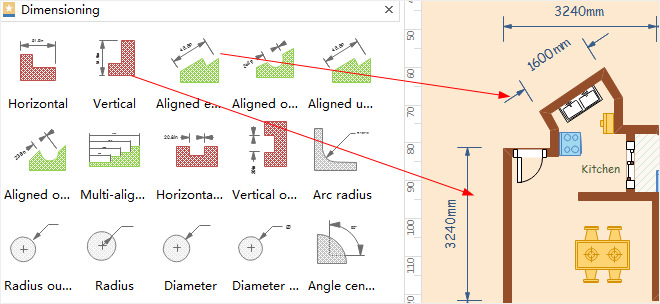 Then, label rooms for better understanding. The same is illustrated below.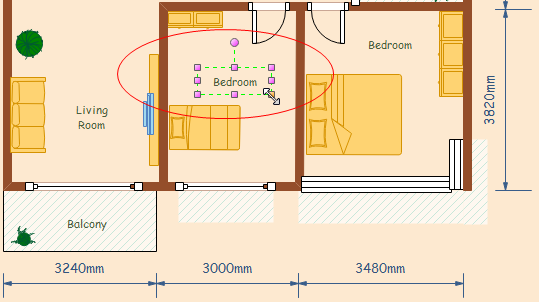 Finish it off by inserting electrical symbols, right from the Electrical and Telecom stencil. You can find a great assortment of wall fixtures, wall switches and outlets. Drag and drop them accordingly to complete your house plan.
Congratulations! You have designed a modern house design successfully! To enjoy the same as web documents or as images or as a presentation slide, click on Save, available on File tab or hit the Save As button to choose a suitable format. Alternatively, 'Export & Save' too can take you in the desired direction and help you land a flawlessly tailored blueprint of your abode.
Tips on Creating a House Plan Efficiently
Before you go ahead, here are a few suggestions straight from the horse's mouth.
Inclusion of pocket doors can make your living area appear capacious.
Do not disregard nooks and crannies.
Add stairs sensibly.
If you aim to pack myriad functions into a restricted space, consider double-duty rooms for a change.
Always ensure you maximise ceiling height and attach floor-to-ceiling cabinets to make the most of space in confined homes.
What are you waiting for? The online tool of Edraw Max is just a click away! Download the trial version and get started, right away!