How to Make a Six Sigma Chart in PowerPoint
A six sigma chart is a flowchart of decisions and its outcomes — it is used as a decision support tool. It is also a way to show a diagram of the algorithm based on only conditional statements. The purpose of drawing a decision tree is to quickly understand the outcomes of a decision and further results of the decisions based on the previous outcomes.
1. How to Create a Six Sigma Chart in Visio
A six sigma chart is a flow chart depicting the process of decision-making based on conditional statements. It shows the algorithm through which the decision-making in any corporate or otherwise institutions takes place using a well-crafted diagram.
It is pretty easy to draw a six sigma chart with the aid of PowerPoint if you get to know the step-by-step process of creating the flowchart. Here is the step-by-step guideline on how to draw a six sigma chart in PowerPoint:
Step 1: Launch PowerPoint and Open Blank Slide
First, you have to open the PowerPoint on your computer and click on the File tab in the top left corner. After that, you click the 'New Tab' on the PowerPoint. It will automatically open a blank side for you. You can work on it.
There are two applications available on PowerPoint to draw a six sigma chart. Either you can create it with the SmartArt Graphics aid or a template.
Step 2: Use SmartArt Graphics and Select Cycle Tab
After opening a blank slide, you go to the Insert tab. Now choose the illustration section present in the SmartArt Graphics. You will see a dialogue box appearing. From the dialogue box, select the Cycle Tab. Now choose your suitable SmartArt Graphic.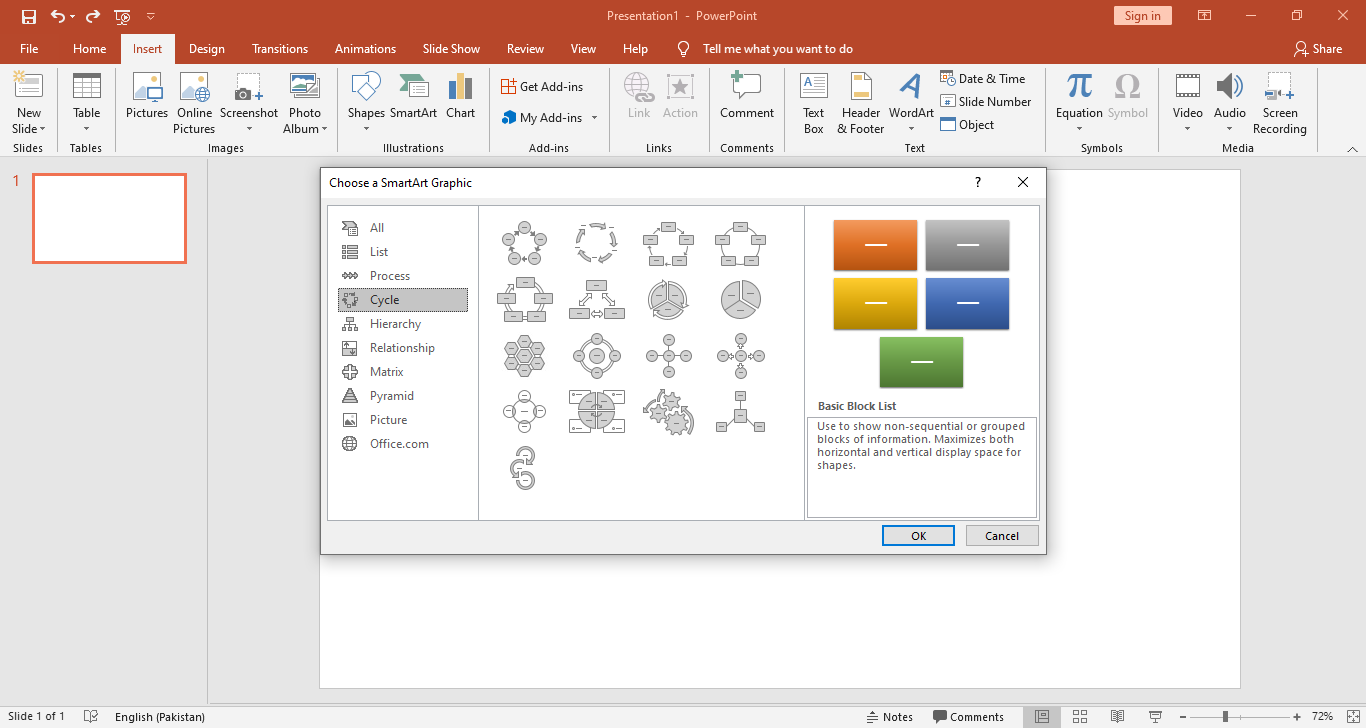 Step 3: Edit SmartArt Graphic
Now edit your SmartArt Graphic and insert your Six Sigma Chart ppt points. After completing the process, you click the 'OK' button, and there you get your decision-making flowchart.
A compelling illustration of the decision-making algorithm with the help of the Six Sigma Chart would enable you to make decisions quickly and effectively. Using the PowerPoint illustrated above will help you create the chart without much effort. Once you get started, you will find that making the chart with PowerPoint is a simple yet impactful illustration.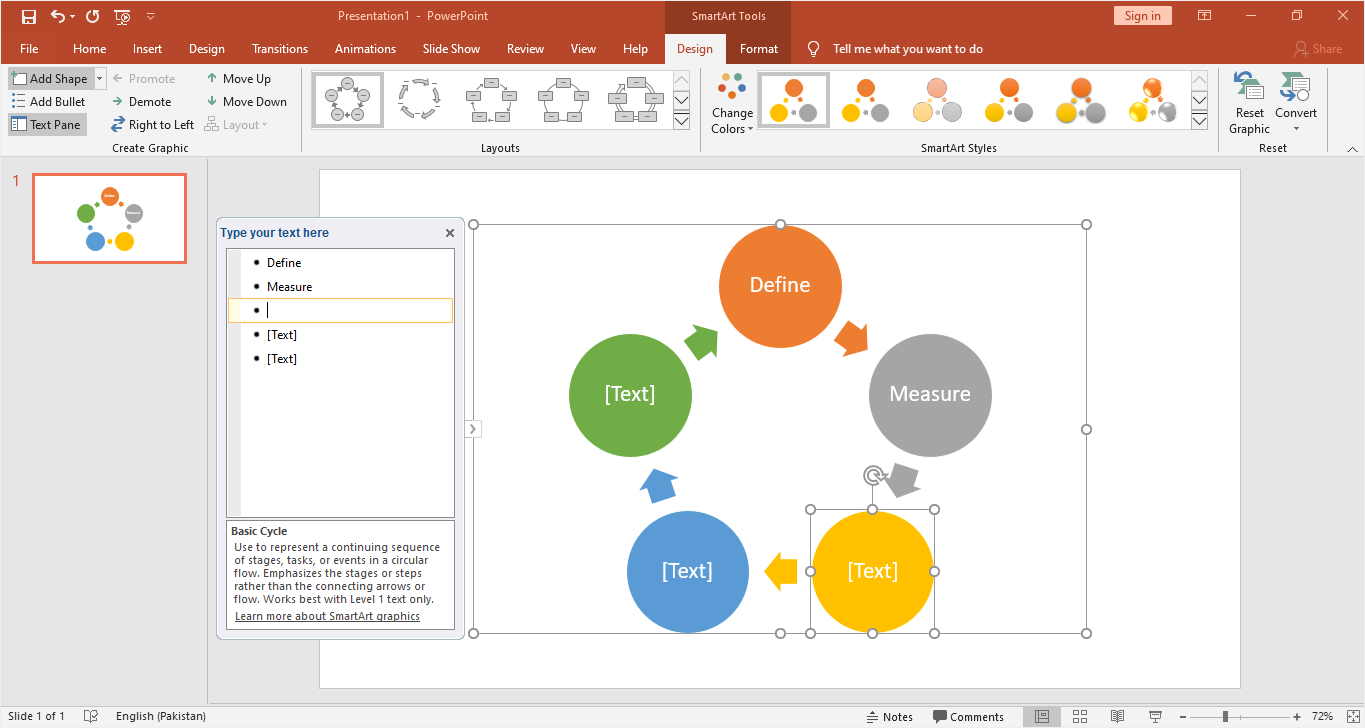 1.1 The Advantages of Making Six Sigma Chart in PowerPoint
Six sigma charts come in handy for companies who intend to improve the quality of process outputs. Creating a six sigma chart in PowerPoint has a couple of advantages, like:
Microsoft PowerPoint provides statistical tools and methods to create the six sigma charts for your project.
Microsoft PowerPoint has an extensive set of templates that you can use to create your own six sigma chart.
The file-sharing feature of PowerPoint comes in handy as most of the universities and colleges have Microsoft PowerPoint installed in their systems.
1.2 The Disadvantages of Making Six Sigma Chart in PowerPoint
Even though there are some advantages of using PowerPoint as the tool to create your six sigma chart, certain limitations affect the overall quality of the project. For instance:
PowerPoint has a limitation of free six sigma templates.
Customization is possible in the provided six sigma chart templates, but you will have to pay a hefty subscription fee to access those resources.
If you have created a six sigma chart in PowerPoint, you might lose the formatting if you access the same chart on a different device.
1.3 Tips for Making Six Sigma Chart in PowerPoint
Six Sigma Charts helps prevent issues that are affecting the overall growth of a company. There are a couple of things you should note before making a six sigma chart in PowerPoint.
PowerPoint offers a SmartArt Graphics tab to create the six sigma chart. Use the right combination of graphics as per your business model.
Map out the processes in your company by standardizing the methodology.
Use the right colors and fonts to make the PowerPoint presentation of six sigma efficient enough to deliver the message.
2. How to Make a Six Sigma Chart Online Easier
There is a tool EdrawMax Online that shorten your time to create a six sigma chart online. Also, it contains substantial six sigma chart templates in product and template community that you can use immediately and create chart without efforts.
On EdrawMax Online, you can find thousands of readily available templates and design components to create all kinds of diagrams. The best part is that EdrawMax Online can also be accessed online, letting you work seamlessly on any platform. With simple drag and drop options, you can also create visually appealing six sigma charts via EdrawMax Online in the following way:
Step 1: Sign In EdrawMax Online
First of all, you need to log in to your EdrawMax Online account. If you haven't used EdrawMax Online before, you can sign up for a free account with your email address. Then you can use EdrawMax for free.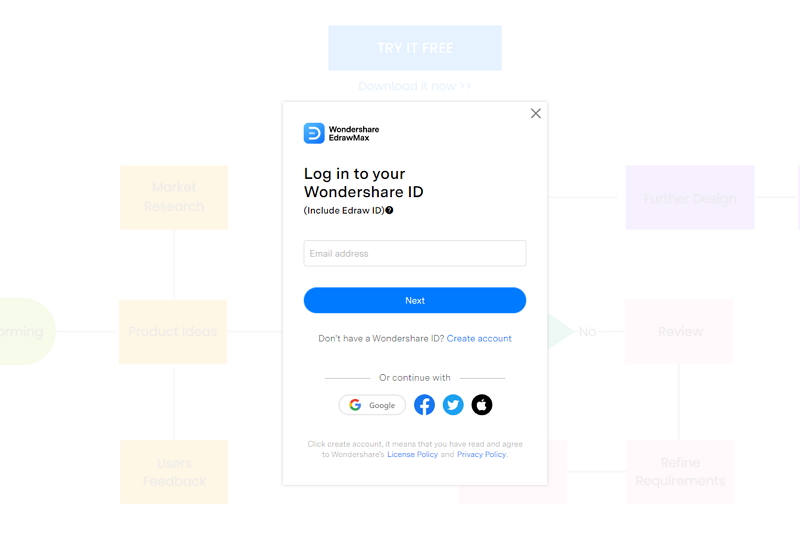 Source:EdrawMax Online
Step 2: Click Blank Drawing
Click on the Recommended tab. When you click the Recommended tab, you'll see the menu will open in the right side window. There are many options in the Recommended menu, as you can see in the below image. Click the >+ sign to open the editor window.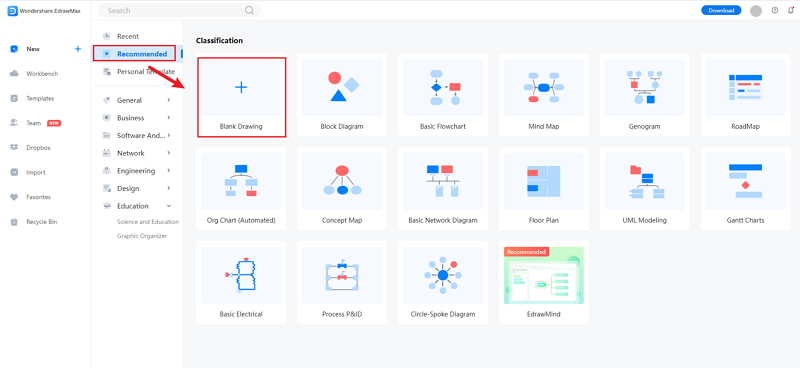 Source:EdrawMax Online
Step 3: Select the Six Sigma Symbols
When you click the large + sign, the editor window will open. You need to find six sigma symbols from the Symbol Library.
Click the Symbol Library option on the top left side of the editor window. Next, a dialogue box will open. From the dialogue box, go to the Business menu. A dropdown menu for business symbol categories will appear. Then, mark the Six Sigma tab from the dropdown menu. Then, click the OK button to import the six sigma symbols in the editor window.
Or you can search the six sigma from the Symbol Library. Then, select this option, it will appear on the left side toolbar.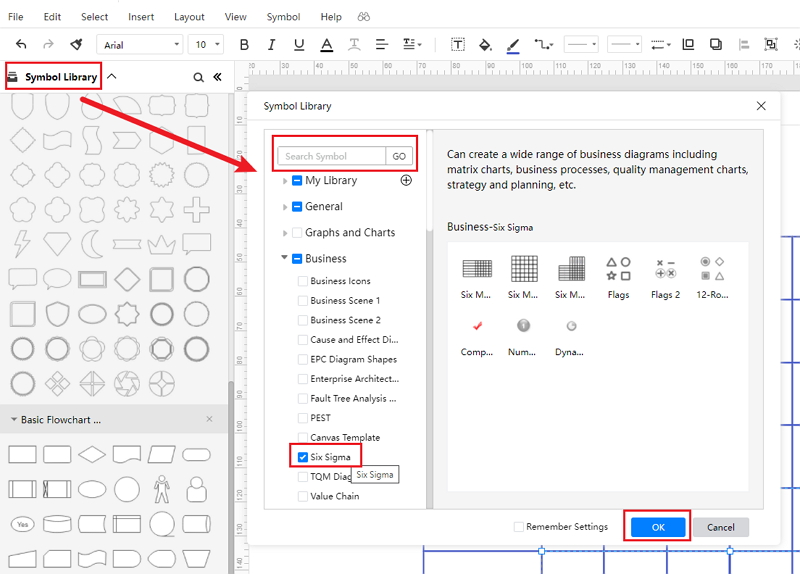 Source:EdrawMax Online
Step 4: Add More Details to Complete Chart
Once the symbols are imported to the editor window, you can drag and drop the six symbols in the editor to create your six sigma chart using them. To edit the symbol, click in the boxes and enter your content. Likewise, you can make the boxes more attractive by using the Fill, Line, and Shadow options.
There are many editing options available in EdrawMax Online to make sure your six sigma chart is customized according to your needs. You can change the transparency, change, type of fill, as well as add and remove layers.
Moreover, you can also change the properties of the line and shadow to make it according to your preference. With EdrawMax, the editing tools available are endless to ensure that the file you want is what you had in mind!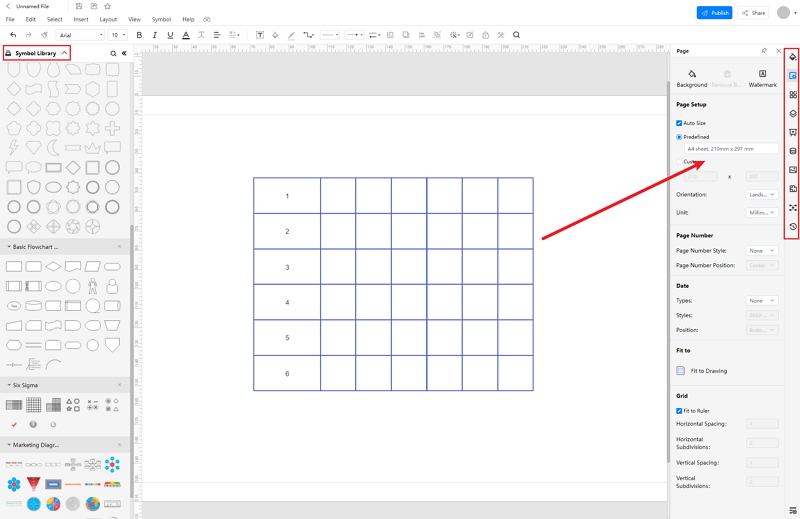 Source:EdrawMax Online
Step 5: Export Six Sigma Chart as PowerPoint
Click on File in the top left corner, from the drop-down menu select Export. From the Export menu, select Export to PowerPoint (.pptx), and your Edraw Six Sigma chart will be saved as a PowerPoint file to your computer. You can also export your files to cloud services like Dropbox and Google Drive on EdrawMax.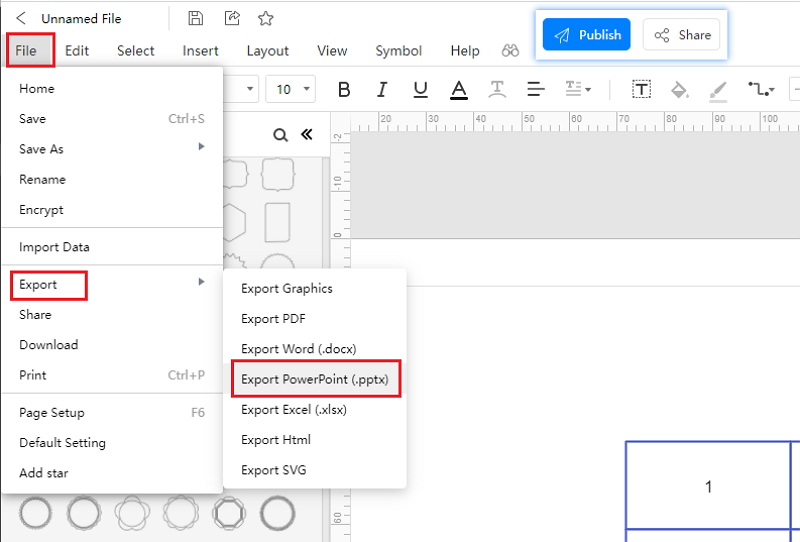 Source:EdrawMax Online
2.1 The Advantages of Making Six Sigma Chart in EdrawMax Online
Compared with PowerPoint, there are many advantages that making six sigma charts in EdrawMax Online:
EdrawMax Online supports to make six sigma charts online, and will be automatically saved, which means you could make charts in any where at any time.
EdrawMax Online has a powerful Template Community, that you can find inspirations from thousands of templates made by Edraw users.
EdrawMax Online supports to export and import multiple file formats, which ensures that you can make continue your work from other platform to EdrawMax Online, or you can export your six sigma chart from EdrawMax Online, and attached to other files.
Or even you can showoff your six sigma charts with others by using Presentation Mode.
2.2 The Disadvantages of Making Six Sigma Chart in EdrawMax Online
Even though there are some advantages of using EdrawMax Online as the tool to create your six sigma chart, certain limitations affect the overall quality of the project. For instance:
EdrawMax Online contains limited six sigma related symbols, but you can create your symbols and save them for the use of next time.
2.3 Tips for Making Six Sigma Chart in EdrawMax Online
Creating six sigma charts in EdrawMax Online could be easier thing than making in PowerPoint, since there are resources and powerful export function.
Choose a built-in template from Template Community to start quickly.
Use powerful toolbars on the right and left sides of canvas to make your six sigma charts more stunning.
Export your six sigma charts in mulitple formats to meet your needs, or share to your social media, email, and print it out.
3. Six Sigma Templates
The followings are the six sigma charts PowerPoint templates, you can refer to them, or even use them immediately with ease.
Six Sigma Process Map Template
As shown in the diagram above, a six sigma chart is the methodology to improve the overall process. A project manager can use this six sigma chart to understand the right output requirements from the product or the processes. As presented in this six sigma chart, every step is followed by a more concrete step that offers a way of taking the details involved in improving the process.
In this six sigma template, we explore how one can improve the customer's overall experience with the company. After using the six sigma techniques, one can identify the right problems and brainstorm ideas. After using the statistical analysis, the team members can implement the beta version to understand how the new system is helping them improve their overall process. Once they have reduced the risks of losing the client, they can implement the result they acquired after doing the six sigma analysis.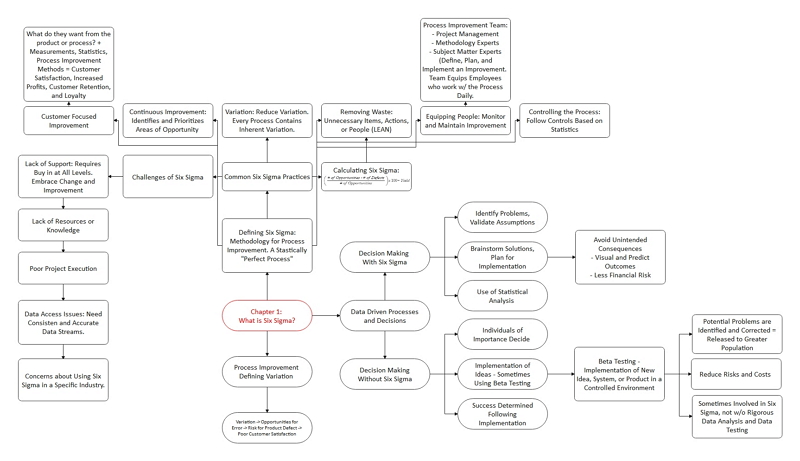 Source:EdrawMax Online
Six Sigma Template
Six Sigma chart maps out all the steps involved in finding the issues that are affecting the overall progress of an institute. In the above six sigma template, we see how a control chart offers a way to understand the overall business process.
We have implemented a six sigma analytical tool in a CNC Turning machine to understand how a data-driven methodology is employed to improve the process in terms of defect reduction. Several external factors are involved in the given six sigma templates that show how the overall process is optimized without impacting the production system.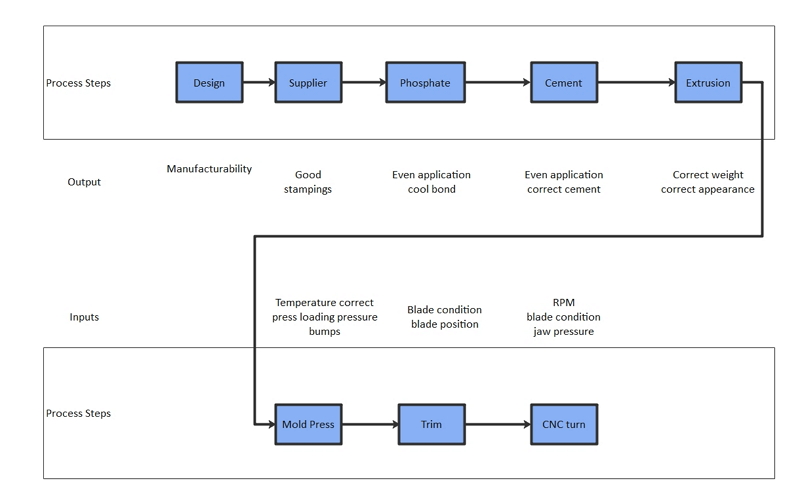 Source:EdrawMax Online
Lean Six Sigma
As we see from the six sigma template here, this analytical method provides the optimized tools that improve their business efficiency. As the above six sigma chart illustrates, there are some important steps that this tool follows, starting from defining the problem or issue, measuring the key data, finding or analyzing the root causes of the overall issues, identifying and improving the problems, and sustaining the gains after getting control of the problems.
Such lean six sigma processes help the project managers or stakeholders to defect reduction and improvement in product quality and services. This is a free lean six sigma template that can easily be customized in the EdrawMax Online.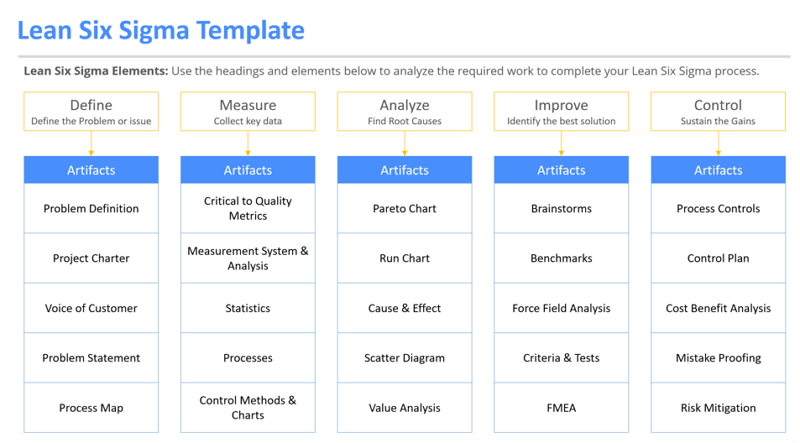 Source: EdrawMax Online
4. Online Six Sigma Chart Maker
The best part of using EdrawMax to create the six sigma chart is its robustness. Unlike other tools where you have a limitation of accessing the files, EdrawMax Online lets you access all the ".pptx" files without worrying about losing the overall formatting of the six sigma charts. In addition to this, since the exported six sigma chart is robust, you can use Windows, Linux, or MacBook to work around these templates.
There are thousands of design elements in EdrawMax Online that can help you create 280+ different types of diagrams.
You can also browse its extensive range of templates in EdrawMax Template Communityand can readily customize them as per your requirements.
EdrawMax Online is a free cross-platform tool that you can access on any browser and use without any prior designing experience.
There are dedicated features to customize your diagrams and export them in numerous formats like PNG, PDF, TIFF, SVG, and more.
EdrawMax Online is also an online six sigma chart maker to support different formats like MS Visio, MS Word, MS Excel, PDF, JPG, SVG, etcetera. The user can save their six sigma charts in any format of their choice. The user can also collaborate with their other team members.
EdrawMax Online
Create 280+ types of diagrams online
Access diagrams anywhere, anytime
Everything in desktop + Templates Community
Team management and collaboration
Personal Cloud and Dropbox Integration
5. Key Takeaways
Communication is the key to improving the business process. If you are not using the right tools to create six sigma, you are losing the important resources. There was a time when PowerPoint was considered the go-to tool for your presentation needs, but it did not fulfill its primary purpose, which was to help the user easily create the six sigma charts.
With EdrawMax Online, you are not limited to features or templates. If you have gathered the data and understand the overall process, use any free six sigma templates and create the diagram as required. Unlike PowerPoint, which has limitations in accessing the six sigma files from different formats, EdrawMax exports files in multiple formats. This improves accessibility in the long run.