Top 10 AI Mind Map Generators
Planning to switch from paper to a digital canvas for mind mapping? Explore these top ten mind map makers and organize effective brainstorming sessions.
Also available for
Windows, Mac, Linux, iOS, Android, and Web.
All options >>
Be it business or education; mind maps are a staple for idea generation and turning potential thoughts into reality. Learn how you can make mind mapping effective with digital tools.
A mind map is used to sketch an idea into the theme. It emphasizes important details and displays a subject's general organization and relative importance. When you need to think creatively, plot ideas, and build connections between them, there is nothing better than mind mapping.
The arrival of AI in mind map making has transformed it completely. Now, plotting ideas and turning them into reality is a few clicks away, mitigating the need for extensive follow-up brainstorming sessions. Some intelligent tools even have built-in chatbots that understand your intent and create intricate mind maps.
Therefore, the fusion of human imagination with AI has revolutionized how businesses used to brainstorm, implement, and make decisions. So, let us look at the top 10 AI-powered mind map makers.
Part I. Top 10 AI Mind Map Makers
1. EdrawMax: Versatile Diagram Maker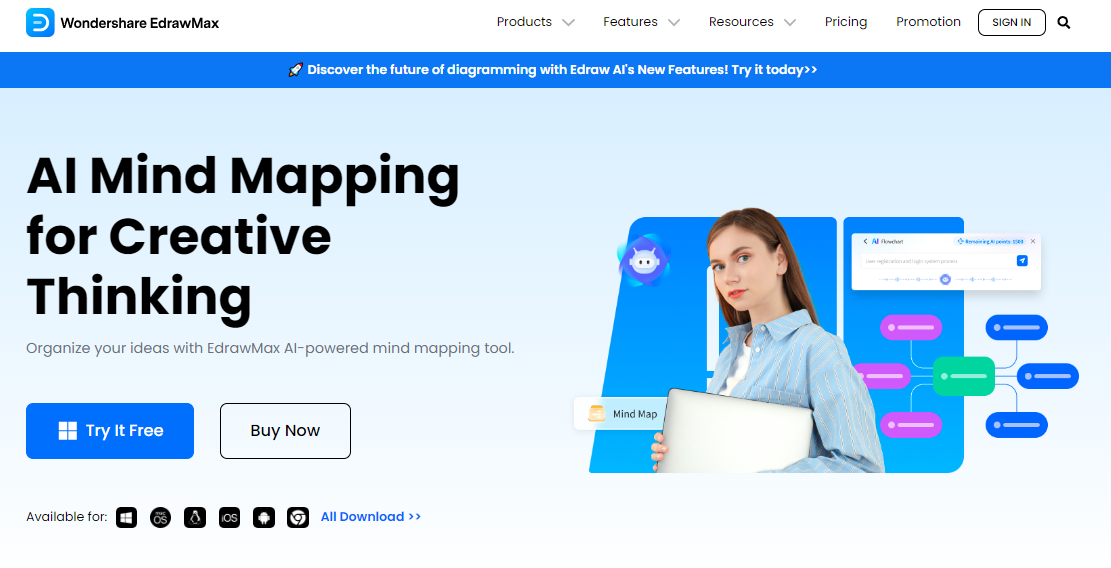 The first AI-powered mind map maker on our list is EdrawMax. Its flexible features go beyond conventional diagramming and use artificial intelligence to make it easier to create mind maps and other types of diagrams. Also, its Edraw AI chatbot is powered by GPT and carries out a dialogue-style conversation, making it suitable for beginners.
Highlights
Template Support: EdrawMax has a massive template community. Here, you will get your hands on all sorts of minds, be it business, education, STEM-focused, or history. Plus, all of them are free.
Intuitive Interface: EdrawMax has a drag-and-drop symbol interface and easily accessible tools with no learning curve. So, even non-technical users can get comfortable with it.
Advanced Formatting Options: It offers complete modification. You can find everything from connectors to text styles, color schemes, and shapes to expand your mind maps.
Multiple-Format File Export: EdrawMax has over 10+ file formatting options, including Visio, PNG, PDF, JPG, and more. So you can easily export it anywhere you like.
Personal Cloud: EdrawMax is a cloud-based app, which means you and your team can do real-time co-editing. It allows auto-saving and accessing your work anywhere, anytime.
2. EdrawMind: All-in-One AI Mind Mapping Solution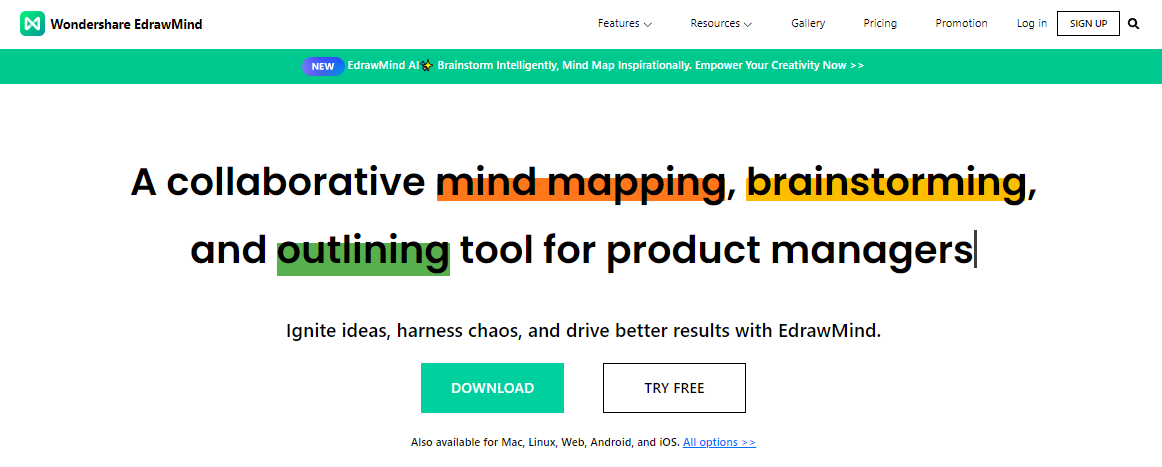 For anyone wanting to automate their brainstorming process, the AI-powered EdrawMind might be the right choice. It has a one-click mind mapping feature that creates intricate and detailed mind maps from written prompts. Also, if you are someone not fully comfortable with AI yet, EdrawMind has pre-made mind map examples.
Going deeper into its AI function, the tool has the ability to do mind map analysis and OCR image extraction. Therefore, project managers having a deadline to develop a visual representation of their project schedule will find this tool very helpful.
Highlights
AI PPT/ AI Video Capabilities: EdrawMind takes things a step further with its AI PPT and AI video capabilities. You can leverage this feature to produce visual and audio presentations of your mind maps in seconds.
Intuitive Interface: The simple interface and pre-made designs (mind maps, fishbone, concept maps, etc) make it suitable for beginners.
Real-Time Collaboration: EdrawMind has a collaborative working space. So you can access your work anywhere on the go.
Pre-designed Templates: It has a large template library with basic and professional mind maps. You can also find concept maps, Gantt charts, and fishbone diagram examples here.
3. MindMeister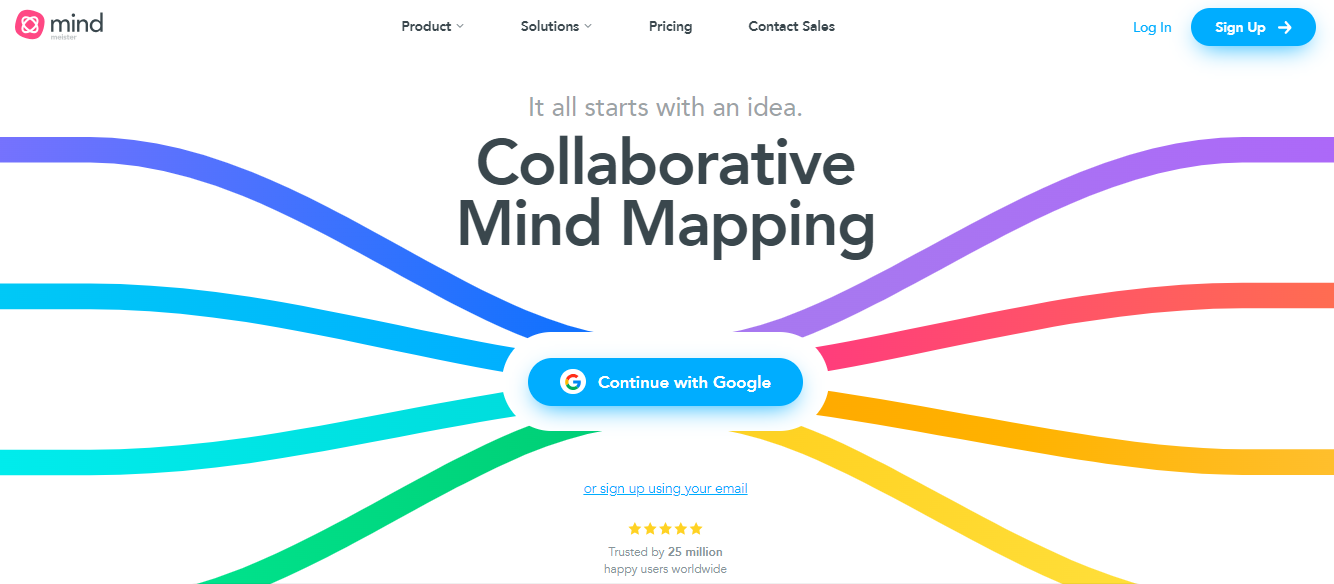 MindMeister is your go-to alternative for teams to streamline their work. It has a real-time collaborative cloud-based working space, making it excellent for brainstorming sessions and idea development. This way, users can access it from anywhere, anytime.
What sets it apart from other collaborative mind map makers is its plenty of customization tools. It has a large template library with pre-designed concept mind frameworks, automatic nodes, and several layouts. But wait, it is not all. MindMeister also uses smart AI technology to expand branches and nodes into mind maps.
Features
Full-screen mind map presentation
History revision mode
Several themes and formatting options
4. XMind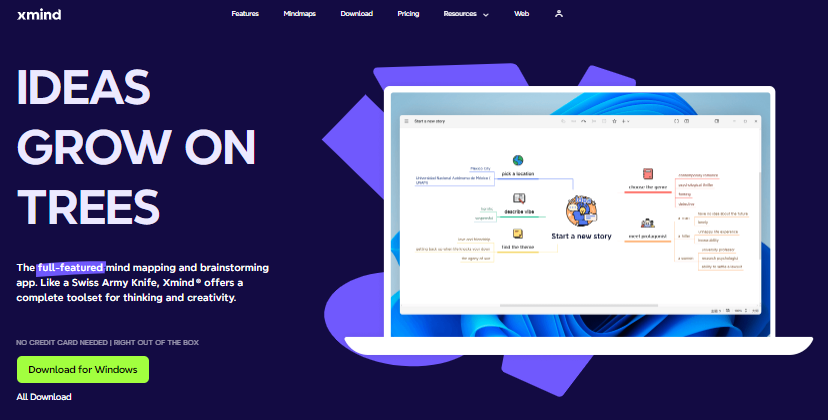 XMind is an all-in-one solution to individual mind-making, all thanks to its interface clarity and user-friendliness. It stands out for its distinctive ZEN mode that provides a clean environment for complete concentration. So, even if you are just switching from paper to a digital canvas, there are no hurdles.
Moreover, when it comes to project management, XMind believes in data sharing and has a team space, making it simple to work together and share ideas. Even better, it allows you to track the project's progress with its Gantt view. This helps you show everything, from the start date to the end date and development.
Not only this, XMind leverages AI technology to generate mind maps with a single sentence. It is as effortless as entering a prompt in its chatbot and clicking Generate.
Features
Focus Zen Mode mind mapping
Mathematical and chemical equation symbols
Pre-designed brainstorming templates
Several formatting options
5. Coggle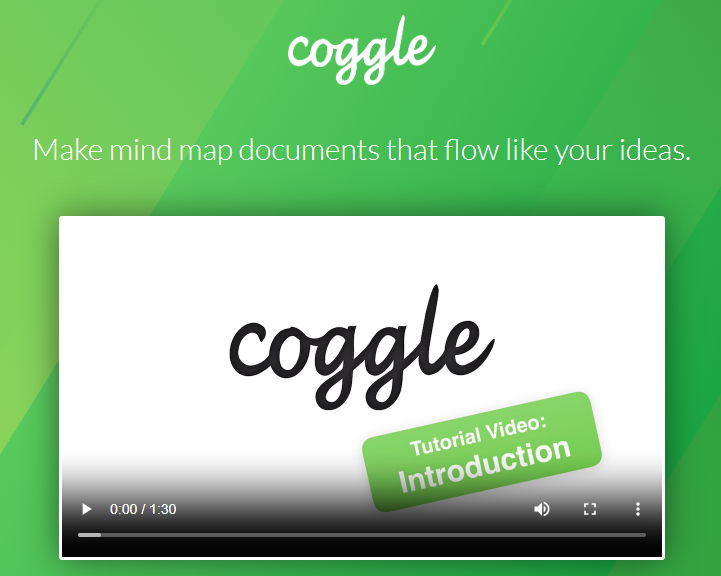 Coggle is a web-based mind map maker focused on beginners. Despite this, it has advanced mind-mapping features and a collaborative working space. It has advanced nodes, text and image annotations, and expandable mind map layouts, making it easier to make detailed maps.
Moreover, Coggle's cloud-based working space guarantees convenient cooperation from any place. Therefore, the mind-mapping process is accessible with this function, especially when you are working in teams. To top it off, it has a built-in AI chat feature.With this, teams can brainstorm and mind map their thoughts efficiently in half the time.
Features
Full-screen presentation
Drag-and-drop symbol interface
Expandable mind map layouts
Floating annotations
6. Ayoa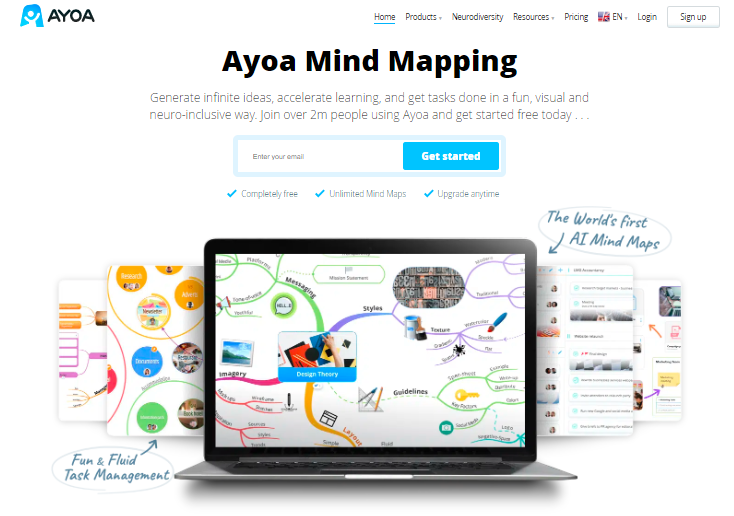 Ayoa is by far the most effective substitute for intricate brainstorming sessions. It uses the neuro-inclusive interface to jot down key ideas for comprehension and active learning. Not only this, but its cloud space allows teams to collaborate on big projects.
What sets it apart from other traditional mind-mapping tools is its AI-powered functionality. With this, you can make inquiries, explore new angles, unlock problems, and automatically lay out flowy mind maps.
Features
Several mind mapping templates (speed maps, radial maps, Gantt charts, capture maps, etc.)
Flexible, free-hand branches
AI-powered mind mapping
Digital collaborative working space
7. Miro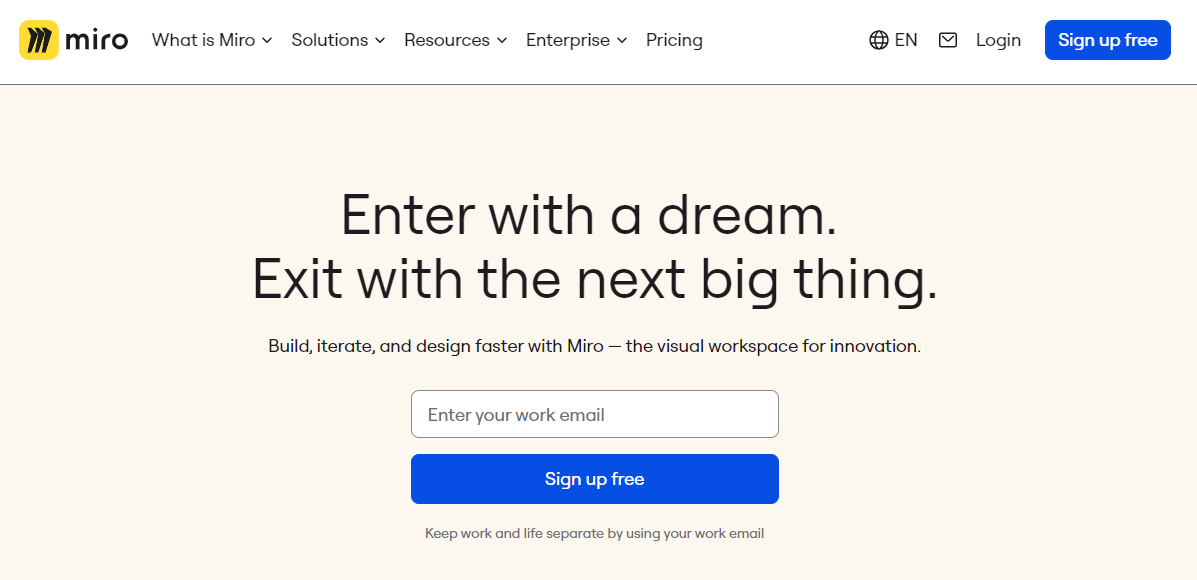 Whether individual or team, if you are just starting out your mind mapping journey, Miro is a versatile online platform. It acts as a digital canvas where groups of people can plot ideas and collaborate to turn them into reality, regardless of where they are physically located.
But what makes it unique among other beginner-friendly mind map generators? Well, the ability to embed documents, spreadsheets, PDFs, and other tools like Jira, Slack, and Asana. So, it does not matter where you are working from; everything is a few clicks away.
Sounds impressive, right? Wait until you hear about its AI technology that does all the heavy and extensive tasks for your team. It generates mind maps, expands the branches, and explores new topics using smart algorithms.
Supports a variety of pre-built designs
Video and chat features built-in with @mentions
Downloadable mind map templates
Presentation Mode
8. Lucidchart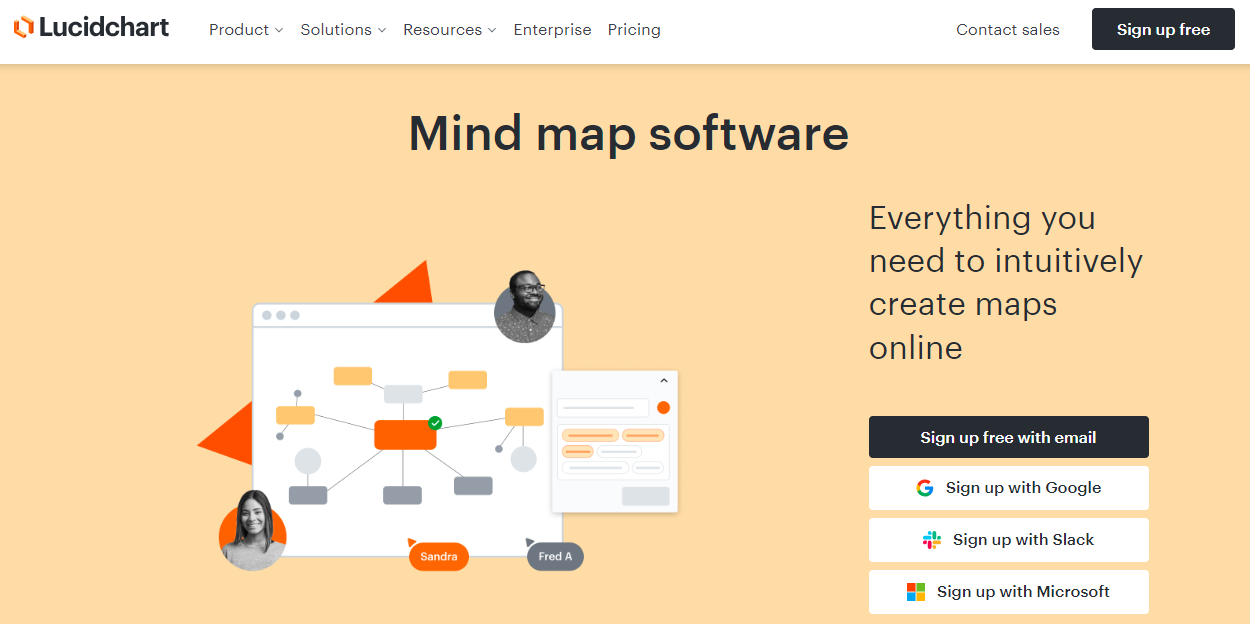 A diagramming tool capable of handling complex team projects with its mind-mapping function, Lucid Chart is another addition to this list. It is an all-in-one solution for individuals and enterprises, accredited to professionally designed templates, mind map-specific symbols, revision history, and an intuitive interface.
What's even more advanced is that it ensures registered user's privacy and data security. It partners with Amazon Web Services, which makes sure your data is protected and secured. Moreover, Lucid Chart has recently introduced an AI-powered function to generate diagrams using prompts and integrate them into routine work.
For teams and enterprises who value easy collaboration and the capacity to produce and share a wide variety of visual assets in one location, Lucidchart's cloud-powered approach offers accessibility and simplicity.
Features
500+ mind map designs
Drag-and-drop shapes from the shape collection
Automated layout
Supports real-time collaboration
9. Biggerplate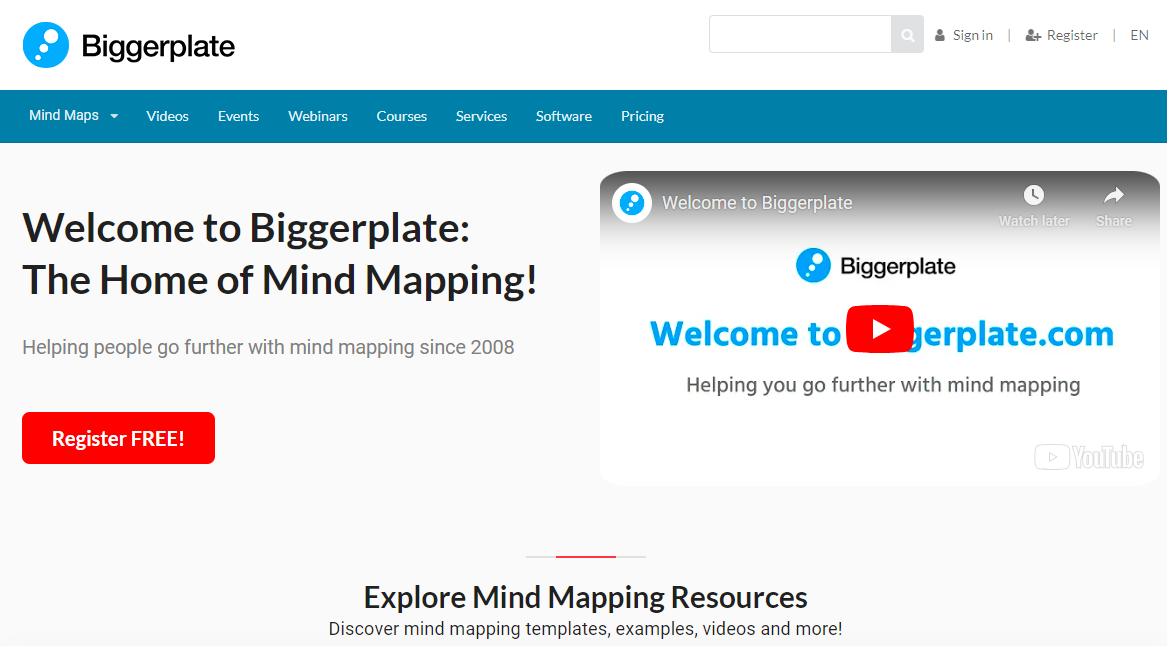 BiggerPlate is yet another excellent substitute for group mind mapping. The best thing about this tool is that you do not have to be a technical user to get started on it. It welcomes everyone to exchange and work together on a massive collection of mind maps. It does not end here. BiggerPlate AI uses smart algorithms to visualize large datasets into mind maps.
It also stands out as a community-driven tool with a massive library where people can find, absorb, and add a wealth of information on many different subjects. BiggerPlate is an active community that encourages users to broaden their minds and share their thoughts with the rest of the globe.
Features
Hundreds of mind maps (business, education, general, etc)
Clean and tidy interface
Community-driven mind mapping tool
Supports online mind map learning courses
10. GitMind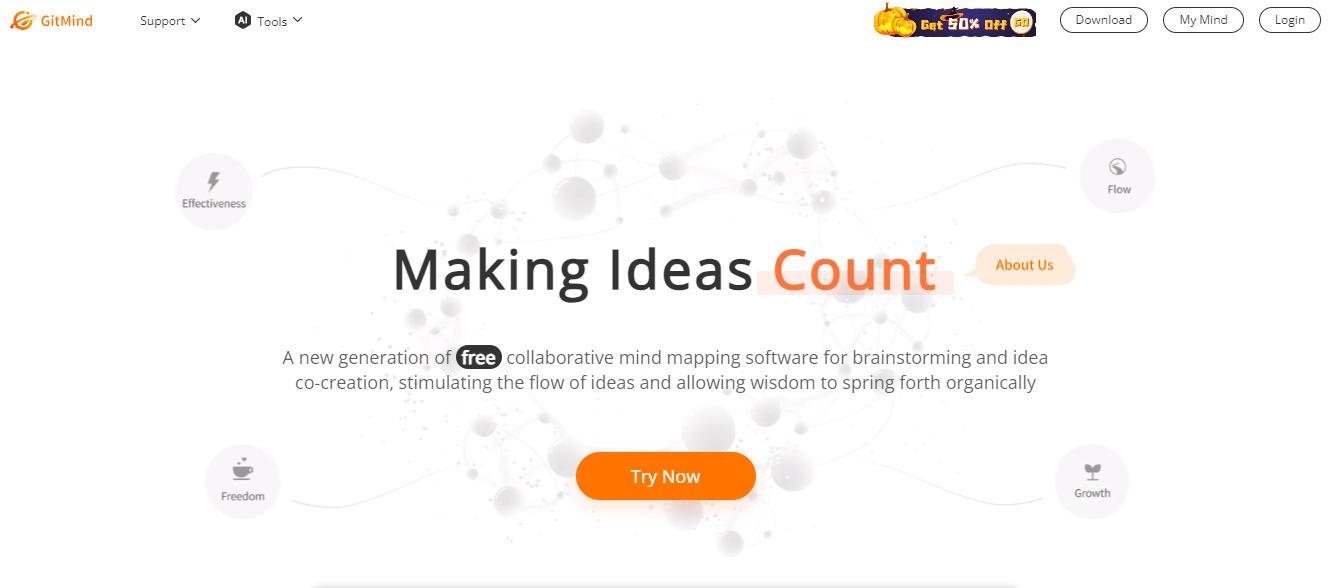 GitMind is your destination to visualize complicated concepts using auto-generated mind maps. It uses written prompts to produce mind maps, expand their topics, and make meaningful connections. Moreover, you can use the platform's AI chatbot to personalize the maps. This way, streamlining routine tasks is minutes away, and you do not have to lose the output quality.
GitMind even allows adding supplementary information in AI-generated mind maps. All you need to do is double-click anywhere on the screen, and it will open a customizable node. There is also no restriction to how many notes or cross-linkages you can add to one mind map. So, if you want a digital canvas to offload your brain dump, this might be it.
Features
Built-in supplementary/ customizable nodes
Built-in AI chatbot for queries, summaries, and problem statement generation
Multiple file export formats
Beginner-friendly interface
Conclusion
Mind Map makers are effective substitutes to make brainstorming easy and effective. It aids people in organizing thoughts, filtering out ideas, and implementing them for effective work.
When these tools are accompanied by AI and advanced intelligent algorithms, mind mapping becomes incomparable. So, if you are a business and struggling to manage regular sales ideas and launch campaigns, you find the top mind map makers helpful.
With them, making mind maps is a few clicks away. The best part is that they are powered by GPT and go a step further in understanding the user intent even better. So, do give it a choice, and it may help you automate routine mind-mapping sessions.
EdrawMax Online
Create 280+ types of diagrams online
Access diagrams anywhere, anytime
Everything in desktop + Templates Community
Team management and collaboration
Personal Cloud and Dropbox Integration
Related Articles