Best iPad Flowchart Apps in 2023
A well-opted flowchart application for your iOS device can eradicate your designing-related troubles, providing a smooth and enjoyable flowchart-making experience.
Also available for
Windows, Mac, Linux, iOS, Android, and Web.
All options >>
1. Introduction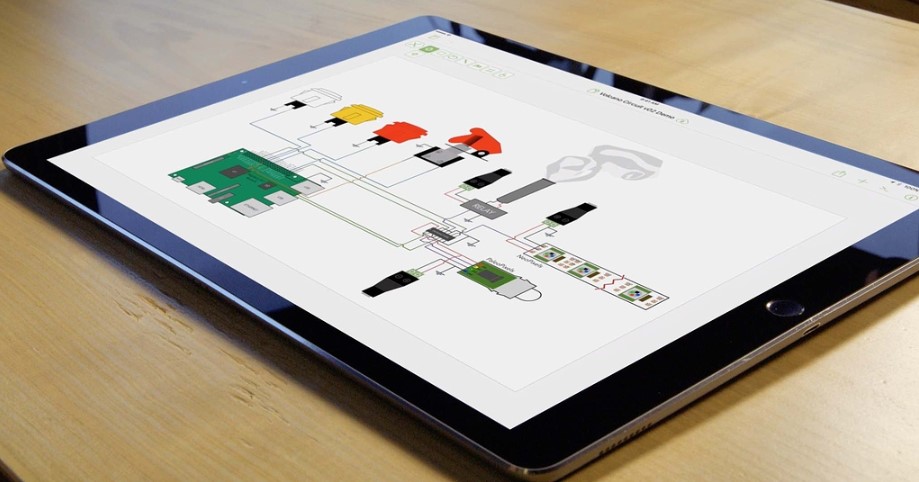 Flowcharts is one of the most practical techniques to explicitly visualize complex processes, no matter your flowchart pertains to personal or enterprise needs. However, this crystal-clear illustration of intricate processes involves painstaking efforts, transforming messing things into simpler ones.
The effective accomplishment of flowcharting goals primarily depends on the software you're using for making flowcharts. The recent upsurge of flowchart apps for iPad in the market has offered limitless choices, but these overwhelming choices may perplex your mind. Given this need, we have attempted to curate the eight best iPad flowchart apps that will facilitate fast-paced & straightforward flowchart iPad diagramming.
2. Overview of Flowchart Apps
Gone are the days when drawing flowcharts on your digital screen used to impart you fidgets since the flowchart-making process requires assiduity, proper structuring, and a well-sequenced flow of ideas.
Flowchart applications are those platforms, either online or offline, which allow you to create your flowchart diagrams on your device effortlessly. Ranging from desktop to Android to iOS devices, flowchart apps vary depending on their usage, prices, features, and compatibility.
Working of Flowchart Apps
Flowchart apps organize and declutter your non-sequential flow of ideas into an appropriate stream. Generally, the flowchart apps contain prebuilt elements that you only need to incorporate into your digitally-made flowchart. Most flowchart apps for iPad provide a drag-and-drop feature to enable swift flow diagram creation. Additionally, they are endowed with certain features, such as gridlines, rulers, and other alignment tools, that assist you in aptly aligning your flowchart shapes.
3. How to Choose the Best Flowchart App?
Whether for personal or professional use, it can be a daunting decision to venture for an unexploited diagramming solution. Sometimes it becomes difficult to juxtapose the price factor and features range because of inordinate available choices. However, there are other significant factors that you must contemplate before diving into any flowchart-featured software, out of which some are presented below:
Price:
Price is the pivotal factor when it comes to choosing the suitable flowchart application for your prioritized needs. The reason behind it is that not every user can afford the same price. Additionally, a high price does not mean top-of-the-line features; some tools have extremely high price points, but their features range is mediocre.
The best solution to this problem is to compare multiple tools with respect to the price point of view, which we call the price-to-performance ratio, to know which tool is bestowing more in a minimal price.
Features Diversity:
Features diversity implies how diverse and plentiful features a tool provides. The task of a tool is to simplify and ease out our commonly-encountered problems. For example, we exploit flowcharting tools to acquire benefits for making our diagramming easy and error-free. Thus, a tool not much granting in terms of its features line should not be relied upon.
On the other hand, a vast feature diversity should also be compared with usability; for example, if you need fundamental-level diagramming features, there is no need to lavish money on highly expensive features which even you don't need.
Number of Users:
You must also consider whether you require a specific tool for individual or team use. If there is a personal need attached to your selection, it is advisable to go for a cost-effective solution. On the other hand, if you need premium features because the situation necessitates, as in the case of team collaboration, you can opt for a premium-featured application.
Another thing that needs consideration is the cost per user; some tools have expensive individual plans, but their team plans (or cost per user when bought for the team) are cost-effective. In contrast, some tools even don't provide team plans; however, their individual plans are economical.
Compatibility:
Compatibility is another influential factor that cannot be abnegated when making a resolution to approach any tool. It is because if your selected tool is incompatible with your device, it is of no use, no matter how diverse its feature range is. Remember that only certified and professional tools offer cross-platform compatibility to their users.
4. 8 Best iPad Flowchart Apps – A Comprehensive List
Profound market research is required to recognize which tool will cater to your iOS flowcharting needs. However, these flowchart apps for iPad will take your diagramming experience to the next level, regardless of which iOS device you use:
1. EdrawMax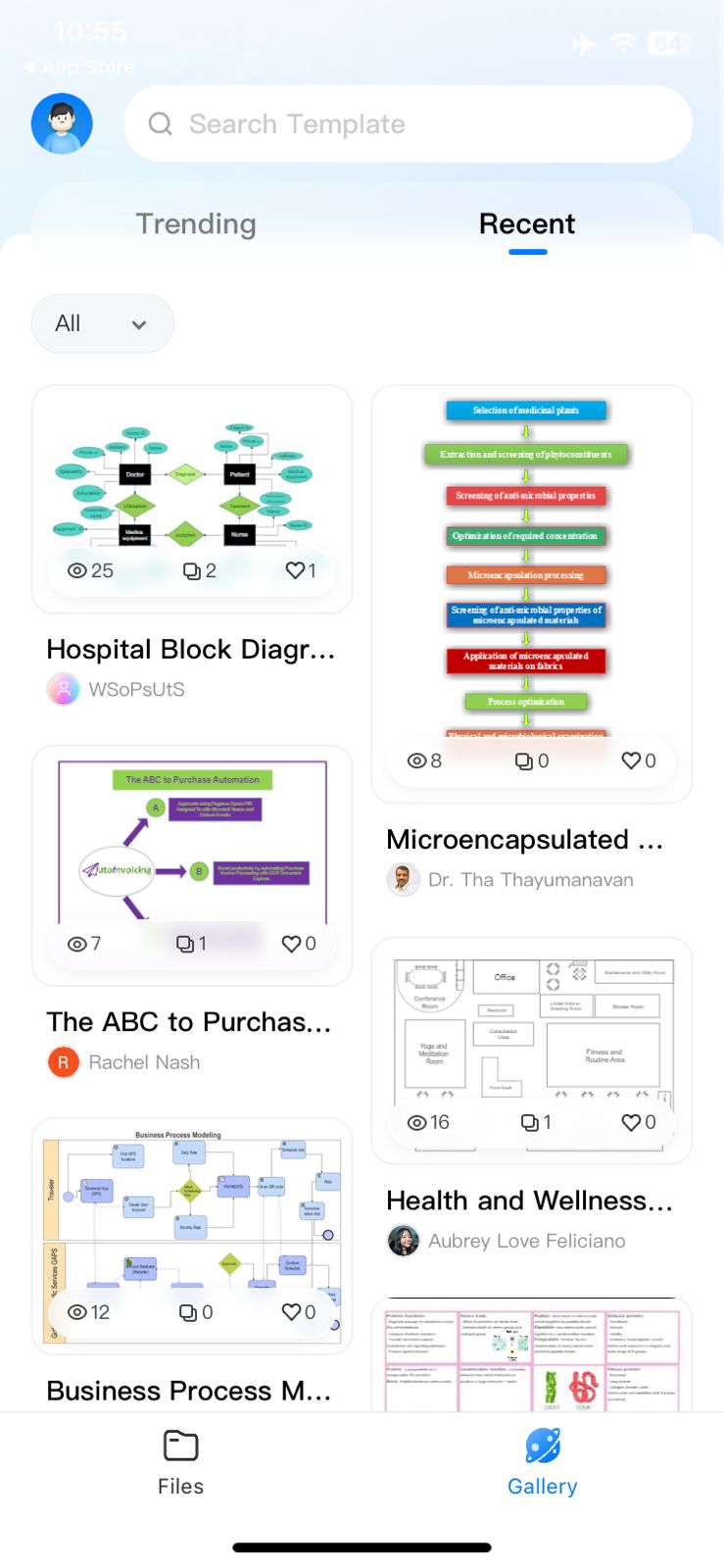 EdrawMax is a cutting-edge flowchart iPad app if you want to commence your diagramming journey on your iPad. Containing a diversified templates community, cross-platform compatibility, advanced mobile-editing competence, social sharing possibilities, and multiple-format export availabilities, EdrawMax is an ideal choice for both beginner & expert-level users to edit diagrams anytime, anywhere.
Specifications
Explanation
Rating from Apple Store:
No ratings yet
Price:
$9.9 per 6 months | Free Version Available
Main Features:

Detailed items' customization
Visualization
Drag & drop option
Flowcharting
Templates community
Multiple data Import/export options
Real-time collaboration
Mind map view
ReFlowdia Diagramsn history
Cloud syncing
Publishing & sharing
Pros:
EdrawMax contains an interminable library of built-in flowchart templates, which will assist you in avoiding ill-structured flowchart diagrams.

It offers myriads of symbol galleries pertinent to different fields to exploit them in your flowcharts, including business, economics, project planning, etc.

Providing several built-in color schemes, it facilitates you in flowchart customization with just one click.

EdrawMax provides massive customization options to personalize your flowchart elements, such as shapes, text, background, connectors, clipart, and icons. You can also set their fill color, borderline, shadowing, transparency, and other aspects according to your preferences.

You can create multiple pages within a single file, allowing you to develop complex and long-winded flowcharts.

Its diverse export formats allow you to export your flowchart in your preferred format to avoid format conversion through external sources.
Cons:
Most customization-related features can only be accessed through premium versions.

The free version will imprint a watermark on your diagrams.
2. Flowdia Diagrams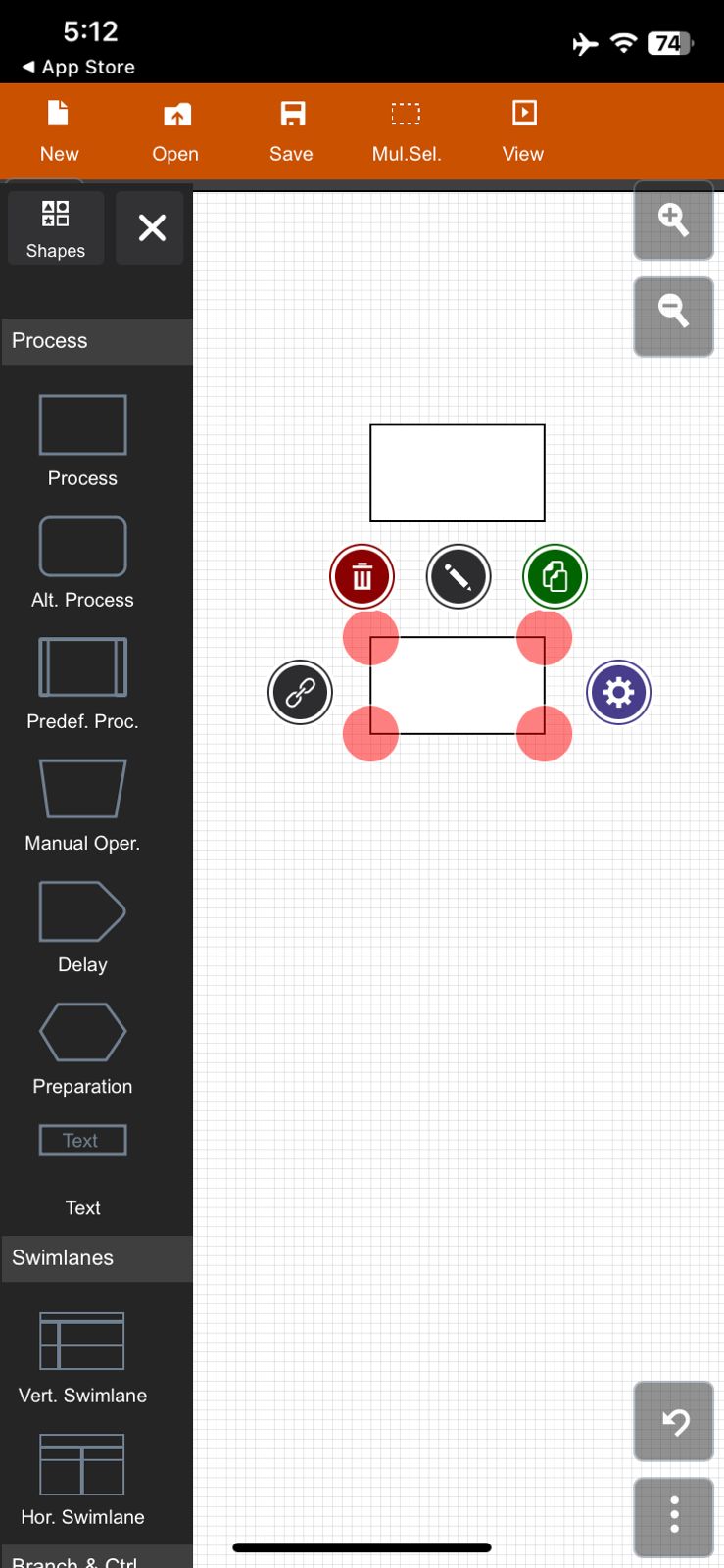 Flowdia Diagrams fills colors in your drab flowchart experience to make your flowcharts improved, delightful, and understandable. Being a top-notch product, Flowdia Diagrams boasts the confidence of its users, providing them with scalable features needed for flowchart creation, editing, and sharing.
Specifications
Explanation
Rating from Apple Store:
3.7/5
Price:
Starts from $9.99 | Free Version Available
Main Features:

Effortless flowchart creation
Expandable canvas
Unlimited shapes
Wide customization
Diagram sharing
BPMN activities
Pros:
Flowdia Diagrams provides an infinite canvas to draw your complex and lengthy flowcharts without hassle.

Its navigable interface allows effortless flowchart creation and editing

Flowdia Diagrams offers a huge shapes library along with plenty of customization options to create consummate diagrams relevant to your field.

You can use it as a multifarious platform for diverse-purpose diagramming, such as process flows, mindmaps, etc.
Cons:
Connecting points often automatically connect to other objects, which is irritating.

The free version allows up to 4 files creation, 1 page per diagram, and watermark on the diagram.
3. Lucidchart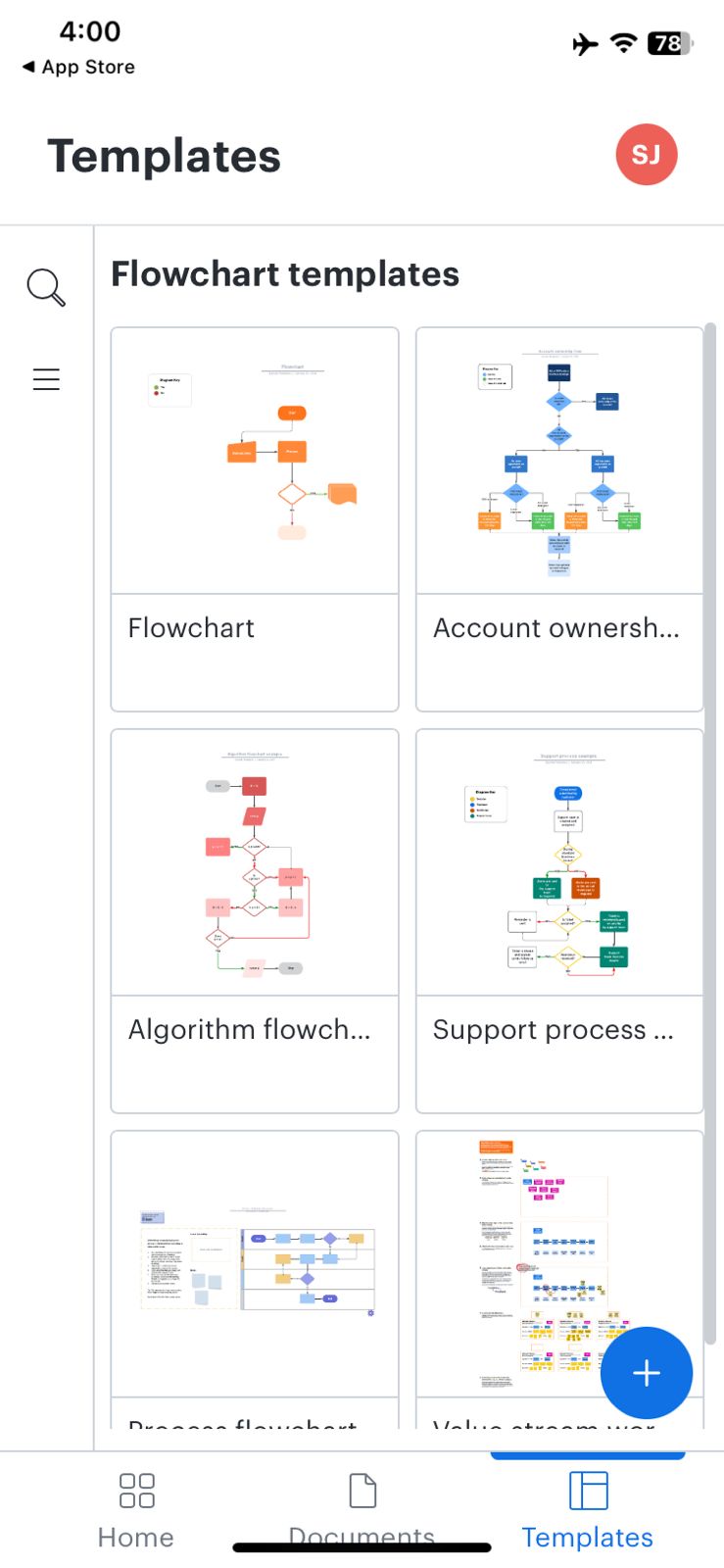 Serving as a multi-purpose platform for graphic diagramming & a cloud-based workspace, Lucidchart enables you to ideate, establish, and disseminate your flowcharts via your Apple device. Its incredibly intuitive interface, data visualization capabilities, real-time collaboration, and drag-and-drop functionality render it a highly-applauded solution for professional flowchart makers.
Specifications
Explanation
Rating from Apple Store:
4.7/5
Price:
Starts from $5.99 Per month | Free Version Available
Main Features:

Prebuilt templates gallery
Viewing recent documents in offline mode
Drag-and-drop functionality
Real-time collaboration
Multiple export formats
Diverse compatibility with external workspaces
Project management and planning functionalities
Pros:
Lucidchart offers a professionally-built templates gallery to avoid the trouble of starting from scratch.

Its step-by-step tutorials, video, and blog guides help users to understand its usage efficiently.

The customer support of Lucidchart is responsive and stellar, quickly answering users' queries.

The user interface is pretty navigable, allowing you to find all the options on the same page.
Cons:
It does not provide a cloud syncing feature to auto-save your files.

Customizing the templates is very challenging because color and shape settings are fixed.
4. Miro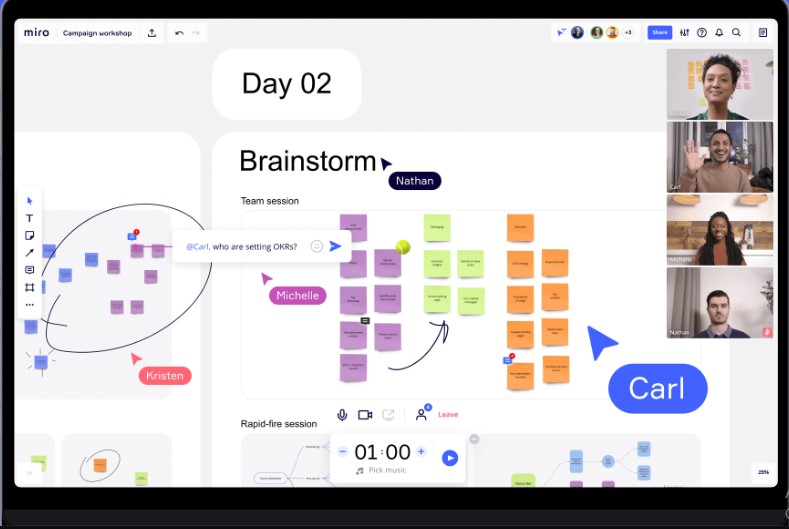 Developed primarily as a digital-driven whiteboard for online collaboration, Miro also provides functionality to fashion your basic or advanced-level flowcharts in minutes. You can create, customize, sync, and annotate your flowcharts while having collaborative team sessions. Also, Miro allows you to export your flowchart diagrams in your desired format.
Specifications
Explanation
Rating from Apple Store:
4.7/5
Price:
Free Version Available
Main Features:

Digital note-taking
Fast and effortless flowchart making
Limitless whiteboard
Uploading files, images, links, or references
Online collaboration
Project management tools availability
Creating team members' individual profiles
Flowchart sharing and publishing
Pros:
The user interface of Miro is highly intuitive, providing countless friendly features, such as sticky notes, Kanban boards, colorful management boards, etc.

Miro provides plenty of integrations with external resources to smoothen workflows via easy file loading, file & photos import, cloud-saving, etc.

It enables real-time collaboration, allowing you to fashion your business-inspired flowcharts in collaboration with your teammates.

The huge library of templates facilitates professional flowchart creation, avoiding potential issues encountered during flowcharting.
Cons:
The interface sometimes hangs when loading large-sized flowcharts.

Formatting, spacing, font sizes, and zoom in & out features need improvement.
5. Flowchart Designer 3
Flowchart Designer 3 relieves your diagramming troubles by providing unlimited features pertaining to flowchart creation. Providing features like prebuilt template customization, real-time collaboration, and visual workflow management, Flowchart Designer inspires innovation in your flowcharting experience. Additionally, its lifetime free basic plans eliminate the worries of purchasing flowcharting tools for personal use.
Specifications
Explanation
Rating from Apple Store:
4.6/5
Price:
Starts from $7.99 | Free Version Available
Main Features:

Activity tracking
Visual workflow management
Real-time collaboration
Templates Gallery
Performance metrics
Drag-and-drop availability
External integrations
Inventory management
Pros:
Flowchart Designer offers plenty of styling options to customize your flowcharts and decision trees.

The software provides a free basic plan, enabling beginner-level users to draw their flowcharts without investing money.

The customer service of Flowchart Designer is commendable, providing multiple way-outs for consulting customer care representatives.

Flowchart Designer possesses a navigable interface that maintains the fluency of users' working pace.
Cons:
Sometimes, the interface displays user error, resulting in constant trouble for the users.

Flowchart Designer is not much replenishing in terms of providing a templates gallery.
6. OmniGraffle 3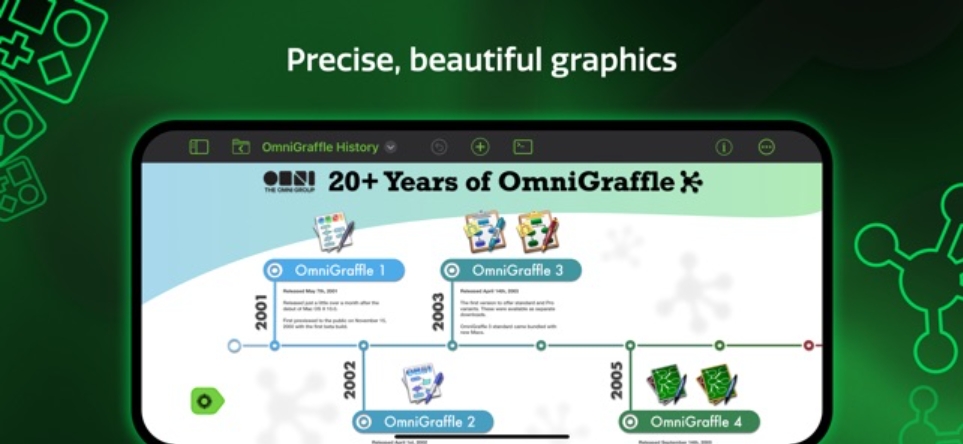 If you want to design insightful, intelligible, and eye-catching flowcharts without investing strenuous efforts, you can utilize OmniGraffle 3, one of the best flowchart apps for your iPad. Whether it's flowchart customization, real-time editing, or external workspace integrations, OmniGraffle never disappoints its users.
Specifications
Explanation
Rating from Apple Store:
2.5/5
Price:
Starts from $12.49 Per month | Free Trial Available
Main Features:

Intuitive interface
Different canvas modes: fixed, flexible, or infinite
Cross-platform compatibility
App lock
Hotkeys availability
Shape combinations
Split-screen view
Easy import/export
Pros:
OmniGraffle enables the drag-and-drop feature to import flowchart elements into your flowchart diagram easily.

It provides pre-designed templates to streamline the flowchart-making process.

Its real-time collaborative editing allows users to customize diagrams on the same canvas simultaneously.

The customization of lines, shapes, and connectors is fairly straightforward, especially when working on curved lines.
Cons:
Limited export formats are available in the free version.

It does not synchronize configuration settings; for example, the unit change from "inch" to "centimeter" will disappear when starting a new document.
7. MindManager Go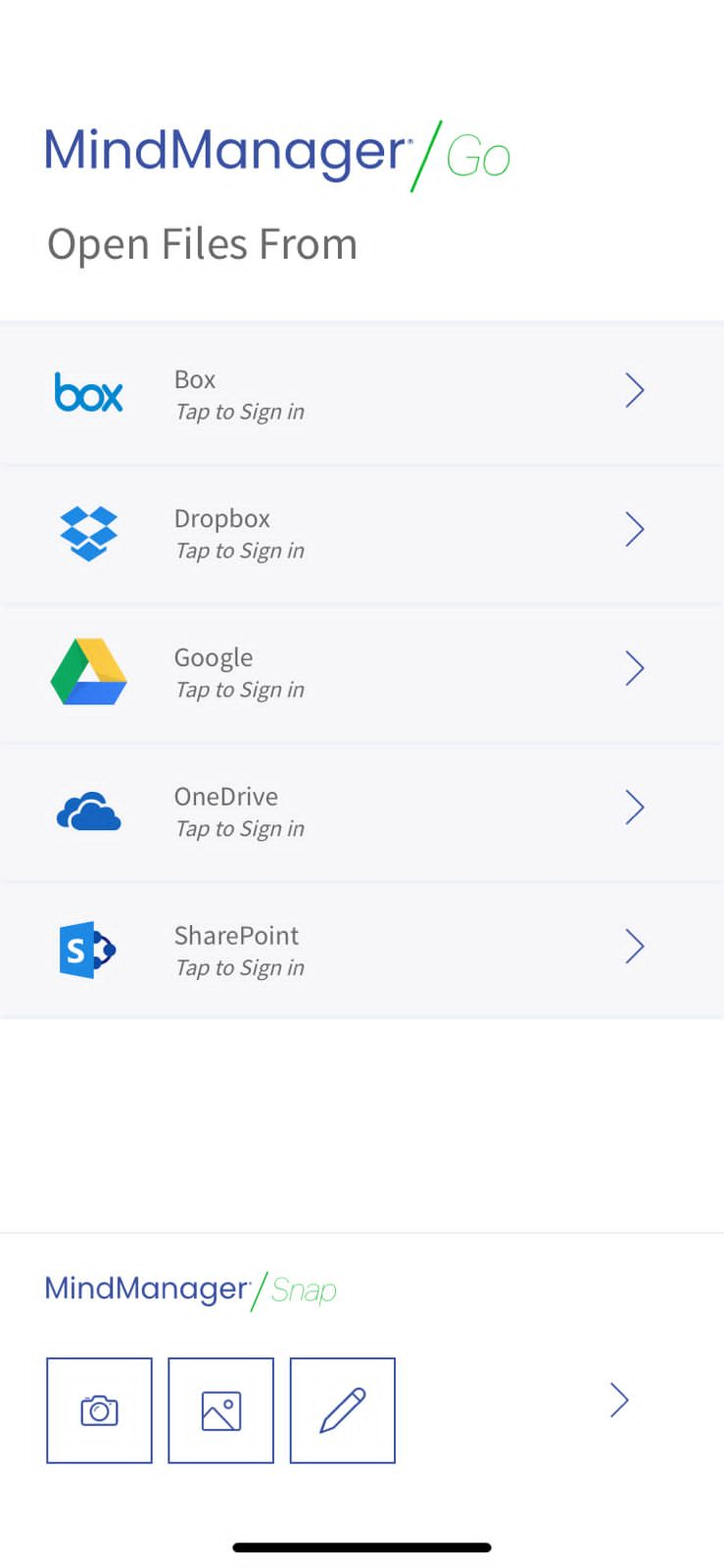 As evident from the name, MindManager Go organizes and aligns your cluttered mess of ideas into meaningful flow diagrams. You can develop, personalize, share, or publish your flowcharts, spotlighting your artwork to your target audience. Additionally, MindManager allows you to manage your workload by providing data analytic tools and visualized Kanbans.
Specifications
Explanation
Rating from Apple Store:
4.0/5
Price:
Free
Main Features:

Mobile integration
Touch bar support
Multiple topic elements
Built-in themes, templates, color schemes, and topic shapes
Dark mode
Cloud syncing
Efficient task management
Different file views: document, chart, Kanban, and Gantt chart views
Customizable navigation panels
Pros:
Mindmanager Go enables multiple modes to view your flowcharts for better analysis.

The flowchart-making process is straightforward because of its drag-and-drop feature.

Mindmanager Go allows you to collaborate on your flowcharts with your teammates for an effective diagramming experience.

You can effectively organize, plan, conceive, and disseminate your project schedules using dynamic dashboard.
Cons:
The tool does not provide an auto-save option; your files may get vanished in case your application is closed.

Mindmanager does not allow adding different multimedia to the diagrams, such as videos, presentations, etc.
8. Stormboard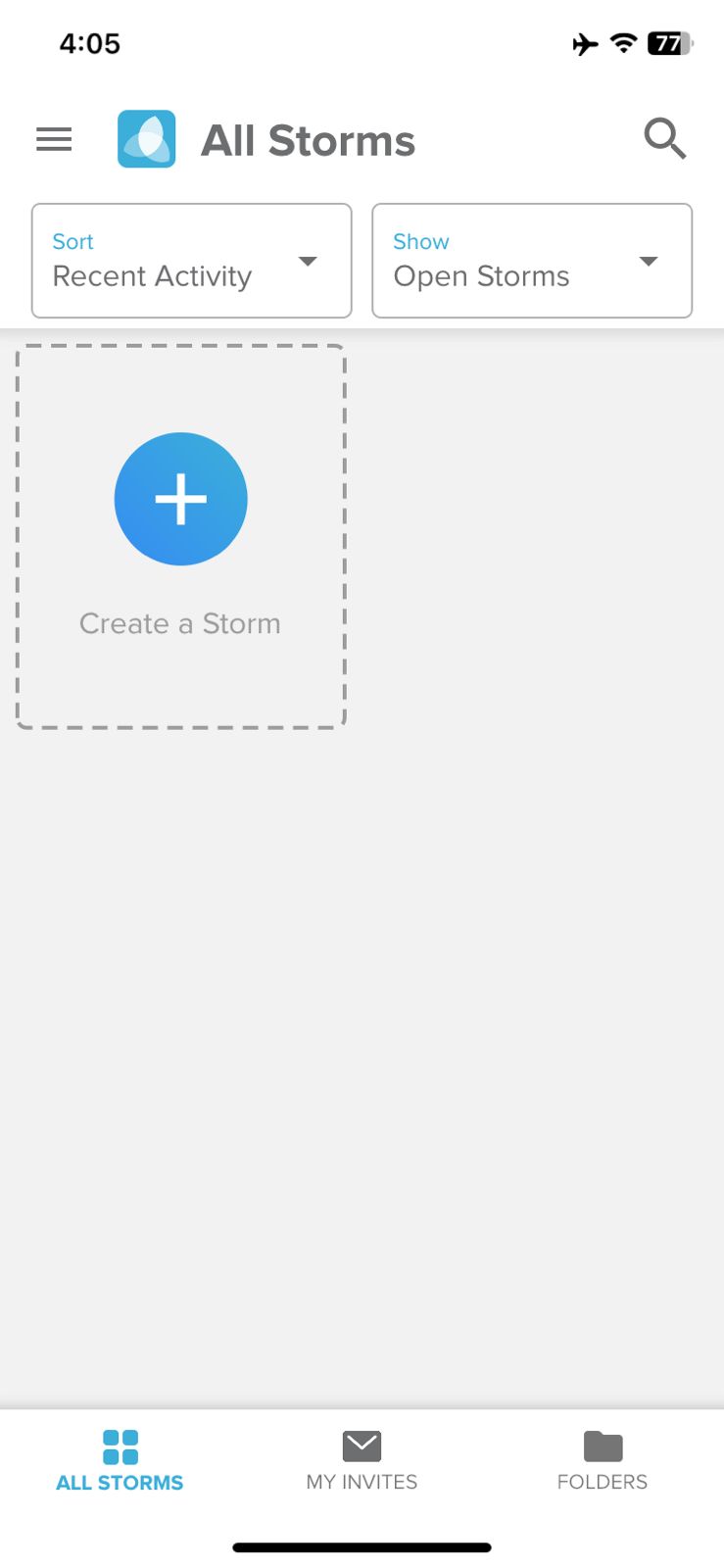 Originally developed as a digitally-powered workspace, Stormboard also facilitates you to formulate your flowcharts using its infinite canvas. You can brainstorm, prioritize, organize, and draw your flowchart-related ideas to structure them properly in diagrammatical form, avoiding irregular flows, distorted lines, or unattractive flowchart outlooks.
Specifications
Explanation
Rating from Apple Store:
5.0/5
Price:
Free
Main Features:

Infinite canvas
Real-time collaborative editing
Ideas brainstorming through sticky notes, comments, or images
Navigating sub-storms
Dot voting
Enhanced data security
Quick reporting
Zoom in and out for mobile mode
Link sharing and inviting members
Pros:
Stormboard empowers online collaboration with various ways to invite steam members to the meeting.

The tool contains all major flowchart shapes, and their customization possibilities are commendable.

The interface is extremely navigable, facilitating users by providing hotkeys, popup guides, and custom-structured layouts.

The application provides multilingual service, which allows utilizing it in various languages.
Cons:
Zooming in and out often makes the application hanged.

The tool could be more bestowing in terms of template Flowdia Diagrams.
5. Conclusion
Flowchart applications make your life stress-free by enabling effortless flowchart creation since they are endowed with professional capabilities for a smooth drawing regime. Although the flowchart applications in the market can be sundry, but if you want an app for your iOS device, you must deliberate whether the application is compatible with your gadget or not.
Additionally, there are certain factors that need the utmost attention while choosing an ideal app for your iPad or iPhone, such as price, number of users, features range, usability, and so on.
To clarify your confusion, we have compiled a list of top-performing iOS flowchart apps, their pricing, features, ratings, and pros & cons.
Related Articles