AI PowerPoint Presentation Makers – A Comprehensive List
An AI tool for presentations enables laidback presentation creation and editing while also maintaining your brand voice.
Also available for
Windows, Mac, Linux, iOS, Android, and Web.
All options >>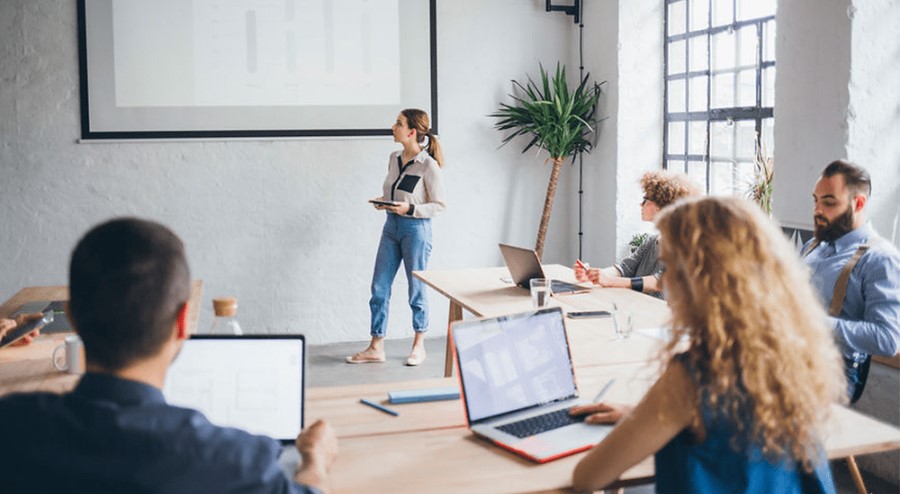 The amalgam of human creativity and Artificial intelligence always does wonders. Whether business, education, or management, AI has left its mark. Now, the breakthroughs in AI technology are noticeable in business presentations. The emergence of AI presentation tools has transformed the way presentations are developed.
The biggest benefit of using AI for making PPT presentations is that users may create engaging slideshows with minimal manual effort. Further, such AI slide makers offer several appealing customizations that make the designing process fun. This article will present some leading AI tools for presentation creation that are making their mark because of their brilliant services.
1. Introduction of AI Presentation Maker
AI presentation creators are applications that use AI algorithms, neural networks, and other sophisticated techniques to evaluate data. When a user inputs the query, the AI slideshow maker develops material that represents human innovation. Such Artificial Intelligence PowerPoint presentation tools come with an assortment of features that can be employed to build insightful presentations.
Working
First, the Artificial Intelligence PPT presentation tool analyzes the presented query for the presentation. The tool then detects patterns & trends using complex machine learning algorithms. Most Artificial Intelligence presentation makers use natural language processing, image recognition, and design automation to generate slides.
Benefits
Artificial Intelligence slides makers save time and effort by automating the presentation creation process.
AI presentation slides makers reduce the need for manual design and formatting.
You can use AI for slides creation to obtain professional slides without extensive design skills or experience.
Using AI for making presentations brings consistency throughout the presentation.
These AI PPT maker free tools provide intelligent suggestions, helping users enhance the quality.
You can generate personalized slides according to your target audience's needs using AI that creates presentations.
If you are using AI to make presentations, you can collaborate with team members for real-time edits. It is because some AI Power Point presentation makers enable collaboration.
2. Top 7 Free AI Tools for Presentations
Choosing the best tool using AI for PowerPoint free presentations might be difficult amid the vast array of possibilities available. Thus, we have selected the top 7 tools using AI to create PowerPoint presentations after scrupulous research. Whether you are a professional slide designer or a team instructor, these AI PPT maker free solutions can be your ultimate slideshow creation destiny:
Slidebean
Beautiful.AI
Decktopus
Simplified
Slidesgo
Venngage
Pitch
1. Slidebean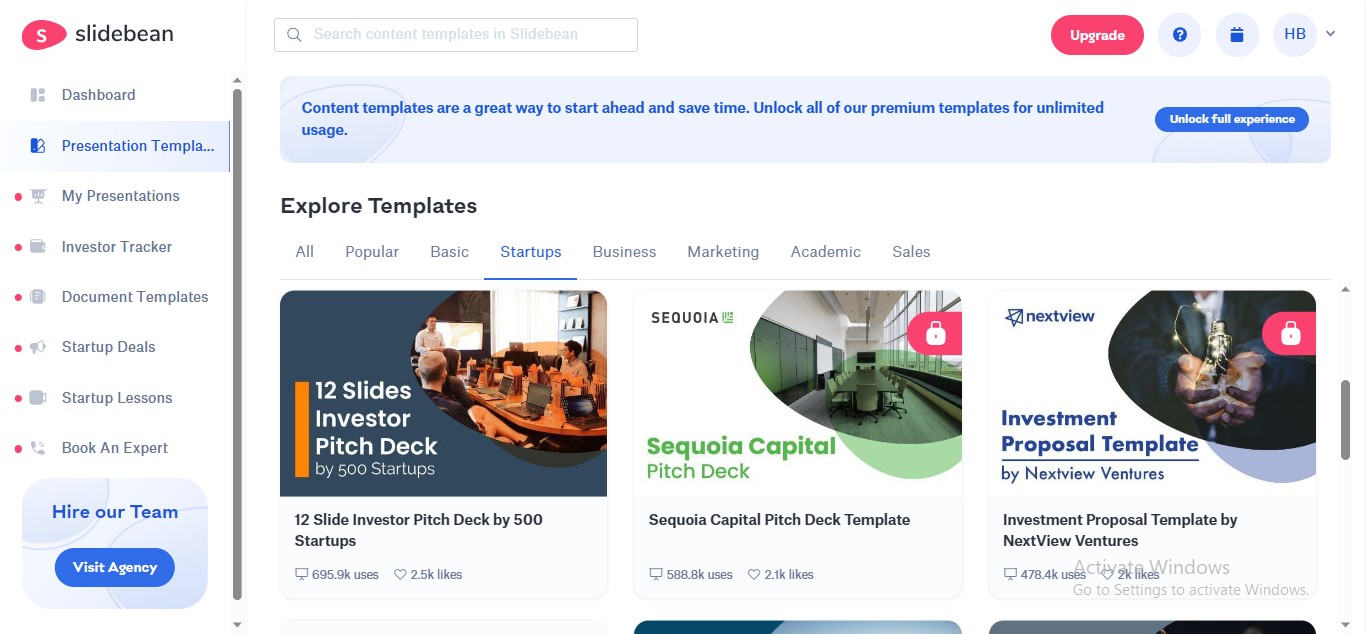 Slidebean is one of the best applications exploiting AI for presentation designing. It is an excellent tool for individuals wishing to make visually stunning pitch decks and corporate presentations. You can establish your afresh presentations or use the company's quick presentation design services. Its "Arrange with AI" functionality is a core highlight, providing users with a variety of design options.
G2 Rating: 4.5/5
Compatible Operating System: Web-based platform
Main Features:
Automatic formatting
Image and icon gallery
Cloud-based syncing
Online collaboration
High-end color palettes
Pros:
The tool auto-creates your slide layout and content using its AI capabilities.
You will find a vast collection of templates, images, and icons.
Slidebean automatically formats your presentation to avoid adjustment troubles.
Its online collaboration feature allows you to coedit your diagrams with your team members.
Cons:
Transition and animation effects are limited.
The interface may slow down while loading heavy files.
2. Beautiful.AI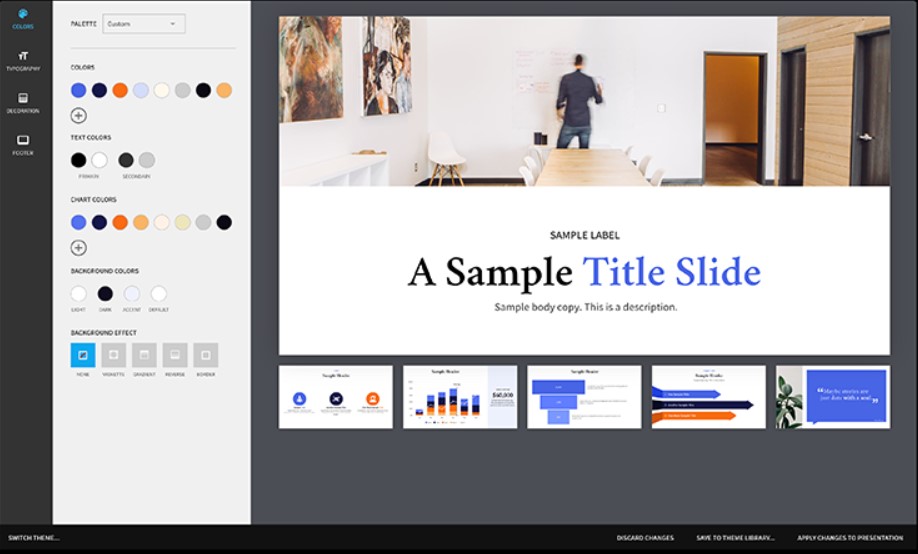 Beautiful.AI is a secret weapon that provides a wide choice of configurable templates and visual elements. You can personalize these components to match your brand's identity. Its expansive design capabilities automatically arrange and structure content so the presentation seems flawless. Its fast-paced algorithms morph your idea into a spellbinding deck in fractions of seconds.
G2 Rating: 4.7/5
Compatible Operating System: Web-based platform
Main Features:
Templates Library
Animations & transition effects
Auto-save
Design suggestions
Version History
Pros:
The tool automates the design process by offering input-response slide creation.
You can add transition effects to your PowerPoint presentation.
The tool offers design suggestions to improve your diagrams.
Beautiful.AI allows users to track presentation performance and receive valuable feedback on audience engagement.
Cons:
The integration with Google Slides does not work consistently.
The tool does not provide a free version.
3. Decktopus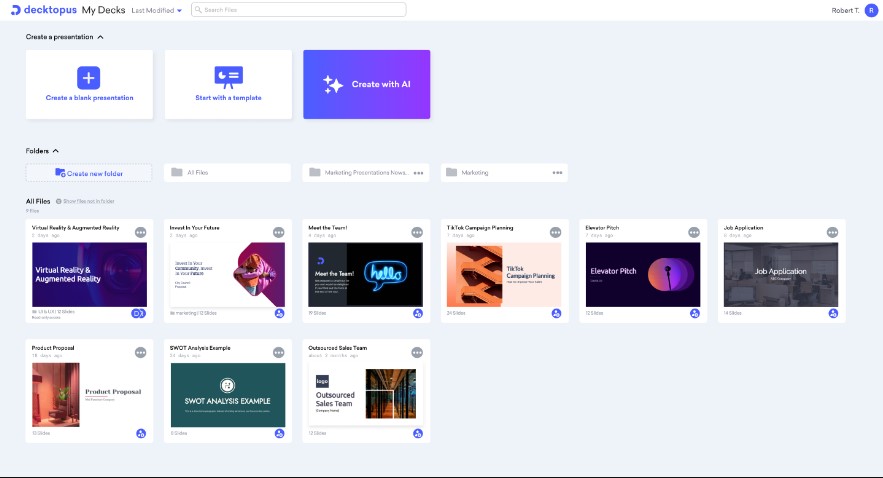 Dive into a fabulous future of impactful presentations using Decktopus. This ground-breaking tool for synthetic storytelling transforms any content into an engaging presentation with dynamic visuals. Decktopus is a must for experts looking to capture their audiences with compelling narratives. You can use this platform, harnessing AI to make PowerPoint presentations relevant to your needs.
G2 Rating: 4.6/5
Compatible Operating System: Web-based platform
Main Features:
Ready-to-use templates
Automatic layouts and designs
Prebuilt color palettes
AI content creation
Online collaboration
Pros:
The tool has a friendly interface. You can create marvelous slides, even if you're not a design expert.
You can benefit from a variety of predesigned templates to avoid starting from scratch.
Decktopus suggests layout and designs for slides to save you time.
The tool makes your teamwork easier by offering the collaboration feature.
Cons:
Customization choices are somewhat limited.
The platform does not offer applications for AI presentation creation.
4. Simplified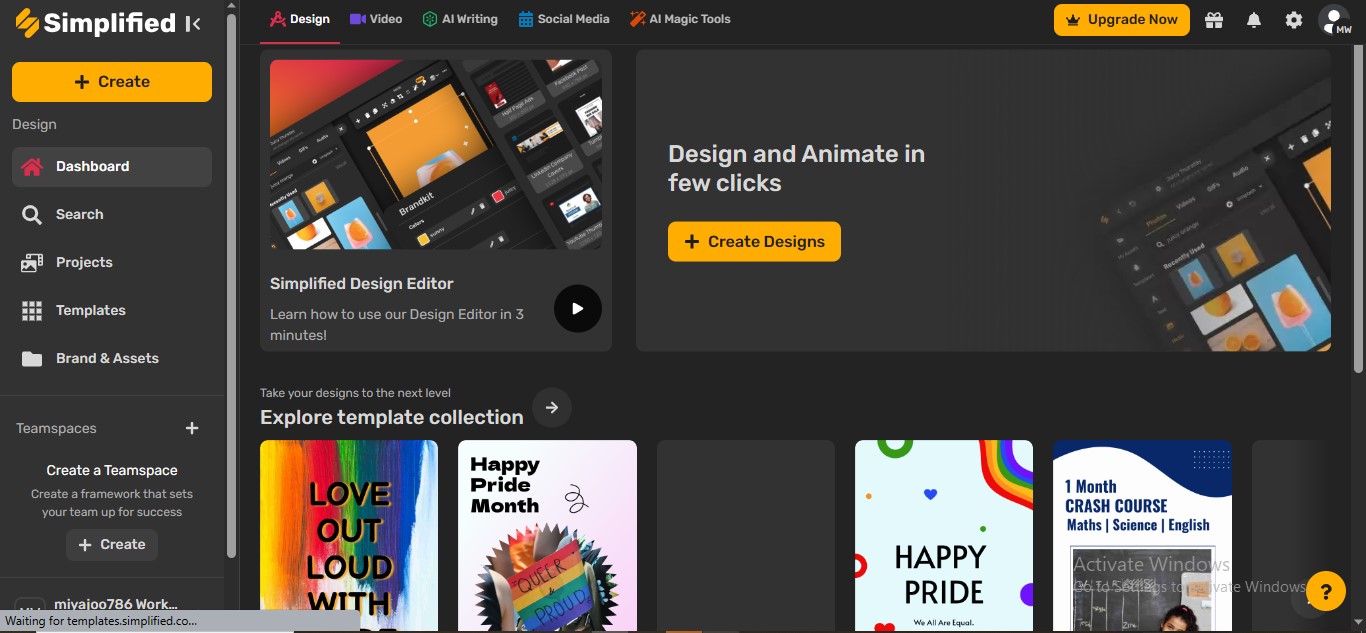 If you are looking for a tool leveraging AI for PowerPoint free designing, Simplified can be a preferable pick. Due to its limitless assortment of presentation templates, you will get versatile prototypes for your prospective needs. Moreover, the tool provides an endless catalog of easily editable visual elements for presentations.
G2 Rating: 4.7/5
Compatible Operating System: Windows, macOS, iOS, Android
Main Features:
AI-generated presentations
Broad topic range
Video project capability
Smart layouts
AI content generation
Pros:
Simplified automatically adjusts the layout and formatting, ensuring a consistent look.
The tool offers one-click presentation generation to save you time.
You can transform your static slides into a dynamic video project effortlessly.
The platform allows seamless collaboration to boost teamwork.
Cons:
Certain advanced features may only be available in paid versions.
The platform is web-based; it doesn't provide any application.
5. Slidesgo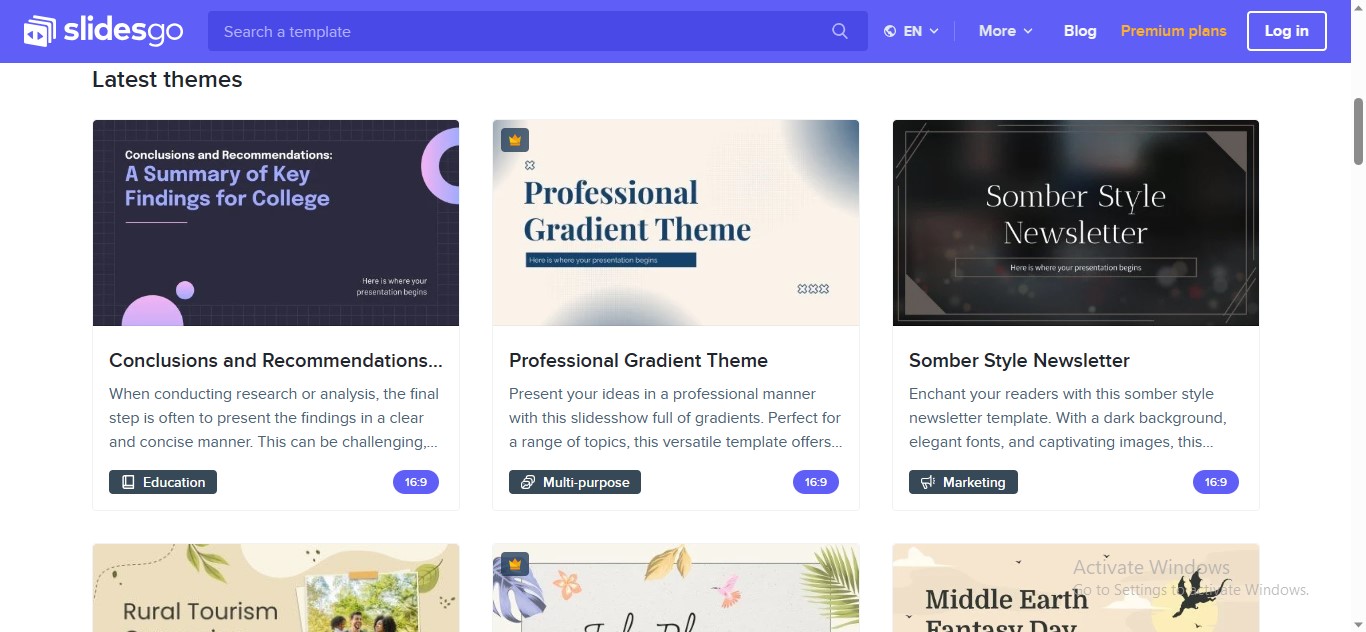 Slidesgo is an innovative platform that leverages AI for creating presentations. Built primarily as a website, it focuses on offering professional presentation templates. Slidesgo aims to provide an extensive catalog of visual templates to assist users in creating compelling presentations.
G2 Rating: 5.0/5
Compatible Operating System: Web-based platform
Main Features:
Customizable templates library
Integration with Google Slides
Free and premium presentation slides
Customizable icons and graphics
Multiple slide aspect rations for download
Pros:
Slidesgo presents an unending library of templates to cater to your slideshow needs.
The platform integrates with Google Slides to save and edit your files in Google Slides.
You can export your desired presentation templates in PPT format to edit them further in any propriety AI slide maker.
The tool also offers customizable graphics to add to your slides for extra appeal.
Cons:
Most presentation templates are available in the premium version.
You may seldom find slides with animation.
6. Venngage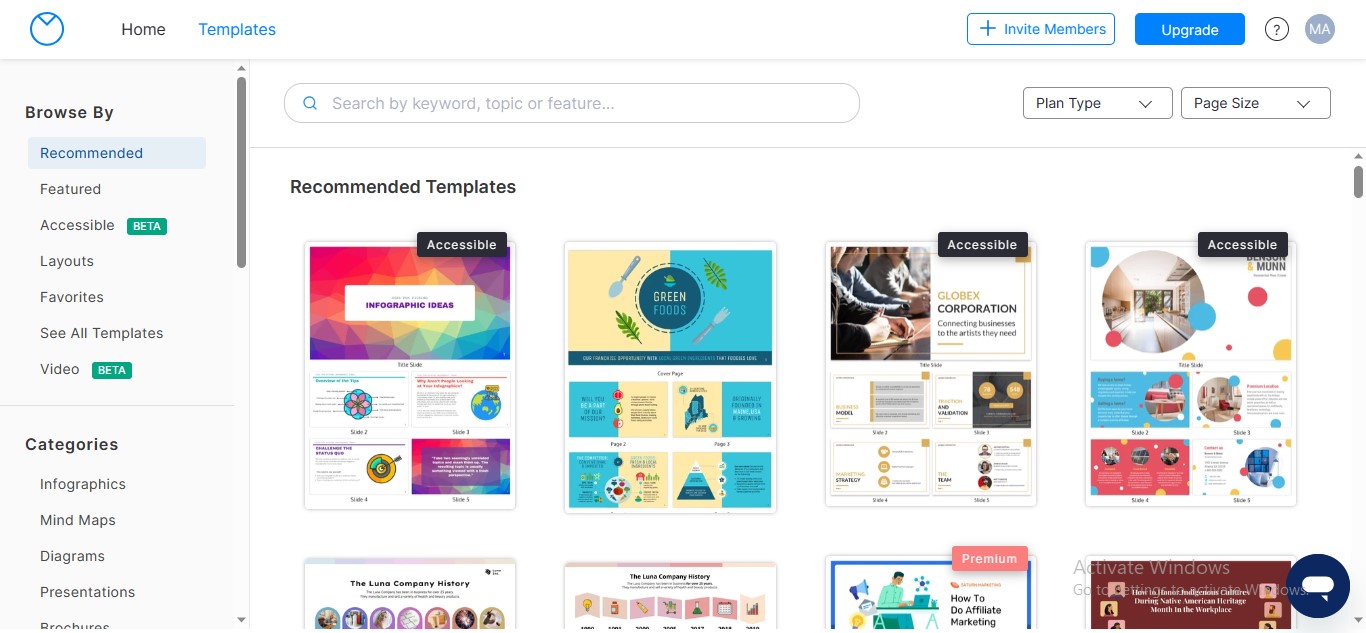 Venngage is a brilliant tool using AI to create presentations tailored to your personal or enterprise needs. One of its remarkable aspects is the abundance of built-in professional templates and layouts, fully customizable to your needs. The tool allows you to export your slides in PowerPoint and PDF format for slideshow.
G2 Rating: 4.7/5
Compatible Operating System: Web-based platform
Main Features:
Versatile data visualization
Predesigned templates and themes
Expandable canvas
Free graphic elements
Presentation sharing and collaboration
Pros:
Venngage is a diverse tool for creating AI PowerPoint presentations. You can create infographics, timelines, flow diagrams, and much more.
The tool provides an extensive library of prebuilt templates to ease your slideshow journey.
You can expand your diagram to your preference because of its infinite canvas.
You can collaborate in real-time to promote a productive work environment.
Cons:
Some users may find its interface clunky.
Customizing the objects sometimes becomes uneasy.
7. Pitch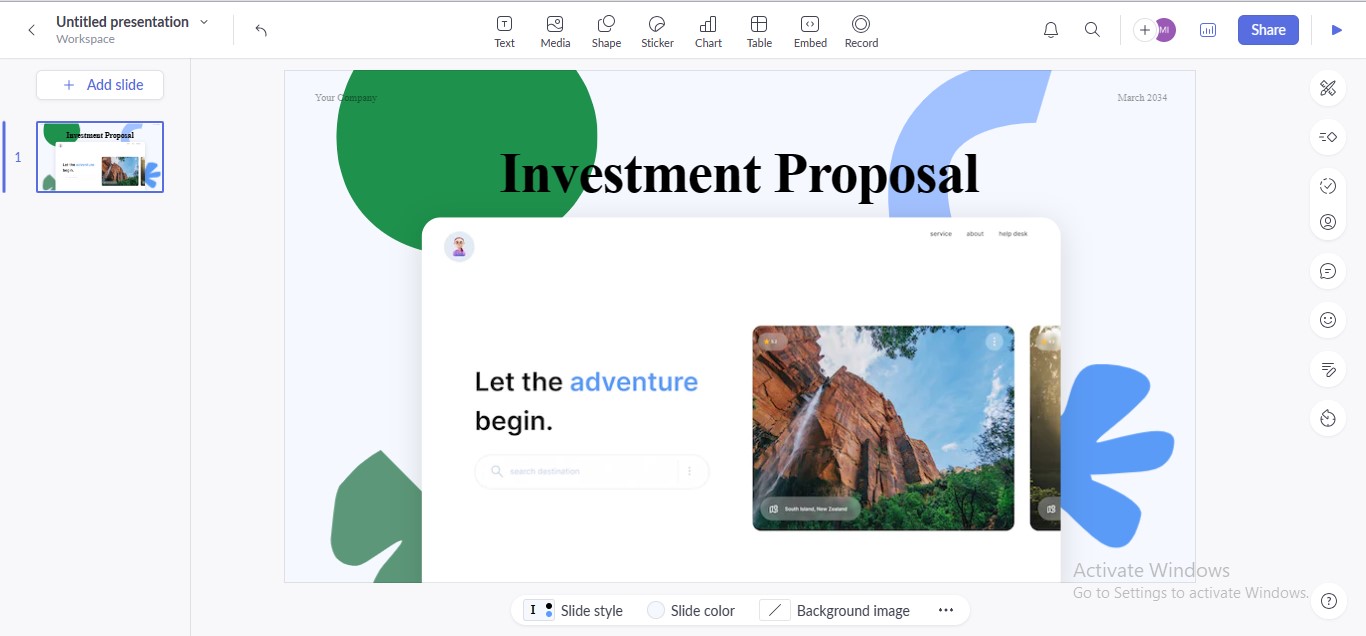 Pitch is a platform leveraging AI that makes presentations, allowing users to create professional slideshows with one click. The tool outperforms in several domains, such as templates gallery, editing, collaboration, and more. You can also set slides status for assigning tasks, which can lead to better teamwork.
G2 Rating: 4.4/5
Compatible Operating System: Windows, macOS, Android
Main Features:
Templates library
Slides animation
Setting slide status
History version
Adding comments & reactions to slides
Pros:
You can add comments and reactions to your slides to express your opinions.
Pitch offers one-click slideshow creation using its AI technology.
The interface of Pitch is all-inclusive, containing all the options on the homepage.
You can collaborate with your teammates to discuss your presentations.
Cons:
The text formatting option often causes issues.
Some users have complained about its PPT import functionality.
3. Make Your Presentations More Exquisite With AI-Powered EdrawMax!
While there are so many options outside, we bring an ultimate solution to your AI presentation creation needs. EdrawMax, a certified diagramming solution, offers several features to bring your presentations to life. Using the tool, you can create interactive AI diagrams, which can be pasted into your slideshow projects.
EdrawMax enables one-click diagram generation through its AI feature. Also, the tool enables you to export your diagrams in PPT format to edit them further in MS PowerPoint or other AI slide makers.
How To Design a List for Presentation Using EdrawMax AI Feature?
Step1
Launch the "EdrawMax" application on your device.
Step2
Click the "New" option in the left panel. Go to the "Create New" tab above in the main interface. It will wake the Edraw AI Assistant.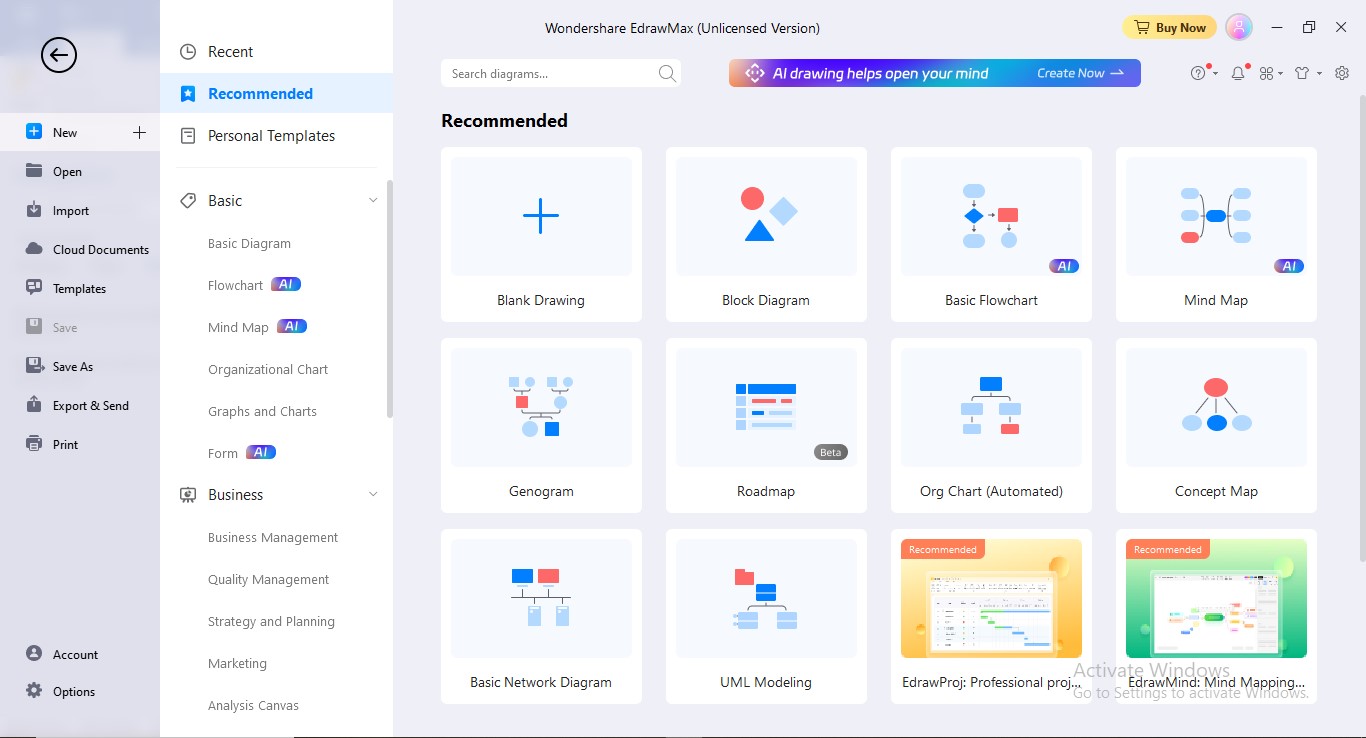 Step3
Choose the "List" tab from the given options. You can also enter your topic idea in the search bar.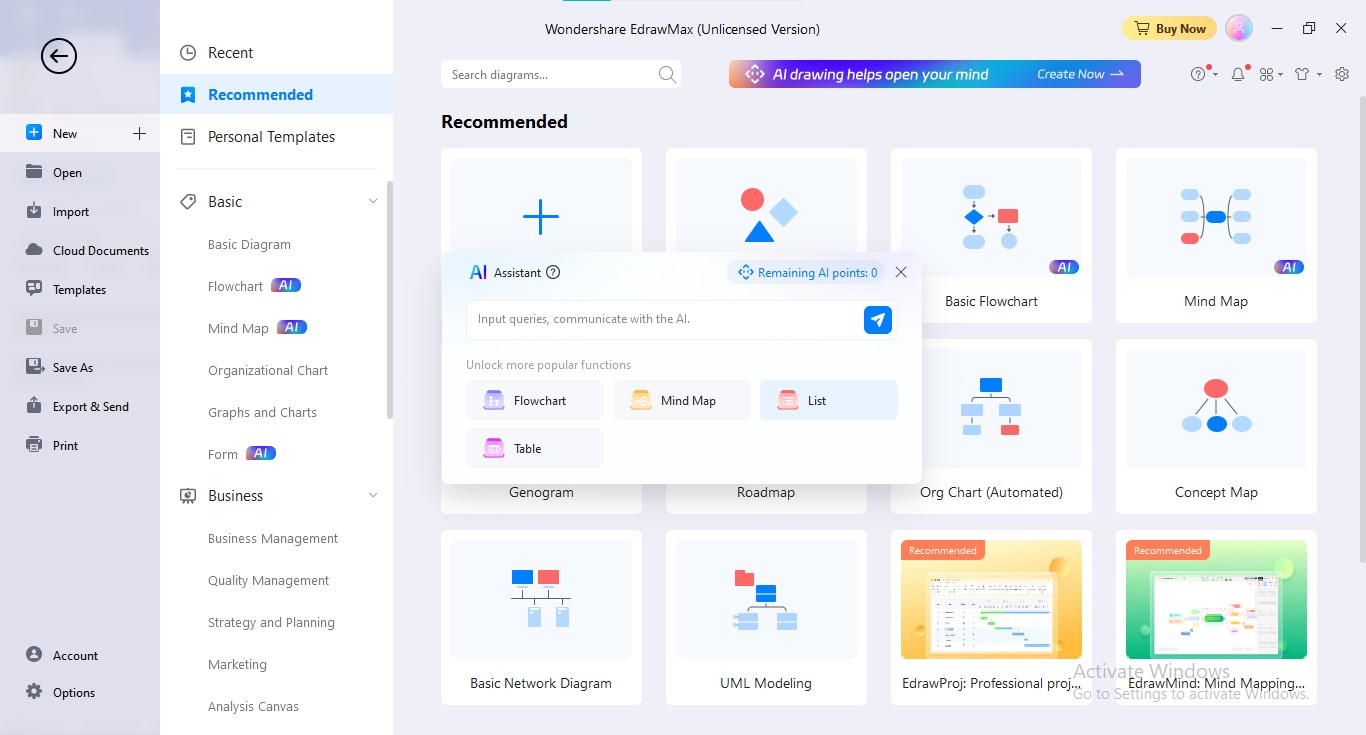 Step4
Edraw AI will ask you for an idea to generate your intended list. Enter your query in the search bar.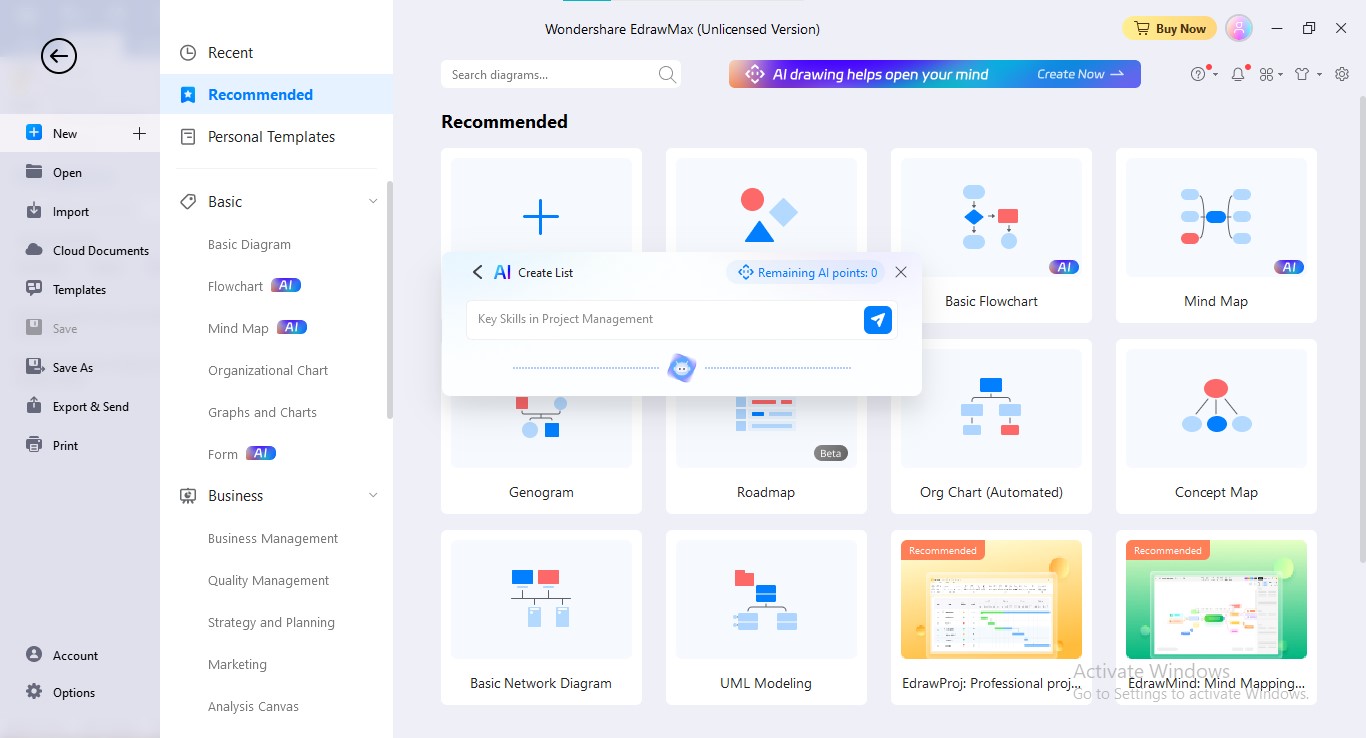 Step5
Edraw AI will generate your intended list in a few seconds.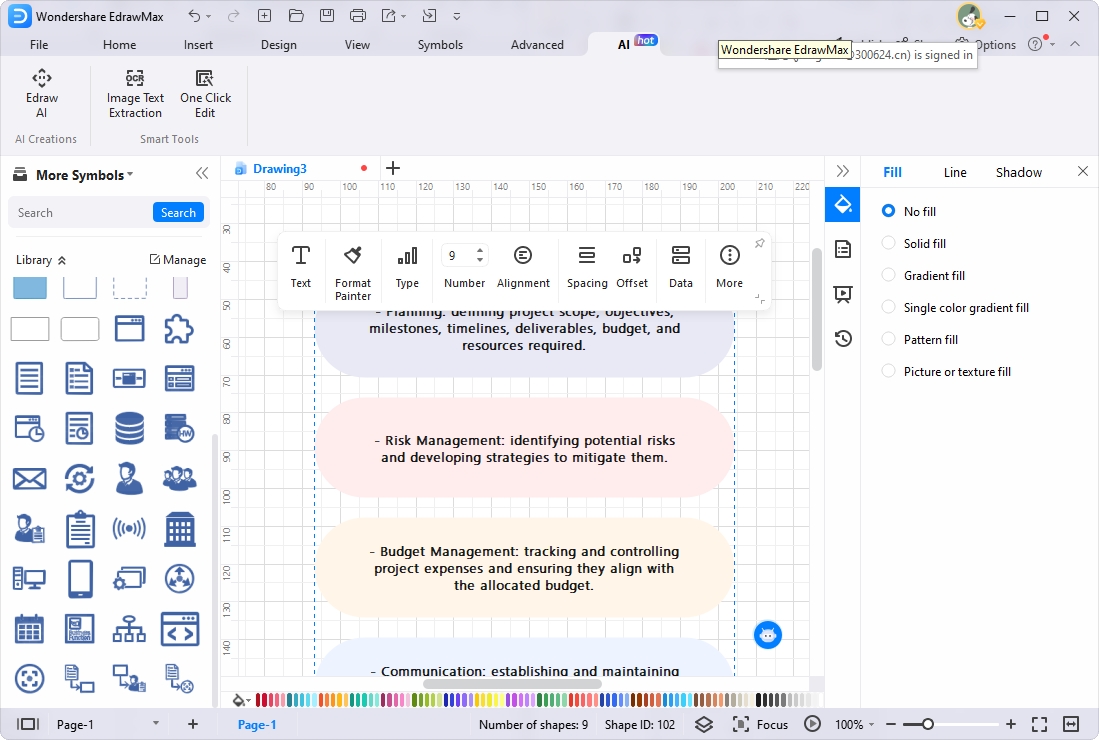 Step6
You can customize your diagrams by performing some manual edits. To do one-click editing, go to the "AI" menu. Choose the "One Click Edit" option. Now, you can set your global theme, font, and color combo.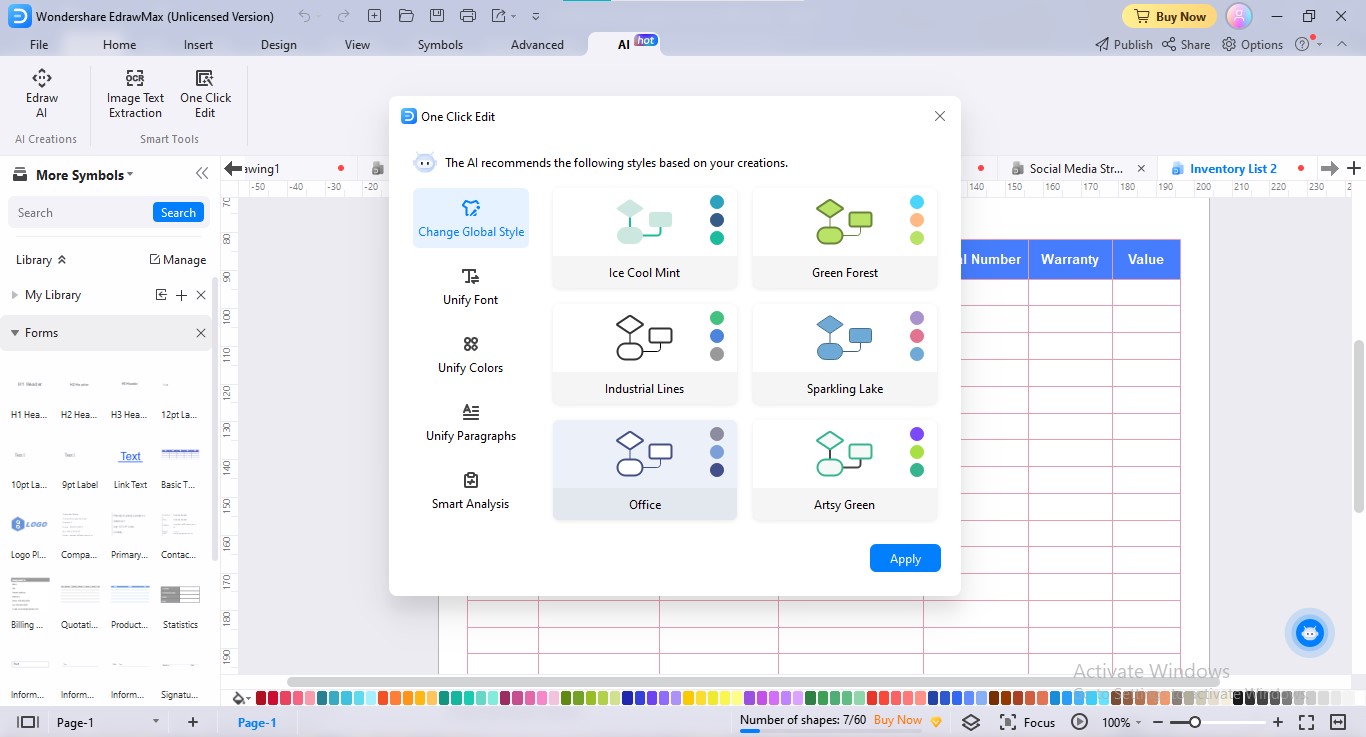 Related Articles