6 Best AI Flowcharts Generators
AI flowchart generators are popular in both businesses and schools. Check out the top 6 text-to-diagram tools to make valuable flowcharts and get rid of the need to drag and drop images by hand.
Also available for
Windows, Mac, Linux, iOS, Android, and Web.
All options >>
AI flowchart generators, also known as text-to-diagram software, quickly convert the written prompt into a flowchart diagram. Compared to traditional flowchart makers, these generators create brand-new flowcharts based on your provided information. Additionally, they offer a variety of art styles and customizable templates.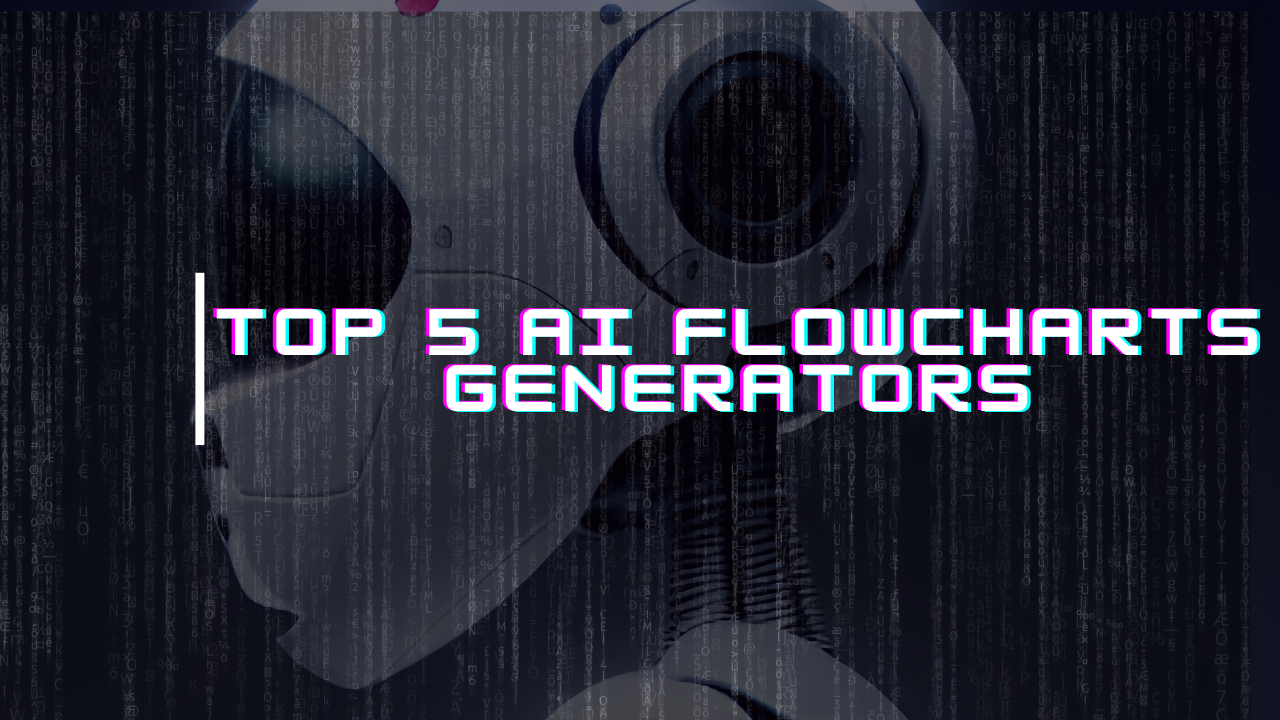 Today, business owners and students are turning to these tools to make their lives easier. AI flowchart generators have become game changers; you don't have to spend hours mapping your ideas for perfect alignment. You are just a prompt away to create your personalized flowchart.
Are you ready to dive deeply into AI flowchart generators that will make your routine work much easier? Continue reading.
Part I. 6 Best AI Flowcharts Generators
1. EdrawMax: Powerful Flowchart Maker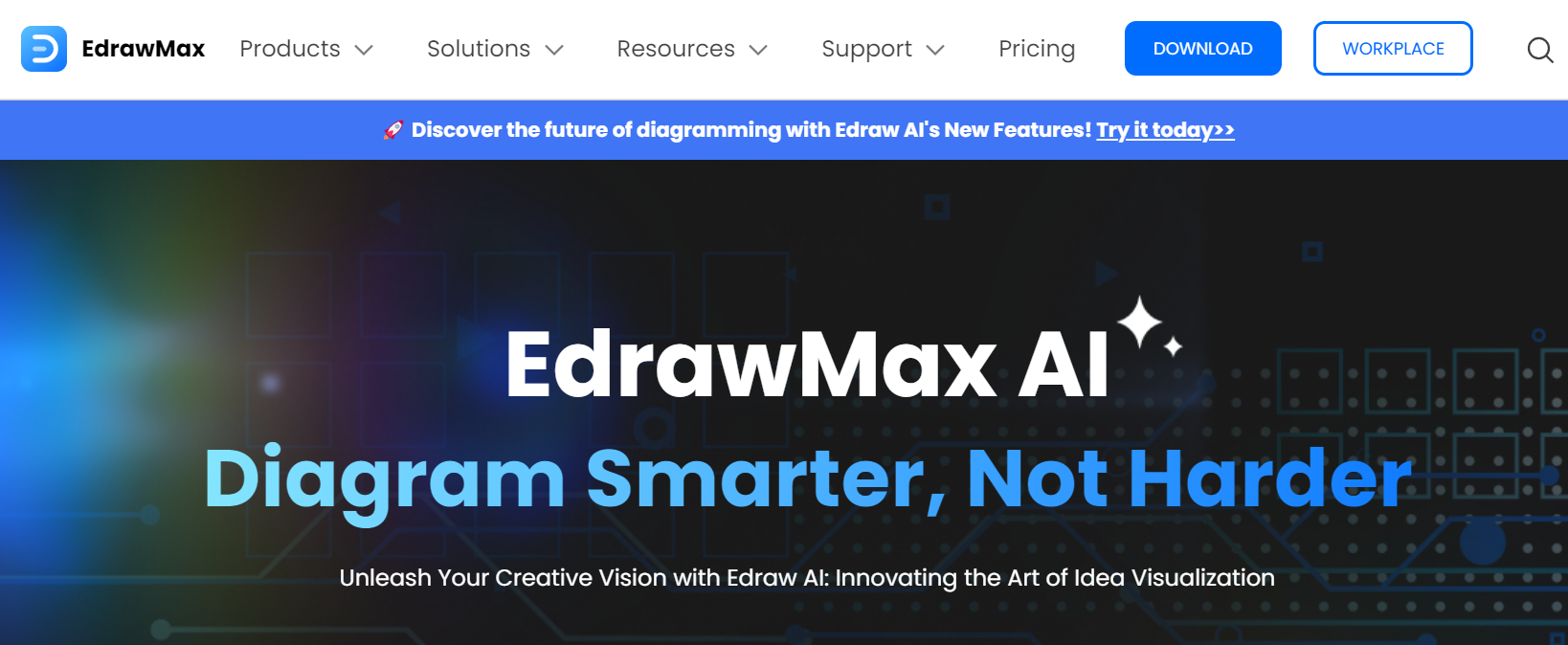 Imagine creating an intricate flowchart that perfectly aligns with your vision with just a few clicks. You are just a click away from editing your expert-looking flowchart with EdrawMax, a one-click edit option. you don't need to worry about your endless hours of finding a perfect alignment and color palette.
It is one of the Wondershare products, a one-stop solution for your diagramming needs. It will help you visualize your ideas seamlessly into flowcharts, mind maps, floor plans, workflow diagrams, business charts, and more.
The following unique features of EdrawMax will leave you wow.
AI flowchart analysis is a comprehensive option designed to help you detect, optimize, and describe the various elements in your flowchart.
Here's how it works.
The flowchart detection function will help modify the errors, inconsistencies, and inefficiencies in your flowchart.
The flowchart optimization function will help find bottlenecks and redundancies, and executing the changes optimizes the workflow.
The flowchart description will help provide a descriptive outline of each step to increase the flowchart's readability and clarity.
Other Features
One-Click Diagramming: Generate a mind map, a timeline, a list, or other types of diagrams with a single click.
Gantt Chart Analysis: Generate reports on progress progress and project overview and identify project risks.
Chart Analysis: Analyze bar charts, pie charts, or line graphs by comparing data, detecting anomalies, and predicting data trends.
AI Drawing: Generate drawings from text or picture prompt
AI Chat: Make inquiries to AI get diagramming suggestions.
User Review
Regularly improving update
One stop for diagramming solution
User Friendly
Cost-effective
2. Taskade

Want to get more done in less time? Don't worry; Taskade's got your back. If you're using Taskade to manage a collaborative project, think of it as having an extra set of eyes and ears.
Taskade integrates with ChatGPT 3.5 and ChatGPT 4 to facilitate the creation of flowcharts, which have proven helpful for real-time collaborations. You don't have to be an expert because Taskade AI will work hard to find the best possible alignments and templates for you.
Features
Automated flowchart creations and adjustments: The AI assistance of Taskade will do the complex tasks for you. It will assist you in creating and adjusting your flowchart with a professional appearance based on your input.
Intelligent layout and designs: Taskade has an extensive library of layouts and designs, assisting you in choosing according to your needs.
Multiple collaborations: Multiple collaboration is a lifesaver when working in a group. It will facilitate communication with your team, and you'll all be able to contribute to the same flowchart.
Error checking: By detecting typos and formatting problems, Taskade's AI error checking will ensure your flowchart is flawless.
User Review
Need more AI monthly allowance
Instant prompt results
User Friendly
High pricing
3. Whimsical

Whimsical, also known as Single Page App (SPA), will allow the users to collaborate on ideas in a simple and enjoyable method. Its AI feature will easily transform your ideas into a flowchart, all thanks to its extensive library and customizable options.
If you are a ChatGPT Plus user, you can find its plugin at the ChatGpt 4 store. Whimsical customizable options along with AI will assist you in crafting the most creative flowcharts in less time.
Features
Interactive elements in different sections: Whimsical flowcharts generator has multiple varieties of interactive element options to assist you in making expert-level flowcharts.
Allow multiple users at once: With Whimsical, you and other team members can simultaneously collaborate on a single flowchart.
Various export formats: Whimsical lets you choose between several export file formats for your convenience.
Customize styling : Whimsical's numerous options let you customize your flowchart to perfection.
User Review
No database Object template
Clumsy drag and drop-down
Easy Interface
High pricing
4. Creately
Let your imagination meet productivity. Creately is here for you; it will help you increase your workflow and collaboration. With Creately's AI flowchart assistance, you can skip the tedious process of manually adjusting your diagram's style while still getting a professional result.
You can choose any template from their extensive Library and customize it according to your requirements. It will help you save per-element notes; with one click on that element, you'll be redirected to the notes you kept earlier. Isn't it a time savior?
Features
Extensive Library of templates and Shapes: Creately provides an extensive library of templates and shapes to help you make the most effective flowchart possible.
Automated Flowchart creation: With Creately's AI guidance, you can make an automated flowchart responding to your prompts.
Per-item notes: Each component of your flowchart can have notes attached to it.
Version control: Creately allows you to view multiple versions of your flowchart as you make changes. Allowing you to track progress over time.
User Review
Slows down when a high amount of data
New updates regularly
Cost-effective
User-friendly
5. Flowcharts.ai
With AI-powered assistance, the Flowchart.ai application simplifies and streamlines the flowchart creation procedure. It will assist you in obtaining data from your customers, clients and patients with the help of AI-generated flowcharts and questionnaires. It can help you save time and effort while enhancing the quality of your work.
Features
Multiuser Capability: You and your coworkers can work in real-time on the same flowchart with flowchart.ai.
Automated flowcharts: With the help of flowchat.ai, you can create an automated flowchart that generates responses based on your prompts.
Error checking: Flowcharts.ai's AI error-checking feature guarantees a flawless flowchart by finding and fixing mistakes and formatting issues.
Multilingual: English is not your first language? No problem. Creately has created great ease with its multilingual option.
User Review
User Friendly
Limited platform
Cost efficient
Limited platform accessibility
6. Mockitt

Say goodbye to the tedious manual process of creating flowcharts. With its AI-powered assistance tool, Mockitt will save you time and make your life simpler. Wondershare's software will turn your prototypes into a flowchart, making both communication and organization much more manageable. Additionally, you can welcome it to a third-party server for seamless image creation.
Features
Import prototypes to flowcharts: Mockitt AI Flowchart Generator combines prototypes with flowcharts effortlessly.
Multiple collaborations: For group work, multiple collaboration is invaluable. Mockitt AI flowchart generator lets your team collaborate on the same template.
Variety of templates: The Mockitt AI flowchart generator offers a wide range of templates that can assist you in creating highly professional flowcharts.
Version control: Mockitt allows you to easily transition between different versions of your project so you can make the necessary adjustments.
User Review
User-friendly
Cost-effective
Instant Prompt results
Part II. Flowchart Generator Selection Factors
AI flowchart generators have been improving over time and are quickly becoming indispensable in both the professional and academic worlds. Considering these factors before settling on a particular AI flowchart generator would be best.
Easy to Use
Do you have yet to gain experience making flowcharts? Do you need help deciding on the best layout or finding the perfect forms and designs? If this is the case, a user-friendly interface should be your top priority. You won't have to worry about the technical details, which will free up valuable time and resources before making any purchases.
Pricing
Checking the price plans of each software is an important consideration. Know what kind of work you do, how often you'll be using the tool, and whether you'll use it as an individual or a team before you choose. That will help you create a clear differentiation in your tool selection process.
Chatbot
Does your software have chatbot accessibility? Does it give you instant results of your prompts? If not, then you should choose software that has chatbot accessibility. A place to post your prompt, rework your thoughts, and make necessary changes using only your words. Help from a chatbot can be a lifesaver.
Multiuser accessibility
Do you desire input from your team members when working together? The best and most original flowcharts are often the result of combining many different ideas. To collaborate with your team on a single flowchart, look for an AI-powered flowchart generator with multiuser accessibility.
Conclusion
AI flowchart generators have changed the perspective of the AI flowchart diagramming method. Now, you don't have to spend hours or have a specific skill to master your flowcharts. All you need to know is how to indirect the prompts to get the results according to your requirements.
With the rapid development of AI flowchart generators, it is becoming difficult to choose one. Furthermore, nobody has the time and enough money to invest in trying out every AI flowchart. So, it is best to establish your factors of selection in advance.
If you want help analyzing your flowchart to detect errors and descriptions, edit your flowchart in just a few clicks or convert your picture into a flowchart. Then EdrawMax got your back. Not only will these save you time, but they will also help you generate new ideas.
EdrawMax Desktop
Create over 280 types of diagrams
Windows, Mac, Linux (runs in all environments)
Professional inbuilt resources and templates
On-premises software for business
Enterprise-level data security
EdrawMax Online
Create over 280 types of diagrams online
Access diagrams anywhere, anytime
Team management and collaboration
Personal Cloud and Dropbox Integration
Related Articles