Free Editable Hotel Floor Plans
Hotel floor plans are an excellent way to plan what you want to do with your living space. With a hotel floor plan, you can utilize the airflow, light, and space to the maximum.
1. What is a Hotel Floor Plan?
A hotel floor plan gives us the birds-eye view of a hotel. The floor plan provides all the details regarding the rooms' size, arrangement, facilities, and spaces between them. This illustration is an excellent way to use all your space optimally without overcrowding it. Hotel floor plans play a significant role in the preconstruction and design activities. It is better to have a floor plan for your hotel before any significant construction, restructuring, or renovation. With a hotel floor plan, you can create multiple designs for your hotel and choose one that works best for your business.
1.1 Why Do You Need a Hotel Floor Plan?
While constructing a hotel, you might not find the need to call in an architect or interior designer to design a floor plan for the hotel. But, the truth is a hotel floor plan might make everything so much easier for you. Here is why you need a hotel floor plan:
You can maximize your floor space, lighting, and airflow with a well-constructed floor plan.
A floor plan allows you to place your furniture and fixtures according to the room's measurements.
With a hotel floor plan, any legal issues regarding mortgage and leasing can be resolved quicker.
A Hotel floor plan is instrumental whenever there is an issue in the building after its completion. You can refer to it for spotting problems like leakages, central heating, etc.
Using a floor plan for constructing a hotel will make it extremely easy to estimate the time and money required for its completion.
Using a hotel floor plan will build an emotional attachment to the place. You can visualize what you want and make sure everything stays true to the original idea.
If there are any future changes, it will be a lot easier to implement them if you have a blueprint in your hand.
Lastly, if you are constructing the hotel for selling or renting it out, then a hotel floor plan will do wonders in attracting clientele.
1.2 What to Look for in a Hotel Floor Plan?
If you are buying or constructing a hotel, a hotel floor plan will help you create the hotel of your dreams. However, not all hotel floor plans are right for you. A few essential considerations will help you find an ideal hotel floor plan.
#1 Spacious Lobbies
The grandeur of your hotel must be adequately represented in the lobbies. You need to see if the hotel floor plan includes spacious lobbies that can hold any rush hour smoothly. The lobby should be designed according to your hotel's room and space. As the number of rooms in your hotel increases, so does the lobby size.
#2 Creating Functional Spaces
While constructing such a massive project, a significant fact is utilizing every space to its max potential. Other than that, you need to ensure that everything is spaced evenly and is accessible.
#3 The Room Layout
Your rooms should also project the same warmth and coziness as your signature design. Depending on the direction or location of your hotel, you can construct windows and doors that will allow a great view and ample light to shine in.
#4 Create A Narrative
Hotels are all about themes and a narrative. With a hotel floor plan, you can create a unique theme and arrangement reflected in its architecture and fixtures. Each hotel has its vibe and ambiance that creates its customer base.
#6 Multi-Purpose Space Design
A good hotel floor plan is flexible and versatile. With the changing world, the wants and needs of the client keep on changing. To accommodate that, the floor plan should have a multi-purpose design. This will make renovations easier and allow the building to be turned into something else when it's no longer a hotel.
2. Hotel Floor Plan Examples
If you are new to hotel floor plans and have no idea where to begin, we can provide you with some templates and ideas to design your floor plan.
Example 1: Hotel Floor Plan
This is a simple two-story hotel floor plan. Each floor is designed carefully with lobbies, conference rooms, ballrooms on the first floor, activity rooms, and a cafe on the second floor. The hotel floor plan is thoughtfully constructed with the kitchen banquet connected to the ballrooms and kitchen connected to the cafe and the restaurant. The conference rooms, activity rooms, and senate rooms are on one side to ensure privacy. It is also visible that the toilets and restrooms on each floor are located in the same place, which is excellent for the drainage systems.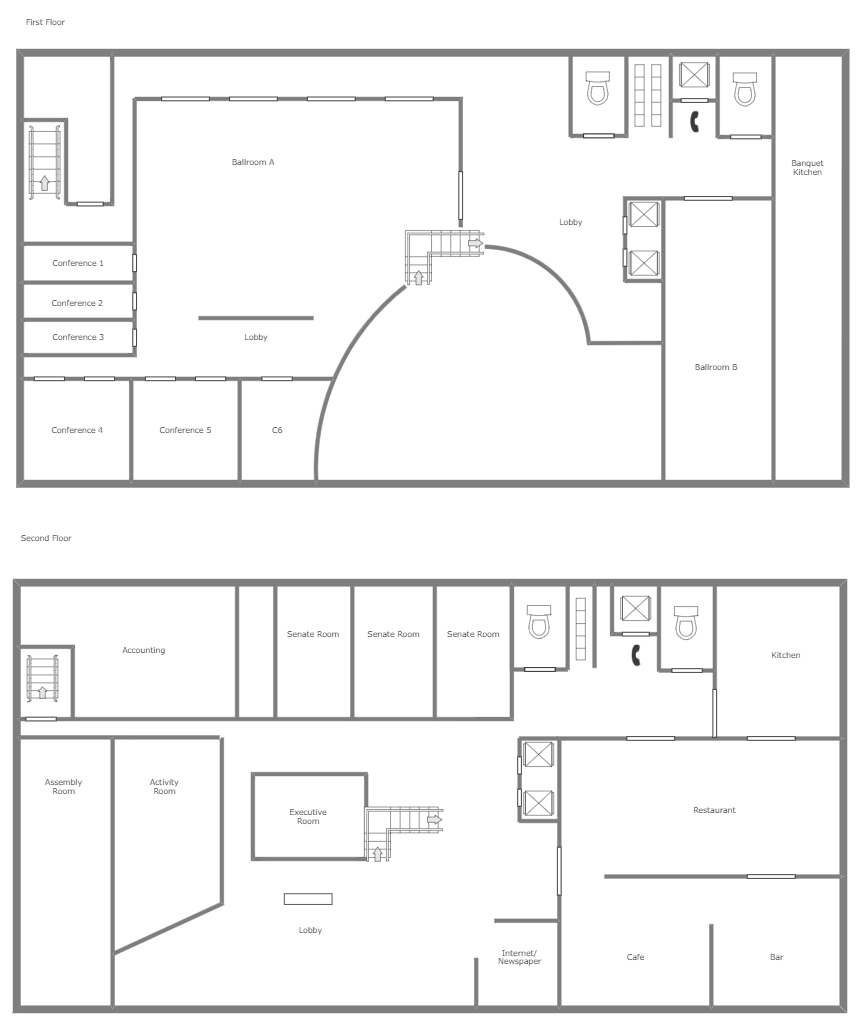 Example 2: Hotel Room Floor Plan
This hotel room floor plan is designed keeping in mind the standard size of a bedroom and the number of rooms your hotel can sustain. The single-story floor plan boasts a pool, a gym, a garden terrace, ballrooms, restaurants, and conference rooms. One side of the hotel floor plan is concentrated with rooms that allow people privacy and quiet. On the other side, there are ballrooms and restaurants for people to enjoy. On either side, there is a set of restrooms for convenience.
Example 3: Simple Hotel Floor Plan
If you do not like too flashy hotels and want a simple hotel floor plan, this one will work best. The design is simple, with bedrooms and bathrooms along the walls and a lounge and lobby in the middle. Several balconies will be ideal if your hotel is located near a beautiful view. Apart from that, this straightforward hotel floor plan gives a very cozy and homey vibe. The rooms are also spacious, and there is a variety of rooms like those with attached baths and those with not. With a kitchen nearby, room service would be quick and efficient.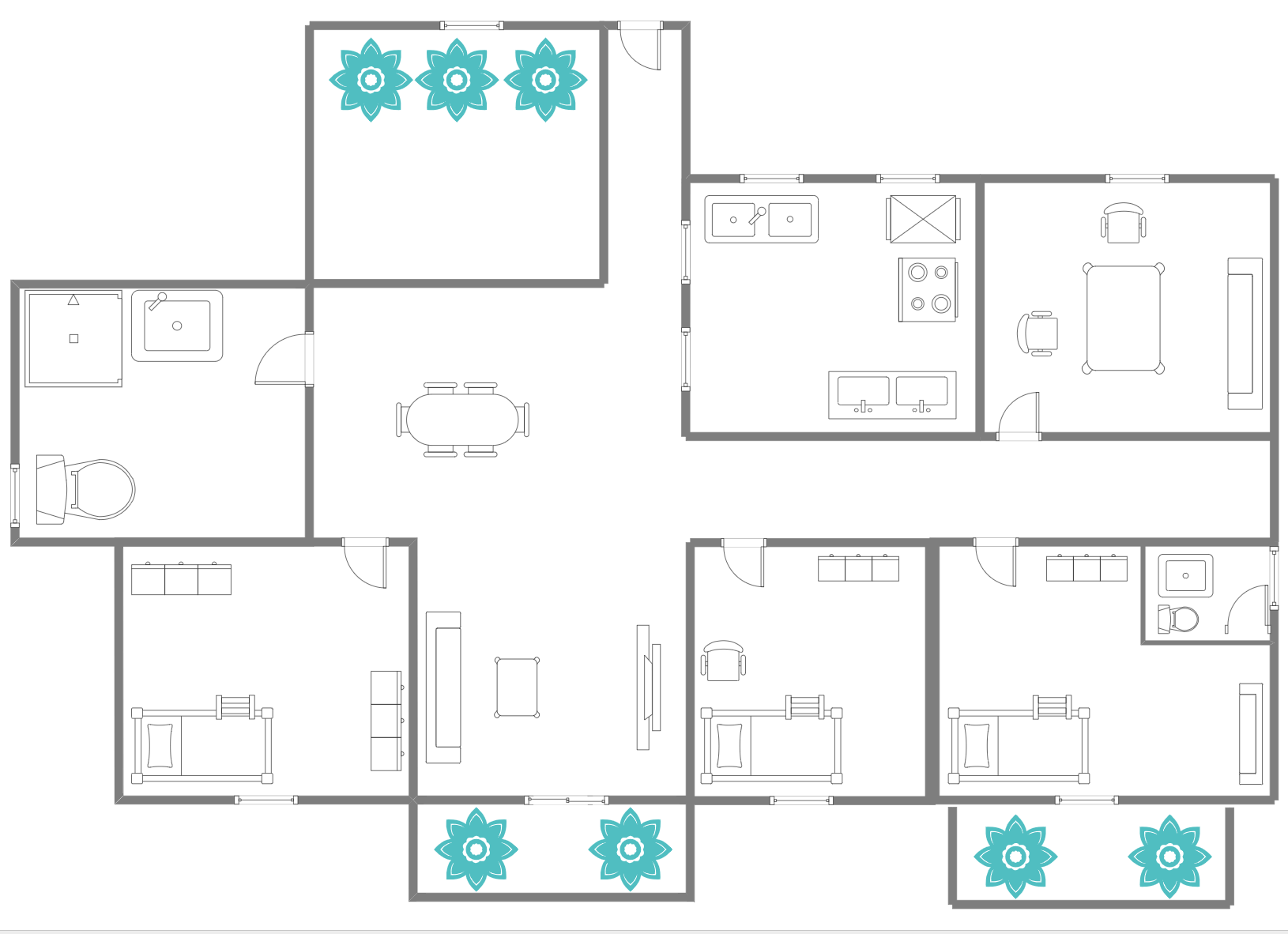 Example 4: 5 Star Hotel Floor Plan
This hotel floor plan is for a five-star hotel. The hotel floor plan is lined with bedrooms on the sides, ensuring that the windows offer an incredible view. There is also a wide variety of rooms, from simple to luxury deluxe suites. The attached bathrooms also vary from simple ones to luxury ones. At the center of the room, the electrical, housekeeping, and mechanical departments ensure everything in the hotel is running smoothly. The sitting areas are also evenly distributed throughout the hotel, preventing overcrowding in one sitting room.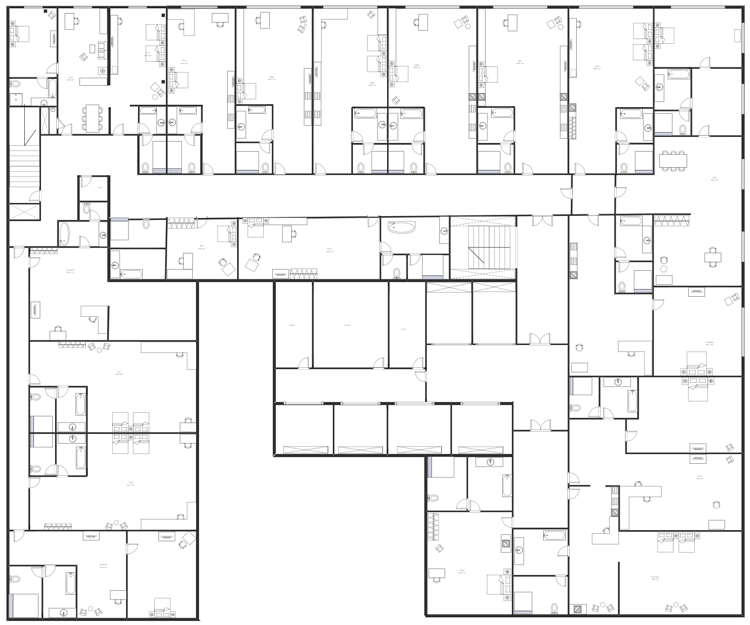 Example 5: Resort Floor Plan
Designing a resort floor plan is different from the traditional hotel floor plan. You can place the living space at ground level or just a little below ground level. Accentuate and design your resort with a balance of trees, gardens, and ponds. The cottages can be distributed all over the place so people can enjoy the retreat with peace. Cottages must be equipped with bathrooms and 1 -2 bedrooms. You can add hot tubs, pools, springs as entertainment for the resort.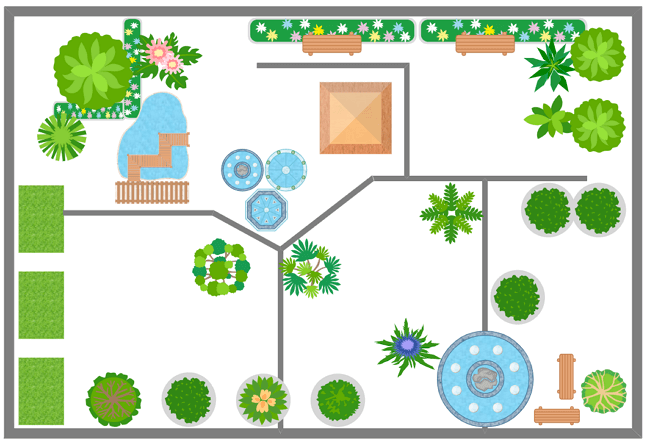 Example 6: Hotel Evacuation Plan
An essential part of hotel floor plans is the hotel evacuation plan. The hotel management must hang the evacuation plan on the visible locations so people know what to do in emergencies. This will also prevent any chaos in such a situation. A hotel evacuation plan must illustrate all the exits from that floor. It should also contain any warnings or instructions for emergencies. The plan should be simple and easy to understand and follow.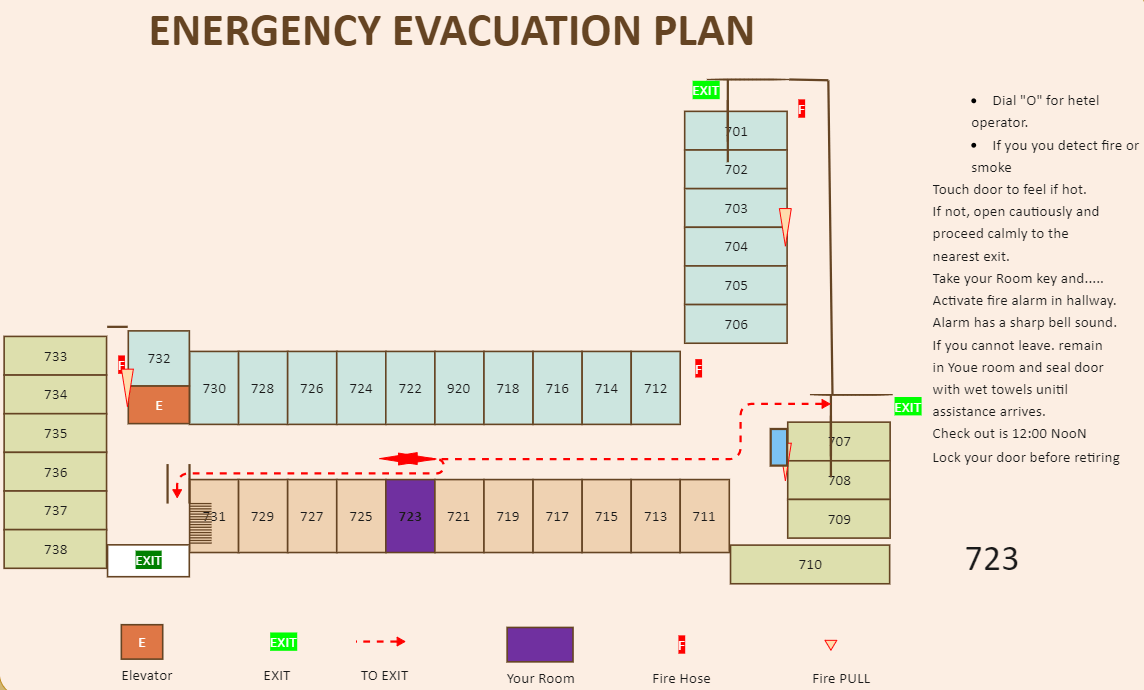 3. Online Hotel Floor Plan Maker
If you are interested in creating your hotel floor plan but do not understand the highly technical software available in the market, then we have the solution for you. EdrawMax Online is an excellent tool for beginners who want to create floor plans, charts, infographics, timelines, etc. EdrawMax is an online floor plan designer that lets you create your floor plans or modify templates to personalize them. EdrawMax contains thousands of predesigned templates that can be edited to give them your touch. Along with that, the interface is also intuitive and easy to use. The interface is similar to the MS Office suite, makes it familiar, and you don't have to look around too much for finding specific tools.
You can even collaborate with multiple people on your EdrawMax drawing. You can share the link with your friends or colleagues to create unique floor plans. EdrawMax is perfect for beginners and professionals alike. With so many tools and symbols to work with, you can create your unique designs or tweak the preexisting ones.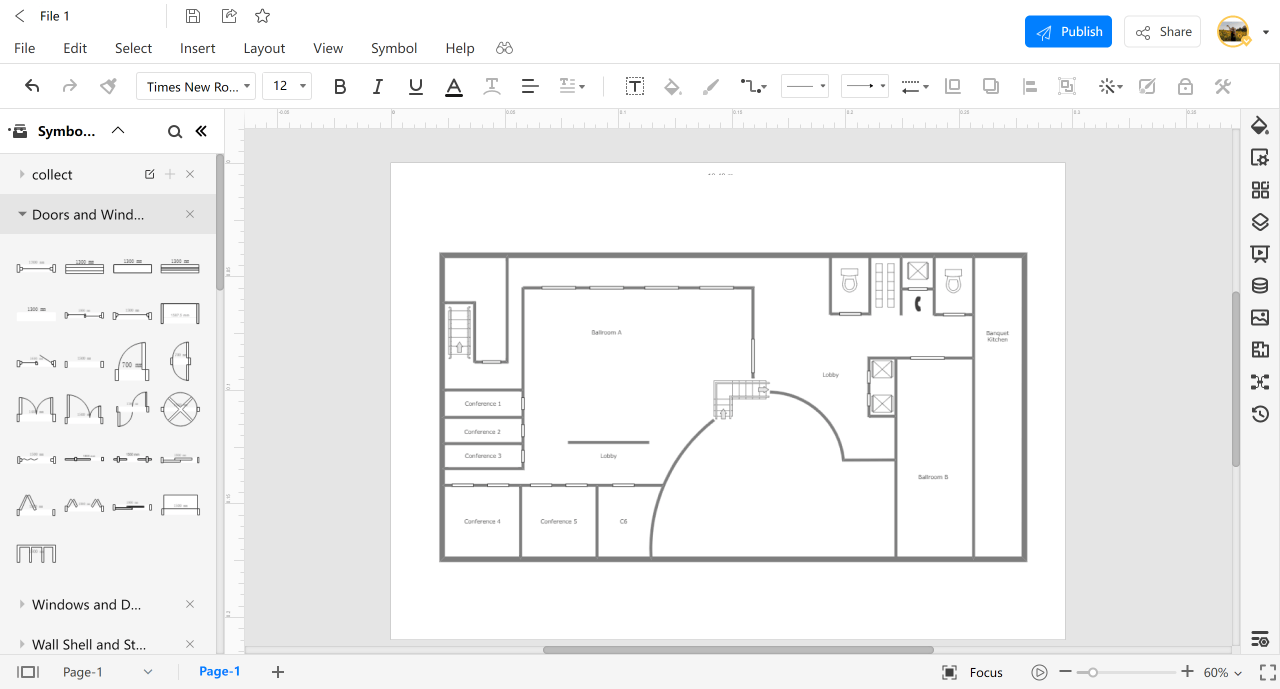 4. Key Takeaways
Hotel floor plans are a great help, especially if you want to construct a hotel and do not know where to start. They will guide you on using your spaces efficiently and create a unique style. You can use EdrawMax Online to make your hotel floor plans for free. You can restructure one of the templates or create a diagram from scratch. With EdrawMax, you can create a brand new hotel floor plan in seconds.
EdrawMax Online
Create 280+ types of diagrams online
Access diagrams anywhere, anytime
Everything in desktop + Templates Community
Team management and collaboration
Personal Cloud and Dropbox Integration
Related Articles