Free Editable Museum Floor Plans
Museum floor plans are significant for visualizing or creating space for intended purposes. You can have a more substantial edge on building a perfect space with a floor plan.
1. What is a Museum Floor Plan?
A museum floor plan is a mapping that tells you the allocation of every physical floor feature. These floor plans are essential for the organization and layout of a museum. They are helpful for architects, designers, and art galleries to design their space. These floor plans also help visitors to know where they can find specific exhibits in a museum. You can also create a floor plan of your own choice most simply by keeping in mind the following points: Whether you are using a pencil, pen, or graph paper for scaling purposes, or budgeting time by using an online program for floor plan your space, some essential steps go into action before creating a solid diagram:
#1 Shift Moveable Objects
If anything is occupying space, yes, it does matter, every object has its purpose to some extent, but sometimes you have to let the old stuff go to make room for new objects. Don't keep your mind flooded with too many objects; make a list of the needed objects.
#2 Add the Correct Measurements
You must add the correct measurements in sizes that are possible for all add-ins like kitchen cabinets, etc. You have to decide what works best for that space. Measure the overall dimensions of every item and locate each of them according to accessible space.
#3 Visualize
Visualize the objects that can be bought in. Imagine ordering a 108 V- inch television when your entrance door is a 6/6 size door. Remember, Fewer visual obstacles result in larger spaces.
#4 Structural Changes
Be prudent about making structural changes like knocking down a wall for additional space purposes, especially when living in an apartment. Always analyze the blueprint of the property before wrecking a wall.
#5 Share Your Floor Plan
Two heads are better than one. Have someone else's opinion. There is no problem in sharing your floor plan and having helpful feedback. Always re-consider every aspect before coming to any conclusion.
#6 Use Online templates
You can make use of templates available on any online program. You can get done with this quickly, but you'll be able to customize it more efficiently.
2. Museum Floor Plan Examples
Floor plans can be drawn to show everything from your living room to how a museum is laid out. Here are six museum floor plans that can help you envision the space you want to enter:
Example 1: Museum Floor Plan
Museum floor plans are a significant visual representation to plan the layout of your museum. They can be used for both a small museum and an art gallery. It is a diagram representing the circulation pattern within a rectangular ground area. All public rooms and natural functions are identified and drawn accurately, indicating entrances from other areas, staircases, ramps, or escalators leading to different levels, work areas, toilets - overall indicating layout for different needs. A good museum floor plan is essential to the physical experience.
Example 2: Art Gallery Floor Plan
Art galleries and museums often challenge making their exhibition space available for many purposes in the limited floor space. But with an art gallery floor plan, it is possible to have significant public space intended for many purposes. You can easily estimate the spacing required for putting your exquisite art pieces. It is advisable to bring your drawings into the art gallery one day before the exhibition. In that way, you can have an insight into how your work will look in the gallery space on the exhibition day.
Example 3: Simple Museum Floor Plan
A simple museum floor plan is enough for most museums and galleries because they don't need many rooms. Rooms in museums often include an entry, exhibition space, storage space, and restrooms.
Example 4: Science Museum Floor Plan
A science museum plan center focuses on providing its visitors a learning journey untroubled by spaces from dividing exhibit storage areas to establishing administrative areas. Great lifts or elevators are installed to carry the museum exhibits safely.
Example 5: Louvre Floor Plan
Many people from different walks of life flock into this gargantuan louver, so there is always a need to have many entrances and exits. A louver floor plan can space plan the most crowded areas as each louver can have up to 4 floors with a surface that covers up to 52 acres.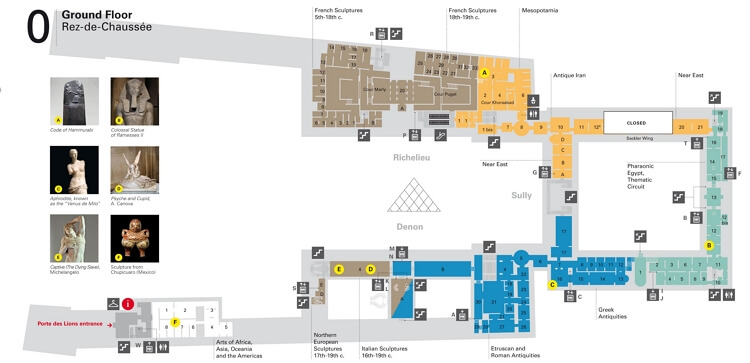 Source: www.louvre.fr
Example 6: National Gallery Floor Plan
The national gallery is known as the center of visual arts, where visitors explore the beauty of sculptural paintings. The national gallery floor plan has five floors, three art routes, and a reign of employees of around 245 staff.
3. Online Museum Floor Plan Maker
An online museum floor plan maker is a tool that allows users to create their customized floor plans for an art gallery, museum, or any other exhibition space based on their needs. From choosing the correct measurements to adding dimensions and mark footage for space, planning can be hectic. With EdrawMax Online, making a floor plan is easy. The features you can avail of from it consist of:
Choosing Layout templates of your choice
Drawing scale in smaller proportion
Structuring Walls, Doors, and windows of different lengths & sizes
Make accurate measurements of walls, spaces, and corners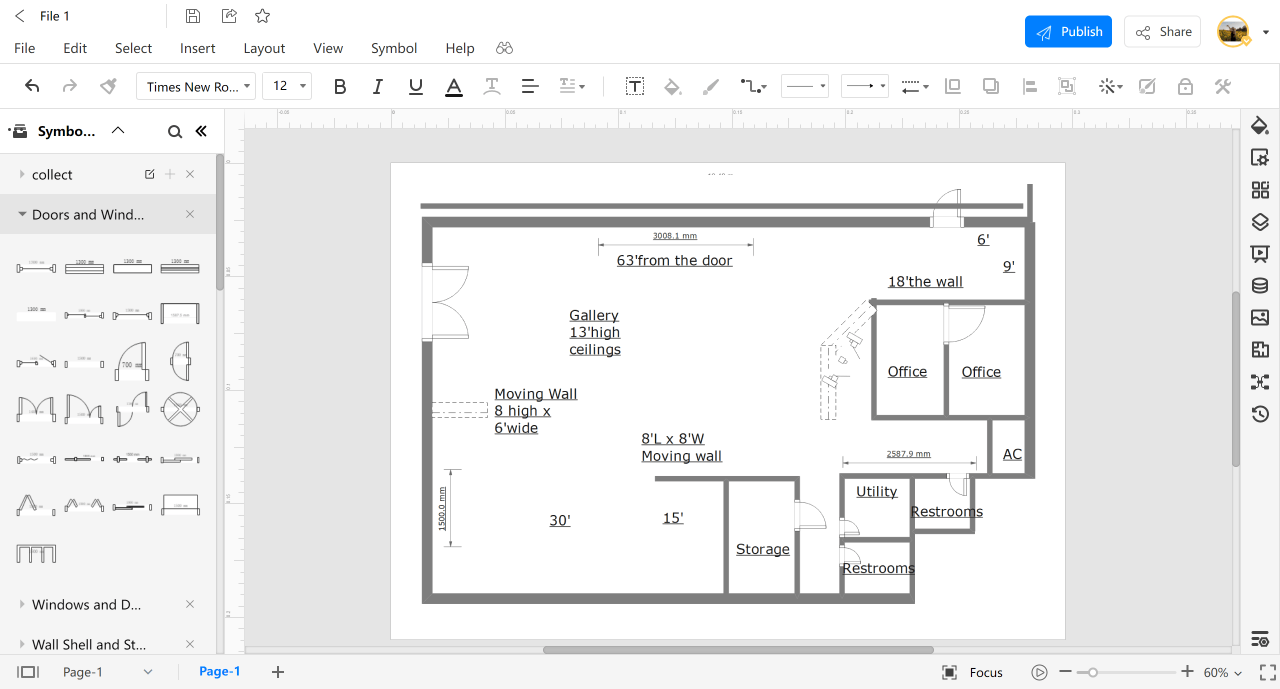 4. Key Takeaways
Home decors are probably everyone's pet peeves these days. Mapping the proper technique for accurate scaling can break the occlusion of building a perfect floor plan. If you are still on the run with your research and haven't come up with any luck of creating optimal floor plans of your choice, then give EdrawMax Online a try.
EdrawMax Online
Create 280+ types of diagrams online
Access diagrams anywhere, anytime
Everything in desktop + Templates Community
Team management and collaboration
Personal Cloud and Dropbox Integration
Related Articles